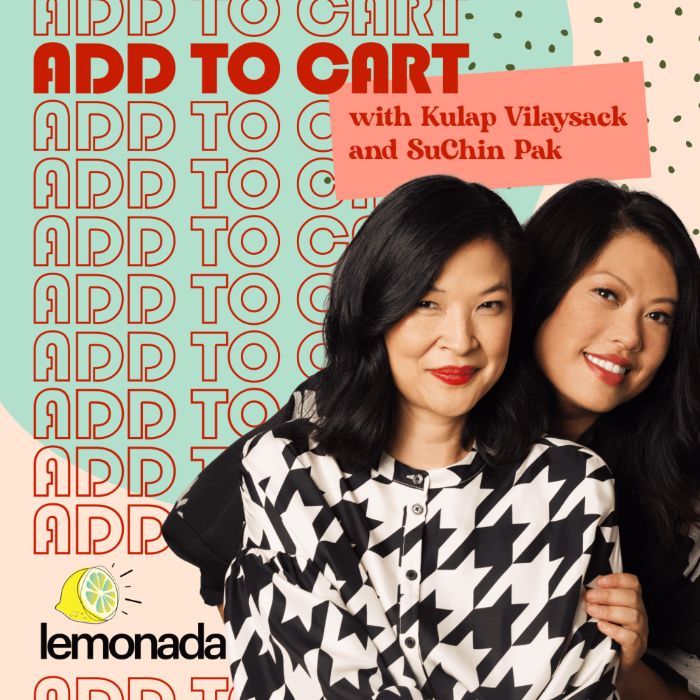 How To Laugh About The Really F*cked Up Sh*t (with Lizz Winstead)
Subscribe to Lemonada Premium for Bonus Content
Description
While Ku is out this week, SuChin is joined by the co-creator and former head writer of The Daily Show, Lizz Winstead. The two talk about how to safely sift through bins of recycled clothes during COVID, Lizz's dream dinner party, and why it's so important to remove from cart abortion restrictions. Plus, another voicemail giveaway and Producer Claire's first add to cart!
Please note, Add To Cart contains mature themes and may not be appropriate for all listeners.
To see all products mentioned in this episode, head to @addtocartpod on Instagram. To purchase any of the products, see below.
Stay up to date with us on Twitter, Facebook, and Instagram at @LemonadaMedia.
Joining Lemonada Premium is a great way to support our show and get bonus content. Subscribe today at bit.ly/lemonadapremium.
Click this link for a list of current sponsors and discount codes for this show and all Lemonada shows: lemonadamedia.com/sponsors
Transcript
SPEAKERS
Lizz Winstead, Kulap Vilaysack, Claire Jones, SuChin Pak, Miriam
SuChin Pak  00:10
All right Carter's, welcome to another episode of ADD TO CART. Now this is a show about the things we buy, the things we buy into and what it says about who we are. Okay? I am SuChin Pak and I got my big girl pants on today, because Ku is out. All right. But don't worry, don't worry, I'm not doing this alone. I'm going to be joined by a brilliant guest who I'll bring on later on the show. We're going to get to her add to carts, we're also going to get to our voicemail, our voicemail winner because they're going to get a special package from Nom Nom Paleo from us just as a thank you. And then we're gonna get into it. But I called Claire this morning. And I said, Claire, dear Claire, this is going to be a real boring show if it's just me talking about all the things that I'm not buying this month. Why don't you come on? Why don't you come on producer Claire? You've never done an official Add to Cart. Right?
Claire Jones
Correct.
SuChin Pak 
So I think this will be fun. So Claire is with us. And we're going to jump right into what our add to carts this week are. I'll go first Claire, you know, let me just show you how it's done.
Claire Jones 
Show me how it's done, Su.
SuChin Pak 
As if you edited, recorded and sat in on every painful minute of this series. Alright, so as we all know, listen, my No Buy January is coming to a close. And boy, Claire, I'd like to say that I haven't bought anything I really want to say that.
Claire Jones 
The way you're leading into this makes me think that you have in fact bought something.
SuChin Pak  02:04
Let me explain myself. I did buy some things. And I didn't ask you because you were so mean, last time I asked you if I could buy books, frankly, let's be honest, you said go to the library. I'm not gonna mention word a pandemic. And also, I don't know what the library is here in Santa Barbara. But I had to buy toothbrushes for my kids. I was looking at their and they'll be little toothbrushes. And I said this could wait. You know, this could really wait, Su. If I'm looking at an unfresh toothbrush, with bristles that aren't working, you know how I feel about my teeth. I mean, my kids, they barely they just swipe at it. It's just a whisper of a brush as it is. I can lay up at you know, wake up at night thinking about how their teeth are just rotting from the inside out. And so I had to do it. And I didn't ask you. So I'm coming to you now I'm confessing I'm telling you the truth. Because that's what I do here. It's been heavy on my mind. But I also am hoping that you will say that wasn't cheating.
Claire Jones 
Well, no, I actually don't think, I think it's not cheating. Because A, it's for your kids. So that's fine. And also, I'm very proud of you because the steep slope that is dental hygiene for you. And the places you could have gone. I'm very proud of the restraint that you showed. And only buying toothbrushes. That's great.
SuChin Pak 
And I really need some stuff.
Claire Jones 
Yeah. Okay. You know, I appreciate your honesty. I think you did very well. Good job. I'm sorry about being so mean.
SuChin Pak 
I wasn't sure that, I really was ready to you know, take the punishment, but I'm glad that you have found it in your heart to forgive this. Because there are some listeners that are being like this is bullshit. And you know what, you're right. You're probably right. But that's not what Claire said. And she is judge and jury on this show. So I've been talking about things that in January, not new things that I've been buying, but things that I have been enjoying. Listen, I'm going to talk about a product. ORG skincare. It was one of the very few products that I knew I wanted to bring on to this show before it was even a show. I mean, Claire, I've been using this product for over 10 years. Really? I was trying to do the math. Yeah, I don't know. I think it's been Yeah, because you know what I discovered it. It's actually nine years I discovered it the day and I'm not going to get into the details the day I went into labor and my son is nine So anyway, they've been such supporters. and partners of our show. And it's just so nice to, you know, when we talk about something that we love game changers that they then come on and support us and love our, you know, listeners and give aways, They've just been fantastic.
SuChin Pak  05:15
So for those of you that haven't been listening, ORG skincare is a product, right? And you spray it on your body or your face, they have two different sprays, and you let it sit in for just a few seconds, then you rub the product in, and you get this kind of healing effect like it peels off of your face. That's both exfoliating your skin and moisturizing. If you've ever been to a Korean spa scrub, you know what this looks like. It is very satisfying. Some would say it's a little gross, I find it grossly satisfying, I find it both. It's a new year, if you're kind of looking for something for your skincare routine that's a little bit different that you haven't been doing. This is kind of a fantastic thing to start with, you know new skin for your skincare routine. We did get a message from a listener, thank you very much who pointed out that there were some reviews out there about this product where, you know, she was wondering, is it your skin that's actually peeling off? Or is it the product that's peeling and in my experience, a little bit of it is product, but way more of it is your skin because if you use the product, let's say on a glove, if you're testing it out, you'll get a little bit of peeling, but when you actually put it directly on your skin, you get way more peeling. And it's pilling and peeling because it's kind of both because it is sort of like almost like, like rolls of your skin coming off. It's hard to explain you have to see it to really understand what I'm saying. And I do have to say if you're like me and you do exfoliate pretty often like it won't peel as much on your face. But on my body like on my hand, on my chest, on my neck. This thing is rolling off in shy it gray caterpillars so amazing. You just walk around with you know dead skin. Hey, that's why we're humans. Yeah. So that's my sort of like, new Add to Cart. And then my just like OG always add to cart.
Claire Jones 
Great. I love that.
SuChin Pak 
Okay, Claire, time for your first official Add to Cart. Listen, you added a lot of things to cart, we've shared thing. You've added a lot of things to cart that Ku and I have talked about that you then text us about. So, I am very curious. Producer Claire's bringing her first official Add to Cart. What is this?
Claire Jones
My heart is racing so fast. This is so funny. Okay, so when you told me this morning that I should bring something on, I was like, I have thought about this so much in my mind. This is actually perfect. In the context of your No Buy January and be in the context of me adding so many things from this show to my cart. For a long time. I was like not a big consumer of things. In particular, like skincare still don't know a lot about that. Makeup, and definitely clothes and shoes.
SuChin Pak  08:34
Except for small appliances.
Claire Jones 
Just wasn't a big consumer. I really didn't know how to dress myself well, I would say I still don't really know how to do that. But I'm trying. And I had two pairs of shoes that I would wear one pair in the summer and then one pair in the winter. And then I don't know if it was like a combination of starting work on this show plus, shopping being like the only sort of way I could check out that was neutral feeling. Yeah, my shopping got really out of hand. And I started I was like buying shoes all the time. I got into this habit of checking the door like going to the door and looking out the window to see if any packages arrived like seven times a day.
SuChin Pak 
There's no packages coming.
Claire Jones
It's so yeah, I do that on Sundays when I know nothing comes I remember you one time like describing that feeling of a package arriving and you being like, I don't know what this is. I very much related to that. And I was like this is getting out of hand like, A, it just doesn't feel so aligned in my values. So my sister, one of my sisters, over the holidays, told me about this rental company called Newly. It's kind of like Rent the Runway. but a little bit cheaper. So it's $90 a month. And it's so cool. It arrives in this reusable sort of like, soft box. Yeah, you get to wear them all month. And then you fold them up, they give you a label, you just like, slap it back on, send it back. And then you choose another six things for the next month. And it has been, honestly a game changer because I still spend, I still like checking out a lot of the time browsing clothes. And now I get to just do that on this website to choose what I want for the next month. But I'm not spending money. It's all like, you know, reusable. They wash it. I like that the box is reusable. It's just so much better for the bank. So this is my Add to Cart.
SuChin Pak  10:51
I mean, I am. Oh, I'm in trouble, you guys, I'm hobbling to the finish line. Because this may be the first thing that I add to cart. I am a huge Rent the Runway fan. I want to say at one point. I had two subscriptions. Because I just wasn't getting enough. Yeah. And because I was going into an office like a lot. Every day was like, What am I going to wear, but I would just have these boxes and I'm like great this top. We've talked about this before about like decision making fatigue. I just get overwhelmed very easily. And I feel like we're sort of similar in that way. This kind of, you know, scratches off a lot of things because you get new stuff. You don't have to think about what I'm going to wear because I'm just going to wear the new stuff that came in the Newly box. You know what I mean, like yeah, no thinking power went into that. So and then wait with Newly for $90 you get six items? I mean, that's a lot.
Claire Jones 
I like it, because sort of similarly with Rent the Runway, you get to try different styles, you know, and then if you're like, okay, this really is not me, then that's fine, then you can just you know, return it.
SuChin Pak  12:08
Yeah, there's no guilt in that. Yeah, I think this is kind of genius. And I like that this company, it feels a little bit more organic and more sort of earth friendly. Like this is a bit more just kind of down to earth and just simple things that you would use every day which is kind of the stuff we want to wear right now. Like who's going out and crop tops? Claire? I mean, are you even wearing underwear?
Claire Jones
No. Actually, I am. But it's because I'm wearing newly pants and I was like, I can't not wear underwear with rented pants. That's nasty. However, if it were my own pants, I would definitely not be wearing underwear.
SuChin Pak 
I love it. Nothing has changed. You guys. Those are good add to carts. Alright, when we come back. We have our very special guest. She's hilarious. She herself is a game changer by the way. So we'll get to her when we come back.
SuChin Pak 
All right, so excited. Our guest today was the head writer and CO creator of The Daily Show. She now runs a nonprofit; a badass nonprofit may add the abortion access fund and hosts the talk show Feminist Buzzkills. Please welcome everybody to add to cart. Lizz Winstead. Welcome to the show, Liz.
Lizz Winstead
Thanks, Su. How are you?
SuChin Pak 
Good. I'm so excited to have you here. Listen, this is my solo run, my first solo run. And I feel like I'm in very capable hands. Kulap, I think specifically, made sure that I was with someone that knew how to do a show. So listen, it's not like she doesn't trust me. She just likes to make sure even when she's not here, but you know, things are getting done to her level. You know?
Lizz Winstead  14:13
Sometimes you just gotta get your ducks in a row so that the ducks can remain in a row and I feel like I have the utmost confidence in you.
SuChin Pak 
Okay, fantastic. So listen, we always like to start by asking our guests what kind of shopper Are you?
Lizz Winstead
So the Lizz shopper is definitely someone who before there was the trend of trying to not buy new, I was always the person who was not buying new I am a thriver in any kind of junk store flea market and not like necessarily like hoity toity vintagey things like I will roll up my sleeves and go in those stores that are like close by the pound. You know, like I will. Yeah, integral bags. Yeah. 100% and I'm also like a big posh marker like I'm, if I find something I like that is new when I when I happen in the new road. If I buy replications of it, I will buy them used. So like, especially with pants that I like that, you know, you find those pants that fit you and you're like, where are these pants or stuff you can't afford? Like I love Cole Haan shoes, like men's wingtips. I love them. And so I will always buy them on Poshmark like I have every color of every suede. I have every metallic like I'm upset, I love Menswear fashion. And then when it comes to like, I'm very tactile. So like if I have to go to Staples. I do like a lot of like, push pins. And I like a lot of colorful. Oh my god, what is the word, paper clips. That's the word. What is wrong with me?
SuChin Pak  16:01
No, because I am recognizing a fellow Staple. Like I feel like I'm whenever I'm there. I'm the only person there. And by the way, including the staff. I'm the only person in the store. I'm like, yeah, I've been in here for two hours, touching paper clips.
Lizz Winstead 
Touching paper clips, the pandemic has been really interesting for tactile people, right? For those of us who love to dig at a flea market, all of a sudden it's like, oh my god, am I just like digging for COVID now? Am I like hunting out COVID close? Is that what I'm doing?
SuChin Pak
Yes. Yeah. Okay, let's get to some add to cards. Now on this show, we do not know what the other person is bringing, because I'm not an actress. And so I can't be surprised unless I'm here in the moment. And you have certainly brought something fun do parties with hostess pants and board games. None of that, none of those things go together. Break this down for me. What is this Add to Cart?
Lizz Winstead 
Now I just feel like we're back in a space where we're in small pods. And we're not going to be going out for a while. And so what does it mean to get together with people? And so I am obsessed with like, any time I see a movie, where like they're having a cocktail party, and then there's someone's playing the piano. And there's people like walking around and just like singing everyone apparently at these parties is like a great singer. And so I want to bring back like these parties. Bring back the fondue pots with your six people in your pod. Like let's start having like some delicious melted cheese and some bread. Let's heat up some oil and put some anchovy paste in that and put in some meats and some like […]
SuChin Pak  18:02
I didn't know that. Wait, first of all, I've never done fondue. I know what fondue is with cheese. But with the way you're describing it, it's also kind of like an Asian hotpot. Can you can bring meats into it?
Lizz Winstead 
Oh my god. You can you can boil oils, and you can season your oils and then you can put vegetables in those seasons, oils or meats. You can put the bread and the cheese then you can have like chocolates and dip fondues. Like, yes, you can lay out your fondue pots everywhere. And then I'm a big fan of board games. Like I'm a big fan of competitive board gaming, password. Yeah. So I just want like games going on in rooms and different fondue pots and then hostess pants. Like, if you don't know what hostess pants are people, get on the Google machine, change your life. So you might not know them as hostess pants or that name. But they are dope capri pants that have an attached skirt to them. So you're wearing ballet flats, and your fitted turtleneck and your hostess pants and some big chunky necklace. Like a scarab or something amazing, right? And then you're just gonna, like, sit around with your Truman Capote in your life. And you're Liberace in your life and you're just going to be playing board games and eating fondue, and regaling each other with stories of traveling to the continent. And I'm here for it. Like let's just hunker down and started and just make sure you have somebody who can play piano in your life too. Because you're gonna have to start some singing. I know that is in the cart. I am going hard. I'm going hard.
SuChin Pak 
I have to catch my breath. You guys. You guys. I have to catch my breath. First of all. Wow, what a picture. I mean, what a visual you have laid a mood. You have laid a vibe, a scent, a taste. You are just you are hitting all the senses. Yes, you know, and I clicked on the link of an example of a vintage hostess gown set with cigarette pants. And it is. May I say fucking spectacular. It is gorgeous. I love the idea of melting cheese, playing board games in the most luxurious get up. Yes, Unity me because this is unparalleled. Like there's no even, there's no even knockoff of this. Usually you see vintage clothing. And you're like, oh, yeah, I've seen you know, the Zara version. So this is truly Liz, you have brought a game changer that is so unique. I will put this link on all of our socials. So that you can see this, but it's amazing. Now wait. So do you have a collection of fondue wear?
Lizz Winstead 
I have fondue pots, and I have two hostess outfits. They're not as good as that one. In fact, what I would say to all your craft is out there. There are tons of incredibly dope patterns, like old vintage patterns to make them and if you can, so get on it and get yourself a hostess pants up. But I do have a bunch of fondue pots, because I am a big thrower of parties. I throw small dinner parties all the time. And I love to bring people together who have come from like interesting points of view and have interesting things to say. And I just think it's really important to especially now, when everything is such garbage, to bring together, people who can story tell their experiences in a way that is really fun and compelling and interesting. And it's really great to bring folks together especially over food. I think that that is like to me, a very big center because cooking to me is something is that's also just very cathartic. So I love cooking.
SuChin Pak  22:23
You have to removed from carts; I want you to pick the one that you want to talk about. It's the faux Fauci or all the abortion restrictions. I mean, they're both great.
Lizz Winstead 
They're both great, they both should be removed. I would say I'm going to combine them quickly. The faux Fauci's are the people who are you know your Joe Rogan types who are constantly annoying everyone with their medical advice. And we've sort of been inundated with conspiracy theories in around COVID conspiracy theories and everything. And the abortion conspiracy theories are no exception. And, and people who have made up horrible lies around abortion have led us to have these incredible abortion restrictions and being somebody who advocates for access to abortion, and watching how people who are marginalized, mostly people of color have been just punished relentlessly through everything, and especially abortion restrictions. And we just need to remove them all from cart because now we're to the point where it's like this Texas law where they're allowing people to hunt down. It's a sci fi movie.
SuChin Pak
If you wrote that, nope, people would be like, but that would never happen. We can't go that far from truth.
Lizz Winstea
Yes, the fact that the courts have allowed, you know, any rando to be deputized to hunt down people who are helping other people get abortion and writing them a check for $10,000. And now, you know, five other states have passed that identical law, because this Texas law remains in effect. And so we need to remove from the cart, all the abortion restrictions, because we do not get to have full humanity and full citizenry. Unless our path to self-determination is cleared. And so it's like, if you have never thought about it in that way before. Think about it that way before. And if you're a dude who's like, you know, what, why do I care about abortion? Why do I care about any of this? Here's the deal. If you're listening to this, I would like you to think about all the partners you've had in your life, sexual partners, and how many times all those sexual partners paid for all the birth control? If the answer is oh, almost all the time. Then you can think birth control and those partners and abortion because you also got to pursue your dreams because somebody else took charge also, you know, you could make a donation to abortion access front on behalf of all the women who paid for their own birth control. I'm saying this is my new thing that men donate to us to thank the women in your life who paid for all the birth control?
SuChin Pak
I don't know, all this stuff, the conspiracy theories. Some of it by the way, I mean, it's our fault podcast. I feel like you know, in so many ways like social media we all have our own channels of distribution. We have our own media network. Some people think you know that this is it. And I think a lot of people it's no surprise, you know, get their news from comedians and they're nice. And listen, sometimes that's not as scary as others and then, you know, you see what goes wrong and it is shocking, and it's, you know, it's hard not to pass judgment, really hard, especially around the family gatherings.
Lizz Winstead
Oh, my God. It is very hard
SuChin Pak  26:00
You got to just pass the fondue. Keep moving in your hostess pants just sashaying..
Lizz Winstead 
Letting the breeze.
SuChin Pak 
Singing it away.
Lizz Winstead 
It's all fine. You know what? You have no feelings. There's the door.
SuChin Pak 
Well, I just want to say that it is, you know, you use this a lot in your writing, and especially talking about all this stuff, how it is cathartic? I think talking about this. That was like a word that I haven't heard a lot when we talk about serious things that are fucked up and dark. Yeah, you know that if we don't talk about it and laugh about it and scream about it. And like pound our heads on the wall. Like we're all just gonna melt on the inside. Like, it's just we have to have some catharsis.
Lizz Winstead 
Yeah. And the catharsis is what brings us to, I often think to when we talk about abortion, especially, it's been a subject that has been taboo to talk about, we talk around it, will say choice and reproductive care. And those are words, but like, why, you know, self-examining, why haven't we been talking about abortion? Why are we in winsy when we say it, why can't we advocate for abortion? And it's because we haven't, as a society, even stepped up to make up our own minds. The anti-abortion side has given us the vernacular sort of made us feel bad about ourselves. And, like, I'm here to tell you the good news about abortion. It is a moral ethical choice that somebody might have to make for a pregnancy they have, and that is fine. And if that's what the choice you need to make. You don't need to explain it to anybody. And you need to embrace it because you've decided this is what I need to continue with the path that is going to be best for me and my family.
SuChin Pak 
That's right. Done.
Lizz Winstead  28:00
Here's some good things when somebody attacks you, or trolls you or whatever weighs in, here's the thing, if they're not feeding you, fucking you or paying you, their opinion should be in your emotional sub-basement.
SuChin Pak 
Trashcan. I love it. Done. That is the perfect way to end on that. Thank you, Lizz. Tell everybody, where can we find you? Where can we find the organization?
Lizz Winstead 
So you can find me on social media at @LizzWinstead. I spelled my name with two Z's so I'm everywhere. Abortion access front if you want to just kind of like keep abreast of what's going on with all these crazy laws. The best places, our social media is @abortionfront. If you want to get involved, you can go to AAfront.org. And click on Resources and you can volunteer there and see all the stuff we do. And then every week we have this incredibly great show on YouTube on the abortion access front YouTube channel called Feminists Buzzkill live. And it's a really fun weekly talk show with comedians and musicians and experts in the field of abortion care. And we give you all sort of the updates of the week and what's happening and how you can fight back. You can get smarter, you can laugh, and you can get involved all in one 30-minute show
SuChin Pak 
Well there it is. Lizz, well thank you so much for this. All right, we're back and we have voicemail. Okay, this one is from Miriam.
Miriam 
Hi, Kulap and SuChin. I'm calling you from Calgary Canada to provide maybe some add to carts from a colder climate perspective. I know you to live in California. There's a lot of us gals out here living in the really cold areas where it's really cold and we're really dry. So I just wanted to share quickly, three products that have been kind of game changers for me this winter. Just for context in Calgary here we've been suffering under something called a polar vortex. I don't even really know what that means. To be honest. I think it's like arctic temperatures, but it's been hella dry. It's usually hella dry because it's the Canadian Prairies. But it's been even worse. I looked it up for conversion. I think we've been sitting between like, minus 22 Fahrenheit and minus 30 Celsius for the last few weeks. So it's been tough. My first game changer is this facial oil from a company called FaceTory. I believe it's out of Los Angeles. This is called the squalene calm and glow weightless facial oil. Mix it up for my little skincare routine at the end of the day, keeps my skin nice and moisturized in this really cold and awful winter. Another one is I'm black, I have really curly some may say coily hair. So this super cold weather. And really, really, really dry. Existence has been not so fun for my hair, which needs a lot of moisture.
Miriam 
There's a whole routine to how I take care of my hair. And I know you've talked about during shower routines, but oh man, you gals need to hear about black hair and wash day because it's an experience. It's a self-care experience. It's wonderful, but it's a lot of steps. So one of the things that I've added to my routine this year is Olaplex number three hair protector. It's a mask kind of that I do before I wash my hair, it repairs bonds in your hair. And it's been a major game changer because I usually get a lot of split ends, mid shaft splits and just general dryness and sad hair in the winters. But I've been doing it once every week when I wash my hair, and it's really made a huge difference. My hair feels super, super healthy, or as healthy as it can in this really cold weather because have I mentioned it's been really, really cold. My last one is from a company called Heat Holders. So they make a bunch of thermal protection clothes, I guess. I really like their footless tights to wear under my jeans. And also snow pants because it's cold, maybe Kulap do know growing up in Minnesota, it's really cold. So those are awesome. They're super soft, I find that the quality's really, really good and they keep me nice and toasty as sort of Under Armour under my pants. And then the ones that are I don't know what the opposite of footless is, foot fold the one when the tights was the feet under them when it's not as cold like in late fall for example. I like to wear them under wool skirts and again they keep me super nice and toasty and glamorous when I go out. So those are my three sort of game changers I guess for the rest of us who are suffering through these winters. Thanks so much gals. It's been really nice listening to you from day one.
SuChin Pak  33:13
Oh my goodness. Miriam. I mean, what a cutie patootie I am dying by the way to hear what her shower routine is. Because she just left us on such a cliffhanger. Now, this is such a fantastic category of like, when you're in extreme weather, because Claire, you're in Utah, which even in the summer is I mean, there's extreme weather there. I feel like almost year-round.
Claire Jones 
I think I was probably partial to her voicemail one. Mostly it was for me. And then I was like, I'm sure other audience members could benefit from this. But yeah, I there were so many things. I think I added most of the things to cart. Because yeah, it's really dry here all the time. In the summer. It's like 100 degrees. I used to get like last winter I was getting a bloody nose every single day because of how dry it was.
SuChin Pak  34:13
It doesn't matter what the season is. My skin is always dry. It's always been that way and so I am a face oil junkie. I love also Miriam, thank you for bringing things that are super price friendly. All very affordable, but So Miriam, thank you so much. We've been talking about giving away stuff to those voicemails that we're playing on the show. So this week, you get an I got this. This is fantastic. It's a signed copy of Michelle Tam's newest book Nom Nom Paleo. Let's go. This is the one Kulap; she has all of her books. This was the first one that I got. And it's so beautiful. So easy. So tasty, so umami rich by the way all the recipes you also get the nom nom paleo knee high socks again is perfect because for the weather, you get a nom nom paleo fellow products Carter move mug. Again perfect for you because this thing is it has like a tea strainer and but the top and so you can put kind of loose-leaf tea and it keeps it's all thermal and it's insulated.Yeah, stickers and then spice blends. Let me tell you something Miriam, I hope you're listening to this because you won this. The spice rack, Claire, the spice rack that she's got a set of there's this one called something mushroom, and I can't explain it. Everything. Tell me something that I haven't put it tell me something. Toast, eggs, rice, steak, chicken nuggets, grilled cheese, french fries. I'm gonna be the crazy person that has this mushroom, umami spice from nom nom in my bag and pulling it out at restaurants. It's so good. We're gonna pop that in the mail. You're going to receive that. Thank you so much. That's it for this week's show. We did it, thank you Claire for being my plus one.
Claire Jones  36:25
Thanks for still loving me even though I was mean to you.
SuChin Pak 
Even though sometimes you're mean to me I love it. I love it when you're mean to me. It brings me such pleasure to know that you feel safe because mean is not you Claire you don't have a mean little hair on your body. So we'll share all of Liz's items. All the links in our Instagram. I mean where do you get a load of these hostess pants? I don't know, it was hard for me to keep a straight face through any of that, was so amazing. It's all on Instagram at @AddToCartPod. We'll be here next week. So see you then.
CREDITS
ADD TO CART is a production of Lemonada Media. Our producer is Claire Jones and our mix is by Ivan Kuraev and Veronica Rodriguez. The music is by Wasahhbii and produced by La Made It and Oh So Familiar with additional music by APM music. Executive producers are Kulap Vilaysack, SuChin Pak, Jessica Cordova Kramer and Stephanie Wittels Wachs. Be sure to check out all the items we mentioned today on our Instagram at @AddToCartPod. Also, please take a moment to rate, review, and subscribe to the show wherever you get your podcast.