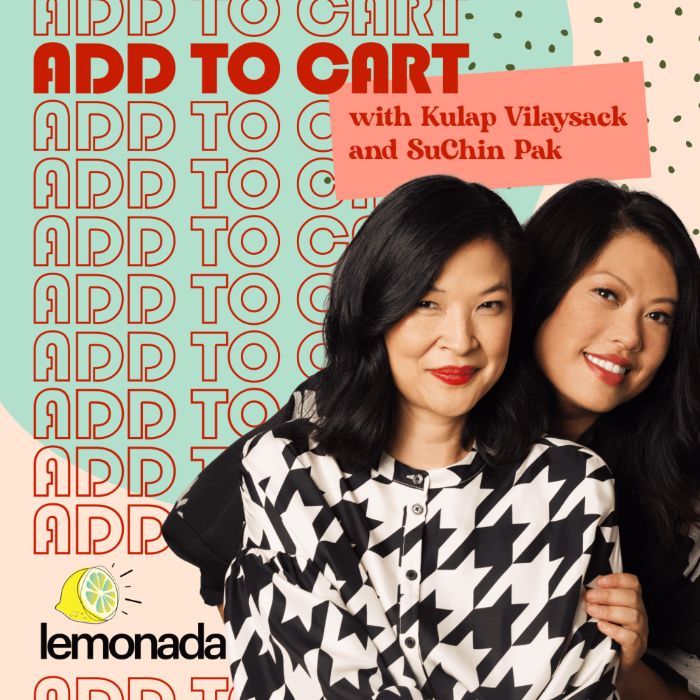 APAHM 2022: Everything Everywhere All Month
Subscribe to Lemonada Premium for Bonus Content
Description
It's that time of year again. The leaves are coming back, flowers are blooming, our Ku's birthday is here, and it's time to celebrate (even more than usual) all the Asian peoples of the world! We're kicking off APA Heritage Month with some of our favorite products, movies, shows, and books from APA folks.
Please note, Add To Cart contains mature themes and may not be appropriate for all listeners.
To see all products mentioned in this episode, head to @addtocartpod on Instagram. To purchase any of the products, see below.
Stay up to date with us on Twitter, Facebook, and Instagram at @LemonadaMedia.
Joining Lemonada Premium is a great way to support our show and get bonus content. Subscribe today at bit.ly/lemonadapremium.
Click this link for a list of current sponsors and discount codes for this show and all Lemonada shows: lemonadamedia.com/sponsors
Transcript
SPEAKERS
Kulap Vilaysack, SuChin Pak
Kulap Vilaysack  00:10
Hello, welcome to another episode of ADD TO CART. A show about the things we buy and buy into and what it says about who we are. I am Kulap Vilaysack.
SuChin Pak 
And I'm SuChin Pak. This is our first episode of AAPI Heritage Month of 2022. It's our month. This is where we shine as Asian peoples.
Kulap Vilaysack 
Exactly. And especially since my birthday is in the middle of May, I being an AAPI. So it's especially momentous. I think every May is continuing. No, no,
SuChin Pak 
I think we should pause, in fact, just to really let that soak in, send to all the gifts you know where to send the gifts for are
Kulap Vilaysack 
At claire@lemonadamedia.com.
SuChin Pak 
Send all the Gucci there. And throughout this month, we're gonna have obviously amazing AAPI guests. We're gonna highlight brands and products. And of course, there's us just two Asian aunties trying to get free things and recommend other things.
Kulap Vilaysack 
Su, if I get too many birthday gifts, I'll give you some.
SuChin Pak 
And she will. Let me tell you this. You cannot leave Ku's house without a little something, a little goodie bag. I went there last time I got myself a little goodie bag. I'm not going to tell you what it is. Because it's for me and Ku to know and for you to never find out. But every time I go, oh, or she'll make you a little sticky bun. Just a little to go sticky bun on the way out. So just know that. So let's get into our carts. Let's get into our Asian carts for AAPI Heritage Month.
Kulap Vilaysack 
The first one I want to talk about Su is Ranavat. They have this amazing royal tonique. It's a hydrating Jasmine mist. My little sister Anita Vilaysack got it for me for some holiday probably my birthday which I think I don't know if I mentioned is mid-May. And it smells divine. It's an ultimate hydrator and you put it on me because you just need a pick me up but perhaps you use it in your many steps of skincare just to prepare your face for your serums that's right and such.
SuChin Pak  02:36
That how you get the mochi bounce. It's not a secret. You got to use a hydrating mist.
Kulap Vilaysack 
This is canon for add to cart, but Su's husband Mike Bender, past guest, a friend of mine. We got close while she was in Paris the first time and he has an aversion to scents. Now do you think something so fleeting? Like jasmine scented water? Would Mike Bender approve or disapprove?
SuChin Pak 
Well, this is a tricky question. Because it's yes and no. I do all of my fleeting misting in the privacy of the hall bathroom with the fan on, in the dead of night. And I mist, mist, mist, mist, mist, then I put on my serum. And then I fan it out. I fan it out. Maybe I go and take the garbage out maybe or organize our outside shoe rack. Nobody knows. And I missed it. And he looks at me. He says your skin looks amazing.
Kulap Vilaysack 
Yes, this is women's work. This brand is from a first generation Indian American. She grew up in Wisconsin. And then after visiting Jaipur India in 2010. As an adult she thought about bringing her upbringing and her heritage into this beautifully sustainable and clean line. I haven't tried their other stuff. And it actually looks really great. I mean, it's modern aromatic skincare. They look like they some great hair treatments, but I got to stand by the luxuriousness of this royal tonique.
SuChin Pak  04:11
Yes and it's sourced by the way from a garden in West India. So that's always really nice.
Kulap Vilaysack 
That gives me an image, a story.
SuChin Pak 
That's right. A visual as you mist your gorgeous glistening body.
Kulap Vilaysack 
it's a little pricey so I'm gonna keep it to my face maybe to my neck and maybe at the top of my deck for you.
SuChin Pak 
There's not a hair on my body that is going to believe that statement in any way shape or form. Everything I've ever known about you since day one. Pre-pod, is that your nips are moist, your body is moist.
Kulap Vilaysack
You're right, I do you moisturize a lot, but I'm gonna not miss my nipples with this, the cheaper, a cheaper moisturizing thing will be on those nipples.
SuChin Pak
Feel free to cut out your section.
Kulap Vilaysack 
I mean feel free to fully what you think sounds like supple nipples.
SuChin Pak 
Ivan feels harassed, he filed a complaint.
Kulap Vilaysack 
We talked to HR about ourselves, I will say that probably my nipples could handle tiny novelty handcuffs.
SuChin Pak
I don't know why we got so off track, you guys, can I get to my Add to Cart? As if I'm not the one, as if I'm not the one talking about.
Kulap Vilaysack  06:10
Stop fucking around and tell me what you've been adding to cart.
SuChin Pak 
Teasing, teasing. Listen, this has been in my cart. This has been in my cart since last year. I wrote an introduction to a book that's about to come out called My Life Growing Up, you have a copy Kulap, an early copy growing up Asian in America with an introduction by SuChin. Now I don't want to say it's my book. That's it's not my book.
Kulap Vilaysack 
At the cover of this book, no face is larger than that of SuChin Pak.
SuChin Pak
Had no input on that. But I don't want to say this is my book. I wrote three pages in this very long book. So, you guys, don't take my word for it. The reviews are in Ku, reviews are in.
Kulap Vilaysack
What are they saying?
SuChin Pak
Very established place. A luminous book that highlights the humanity and multitudes of being Asian American. Oh, thank you, Kirkus, Book List, readers will breeze through some of these pieces, while others will inspire them to slow down in order to meditate on and to process the words. I mean, these are other people's opinions about this.
Kulap Vilaysack
When you read that, when you read that it sounded like you were you were meditating and processing the words as we spoke.
SuChin Pak
Yeah, I mean, that's generally how it is, you know, no preparation, just a tumble of words, to meditate upon them as they come out. Sometimes, a lot of times wrong. But listen, this book in partnership with our good friends at Cape, a great foundation that highlights Asian American voices in the media, with a friends over at MTV books. They came to me and they said, Would you read an introduction to this book about my experience being Asian American? What an honor. But yeah, man took a while to write that. I'm not a writer. You know what I mean? I disagree. I like to come up with little stories. I like to talk about things. I like to entertain people, interview people, but putting pen to paper, especially about something so personal. So intimate, was really hard shout out to Christian Trimmer, the editor who went back and forth and really cleaned up what I wanted to say because it is hard. That's a big question like, what is your experience being Asian in this country. And the contributors to this book are from all walks of life. They are artists, screenwriters, poets, journalists, just to name a few educators. And they all write these essays Kulap in this because I didn't get to read all the essays before I wrote my introduction. I have to say this book, it feels almost unedited. Like, it's so rah rah, the, you know, you read some books, and you're like, Wow, that is this is like, you know, so well edited. It's, you know, every single word is exactly in its place. This is just raw human emotion and people sharing what their experiences are. It's so personal. It's so beautiful. Yes, it is about the Asian American experience, but because people share such vulnerable parts of themselves. I think it is universal, because it is so much of how we grew up, not just as Asian Americans. But if you've ever felt like an outsider, if you've ever felt like you didn't belong if there was a story of yours that you didn't ever see in movies and TVs and books. And it's filled with these kinds of realizations, things that we don't talk about, as Asian Americans things even within our community that people feel like they're outside of what is quote unquote, Asian American, right? And this book is filled with queer stories, mixed race stories, being Black and Asian, always being maybe portrayed as immigrants in this country as quote unquote striving newcomers. Right. We know that story very well. And we love that story. But I think that that's like an over index story of who we are, especially now in 2022. So this book is coming out, you can, you know, preorder it but it's coming out May 17. But it's just been such a labor of love and heartbreak and joy and I'm just really excited for everyone to be able to read these people's stories because it's just beautiful.
Kulap Vilaysack  10:58
I want to give a shout out to my fellow Lao Princess Cassie […], who wrote a bad day. And I think it's so exciting that she was also included in this.
SuChin Pak
Oh, I love that essay. I love that essay. It's all the stories are just really just all the stories create such a rich tapestry of what it means to be Asian in this country. And so I'm really proud of it, so excited Add to Cart everybody.
Kulap Vilaysack
SuChin, there is a show that I love on peacock called We Are Lady Parts.
SuChin Pak  12:10
Oh my god I want the whole album.
Kulap Vilaysack
You know what? That's a great question. We are lady parts is an archaic. Nope. And what can I say this word so yeah, anarchy. So we are lady parts is a joyful and irreverent music comedy following a Muslim female punk band called Lady Parts who are on a mission to find a lead guitarist and maybe just a proper gig starring some unknowns to me, but who are stars in my mind. And it is created and written by and directed by Nida Manzoor. And Jason Mantzoukas has told me about this. I just burned through it. There. It's so funny. So interesting. So creative. And I really think both you and Claire would love it, including our listeners.
SuChin Pak
This is so right up my alley of the kinds of shows I especially now I just want to laugh. I want to root for people. You know what I mean? I want like, girls to just like annihilate the world. This is perfect.
SuChin Pak
Okay, so my next add to cart is a cookbook. So Eric Kim, do you know of Eric Kim, Kulap?
Kulap Vilaysack
I don't but I have seen people promoting this book.
SuChin Pak
First of all, Eric Kim, I haven't met him. I just know him through his videos. So I'm just going to pretend his personality is there. You know, sometimes you can look at cooking videos. And if you're not say a chef, you know, it can feel a bit pretentious. And what they're doing can feel a little bit like oh, well, that's nice for you. But I don't know what Coriander is, you know, like, you have to start. Is it pepper? Is it not, you know, but Eric is, you know what I mean, he's like one of those chefs, and he does these videos that are so relatable. And he's currently the recipe developer for New York Times cooking. So you know, he's a big deal. So the book is titled Korean American: Food That Tastes Like Home by Eric Kim. And it's a collection of recipes that are really about his up growing being from the south and Korean. So it's a mash up of Korean food that you know, and you recognize and you love as quote unquote traditional Korean food. But the whole point for him is that Korean is American, right? Like you don't have to separate those two. So he has recipes in there for you know, […] is Korean red pepper, and it's shrimp with seaweed grits where you can buy shrimp cooked in butter and marinated in this […] this sort of sweet spicy Korean spice and grits season with toasted sesame oil and dried seaweed. And this is like all of our mashups. When I grew up, we made you know, spaghetti with kimchi, you know what I mean? Like, that's, who's to say that's not Korean food, you know? So for him food is an ever-evolving thing. And that's very personal.
Kulap Vilaysack
And who's to say that isn't American food?
SuChin Pak
That's right, exactly. Thank you. And so we thought it would be fun and we took it upon ourselves. I have a friend Adam, who's a big foodie. He loves to cook and he was like, let's do an Eric Kim dinner party was like, okay, so I'll send you the photos. He went through the trouble. So he knew I was going to be in town. So he went through the trouble the week before of making Eric's kimchi recipe. Then we made sheet pan peeping pop, which you roast vegetables on one sheet pan, and apples, by the way, which were a delicious addition to this. And then we marinated Kobe, which is the shortbread in his yeah, in his recipe. And we had that it was such a fun spread. The food was delicious. I love cookbooks. I like to try to cook from cookbooks when I have time. Sometimes it works. Sometimes it doesn't. But these recipes are forgiving. They're delicious. They're sweet. They're savory. They're umami. Like there's nobody that won't love it. Get this book, Add to Cart. It's so good. You're gonna love it. It's so good. And there's lots of recipes that are very easy for large groups, which is perfect for you. So I highly recommend trying this sheet pan bibimbap roasted vegetable recipe. It's it was so easy. And everyone was like, what's this thing? I was like, it's Apple. Apple and kale roasted on a pan. It was very delicious. Huge, huge. Shout out to my friend Adam, who hosted this and helped me put together an Eric Kim dinner party.
Kulap Vilaysack
Su, our former guests Chriselle Lim has a new fragrance line and we have to talk about it. How do you say is a Fleur.
SuChin Pak
It's called Fleur So it's a fragrance line that has been around for a while but she is now the new founder creative director. I mean, she's boss lady, we know this. And the first fragrance sold out, you can get on a waitlist and good luck. Wow. So the second fragrance which still available, I don't know how much is in stock, but it's called Not Your Baby. And I want to read you a little line that she wrote when she sent out the fragrances to some of her friends. You know, it says for the first time in a long time, I am no longer a we I am a me. And I've decided to make myself a priority. So she's been going through a pretty intense past year personally. And I think you can guess from what she's saying. And trying to figure out who she is, as just herself, you know, and not a part of a relationship, not a part of the perfect ideal of what a family looks like or whatever it is, you know, finding her own path in life. And I just think that it's an amazing thing for her personally, but professionally to launch this fragrance that has done gangbusters and it's so beautiful. This particular fragrance has it's sort of like a spicy floral. The top note is cardamom and bergamot and then the bass is sandalwood and vanilla milk. So it's very sweet and spicy. It's very sweet and spicy. But it's also very crisp because it has those floral notes. I would just want to give a big shout out to her what a huge congratulations to her us new business venture admits you know, sort of a really rough time for her and now she's out here basically taking over the world and feeling like it's her time and I think as friends of this podcast, we just support everything that she does.
SuChin Pak 
Add to the waiting list. Well, don't sleep on it.
Kulap Vilaysack  19:31
The last thing I want to talk about Su, is a film that came out I think at this point like a month ago but has soon become I mean, you know people ask me what's your favorite movie? What's your favorite movie? And I have movies that I love, that I really? The mean something to me that hit me in such a way but I was struggling to say what's my favorite movie. This is my new favorite movie. And it is Everything, Everywhere, All at Once.
SuChin Pak  20:01
I've heard of this. Oh my gosh. I'm scared Speechless. How do you describe this movie?
Kulap Vilaysack
Everything, Everywhere, All at Once. Yeah, that have been the title of it. This is directed by Daniel Kwan and Daniel shiner collectively known as Daniels. The film is funny, hilarious. It's big hearted. It is family drama. It is sci fi action adventure. And it's about an exhausted Chinese American woman, Michelle Yeoh, who can't seem to finish her taxes. And that is the most simply simplifying it by a truly the its bare minimum. And it's also starring the just the rising star Stephanie Hsu. Ke Huy Quan, who you may recall, was a short round in Indiana Jones. Yes, he's come back after all these years. He's magnificent playing Michelle's husband, the hilarious Jenny Slate Harry Shum, Jr, the legend that is James Hong. And of course, Jamie Lee Curtis, who is just chef's kiss it is this movie is weird and affecting and visually stimulating. I mean, this isn't a lot of things are happening, guys. I think the I read an article from Daniel, one of the directors mentioned, his name is Daniel Kwan. I'll have to find the article. But during the production and the making of this film, he realized that he has ADHD and he has had it all along.
SuChin Pak  22:32
It was only after making the film.
Kulap Vilaysack
He really understood like, oh, wow, like my brain a lot of sense now. All I'm gonna say is that for who I am right now and all that I've liked before, which is I love action films. I love sci fi. I love family drama. It is like everything that I want and stuff that I didn't know I wanted. They pulled together things that was so surprising and so creative and inventive. Like, it's not even something I can be jealous of. Because I'm like, oh, I could have done that. And then like, couldn't have done that. Thank you for doing that for me, Daniel. Thank you. I appreciate you. And tonight, I'm going to see it for a second time. With my friends. I saw a screening up before it came out. Or maybe when it came up with from our friends at Cape who you mentioned earlier and also gold house. I didn't see the emotion that was going to hit me towards the end. Just I was laughing hysterically and crying. And I just really recommend it.
SuChin Pak
This is fantastic. I can't wait. I've read some reviews about this. And so it's been on my list. And thank you for reminding me because I remember being like so, wait, this is a movie about taxes. And like it is genius.
Kulap Vilaysack 
And it is. Well that's it for the show, Su.
SuChin Pak  24:13
We're launching into AAPI month, with hearts full. And you know, with gusto. Yeah, check out everything we talked about today on our Instagram at @AddToCartPod. I'm going to upload my Eric Kim dinner pictures which you will love.
Kulap Vilaysack
Yes, please. Call us at 833-453-6662 and let us know what you've recently added to cart. Email claire@lemonadamedia.com, to get addresses to send me birthday gifts, and then I'll pick and choose what you send me. I'll send it to, Su. Don't you worry she's covered
SuChin Pak 
And that's how we keep the circle of life alive here on Add to Cart. Okay, we will be back next week by
CREDITS
ADD TO CART is a production of Lemonada Media. Our producer is Claire Jones and our mix is by Ivan Kuraev and Veronica Rodriguez. The music is by Wasahhbii and produced by La Made It and Oh So Familiar with additional music by APM music. Executive producers are Kulap Vilaysack, SuChin Pak, Jessica Cordova Kramer and Stephanie Wittels Wachs. Be sure to check out all the items we mentioned today on our Instagram at @AddToCartPod. Also, please take a moment to rate, review, and subscribe to the show wherever you get your podcast.