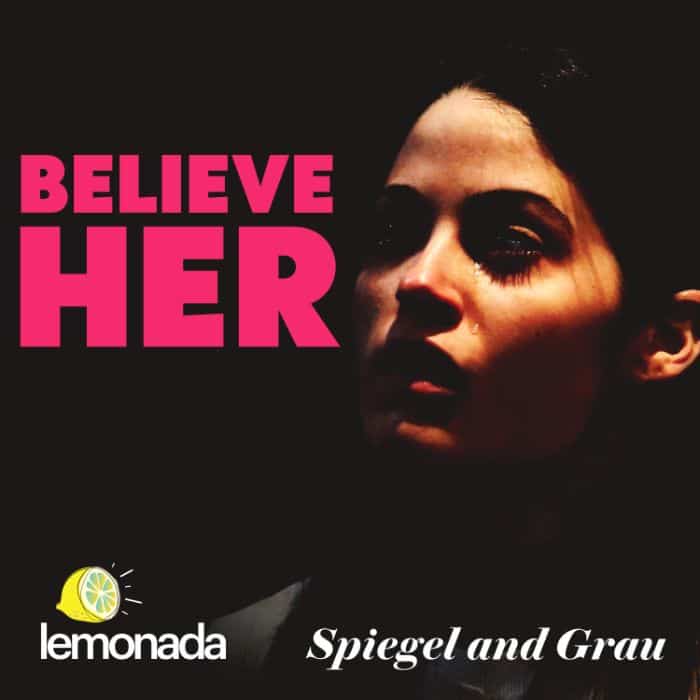 Chapter 5: The Missing Evidence
Subscribe to Lemonada Premium for Bonus Content
Description
A 12-person jury convicted Nikki of murder, but they didn't see the whole picture. Many key pieces of this puzzle didn't make their way into the courtroom. In this episode, Justine follows up on disturbing gaps in the evidence. Through conversations with Nikki's lawyers, digital forensic experts, Nikki's therapists and Nikki's children's therapist, Justine explores what was not shown at trial.
Resources:
Justine van der Leun is the host and lead reporter. This series is produced by Justine van der Leun and supervising producer Kristen Lepore. The associate producer is Giulia Hjort. The production assistant is Rory James Leech. Additional reporting by Kristen Lepore and Giulia Hjort. Mixing and sound design by Kegan Zema. Music by RRA aka Sara Abdelaal. Fact checking by Justin Kloczko. Additional audio engineering by Ivan Kuraev. Story editing by Jackie Danziger. Story consulting by Amy Metsch. The executive producers are Stephanie Wittels Wachs, Jessica Cordova Kramer, and Spiegel & Grau.
Believe Her is created in partnership with Spiegel & Grau. Follow them on Twitter and Instagram at @spiegelandgrau.
Follow Justine on Twitter at @justinevdl and on Instagram at @jvanderleun.
Stay up to date with us on Twitter, Facebook and Instagram at @LemonadaMedia.
If you want to continue the conversation with other listeners, please join our Believe Her podcast community on Bookclubz at www.bit.ly/believeherbookclubz and our Facebook group at www.facebook.com/groups/believeher/.
Interested in bonus content and behind the scenes material? Subscribe to Lemonada Premium right now in the Apple Podcasts app by clicking on our podcast logo and the "subscribe" button.
Stay up-to-date on everything in the Lemonada world by becoming a superfan at https://joinsubtext.com/lemonadasuperfan.
Click this link for a list of current sponsors and discount codes for this and all other Lemonada series: lemonadamedia.com/sponsors.
To follow along with a transcript, go to www.lemonadamedia.com/show/believeher shortly after the air date.
Transcript
SPEAKERS
Justine van der Leun, Garrard Beeney, Nikki Addimando, Kellyann Kostyal-Larrier, Sarah Caprioli, Dr. David Crenshaw
Justine van der Leun 
Hi, listeners, if you're just tuning in, I suggest you go back and start listening from chapter one. And before we start, a content warning, this episode contains accounts of domestic and sexual violence. Less than a month after the jury found Nikki guilty, something major happened for her and other criminalized survivors in New York State. Governor Andrew Cuomo signed a new Act into law. It's called the Domestic Violence Survivors Justice Act or the DVSJA. We should mention Cuomo would soon resign following his own sexual misconduct allegations. He's gone, but the law still stands. Under the DVSJA, a judge can give a shorter than normal sentence to a person who can show that abuse played a significant role in their participation in a crime. If Nikki was granted DVSJA protection, she would likely serve much less time in prison. So Nikki had a DVSJA hearing. It lasted three days. The same judge from her trial, Edward McLaughlin, he oversaw the proceedings. They're professionals, you heard from many of them in the series, finally had a chance to corroborate the abuse on the stand, and new medical records were submitted.
Justine van der Leun  02:31
But even after all of that, Judge McLaughlin decided Nikki did not meet the requirements of the new law. Her abuse history, he said was, quote, undetermined and inconsistent. And as you heard in the last episode, months later, he sentenced her, 19 years to life in prison. However, this wasn't the end of Nikki's story. Like all people who have been found guilty of a criminal offense, she had the right to appeal her conviction and her sentence. And so she did. And this is when a new attorney Garrard Beeney decided to take her case. This is a video conference of Nikki's pandemic era appeal hearing. It happened in the spring of 2021, over a year after her sentencing. Four esteemed Justices of the Supreme Court of the state of New York appellate division are wearing their black robes. Each justice has their own video box with these yellow and wood thrown superimposed behind them. And they're trying to virtually locate Nikki's new attorney, Beeney.
Justine van der Leun
Beeney now pops up in video form standing in a very realistic mock courtroom. Beeney hails from a top corporate law firm in Manhattan. Over the past 20 years. He's also done a lot of pro bono work. Soon after Nikki was convicted, Beeney signed on to represent her for free. He found her case compelling, and he thought he could win. Since then, his firm has poured millions of dollars' worth of legal resources into fighting this.  One of the main arguments beanie makes during his appeal is that the court made a mistake in refusing to acknowledge that Chris abused Nikki, this Beeney hoped would help the justices understand why she actually should have been considered eligible for the DVSJA. The prosecution is at the appeal, too. Larry Glasser, Hannah Kraus' colleague, speaks on their behalf. He looks unenthusiastic to say the least, and Hannah is nowhere to be found. Larry toes the line, same old story.
Justine van der Leun  05:22
Nikki is a troubled murderer who tells tall tales. There's a lot of back and forth, this hearing goes on for two hours. And by the way, these hearings are typically capped at 15 minutes. Yes, that's right. Most people get 15 minutes to argue for their freedom. Toward the end, one justice intervenes to say something to the prosecution that a lot of people on Team Nikki have been thinking all along. As you watch, it seems as though the tide might be turning, Nikki's lawyer Beeney argue several points, including the fact that some major evidence was excluded from trial. Those critical exhibits he's talking about, they have to do with a Pornhub account that had some pretty disturbing uploads on it. That account belong to the username, Grover Respect, at the appeal, being are used that Grover Respect was very likely, Chris Grover, he argues that the jury might have been able to come to that conclusion, too. If only they'd gotten the full story.
Justine van der Leun 
This is BELIEVE HER. I'm Justine van der Leun.  Chapter Five, the missing evidence. After that video conference appeal, everyone was left waiting. They didn't know what the decision would be. Would Nikki come home? Would she be sent back for a retrial with a new jury? With the justices uphold the conviction and the DVSJA denial, and would Nikki just remain in prison? Spring turn to summer, and Nikki went through the motions, living every day at Bedford Hills maximum security Correctional Facility. Here I am talking to her at Bedford.
Justine van der Leun  08:48
Well, what about waiting for this news? Like what is that experience, this appeal news.
Nikki Addimando 
The wait feels endless and kind of feels like, it feels like being like the middle of the ocean where you just look around and you realize you're really really small. And everything around you is just flat and endless. And you're just kind of like waiting in the water and you're floating on your bath just waiting. Just kind of feels like waiting in this giant like nothingness.
Justine van der Leun
Just waiting. Nikki had no idea when the justices would release their written decision. Nobody did. So how do you get through your days then?
Nikki Addimando 
Well, every weekday I get up and say, well, today could be the day. And then it gets to Friday, and it hasn't been the day and then I have to get through the weekends. And then Monday comes and I said well, it's another weekday so it could be the day that they decide the rest of my life.
Justine van der Leun 
Do you have hopes?
Nikki Addimando 
I mean, that's all I have at this point, there's nothing else if I gave up hope, what would I have? That's the only thing I've promised my kids that I'll hold on to I told them I can't promise, when I'll be home, I can only promise that I won't stop until I am. I don't know, I just hold on to what I can, I guess. Just going through the motions, just kind of floating along and waiting. Just waiting.
Justine van der Leun  10:43
While Nikki was on the inside, waiting, I was on the outside, digging around, investigating. Before the trial, I wasn't able to get much out of anyone. But after the verdict, people started to talk. people who'd seen their perspective skewed at trial, who were left out completely people with information. And that's how I ended up with 10s of 1000s of pages of documents, including a lot of stuff that didn't make it into that courtroom. It opened my eyes. And I think it might have changed the whole trajectory of Nikki's case, but the jurors never got that info. In this episode, we're going through all the stuff that the jury didn't see. Some of it, the prosecution got excluded. Other stuff the lawyers missed or didn't see fit to include. In any case, this missing evidence, it could have shown the scale of the abuse that Nikki endured and the validity of her story. It wasn't shared with the jury then, but I'm going to share it with you now.
Justine van der Leun 
One of the first people I went to for more information was Nikki's therapist, Sarah Caprioli. Sarah did not testify at trial; the defense team had hired an expert witness and they decided to put her on the stand instead. But Sarah did testify at the DVSJA hearing. You've heard from Sarah a lot in this podcast. Sara started seeing Nikki in 2014 when Nikki was 25 years old and a mom to Ben. It was clear then to Sarah that Nikki was in danger and that the abuse she suffered was often sexual in nature. But that's not all. Sarah believe this abuse was tied to Chris's porn habits. We mentioned before that Chris's phone had a lot of violent porn searches on it. And here's the thing about violent porn. Rape is illegal. You can't film a real rape and put it on the internet for entertainment. However, a very popular genre of porn is called forced sex. So rape versus forced sex. What's the difference? Well, theoretically, the difference is consent, though. I've seen the amateur videos from Chris's search history, and it's hard to tell if the people in the videos have consented or if they're actually being raped. About a year into her sessions with Sarah, Nikki confided that she suspected that Chris wasn't just watching this kind of porn.
Sarah Caprioli  13:07
It seemed as time went on that he was watching pornography and then replicating or trying to replicate the things that he saw in those porn videos.
Justine van der Leun 
Sarah says he watched, he replicated what he saw, and he started recording it. Now, the act of Chris recording his nonconsensual sex with Nikki, it seems like that wasn't exactly new. Back in the early years of Nikki and Chris's relationship, Nikki brought a camera memory card to a previous therapist. The therapist would later confirmed to me and would testify at the DVSJA hearing that she watched a recording from that card. In it, Chris was having sex with Nikki as Nikki said no, what was new? What Sarah is talking about here is that the violence in these videos that Nikki told her about was escalating. And there was another thing, Nikki suspected Chris might be posting the videos online.
Sarah Caprioli  14:05
So in the fall of 2015, Nikki started reporting that sometimes after Chris was done assaulting her, she would notice that he seemed to be working on a computer. There were times when he would take photos and videos of her and then seem to be editing those on his computer. And there were a few times when she came into session and told me that she noticed that he's been on websites. And she was very worried that he might be uploading photos and or videos to websites. So I asked her if she could safely do so to try to pay attention to what website she noticed him on. And she came back a couple weeks later and said that he seemed to be on a website called Pornhub which is a very popular amateur pornography share site.
Justine van der Leun 
Pornhub maybe you've heard of it. Sarah and Nikki decided to look for a profile that might belong to Chris. And they found one pretty quickly.
Sarah Caprioli  
The username that he was using was Grover Respect, his last name and the word respect which was a very, very commonly used word and something that he referenced quite a bit while he was being abusive to Nikki that he demanded respect.
Justine van der Leun 
Respect seemed to be a theme in Chris's life. We see it pop up again and again. There are photos of him wearing a necklace with Chinese characters that represent the word respect. In the last episode, you may recall, images of Nikki's burned vagina were shown. Nikki testified that she had talked back to Chris and he told her that she needed to show him some respect, before pressing a hot spoon to her vulva, labia, and thighs. Here's Sarah talking about the Grover Respect profile again.
Sarah Caprioli  
When we first found it, there was nothing on except his profile name and then some information about him, which also mostly lined up in terms of his age, his hobbies and things like that.
Justine van der Leun  16:09
Sarah took screenshots of the profile. I'm looking at them now. The interests of Grover respect are listed as cinematography, martial arts, and drawing, coincidentally, or not. Chris was a black belt in Taekwondo, and he was known to be into cinematography. He even produced a short movie. So Grover Respect had a lot in common with Chris Grover. Same interests, same hobbies, same name. And then there was another connection. Nikki.
Sarah Caprioli 
Over the next few weeks, we started to see photos that were uploaded, first they were his profile picture photos, but it would be photos of Nikki bound and naked and you know, with marks on her body and bruises. The things that Nikki would come in and tell me he did to her, also would show up on this Pornhub profile.
Justine van der Leun 
Next is images of Nikki bound and gagged are some captions written by Grover respect. I'll read a few. They're not fun. Stay tuned to meet my bitch. She's a milk, she's mine and gets what she deserves. Bitch begging for mercy duct tape tied up whip. For hours of torture and toys tonight. Grover respects seemed very committed to sexually torturing Nikki recording it and uploading it. Sara said that back in 2015 when this was happening, Nikki was triply traumatized, by the initial assaults, by being recorded against her will. And by the idea that people could see her on the internet in this state. Nikki's family had that running joke that she was a prude. Michelle, remember that as a teenager, Nikki was visibly disgusted by sex, she wouldn't even change in front of her sister. So for Nikki, the idea that her naked body was available for virtual consumption was beyond horrifying. She could barely talk about it with Sara.
Sarah Caprioli  18:08
She would shut down. She would have a classic trauma response. Sometimes she would dissociate, she would become very, very shaky. She had difficulty making eye contact with me. She was very ashamed and very frightened. But also she really really wanted to stop. But she was scared to confront him about it. She was scared that you know, if he knew that she knew about it, things might get worse for her.
Justine van der Leun 
I have records that show that Grover respect uploaded at least two videos, one called bound and pound, the other called break a bitch.
Sarah Caprioli 
He would post screenshots of like a thumbnail of the video. And he would put it in like the public section of his profile with all kinds of keywords like to promote it. So it was something that he privately uploaded to his profile. Tonight I couldn't I could never get because it was in this private section that I could only see if I was connected to.
Justine van der Leun 
So, all Sara could see were thumbnails of the videos, but if she wanted to watch the videos, she'd have to make an account and sign in. Sarah decided that she as a therapist wasn't equipped to investigate further and so with Nikki's consent, she went to the police station, back then Sara thought they might actually have a solution for all of this. More of the story after the break.
Justine van der Leun 
The first step Sarah took was to connect with the domestic abuse advocate at the police station. This was back in 2015, two years before the killing.
Sarah Caprioli 
So I was able to contact our advocate at the Hyde Park Police Station. And she helped to facilitate a meeting with a detective in Hyde Park, which is the town that she and Chris were living in at the time.
Justine van der Leun
Detective Jason Rossello, Rossello got one of those modern cop haircuts where they kind of buzz the sides and then leave some hair up top collared shirt always tucked in pants off in more pockets than your average civilian utilizes. He works on typical upstate crimes like ATV theft and gas station stickups.
Sarah Caprioli 
You know, and the way that we set it up was that there was no pressure for her to report that this detective was going to come down and he was going to set up in our conference room and just wait and hopefully come in and talk to her and also be able to convince her to report. They were there for about seven hours. So they really, at least that day did a really good job of trying to make it comfortable for her and safe for her to report.
Justine van der Leun  22:17
Jason Rossello seemed to believe Nikki, Rossello told Nikki that he just needed her to sign a deposition and he would arrest Chris. He even put officers on standby.
Sarah Caprioli 
I will never forget that she sat there for close to a half hour with the pen in her hand hovering above the signature line. And I remember it because her hand was shaking so badly that I  wondered if she would even be able to sign her name. And so she got very close, but she ultimately was not able to do it.
Justine van der Leun 
It's easy to be so frustrated here at Nikki, I know. You keep following this woman through this whole sordid tale. And sometimes you're just like, Nikki, do something. Talk to the cops, take your kids get out of there. But if you step back and look at the story from her perspective, things aren't so easy.
Sarah Caprioli 
She was terrified that the police wouldn't be able to protect her. She was terrified that maybe he might get arrested but you know, would likely be released several hours later or the next day, which is in fact what typically happens. We see that happen every single day in domestic violence cases where victims report and have orders of protection and they still turn up dead.
Justine van der Leun 
An order of protection, basically a restraining order a piece of paper. If your abuser is mad, do you think he cares about that piece of paper? Does it work as a bulletproof shield. So Nikki didn't want to end up dead. Also, she didn't want her name dragged through the mud. Just the knowledge that somebody has these images of you that they could release them. That's a type of weapon. It's a form of extreme control. She feared that degrading photos would be publicized, and that nobody would believe her. And by the way, at trial, this is exactly what happened. Nikki testified that Chris told her if she exposed his sexual attacks, he would tell people she liked it. He said I would look like a whore. She testified and then consider that Nikki's family encouraged her to stay with Chris. Her mom told her in a text I've seen. You're so lucky. He supports you. You can stay at home with your kids. And that was Nikki's top priority to be with Ben and Faye. She thought that she was the only one suffering and she would take it if it meant her kids had a nice life. She didn't want Chris arrested. She didn't want a court battle or a custody battle. She was scared she'd lose. So with no good choices as Nikki just hoped things would get better.
Sarah Caprioli  25:04
She wanted it to stop. She didn't want him to go to jail. She didn't want him to be arrested. She just wanted it to stop and she wanted to keep her family together. Even then, even when we knew that, that he was uploading pictures and videos of her assaults, she's still hoped that it could work somehow.
Justine van der Leun 
After Nikki left the police station that day back in 2015, Rossello, sent an internal email to his whole department, updating them on his meeting with Nikki, I have that email here, the subject is high risk domestic. Or Rossello writes, quote, she is extremely fearful of her boyfriend. The situation is escalating, and I want everyone to be aware of their names and their address. The victim is Nicole Nikki Addimando. The suspect, is Christopher Grover, then Rossello took it upon himself to look into that high-risk domestic case.
Sarah Caprioli  26:04
At a certain point, I found out that, that he was also following the profile and taking screenshots and seemed to be amassing quite a file.
Justine van der Leun
According to the records I came upon, Rossello deep cover username on Pornhub was, you know, you want sum, some spelled sum.
Sarah Caprioli 
When I found out that that was happening, I stopped following the profile and was very happy to do that, because I would much prefer the police to be documenting that evidence.
Justine van der Leun 
And it seems like that's what the police were doing, documenting the evidence. If you recall, Dutchess County handed this case over to Putnam County. So if Dutchess County had resellers file, it should have been passed on to Putnam County. But we don't know if it was or if it wasn't passed on. All we know is that Rossello's file is nowhere to be found.
Sarah Caprioli 
One of the mysteries of this case is what happened to that file. I know that the file exists. I spoke to him directly, shortly after the shooting, and he let me know that as soon as he found out what happened he turned the entire file that he had over to the Dutchess County District Attorney's Office, and that was the last that I heard about that file.
Justine van der Leun 
Isn't that odd? I mean, if you were looking to piece together what really happened here? Wouldn't you immediately want to take a close look at a police file that contained evidence of the abuse that Nikki was reporting. I've always found this to be a missing piece at the center of this case. When it came to any documentation of abuse, the prosecution's case relied heavily on suggesting that Nikki may have self-harmed, filmed herself, or that some other mystery man was involved. Hannah Kraus asked the jury if Chris Grover were researching pornography, violent pornography to imitate it, why isn't he in any of those photos? You have to ask yourself, who is on the other end of that camera? It was treated like a question with no answer. But in my investigation, I found a document that suggests that what was in Rossello's file might have held that answer for the jury. Remember how this whole thing was kicked off by a visit by CPS, the child welfare agency. They arrived at apartment 7K Nikki and Chris's home at around 10AM On September 27 2017.
Justine van der Leun  28:39
Chris was dead by the next morning. At that first visit where Nikki and Chris were both present, a CPS worker started her own file. In it, she kept detailed notes of everything she did related to this case. About two weeks after Chris's death following a jailhouse interview with Nikki, the CPS worker approached detective Rossello. She asked him about his interactions with Nikki back in 2015. CPS caseworkers cannot speak to the media but I will read directly from her official case file. She writes quote, detective Rossello stated that even though the mother declined to make a statement at that time, Detective Rossello began to check Pornhub under an assumed name and located pictures that he was disturbed by. Detective Rossello stated that he took screenshots of several photos of the mother and father engaged in various sex acts and compiled them on a disk for the DA's office, end quote, the mother and father Nikki Addimando and Chris Grover, that should answer the question right?
Justine van der Leun 
According to this log, Rossello slash you know, you want sum. He saw it. Well, it's not so simple. When the defense called Rossello to testify at trial about his Pornhub investigation. He said he never saw a man with the defendant. That's in direct contradiction to the CPS notes. And this CPS document I just read to you. It was never presented at trial. Nobody pressed Rossello on the whereabouts of his file either. And as far as I know, I was the first person to notice the disconnect between the CPS notes and Rossello's testimony. And I was the first person to try and find Rossello's file, so strange. After the trial, I reached out to Rossello, more than once, and he didn't respond. I asked Han across about Rossello's file during my in-person interview with her. She didn't have an answer. I also asked Ben, Nikki's attorney, and he didn't know where the file was. It never ever showed up. That file was never been at trial, as far as I can tell. The only screenshot shown at trial were yours, correct?
Sarah Caprioli  30:58
That's correct. Yes.
Justine van der Leun 
Sara's screenshots of Nikki naked and bound and gagged and crying were shown to the jury, but they were scrubbed of the name Grover Respect, as well as Grover Respect's profile and the captions he wrote. This is because Hannah Kraus argued that the links between Chris Grover and the Pornhub material couldn't be authenticated, meaning that there was no way to prove who started the account. She argued they should be excluded from the trial, and judge McLaughlin agreed. But at the appeal, Beeney made the case that the Grover Respect account shouldn't have been excluded.
Justine van der Leun  32:17
I spoke with Beeney recently, from his point of view, the connection between Grover Respect and Chris Grover was there, if you chose to make it, and the jury should have had that choice.
Garrard Beeney 
From the legal evidentiary point of view, given the evidence that Nicki presented that only Grover had access to the photographs that only someone like Grover could have taken the photographs that the Grover Respect handle fit Grover, that there was no motivation for anybody else to upload the photographs that Nikki had testified that he did upload the photographs that he seemed to have a preoccupation with violent pornography, all those things constituted from a legal point of view sufficient authentication.
Justine van der Leun
But nonetheless, Grover Respect was excluded. The judge, who was also a longtime prosecutor in Dutchess County, before he was elected to the bench, he sided with the prosecution. And Beeney says that was pretty much par for the course in this trial. Do you think things would have gone differently if the jury had seen these things, where they were excluded?
Garrard Beeney 
That is definitely speculation. And it's speculation layered upon speculation, but my speculation is yes.
Justine van der Leun
You might be wondering; how can crucial information not make it into a trial? I also wonder, but the fact is, a trial is a performance. what can and cannot be said depends on so many laws and rules. And it also comes down to far more subjective matters, like the talent or lack thereof of lawyers, and the whims of a single human judge. And in a trial like this, there was just so much information, so many pages of phone extractions, so many files, just so much paper and such a complicated, detailed story. It's possible that this was deliberate. And it's possible that there was just ineptitude. Maybe this is just the way our system functions. Maybe this is how it often goes down. It's just that usually, we're not watching. No matter what important things didn't make it to the jury. Here's Kellyann Kostyal-Larrier, the domestic violence expert you heard from in episode three.
Kellyann Kostyal-Larrier  34:39
And there's lots of things that people think would be, for instance, that all information gets into a trial. And many people don't know that's not true. And many people know that there's ways that some information may never get into trial. Right? And that has deep impact. Because if you can't, if you can't see the whole picture at times especially when it comes to domestic violence, right? The Titanic wasn't sunk by the tip of the iceberg. It was what was underneath.
Justine van der Leun 
The prosecution's logic went like this. Nikki is lying about Chris's abuse, which means she isn't credible. Therefore, you can't believe her when she says she reasonably feared for her life in the moment she shot Chris. But what if the jury had seen the whole picture? There's a theme to the missing evidence of abuse. Any traces of Chris Grover, any suggestion of him, have been removed, but Nikki usually naked or injured or doing something frustrating or weird. She remains. There are so many examples of this. One, the Grover Respect profile and the grubber respect captions, scrubbed, but Nikki bound with no clothes on shown to the jury again and again. Two, the Rossello file and his recollections of seeing Chris, nowhere at trial, but Nikki refusing to sign a deposition and then running off. He talks about that. Three, remember the forensic nurse examiner at the Safe program who testified to Nikki's burn marks, the ones from a hot spoon? Chris's name on the nurse's records was considered hearsay and struck, but the close-up photos of Nikki's wounded vagina, projected on the flat screen. Four, all of Nikki's claims that Chris taped her and he raped her. It mainly just came back to her word, so much evidence and corroboration even her first therapist who saw an early video, it didn't make it into trial. The prosecution used Nikki's presence in the images as well as Chris's absence to make the argument that he was also absent in the abuse. At trial, Hannah Kraus told the jury, quote, if Chris Grover were involved in this, and it wasn't consensual, you would have seen Chris Grover in one of these pictures. But would you have seen him, if all traces of him were meticulously removed?
Justine van der Leun  37:23
So the jury saw Nikki extremely sexualized, and they saw Chris dead on a couch. And that, paired with the prosecutors and narrative that Nikki was a promiscuous master manipulator and that Chris, that fun loving big kid was asleep when he died. It helped the jury make a number of assumptions. Here's the chatty juror who you heard from in the last episode. She's talking about motive here. Why did the jury think Nikki kill Chris? Chatty thought Nikki may have liked it. Even though Nikki testified that she didn't want it. And chatty had seen so many other pictures of Nikki bruised and burned. All of that went out the window when the context was stripped from those Pornhub photos. The chatty juror came to her own conclusions about Nikki's sexual proclivities and about Nikki's kids. Chatty said the kids were never in any danger. And by all accounts, Chris never abused the kids. That is true. But it's impossible to separate the abuse of Nikki and Chris's relationship from their kids experience, from what the kids saw. More on that after this break.
Justine van der Leun  41:04
At the beginning of Nikki's trial prosecutor Hannah Kraus told the jury that they would see police dashcam footage, and in it, they would see Nikki with her kids. And the jury's his natural inclination would be to feel sympathy. But Hannah instructed them. Sympathy cannot play a role here, the kids and the feelings they evoked. That was not to figure in. But the reality is that those children do exist. They figure in, in the dashcam footage, they were two and four. By the trial. They were four and six. I want to tell you more about the kids and their experiences because it's undeniably a major part of this story. It's a type of missing evidence, with the permission of Nikki's sister Michelle, who has is Ben and Faye's legal guardian, and with the Nikki's consent, I interviewed Dr. David Crenshaw.
Dr. David Crenshaw  42:00
I've spent more hours than the two experts that they brought in to testify in the trial.
Justine van der Leun 
Dr. Crenshaw is a clinical director of the children's home of Poughkeepsie, and he's a pioneer in the field of play therapy. He started working pro bono with Ben, Faye and Nikki when Nikki was in Dutchess county jail, awaiting her trial. All in all, Dr. Crenshaw spent nearly 80 hours with them. Most of those hours were spent in room 311, a grim space usually reserved for legal meetings. A lot of what Nikki and the kids did during their time together was a type of therapy, where children are encouraged to process overwhelming emotions and events through their natural language of play.
Dr. David Crenshaw 
It's very serious business. The affect in the room when they're playing out trauma events, is so somber, and so gripping that you just can't help but feel it in your own body.
Justine van der Leun 
In the early months of these sessions, Ben and Faye began every visit the same way.
Dr. David Crenshaw 
The first thing that kids would do, when they would come into the room, they would check her for bruises, and they would check under her neck, in the back of her neck. And even in the upper part of her chest, they would loosen up the jail clothes to just peek to see if there were any bruises on her upper chest.
Justine van der Leun 
Nikki had long held to this idea that her kids had never seen the abuse. And as you've heard, a lot of people kept in system. At least the kids weren't affected. Yet. There were the children in room 311 at the Duchess county jail, running their small hands across their mother's chest, checking for bruises.
Dr. David Crenshaw  44:03
And this went on until just before Christmas when they were convinced then that she was safe.
Justine van der Leun 
And that's because there haven't been any new bruises. Not since Nikki killed Chris. Ben and Faye were very young when the shooting happened. Especially Faye. She barely had words. But not having words doesn't mean you don't see or on some level know what's happening around you. Over time, the children found their own ways to express themselves. These detailed figures are explicit. Michelle found some drawings at home before the trial. Others were given to her by a concerned camp counselor. One day, Michelle also came upon a doll with duct tape on her mouth and booboos drawn on her body. And another day, she found a different doll with booboos drawn on its backside, Michelle took pictures of everything and pass them on to Dr. Crenshaw. He then sent the scans to a nationally renowned expert in children's art therapy. He wanted an impartial assessment and so he didn't supply any information beyond the age of the child who drew it.
Justine van der Leun 
The expert provided her opinion that the drawing was highly unusual for such a young child. They don't typically include genitalia or draw body parts with such detail. She noted that the female figure was fearful. The expert road, the overall picture suggests chaos. My clinical impression is that of a youngster who has witnessed or experienced sexual aggression. End quote, I want to be very clear, nobody believes that these children ever experienced sexual aggression. But sneaking around your home at night and peeking out and witnessing it is another matter. On the day after the trial began, Dr. Crenshaw wrote and sent a letter to Hannah Kraus and judge McLaughlin. Crenshaw shared it with me. In it, he mentioned that Ben witnessed the domestic and sexual violence in the home. Later, after Nikki's conviction, Dr. Crenshaw wrote and sent another letter to McLaughlin. In this letter, he knows that he's attaching some of the kids graphic drawings. Here he is reading it to me.
Dr. David Crenshaw  46:43
I understand that the Grover family have lost their son, and then meeting with them before the holidays, it was clear they are experiencing enormous grief. But it was also clear in that meeting how much they love their grandchildren; someone needs to consider them as precious human beings not to be treated as collateral damage. I don't think there's any justice to be had, from imposing a sentence that punishes these innocent children, at least as much as it does their mother. I believe all of you have honorable intentions. And I thank you for your anticipated kind consideration. Well, that didn't do any good at all.
Justine van der Leun 
Nope. It didn't seem to do any good at all. Dr. Crenshaw, often wondered, as did other people who supported Nikki, if the children had been brought into that trial, could things have gone differently for their mom? But Nikki never wavered on her decision to keep them out of it. She didn't want them on the stand. And she didn't want them evaluated by the prosecution.
Justine van der Leun  48:02
Do you regret not having your kids involved in the court case?
Nikki Addimando 
No.
Justine van der Leun 
Why?
Nikki Addimando 
Because they already feel silenced right now. And I know that they make that abundantly clear. Ben has literally said to me clear as day, mom, that judge didn't live with us. He doesn't know. I mean, and he's now wrong. So they were brave enough to disclose things to their therapists that I didn't even know that they saw. And I know as a child, how hard it is to disclose things that are really shameful. And I think at that moment, they were that was really brave of them, and they were doing anything they can, anything they could to tell their truth. And that wasn't heard either. I mean, the judge received copies of that, pictures that they've drawn, notes from experts. They didn't care.
Justine van der Leun 
They didn't care, Nikki says. And the reality is, we don't know if the judge read Dr. Crenshaw's letters, or if he looked at those drawings. We do know that Nikki used her voice on the stand. She finally spoke, and people in power didn't seem to believe her. She would never let the same thing happen to her children. For a long time after that guilty verdict, Nikki felt silenced. She stopped writing. She stopped drawing. She felt like she had done the impossible in that courtroom. She had told the truth about her life. And she felt like it didn't matter at all. But what I've always thought is it has tomatter. Maybe her testimony didn't make a difference right away. But give it time. Because people were making it matter. People on the outside were listening and fighting for her.
Justine van der Leun  50:21
Next week on BELIEVE HER, will hear the outcome of the appeal. Who is more powerful? The people who want Nikki in prison? Or the people who want her free.
CREDITS
BELIEVE HER is a co-production of Lemonada and Spiegel and Grau. I'm your host Justine van der Leun. The production team includes me and our supervising producer Kristin Laporte, our Associate Producer Julia York, and our production assistant Rory James Leech. Mixing and sound design by Kegan Zema music by Sara Abdullah. Factchecking by Justin Classico. Story editing from Jackie Danziger. Additional audio engineering by Ivan Kuraev. Our executive producers are Stephanie Wittels Wachs, Jessica Cordova Kramer and Spiegel and Grau. Thanks to Ariana Giles for editorial feedback. Special thanks to Michelle Horton and Elizabeth Clifton for archival tape. If you or someone you know is experiencing domestic abuse, use a safe computer and contact the National Domestic Violence Hotline at the hotline.org or call 1-800-799-7233 help others find our show by leaving us a rating and writing a review. Follow us at @LemonadaMedia across all social platforms or find me at @JustineVDL. You can also get bonus content and behind the scenes material by subscribing to Lemonada Premium. You can subscribe right now in the Apple podcasts app by clicking on our podcast logo and then the subscribe button. If you want to continue the conversation with other listeners please join our Believe Her podcast community on book clubs. Join for free at bit.ly/believeherbookclubz. Thank you so much for listening.