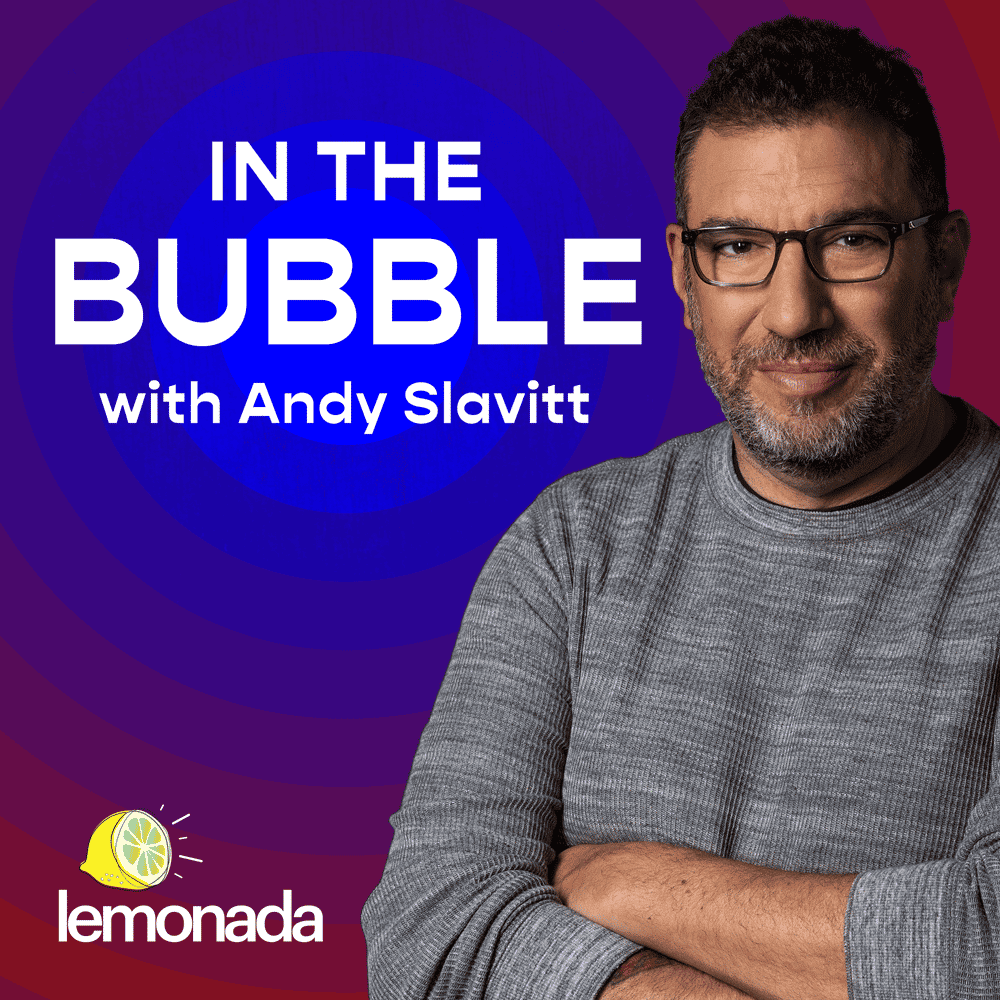 Equal Pay: How US Women's Soccer Set the Mark (with Meghan Klingenberg)
Subscribe to Lemonada Premium for Bonus Content

The U.S. women's national soccer team faces a difficult road to a threepeat at the World Cup as the round of 16 starts this weekend. But tough battles are nothing new for gold medalist Meghan Klingenberg. The former USWNT defender joins Andy this week to share one of the most challenging hurdles she has faced — leading the charge along with other members of the USWNT to secure equal pay for all women competing in international sporting events, enshrined into law in a historic bill signed by President Biden earlier this year. Plus Meghan shares her thoughts on this year's World Cup, lays out the case for why it makes sense to invest in women's sports, discusses how you can support women's soccer year-round and talks about her new podcast, "My New Favorite Futbolista."
Keep up with Andy on Post and Twitter and Post @ASlavitt.
Follow @meghankling on Twitter.
Joining Lemonada Premium is a great way to support our show and get bonus content. Subscribe today at bit.ly/lemonadapremium.
Support the show by checking out our sponsors!
Check out these resources from today's episode: 
Stay up to date with us on Twitter, Facebook, and Instagram at @LemonadaMedia.
For additional resources, information, and a transcript of the episode, visit lemonadamedia.com/show/inthebubble.
Transcript
SPEAKERS
Meghan Kligenberg, Andy Slavitt
Andy Slavitt 
This is in the bubble with Andy Slavitt. I am pretty excited about the show gonna bring you today. If I asked you the question, what's the one part of society where women and men get paid equally? You already know the answer, because you looked at the title of the show. So there's no prize money. But the answer is women's soccer. Women and men in the World Cup get paid exactly the same. Now there's reasons for that. And there was a lot of fighting, and a lot of struggle. And everybody had an interesting role to play, the women who fought for it, the men who were getting paid more than women, and what they all chose to do. And it's a fascinating story. And it's maybe one of the examples where the US is actually ahead of the rest of the world doing something right. And the question is, what is it fertile for other things, but it's something I want you to hear about today. From my guest today. Meghan Klingenberg, Meghan was one of part of one of those World Cup victories. She grew up at an age where there was no professional women's soccer. She grew up just as women were starting to come on the scene in the World Cup. And whether you're a soccer fan or not, and I will confess I am a soccer fan. Kyle, our executive producer, who you all love is a big soccer fan. But that's not why we're really doing the show today. Even if you're not a big soccer fan, I just tell you two things. One is these women are great. And they are very few places in society where we lead by so much. I mean, the women soccer in the US, they've won four World Cups playing for their fifth third in a row. That doesn't happen on the men's side. And they've got four gold medals in the Olympics. So they are great, it is fun to watch your team. Do well then watch the Women's World Cup it's on right now. We're leaving with the COVID group stage and entering the single elimination tournament. So we will talk a little bit of soccer just because that's what Megan does. And I'm always fascinated to talk about what people are passionate about. But the real story here is the new contract. And the equality and the story around equality and this sort of age old point of view that men should be getting paid more than women because their commercial sell for more. In contrast that to what we're seeing here and on the women's side and we'll talk with Megan about that. So I'm excited to bring it to you. I'm hoping you have a good summer. Let's dig in with Meghan.
Meghan Kligenberg 
Hi Andy, how you doing?
Andy Slavitt 
This year endurance training prepare you for seven back to back interviews.
Meghan Kligenberg 
And you know what? No, but that's okay, because this has been a blast.
Andy Slavitt 
It is hard to do though. Keep Talking and keep answering the same questions. I completely understand.
Meghan Kligenberg 
Honestly, it's been an interesting challenge because I feel like I get to answer them in a different way. Every time some people I think what have, you know, stick to the same script, but I was like, You know what, let's see.
Andy Slavitt 
Make something up. Let me make something.
Meghan Kligenberg 
So you'll get the most unique and interesting perspective because you know, I've gone through a lot.
Andy Slavitt 
Yeah, feel free to lie. Don't worry about the truth. What did you want to be as a kid?
Meghan Kligenberg 
Oh, well, I wanted to either be an astronaut or a soccer player.
Andy Slavitt 
How realistic did that seem? I mean, had it what point did you think that this was a real possibility you might be good enough?
Meghan Kligenberg 
Well, when I was growing up, there wasn't a women's professional league. Fun story. I, my mom and I, when I was little used to take these little spontaneous road trips, she would just pull me out of school on a Friday, and pick me up and we would head out on the road. And sometimes we would go, you know, to a museum or some place fun. Or one time we went down. We were going down to the beach in North Carolina. And it was kind of a longer weekend. And so we were driving down and it was Friday night. And Mom said to me, Hey, we're gonna make a quick stop off here. And check out something I'm like, What are we doing, she's like, just wait. So we stopped and we stopped in Chapel Hill. And we watched the UNC Tar Heels play against some other team, I have no idea. But all I remember is sitting there nine years old, being like, holy shit, I want to be one of them. Because they were imposing their will on the other team, like they were the most badass women I'd ever seen in my life. And so I knew that I wanted to be a Tar Heel, since I was nine years old. And there wasn't professional soccer then for women. And the women's national team wasn't as well known. At that point, it was only like 1995, or six or something like that. And I didn't really start getting into it after that Olympics, and then the 99 Women's World Cup, where that was a completely paradigm shift. And my entire being, knowing that I wanted to be on that team and be one of those women.
Andy Slavitt 
So your dream came true. You went to North Carolina, to plan that soccer team. He said this is early 90s. I think when I think people were just starting to see the women's game emerge, just for people who aren't soccer fans probably know that the men's soccer team is sort of been a, they've never sort of competed at the elite level. Certainly not to that point. And they've had some better luck sets, but nothing like the women's team. And starting with, as you mentioned, you know, there was a team in 99, which was the last time before you were there, that they win the cup. So what was it like to do you feel like you were part of something that was sort of starting to take the country by storm? Oh, absolutely.
Meghan Kligenberg 
I remember watching that World Cup, and completely, unequivocally falling in love with the game. And I was watching the final with my mom and my best friend at the time. And we had an insync concert to go to that night. And if you remember teenage, like teen girls, we were pretty obsessed with Justin Timberlake and the crew at that point. So my best friend keeps asking like, Hey, when are we gonna go? It's like going into overtime, right? And like, we're not going like we like we can't leave. It's overtime, you know? And then she just kept kind of being like, are we going Are we leaving or we're gonna make insync and then they finally are like, you know, shut the hell up or watching the penalty kicks, like, Could this be any better? And the funny part was, is that in sync actually came on I think like an hour late. We didn't miss one song. So we got to catch the World Cup final, Brandi Chastain scoring that goal and then see in sync.
Andy Slavitt 
I was at that game. You were there? How was that crazy. I mean, I was one of the most exciting things I've ever seen. The fact that the US could win at soccer, could take it all, was just the most remote thing from anybody's mind. And there was and I think, I think that really did something to the psyche of something we'll get into in a few minutes women's sports, and how they're perceived in society because I think that was a game changer in many respects. Now, we're talking about this World Cup where we're about to enter. We're about to leave the group stage we're about to enter the single elimination part of this for those World Cup fans. That's an exciting time. But before we talk about that, I want to just finish up a little bit on what type of player you are. Are were and continue to be, you know, people describe your pregame kind of pep talks. I don't I don't know if there's a way to put it in words, but you're kind of well known for some of the leadership and the spirit and the way you pick people up was that kind of your always been your role? Was that always like a real role on the team?
Meghan Kligenberg 
No, no, definitely not. I definitely grew into that. As I got older and matured and thought about the type of leader that I wanted to be. But no, I was definitely not like that. At the beginning of my career.
Andy Slavitt 
What's the craziest thing you've like? Remember saying? To like, motivate a team?
Meghan Kligenberg 
I think I said something like, grab your grab your gas cans and your and your lighters, and we're gonna light this place on fire or something stupid like that.
Andy Slavitt 
Yeah, I say that. At the beginning of every podcast, too. It's just, it just gets it gets the production team. Excited. You know, it gets gets the energy pumping. Yeah. So let's talk about this tournament. What are you? What are you seeing? In this tournament? We're talking about New Zealand and Australia. We've got, you know, the US playing tell us a little bit about what you're observing as kind of a former player? Who was there was going on, I guess we're going on our potential third consecutive championship potential. We're playing for it. You were there for the first one. What is this? This is crazy. What is it like?
Meghan Kligenberg 
Well, first of all, I'm just a fan this time, and it's so nice to just be a fan. I think in 2019, it was pretty hard for me, because I was still dealing with a lot of emotions about not being on the team anymore. And now I've made my peace with that. And I'm just so happy to be a fan of this team and watch them go through the World Cup. But the one thing I've noticed, as a fan watching this World Cup is parity. And it's honestly so good to watch. There are teams that are have been surprisingly good. And their first matches, and have brought a lot of quality that I think a lot of fans haven't expected. But as you see, like more women from different countries go to these big teams play for these big teams, these big clubs, and leagues that are, you know, going to stretch and challenge them, and then they bring those talents back to their countries, you're going to see these countries do better and become better. And that's what I've seen. And that has been one of the most.
Andy Slavitt 
Is that another way of saying the rest of the world is catching up to us.
Meghan Kligenberg 
It's just a pleasure. It's just a pleasure to watch good soccer. You know, what is this? What is catching up even mean? Right? Like, I think that the US is always pushing the envelope, I think that they're always playing on the edge of brave and like, is it too much. And that's always going to drive us forward, I have no doubt about our team ever pushing the envelope and being on the edge of, you know, history.
Andy Slavitt 
So what's the what's, what's the culture of it all? Why is the US team, such a winning team? And I think, you know, again, we have this context where, you know, soccer has been played, kind of, at a younger age and other parts of the world. You know, certainly in the men's side, the men's team has had a tough time, you know, getting past the quarterfinals. What is there about this team that, you know, over the years, even as players have changed, the US has been able to stay near the top?
Meghan Kligenberg 
Well, it certainly helps when you historically have had early success. And we have we won the first World Cup in 1991, and then the Olympics, and then, you know, and then the World Cup in 99. So we've had a lot of early success. And I think that when you have the type of early success you believe, so there's generations, my generation of women now, but girls at the time, that believed they could be on that team and believed that they could win a World Cup because they've seen it done. And when you have role models that show you that things that can be done, it becomes entirely possible in your mind to be that person. And I think that gave us a huge leg up over other countries at the beginning. And now I think winning has become a part of our cultural identity with the national team and so now it's just become like hey, this is the very best of the best and to be here you have to be the very best of the best. And when you get the very best of the best all living and training and playing together and you know all all of these months and these years and you We have this kind of snowball effect where it keeps getting, you know, bigger and it's getting harder to stop.
Andy Slavitt 
It's pretty special. It's pretty special to see that belief. Let me take a quick break. It is fun talking about soccer. We'll come back. And we're going to talk about the big new change in women's soccer, the big new change in society, which is the new contract and the first time in history that women and men are going to get paid the same thing we'll be right back. You know the other big story that I think is really transformational story. And maybe the beginning of a new trend is this is the first World Cup after the Equal Pay agreement went into effect. For those who aren't familiar, you want to share a little bit about what happened and how it happened and what that means.
Meghan Kligenberg 
Sure. Historically, our women's national team has been underpaid by the US Soccer Federation, and also FIFA.
Andy Slavitt 
By the way, just to give a data point, if I may be wrong about this, but there was something like $400 million of prize money for the men's and 30 million for the women from FIFA. Historically, huge gap.
Meghan Kligenberg 
Yeah, it's stupidly unequal. And so basically, the origin of it dates back well before my time, but what happened in 2015, is that we were standing up there on the winner's podium and the confetti was falling down. And we're celebrating all of our hard work and that we've been putting in since we were children. And what we realized is that everybody was making money but us our hard work And we weren't making the money. The I mean, the Federation's were FIFA was media rights holders were sponsors were everybody was making money off of our win and we weren't. Right, exactly. But it was us that did it. And so we're like, This doesn't feel right. And so we started getting way more involved with our union, organizing and creating a space where we knew what we wanted, and how we were going to go after it. And so in 2016, and 2017, we started paving the way with the new collective bargaining agreement, which took a giant leap forward, I think, set the bar in terms of how we wanted to be respected and how we wanted to move forward with US Soccer. And then we said, you know, what, enough is enough. This is completely unfair. Historically, we have done better than the men, and we deserve to be paid equally to them. So we took that kind of part to court. We took it to the media, we even talked to the EEOC, which I don't know if you know, this was the Equal Employment
Andy Slavitt 
Opportunity Commission. Yeah, yeah. And so
Meghan Kligenberg 
We started tackling this on like a three prong front, and said, We're gonna go after this and see how we can make this a reality. And we actually ended up doing it, we achieved equal pay, which is so cool, because it's never been done in sport.
Andy Slavitt 
I'm not sure it's been I'm not sure it's been done in society.
Meghan Kligenberg 
No, exactly. It sets this incredible precedent across the United States, but also the world. And I think that it's, you know, kind of seeps over into other areas that aren't sport and just kind of sets this precedent that's like, okay, you know, what, if they can do it in sport, we can do it and all of these other areas?
Andy Slavitt 
Right? Well, it's, it's, it's some of the interesting elements to this. You know, first off, as you said, the women's team was far more successful. Last, I think, if I remember correctly, lost the court case, and still prevailed at the bargaining table. The other thing that's interesting is the role that the men's soccer team played in this. Do you want to share? What happened there? And what your thoughts were about that?
Meghan Kligenberg 
Oh, sure. Yeah, I mean, at the beginning of this, I think it was a little bit difficult for the men to wrap their brains around what was going on with us and our lawsuit and what we were pushing for, I think the message, unfortunately, was one of pitting us versus them, which it really isn't. And so I think once we start digging down into it, and talking to them, and letting them know, hey, this isn't an us versus you thing. This isn't us thing. This isn't everyone thing like, like when you lift the like the tide lifts everybody. And so I think what happened is that they realized that this is not only beneficial for us, but it will be beneficial for them as well. And I think they took a really principled stand. And I'm really proud of them for the standard they took because it's not been done, really, around the world. And it has, it has in other countries, but not to the extent where the men actually are sharing what they earn, with women to create equality. Even in Norway, where they do have equal pay with their women's national team. The men aren't sharing their FIFA money that they win with with the women. So this is a historic deal. These men actually took so much pride and wanting to create a landscape where it's more fair for women and other marginalized communities, that they actually gave up some of their own earnings to create that new landscape for a future that looks better and brighter.
Andy Slavitt 
Wow, yeah, I'd be looking at that not to make the men the hero in the story, because actually, don't think that's the point. But it is it is important in the kind of conversation about allies to think about, you know, it's all well and good to advocate for someone else. It's really a different story when you advocate for someone else at your own expense, because you know, it's the right thing. And, as you said, they're getting paid less and took money out of their pocket, because they believe that they want to get paid the same as women. And it puts us in an unusual position of being a leader here. So it is really interesting that if you think about back to being a little girl and what you wanted to be when you grew up and just where we started the conversation. It's like that that success. She talked about that winning culture, that being part of women's soccer where it would lead that it would actually end up being the place that broke society's back on this kind of incredible amount of inequity?
Meghan Kligenberg 
Yeah, I mean, when you say you're an ally, and Ally isn't just saying that you're an ally, it's not showing up to the Pride Parade and all rainbow. You know what I mean? It's not like that's not being an ally, that's just partying with the queer community
Andy Slavitt 
I look at and right, I look at it rainbow, by the way.
Meghan Kligenberg 
Rainbow is a great color on a lot of people. But what I'm saying is that allyship means actually taking a principled stand, where you're sticking your neck out in a way that, honestly we have to do every single day of our lives. Just because we're women, just because we're women, we have to endure things that men don't have to endure simply because we are the opposite gender. And so this is the type of ally ship that I know the story isn't about the men, but I, I want people to know that this is something to be proud of. Because if if people are proud of this, and and see the men doing this as an example, that more people will, and that will only create a better world. And honestly, I don't think in the long run, that the men will be having any money out of their pockets. Because in the long run, I think things are definitely going to, like just create more opportunity and money for each other.
Andy Slavitt 
Right? Well, and you're a professional soccer player, obviously in the NWSL. And there is not yet parity, at least as far as I know, between the NWSL and the Major League Soccer, MLS. Is that next? I mean, is that where this needs to go next? Hell yeah,
Meghan Kligenberg 
that's definitely where this needs to go next. And hopefully, I've been saying every, to everybody that has been watching, I'm like, Hey, you can see these players play week in and week out in the NWSL. These players are playing against each other, every single week in the NWSL. And these are high quality matches, where every team is competitive. So there's not going to be a bad match to watch in this whole league. So I encourage people be like, hey, stoke that fandom, and make sure that the fandom keeps on going even after this World Cup ends. Because I think once you create more eyeballs and create more fandom and create more community around the NWSL, that only leads to better things for the players in it for the fans. For the cities in which these teams play the communities there. So to me, it's just as we as we keep going. We just need to keep making sure that we're not leaving behind the women that are you know, creating this league. That is the staging place for the World Cup, like the the 23 best players in the country shouldn't just get to benefit off of the, you know, the hard work of everybody creating a better landscape for soccer, but like, we need to make sure that everybody is benefiting from the World Cup and the NWSL and eyeballs on this on this game.
Andy Slavitt 
Okay, make it Let's take one more final break. And now we're going to didn't want to come back. One of the things I want to ask you is what happens when you realize your dreams, which you did as a young person, you know, what's next? What's coming up for you next? You've got an exciting project. We'll talk about it as well as finish up talking about the issues around the pay gaps in this country. In that argument. We'll be right back. What's the response to the people who are listening who are saying, sure I supported quality? But does the money follow the revenue? And if someone pays more for an advertisement on a man sport, that they pan women's sport, because there's more eyeballs? Isn't that just the way it goes? And isn't that the same thing as why LeBron James gets paid more than? You know, you know, you get my point you I'm sure you've heard that argument over and over and over again.
Meghan Kligenberg 
A lot. And I feel like it's been debunked at this point. But clearly, the people that need to hear this aren't listening very hard, because it's not about the revenue. It's about the investment. The men's game has, sorry, 1,000x more investment than the women's game. So how can we even compare revenue when the investment is just so far off? That doesn't even make sense. It's an apples to oranges argument that has absolutely no bearing on common sense. And I feel like if you use it, it's only because you don't want women to be able to equal pay, or you don't want equality?
Andy Slavitt 
Well, to be fair, I think there probably are people who haven't thought enough about the issue, who hear that argument, and don't don't necessarily know how to refute it may feel like I don't think that should be right. But boys is just the way business works. Why is it wrong? And so I think you've given an answer.
Meghan Kligenberg 
I mean, at the same time, it's like, how can you expect, like, give you an if you invest $1,000, or $10, in something, it's like a totally different outcome after 10 years, and I think the men's game has been, you know, it, it's been going for hundreds of years, like the women's professional league has only been around for 10. And so to compare investment, when you compare investment, and then you also compare the time that the league has had to develop a fan base, it's just not the same. It's not it's not really a comparison game, I just think that what is deserved is more investment. And, and it just needs to be more each year, it doesn't need to be crazy, it just needs to be more. And we need to get to a point where we're like, Hey, this is something that is going to be and I think we are getting there. By the way, this is going to be something that's going to blow up because I really do think that women's leagues are going to blow up and they're going to be a great investment. Because the men's game is filled with money. I don't know how much bigger it can get. But the women's game has the potential to be where the men's game is. And it's 1,000x Less right now. So Right. Imagine that type of, you know, return on your investment if you get in at this point in the women's game.
Andy Slavitt 
Yeah, well, look, I think we have rules, and we have laws. And we have collective bargaining for a reason. And the reason is, because capitalism doesn't dictate our worth. And I think the decision that is been people have been asking for for years, we finally broke through and, and I think this is one of the things that should give people really great optimism. Subsequent to this agreement, the Equal Pay Act for team USA came in front of Congress, and in December of last year, and it passed the Senate with 100 votes. So Team USA, all sports now have to pay men and women the same. And not a single senator, voted against it. So if you're looking for science, that we're not all screwed up, that we actually, we actually do have a value system that we do believe in the right thing. There's massive consensus on this issue. I mean, so for people who are hearing that old argument, I would point to the United States Senate without such as plenty of people with plenty of differing views. Not always supportive of women to be to be clear, who are supporting this, and I think that's a fascinating and really positive step.
Meghan Kligenberg 
Well, this is me learning that 100 senators voted for this bill. I knew it passed but I didn't know it passed with 100% of the senators. That's really cool. Thank you for the.
Andy Slavitt 
It's very cool. It's very cool. It's very cool. So okay, so now you've you've reached your childhood dream, you surpass your childhood dream. Let's be honest, you wanted to play with you and see you did that. And you won a World Cup. And so what's next? I mean, obviously the big prize at is, is having a podcast of your own right?
Meghan Kligenberg 
Of course it is. Who doesn't want a podcast? Right?
Andy Slavitt 
Oh, I could tell you. It's what you've done that year on Easy Street. Tell us about your podcast.
Meghan Kligenberg 
Sure. It's called my new favorite futbolista. And it is a podcast featuring 10 women from different countries, but going to the World Cup. And what we did is we dug into their stories, and it's not about soccer, it's about them as humans, their inspiring, sometimes devastating joyful hopes and dreams and journeys that we dug in and talked with them about and it was honestly one of the coolest things that I've done in my entire career. And I had an absolute blast getting to know these women as people, not just soccer players, and I highly recommend that people give it a listen, not because of me, but because these stories are worth highlighting, and these women are worth the like shining the light on them.
Andy Slavitt 
You really seem to have fun with it. I made it really. Am I wrong?
Meghan Kligenberg 
No, I had a blast. I mean, okay. Soccer is my passion. I love soccer. I've never found anything else. That gives me that same feeling that soccer gifts. But this has come very close. I really, I have had a blast, I got to just be me get curious, which is one of my favorite things to be asked the questions, learn new things, get to know people. And then spread that around to other people. So they get to know these women in the way that I got to know them. It's been such a blessing.
Andy Slavitt 
It's one it's so funny, say that making because I find that our best shows are 100% When I'm super curious and super interested in the other person like I am in you. And we just talk about whatever matters to you. And what's interesting to you and about you. And I think that shows through. And if I can't bring that, then you know, I'm the wrong host. We've got the wrong guests, or whatever. But if it's I figure, if it's fun for me, it's fun for the audience. That's kind of how I've sort of tended to see it.
Meghan Kligenberg 
Oh, totally. I mean, these women, were talking about things in their lives that they don't usually talk about. So whether it's their mother's death, or their ovarian cancer treatment at 15
Andy Slavitt 
years old. Yeah, what an incredible story that was.
Meghan Kligenberg 
Yeah, or their immigrant, immigrant journey to America, like, these are vulnerable topics. And they don't usually get brought up in the media. And so I felt that the only way for me to be able to tell these stories in the best way possible was to be vulnerable, myself and authentic myself. Because if they were brave enough to do it, then I certainly had to be.
Andy Slavitt 
Right, let's pour some gasoline on it and let it on fire. Precisely. Well, Megan, thank you so much. So kind of you to come into the bubble. Very excited to watch the rest of the cup. I'll be thinking about, you know, like having your commentary alongside me because I love to watch with people who really get it because there's so many subtle things that happen. That just changed the game. There's just so much fun. It's such an exciting time.
Meghan Kligenberg 
Well, in the subtleties are like the best parts of the game, aren't they totally when you're able to get to the point where you can enjoy something so much because of the subtleties like the the past to the correct foot, or the weight of the past, or just like how they shut down angles, but they're not even in the area of the ball. Like when you get to that point. As a fan, and you get to see that and see these incredible players do that stuff. I mean, it's just like a different type of watching, isn't it?
Andy Slavitt 
Totally. It's so cool. And to boot watching soccer now knowing that for the first time we're beginning to pay people fairly. That's also pretty frickin cool also.
Meghan Kligenberg 
Yes, that is definitely pretty frickin cool. Megan, great to talk to you. Thank you. It's been a blast.
Andy Slavitt 
Thank you, Meghan. Really great episode. Really great to talk to her. Hey, I hope you're enjoying the summer. Let me tell you we've got a few great episodes coming up. The new head of the CDC Mandy Cohen will be on shortly and As will Congresswoman Susan del bene from Washington, as well as more and more more, more more. That's all I can tell you more and more and more good stuff as we're getting through our summer programming. So, hope you are enjoying our once a week format. I'm having fun bringing the show to you. I think we're getting some really great guests. Email me, tell me more what you need. And we will respond and we will get on it. We got a couple of great suggestions this week. Bye for now.
Andy Slavitt 
Thank you for listening IN THE BUBBLE. If you like what you heard, rate and review and most importantly, tell a friend about the show. tell anyone about the show. We're a production of Lemonada Media. Kyle Shiely is the Senior Producer of our show. He's the main guy, and he rocks it with me every week. The mix is by Noah Smith. He's a wizard. He does all the technical stuff and he's a cool guy. Steve Nelson is the vice president of weekly content. He's well above average. And of course, the ultimate big bosses are Jessica Cordova Kramer and Stephanie Wittels Wachs. They are wonderful, inspiring, and they put the sugar in the lemonade. They executive produced the show along with me. Our theme was composed by Dan Molad and Oliver Hill, and additional music is by Ivan Kuraev. You can find out more about our show on social media at @LemonadMedia where you can also get a transcript of the show and buy some in the bubble gear. Email me directly at andy@lemonadamedia.com. You can find my Twitter feed at @Slavitt and you can download in the bubble wherever you get your podcasts or listen ad free on Amazon music. It's a prime membership. Thank you for listening.