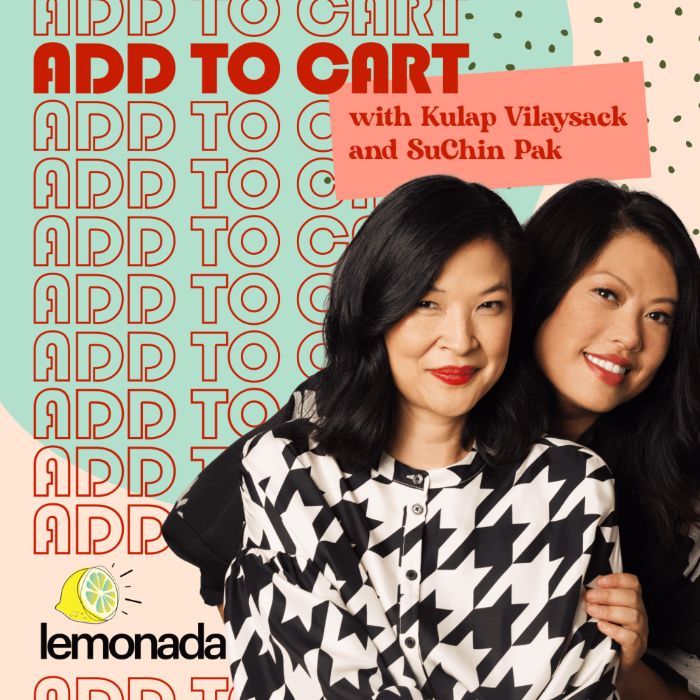 How to Crush a Sunday Morning with David Walton
Subscribe to Lemonada Premium for Bonus Content
Description
We hope that everyone had a great Thanksgiving and is now ready to sit back, relax, and do less. At least that's the hope from this week's guest, actor David Walton. He walks us through his binky (er, backpack) full of Add to Carts. Plus, Su and Ku introduce a new gift category: One for You, One for Me!
Please note, Add To Cart contains mature themes and may not be appropriate for all listeners.
To see all products mentioned in this episode, head to @addtocartpod on Instagram. To purchase any of the products, see below.
Stay up to date with us on Twitter, Facebook, and Instagram at @LemonadaMedia.
Joining Lemonada Premium is a great way to support our show and get bonus content. Subscribe today at bit.ly/lemonadapremium.
Click this link for a list of current sponsors and discount codes for this show and all Lemonada shows: lemonadamedia.com/sponsors
Transcript
SPEAKERS
Kulap Vilaysack, SuChin Pak, David Walton
Kulap Vilaysack  00:10
Welcome friends to another episode of ADD TO CART. A show about the things we buy and buy into and what it says about who we are. I am Kulap Vilaysack.
SuChin Pak
And I'm SuChin Pak. I hope everybody had a great Thanksgiving out there but that's in the garbage.
Kulap Vilaysack 
Set it on fire because baby warm your hands because it's Christmas season.
SuChin Pak 
The real job.
Kulap Vilaysack 
Big time.
SuChin Pak 
The big one. She now enters the stage. She takes center in all her sequent glory. So we got lots of […] for you today. Oh, my goodness. I mean, you guys, this is a frickin great episode. We have our guests. My former neighbor and very good friend to our family. David Walton, is joining us.
Kulap Vilaysack 
He's an actor. He's an entrepreneur. You know, look, we all have eyes. He's very handsome. So to kick off December we are going to give you some more gift ideas. We've called this category one for you, one for me.
SuChin Pak 
Yes. Now these are gifts. Because we were thinking about like what kinds of gifts do we want to talk about? And I think we were mostly interested in the holiday season ultimately being about us, you know? Yes, we are gifting one for this person but it's so good. That this gift has come back to us as well. Ku, you want to start it off?
Kulap Vilaysack 
Yes, please. So my one for you one for me to start off is the Bombas gripper slipper. Now, Su, have you have you seen these, you know about this?
SuChin Pak  02:00
No, oh, it's grippy because it has like traction on the bottom?
Kulap Vilaysack 
Yeah. I'm getting this route for Scott Ackerman my husband and then I was like hey, I  want one too. I mean first of all; you know how I love to match with him so that's the you know part of it but also I was like oh this is we have a hardwood floors it can get chilly we're moving beyond 80 degrees here in Southern California. So, you know like I think something in between a sock and a slipper is in order.
SuChin Pak 
Wow, have we just become one giant human?
Kulap Vilaysack 
Are we transforming together?
SuChin Pak 
Just blobbing into one person
Kulap Vilaysack 
we're just crashing into each other and just merging into this like two headed monster. And if you're not familiar with Bombas all of their they're known for just their socks, but their philosophy is so one purchase one donated so it might be a little bit more expensive but they are quality socks and they donate them so that's good to think about.
SuChin Pak 
One for me, one for you, one for everyone, that you really knock this out of the park. Okay, so my turn. Okay, it's a little bit of a cheat but it's still one for you one for me. And you are very familiar with this already because coop home goods. So coop home goods had sent us both complimentary pillows and you actually met with like a pillow expert?
Kulap Vilaysack 
Yeah, and I would suggest that for people like I look I want anytime that I can just you get to talk to us console
SuChin Pak  04:03
I'm good.
Kulap Vilaysack 
A console is so close to concierge you know what I mean? And cuckoo likes that level of service. White glove, black matte but white glove.
SuChin Pak 
So they offered that to me and I was like no I'm less human contact is what I'm going for. So I what I did was I ordered a few pillows and this thing came in the mail. The original body pillow. Now, Kulap, you had warned me that this was going to be large. So I waited. I waited because I was like okay, this is going to take up a lot of room like I'm not sure if I'm ready to commit and I open this sucker about a week ago.
Kulap Vilaysack 
It's thicc. Thicc.
SuChin Pak 
For a side sleeper. This is a game changer. I was thinking for anyone that is pregnant. This is also a game changer. It is also filled with the perfect consistency which you can adjust. But it the fill is so important right to a body pillar because it's supporting the whole length of your body. And so I bought one for my parents, because they are moving into a new home and they just need all new bedding. And my I had to explain to my parents what this was they were so confused when I pulled this thing out. My mom was like, what is this? And I explained it she is obsessed with this thing. I mean to see two little Korean koala bears hugging on this body pillow is so satisfying. They each have their own, because, you know, they sleeping inside their beds, it's like they're not, you know?
Kulap Vilaysack 
Imagine sharing a body pillow. That is actually not the point confusing.
SuChin Pak 
They each have their own and they use it in their own ways. My mom uses it more as like a headrest, you know, to her bed, which you know, she and so it kind of sits between the wall and her and she reads. And then I've noticed that my dad, he just likes to snuggle with it and even exercise with it. Listen, this man will exercise with anything you give him. It's quality, so soft. Also I love about these because you never know when you're buying something online, if especially when you're dealing with bedding, and pillows as such a hard thing. But I love that you can adjust the foam in and out of it. It's not that expensive. It's $80, you're gonna have this for years and years and years and years and years. And you can customize it to however sort of firm you want it or not. Anyway, I can go on and on about this company
Kulap Vilaysack  06:46
love to throw in because we love to support AAPI owned businesses that this was started by two siblings. Kevin and Jin Chan it is a family business. And, you know, we always want to shine a light on businesses like theirs. So this last one, it started for me and then I thought, oh, maybe Scott would like this too. Well, I needing to find things for Scott for Christmas. And he's not an easy person to shop for. So it what it is, is talk about extra. I got it in my head that how did it start? It went with okay; I might stand my computer stand is a little off. It's not a kind of even you know what I need to get like a standing desk, you'd like something where I can stand up if I want to, I have been sitting a lot. Maybe that's the cause of my headaches. All right, let me order this stand and then like, you know what? I like this, but I think I'm going to need, I'm gonna need a Bluetooth keyboard. I'm probably gonna need a Bluetooth keyboard. But then, then I'm going to also have to get a mouse. But then I'm getting a mouse pad. Oh, what about I've heard about these, like, desk pads? But like, normal desk pads are kind of ugly.
SuChin Pak  08:11
Where you're hearing my desk pads, but continue.
Kulap Vilaysack
But if I'm gonna get a desk pad. I'm it's not gonna be made of linoleum. You know, like, I don't know how to say this any better than really expensive desk pads. I find myself at Grovemade.com. And how did I get there? I for myself look at shopping destinations that are made for men. So I'll look at GQ for things for me. And for Scott. But generally, if I'm looking at a list, I end up finding things that I like. So I had never heard about Grovemade before. But I was seeing them come up on like, best gift for guys 2021, best holiday gifts. And then I was like, yeah, I need a desk pad for a whole setup. And I think it would really just make this desk pop. You know, it is only about me. And then I thought oh wait a minute, maybe Scott would need like a desk pad. And then I was like, oh, I'm just gonna trick out his desk. I got him a desk pad. I got him a stand for his monitor. I got him a stand for his headphones. I need some big-ticket items for my man and all of a sudden, through what I needed, was able to purchase things for him.
SuChin Pak
Now what he needed? Let's be clear.
Kulap Vilaysack 
Well, he doesn't need anything. I don't need anything. And that's where we're at.
SuChin Pak
And that's where we're at. Leather gorgeous desk pads. That bring visual structure and organization to God's face that's what that is exactly. Their premium vegetable tanned leather soft and smooth. Develop a distinguished patina.
Kulap Vilaysack  10:13
I got that black,
SuChin Pak 
It's you, It's him. It's one in the same. And the love story continues guys. This romantic comedy doesn't have an ending, okay? It just keeps going. Just keeps going, you both in your little Bombas slippers and your leather desk pads just cute as buttons.
Kulap Vilaysack
And like he has no desire like..
SuChin Pak 
He's gonna love it.
SuChin Pak 
Now my last thing I'm going to say is, is it is for you and me in a sense. Now Kulap you had DM me? You saw something on the internet's yeah, there's a website called TurnMe Royal, you guys. And she sent me this and I started to laugh so hard. You guys, you take a picture of a friend. And you pick out one of their royal settings and they put the face of your friend on a queen or a king or a Viking or a Lord and Lady. They do couples they do pets, these portraits and they're like kind of like Renaissance see, you know that era. And the second you sent me this I was like I know exactly who I'm buying this for. I'm buying this for my dear friend Kathy. We all should have that friend who is so extra in the best extra way. Nothing. Nothing is ordinary. Everything is extra. Everything is dipped in matte black, or 24 karat gold. You know what I mean? Like she's the one that if she likes something she's buying getting every flavor and color and then she's buying it for everyone in her life. She's the one that's the person in my life. I adore her and I put a picture of her on it. I think I sent it to you right?
Kulap Vilaysack  12:15
Yes, it looks amazing. It looks so good.
SuChin Pak 
I picked the portrait of the rose, the rose queen, I have look at that thing on my desktop I screenshotted it I look at that thing at least once a day and I just giggle it's has given me so much joy. I can't wait to give her this and watch her open it I will video it and see her reaction cuz she's going to die anyway.
Kulap Vilaysack 
I mean, there's somebody I want to do this so bad to multiple people and I will and I will This is so good. So it's really good too. It makes me very happy.
SuChin Pak 
Well, one for you one for me that's this holiday season I've given up even trying to pretend that it's about anybody else and I have as you know, been doing that since we started and that's not happening this year. I am mostly focusing on myself and we're not going to talk about Black Friday we're not going to talk about sales that's not what we're here today but trust that I will be doing all of that shopping for me, it's a different time. A different season this year. There we are.
SuChin Pak 
Okay, sweet Add To Carter's, I'm so very excited to introduce you to a longtime friend of mine. You know him from his roles in about a boy and new girl most recently He's starring in later days alongside our girl, Doctor MD, Majandra Delfino who also happens to be his wife. And of course you'll see him in the upcoming Netflix film of the last will and testament of Charles Abernathy please give a warm add to cart Welcome to David Walton.
David Walton  14:23
So sweet.
SuChin Pak 
I mean, I had to pare down this intro cuz we used to be neighbors.
David Walton 
I miss you and Mike so much and
SuChin Pak  14:33
you know, nothing more lovely than a warm Sunday morning. And having David stroll over, possibly barefoot in a bathrobe, coffee mug, just seeing what's happened in the old pop vendor household. You know, chit chatting.
David Walton
I love […], you know, a little stoop convo. It's my favorite.
SuChin Pak 
It's a favorite that'll just go on and on. Especially with you and Mike who just adores you. There's a bromance there that I tried to not get in between. I just sort of let it you know?
David Walton
And we appreciated that, we did appreciate you not interfering.
SuChin Pak 
So many of our listeners may be fans of your work as a fine actor, but here's something that they may not know. You know, cool when David gets interested in something, he doesn't just, you know, read a book about it. He doesn't peruse the aisles heat. No, he Don's a scuba, you know, he gets on pressurized goggles.
Kulap Vilaysack 
He's a deep diver.
SuChin Pak 
He's a deep, deep diver and the knowledge you know, the breadth of knowledge
Kulap Vilaysack 
It's wide. He's not a surface person.
SuChin Pak 
No, no. Credit Card Points. A cryptocurrency we will we got into that for a bit during the pandy. I also want to say that you recently took a very deep dive into the world of bathrobes and now I want to take you back though this had been tickling your brain for years. I remember. One of your full moon parties, guys. That's another episode.
David Walton  16:15
I think it was the vernal equinox and the full moon. It was a very special night. There's a lot of lunar energy.
SuChin Pak 
So potent. Let me just say lots of things happened that night that we shan't bring up here but I remember at one point during the night, I don't know it could have been 6pm or 4am. You, Me and Mike we're in your bedroom fully clothed guys, get it right. Fully clothed. There were no less than I don't know. I would say 80 to 400 bathrobes just strewn about. And you proceeded for good 45 minutes to try each one on? And tell me the drawback to each this one sleeves a little too long. This one doesn't quite hit up the waist the way I want to. And I didn't know that years later. This obsession would bring us to walk […]. Would you tell everyone about this journey of the perfect bathrobe?
David Walton 
Yeah, you were there for the development phase there we were. R&D. That's where you go around buying 1000s of dollars' worth of robe and really try not to stain it because you know you're going to return it and then picking it apart and then designing something that you think solves all the problems of the robes that are currently available on the market. And so Wakanicci was born and we decided to make the perfect bathrobe and we actually named it and put it on the collar.
David Walton
Ku is wearing it right now. I'll post up a picture.
David Walton 
You look so good in that, Kulap.
Kulap Vilaysack 
This is who I truly am.
SuChin Pak 
So regal, you guys, this bathrobe.
Kulap Vilaysack  18:03
I was gonna say you're a robe disruptor
David Walton 
Yes. Well, the real yeah the real thing was like everything's been upgraded, casper has done mattresses you know, Mac Weldon zone underwear, or Tommy Johnson underwear, Bombas does socks, and everyone had forgotten about the most important article of clothing in the world, the bathrobe and we feel I feel that a bathrobe is like your cue to really do nothing. And that I think is a powerful concept that the whole world needs in America for the people who are running themselves ragged. And when you do less when you do nothing, you want to the robe is your cue to do that. So we have t shirts that say do less, roll more or do less be more. I just feel like leisure has been ignored in this modern society and I want to make leisure cool again.
SuChin Pak 
If you're not clicking Add to Cart on this fucking robe. You're not awake. You're not awake and you don't love anything.
Kulap Vilaysack 
Let's talk about these features, right? The sleeves now you took great care of the sleeves, the length, because there's activity that is necessary to do well in this robe.
David Walton
Look when you're a parent and you go downstairs to crush a Sunday morning and you go to make your pancake batter and that robe sleeve is getting in your pancake batter. The temper tantrums I used to have, now that problem is been eliminated because we have done a what's called a three-quarter sleeve and a three-quarter sleeve is the ideal length for not getting pancake batter or makeup or all those things that the lady folk love to put on your face, serums, yes, I actually got some serums I was gonna bring that but then I think Majandra covered them. Anyway, so yeah, three quarter sleeve, it's got a patented triple tie system in the back that acts in the back, you're gonna have three different levels to tie the robe. Because usually a guy, you get into a hotel, you put on the robe, and you're tying the robe around your titties, you know, it's way up high. And we needed a robe that could fit around our love handles in our spare tire at the right moment. So I like to tie it around where my belt falls, some people like to tie it up above their belly button. And wherever you like to tie it, Wakanicci got you covered.
Kulap Vilaysack  20:38
Best pitch for any product.
SuChin Pak 
That's just the start.
David Walton 
Look, the truth is I don't I don't want to it is it's really, really soft. And so it looks like it's honestly, it's a $400 to $500 4 seasons, […] you go to the nicest hotel in the world, that's the kind of road they're gonna give you. But it's only 200 bucks. And also, the thing that I truly, truly love about it is that if you take care of it, this is it. This is your road for life, man.
Kulap Vilaysack 
You could be buried in it, if that's what you wanted,
David Walton 
If you wanted that. And that's a theme as I go through some of the other items. Things for lifetime. I'm very into the lifetimes. I don't like to buy things again. You know what I mean?
Kulap Vilaysack 
The first thing you brought to us is the GoRuck GR1 backpack. Okay,
SuChin Pak 
there you have it. He's showing us his GoRuck backpack. By the way, five-star review. 1000s of people what is so special about this backpack?
David Walton 
That's a great question, SuChin. When I first got this, I'll tell you the journey. I was a little disappointed. It was heavy. And it didn't have a water bottle holder, which I felt like you know when is important. However, my love for this has deepened with each and every use. Because ultimately, this thing is incredibly overbuilt. It is meant for special forces. It is so high quality, the material of this is like indestructible. And so what it's really become for me, is like this Binky. Like if I have this with me anywhere in the world, I feel safe. Like I have credit cards permanently in here. I have pens, I have paper, I have checks. This is like my house burning down. I grab this and I'm good to go. It's my go bag. And it has a wonderful like, it's got modern features, like it's got a great laptop sleeve. So your laptop is super safe. It's got cool little pocket. It's got infinite combinations if you're a carabiner if you're a […]sexual as I like to call, you know like metrosexuals like or retro sexual is just a dude who's always got a carabiner and like a Nalgene bottle
Kulap Vilaysack 
Dude or gal like our producer Claire.
David Walton 
So it's guaranteed for life. It's like that old school L bean guarantee, you know if anything ever happened, but the thing is, it won't like just listen. These zippers, you can crank them all day long and they will never break. No, they really won't break. It's a truly high quality. I mean, the highest quality, so I love my GoRuck. It really is my Binky. And then I have some things in here.
Kulap Vilaysack 
Inside I think we've got the Bill Ringu slippers,
David Walton 
I have sold more of these just by wearing them than anything else I've ever worn. They look pretty normal. They're just they are a wool slipper and my dog Pablo ate the back of this one. And I would like to give my dog away. So if any listeners are looking for a mix Terrier, who barks at 110 decibels that rattles your bones and makes you want to kill yourself. Please give me a call. I will send him in the belly of an airplane.
SuChin Pak  24:29
He's been trying to unload for years. Since he got Pablo.
David Walton 
Can we make Claire to add a link of a picture of Pablo, please. Okay, great. But these are just I hate tying shoes. And you can slip these on. They're very comfortable. They're actually really breathable. And what I do love about them is they're from the Nordic regions, I believe Denmark, or Norway, which is cool. They're like what all birds ripped off. They're the OG of the slipper. And they're only 100 bucks and No one else has them. And so I think I've sold double digit pairs of these just with people looking at them they're very chic. They're the slipper you can wear anywhere which I that which is my style anyway, again, leisure, leisure. Max leisure, we want to be max leisuring.
Kulap Vilaysack 
I like how you're describing how you're moving these units as if you're a sales rep.
SuChin Pak
Well, he went into the Marketing podcast.
David Walton 
Yeah, I'm channeling
SuChin Pak
What else is in that bag?
David Walton 
Always be selling everything.
Kulap Vilaysack 
Well, SuChin's gotta love this. Some darn tough socks.
David Walton 
Oh, guys, I discovered these a couple years ago. Again, this is a sock. It is guaranteed for life. If you get a wholeness bastard, you send it back and they send you a new sock. That's how good this is.
SuChin Pak 
I need 400 of them.
David Walton  26:03
Well, that's gonna cost you a lot. I mean, this is about 20 bucks, that's 80k in sock, the look of this. It's kind of that pattern that you look at when you see a hiker and you're like, oh, yeah, you got all your hiker gear on there you go. But it's, it's they've got white socks. They've got it all but they're all guaranteed for life. They're the highest quality they're made in Vermont. Oh, they're US. And they are a wonderful stocking stuffer. And I'm just trying my all I'm doing in life is to be able to afford to have every pair of my socks be these.
SuChin Pak 
That's how you know you've achieved it.
Kulap Vilaysack
David, are you aware that SuChin wears hiking socks to bed?
SuChin Pak
That doesn't surprise you.
David Walton 
It made me love her even more. I have so much respect for that. And I have fallen asleep in my hiking socks. And then in the wit in the morning, you just patter down to the kitchen. All toasty.
SuChin Pak
Leisure all the way home 24/7, doesn't sleep. Leisure doesn't sleep.
Kulap Vilaysack 
Now I understand both of you need to just be ready for you know, to get coffee and pancakes or I don't know like an apocalypse. You just gotta go. You gotta be ready to go.
David Walton 
Ready to go.
Kulap Vilaysack 
Okay, okay.
David Walton 
Speaking of comfort, this is we're taking, we're pivoting. This is a hardcore pivot. This is a very important book. It's called the Drug Users' Bible. And it's by Dominic Milton Trott. And I think it should be on every single adult who has ever enjoyed a psychoactive substance bookshelf. It actually can save lives. It's got a great message about harm reduction and benefit maximization risk reduction. This fella Dominic, who I've actually talked to, because I was so impressed by his book has tried every drug on Earth. And he's a totally articulate smart dude. He's got like an IT job. And he went all over the world. And he just talks about the botanical name, the street names the major active compound and indigenous source, ROA, the route of administration. And then there's a Shogun scale of how f up basically you get by the drug, and he's got them all. And so if you ever and ways to test and the best way to test it, and stay safe, and so if you've ever been curious, I mean, we could have used this at the vernal equinox party, let's be honest.
SuChin Pak  28:55
Even in their right minds to open that up. I was upside down, inside out.
David Walton 
But anyway, it's a really cool book. I think it's a great gift. And I'll read a little something on the back. This is essential reading for the 250 million people who use drugs and for anyone thinking about using them. It's the first stop for every word parent. It's vital reference for anyone who needs to cut through the noise nonsense and misinformation fast. It's a must read for the interested in the curious for those who actually want to know the hidden truth. I think it's a wonderful book and I hope everyone buys it and sells it out. And then..
Kulap Vilaysack 
I love that it's in your special forces bag. David going into the wild with that sketchbook,
David Walton 
My Wakanicci journal.
SuChin Pak
contemplating the end of the world while looking for his mushrooms and looking it up to see if he will die quickly or slowly.
David Walton  30:02
Let me finish this off with something that so I'm sure there's some cannabis users that listen to your podcast, right? This is the AirVape X. And now the AirVape X is so thin, and it can fit in you smaller than an iPhone. Now what you do is, you know, when you smoked a bowl in college and you lit it and you coughed and it just tasted like tar. You know, it's awful. This is a whole other operation, you triple click, it heats it Do you see this little thing, it heats it to 300 anywhere from 350 to 420 degrees, the flower is ground up and is in the top. It's super smooth, and you can actually taste what all these annoying bud tenders tell you about bud you know, like, oh, the pineapple and the and the flavor and the gassy flavor. All those flavors come out. It's only like 120 bucks. And it basically makes cannabis turn into like a glass of wine. Oh, and it's a different kind of high. It's like it's not as harsh and you can really control the amount because a lot of people don't smoke pot because they don't get like getting too high. With this. You can have just the tiniest little tap, like the little sip, and it's wonderful. So I really encourage everyone to put on a bathrobe. Get your journal out, take a tiny tap off the AirVape X put on your slippers and maybe go on a walk through the woods with your go rucksack.
Kulap Vilaysack 
Wow, you really brought it together at the end.
David Walton 
That's all I got.
SuChin Pak 
He's a storyteller. A podcast empath. A retro sexual storyteller.
Kulap Vilaysack 
He sold me on a lifestyle.
David Walton 
I hope you guys aren't pulling my chain because I would love to come out and do all this with you. Put on our robes and we'll go walking. Take a forest bath.
SuChin Pak
I would love that actually. Like my worst nightmare. But listen, listen. That's why we're friends. You need the other person fully clothed in her sunglasses in a trench coat judging everything. At all times.
David Walton  32:17
That's what I've always loved that about you. I have to say, you balance me out is wonderful. And Mike. I mean the three of us and Majandra. It is a wonderful, wonderful combination.
SuChin Pak 
Well speaking of the four I mean, this may or may not get cut, but I always try to wherever I can tell the story of your birthday dinner that Mike bought you. If you remember the four of us went to, went to a. What do you call it? Vision deprivation dinner. Mike, my husband, what do you get with someone who shows up with all of this? You know, it's not easy. But he looked into his soul, his deep love of David, just a bounce. And he said what would David want and immediately came to him.
Kulap Vilaysack 
Take away one of his senses.
SuChin Pak 
Take away one of the most essential? Put him in a restaurant and let him just have it. Groping the table, I'm in your butter. I'm sorry about that. I think my pinkie slipped into your gravy.
David Walton 
I remember SuChin later in the night, we've been talking. And it was like an hour and a half was sort of the end. And like I think you were trying to pass me something and our hands touched. And I remember I still think about how intensely you recoiled from me. Like I was like I was the creepiest person on earth. Because I felt the recoil in the fingertips like it was so intense. And I still kind of like so like wow. Like enter my brain.
SuChin Pak 
David, not to take away from your specialness, but that's how I generally react to any human touch.
David Walton 
No, Mike's told me about that.
SuChin Pak 
Asked Mike, but I also was in a full panic attack. Majandra was the only one that really understood it and just kind of in my ear because you know, we couldn't see each other just guided me through that. I felt like I was eating dinner in a coffin. That's what I had experienced. David, on the other hand was I mean, it was pagan shit couldn't be more pleased that the four of us.
David Walton 
I was enjoying the novelty. Yeah. I was feeling comfortable but you were good you weren't ruining. You weren't you know making it about yourself you were quietly suffering.
Kulap Vilaysack 
David, thank you so much for coming on the show. This is awesome. I feel like you could be my mentor. I could be your apprentice wearing this Wakanicci
David Walton 
Let's talk every day from this point forward 10 minutes a day. Let's start our day together.
SuChin Pak
He means it Ku, get ready.
Kulap Vilaysack 
Where can we find you on social media?
David Walton 
Oh, I love social media. I am at @DavidWalton and Instagram and I'm @David Walton on Twitter. And I think that's the only place I am.
SuChin Pak 
And then of course the Wakanicci.
David Walton
Wakanicci, just go to perfectbathrobe.com or theperfectbathrobe.com Forget about our bad name. Walking Ichi. It's a verb. If you're going to walk in each of your day, it means you're going to do it with is minimal effort as possible, but you're still gonna get things done. But you can use Wakanicci as a verb an adverb, an adjective and noun. You know, I really walk Wakanicci today.
Kulap Vilaysack  36:22
I am walking eating right now. I bought this rope for my husband for his birthday and it's feels amazing. I'm gonna buy one for myself. Mainly because I am now David Walton's apprentice.
David Walton
This is the first day of the rest of our life right now.
SuChin Pak 
Thank you David.
David Walton 
Thank you guys. I love you both and enjoy the rest of your day and thank you for having me.
Kulap Vilaysack 
That's it another holiday epi in the bag.
SuChin Pak 
Alright, so find everything David talked about that we talked about on @AddToCartPod. Also if you're not following @AddToCartPod now would probably be a good time because we're getting into it. You know, this is the season this is our time to shine.
Kulap Vilaysack
And you know, there might be some mini giveaways in the near future. I just think it's in everyone's best interest if you follow us and rate and review, just cuz, just cuz and also call, call that phone number 833-453-6662 Specially if you have a one for me, one for you.
SuChin Pak 
Yeah, mostly for me. Okay, bye bye. We love you
CREDITS
ADD TO CART is a production of Lemonada Media. Our producer is Claire Jones and our mix is by Ivan Kuraev and Veronica Rodriguez. The music is by Wasahhbii and produced by La Made It and Oh So Familiar with additional music by APM music. Executive producers are Kulap Vilaysack, SuChin Pak, Jessica Cordova Kramer and Stephanie Wittels Wachs. Be sure to check out all the items we mentioned today on our Instagram at @AddToCartPod. Also, please take a moment to rate, review, and subscribe to the show wherever you get your podcast.