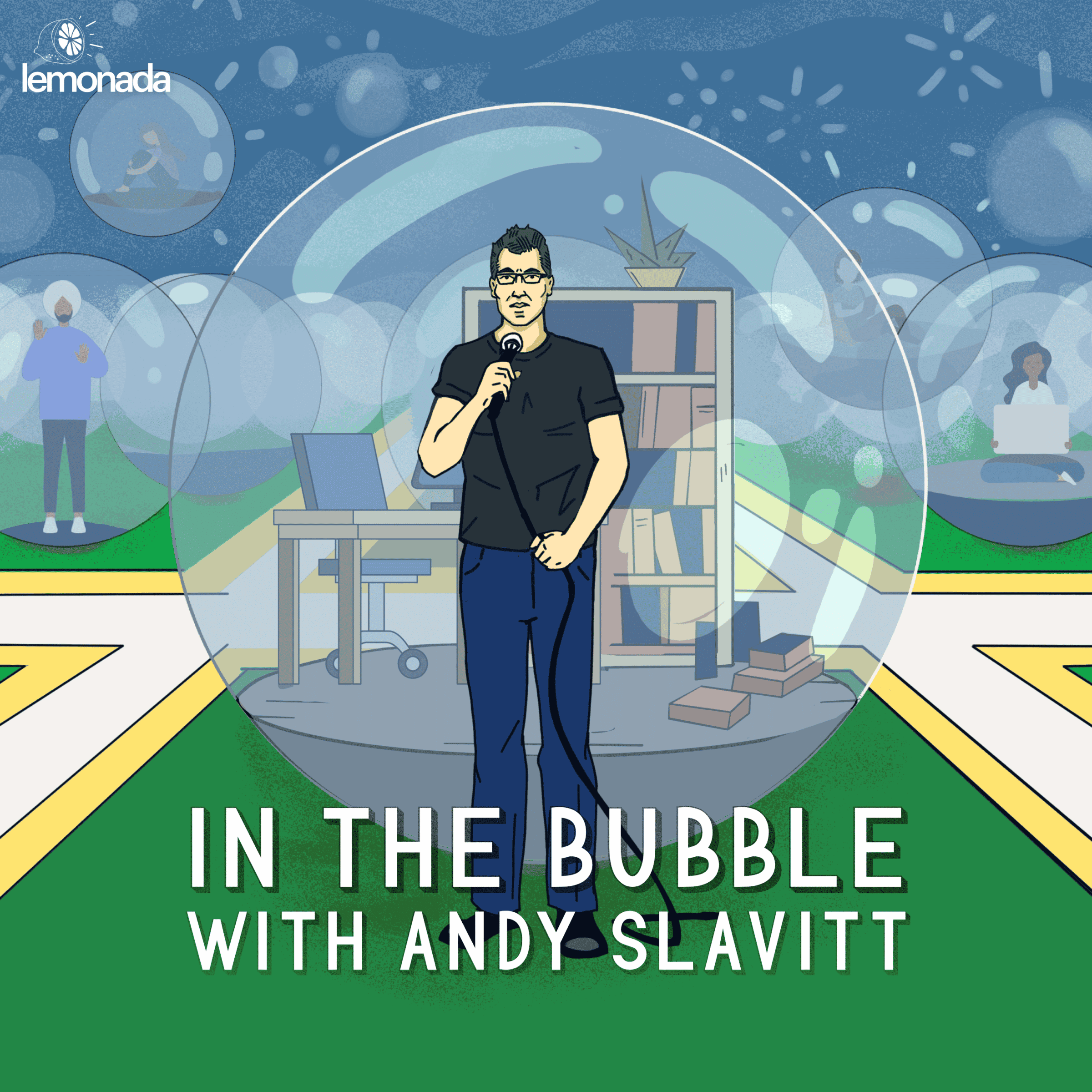 Our Pandemic Heroes One Year Later
Subscribe to Lemonada Premium for Bonus Content
Description
Andy and Dr. Lisa launch into the first chapter of "Our Shot" by remembering the wounds of the beginning of the pandemic. Listener memories of the early days set the scene and Dr. Lisa introduces us to a Seattle physician who was one of the first doctors on the front lines of the pandemic in America and an ER doc in New York City who recalls the lasting mental health effects many of her colleagues are left with as a result of the spring surge that overtook the city. These heroes — and all of us — have come a long way.
Keep up with Andy on Twitter @ASlavitt and Instagram @andyslavitt.
Follow Dr. Lisa on Twitter @askdrfitz.
Dr. Tsion Firew is on Twitter at @DrTsion.
Check out In the Bubble's Twitter account @inthebubblepod.
Joining Lemonada Premium is a great way to support our show and get bonus content. Subscribe today at bit.ly/lemonadapremium.
Support the show by checking out our sponsors!
Check out these resources from today's episode: 
Stay up to date with us on Twitter, Facebook, and Instagram at @LemonadaMedia.
For additional resources, information, and a transcript of the episode, visit lemonadamedia.com/show/inthebubble.
Transcript
SPEAKERS
Gaby Berger, Melissa Duncan, Dr. Lisa Fitzpatrick, Kathy Beal, Sherry Miller, Bill Kelly, Andy Slavitt, Tsion Firew, Bill Radke
Sherry Miller  00:01
We became aware of how much life was going to be changing when we had to come to terms with handling a funeral or celebration of life for my daughter, Sarah. She was 40 years old, and took her life on February 28, following a lengthy period of mental illness, anyway, trying to determine if when we should have a celebration of life for her. I felt that we needed to do it as soon as possible otherwise it would be God knew when we would be able to have it, because we felt the country was going to shut down.
Sherry Miller 
Ultimately, we did decide to have the celebration at a friend's home in Northern Virginia, where we were living at the time where I'd lived all my life, some very important people in our life, important people to Sarah, family, friends, were afraid of the virus, understandably, and decided not to come. But we did ultimately have the celebration on the 14th of March. And the country shut down on the 16th of March, Governor Northam shut down the state of Virginia. Became pretty real to us very quickly. The other thought I had was, had Sarah still been on the streets during the pandemic I don't believe she would have lasted very long. And makes me think about all the other homeless people who had to deal with this. Anyway, thanks.
Bill Kelly  02:01
Hi, the pandemic became real when we were looking at our condo in San Francisco and saw a stranded ship in February with a bunch of sick passengers. And we were scheduled to go on a cruise in Mexico in three weeks. And slowly it dawned on us that that wouldn't work that we might be stranded in Mexico, with no way to get back into the US. And we went from being mildly concerned to being extremely concerned in the process.
Kathy Beal
It became real for me when we were setting up our first incident command at public health department I work at in the Midwest. We've had over 100 iterations during this time. It was all hands-on deck for us and we still operate pods that now are giving lifesaving vaccines. Something that absolutely drove it home for me was me insisting I not go to a Christmas gathering this last December 2020. I've had heart bypass surgeries and other comorbidities that kept me super vigilant. I was harassed for my decision, but I stood firm. Everyone in the extended family that did go to the Christmas celebration came down with COVID-19. I dodged a bullet that day, so to speak.
Melissa Duncan
I am a resident of Ontario, Canada. And a moment the pandemic felt real for me was February 2020. When I went to see my boyfriend for a cousin's wedding. And I came back and knew that a virus was out there but didn't know how serious it was. And thinking why isn't the airport taking more precautions? Why isn't there sanitize stations? Why isn't there social distancing. And then it ended up getting worse because then the gym closed in March, and then my work closed at the end of March. And then the malls closed, then the border closed. And that was it. That was the moment when I knew that something was wrong. And that something serious was going on in the world.
Andy Slavitt  04:54
Welcome to IN THE BUBBLE. I'm your host, Andy Slavitt. Those were the voices of Sherry Miller, Bill Kelly, Kathy Beal and Melissa Duncan. Today, we start our 10-part series. Our job is to chart our path for where we are today to get some real closure so we can tie up some of the loose ends of the pandemic. You ready?
Dr. Lisa Fitzpatrick
I'm ready.
Andy Slavitt 
I was gonna talk about what's different in this series. I guess I would begin that the biggest thing that's different this season is Dr. Lisa Fitzpatrick, my new partner in crime.
Dr. Lisa Fitzpatrick
Oh, you're making me blush. Thank you for having me here, Andy. This is gonna be so fun.
Andy Slavitt
So tell us about you, Lisa.
Dr. Lisa Fitzpatrick
A lot of people know me as Dr. Lisa On The Street. I'm a medical doctor and a public health expert. But the reason I go on the street is because I need to get the real scoop from real people. As your podcast is called IN THE BUBBLE, we don't spend a lot of time talking to each other. And I want to hear from real people. So that's what I'll be bringing to the podcast.
Andy Slavitt  06:27
I just get the sense that during the pandemic, there was so much we didn't see, like we saw these numbers on TV and heard about them every day that there were all these people dying, and all these things happening in all these communities. But of course, we're pushed to stay home. And so I feel like we never got the stories of people in the pandemic. And I think we just are gonna want to see what what's going on behind the scenes, what were people experiencing, it's just gonna bring a richness to everything. So you're gonna join us now, every Monday to tell some of the stories of people that are part of the show's themes.
Dr. Lisa Fitzpatrick
And Wednesdays, Andy will do an interview to get to the bottom of these issues.
Andy Slavitt 
I know that I had my eyes open a number of times, I know many of us have. There's three types of things I think you're gonna make up to things we'll talk about. The first, are the things that aren't quite done yet, the vaccination campaign, vaccinating the globe, vaccinating children. The second are the challenges that emerged out of the pandemic that we have to deal with, and that are important to deal with. And the third are some things that I think are just going to need to be done so that we land in a better place.
Dr. Lisa Fitzpatrick
Sticking the landing,
Andy Slavitt 
sticking the landing.
Dr. Lisa Fitzpatrick 
So let's do it.
Andy Slavitt 
All right, our first theme over today's show, and Wednesdays, it's really a simple one. It's about remembering, remembering the moments that got us here. And you know, one of the things I worry about Lisa is that at the end of things, you tend to have what I think of as hindsight bias where everything is wrapped up in a neat little package and you forget the painful moments, you forget the things that got us here. How many people even remember what it felt like in March and April?
Dr. Lisa Fitzpatrick  08:39
Andy, we need a record of what happened. And I no place to get that record. The history needs to be written. And I think you've done some of that, haven't you?
Andy Slavitt 
Oh, you're talking about Preventable? We did try to write a history. And I hope people are enjoying the book. Tell us about the people whose stories we're going to hear about today.
Dr. Lisa Fitzpatrick 
Well, I was fortunate to talk to two incredible doctors, one from Washington State and one from New York City. They were both on the front lines at the beginning of the pandemic. So they took us back to March 2020 and told us what it was like when there were so many unanswered questions, so much uncertainty, a lot of fear and their stories, they're just really powerful. I think people will really appreciate hearing from them.
Andy Slavitt  10:04
So we're going to hear through the eyes of two frontline healthcare workers in the two cities where we had the first big outbreak. Okay, so let's set the scene. It's February COVID is showing up now in Seattle, and then soon in New York City.
Dr. Lisa Fitzpatrick
That's right. Andy, I spoke with Gabby Berger and internal medicine physician and assistant professor at the University of Washington. She says reflecting back the main emotion was disbelief.
Gaby Berger 
I think in the moment, it was sort of a push and pull between action just go into work every day and caring for patients. And this sort of disbelief of what was happening in the fact that all eyes were on Seattle and Washington.
Bill Radke
From KUOW Seattle. This is the record. I'm Bill Radke. Thank you for tuning in. The death count due to the novel Coronavirus has grown to 6 people in Washington State, 5 in King County one in Snohomish County, Governor Inslee has declared a state of emergency.
Gaby Berger
I think it was not something any of us. Of course, nobody expected what happened but certainly to be the first place in the country to see cases and to be figuring it out. You know, writing a new playbook in real time, I think was just a process of there's just so much disbelief.
Dr. Lisa Fitzpatrick 
And she told me she knew pretty early on that things were going to get bad.
Gaby Berger 
So I think there are probably two moments. The first was I'll never forget February 29th. It was a Saturday morning and I was driving into work and getting ready to round with my team. And I am married to an infectious disease physician. And so my husband called and said, you're going to hear some news today. But the first patient died last night. And it was sort of a shockwave moment. Because it was really here in a very different way. Very clear that COVID was in our community. And I think the two other big moments were the following week when we're at work, doing our work seeing patients. And there was a code called overhead at our hospital. And we know the words Code Blue, that means somebody's not doing well, Code Red means fire. And this was a code I had never heard before. And it sounded like some sort of internal disaster and none of us knew what was happening. And we thought..
Dr. Lisa Fitzpatrick 
What were they saying? Code what?
Gaby Berger
You know, I think I think it was Code Zebra. But it was something I'd never heard. And so we all turn to each other what's happening, what is going on. And of course, very quickly, rumors started circulating that were totally untrue. Life Care in Kirkland is sending dozens of patients over their closing, there's too many cases, you know, everybody's getting called in, none of which was true in that moment. And what actually happened was that there was a critical an awareness of a critical PPE shortage. And they called an internal disaster code to mobilize all of our nursing leadership and the supply chain to gather immediately pull all the PPE from the floor and do some sort of like, you know, centralization of all the PPE pulled all of our hand gel off the floor. And we were told immediately to start washing our hands with soap and water, which works, but it's not what we were accustomed to. So I would say that was a critical moment. And then the third was the day that our public schools closed. So March 11th.
Gaby Berger  14:26
So I had a kid in kindergarten last year, and when school is closed, I think those were probably the three moments where I knew that this was not going to go away quickly.
Dr. Lisa Fitzpatrick 
Yeah, so when the schools closed, that was surreal. How did you feel in that moment?
Gaby Berger 
Utter shock, disbelief, apprehension, fear, disbelief, you know? Okay, so wait, I'm, you know, part of a two-parent working household. I rely on school for child care. We are so fortunate to have family in Seattle, we rely on grandparents for backup. And it became suddenly clear well, that that's not going to be safe, who's going to take care of my kids while I go to work? And so it was complete shock.
Dr. Lisa Fitzpatrick 
Andy, you can just hear those emotions as she thinks back to the early days. Do you remember?
Andy Slavitt
It was such chaos. Nobody knew what was going on. So it's fascinating to hear her process it. And it stayed with her. Do you think she's has any of the kind of lasting effects that are still plaguing her from those early days?
Dr. Lisa Fitzpatrick
We talked a little bit about that. And I think she's moving on. But these are times you'll never forget, I think they, you know, staying a part of you. It just stays with you.
Andy Slavitt  16:12
Yeah, what I was always thinking about is, you know, these physicians, nurses, weren't trained for war. You know, even soldiers that are trained for battle, come back and carry scars and PTSD. And they are trained to expect PTSD. These doctors were thrown in without the resources, clearly without even the equipment that know what was going on. They didn't know how much they were putting themselves at risk. They saw people die. And they just weren't trained to expect it.
Dr. Lisa Fitzpatrick
And it's a great metaphor. You'll hear a little bit about that in just a bit from Dr. Fierro. But related to your question about whether or not the, I guess trauma, for lack of a better word stays with them. Dr. Berger talked a bit about the lack of sleep, and the things they had to do to improvise.
Gaby Berger
I know that people didn't sleep for weeks, writing new policies every you know, all night, every night fielding questions, we're incredibly lucky that we have in a really world class laboratory that was able to create and roll out COVID-19 test early on, so that we were able to use that test. Other ways that we pivoted were a little heartbreaking. With the PPE shortage, immediately, only essential, quote unquote, essential workers could see patients, that meant that some of our residents and all of our students were immediately removed. Maybe not immediately, but quickly removed from patient care.
Dr. Lisa Fitzpatrick 
Wow, what are their reactions to that? That's interesting.
Gaby Berger 
So sad. Deep sense of loss, grief, patients that they had forged relationships with, this is what they're here to do is to learn and to learn to care for people, and to care for people in moments of need, and to be suddenly ripped from that environment without the ability to process, time to process to say goodbye to their patients. And that is no one's fault in any way. But simply what was required in that moment.
Dr. Lisa Fitzpatrick  18:22
That sounds incredibly stressful. And I want to talk about that. But I want to go back to something you were saying about your lab had the ability to create tests. Before those tests were available in abundance. How could you diagnose a case of COVID without the proper testing?
Gaby Berger 
We couldn't, we couldn't. So, I think there were patients who were in our hospital who were undiagnosed. And in fact, I'm sure of it. And I think when I reflect back, I think it's actually just utterly remarkable that more health care providers didn't get sick in those early days because I think there absolutely were patients who we cared for, particularly in the ICU, who are hospitalized with respiratory failure, pneumonia, that very likely did have COVID and we had no idea.
Dr. Lisa Fitzpatrick 
So it was an incredibly difficult time but a couple of moments stand out as hard as for Dr. Berger.
Gaby Berger 
I think I mentioned my husband is also a physician and was very involved in the COVID response in our hospital community, and he had a birthday, March 13th. It's his birthday. So he had a birthday very early on last year. And I remember putting the kids to bed that night and sitting on the couch, and he just cried, start crying. And he doesn't cry very much. And I think that was a moment where it just realized how bad this was and how bad it was going to be, how deeply it was affecting people and how he felt the weight of that, you know, and the desire, the need and the desire to protect our family, our community, colleagues, patients. And just how challenging it was going to be
Dr. Lisa Fitzpatrick  20:44
And Andy, you can just hear the emotion and the stress in her voice as she is recalling what happened a year ago. But finally, I asked Dr. Berger what she feels now when she thinks back to March 2020.
Gaby Berger
I feel profoundly grateful to be here. There are so many people who aren't here. So many people who have lost so much who are here, but who have lost so much. And people whose lives are forever changed because of what happened in extremely tangible ways. And I feel profoundly grateful.
Dr. Lisa Fitzpatrick
Thanks to Gabby Berger for sharing her time and memories with us. Really incredible.
Andy Slavitt
You know, what struck me Dr. Lisa is, when we're sick, and we see doctors, take care of us. We forget that they have their own families. And so many of them, you held the hand of a dying person, when you know, they couldn't even get close to their own children or their own parents. And you really hear in these moments which she shares with you. Just the personal side really coming out.
Dr. Lisa Fitzpatrick  22:04
Yeah. And people forget, you know, doctors are human too. We're not superhuman people who don't struggle.
Andy Slavitt 
Well, as you said, you know, what one part of getting closure is going to be to make sure we find a way to really deliver gratitude appropriately back to the people who cared for us on the front lines. And either, you know, over the course of these episodes, you and I should really start to have a dialogue on what's the right way to do that. How to do that in a way that's not hollow. I think, personally, I think it starts with listening to them, and hearing their experiences, and hearing what they think we need to do better.
Dr. Lisa Fitzpatrick 
And even just acknowledging and saying thank you. Frankly, I think that's the best of all.
Andy Slavitt
Alright, so that was Seattle. Now, another major moment that put this country in real shock was when the surge hit in New York City.
Dr. Lisa Fitzpatrick
Yeah, I had a pleasure of speaking with Dr. Siam for Ruth. She's incredible. And you'll be really impressed by her story and some of the things she has to share. She's an assistant professor of Emergency Medicine at Columbia University. […] College of Physicians and Surgeons, and emergency medicine physician in New York press, Columbia University, Irving Medical Center and a special adviser to the Ministry of Health of Ethiopia. Dr. Food took me back to march 2020. Inside in New York City emergency department.
Tsion Firew  24:03
A COVID a bomb hit the city where all of a sudden, you know, towards late March, the city just became empty and […] and every patient that you were seeing that much […] were covered cases. So we're like, where did the other patients go. And we had shortages of testing. We also had, because of the surge in the number of patients, we also had a scarcity of resources, PPEs and also human resources in general. But it just felt so surreal. You know a few weeks ago watching Italy. And then we just all couldn't fathom how all of a sudden the city was just hit like that all of a sudden, we became the headline. And I just couldn't believe this became our story.
Dr. Lisa Fitzpatrick 
Did you hear what she said, Andy? It's like a COVID bomb hit the city. And just like with Dr. Berger, there's that theme of disbelief. She told me more about what it was like inside the emergency department.
Tsion Firew 
You'll see a tent outside, which wasn't there, which is there for screening patients. But in the you walk in the men's department, usually you would see, you know, few cases of flu like symptoms, especially around March. But then everybody in the hallway, the ones that were able to sit up and talk where people are coughing, or you know, with fever, like symptoms, and it was quite a hot, crowded hallways. And the emergency departments felt like an ICU because. And there, everybody was either on a ventilator, intubated with a breathing machine, or they were getting some sort of oxygen and the hallways, you know, most of the time anyway requiring oxygen, you put them in a room or they're in a monitor setting, but because we have so many severely ill patients, there will not enough space for to accommodate all.
Tsion Firew  26:29
So you walk in and alarms going off, here and there, people running back and forth. And every time you have a severely ill patient who needs the media attention, you will get notification, patients come with the ambulance service, nonstop notification, one after the other, you just have a breather in between. And also, most of you know the interventions at that point we're not […] a lot of discussions before the intervention, and also involve discussing with the family members and with other physicians and trying to also look at the evidence. So our days were very busy, long, daunting, and also full of anxiety.
Tsion Firew
As I listen to that, Andy, it just sounds like some sort of medical drama on TV, you know, those shows, I can't watch because they're so unrealistic. But that was their reality. And she knows drama, because she volunteered as a medic in the Iraq war. And she told me the biggest difference between being in Iraq and COVID was that she knew Iraq wasn't home, she could leave and go back to where it was safe. But that wasn't the case here.
Dr. Lisa Fitzpatrick
So just like with Dr. Berger, the stress, the anxiety, were inescapable.
Tsion Firew
In addition to that an anxiety that we were all going through and acute trauma mentally. And as you know, most of our colleagues also end up including myself, we fell ill. So there was also a lot of stress around illness and addition to that we lost people from suicide and my department. So all of that really added to the stress that we were going through. And anxiety, of course not short lived. It's long. And the PTSD of course, we've seen that reported everywhere. And most of it for me was personally the sleep deprivation then and also going through, you know, to the summer after we were able to bend the curve and the numbers were looking great in the city. But there was a lot of fear and anxiety like is this going to be happening again, the second we've come, the fall come the winter, which we saw, of course, but not the level that we had in March and April.
Tsion Firew  28:45
And we're seeing now a lot of the reports about sleep deprivation and PTSD and burnout and healthcare professional on my college just published a survey of 315 clinicians that showed over 85% reporting poor sleep, and also burnout and 65 are the respondents. So there's of course it's going to call for increased support to healthcare workers. That another study that my colleagues and I have performed have seen that the providers that saw COVID patients like an hundreds and 1000s also higher rates of anxiety and depression.
Dr. Lisa Fitzpatrick 
So you hear she's relating the same issues around sleep and anxiety as Dr. Berger, but I'm so glad she's also shedding light on how this trauma affects medical professionals and it's not spoken enough about amongst, you know, the community or in the general public. And if all that wasn't hard enough, she got COVID. She told me it felt inevitable, and that she thinks she knows exactly how she got
Tsion Firew  30:22
It was a patient that came in, you know, no oxygen at the time to be found. And EMS just left the patient in the hallway and he needed to be intubated. You know, in the middle of trying to set up for this intubation, we didn't have all the PPE's immediately available for me to prepare to intubate the patient. So I Oh, you know, and you recognize and you instruct people, hey, this is a high-risk procedure, please step out unless you don't need to be here. And I remember as I was making that announcement, like I need to get that I should right now. And just like being, especially when you're trying to really say somebody slides, just like, at that point, you know, people could forget all the checklists that you have, especially when you're not prepared. And when the patient is right in front of you.
Tsion Firew 
So I, you know, it was a matter of this and like, I think I've had high risk exposure. And when I saw having the symptoms, I was like, obviously, this is COVID. And unfortunately, despite all the preparation and the carefulness and inside the household, I ended up affecting my husband. So but again, this is very early on the pandemic, or we did not know much about the disease, especially when the disease came to you as it was disproportionately affecting people of color, people that look like me. And, you know, being, of course, it's a blessing to live the privilege and have access to resources, but also people that had access and resources, he pulled the look like we were dying.
Tsion Firew 
And the thing when I contacted COVID. I have another physician who's a resident, another hospital, this resident was a person of color died from COVID. And he was young and healthy. So there was a lot of, you know, unknown and concerns that like, could I be the one die […] that person that was exception. So there's a lot of fear and anxiety about constantly trying to reassure myself, I'll get through it. But those two, three days when the symptoms are the worst, we have the headache, the body ache, the fever, the chills, all of that, combined with this constant fear was not easy.
Dr. Lisa Fitzpatrick  32:31
Now you hear Andy, she's bringing up something we've been talking a lot about during the pandemic, and that's the disproportionate rate of COVID-19, and even deaths from COVID-19, among black and brown people. But this isn't new. We've known this even before the pandemic, we see it in a lot of other diseases. But Dr. Firew does it by some of the explanations floating around like underlying health conditions, lower socioeconomic status, etc. And she blames it on medical and structural racism.
Tsion Firew 
really what we've seen in the past few years, even not just because of pandemic, but just healthcare in the US as we know it. Black and Brown populations do not have the right access to this. Also the knowledge and also of how to get access to some of you know, the most lifesaving interventions and procedures in the country. And because of that, most of what we've seen in the medical field, this structural racism has contributed to the disproportionate number of patients dying, especially black and brown populations.
Dr. Lisa Fitzpatrick
But I want to push on that a little bit. Because as a person who understands this, you have access to care and treatment, what is making it so you've talked about your colleague, a black person who died. But those of us who work in the healthcare system relative to a lot of the people we serve, we're privileged people. So what is it? Are you talking about that within your academic institutions? What is it that's still placing you at risk for death? Because you're black?
Tsion Firew  34:18
Yeah. And this, you know, this person I was referring to was somebody at another hospital. And, you know, at that point, when a lot of the information was kind of everywhere, we do not know exactly what was going on. But it's, you know, those discussions are happening. Do we have the answer for it? No. But I think in the past one year since George Floyd and really seen the disproportion there is, I guess, for lack of a better word, there are more people who are walking out right in a way, looking into it in a way that, hey, maybe we should look through this problem through the prism of racism. It's not just the comorbidities or the socioeconomic status, even looking at the most privileged people like Hollywood actors, we've seen right where, because of their skin color, and no matter how much resources that they have, they've seen that, you know, Serena talked about this her experience while she gave birth.
Tsion Firew 
And all of this we witnessing, and I think there's a structural racism that that exists in this country, not only the medical field just everywhere. And it's very important that everybody is cognizant of that and walking into when you see patients, okay? Am I going to make different decisions on this patient because of their skin color. And it's really important for everybody to remember, recognize their biases towards these things. And I think we can have a whole other discussion about this.
Dr. Lisa Fitzpatrick 
We absolutely can, but I think you're right, we actually have to figure this out. Clearly a conversation we need to have right, Andy?
Andy Slavitt 
Oh, yes. So as I listened to these, I noticed some themes. And some of them I hadn't thought about in quite a while. And I realized, how could we forget these things already? Tell me if these are themes that you heard and think people will be paying attention to. Fear?
Dr. Lisa Fitzpatrick  36:12
Yep.
Andy Slavitt 
Loss.
Dr. Lisa Fitzpatrick
Yep.
Andy Slavitt 
Uncertainty.
Dr. Lisa Fitzpatrick
Yep.
Andy Slavitt 
Inequality.
Dr. Lisa Fitzpatrick 
Yep.
Andy Slavitt 
Race and racism.
Dr. Lisa Fitzpatrick
Something we really need to talk about
Andy Slavitt 
Something we need to talk about, school and kids at home and teaching kids at home. And Elastic waistbands.
Dr. Lisa Fitzpatrick 
Oh, okay. There's the dad joke.
Andy Slavitt 
I write them all myself. There were a couple things that were really harrowing about that conversation. Maybe to pick a couple of them. One is, I really think hearing physicians talk about their own anxiety and suicide. I don't think people like to think about that, because it's almost like, if they can't handle this, the bottom drops out. And I think watching our medical professionals get pushed beyond the point of distress, is a disquieting notion that we have to kind of deal with.
Dr. Lisa Fitzpatrick 
Yeah, another thing Dr. Firew mentioned was Serena Williams and her struggles, she had given birth as a black woman in America, where it turns out during the pandemic, Dr. Firew was pregnant, and in case you're wondering, she got vaccinated while she was pregnant. And she wrote about it in an article.
Andy Slavitt 
We'll put a copy of that in the show notes. But she was going through a lot. You know, one of the things that she was saying, really struck home with me, which is, we've seen these images before, only in other countries. And I think we tend to think that this kind of thing doesn't happen to us, in the US, that this whole scene that she dealt with in the hospital, that brought her and her colleagues to such despair that she described either, she said, I'm used to seeing that when I'm overseas, doing volunteer work, but not here at home.
Andy Slavitt  38:09
And I think the public is very much the same way, where when we see these images happen in China or Italy, we think, oh, that's far away. But we're not used to seeing them happen in the US. I think that shook us. And then the final, the final thing that I just can't help but shattering about is, you know, when I'd go to see a doctor or a nurse, I feel like I'm going to get the best treatment. And I realize that that has something to do with being a white male. And I'm not sure I really..
Dr. Lisa Fitzpatrick 
I was just going to say, why did you, why do you feel that way? Where does that come from?
Andy Slavitt
I think I just have a kind of relationship with the medical system. That's been nothing but positive. And I've had no reason to distrust it. And watching the story of Serena Williams, and listening to people of color, get mistreated by the healthcare system, and venturing it's a shock to a lot of white people to think about how much distrust has built up in the medical system?
Dr. Lisa Fitzpatrick
Well, Andy, I've been taking care of underserved and under resourced communities most of my career. So it's certainly not surprising to me. But what I can say is I'm very happy. You know, there have been some silver linings of this pandemic. It's been a tragic year. But there are some things we can look back on and say, okay, had it not been for the tragedy we would not have done, witnessed, or appreciate it x. And I think one of those things is this disparity you're talking about. So I've heard about this distrust most of my career because I also witnessed the difference in how care is delivered for people, if they're poor, or if they're on Medicaid. We really have to talk about these things and address them and I'm glad we talk about them on your podcast.
Andy Slavitt  40:02
So in the end, did you find them to be heroes? What does that mean to you?
Dr. Lisa Fitzpatrick 
I absolutely did. But not just the two of these brave women. But anyone who's been working on the front lines of healthcare, especially in the early days, when healthcare providers and people working in the health sector didn't have enough protective equipment, and were at risk for COVID-19. But also, people who served on the frontlines in other ways, those of us who stayed home relied on people on the front line. So I think they're all heroes. But these stories really highlight how health care providers went above and beyond the call of duty to save lives during the pandemic.
Andy Slavitt 
Well, thanks for getting those stories told. And for planted them in our memories. You know, I don't think we could get through the pandemic without really making sure we focus on what we could do. So we don't put that kind of burden on people again, and that we listen and respect the things we learned. That happened on the frontlines.
Dr. Lisa Fitzpatrick 
Yeah, absolutely agree, Andy. So it was a great experience talking to both of them. But now we're wondering about the next show Wednesday, we need to nail down a few issues. What are they Andy?
Andy Slavitt 
Well, actually, I think we're identifying the issues right now in this show and in the next one. But for me, it's somewhat of the politics. It's somewhat of a race and class issues. It's inequality. It's science, it's dealing with some of this trauma and some of this anxiety. What would you add to that?
Dr. Lisa Fitzpatrick 
It's humanity. It's about how we're all connected and that we need to remember, we won't emerge from this pandemic without helping each other.
Andy Slavitt 
I like the sound of that.
Dr. Lisa Fitzpatrick
So how are you going to bring the theme home?
Andy Slavitt
I want to explore the first year in depth. And I think the way to do that is probably to talk with Jessica Yellin, who is longtime white house correspondent, who I'm not going to interview her. We're going to talk about what happened in the first year of the pandemic. But talking about Preventable. Bradley Whitford, who read the book on audio will be reading some of it as well. And I think it'll give us a chance to kind of systematically go through what happened in the past year.
Dr. Lisa Fitzpatrick  42:35
And by the way, Brad Whitford was one of my favorite characters on the West Wing, so maybe I won't read the book. I'll just listen.
Andy Slavitt
You listen to Bradley, really, I was honored and a treat for me that he agreed to read the book. Thank you all for sticking with us. Dr. Lisa and I were thrilled to be with you. We look forward to hearing what you think about the show. Featuring more of your voices, more of Dr. Lisa's stories, and some really great guests. Have a great couple of days.
CREDITS
Thanks for listening to IN THE BUBBLE. Hope you rate us highly. We're a production of Lemonada Media. Kryssy Pease and Alex McOwen produced the show. Our mix is by Ivan Kuraev. Jessica Cordova Kramer and Stephanie Wittels Wachs still rule our lives and executive produced the show. And our theme was composed by Dan Molad and Oliver Hill, and additional music by Ivan Kuraev. You can find out more about our show on social media at @LemonadaMedia. And you can find me at @ASlavitt on Twitter or at @AndySlavitt on Instagram. If you like what you heard today, most importantly, please tell your friends to come listen and please stay safe, share some joy and we will get through this together.