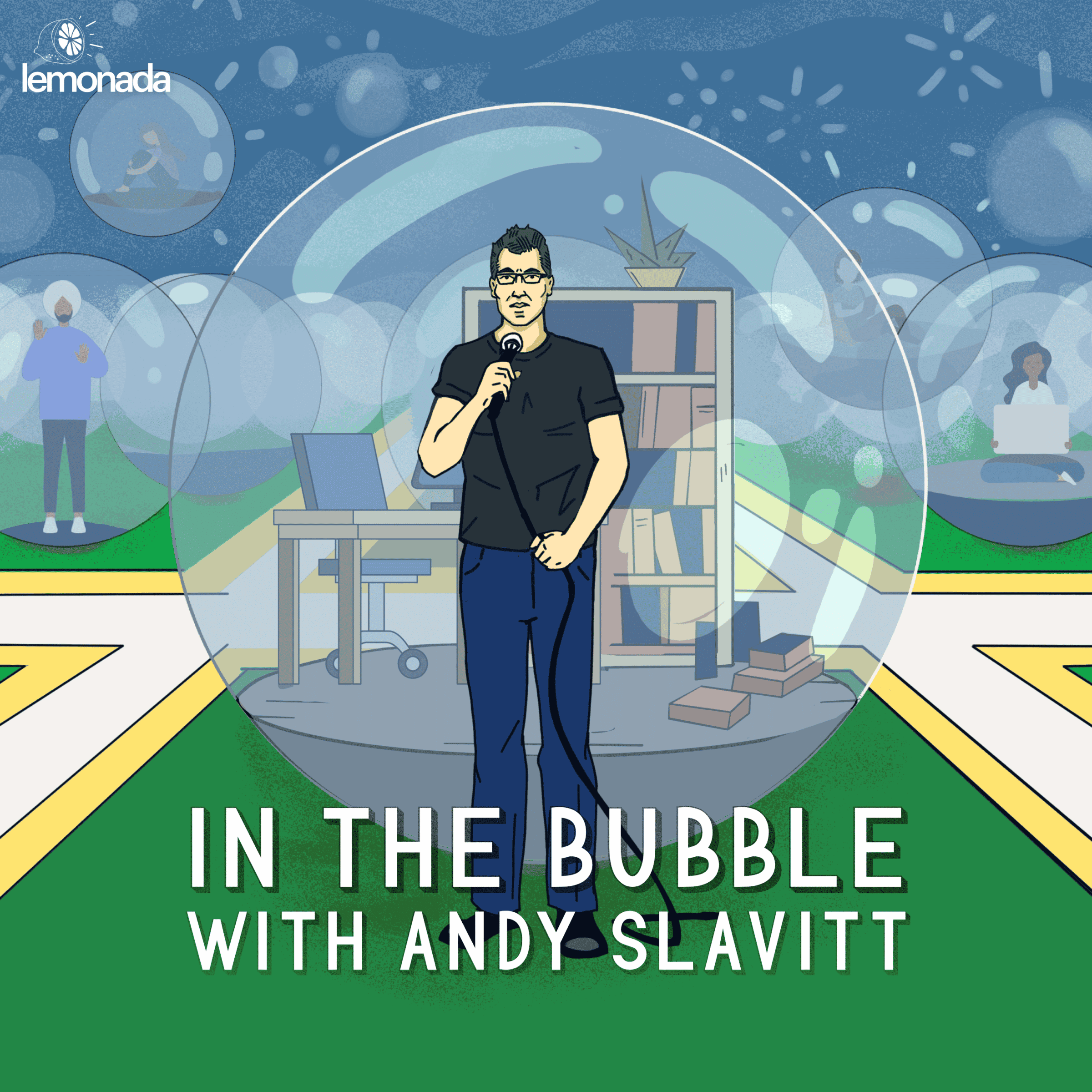 Preventable (Revisited)
Subscribe to Lemonada Premium for Bonus Content
Description
Revisit this episode from June, where Andy starts by answering the one question no one else will about the Delta variant. Then, journalist Jessica Yellin joins Andy to discuss his new book Preventable. They talk about key figures like President Trump, Jared Kushner, and Dr. Deborah Birx, what lessons we need to take with us from the pandemic, and why we should feel hopeful now. Plus, you'll hear some of the most riveting clips from the book read by actor Bradley Whitford.
Keep up with Andy on Twitter @ASlavitt and Instagram @andyslavitt.
Find Jessica Yellin on Twitter and Instagram @JessicaYellin.
Joining Lemonada Premium is a great way to support our show and get bonus content. Subscribe today at bit.ly/lemonadapremium.
Support the show by checking out our sponsors!
Check out these resources from today's episode: 
Stay up to date with us on Twitter, Facebook, and Instagram at @LemonadaMedia.
For additional resources, information, and a transcript of the episode, visit lemonadamedia.com/show/inthebubble.
Transcript
SPEAKERS
Andy Slavitt, Mike, Bradley Whitford, Jessica Yellin
Bradley Whitford  00:00
Seen the political arena. Mr. President, do you mind if I tell you a bedtime story? Having extended her stay in Washington, Blythe Adamson was playing a pivotal role with the scientific and economic teams in the White House as a go to source for analysis of what might come next with the pandemic. Her first meeting with Trump took place on April 6th. It was set up as a quick Oval Office photo op to thank her and the other volunteers. But when the President invited them all to stay, it turned into a 45-minute bull session. Trump loves showing off the Oval Office much more than Obama, who had been stingier about using it as a showplace. Each of the volunteers introduce themselves briefly to the President. All of them were men except Adamson. And to her they all seemed like Ivy leaguers, well off and confident the kind of men she'd gotten used to seeing all around New York. They use their introductions to highlight their personal achievements.
Bradley Whitford
Trump was impressed with people who had made a lot of money. If someone had sold a company, he wanted to know how much they sold it for. What would the President and all the rest of them think Adamson wondered if they knew she used to live on public assistance, or that she had escaped domestic violence? When her turn came, she introduced herself as an economist and an epidemiologist. Upon hearing her credentials, Trump clearly wanted to engage with her. So you believe the Chinese made this virus in a lab, right? He said to her. Adamson paused. How should she answer this? She had studied zoonotic viruses, viruses that spill over to humans from other animals for years. And she knew it was extremely unlikely that this virus had been engineered in a lab. Agreeing with the statement was out of the question, but disagreeing with the president seemed like a delicate matter. So she asked if she could tell the president a bedtime story. That dozen men in the room glanced at each other and grew very still and silent. Trump was impressed with their confidence. How can he say no?
Andy Slavitt  02:33
Welcome to IN THE BUBBLE. I'm your host, Andy Slavitt. That voice that you just heard was Bradley Whitford. Yes, Bradley Whitford from Get Out. And for the West Wing. He's reading a passage from my book Preventable. It's out last week from St. Martin's Press. It really is a quick read. It's almost novel style. The reviews have been great. It takes you through the first year of the pandemic following a number of key people who really help us tell the story. Now for listeners of IN THE BUBBLE, I am signing copies of the book. Here's how it works. If you click I link in the show notes, the show notes that are in whatever format you're listening to this to you can go to the show notes there's a link, it gives you instructions. Signed copy is only available for a few more days. So if you want a signed copy of Preventable, you can get it there before I jumped to the topic of resolving some of the questions of the first year that we have with Jessica Yellin. I want to cover the most important question of today.
Andy Slavitt
The thing you need to know right now in my opinion. Okay, it's June 2021. The most important thing you could do right now, if you were vaccinated is ready. Get the pieces of your life back that you've been missing. It might surprise you that that's my advice. But what about the Delta variant, Andy? But what about all the unvaccinated people? What about, hang on, hang on. Cool down. Okay. Let me lay this out. If you've been vaccinated, it is very, very unlikely that you will get COVID. And if you did get COVID the vaccine makes what would have been a severe case. It will make it very mild. Your chances of other things bad happening to you are far greater than your chance of getting COVID if you've been vaccinated, so worry about other things if you're gonna worry about something. And there's another reason as well. Where would you get COVID?
Andy Slavitt  04:48
Right now, there may be all of 100,000 people in the country that are infectious with COVID. That means about 1 out of 3000 people. So somebody asked me the other day If they should feel safe going to a restaurant if they're fully vaccinated, here's my response. How many restaurants do you plan to go into? I mean, if there's 50 people at a restaurant, you'd have to go to like 60 restaurants to find a single infectious person. And that presumes they're not staying home. And then of course, you're vaccinated, so you're not going to get it from them anyway. So go to a restaurant, go to 60 restaurants, relax your fears, enjoy yourself. Now, if you live somewhere like Arkansas, Kansas, maybe not 1 in 3000 people have infectious COVID, maybe it's 1 in 1000. And if you live in California, I mean, that'd be one to 3000, maybe1 in 10,000 doesn't matter. Go to the restaurant.
Andy Slavitt
Now, if you haven't been vaccinated, it's a different picture, then you can start thinking about the Delta variant. The Delta variant, which will be the new king of COVID-19, will be about twice as likely to infect you. If it comes to your community, then the 2020 vintage. So if you've been vaccinated, please get your life back. If you haven't been vaccinated, be careful until you get vaccinated. Now I want to answer the number one question on your mind that I would get in constantly.
Mike  06:16
Hey, Andy. It's Mike. What do I do if I got the J&J vaccine with the Delta variant coming? Do I need a boost? And if so, which vaccine should I use?
Andy Slavitt
Okay, let me give you my answer. And I will give you the honest answer. But first, I'm going to tell you how I got to the answer. I called Dr. Fauci. I called Dr. Walensky at the CDC. I talked to seven scientists, clinicians, all of whom are seeing patients and have epidemiological background. I know what you're thinking, Andy, you're not a doctor. I wouldn't go for me for medical advice, either. But I asked this question of those people. And let me say what they have to say, your first option is to do nothing and wait for the data. Your second option is to get another Johnson & Johnson boost. And your third option is to get a boost of the mRNA vaccine, either Pfizer or Moderna. Nobody thinks it's a good idea to get another Johnson and Johnson shot. Everybody thinks the answer is either one or three. One being wait three being get a dose of an mRNA vaccine.
Andy Slavitt
I think the current official advice from the CDC and based on the data is to wait. Like there's a good case to be made for that, which is to say there's not a lot of prevalence, you can afford to wait. If it comes back by the time it comes back. There'll be data. But if you're inclined to do something, there are doctors there are scientists who are saying that doing number three is okay mixing and matching. In other words, adding a Pfizer, Moderna shot to a Johnson & Johnson shot. So I think those are your choices. You should either wait in which case we'll know more soon. Or if you feel the need to do something because the Johnson & Johnson vaccine is 60% effective against the Delta variant. Go ahead and take a Pfizer or Moderna shot.
Andy Slavitt  08:20
Okay, this week is the first part of our 10-part, OUR SHOT series. It focuses on remembering how we got here so we could deal with all the crap we picked up along the way. On Monday's show. Your doctor Lisa talked to two doctors, one from Seattle, one from New York who were among the very first to confront COVID. In many ways, listening to them reads as an avatar for what we all went through. You heard fear. You heard uncertainty, mental distress, societal ills like racism, dealing with children in schools. Today, we're going to add on another layer and that is a layer of our politics, and our culture and our leadership response that shaped the virus. Last week's show and this week's show are intended to raise more questions and we'll get answered, but that we will answer in the next shows we are going to talk about how to deal with the open wounds that need to be addressed.
Andy Slavitt 
So to do this, I'm inviting on my friend, the wonderful Jessica Yellin. Jessica is a political journalist. She's won an Emmy Award. She's a former Chief White House correspondent for CNN, ABC News and MSNBC. She's the founder of News Not Noise, which is an Instagram show, where she provides succinct daily news reports without giving you the panic attack. She's absolutely wonderful. And we're going to be talking about my new book, which you can get a copy of with my signature through the show notes. And we're going to talk about the political and social upheaval of the last year that led to the pandemic. Let's bring in Jessica Yellin.
Jessica Yellin 
Well, first of all, Andy, thank you for your work on behalf of this country and for being a voice of reason and clarity in a very dark and grim time.
Andy Slavitt  10:07
Well, thank you, Jessica, it's good to be back out of the, the deepest bubble of all, which is that White House bubble. And to see everybody able to get out of the bubbles, too.
Jessica Yellin 
So much of the world still needs to be vaccinated. So I don't want to sound too excited. But it is remarkable that we're finally at a place where we can start to take stock and a little bit, look back and think about what happened. I'm even in the position of finally turning down social invitations. Can you believe we're here?
Andy Slavitt
Well, I believe you are. But you know, I'm not at that point yet. But you know, it's like, people feel a little guilty celebrating, you know, even till we were both talking. Yeah, I hope people celebrate. I really hope that everything that everybody has been through that we spend the summer, if you've been vaccinated, just getting your life back, getting things back that you missed, and feeling great about it.
Jessica Yellin 
Well, I think it's important, you're giving people permission to do that. So I'll take it. Let's take it.
Andy Slavitt
Let's take it. Yes, definitely.
Jessica Yellin 
Let's talk about the book, which is fantastic. And I don't know how you got this done while doing all the other things. You're a treasure. Thank you for putting this into the world and for your contributions to getting us through this pandemic. Andy,
Andy Slavitt
thank you. I'm glad you liked the book. Because my ego so frickin fragile about this book now, was like, it's like, if you can say anything you want to be but if the only like, the book I just had crushes me.
Jessica Yellin 
I know it's the worst. Putting a book out into the world is such a vulnerable experience. I promise you it gets better.
Andy Slavitt 
My favorite review was some guy wrote that it was very one sided. And I didn't tell both sides of the story. So I'm like, okay, fair enough. My next book will be the virus. Why I like your blood vessels.
Jessica Yellin 
Anti-science. What facts don't matter?
Andy Slavitt 
Yeah, there's so you know, I'd like you right, the other side of the story. I'll write the side of the story, right. There we go.
Jessica Yellin 
We do not want to please all the people on this one. You call it Preventable. How much of this tragedy really was preventable?
Andy Slavitt  12:08
We'll look, I think we ought to be pretty forgiving for honest mistakes, particularly in a fog of war, like a pandemic. But I'm not so forgiving of our mistakes, that people made willfully dishonest mistakes. And the book tries to check it out, you know, my own interactions with the White House and Jared Kushner and others, you uncover quite a few, I think breathtakingly dishonest mistakes, mistakes not made in good faith. And so I think we lost a lot of lives, that we didn't have to lose, because the president chose to keep us in denial, keep us in the dark, not share information. And we always can do better. But if we'd have done as well as say, you know, Germany did on a per capita basis, you know, 50%-60% of the lives we lost, wouldn't have had to be lost.
Jessica Yellin 
Even today, it is so hard to process the magnitude of loss we experience. And you point out that some people really never felt it. Something that stood out to me in the book, was what you wrote about unseen victims. This, you write that someone said to you, they don't know anyone who died of COVID-19, then you wrote, that's because you don't know people who grow your food, or deliver it to the stores or stocked the shelves or deliver it to your house. These people work for you. You just don't know their names. Andy, who was hurt the most by this pandemic?
Andy Slavitt  14:03
Well, yeah, you're right. It's the structure of our societies become so sophisticated. And that's why I call it the room service pandemic in the book, is it? You know, we're staying in a hotel, how much time do you really spend with the people cleaning the room, and maintaining the equipment and the HVAC, and all of that, because there's this whole category of people and we call them essential workers during this pandemic, who disproportionately suffered. And so if you were working in a crowded environment, whether it's a meatpacking plant, or you were working in, you know, a farm labor camp, or on the border, or the kind of places where cameras very rarely travel, the deaths were profound, and it did let alone you know, prisons, or a homeless shelters, or public housing. But most of us don't get a look into that world every day. And so it was not totally surprising that people would say, I don't know where all these 1000s of people are dying every day are because they're not people that everybody interacts with all the time.
Jessica Yellin 
And you told a story of one of these people Ahmed Aden, let's pause to listen to a little bit of the audio book on Ahmed's story.
Bradley Whitford
Each morning before the sun was fully up, Ahmed Aden arrived at the warehouse where he worked, got on the elevator, press the button and rode down to his underground workstation where he scanned packages for delivery. It was April 2020. And the Amazon warehouse in Minnesota where Ahmed worked was busier than it had been since Christmas. He worked long days packing up orders for people who had the luxury of working from their homes. Each night he returned to his two-bedroom apartment where his wife Sofia, prepared dinner for him and their seven kids. Ahmed had been the last of the family to arrive in America from a refugee camp in Addis Ababa, and he was reluctant to speak English with his more fluent wife and children. Almost all the employees at the Amazon warehouse were Somali immigrants like him. He had never received a package from Amazon himself.
Bradley Whitford  16:12
But he liked to imagine people opening the packages he loaded into the trucks filled with video games, books, electric toothbrushes, new TVs and Bluetooth speakers. He took pride in being one of the people keeping the country moving. As an essential worker. He considered his job important. His pay did not cover all of the family's modest expenses, but one of his daughters, Rama, worked at a local pharmacy and was able to contribute by March 30th. Several of Ahmed's coworkers had called in sick, including Kumar, the older man with a cough who worked at the station next to his. On April 6, about a week after Kumar stopped coming to work, Ahmed learned that he was in the hospital. That same day, Ahmed began experiencing symptoms while on the job. By the time he left the warehouse in the afternoon, he was shaking, sweating through his shirt and coughing. When he got home, Sofia took one look at him, and knew the virus she'd been following on the news was now in his body.
Jessica Yellin 
Andy, why was it important to you to tell his story sort of what is he symbolize to you?
Andy Slavitt 
I thought Ahmed's story actually best represented all the people, things were experiencing. This is a guy who, as you just heard works in an Amazon warehouse. He lives in a two-bedroom apartment with his wife, and kids. His wife is dealing with breast cancer, one of his sons has cerebral palsy. And when he comes down with COVID, he doesn't have the ability to get a test. And so Amazon doesn't pay him past the two weeks that he's out, and the source of income that he has. And meanwhile his wife is moved in with the second bedroom with the five kids and their income goes away. So there's this triple quadruple whammy of no job, no income, being sick, not getting health care coverage, not getting a test. And all those things kind of went together. And it just to me it really reflected how our system ganged up on us during hard times.
Jessica Yellin 
It's one of the things you do really well is you weave in personal stories that make this poignant and make us remember who suffered and then go back to the big macro. And I want to talk about the macro for a moment because this nation failed to meet Ahmed's needs. And we really failed to meet the moment. You write that we as a nation are haunted by social ills that predate the pandemic. Just examples and obsession with individual liberties, economic and racial inequality devaluing of expertise, lack of access to health care, given all that, in your opinion, how would this pandemic have played out if we had had an administration that embraced science and follow the pandemic playbook? In other words, how much of it was our social ills? And how much of it was an absolute abject failure of our government?
Andy Slavitt 
Well, look, I'd love to tell you that if we had a different president, that things would have gone a lot, lot better. But I can't I can't tell you that things would have been perfect, they would have been better, we wouldn't have lost nearly as many people because, you know, the president we now know spent months denying that the pandemic even existed, months preventing people in Health and Human Services who wanted to talk to the public and tell them to be careful, literally pulled them from being able to do that. You know, the book reveals that 45 days, the beginning of the pandemic, the Health and Human Services Department was prohibited from talking to the public about public health.
Andy Slavitt
So we know things would have been a lot better if we simply would have not done that to ourselves, if we just said, hey, we have a problem here. But we still would have had other things to deal with. And I think we have to ask ourselves some really tough questions. Why are we so susceptible to people who want to be little experts and scientists? Why do we so quickly fall for that, you know, societies that had kind of a more of an egalitarian mindset, where people were willing to easily say, if I want to save someone's life, I'll put on a mask, they may not love the mask, no one loves wearing a mask when it's hard to love that. But, you know, people consider that to be an obvious trade off, in exchange for one another. It wasn't necessarily so obvious here. Because we don't see things.
Andy Slavitt  20:42
And there's this interesting notion that people were dying, we're just out of reach enough from us. And the things that we felt we were missing, were oftentimes just as real, that it was a hard time getting people through that. I also think, if we did prepare the country for a more of a marathon, instead of saying, this evening, the President say all the time, it's gonna be over tomorrow. It's not a big deal. This is overblown, but it said, look, we're gonna be in this for a period of months, it's gonna be tough, but we're gonna get through it. I think it would have helped the public along. So it's hard to decouple these things just go from what would life have been like with one but not the other. But I hope we take away less from this doesn't just say let's elect a better person. But let's also try to fix some of the things in […].
Jessica Yellin 
Okay, let's talk about some of the people. And the key players starting with President Trump. You frequently in the book mentioned that starting in early 2020. He told journalist Bob Woodward, that he knew how this virus was transmitted. It goes through the air Bob, is what he's quoted as saying, and that he knew the risk posed and yet he did not sound the alarm, you write that he actually turned it off to try to put us to sleep. So what in your view was President Trump's greatest sin wasn't denial?
Andy Slavitt 
Yeah, it was his inability to see this crisis in anything other than a reflection on him. Because that caused him to do a couple things that were incredibly dangerous. One was denial, basically denied the crisis. And the second the crisis until his hand was forced. I mean, ask ourselves if the NBA hadn't been shut down, which also hadn't shut down the stock market with the President have ever come forward and talk to the public, it was only because of the stock market being down. And as the book clarifies he rewarded he gave rewards to the people who put together a press conference, that allowed the stock market to go back up, but didn't deliver on anything they promised at the press conference.
Andy Slavitt  22:36
He gave them a signed picture of the newspaper headline of the stock market going up. That's one of the details in the book, so you could tell where his head was. And then the inability for anybody with a dissenting voice. And look, as we said, in the first year, of a pandemic, there's gonna be a lot of fog of war decisions. But if you say, anybody that has a narrative that's different than mine, we're going to suppress, we're going to either fire them, we're going to intimidate them, we're gonna cut them off from talking to the public. And there are just nonstop examples of that. And to me, those were the greatest sins.
Jessica Yellin
You have a chapter called Trump Eats The Marshmallow. And I have to say, I laughed out loud. And I saw that very good title. In that chapter, you explain that in March and April, no one had presented Trump with an option that would have saved the greatest number of lives. That's a quote, I don't understand. They just wouldn't give him bad news. Or he had to eat the marshmallow. Now, how do you explain this?
Andy Slavitt 
I think it's when you know, your boss. And you know, your boss thinks a certain way, you've been working with them long enough. And so you don't even present him or her options, that you know, they won't consider. And so everybody, so that featured in this book is this amazing woman named Blythe Adamson. Who is a really interesting person in her own right. She was in charge of doing all the analysis and all the modeling, and putting together the options that got put in front of the President. And she was never asked to put together a model which in any way left any federal responsibility whatsoever for the pandemic, or followed, even as an easy alternative, even followed what the other countries that had done this successfully were doing, because there was a successful formula out there.
Andy Slavitt  24:20
And she was never asked to put together a scenario which said, what happens if we follow this scenario? How many lives can we save, the President wanted to see only options that put responsibility for everything on someone else. And that allowed him to, as Jared Kushner said to me take credit for opening the country in April. And he thought he would be able to blame everybody else for everything bad that happened from there.
Jessica Yellin 
Unbelievable. And she is one of these secret heroes of this pandemic. She seems remarkable […]. I loved reading about her. And you say often she was the only woman in a room.
Andy Slavitt
Yes. So look, this is a woman who that you know, that scene opens up. She is like with the rest of us trying to figure it out. To do during the pandemic, she's at an airport in Seattle, Washington with her two daughters. She's a single mom. And I don't yet reveal her background. But she's a single mom, that's a victim of domestic violence. She's lived in public housing, she almost lived in her car, and her phone rings. And if someone asked her, she'll come to the White House. And the reason they're asking here is because she's one of the only people in the country that's a PhD in both economics and epidemiology. And she's a young woman. And she says, oh, I can't possibly do that. And all she gets with is her sweat pants.
Andy Slavitt
And, you know, two days later, she walks, he's walking into the Roosevelt Room in the West Wing. And she's probably the smartest person in the room. She's not political. And it's all of the people she's surrounded with are extremely wealthy young men who went to Ivy League schools. And not there's anything wrong with that. But so she's in this meeting with President Trump. And everybody is supposed to introduce themselves. And they each introduce themselves by talking about how much money they've made, companies they've sold things of that nature. And she's sitting there, the only woman in the room. And it's fascinating what happens when the President gets to her.
Jessica Yellin  26:14
She's bad a**. And I'm going to come back to her in a little bit. Let's talk now about one of those wealthiest men who went to an Ivy League school who was in that room, Jared Kushner, you know, it's sort of it on a changing picture with him in some parts of the book, he seems totally glib and out of touch. At one point, I think he told you, he says the pandemic happens in three phases, panic, pain, and come back. And he thought we were already in come back last spring. Hello. But in other ways, it seems like he was helpful. I mean, there was just one point at which the President we all remember wanting to reopen the economy and Easter and that set off red flags for you and you activated to try to get a message to the White House to change course. Let's actually listen to a clip from the audio book on this part and talk about it.
Bradley Whitford
As I sat in my breakfast nook, having coffee with Llano one morning and early April, Jared Kushner's name again flashed on my phone. I picked up and he was polite and appreciative of my past help. He told me he felt like we were getting to a good place. I imagine he meant that at least things were feeling less chaotic. And some of the immediate fires, like that of finding enough ventilators had been snuffed out. We caught up on a few topics. And I pushed for an increase in testing as I had in our last couple of calls. It seemed obvious that there was no way to meet any of the reopening criteria. Without more testing, and the federal government needed to help. We're going to put testing back to the States, Kushner said. We can't be responsible. We've given them everything they need. But they won't solve this unless we make them own it. Some of them clearly don't want to succeed, bad incentives to keep blaming us.
Bradley Whitford  28:07
What he described was more of a political strategy than a public health strategy. Trump would announce that the country would be reopening at the end of the month, but states would have to solve the hard problems. This way, if things opened and went badly, Trump could point to the governors. If there weren't enough diagnostic tests, the states could be blamed. The implication was stunning, but not entirely surprising. governors were going to get abandoned. Many states wouldn't have enough tests for months. The combination of opening by the end of the month a lack of tests, and the White House's efforts to avoid blame, seemed like a surefire way for cases to grow. I had talked to several governors over the last several days. All they wanted was more forceful Whitehouse support. I felt like the President and his team were surrendering the war. No, Jared, I don't think that's true. The states need a partnership, I countered. Kushner said their minds were made up.
Jessica Yellin
So Andy, how do you assess Kushner? Was he trying to do the right thing? But just unwilling to stand up to the president at crucial moments? Was he blindly loyal? Or did he just not get it he was in over his head.
Andy Slavitt
Well, I tried really hard to go beyond the stereotypes that we have for all of these people. And so the decision for me to call Jared in the first place was kind of an unusual one. And, you know, he was gracious to take my call and to listen to me and to seek my input. And, you know, I appreciated that because he didn't have to do that. And he certainly knows where I stand. But ultimately, look, nobody I talked to I don't believe there's anybody that was sitting behind the scenes and I want people to die. You know, I'd like the pandemic. So nobody, you know, maybe with the exception of Scott Atlas, who I think was a bit of a Frankenstein monster, you know, people are not we're not all good or all bad, what they were is a complete reflection of their boss. And Jared's job was to was to be a political operative, it was basically to keep anything from sticking to his father-in-law.
Andy Slavitt  30:15
And so when you're there, and you've got a job to do, you're somewhat degree a reflection of who you work for. I had to be a reflection of Joe Biden when I was in. And you know, as I said, in the preface, Joe Biden said to me, because he knew I was talking to the public every day, Andy, do not worry about making me look good. Give the public the information they need. And Jessica, I can't tell you how much easier it is to do your job. When you have a boss that says something like that. I mean, can you imagine all the performative nonsense that you'd have to put up with when you're working for Trump, you got to make him look good. You got to constantly praise him. And then you got to try to warn the public about the pandemic in between, you know, spouting out his line, that the pandemic was being handled super well.
Andy Slavitt
Be impossible, I couldn't have done my job that way I wouldn't have. But the people that chose to stay, didn't have the luxury I had. They were working for a man who they had to constantly praise and make look good, or behind the scenes, try to get stuff done without upsetting his narrative. So the minute I would suggest something that was helpful, if it can be done behind the scenes, Jared was fine with it. But the minute I suggested something that was helpful, that would have hurt the narrative that his father-in-law was putting forward, he couldn't do it
Jessica Yellin 
Couldn't or wouldn't? I mean, there was one point where you quote him saying something like, we're going to take the country back from the doctors.
Andy Slavitt 
Yeah. Yeah. Well, certainly, he couldn't and still work for his father-in-law and be loyal to his father-in-law. And so, you know, of course, that amounts to wouldn't.
Jessica Yellin  32:02
Okay, next, let's talk about Redfield. While you write that prior to his time at the CDC, and his career highlight was to oppose condom distribution during the early years of the AIDS crisis, and that he was, quote, most often described to me as a nice guy. Oof. We all know the CDC screwed up on testing. But you tell another story in the book about CDC incompetence that absolutely astonished me. For weeks, the CDC couldn't get the White House a working model on the spread of COVID. And it turns out, they were making what seems to an outsider, a very basic and shocking mistake that this woman, Blythe Adamson help correct. Would you tell the story and also, what the hell happened to the CDC? Was it attrition, was it gutted, what happened?
Andy Slavitt  32:53
Well, so what happened in this particular situation was, they were modeling out what was going to happen, how many people were going to die, how many ventilators we needed, it was really important for the White House to have a working model. And of course, the White House wanted an answer that they liked, but they also just wanted an answer. And for the longest time, the CDC refused to give it. And when Blythe got there, she realized that the model they were using was giving numbers weren't matching reality, because they were modeling COVID-19 wait for it, as if it was the flu. Right? And the thing about the flu is if you're sick, you stay home because if you have the flu, you know, you're sick, we get COVID-19 would made it so challenging, was it many of the people spreading it around, didn't know they had it. Now Blythe says to be fair, that building a new model, out of whole cloth is not something that everybody can do. And it's very hard. And oftentimes it takes years. And you know, she just happened to be very, very talented. And she put up a model within a day, because she just happens to be one of those bad people as you said.
Jessica Yellin
Okay, that is very complimentary to her. No doubt, she's remarkable. But you'd think after weeks and weeks and weeks, the CDC would have the capacity, if not to build the model to at least identify the fact they shouldn't be basing their COVID model on the flu. So can we go to what did happen to the CDC?
Andy Slavitt  34:15
Yep. Well, look, I mean, first, let me just say that the CDC is the best we have, it's the best we're going to have and whatever you don't like about it, we should reform. You know, you don't toss the CDC out the window, what you want is a place where people study the data, have the most intelligence and can make the best decisions, and when they don't perform well. We need to reform them and we need to make changes. So you know, everybody should be welcoming, open to criticism, including the CDC, but I don't want this to be seen as what I think is very popular these days, which is essentially to find someone to blame and put it all on them. I don't really view it that way. They were they went through a series of what everybody in public health goes through, which is massive budget cuts and the Trump administration cutting money for the strategic stockpile for mass, cutting money for intelligence operations in China, all of that stuff.
Andy Slavitt
But that's even the broader question. Like when was the last time you know, you went to a dinner party or saw some very high like person that was from public health. You know, surgeons make $800,000 a year to operate on us. But people who are whose job it is to basically look out for us so we doesn't keep us healthy. It's not a prestigious job. It's a job that people kind of tend to look down on that no pharmaceutical company was giving these people money. They sort of cry in the dark and say, a pandemic is coming, a pandemic is coming in every year that it doesn't happen. They look like they're, you know, crazy people. So the truth is, we've kind of really undervalued that profession, and particularly, when in our instant gratification, society, people who do things to prevent bad things from happening aren't on the highest rung. So not surprisingly, when it came time for them. They were pretty rusty.
Jessica Yellin
I want to ask you about Dr. Birx. You write about the ways that she was ultimately silenced and then traveled the country trying to get a message out, I would say trying to atone for her public silence earlier in the year. Some would say complicity. Let's play a moment of that clip from the audio book.
Bradley Whitford  36:18
At the end of the meeting with the school superintendents as others filed out, I stood to talk to Birx's, masked and six feet distant. I wanted to get a sense for whether in the event of a strange transition of government, she would help give Biden and his team the best chance to be effective. At one point after a brief pause. She looked me in the eye and said I hope the election turns out a certain way. I had the most important information I needed. Later that day. She texted me a thank you. I invited her on my podcast to talk with me about the upcoming Thanksgiving holiday, which we were both concerned about, and which she had referred to as potential 35 million super spreader events. She responded; I am completely silenced. They let me do these local trips and local media but no national media makes me crazy. But I summarize the data every morning, and it goes up the chain to Tony Fauci. So he has everything. Other than a brief chat when Trump was ill. It had been months since Fauci had spoken to the President. Unlike Birx's, he kept enough of his voice and did join me on the podcast.
Jessica Yellin 
Okay, so Andy, you write about she was silenced. And she tried to do the right thing, ultimately, which is very compassionate of you. But why did she do the wrong thing so frequently, early on?
Andy Slavitt 
Well, people who don't like Deborah Birx, or didn't like […], hadn't yet met Scott Atlas. Then we realize, oh, I'll take the person who means well, even if she gets it wrong, and even though she's, you know, made some tactical errors and look, Birx the most complex and fascinating person, I think that I've come across in this book, she's well qualified. She done HIV and AIDS research. She got herself into a position where she was put in charge of a very big thing. She got a little bit in overhead in the White House, and she breathed the fumes of positivity. And she started to believe her own ***. And she didn't realize the president she was working for. So she grew too optimistic. She grew too supportive, fine. Call that an honest mistake, call that what she will. She had some embarrassing moments where she tried to praise the president when she was working the wrath. But she learned pretty quickly that the President was not going to support her agenda that he was basically waking to the crowd, when he would say, sure, we'll follow this. And then he wouldn't get the crowd and say, I can't believe you know, these people.
Andy Slavitt  38:53
Once that happened, and she got disillusioned, she struggled to figure out how to handle it. And when she tried to speak up even a little bit, even a little bit, she got replaced by Scott Atlas, who essentially is just a person of Trump's creation. I mean, I have a scene where I'm talking to Reince Priebus are on a call with him. And he tells me in the spring, we're going to fight back against everything by finding our own experts played at media's penchant for having a both sides story. And we're going to find someone from Harvard or Stanford, that essentially will come out and say that this pandemic is not a big deal. He said this point blank, and I reported it in the book. Now, it took them several months. And the guy they found Scott Atlas wasn't even an epidemiologist wasn't even qualified. He did have a Stanford degree though.
Jessica Yellin
I want to go back to Woodward for a minute. You write a few times in the book that Woodward knew what Trump knew early on. And you also write frequently that you viewed your job and everybody who had a role to play his job was to do everything they could to save the next life. So I wonder if do you think that if Bob Woodward had said something publicly sooner, he could have saved lives? Or if he had come to you and said, Andy, what should I do? What would you advise him?
Andy Slavitt  40:12
So we'll never know if it would have but he absolutely should have. There's no excuse. I don't know how anybody could sit on that information. Look, there's a lot of things that we can fix when they go wrong, Jessica, I mean, if someone misses a year of school, we can hope to catch up, if someone's business closes or whatever, there's a lot of stuff we can try to catch up. But when someone dies, there's no chapter two. And when 1000s of people are dying every day, and you know it, and you know, it's going to be more and you're going to bed at night, sleeping at night. And this is with the president, what is beyond my comprehension, in some extent, is how a man could go to bed every night, until the middle of March, every single night, knowing that death and destruction was coming to this country and not saying a word.
Andy Slavitt
And all he would have had to say is, look, this is what's happening. This is what's happening. And guess what, I think it would have been smart politically. So Woodward, you know, at that point may have made a judgment to say that that ship has already sailed. And that, you know, by the time he knew that, you know, people already I don't know what was going through his head. But, you know, at any given point, I make the tried to make the case that no matter what's happened in the past, we have a new opportunity every single day to save the next set of people's lives. And so every single day that goes by when we're not doing that we kind of own it.
Jessica Yellin
You wrote that one's response to the pandemic reflects whether you know, more people who have died or more people who lost their businesses. Do you think polarization on this was inevitable?
Andy Slavitt 
You know, if we had real honest dialogue like that, that wasn't politicize, I think it would have been fine and even healthy, to say, you know, I make the point in the book that we shouldn't compare suffering. I mean, if someone lost a job, and someone else, lost a family member, and someone else, you know, look, if you built a business, that was your lifelong dream, and you lost it during the pandemic, that suffering, that's tragic. And there's no reason to say your suffering was not as bad as mine, or mine is not as bad as yours, we should have human compassion for everybody that went through challenges. And understanding that we were going through a very difficult situation where there was no silver bullet, there was no way to make everybody happy.
Andy Slavitt  42:26
And under the best of circumstances, it would have been lost, and it would have been disagreement. But what's different, is it became a matter of tribal identity. So if you're a supporter of President Trump, you basically have to believe that masks are bad. wearing a mask is not good, because that's how you believe politically, well, it should have nothing to do with how you believe politically. And when I talked to heads of state, and other countries, they said to me, we have lots of problems. People don't love masks here, either. But the one problem we don't have is it's not in any way connected to their political identity. So we can at least have a reasoned conversation.
Jessica Yellin 
And that was driven by the top that was a leadership issue.
Andy Slavitt 
I believe it was.
Jessica Yellin
I want to read something in the book that I found really powerful. Early in the book you write the pandemic was, quote, not a test of our technology, or prowess in our wealth. It was a test of our political system, our healthcare system, and our system of deregulated capitalism, our shared values and our shared humanity. We failed, I think, but we are doing better now. And we have an opportunity to learn from our mistakes, you end the book with something you call exhibit N. Would you explain exhibit N, what it is? And what in that list you think is actually achievable in our current reality?
Andy Slavitt
So I felt this obligation, because my publisher told people are going to want to read at the end like your solution. Yeah. Again, I don't know about you, Jessica. But I find like when I read these books, like I love the first two thirds, where people are describing what went on. And the last third, I just hate because it's some, like magical formula, where the author thinks they're smarter than everybody else, and doesn't seem to work. And it's like, nothing is that easy to fix, they pretend like it was. So I recognize that readers will want to see something. But I also think that what we really need in this country is a dialogue about us about the things that went wrong about the things we could do better next time about how to learn from this about how to become a better country. And so I call exhibit N because I said, fine, I'll put together this list. And let's get things of a lot of things that I've written about and that I've spoken about.
Andy Slavitt  44:36
But N stands for, no effing way we're gonna get it done unless we actually deal with who we are as a country first. And, you know, to my mind, people ask, Well, how do we prevent the next pandemic? Here's what I think the question is. There's some things we learned during the pandemic. I'll give you an example. We learned that there are a lot of kids that don't have internet at home and that don't get lunch at home when they're not in school, okay, so this was true before the pandemic, we learned that it's true during the pandemic. And it's entirely up to us as to whether it'll be true after the pandemic. So to my mind, if we decide to solve that, that I really like our chances of being able to make it through the next pandemic much better shape, if we don't, if we let it go back to the way it was, then that I don't like our chances. And here's why.
Andy Slavitt 
Because I think we'll do better at all the technical failures to the CDC, though it will do better, we'll have more masks, we'll have more, ventilators, all of those things. But it won't be perfect. You know, virus is a powerful thing, it can invade us, even in the best of circumstances. And so when that happens, we have to fall back on a second line of defense. And the second line of defense is us. It's how we treat one another, it's how we care for one another, it's how we keep each other safe. Because if 100% of us would have worn masks and avoided large crowds, for a period of 12 months, we would have had a very different outcome. Now, we're not perfect creatures and I'm not suggesting we're perfect creatures. And I'm not suggesting that there's no perfect formula. But what I am saying is, we want to become a better country, we won't just prevent the misery of the next pandemic, we will learn to look out for each other. Now.
Jessica Yellin  46:23
I would recommend anybody who picks up the book, definitely look to the end also exhibit N because there's so much in there, Andy, that is really thoughtful, and it expresses needs that we identified during the pandemic that are far beyond our healthcare needs. And it's almost a blueprint for a future administration. So I found it super fascinating. I want to talk for a moment about trauma and empathy. Because empathy is a piece of what you just addressed early in the pandemic, sort of the people who had a more Pollyanna view of it said, you know, the one thing that is going to show is how important it is that we act collectively and it's going to expand our capacity for empathy as a people. I'm not sure it did that. I think it pointed out some of the areas where there's expansiveness and some places where there's an unwillingness to extend an arm. And I think we have gone through a period of collective trauma that's largely unaddressed. We have difficult time talking about anxiety, mental illness and trauma in this country. Would you think for a moment about what you think happens to a country that has unaddressed trauma?
Andy Slavitt
Well, I count myself among those naive people. And I say this in the book, who really believed that we could pull together that happened after 9/11 to a large degree, we squandered it. It happened in prior generations in this country. And, you know, perhaps under different leadership, we would have pulled together better I certainly think, under Joe Biden, he's used the bully pulpit to unify us not to divide us. And I think that makes a difference. It doesn't solve everything, but it's made a positive difference. You know, the question you're asking about what happens? Now, what happens with the trauma that is here? You know, we did an episode that was played on Monday, with two doctors, one in Seattle, one in New York, as they were the first two people to the very first people to deal with a pandemic. And I but they, we talked about what happened when the first six people died. And you know, my heart broke, when I heard about six people die.
Andy Slavitt  48:31
We have 300 people died yesterday; 3000 people died a day in January. But six people dying is a little bit, it was a little bit more heartbreaking, when you knew that it was going to be 600,000 at some point. And, you know, I think getting to closure. And the way to deal with this kind of trauma is you have to try to put the issues on the table and get some closure and have a real dialogue. I think there's a temptation to just move on, quickly. And to some degree, I really welcome that. As I said, the beginning of the show, I think people should be celebrating getting their life back, they shouldn't feel guilty about it. And many of us will start to value the things that are life even more, because we can now appreciate them more, we can appreciate each other, appreciate what the human touch feels like, appreciate what it's like to hug a relative or a friend that we didn't get to do.
Andy Slavitt
And I think that's part of the healing process. And I think forgiveness is part of the healing process. I mean, you think about other people we get angry with and yelled at and in our own family and our friends and our neighbors because they saw the pandemic differently than us. And I think if we hold those grudges, it's gonna be hard. So we're gonna have to find a way to release ourselves in each other. From that to know that most people came from a good place. The book says, you know, the privilege of the majority is not to discount the minority, but the book does in the end say there is still true evil out there. And let's not be pollyannish about it, we have learned that there are people that are not well meaning, and we simply have to defeat them. And that's the very last end of the book is we ultimately have to win the war against this kind of sentiment.
Jessica Yellin  50:18
I'd like to end on a hopeful note, as we look ahead to where we go from here. I wonder if you can just address broadly, do you think we're going to see medical breakthroughs, and some new discoveries, as a result of all the scientific research that went into, you know, fighting COVID, for example, I think of mRNA technology,
Andy Slavitt 
I think we got as much as we got to dear F in some of those sociology and psychology, we got an A in the hard sciences. I mean, we should be so proud of the investment in basic research that's happened over the last two decades in this country into the mRNA platform, we should be able to prepare much better from a vaccination standpoint for future pandemics, we should be able to create antivirals, we should be able to minimize harm, much better. And we're good at that. That is one of the success stories here in Furthermore, even on these other things. You know, one of the reasons why I was excited to join the administration is something Joe Biden said, which is on our best day, we could do anything here.
Andy Slavitt
And we have to be called to our best day. And when we have a leader who says, Let's rally for one another, I came to government because I felt like we were at a critical moment to prove that we could deliver for one another. I think people's faith in government was quickly disappearing. The democracy was in jeopardy. And I felt to some degree like if we can't help the president deliver on this promise, not only are we going to be precarious, in all the ways we know, but the very democracy will feel very undermined. And so I do feel more optimistic. Because I think President Biden came in and brought that.
Jessica Yellin  52:04
Well, you're gonna have a fabulous book tour, enjoy it. Revel in sort of getting some time to enjoy your accomplishments. And I look forward to talking to you again soon.
Andy Slavitt  52:23
All right, we finished with theme one. Theme one. We raised a lot of questions. We went through the history of what happened very quickly. You thought you met with some heroes on Monday. You heard about some of the big deep issues with Jessica Yellen today. And we're going to go to our second theme next week. And the second theme is to talk about the government, getting things done, trusted communication. And to do that, I'm very pleased that one of our heroes will be our guest on Monday. Jen Psaki. Jen Psaki is the White House press secretary, and she is amazing. And you're gonna love that episode. We're gonna have more from Dr. Lisa, on some of the efforts that are happening because of the government involvement. And then on Wednesday, Jeffrey Zients, the COVID czar, will be here right on our show. So Jen Psaki and Jeffrey Zients. Why is all that happening? Well, that reminds me. Why is all that happening?
Andy Slavitt
It's close to the name of Chris Hayes show called Why is this happening? And I mentioned that because I've been doing this book tour. And I just think that's a crazy name. Why is this happening? Like, I could picture Chris saying it. And every time every time I sat with it, why is this happening? It makes me think of Chris Hayes. Why is this happening with that kind of funny look in his face. And finally, best wishes to our wonderful producer, Kryssy Pease, who's getting married on Saturday. It kind of fills me with emotion to think about because Kryssy, she's family, to all of us, all of us in Lemonada are kind of like family, and she's such a great partner on the show, and I'm so excited for her. She's getting married up on the lake, and she's gonna come back to married woman. So everybody wish her well. And wish her partner, Matt. A lot of good fortune. He's a lucky man. All right. We'll be back next week. Some phenomenal shows Jen Psaki. In the meantime, be well enjoy your life. Let's move forward.
CREDITS
Thanks for listening to IN THE BUBBLE. Hope you rate us highly. We're a production of Lemonada Media. Kryssy Pease and Alex McOwen produced the show. Our mix is by Ivan Kuraev. Jessica Cordova Kramer and Stephanie Wittels Wachs still rule our lives and executive produced the show. And our theme was composed by Dan Molad and Oliver Hill, and additional music by Ivan Kuraev. You can find out more about our show on social media at @LemonadaMedia. And you can find me at @ASlavitt on Twitter or at @AndySlavitt on Instagram. If you like what you heard today, most importantly, please tell your friends to come listen and please stay safe, share some joy and we will get through this together.