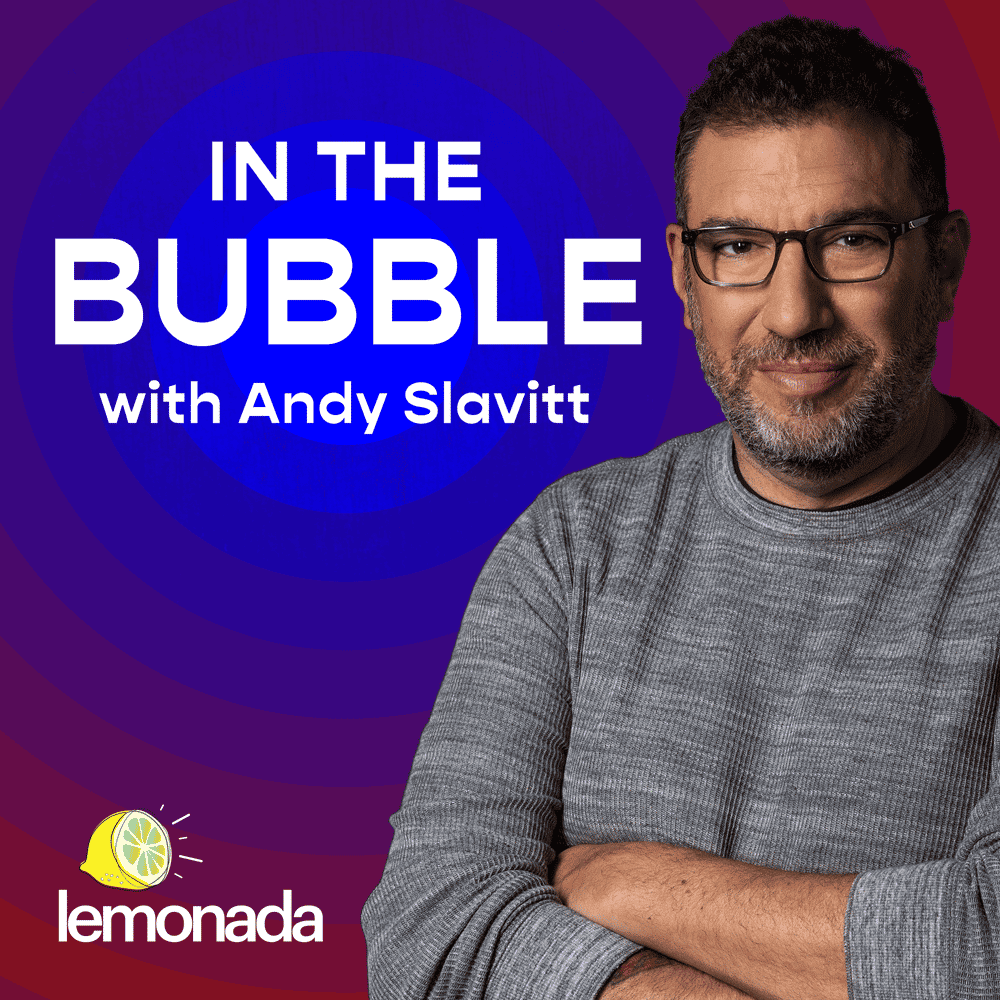 What Trump Robbed Us Of (with Samantha Bee)
Subscribe to Lemonada Premium for Bonus Content

Comedian Samantha Bee has some Choice Words for Andy when she's In The Bubble this week. In this wide-ranging conversation, Andy and Sam chat about what we've lost because of former President Trump, along with his front-runner status for the GOP nomination in 2024. They discuss the quality of the other choices for Republican presidential candidates, while opining about simpler times. Plus Sam shares her thoughts about her one-woman show, discusses what she loves about podcasting, and imagines what it would be like to explain politics today to our founding fathers.
Keep up with Andy on Post and Twitter @ASlavitt.
Follow @realsambee on Twitter.
Joining Lemonada Premium is a great way to support our show and get bonus content. Subscribe today at bit.ly/lemonadapremium.
Support the show by checking out our sponsors!
Check out these resources from today's episode: 
Stay up to date with us on Twitter, Facebook, and Instagram at @LemonadaMedia.
For additional resources, information, and a transcript of the episode, visit lemonadamedia.com/show/inthebubble.
Transcript
SPEAKERS
Samantha Bee, Andy Slavitt
Andy Slavitt 
This is in the bubble with Andy Slavitt. Welcome to our show today. Don't forget to email me, andy@lemonadamedia.com. We're planning our fall shows we'd love to hear from you. What you want us to cover thoughts on prior shows. We got a good one for you today. Sam B is a very unique voice in a I think elite group of unique and important voices that have emerged over the last 20 years or so. You know, I came of age in the sort of David Letterman years. And you know, I became kind of an operating adult in the Jon Stewart years. And for a group of people. You know, the Jon Stewart's Stephen Colbert, Jimmy Kimmel's, those are not just the sources of late night comedy, as we've always had, but they're sort of an outlet for news and opinion and how we're feeling. And with some sort of bent that makes people feel comfortable. And in among those voices, Sam B is a unique one in that, believe it or not, in this day and age of 2023. She's the only female voice in that group, the only woman who was really allowed to have her own Late Night Show. And of course, she was the first woman on The Daily Show and the only female correspondent on The Daily Show for a long, long time before then. And she developed into somebody that a lot of people love, people find very, very funny. And I think she bore up under that spotlight incredibly well. And it's talked about a little bit today, what it meant to her, and how it changed her or didn't change her. So it's a great show today. It's a fun show. It's a perfect show, for us to kind of reflect on the coming campaign season, which Sam and I do together. To talk a little bit though about her and how she picks her issues and how she got where she got. It was one of those episodes I decided to go into with very few notes. I just had like seven or eight words on the page. I can show you this page had words like Mike Pence, RFK, Jr, Book burnings in Florida, stuff like that. And that's kind of how we were in the conversation. I think it's pretty much how you would want to run a conversation with sanbi If she were coming over to your house for dinner, you probably go you know what I don't I kind of plan this too much. And I think that works. Well you'll tell me if it does. And you know she kept with my politics, honestly. I mean, these are these are issues she deeply cares about. You can tell. So we have a lot of fun. And if you'd like the episode, two things to tell you one is I'll tell you something at the end of this episode, which will give you a chance to hear even more but also go back to the archives. And you can hear Tina Fey from very early on, like one of the first seven or eight episodes, and you can hear Kumail Nanjiani. And you can hear some of the other funny people that have graced the bubble. But now, let's get into it with Sam Bee.
Andy Slavitt 
Welcome to the bubble.
Samantha Bee 
Thank you so much. I'm happy to be inside the bubble for once.
Andy Slavitt 
The Bee in the bubble. Yeah, that's it. You know, people give their their descriptions of themselves as kids. And I think the description you've given yourself as a kid that I've heard you talk about is like one of the most revealing that I've ever seen. It's this image of you image of you, in third grade, teaching kids at the playground about women's bodily autonomy and sex education.
Samantha Bee 
100% 100%.
Andy Slavitt 
How much does that like, totally help us understand who you are as a kid like, you can picture that.
Samantha Bee 
I feel like there's actually two things about my childhood that tell you everything you need to know about who I am as an adult. One of those is that story. Because I was over informed as a child about our bodies, like definitely, my family could have pulled back a little bit. It was pretty gritty. And the second thing is that I used to do fake news recordings, like I would do fake news casts when I was I had like a little tape recorder and a microphone. And I would sit in my home recording people's conversations and report the news about what was going on in my family and the outside world. And I made it up and I called it news for goofs. And then one day, I got a job on The Daily Show. And I was like, wow, that's full. That's extremely full circle. So both of those things,
Andy Slavitt 
it's almost too crazy. Especially because there wasn't a daily show back then. When we were when we were when we were kids.
Samantha Bee 
All I had was Kermit the Frog doing a newscast on the Muppets. And that's all I need.
Andy Slavitt 
That's funny to hear that you are not shy. You are not shy.
Samantha Bee 
Oh, no. What? No. extremely shy. I'm still extremely I'm very shy. Very, very shy. Yeah, I'm very, very shy. Like it's hard for me to project. Well, I think as most people, a lot of performers are very shy, like introspective and shy, and we all get stomach cramps when we have to go on stage or like, interact,
Andy Slavitt 
But you needed the girls in your school to understand bodily autonomy. I mean, like, it was very important that you get that message across.
Samantha Bee 
Yes, it was.
Andy Slavitt 
Did you have any thoughts at the time on the makeup of the Supreme Court?
Samantha Bee 
I can't say that I did. Because I grew up in Canada. So we didn't know that you had a Supreme Court. I didn't know what that would have been incredible and precocious. I definitely knew, you know, a lot of the players on the on the political scene in the US at an early age because I had my grandmother, my mother fought about politics constantly. So I definitely knew who Ronald Reagan was, and definitely watched the Iran Contra hearings with my grandmother. Mainly because she thought Oliver North was so handsome. So like, you know,
Andy Slavitt 
No one know where she's coming from.
Samantha Bee 
Exactly.
Andy Slavitt 
But sadly, I bet you know, girls today could name the Supreme Court justices. After the last ruling, I mean, that's got to be I mean, just thinking about for a young girl, to see the dogs ruling and let alone what's going on in some of the states. It's got to be a horrible blow to what people tell them about their I mean, talking about bodily autonomy.
Samantha Bee 
It's such a part of the conversation for them in an organic way. Like, unfortunately, it's an organic part of their base of knowledge. And because they don't, they don't take anything for granted. So even so I have three children. I have three teenagers, two daughters, in that mix. One is considerably younger than the other ones, almost 18 ones 13. And definitely when she was, you know, 10 or 11, she was talking about reproductive justice, because that's what they were. That's what they talked about at school. That's what they talked about with each other. There were people who they would argue about it in class, in a light way. It wasn't like it wasn't probably a gripping conversation, and people weren't fighting about it, but they were it was like Sure. It's in their world. Yeah. In a way that's, you know, unusually seems, seems young to me, but of course, they have to be aware.
Andy Slavitt 
Yeah, I mean, look, if someone told me that I had to be slightly nauseous for like, a couple of months and that that was a Supreme Court decision. I would be like, I'd be like, Oh my god, I can't You can't you can't tell me that.
Samantha Bee 
I should know about this. And you know, now we're making, we're making college choices for my older daughter. And she's like, well, nowhere in these states, you know, she's really, right. And that's not coming. It's not like I'm not pushing, I'm not pushing my own beliefs on her. She's coming to them on her own. And then, and then once she tells me, then I push her relentlessly.
Andy Slavitt 
Yeah, but it's got I mean, she's got to have sympathy for girls who live in those states, who are definitely, it's hard to believe you can make choices of your own when you're not an adult anyway. And then to be in a situation where you've got people lined up against you. I mean, I heard I heard the routine that you did, about when when Texas first did its law, this was I think, prior to dabs were the sort of vigilante abortion law. And this just this whole notion of making you feel like everyone's against you, and that you, you don't live as part of a community and the people around you not only do not respect your rights, but are there to actually see if you're doing something to violate their belief system. Oh, yes. credibly scary.
Samantha Bee 
It's incredibly scary. It's, you know, and you think about, were on a car trip yesterday, and it came up. And then I was talking about religious freedom and how one there's really only one religion in this country that is prioritized above all else. And so religious freedom, as you want to imagine, that isn't really just isn't really a possibility here and a lot of in a lot of ways. And, you know, it's, it's, it's all super interesting stuff. And it's hard for my daughters to go, Oh, look at all these little these people telling me what to do with my personal body. Look at all these people who have an opinion about my, like, what is contained within my skin? Right? It's crazy to them, they can't understand it.
Andy Slavitt 
Yeah, it is. It is. And, you know, I don't think that, guys always look at it quite the same way. Because it's just not as personal. I mean, you know, despite, I think, effort, and I think that's obviously part of the problem, not that not that men are the only people that are on the other side of this issue. There's people who are don't have respect for women's bodily autonomy, of all stripes. But it certainly feels like if people really thought about what you just said, which is that someone's telling me, literally, how my body is supposed to work that they'd go, oh, wait, we got to stop that.
Samantha Bee 
Yeah, I don't think I would try to tell anybody what to do with their own human flesh, right? Like, I can't imagine what I would have to say about anybody else's body choices. So you know,
Andy Slavitt 
I'm curious about your, your own evolution on matters like this. Because you obviously, as someone who, you know, does, like you were, you were suggesting as a little girl who basically interprets the news for people in a way that they in a way that you have to be paying attention to the news. And I wonder like, it's because you started out and I, we all remember watching you on The Daily Show. And you're incredibly funny. But it also because we started to understand after a while that you were the only woman on the show for quite a long time. And then on full frontal, you were the first and only woman with your own show. Did it did that feel like it added a level of responsibility to you to be more than funny, but to have to be that voice? Was it? Was it a bit of a burden?
Samantha Bee 
Well, no, I mean, no, like, I don't know I? Not really, because when you're making a show, you are so in it. I mean, you know, when you're doing the job of making a show, there's so many other things to think about, then, let me now represent all women and carry the torch for woman hoods. Like you're actually like what the advertiser said, what about this incredible joke? Okay, what are we going to do? Like, you're just like rewriting stuff, you're filming things? It's, it's just like, there's so much coming at you that you don't really have time to think, oh, is are we making? Or making history? The answer is yes, we did. Like the show made history it has and continues to kind of like be at the forefront of that. Sure. Will anyone remember that in the future? Probably not. I will. I'll tell everybody at the nursing home and they'll go Shut up.
Andy Slavitt 
That's nice. That's nice.
Samantha Bee 
Oh, aren't you aren't you lovely? Dare. So you know, it's like it hits you kind of after the fact or it hits you in the middle of the night and you go I should really tell my kids that this is like a kind of a big deal. And every once in a while ago, you know, that was kind of a big deal. And they go Sure, can you get me can you make me some egg?
Andy Slavitt 
So you're huge. So you talked about the issues that matter to you that were important to you. Were funny, not didn't feel an obligation to go, oh my god, I gotta hit this one.
Samantha Bee 
Because there were definitely times where like, there were times when you could see something coming on the calendar. And you would know, like, for example, the last show that we filmed, we filmed it the day before Jobs was overturned. We knew that that was coming. You know, there are certain certain things you can put, like Supreme Court decisions that you think are coming down the pike pretty soon.
Andy Slavitt 
It was nice. It was nice that you got it leaked in advance, too.
Samantha Bee 
Yeah, that was good. Thank you. You're welcome. for that. Well done. Thanks. Um, so there were things where I was like, Okay, we definitely, we need to make a statement about this, like we need to, we just put this on our radar. So but that was more for us. Like those were the things that were important to us. So being kind of, at the vanguard of those kinds of conversations comedic Lee was natural to all of us. So it was an org, I would say that it was actually a pretty organic process. There weren't except they wouldn't COVID came that kind of blew it all out of the water. And then it was just like Walter wall. COVID? Of course, I mean, of course.
Andy Slavitt 
Let's take a quick break, Sam, and I wouldn't come back. I want to talk about some other choices like the Republican presidential candidates, get your thoughts on that field. We'll be right back. So now we've got I just I mean, just to stick on choice for a second, which is, which is we've talked about as the title of your show as well. Yeah. So now you've got Mike Pence running for president. Which seems I don't know improbable.
Samantha Bee 
Like, what highly improbable. What's
Andy Slavitt 
What's his natural constituency like the the Trump people think he's a traitor? The non Trump people think he's, well, if the key is who he is. Yeah, and and then I guess, I guess maybe there's like a handful of church going people in Iowa that are like, no abortion after like four days. You're my guy.
Samantha Bee 
You're my guy. Like, it's hard to imagine waking up in the morning and going, Mike Pence is the man for the job. Let's go for it. We can do this, folks. There's got to be a lot of like two o'clock in the morning, come to Jesus moments where you're like, I don't know what I'm doing here. I'm just putting my I'm putting all my eggs in this very janky basket. What's the point? What is his polling? What are his numbers there? So
Andy Slavitt 
I think he I think he qualified for the debate. Which I think yeah, which I which I think just barely happened and I think you need 2% Plus, fundraising. But God I mean, 2% of that group. I mean, it's kind of a it's kind of interesting.
Samantha Bee 
I'm just there. I just want to see his stern facial expressions and watch him clench, just in a complete state of full bodily clench during the debate is whatever that show turns out to be. Oh, boy. Oh, boy.
Andy Slavitt 
Yeah. Because then you got DeSantis, who I think it's, it's Oh, book burning it's, it's it's
Samantha Bee 
An alien. He's an alien creature and a human and a human skin suit. It's not really not familiar with the contours of normal human conversation, or much of anything.
Andy Slavitt 
Yeah. And like, I mean, are you surprised? I guess, look, we're Gen Xers, right? It's like, if you told me when we were kids growing up, that we're gonna have a prominent candidate for president in the year 2024. Who wanted to teach that, basically, that slavery was pretty much good for African Americans, that we shouldn't really get down on former slave holders. That that's really the biggest problem.
Samantha Bee 
Yeah, like, we're all just one big family. Just one big family out there. Yeah. Yeah, homeboy. Even in Canada, if you had told me that, I would have thought that you were in a in a fugue state. There's no way that I would have believed that there's no way that I would have thought that I'd be talking about book bands, like relatively innocuous books. Judy Blume books like I don't know.
Andy Slavitt 
The band doesn't gotta be.
Samantha Bee 
Get those off the shelves. For one thing,
Andy Slavitt 
You don't really want to teach people about menstrual cramps. I mean, that's not I want.
Samantha Bee 
I want to go back to the times when we all thought it was just Satan inside our bodies. I wouldn't go back to the times I want to go back to being I'd like to all of our daughters to be like Carrie when she gets her period in the shower and thinks she's dying. Oh, my God. That would be much better.
Andy Slavitt 
Yeah. Well, like let people guess. The people have people take a wild. Guess what's going on with you? We don't know. We can just shut up about I love to tell you. Yeah, yeah. Sorry. So okay. My producer just put up the average of the national polls for Republican candidates. According to 538. As of Monday, Donald Trump is favored by 52.7%. Okay, yeah. Ron DeSantis by 14%. Ramaswamy. I can't remember his first name, but he's the guy who lives in New York, you probably know him. Well, I haven't put on streams, dude. 7.2. Great. So I'm going to present Mike Pence 6%. This is This is according to 538.
Samantha Bee 
Wow, let's Can we just go back to the time. And we did so much. It was we did so many jokes about this, how he proposed to her and he put the ring in a Lok lacquered in a shellacked loaf of bread and presented it to her to know these things. And she didn't know this. It's I wish that I could remember the the details of this story. But essentially, I think that he placed the engagement ring in a show pact. And that that's what we're dealing with. Wow. Tom saying wow, there's not a lot of.
Andy Slavitt 
I mean, that's an interesting set of characters. Trump DeSantis, Ramaswamy and peds.
Samantha Bee 
That's a really kind that's a very kind phrasing. It is an interesting cast of characters indeed.
Andy Slavitt 
Honestly, like, I'm gonna go out on a limb here and say that we deserve better from that party.
Samantha Bee 
I'm gonna join you out on that limb. And I'm gonna say we deserve so much better. Like what have we done to deserve this? This wretched cast of broken toys? Come on?
Andy Slavitt 
Oh, my goodness. On the other hand, we have RFK Jr.
Samantha Bee 
I There isn't. You know what, it's so interesting. Not too much gets me as hot under the collar as RFK Jr. Actually, I he is the one. He's the one reason I wish that I had a show. When my show ended. I was like, I was like, alright, that's fine. I can I can deal with it. That's the only thing that makes me wish that I currently had a television show is RFK Jr. and his very bad ideas. Oh, my goodness, I just read an article just before I started talking to you about how he at the same event was like we should have Yes, women should be free to choose their route. They should be free to make reproductive choices until the third month of pregnancy. And everyone was like, What? What did he just say?
Andy Slavitt 
Oh, my goodness. And then he was like.
Samantha Bee 
I didn't say that. I was there were a lot of people around. I was confused for a second. I just say stuff like oh, that's a great quality to have as a future president. This great. Thank you.
Andy Slavitt 
Yeah, I mean, there's some there's some theory here like that, that like anybody's good name. You know, eventually leave it out. They're long enough. Yeah, you know, it's gonna get ruined. I mean, I'm thinking like, poor JFK, poor RFK. Poor Ted Kennedy. I mean, let these were imperfect people. But I mean, these are these are patriots. And I haven't know some of his some of our juniors cousins, who are all like, you know, Joe Kennedy. I mean, these are sort of like very decent, decent people, you know, and then you've got this. Who knows? Who knows what, but I What worries me is that if this is the light we get in 2024. Like, I hope this is a low point.
Samantha Bee 
I don't think it is. I'm gonna go out on a limb and say that it isn't a low point. But I definitely am very approaching the upcoming election season with tremendous trepidation. As I'm sure that you can imagine, just listening to him talk makes me crazy. Yes, doesn't answer questions, his cockamamie theories about this, you know, vaccines and all of that, combined with an inability to articulate any kind of like, coherent presidential positions. And I've read an interview with him. And he was like, You know what, I think a lot about this issue, but I'm not going to talk about it until I become president. And then I'll let you know what I think I was like, Oh, this is familiar.
Andy Slavitt 
Right? And you know, the thing that Trump did for us unfortunate he robbed us of our ability to say, Oh, well, that guy will never be president.
Samantha Bee 
He definitely robbed us of that he robbed us of our ability to say, oh, he'll never be that guy will never be president again. He robbed us of a lot. And he revealed a lot revealed a lot of important truths, such as the entire country is built on a series of handshake agreements above cordiality and ethics. Yeah, okay. That was good knowledge. I don't think we've done much to, like, correct that sense. Yeah,
Andy Slavitt 
No, it's a little bit scary. It's a little bit scary. To just just think about the fact that we have, like, well, it's like, if you broke laws that would be you know, no now that we know is broken laws. And he's, like, that's not doing anything for as populate for, you know, for his pipe. It's got this this sort of this sort of martyrdom campaign is a very strange look here in the US. It's so
Samantha Bee 
So strange. It is so so strange. I mean, the fact that, um, we just couldn't like, I guess the Founding Fathers couldn't really anticipate a Donald Trump right, or many other things. Or machine guns.
Andy Slavitt 
Right, right. Right. Once we add muskets, you know, of course, we're gonna have these muskets. No, but yeah, right. There was some corner case for the founding fathers are sitting in the corner going Yeah, but what if we got a president who just spoke with me? He's a real estate developer. Okay. And he doesn't pay it. Right. Okay. And then he becomes president. Yeah,
Samantha Bee 
He has a line of steaks, and they're not very good. And he tries to start his own college, but it's a scam.
Andy Slavitt 
Like, that's a lot of foresight. But that will ever happen. Ben.
Samantha Bee 
You're like, they're like, man, what are you talking about? You're ridiculous and crazy.
Andy Slavitt 
Very crazy. Well, let's take one last break. I want to come back. I want to start by talking about one of your interviews that I listened to recently that I found really touching. And let's talk about some of the positive things happening in the world. We'll be right back with Sam B. You've had Rob Delaney on your show recently, who's a really funny guy and a very nice guy such a fan. Yeah, yeah. It was a super Twitter guy. Yeah, it was a really. I don't know if people would have called the story but then maybe you wouldn't want to tell the story. What happened with him? In his family, but it's it's been it's becoming a pretty incredible advocate since then,
Samantha Bee 
Yes, well, he had a he had a young son, he had a toddler, essentially, who developed brain cancer, and eventually died after a long process of surgeries and treatments. And, and he unfortunately died. And obviously, it was a complete devastation. And he was so open about it. He was very, I mean, he's a comedy guy. He's a joke guy. He's a writer, he's a performer. And he was very bare naked about it in a way that I think was so, so interesting and like, tender, and I feel. And he wrote a book anyway, he wrote a book about the entire experience that is really, truly a beautiful love letter to his son that died, and to his family. But as so it's so raw, and so open hearted about the entirety of the experience that I really, I really loved. I really loved reading the book, because it was, I mean, it's just, it's just a great raw work of art. And, and it's very beautiful at the same time. And now he is such an advocate for he lives in. I mean, He currently lives in the UK, where he experiences the benefits of like health care, you know, like the health system, the National Health System. And, and so he's such an advocate for that for universal health care. I, myself, I grew up in Canada. So I'm a beneficiary of that growing up. And now, I live in the United States. And so just like everybody else, always kind of going, when does my insurance run out? When am I on my own? What? Because I'm on double strike now, like both of my unions are striking, nobody is working, it's easy to imagine that most, or all of us will be without health care in the foreseeable future. And it's terrifying. The system here is so broken, and it's so and people know that it's broken. But if you've lived within a system that is not as broken, it's like extra broken for you. Because you can see what it's like when you don't have to think about health care, every moment of your day, where you can actually take a day off and go, Oh, this will be nice to spend time with my family because I'm not right, like scrambling.
Andy Slavitt 
I first met him when Donald Trump and Paul Ryan and Mitch McConnell were trying to repeal Obamacare, right? Remember that? Because Because even then we had too many people with insurance. Too many? Too many. Yeah. Many people with insurance? Yeah. Like we just just just heard today saying that. Texas has already kicked 500,000 people off of Medicaid since the pandemic? Because I think there is this there is this perspective that's really singular to the US, which is that if you do a set of things have a certain kind of job, or a certain age, you can get access to some health care. But yeah, but but we have to decide as a society whether or not you're worthy of having of having done those things much. So yes. And of course, if you're incredibly wealthy, you get everything you want. Which is why people here don't like the people who don't like the system in the UK in Canada, it's because they don't get enough advantage. Yes. And that system, the thing that like, you point out, and he puts out so well, are the fact that you've got to worry about someone in your family getting sick, and whether you're gonna be able to pay for it. Is this sort of existential angst on top of exactly everything else?
Samantha Bee 
I talked about it, and I have said this before, but I really believe this, that it is like and believe me, I love living in the United States. I'm a citizen of this country, like I love I love it, I truly do. But there is an Invisible Backpack that most people wear. That is this kind of just existential, just kind of like this looming threat, I guess that it could all fall apart. You definitely if one person in your family develops some intractable disease, you could just lose everything, your house, your livelihood, because there's no one to care for your family member. Like it can be taken away from you. And that is sort of what I when I try to explain what it's like here to people, my friends and family back in Canada, I'm like, well, the the biggest difference that I see is that in the United States, you can feel like you could just kind of lose everything at all times, right? Like with an any new president. You could just kind of like lose everything. Everything changes every four years, and everything can change in your life, because there really isn't a social safety net. Just kind of providing the basics so that Right. It's not that it's it's like we want you insecure by design, insecure by design, always on your guard, always a little bit afraid of something always a little bit hesitant to go to the doctor.
Andy Slavitt 
So I was on I was on a panel in Aspen, with with a guy who's the head of the American Cancer Society. And someone asked him a question. And he said, You know what the number one call we get to the American Cancer Society is the number one phone call, we get to our hotline? Yeah, I can't afford to have cancer, a newly diagnosed person, that's the number one thing on their mind. And in fact, the data says that within two years of developing cancer 40% of Americans have spent through their life savings.
Samantha Bee 
Oh, this is so easy to believe. It's so easy to believe. And then and, and even if you do have coverage, and like the extra certain layer of short on this sandwich is that even if you do have coverage, you'll spend so much time as a person who's trying to recover from a disease from an terrible illness, right? You'll actually spend so much time probably arguing with your insurance provider about what's covered and what's not covered, and you'll get crazy bills that you didn't anticipate, right? Because that's how it works. And you'll get turned down for coverage that you deserve. Right. And it's within your plan, and you will just be in a fight all the time. When dealing with mail, you'd be afraid to check your mail. And that is so unfair, right? Just so unfair to people.
Andy Slavitt 
Right. You know, like, he just made me think of something, you know, how they're like, Hey, if you have if you're going through chemotherapy, we'll give you some besides therapy, we'll give you some things so you don't have to be so stressed out. Yeah, I got it. Why don't instead of that, why don't you just not send me all these crazy bills, just and then I'll be less stressed out? Yeah, just don't send me the bells, like the fact the acupuncture skip the acupuncture. You know, what
Samantha Bee 
Not getting six crazy bills in my mail is worth at acupuncture sessions. Can we just skip the part? Can we just like on a very basic level? Can we skip the part where you say that I don't have coverage when you know that? I do. Right. Can we skip that part? So I don't have a heart attack in addition to everything else?
Andy Slavitt 
Right, right. Oh, really? A collection agent. Thank you. Yeah, exactly. Well, we so kind of negative today. And it's my fault. Like it's my fault now. Because I know you're generally very positive person. So I'm like,
Samantha Bee 
We went there. I don't know. We went into this. No, no, no. I had say a positive thing. I had the most delicious tomato sandwich today. Tomato Sandwich. The sun is shining. It just is so killer. Delicious. One
Andy Slavitt 
Maybe we finished with a few positive things. That's that's the way that's the way we finish. Women's soccer team. USA soccer team guy paid got paid the same as the men's soccer team for the first time in the history of any sport. Very good. Yeah, we gotta be feeling good about that positive about that. Yep. What else? Okay, did that. Did that equaled brother status? No, not yet.
Samantha Bee 
Not quite. But that was good. That was positive change.
Andy Slavitt 
That's good. That's good change.
Samantha Bee 
That was positive change. Yes.
Andy Slavitt 
Yes. Tell us about your upcoming shows. You've got you got more dates out there.
Samantha Bee 
I got more dates up there because I enjoy doing the live show. So I'm going for those who don't know I'm on tour. So I'm gonna doing this show called your favorite woman. And it's
Andy Slavitt 
Like super fun. By the way. My wife's favorite woman for sure. Oh, that's so she's kind of
Samantha Bee 
Come to the show. I'm gonna get you. I'm gonna get I'm gonna get you're. This is nice. Wait, how many years?
Andy Slavitt 
It will be 27 this year.
Samantha Bee 
We're in a similar situation. I think you're you've been married a little longer. Got married in 2001. So pretty close. Pretty close. But it's a super rollicking like one woman show. It's multimedia. I like to talk about all kinds of women's stuff. And I love doing it. It is by far the most fun 70 minutes that I spend as a performer. I just absolutely adore doing it. And I think I'm coming to I'm coming to Los Angeles. So in October, you know, middle of October just and just saying
Andy Slavitt 
You have to try to find a way to get ourselves. Well, we will we will have a we have a link in the show notes to all your upcoming dates that you just announced. And finally, tell us about this whole podcast medium thing like what do you make of it?
Samantha Bee 
I love the podcast medium, because you know, I just come from a world like when we were in comedy you end up doing these long. In my comedy work, I would always do these long interviews with people and then they have to be chopped down to five minutes of your Just moments are like the moments that are the most onpoint for the storytelling that you're doing, and you end up with so much great conversation on the cutting room floor. So I love I actually love listening to podcasts. And I love doing one because I'm curious. I'm curious about people as you are curious about the world, and actually a great medium for me. I'm a real radio kid. Like I grew up in the Public Radio, as I'm sure you can imagine, from what I've told you about my family. We are a public radio family. And so that was just on Yes. All the time receiving news through osmosis, and nothing has changed. And now my kids are suffering that same fate.
Andy Slavitt 
Well, you're also married to a very funny person. Yes. So your kids must your kids must have like all kinds of dad jokes and mom jokes flying at them.
Samantha Bee 
They're our children are Savage, there's so much funnier than we are. And we are in great, great danger. That that's terrible.
Andy Slavitt 
That is funny. Well, your your podcast is interesting in that it focuses on really fulcrum points in people's lives. And it does this thing where in a very gentle way it gets at the question of kind of how people identify themselves and and who they are. But in a really kind of gentle, thoughtful, funny way.
Samantha Bee 
Oh, thank you so much for saying that. That's kind of I mean, I think it surprises people probably surprises, a fair amount of people that I just do have a natural kind of gentle curiosity about a lot of people. And so I love it's a great jumping off point to ask people about the choices that they've made in their lives that have been impactful. And it really is just kind of that launch into a deeper conversation about what it is that they're doing and where they're at. And I love it. I just love doing it. I feel like I would do it. Whether or not anyone listened to it. So the fact that anyone's listening to it is just sort of like a little extra, like a little cherry on top for me.
Andy Slavitt 
That's nice. Yeah, I always feel like okay, this show no one's listening to while I'm doing it and like nobody stole this. Right? You
Samantha Bee 
I have to kind of keep it smart, is keep it like very small. And they go Oh, someone listen to that. That's nice.
Andy Slavitt 
Wow. I'm like, okay, but this one they forgot to listen to Right? Like, now they listen to that one to have a subscription.
Samantha Bee 
They pretty much it's in their feed, they like it. It's okay, people like you.
Andy Slavitt 
That's what they do. They do. That's what they do. Well, so great of you to be in the bubble doing the the Gen X stuff with me. And catching up on where we are in the world. And I think we landed with some, I think with some real positive review shows for sure. Or some, some super positive stuff. Thank you, Sam.
Samantha Bee 
My pleasure.
Andy Slavitt 
Thank you, Sam. That was really appreciated. And actually, Sam stayed around afterwards. And we talked and we played a little game called two truths and a lie. I don't know if you've ever played this game before. But Sam and I were just hanging out and talking. And I said, Hey, let's do two truths and a lie. We did two truths and a lie. And it was really fun. And we're throwing it up as some what we call premium content. premium content is for those of you who go what, in the bubbles over already, and I can't hear more. How do I hear more? Well, you can become a premium member by subscribing. And we said prescribing, subscribing to Lebanon premium today. And if you do that, then you can access all this sort of additional bonus content on my show, as well as from the other podcasts across Lebanon immediate network, of which there are many, many, many good ones. And as a subscriber, you can listen to conversations that we have in a kind of offline fashion like the two truths and a lie one. And you could continue to uncover new ways that as lemonade likes to say makes life suck less. So you can check out a free trial. If you want of lemonade a premium, the free trial at the Apple podcast app, click on our podcast logo. Hit the subscribe button. You'll be into the two truths and a lie thing with with us as soon as you want. It. Rest assured it won't stop. With the Sam's two truths and a lie. We'll put content up, you know, several times a month, every other week. And Kyle and I are working on some really cool content. For that stuff. We really we have our guests that are heard, let their hair down. We take what we have coming up. We're going to take a look into the latest and greatest of the Trump cases next week. That's on Wednesday. We're back to our Wednesday programs. Dan Buettner the following week. We'll be on day. Buettner is the pioneer around Blue Zones, how we all live longer and healthier, happier lives by the environments we live in. And then a final health show of the summer, I think we will have fulfilled our commitment to to deliver a lot of shows on health content and what's going on in healthcare. world we have Congresswoman Susan DelBene. A, along with Maura McDermott talking about some pretty transformational moves in the healthcare system that could get it working a lot differently than it is today. So those are three of our upcoming shows. Have a great week. I expect to be talking to you next Wednesday.
Andy Slavitt 
Thanks for listening to IN THE BUBBLE. We're a production of Lemonada Media. Martin Macias and Kyle Shiely produced our show, and they're great. Our mix is by Noah Smith and James Barber, and they're great, too. Steve Nelson is the vice president of the weekly content, and he's okay, too. And of course, the ultimate bosses, Jessica Cordova Kramer and Stephanie Wittels Wachs, they executive produced the show, we love them dearly. Our theme was composed by Dan Molad and Oliver Hill, with additional music by Ivan Kuraev. You can find out more about our show on social media at @LemonadaMedia where you'll also get the transcript of the show. And you can find me at @ASlavitt on Twitter. If you like what you heard today, why don't you tell your friends to listen as well, and get them to write a review. Thanks so much, talk to you next time.