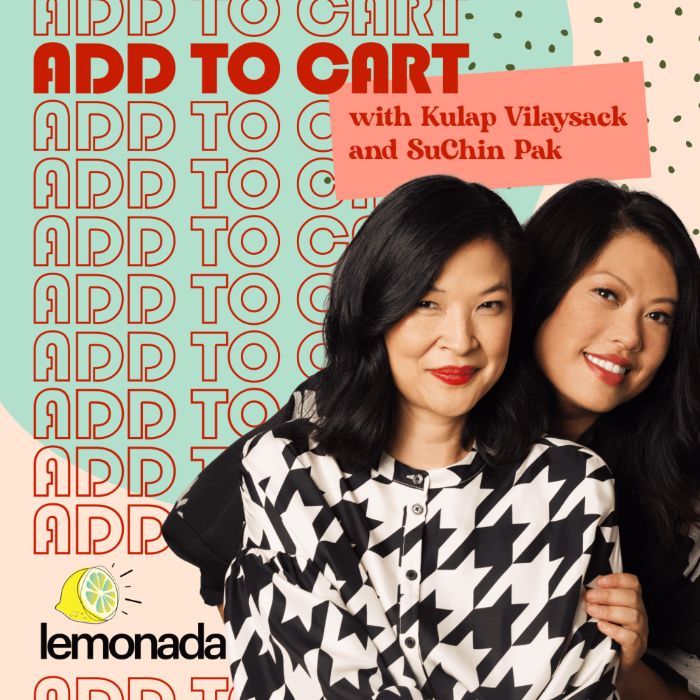 13. "It's Been a Tough Year, It's Been a Really F*cking Tough Week"
Subscribe to Lemonada Premium for Bonus Content
Description
We're going to need more weighted blankets because this week sucked. There's always been racism towards Asian Americans, but hate crimes have increased substantially, and in the last couple of weeks, there have been multiple attacks against elders. So what do we do? We call Senators, we track bills, we donate, we speak out, we raise awareness. We do this, all while self-soothing with bras that fit us, non-chemical skin peels that refresh us, scalp brushes that rejuvenate us, and all, all of the Steven Yeun we can get.
Resources for Anti-Racism:
https://stopaapihate.org/actnow/
https://www.capeusa.org/connect
Please note, Add To Cart contains mature themes and may not be appropriate for all listeners.
For a list and links to all products mentioned in this episode, head to @addtocartpod on Instagram.
Stay up to date with us on Twitter, Facebook, and Instagram at @LemonadaMedia. Click this link for a list of current sponsors and discount codes for this show and all Lemonada shows: Sponsor Links
Transcript
SPEAKERS
Kulap Vilaysack, SuChin Pak
Kulap Vilaysack  00:10
Hey, everyone, welcome to another week of ADD TO CART, it's me, Kulap.
SuChin Pak 
And it's me SuChin. So, Kulap, how was your week?
Kulap Vilaysack 
It's been a real not great. It's not great, but I think we'll get into it later, I hope you've been doing better.
SuChin Pak 
Well, we texted back and forth. And I can't remember what we were actually talking about. But I was like had a real, real rough week?
Kulap Vilaysack 
I think we were texting about underwear with Casey.
SuChin Pak 
Is that the thread that we were on?
Kulap Vilaysack 
Yeah.
SuChin Pak 
Oh, yes.
Kulap Vilaysack 
I believe it was talking about underwear with past guests. Casey Rose Wilson.
SuChin Pak 
That's right. I hadn't responded to the many beautiful pictures of large, voluminous underwear that you guys have been sharing with me and I love that I am your inspiration board for full coverage fit. I accept that with pride. But sometimes when I get overwhelmed, I'm a frozen and headlights anxiety person. Right? So there's a lot to process. I just sort of go under the covers, and I freeze. And that freeze goes to everything. I don't text, I don't email, I don't pick up calls. I'm gripped with indecision. Like I don't know. I don't know how to respond to a simple text. Like I get just so overwhelmed even doing that. And I had one of those weeks where I was like, it's not my week.
Kulap Vilaysack
Yeah, my therapist brought up like, we're all familiar with fight or flight. But there's also freeze. And freeze. I understand that as well. I know I understand all three actually, very well. But freeze is something very, very familiar. I went back to the cardiologist and I don't need to go into that in length. But one of the things she brought up amongst me being very insulin resistant. And she said, based on my blood work, I have been for a decade. But she was talking about how low my cortisol is, I have very low cortisol.
Kulap Vilaysack  02:20
If a bear were to burst through the window, you know, I, let's do something about it. Let's not just sit here and freeze. But what I immediately exposed myself to the cardiologist was like, "Oh, I know exactly what you're talking about" in my life that bear was my mother. And I never really had the I don't know, the luxury of fighting or taking flight. And so you just kind of just scan the room and see, how can I take on the least amount of damage? And so that I was like that makes sense to me, My cortisol level.
SuChin Pak 
Your cardiologist is like, "okay, so anyway, what we're going to do is take a cardiogram."
Kulap Vilaysack 
Yeah, exactly.
SuChin Pak 
You're like, Okay, cool. Cool. Cool.
SuChin Pak 
All right. Well, listen, we're here together. We're doing this, and I always feel better after we do our little Add To Cart. So let's get into it. What you add to your cart this week, Kulap?
Kulap Vilaysack 
I added a Manta Healthy Hairbrush. SuChin Pak, are you familiar with this brush? It is a flexible palm sized brush that molds to the shape of your hand and scalp, creating less tension. So it's bendy. It's got forgiving bristles. So that minimizes [..] and the founder, Tim Binnington, who's a British hairdresser created this for his wife, when she was growing her hair back after an illness and worried brushing was causing breakage. So you can use it to detangle in the shower, comb damp hair or brush out when dry. And I got it through Goop and it was $30. And I got it because a thing about me not another thing on top of low cortisol is that during the winter months I shed small gobs of hair, which for an animal that's really not a great evolution.
Kulap Vilaysack  04:18
An animal you're supposed to have more hair in the wintertime. And yet, every year, I do lose a lot of hair in the shower. And every year I go and I'm fine every year by the way. It's still like that's a lot of hair.
SuChin Pak 
It's alarming to have any gob of hair come off your head, you know?
Kulap Vilaysack  04:37
Yeah, so I got this. It comes in different colors. I of course picked the matte black with the gold, a little bit of gold. And I've been using it for the last couple days. I don't really like it. I generally use a comb, or I also have the tangle freezer, which is this guy here.
SuChin Pak 
Yeah, I think I've seen that one a lot more. How is this different than other sort of palm sized brushes that I've seen?
Kulap Vilaysack 
So I'm showing SuChin, my pink tangle freezer and there's little spikes but like kind of compare it to this Manta they're a little more heavy duty, right?
SuChin Pak 
And they're longer, the bristles are longer on the Manta.
Kulap Vilaysack 
Yeah, they're longer and it's also more bendy like my palm versus the rigidity of this one, right? So I can really get in there.
SuChin Pak 
Look at that hairbrush going into the future there, look at that technology.
Kulap Vilaysack 
Excuse, excuse, but it's also not it just is really nice on my strands, which have been improved since SuChin's suggestion of hairstory.
SuChin Pak 
I love it. You know what I have to say Kulap, we texted about this. It's hair story is this shampoo conditioner company, right? And they sell a scalp brush. And I was like, I'm not gonna spend 10 bucks getting a scalp brush. I'm not gonna be scammed into that. And then I did get it. I'm thinking about it right now about how good that scalp brush feels. How changed I am when I get out of the shower. I immediately added to cart and sent to my brother who is beautifully the most frugal man in a way that it's so elegante how frugal this man is and what he..
Kulap Vilaysack  06:25
Really? More than you.
SuChin Pak
Oh, yeah. He thinks I'm insane. He thinks I'm a hoarding buying insane machine. He's like, "please don't send me things I don't need." So he has been loving it. Let me tell you, he's got like, a lot of guys have little dandruff, scalp. You know, they don't care. They don't, you know, take care of it as or notice it as much and he just, it's a game changer. 10 bucks. Anyway. I don't know how we got into that.
Kulap Vilaysack 
I love it. I endorse it. I endorse it. And you know, I outed myself before but I too have suffered through dry scalp. Is that suffering? I don't know if it's suffering. SuChin, let's get off of my situation and let's talk about you.
SuChin Pak 
My Add To Cart this week, is Steven Yeun.
Kulap Vilaysack 
Yes. Excuse me. Excuse me.
SuChin Pak 
I mean, listen, I love the Timothée Chalamet. Do you know what I mean? I was on that train for a while
Kulap Vilaysack
You're on record.
SuChin Pak 
I love Timothée Chalamet, I realize that an older woman saying that I could sound slightly thirsty cougar. That's fine. I have put him on the shelf. I look at him I wave at him because I must clear the altar for Steven Yeun. And there is no room for anyone else.
Kulap Vilaysack 
We're gonna have to ask our editor, the mighty Ivan to have some sort of, I think some sort of music that really brings like the weight of clearing the altar. From Chalamet, to Yeun.
SuChin Pak  08:13
Just clear the altar.
Kulap Vilaysack 
There was once Timothée. And now..
SuChin Pak
Steven.
Kulap Vilaysack 
Steven Yeun.
SuChin Pak 
He is starring in a new movie called Minari. I was not a Walking Dead fan. You know, it's not my thing, a little too gory and that sort of thing. So I knew of him.
Kulap Vilaysack 
Yes, it's too scary.
SuChin Pak 
Yeah, too scary. can't watch it with the kids. But I saw Burning. There are problems with Burning. I'm not going to talk about it. It's just the objectification of women their bodies. Let's put that aside. Okay?
Kulap Vilaysack 
Okay, putting it aside.
SuChin Pak 
I sat in that theater and I said, I am watching something transforming in my brain. He's a Korean-American Actor in a Korean film, I'm talking about Burning, playing a Korean man who may or may not be American. Now, all of this is very important. Because I'd never seen a Korean movie starring a Korean-American actor playing this like weird demented, possibly psychotic killer in the most beautiful, most sophisticated, poetic way. So creepy. But there was so much dimension to it. Do you know what I'm saying? Like, even just trying to think about him learning the native language but you're never going to learn the mother tongue as if you grew up.
SuChin Pak 
So there's always going to be what he calls a dissonance and that dissonance they embrace it in the character which is kind of this weird, creepy guy. And it just it, it worked. So anyway that was Burning, he's in Minari. He may be. And, Lord, He better be the first Asian-American nominated for a Best Actor category at the Oscars. He has a quote in this article that has been shared a lot that I wanted to bring to you.
Kulap Vilaysack  10:28
And this article is in the New York Times and "It's the Many Lives of Steven Yeun"
SuChin Pak 
In it he says, quote, "sometimes I wonder if the Asian American experience is what it's like when you're thinking about everyone else. But nobody else is thinking about you."
Kulap Vilaysack 
[…] in some another queue to Ivan right there. What's a cue that means? Truth? that resonates to my soul? That is also I don't know, like toothpicks underneath my nails..
SuChin Pak
Could also be an alien ship that then sucks us back to space. I mean, yeah, when I read that, I, I'm walking around. I've been walking around for days, with that just rattling around in my brain, like, what does that mean? And it makes me think and it makes me like you said toothpicks under the nail uncomfortable. And I'm confused. And I'm delighted all of those emotions when he says that. And I think back to he gave this really great interview, when he was in talking about the Walking Dead about how it was so groundbreaking that he was who he was in that series, because he didn't have an accent. You know, his Asianess wasn't a definition of the character. But what I thought was interesting was, he said, "but I still had to be good."
Kulap Vilaysack 
Always. I haven't read the article yet. Did he bring up his past him coming through Second City, Chicago?
SuChin Pak  12:09
He did.
Kulap Vilaysack 
That's awesome. Because I met him. Because he did a few scenes in Bajillion Dollar Properties.
SuChin Pak 
Wait, what?
Kulap Vilaysack 
Yes.
SuChin Pak 
What?
Kulap Vilaysack 
Yes.
SuChin Pak
Tell.. Me.. Everything.. Everything, the smells, the sights, the sounds.
Kulap Vilaysack 
My head writer at the time, and multiple people in my cast, Tim Baltz and Tony Newsome. They come from Second City, Chicago from the mainstage. And they know Steven from that time, so he came through improv routes. And so through them, I was able to connect to him and pitch him this idea of playing a rich kid who basically is high all the time. And he's hilarious.
SuChin Pak 
Stop, stop. Like, my heart is beating a hummingbirds rate.
Kulap Vilaysack 
It was so nice. I got to talk to him on the phone. I kind of explained stuff. He was so nice. And then on set, he was great.
SuChin Pak 
I can't.
Kulap Vilaysack
He's so handsome.
SuChin Pak 
I love that this person exists. Do you know what I mean? Because we did not grow up with this person just the same way we didn't grow up with, you know, the Lana's and we didn't grow up with the Steven's, you know, we never had the opportunity to put Steven on an altar of panting and desire. You know, it was never presented to us I wasn't presented with this I may have made different choices in my life. I was not presented with this Steven Yeun, I did not know.
Kulap Vilaysack 
But it's what you were describing. What you were describing him talking about is that a lot of Asian actors when we were growing up weren't allowed to be full rounded characters. They weren't allowed to be love interest and bad guy. They weren't allowed to be complex and human. And he is, but he's good.
SuChin Pak  14:10
We come from a generation where it was Long Duk Dong.
Kulap Vilaysack 
16 candles.
SuChin Pak 
You don't even have to watch the movie. You get it. His name was Long Duk Dong, and now we have Steven Yeun. Side by side that is why we are feeling what we feel. I think it's it is not a light feeling. This isn't just a bubbly; it is all those things but it's a real deep. I don't know, just as a deep deeper level of..
Kulap Vilaysack 
It's an appreciation of the heart, the mind and the eyes.
SuChin Pak 
Let's get back to that. Just like the collarbone area. Anyway. All right. We'll continue to wiggle waggle over Steven Yeun and then we'll be back.
Kulap Vilaysack 
In just a few.
SuChin Pak
With more Add To Cart.
Kulap Vilaysack 
We are back and we are talking about what we're removing from cart this week. We, SuChin, separately brought the same thing to our producer Claire, which is the, it's the racism towards Asian-Americans.
SuChin Pak 
That's a big remove from cart. That's actually probably why I had a really hard time I was in that freeze mode. You know what I mean? Just taking this in.
Kulap Vilaysack 
Hate towards Asian-Americans was not new, right? So we've got the Chinese Exclusion Act of 1882. We have a murder of Vincent Chin in 1982. But there's been a surge of hate incidents and crimes against Asian-Americans in 2020. And, you know, anti-Asian racism and violence have, of course, been embedded in tolerated in American society. But our former president also really made it I think, acceptable with his use of words the Chinese virus, the Kung Flu, and what's happened this year is on January 30, an 84-year-old, Vicha Ratanapakdee who is a Thai man was shoved and murdered in an unprovoked assault.
Kulap Vilaysack  16:33
While he was on his morning walk in San Francisco in February 3rd of this year, a 64-year-old Vietnamese grandmother was assaulted and robbed in San Jose in broad daylight on the same day, Noel Quintana, a 61-year-old Filipino man was slashed across the face in the New York City subway. So one in four Asian Americans have personally experienced anti-Asian racism. And you know, we're freaked out. And I know why you're freaked out. Our elders are even at a higher risk. And your parents live in San Francisco or in the Bay Area.
SuChin Pak 
It is really dark when you have to have a conversation with your parents about not taking a walk. And trying to explain to them why. Because my parents are like, "what do you mean?" And, you know, for them, I think it's more like, well, you know, these things happen, they've been happening. But it's just another kind of dark level of fear. When you have to have that conversation. I just, I'm still frozen. I'm just I'm frozen in this. And I don't even know how to really process this. And I texted you being like, you know, this is what I was thinking about it. But I was even reluctant to bring it up because I haven't processed this yet.
Kulap Vilaysack  18:01
Yeah, it's brutal. What I just read off, you know, these are just a few examples. I think it was in January, a couple, an elderly couple doing their morning walk and Pasadena was assaulted, the wife was killed. And what has also added to our community's pain is the lack of media coverage. And the time of our recording in the last 48 hours, there has been more coverage to read had leaders of the community on I know other places have I know other, there's a little bit more. But I think we're all at a bit of a breaking point to how we can help some of our most vulnerable.
SuChin Pak
That is the beautiful thing about social media. And that is the beautiful thing about community and I know that word gets thrown around a lot is the thing that sort of like keeps you from feeling hopeless, because I don't feel hopeless. I just feel really sad. And I just have to feel sad for a while and then I'll move into the next, you know, ladder of emotions. But is that there? I don't feel hopeless. I do feel like there is such an outpouring from the Asian American community to do something and say something. And what we are asking is that everyone else continue to amplify our voices, right? I mean, that's all we can do for each other for anyone, any one group being targeted, and physically, you know, harmed or killed. That's the least that we can do. You know,
Kulap Vilaysack 
Yes, I agree with everything you said. And what kind of adds to the hurt and the pain or sometimes people in our own community who there is anti-blackness, you know, a bit. gosh, there's so much to say I have so much to say, being when minorities turn on each other, it only helps white supremacy. What a tough year. What a tough country, since it's very beginning. You know, we are all immigrants on stolen land, lest we ever forget that. And I just urge us all not to turn on one another. There's, Oh, God, I didn't even put all the words together. Yeah.
SuChin Pak  20:44
Yeah. Well, it's I mean, this is why I think both of us while we wanted to bring this to the table, I think we ourselves are still I mean, it is a lot. It is a lot to process. It's an it's a lot to also, you know, get quote unquote, "right" You know what I mean? Because I think I'm also paralyzed by that, too. Because when I see something, like you said, when there is this even tinge of, well, it's us against them. And it's always been that way, or that there's such a small scrap, and we're all fighting over this. And I don't know what I was like, why is that scraps? What does that scrap? Humanity? Love? You know.
Kulap Vilaysack 
A scarcity.
SuChin Pak 
Yes, scarce all of that. So I think just even that to me, has been really painful. And I but I also understand it, because I think it comes from such a place of anger, there is so much anger. And I think that that's, that is a natural part of it. But we have to move through that.
Kulap Vilaysack 
That is the design of the oppressor.
SuChin Pak 
Yeah, is to just sit in that in that anger, because it doesn't help us mobilize, it doesn't help us move anything. It doesn't help us keep the people that should be accountable for this, accountable. We're going to put up a whole bunch of links on our Instagram site. I know one of the places that I've been kind of looking at and really diving into is, stopAAPIhate.org. If you go to this site, there's a very interesting place on there where you can track what your representatives in your area are doing. Earlier this year, there was a resolution in the house sponsored by Grace Ming. Basically asking Congress or senators and representatives to denounce racism against Asian Americans, right?
SuChin Pak  22:46
Stop using the demeaning words Chinese virus, Wu Han virus, Kung Flu, all of that very, very basic things. This is just like a "Hey, can we just unanimously agree that this has to stop and it has to start here in this house, the seat of governance, and to see how many representatives did not support just even this proclamation." And I think it's important to hold those people feet to the fire. So there are things that you can do this is for me, where I'm channeling my energy, but there's so many other resources that you can be a part of, because I think after you process, the sadness and the anger, it's time to roll up your sleeves and do something.
Kulap Vilaysack 
It goes to the bucket of it's shocking, but I'm so angry to not be surprised, because, you know, I'm going to make a huge leap. Say those are the same people, the representatives who decided not to sign for this, and who also didn't want to certify, you know, the Biden-Harris administration.
SuChin Pak 
That's right.
Kulap Vilaysack 
On the sixth.
SuChin Pak 
Yeah. We have both done a lot of work with Hate as a Virus. That's another great organization that has that has been formed during this time to sort of combat racism and hate against Asian Americans. And Daniel Dae Kim, Lisa Ling, all of these people have been so vocal. And, you know, there's a lane for every one of us that feels like, Okay, this is an injustice that I will not tolerate. I just, I think we both ask that. You find something, you know?
Kulap Vilaysack  24:29
And I really want to shout out to allies who have used their platform to stand up for the community, comedian and writer Phoebe Robinson, Sara Benincasa and anybody who's covered this in the media, please continue.
SuChin Pak 
Well, I'm glad we got to talk about that because I know both of us we haven't had a chance to see each other face to face and it felt good to kind of do that with you.
Kulap Vilaysack 
Yeah, I, this is I've just I don't know and I also am removing from cart. I'm trying to remove from cart still sitting in my cart, I've just hit another wall with like this pandemic like I just I'm having such a hard time. And you know, I have a therapist, it's not that I don't have support. I'm just you know, we're all living in these concurrent crises that take one and that is just it's so much it's too much and then so what do we have we pandemic we have an insurrection.
SuChin Pak 
Let's just call it January.
Kulap Vilaysack
Yeah, I mean, it's been over a year and I'm so grateful for a lot of things. I'm grateful that my in laws got their first shots and that my sister-in-law who's NICU nurse in Orange County, she's vaccinated, I am in a stable, non-abusive relationship. You know, I have two awesome dogs. I've got an electric bike we've talked about the things that I have. I just..
SuChin Pak  26:25
We need more weighted blankets is what Kulap is saying.
Kulap Vilaysack 
Back the truck up on weighted blankets. I'm just, I am, SuChin, I'm so unmotivated. Thank God for this podcast. But like I can't I know what the remedy for a lot of this would be is if I could just work out or if I could just discipline myself enough to like, right, and I just can't, I just can't and sometimes I just stare off at nothing. And then I'll look down and it's like 4PM and I don't know. And then the next day is like that and I just it's been really tough.
SuChin Pak 
Yeah, I mean, I hear you it's been a tough week. It's been a tough year and it's been a really fucking tough week. I guess we just buy more stuff. (laughs) We'll be back, back with more stuff maybe less tears, maybe not. We don't care you know, but we'll be back.
Kulap Vilaysack  28:04
We're back on Add To Cart and we're gonna talk about our Game Changers this week. SuChin, why don't you start?
SuChin Pak 
Well, you're not gonna be very surprised about my game changer. But you're going to love my game changer, Kulap. This one is definitely for you for my cuckoo, hit at the link. Now, Kulap, you have said many times since we started this that you have missed what, your Korean body scrub.
Kulap Vilaysack 
That's right. Akasuri Scrub.
SuChin Pak 
You have missed an old Korean Ahjumma in a kneaded bodysuit, just rubbing every inch of you.
Kulap Vilaysack 
Gray skin falling off of me.
SuChin Pak 
This is not a complete replacement. But this may get you through until we can do that again, this is called Mineral Peel body by O.R.G Skincare.
Kulap Vilaysack 
Okay.
SuChin Pak 
Now, this is a natural nonabrasive exfoliant. This is different than the chemical exfoliants that I love. This is not a manual exfoliant, which you should not be doing with brushes and you know, that sort of thing. This is somewhere right in the middle. And I'm going to try to do this for you here in our Zoom camera but I don't know if you'll be able to see it. So you spray on your body anywhere. And you just kind of its three seconds. Okay, so there is what you see that, my skin is coming off.
Kulap Vilaysack 
Old skin. It's not liked a horror show you guys.
SuChin Pak 
Yes, my old skin is coming off but I have been using this product for years. Your skin is so baby soft after this. I do this on my feet and it just really works.
Kulap Vilaysack  30:01
SuChin, this product really reminds me of something I've used in the past for my face and neck. And it's called Cure, it's Japanese. And it works by exfoliating gently and effectively without harsh chemicals. So this one, it's you wash your face, and then you put it on and use, like you're in the shower, then you have to you wash your face, and you quickly dry it. And then you put it on your skin and let it hang out for a little bit. And then you start rubbing gently in circles. And then that same effect that you're describing for the spray.
SuChin Pak 
It's the same, it's the same. And by the way, I was just looking at it. And they're about the same price, which is somewhere between, depending on the size of the bottle between $30 and $40. But if you get a really big giant bottle that will last you for quite a while if it's like a body thing. It's a total game changer for me, in the sense that like, you can't go to your Korean spa. And to be honest, you know, it's a very Korean thing when you go into your bath or your shower to do the manual peels, you know what I mean?
SuChin Pak 
With that really hard, very rough cloth. And I do that, and I you know, I'm just so used to that, because that's how Koreans clean themselves. And so I feel like, I'm never really clean unless I get that thick layer off. But I have to imagine that probably isn't really great for your skin.
Kulap Vilaysack 
And you mentioned something before talking about the manual exfoliant, like I occasionally will do like a dry brush on the skin. Is that something you're saying? I shouldn't do?
SuChin Pak 
No, I think that's a little bit different. Do you do the dry brush on your body or your face?
Kulap Vilaysack
Body.
SuChin Pak
Yeah, body. Because that's really about lymphatic draining. You know, the thing about it is I think right now with skincare, we're moving away from stripping the skin. And especially with Asian skincare, being so popular, the whole point of Asian skincare is to keep the skin barrier completely intact. Like stripping anything from the skin barrier is like the foundation of Asian skincare. And that's very different than how we grew up with you know, sort of American skincare which is like you want that noxzema squeaky clean feel.
Kulap Vilaysack  32:20
Right. Yes.
SuChin Pak 
So this is just it's just a nice thing to add to the shower routine which is just getting longer and longer. And let me tell you, I have never spent so much time in the shower between the scalp brushing and the different hair stuff. And then I'm exfoliating with this mineral peel. What about your game changer?
Kulap Vilaysack 
My game changer. I have two retail places one—brick and mortar—and one—online, for large breasted women to get there brassieres.
SuChin Pak 
Why do you say it like that? It's not a bra. It's a brassiere.
Kulap Vilaysack 
my brows are like horses, right? And maybe SuChin yours are black. I would say ponies, ponies.
SuChin Pak 
I mean miniature toy ponies.
Kulap Vilaysack 
Shetland pony, your bras are shetland ponies mine are workhorses. And not only they're workhorses. They're Clydesdales. They're the Budweiser Christmas horses, and they are rode hard, put away wet.
SuChin Pak 
Rode hard, put away wet. Why are you putting the horse away wet?
Kulap Vilaysack 
From sweat, It's been sweating.
SuChin Pak 
I'm gonna Okay. All right, go on.
Kulap Vilaysack 
Look, everyone's like, oh, Who? Yeah, I'm done with underwire. It's like if I don't wear underwire. I'm just like, we're, you know, it's like I'm wearing a sweatshirt of just boob flesh. I want to lift it off my body. I started developing when I was in the fourth grade SuChin Pak, and they have not stopped growing. So I've got you know, with the D when I was like 18 and I was at D for a while and then as you know, the weight gain. We're at four Ds and if you're in England, that's a G. And that's my cup size.
Kulap Vilaysack 
To get quality brassieres. You know, I used to go to Nordstrom all the time, but then someone told me about Jeanette bras, okay. And Jeanette Bra's, The Alphabet Starts at 'D' and they expertly fit each client with their finest selection of D through K bras. You go there they fit you. They give you a bunch of different bras it's an experience and there's quite a selection because sometimes you know you go to a Nordstrom is kind of limited as to what is available.
SuChin Pak  34:54
Can you get these online or is this like really you want to go to the store for the experience?
Kulap Vilaysack 
Jeanette's Bras, they don't sell bra's online and they don't work on commission. And they also don't stock A through C. So you really get a focused, like, yeah, yeah, they get it. They understand that they've lived it. During this time, I haven't gone. So my online place that I go to, which I want to make sure our listeners know about is Bare Necessities. I'm getting bras panties, sleep wear, bathing suits, swimsuit, cover ups there. I sent you and Casey, my, I found my ideal panties. I like saying panties, which you saw covers, like a full bottom, and high waisted and I got three pairs. They're so comfortable living life, even though I'm mildly depressed. At least, the unwire feels good.
Kulap Vilaysack 
So I like a brand called Imprint. I think they're called imprinte, imprint. Surprise, surprise, these aren't cheap. But the difference in quality between you know, these imprint print imprint, sorry, I can't say it. Even though I buy a lot of them. These are like 150 Plus, depending on the bra. But they also you know, I take great care of them. And they also are really high quality. I've had, you know, much cheaper bras and they don't last that long, and they don't have the shape that I want and they don't support me. And guess what? She 40 and she isn't having it.
SuChin Pak 
Alright guys, listen. We've added to cart, we've removed from cart, probably cried somewhere in the middle a few times. Shared with you our dense meat.
Kulap Vilaysack 
Before we go. We were on a couple of podcasts that we want to let you guys know.
SuChin Pak 
So fun to do these podcasts.
Kulap Vilaysack 
We were just on NPR's: Asked Me Another, where we both competed against each other and with each other in some trivia.
SuChin Pak 
Yeah, so that was so much fun. And then we also did separate episodes is the first time that we've ever done anything separate. And I'm gonna venture to say that this will be the last time it's on the Asian not Asian podcast, I had a great time. These guys are so much fun. And they're so sweet. And they're so gracious. And they're just I had such a good time. I don't like to go places without you. Ah, so I was a little concerned. But it was great.
Kulap Vilaysack 
Oh, so we've got some great news, we are going to be on the bitch sesh a real housewives breakdown, live post Valentine's love fest with our dear friend Casey Wilson and Daniel Schneider. And that's Thursday, February 18. At 5:30pm Pacific Standard Time, that's 8:30pm Eastern time. So go to onlocationive.com/bitchsesh to buy tickets.
SuChin Pak  38:07
And we'll have that up on our Instagram at Add To Cart pod. But this is going to be so exciting because it's going to be live. So you know it's going to be messy in the best way.
Kulap Vilaysack 
And we don't want to give away what we're doing. But it shall be a very funny segment. I guarantee it. It will be revealing to all except for maybe SuChin.
SuChin Pak 
Let it be noted. I you asked me if I would do this.
Kulap Vilaysack 
You were willing, you were willing.
SuChin Pak 
On live and I took a moment. Let's be honest, I took a moment and I walked a few laps around the block. And I said you know what? I'm gonna put on my big girl non see-through wick away panties. And I'm gonna do this. I'm gonna do this for Add To Cart. I'm going to do this with Casey, I'm going to do this with […]. It's gonna be great. Because you know what? 2021 another mantra that I've been trying out. I'm not sure about this one. Okay, is to try new things. Again. I don't want to commit to it. I'm not committed to it. But I've been thinking about it because I hate trying new things.
Kulap Vilaysack 
It can also be not be the main flavor. It can be sort of a sprinkle through the side, you know. It's not the main focus of you.
SuChin Pak 
That's a beautiful way of putting it just a little.
Kulap Vilaysack 
You totally get credit for just like you just said like I'm gonna do this thing that's going to be uncomfortable. Then me and Casey were like, okay, actually, we should, it's wrong to ask her to do this. So if this piques your interest, definitely join us. February 18th. Well, that is our show. Thank you so much for joining us.
SuChin Pak 
We also have Hello, a spiffy new voicemail. This is something that we've been wanting to do. Look, we're real official podcasters club. This is it. Leave us your comment. Your questions your suggestions at 833-4-LEMONADA, that's 833-453-6662.
Kulap Vilaysack  40:18
That seems old school. We're also on Insta @AddToCartPod
SuChin Pak 
You know I love a voicemail; you know I love a voicemail, right?
SuChin Pak  4
Alright guys, we'll see you next week. Bye.
Kulap Vilaysack
Bye.
CREDITS
ADD TO CART is a production of Lemonada Media. Our producer is Claire Jones and our editor is Ivan Kuraev. The music is by Wasahhbii and produced by La Made It and Oh So Familiar with additional music by APM music. Executive producers are Kulap Vilaysack, SuChin Pak, Jessica Cordova Kramer and Stephanie Wittels Wachs. Be sure to check out all the items we mentioned today on our Instagram at @AddToCartPod. Also, please take a moment to rate review and subscribe to the show wherever you get your podcast.