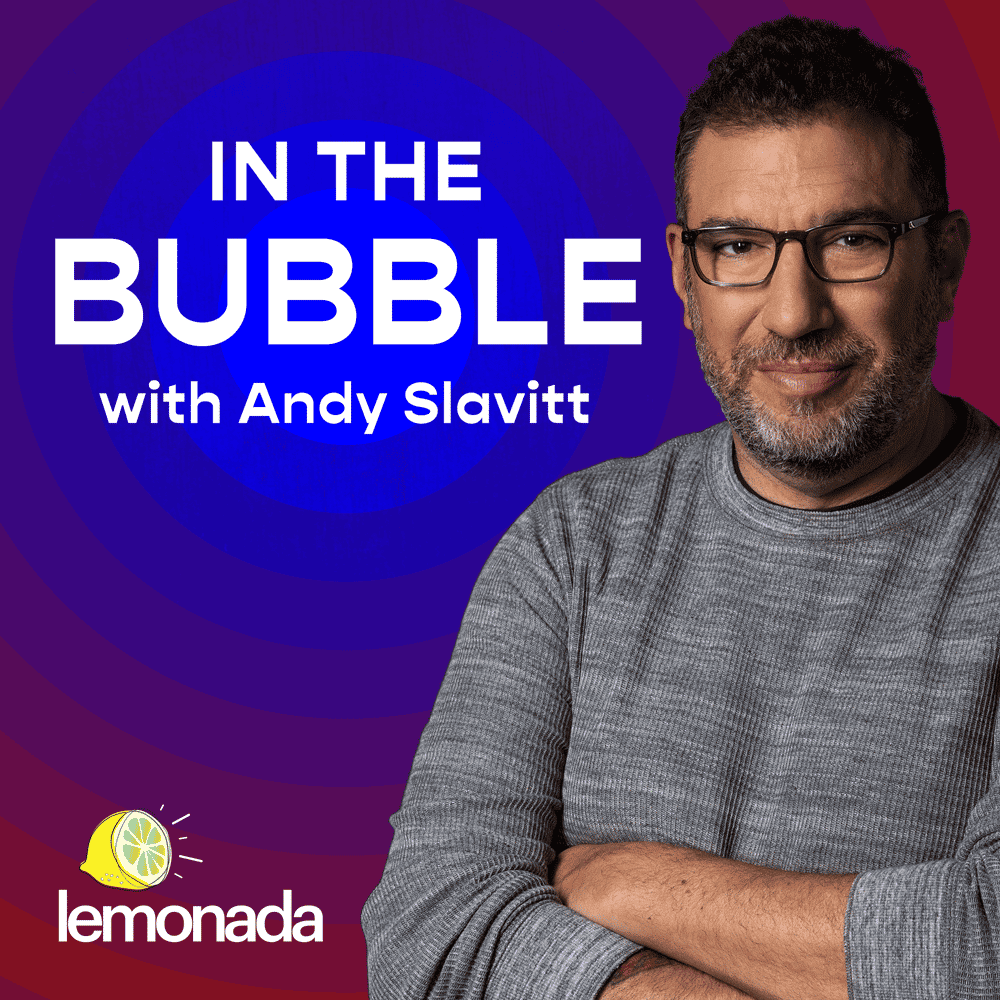 15 Top Scientists' Predictions for 2021
Subscribe to Lemonada Premium for Bonus Content
Description
When do the country's top scientists think we'll be gathering indoors again? How about when most adults in America will be vaccinated? And what's the number one thing you can do this year to slow the pandemic? We all want to know what's going to happen in 2021, so Andy got you some answers from a few of the smartest people out there. You'll hear from Larry Brilliant, Leana Wen, Anthony Fauci, Megan Ranney, David Agus, and many more.
Keep up with Andy on Twitter @ASlavitt and Instagram @andyslavitt.
In the Bubble is supported in part by listeners like you. Become a member, get exclusive bonus content, ask Andy questions, and get discounted merch at http://lemonadamedia.com/inthebubble/
Support the show by checking out our sponsors!
Livinguard masks have the potential to deactivate COVID-19 based on the testing they have conducted from leading universities such as the University of Arizona and the Free University in Berlin, Germany. Go to shop.livinguard.com and use the code BUBBLE10 for 10% off.
Check out these resources from today's episode: 
To follow along with a transcript and/or take notes for friends and family, go to www.lemonadamedia.com/show/in-the-bubble shortly after the air date.
Stay up to date with us on Twitter, Facebook, and Instagram at @LemonadaMedia. For additional resources, information, and a transcript of the episode, visit lemonadamedia.com.
Transcripts
SPEAKERS
Dr. Nahid Bhadelia, Dr. Farzad Mostashari, Dr. Caitlin Rivers, Bill Joy, Eric Topol, Zeke Emanuel, Dr. Megan Ranney, Tomas Pueyo, Andy Slavitt, Dr. Leana Wen, Dr. David Agus, Dr. Tony Fauci
Dr. David Agus  00:00
Hi, this is David Agus.
Dr. Caitlin Rivers 
My name is Caitlin rivers.
Tomas Pueyo
Hi, I'm Tomas Pueyo.
Dr. Megan Ranney
Hi, my name is Megan Ranney.
Bill Joy 
Hi, this is Bill Joy.
Dr. Nahid Bhadelia
Hi, this is Nahid Bhadelia.
Eric Topol 
This is Eric Topol.
Dr. Farzad Mostashari
Hi, this is Dr. Farzad Mostashari.
Dr. Leana Wen 
Hi, this is Dr. Leana Wen and I'm happy to be joining Andy again on IN THE BUBBLE.
Andy Slavitt
Welcome in the bubble. It's 2021. And it's Andy Slavitt. We are going to answer the question that I think is on most everybody's minds today. Which is what is in store for us in 2021. And you just heard from a number of the scientists that are going to be telling us what is going to be happening in 2021. Because on your behalf, I went out and asked the 15 scientists in the country who are most closely following this pandemic, and I'll tell you who some of them are that very question. But first, how are you? I hope everybody had a good New Year.
Andy Slavitt 
What a year, what a year, you made it, we made it. I'm sure that you had a lot of changes in store for you and your family. I'm sure not all of them were good ones. But we persevered. And I think we need to in recognition of all the people who we know who didn't make it through 2020. Too many of those people lost in this pandemic. We got a pledge to make 2021 better. And, you know, I know that each of us are going to do everything we can for ourselves and our families and our neighbors. And I got a just a great sense after our Tony Fauci episode which if you haven't heard, you should go back and listen to because it was just really was great.
Andy Slavitt  01:58
Just to kind of people who listen to this podcast. A lot of you made nice notes on Twitter, or on Apple or other things, and congratulated us because we had named some best shows of the year lists, which those lists come with lots of money. We're rolling in $0 money from those awards. But it was very nice. And I took it as a vote of confidence from you guys. And then I just say I was very touched by all of the nice comments on your end, thanks. It's good feelings and, you know, I know, there's a lot of plenty of bad feelings going around. But I feel really just positive about the show and about all of you.
Andy Slavitt
And about a year ahead, that I think is going to be challenging, but brighter. We're going to work for it, but it's going to be brighter. So, you know, on this show, what we decided to do was we asked 15 of the scientists we respect the most to tell us what we have in store. And those include scientists like Eric Topol and Anthony Fauci, and Tomas Pueyo. He's the guy who created The Hammer and the Dance. He told us; I think he correctly predicted the theme for 2020. So we asked him for the theme for 2021.
Andy Slavitt 
Larry Brilliant, Nahid Bhadelia. John Reiner, David Agus, Tom Inglesby, Caitlin rivers, a bunch of names that you know, and they're going to help guide us into what to expect in the coming year. So let me tell you the ground we covered. We're going to talk to these folks and hear what they have to say in three major areas. The first is I want them to put in their own words what 2021 is going to be like.
Andy Slavitt 
Second, everyone I asked to predict. At what point in time will it be safe for all of us to be gathering indoors again? And very interesting answers that you'll hear and I'll give you a summary of that. And then finally, I'm going to close. I asked them each to give us advice on what the most important thing that we could be doing. We as individuals, we as a country, and we'll close with those, and I think we'll find them hopefully very helpful. So what will 2021 be like? Tell us please.
Eric Topol  04:35
This is Eric Topol from Scripps Research. My prediction for 2021, it'll come in like a lion and go out like a lamb from hellish to pre-pandemic-ish.
Dr. Caitlin Rivers
My name is Caitlin Rivers and I am an epidemiologist. I think 2021, we'll start off in a low note. We are in a particularly difficult place in our pandemic. with very high cases, hospitalizations and deaths, and I do think that will follow us into the beginning of the new year. But I'm hopeful that as we move into spring and certainly into summer, things will improve month over month. We have a vaccine, two vaccines in fact, that are beginning to be rolled out, which will certainly help. And I think we will regain control and be able to resume some sense of normalcy as the year wears on. And so I am hopeful that 2021 will look better than 2020 has.
Dr. Leana Wen
Hi, this is Dr. Leana Wen and I'm happy to be joining Andy again on IN THE BUBBLE. So what do I predict for 2021? Well, I think the beginning of 2021 is going to be really rough. Unfortunately, we will see an escalation of deaths at this point. We don't yet know where the peak of deaths will be. And I could very well anticipate that we'll be surpassing 4000 deaths per day which is an unimaginable tragedy. When President Elect Biden comes into office, I do think that his administration will be implementing changes that will head us in the right direction.
Dr. Leana Wen  06:10
But I also hope that there are expectations that are set to because changes are not going to happen overnight, and we will have a very tough period to go through. And after that, I think we should expect a slow steady recovery that has many surprises, some of which can be predicted, and many of which I don't think we can foresee just yet.
Eric Topol 
Hi, this is David Agus, what do I predict for 2021? Well, I think the first half of 2021 is gonna be very similar to 2020. And that we're going to be wearing masks, we're going to be social distancing. And we're going to be vaccinating. And as we transition to the summer, I think the numbers of virus are going to fall dramatically. And more and more, we're going to be going back toward a new normal. So by the end of the year, I think we will be interacting without masks, and the virus numbers will have gone to negligible. Hi, this
Dr. Nahid Bhadelia 
Hi, this is Nahid Bhadelia. I'm an infectious diseases physician, medical director of Special Pathogens Unit of Boston Medical Center. I think 2021 is going to be defined by disparate realities. It'll depend on where you are, what country or even what part of this country you're in, because just the availability of vaccine is distribution. And his uptake is likely to be pretty disparate in different places, which means that different parts of the world will reach vaccine induced herd immunity at different times. And that's going to have an immense impact on how we all go back to normal.
Dr. Nahid Bhadelia 
The other thing that comes to mind is that my own experience from West African Ebola virus disease epidemic was you know, the communities that I worked with there, at the end of the Ebola epidemic, it was almost a culture shock, when you started to go back to life as normal, it just took a moment of hesitation when you started doing things that were so, so regular and normal to us before the epidemic started, or in this case before the pandemic started.
Dr. Nahid Bhadelia  08:07
And I see that potentially affecting us as well. I'm just gonna add one more thing, because I think it's important. So because of my job as a health care worker, I'm one of the first people to receive this vaccine. And it really strikes me as poignant to me that I know that not only are there millions of people behind me in line are but billions around the world. And my real concern is that, as we all strive towards, you know, going back to normalcy, there might be parts of the world that don't achieve that for years.
Dr. Nahid Bhadelia 
And the longer they don't achieve that normalcy for years, the greater the devastation, you know, on their communities on their economies. And as soon as we start doing well, I think it's important for us to start turning our eye outward, because we all live together. And if anything, this pandemic should teach us that an outbreak somewhere can be an outbreak everywhere.
Tomas Pueyo 
Hi, I'm Tomas Pueyo, the author of the Hammer and the Dance. What will happen in 2021? Well, there's going to be clearly two parts to 2021. The first one is the money one, people are going to scramble to get the vaccine. The second half of 2021 will be the roaring 2021. In the 1920s, after the First World War, and the pandemic, everybody wanted to leave and catch up with what they couldn't do before that and celebrating the fact that they were alive. And that's what's going to happen here. As soon as there's enough vaccines. People will want to travel, see their friends, see their family, catch up on all the things they couldn't do.
Dr. Megan Ranney 
Hi, my name is Megan Ranney. I'm an emergency physician and public health researcher at Brown University and Co-Founder of Get Us PPE. I predict that 2021 is going to be a lot like the proverbial month of March in like a lion out like a lamb. The first few months are going to be unbelievably difficult; we're going to continue to see COVID 19 infections, hospitalizations and deaths rise. And it is going to take time for us to roll out vaccinations. We're gonna see social unrest, distrust of the new administration, and an awful lot of fixing of hurt public health systems, and hurt people.
Dr. Megan Ranney  10:39
But by the end of the year, we are going to have hope and positive change. And we'll be approximating a new normal. I deeply believe that by mid-summer, we'll have most of our adults vaccinated. And by next fall, although COVID-19 will certainly still be here with us, we will have a functioning public health system, a healthcare system that's no longer overwhelmed, and a society that's starting to come back together and to heal.
Dr. Tony Fauci
What I think we're going to be seeing, and I'm fairly certain that we will see this as we roll out the vaccine, where more and more people get vaccinated. And I do hope that we ultimately get to a substantial proportion of the population being vaccinated. When I say substantial. I'm talking between 70% and 85% of people getting vaccinated, we will see as we get into the beginning of the first quarter of 2021. And we get the highest priority people right now in December. The aim is to get people in nursing homes, and extended care facilities and the first line health care workers who are taking care of individuals.
Dr. Tony Fauci
As we get to that 1B and 1C level and then two and three. Hopefully, by the time we get to the middle of March, maybe middle to end of March that we will be in a position where then it becomes what I have referred to for people to understand as Open Season. Anybody doesn't matter. A young person who has no underlying condition doesn't have a critical job, but just every normal man and woman in the street and want to get vaccinated. Once that starts in earnest, I believe if we do it efficiently, and we get people vaccinated quickly as we go through April, May and June.
Dr. Tony Fauci  12:27
That by the time we get to the middle and end of the summer, we'll have that proportion of the population vaccinated that we can really start thinking about returning to some form of normality. Now, I don't think we're going to have to and we should not think in terms of abandoning public health measures. While we're getting to that point, we should think of a vaccine as complimentary to public health measures not replacing public health measures. But there will be a time I think this calendar year, that we will begin to approach some degree of normality if we get that substantial proportion of the population vaccinated.
Andy Slavitt
The last wish you heard, of course, was Anthony Fauci. Let me tell you some of the other responses that we got to that question. Ashish Jha from the head of the Public Health School in Brown University, said "the year will start horribly and get better each month." Thanks, Ashish. Tom Inglesby from Johns Hopkins says "the 2021 will be a good year, but will feel too slow moving for most of us." John Reiner, from George Washington University Hospital, former physician to the vice president said "we will begin with the worst mortality we've seen in this pandemic, and then have a gradual steady recovery."
Andy Slavitt
So a lot of the same themes here 2021, it sounds like is going to start off a lot like 2020 is finishing. And I would say from my own, like, we're not through with the surprises from this pandemic, whether it's some of the new strains we're hearing about, whether it's things we can't yet, see your predict, we're gonna see some surprises, still, but we're gonna conquer those surprises. And, you know, we will begin to gradually get there. And I think as everyone predicts, there's going to be some good crossover points in the course of the year when exactly we're going to find out next.
Andy Slavitt  14:30
The next big prediction for what's ahead for 2021. I really tried to ask a question that would signify with some specificity, you know, when are we going to be in terms that people tend to use quote unquote, "back to normal" I didn't use that term because it means different things to different people. What I'd said is, what month do you expect indoor gatherings to be safe again?
Dr. Leana Wen
I think beginning in May, in certain states, and by August, most everywhere,
Eric Topol 
I think in July, we'll start to see a major turnaround. The virus will have a much harder time of finding new hosts. And that'll be the transition, which will continue throughout the year.
Dr. Nahid Bhadelia 
I think, at some point in summer, potentially July, which is what I'm using in my mind, could be when we reach enough of a vaccine induced herd immunity that we feel comfortable, at least to start gathering in small groups.
Dr. Caitlin Rivers
I can see a world where summer starts to look a lot better, maybe in the June or July timeframe, we might be in a better position to meet again indoors. But we'll see it's been nothing but surprises this year. And I'm hoping for the best.
Dr. Megan Ranney  16:00
I strongly believe that by late August, most of us will be able to safely gather indoors again. And that certainly the holidays next year, will look more like what we're used to. And 2020 has.
Eric Topol 
I think that is going to be in the fall. I think by then we will have had several months under our belt where we have hit herd immunity. And we wear a mask for those several months. And then we see a fall in the viruses. I will predict September October. We'll be back to social gatherings again.
Dr. Tony Fauci 
I'll say it with a big caveat. That is a big, you know, guesstimate, and a lot of things would have to fall into the right place for that to happen. But I think getting back to what I said about if we get a substantial proportion. When I say substantial, I'm talking really substantial vaccinated. I would think as we get into the full months, as we get into September, October, November, that we will be able to have indoor gatherings, restaurants not feeling badly about having indoor seating. I hope it's that.
Zeke Emanuel
I think by November 2021 it'll be safe to have a family Thanksgiving indoors again, that'll be a major turning point for the economy and life in general. Boy, am I looking forward to the Emanuel family Thanksgiving 2021
Bill Joy 
I will feel safe at indoor gathering only if everyone at the gathering has been vaccinated with a known effective vaccine. Even then there is some risk in general, I'm not sure I'll feel safe until 2022.
Andy Slavitt
So you just heard from Farzad Nostashari, Eric Topol, Nahid Bhadelia, Caitlin Rivers, Megan Ranney, David Agus, Anthony, Fauci, Emanuel, and Bill Joy.
Andy Slavitt  18:01
So what do we just hear? About 15% to 20% of folks think that we will be able to be safely indoor gathering by the Fourth of July. That's I'd say it's not a lot of confidence in that. But there are some I call those sorts of the most confident people dependent on a very fast vaccine distribution. But and I think here's the big takeaway for me, 75% of our scientists surveyed, believe that we will be gathering indoors again, safely by Labor Day. And about 90% say it'll happen by Thanksgiving, with the rest, saying it'll happen sometime as we get to 2022.
Andy Slavitt 
So I think we had our outliers here, were people who said it would happen before the Fourth of July, or after Thanksgiving. So most folks think, sometime between the Fourth of July and Thanksgiving, it's going to be really many ways close to the old world of safely indoor gathering, not worrying about spreading and centering that really around Labor Day. Now, I think there's some caveats, you know, we didn't play you all of their comments, and every scientist likes to say, sell, on the one hand x, on the other hand, why and yes, but for this and that, the other and so forth.
Andy Slavitt
And so to be fair, you know, they're making a lot of assumptions. They're assuming that this vaccine distribution accelerates and improves over its treacherously slow pace. It's assuming that we are able to conquer these variants pretty successfully and it assumes good take up of the vaccine. And as you know from some of our episodes if you've listened over the last half of the year, even in December, we had a phenomenal episode on vaccine confidence. We had an episode on vaccine rollout. You know, there's a lot of work to do. But if you want to know what the smart people think, you know, I think that's really kind of Labor Day.
Andy Slavitt  20:35
Welcome back, we're still in 2021, correct? Okay. How's your trading so far? Great. Okay, so we're gonna finish off by really talking about what all this means, and what it means we need to do to get it right. And, you know, I think it makes a little bit of sense to talk about these new strains that we're seeing in South Africa and in England, and then let me just make give a bit of an explanation if I can, as to what's going on here and how this impacts things. You know, we essentially have many, many versions of this Coronavirus, as it mutates and mutates all the time in various forms.
Andy Slavitt
And some of these mutations are visible and some of them are not visible. Mutations that are we're most concerned about are the ones that are making COVID-19 about 60% more contagious. And what does that mean for us? That means that you can be exposed to about 40% of the virus in this new strain and still get symptoms of Coronavirus. So it sends the message that this is can spread a lot more and a lot more easily. So if you were before you were in place for a place for 15 minutes, and it took you 15 minutes of exposure to get sick. Now that could happen in six minutes.
Andy Slavitt  22:02
If you're exposed to this new strain. And of course, we don't know where the strain is. We know it's been spotted in a couple of states in the US. But because we don't do a lot of sequencing here, because we've only sequenced. We just don't know where it is. So we have to be careful. And we have to make the assumption that this is more contagious. We are currently testing to see whether the vaccine works as effectively and these new strains. And we don't know the answer, but we suspect they will work but maybe not quite as well.
Andy Slavitt 
Which means that getting vaccinated is all the more important. Okay, so what's the implication of all that for us? So I asked the experts, these very folks what they thought was most important. And let me tell you a little bit of a sampling of what we've heard. John Reiner said, "stay safe until it's your turn to get vaccinated." Nahid Bhadelia said "no letting your guard down." Bill Joy said "public must realize that safety precautions will not end in 2021." Larry Brilliant said "it's about face masks, social distancing, hand washing, testing, contact tracing, isolation, vaccination." So a lot about what was 2020 was about.
Andy Slavitt 
In a way and I think kind of summed up what most people said, which is about maintaining vigilance, Eric Topol said it's about wearing masks and distancing and gathering. So there was a lot of that David Agus, Tom Inglesby, Caitlin Rivers. And those were the kinds of things we tended to hear. Now, Megan Ranney said something a little bit different. She said, "Get your vaccine." And so you know, that's going to be a lot more than a few months are about is getting these vaccines rolled out. So to Tomas Pueyo said the same as well. So I think what people are, scientists are advising, probably no surprise, is look most people don't think it's going to be until Labor Day before we can begin to let our guard down.
Andy Slavitt  24:08
In the meantime, I think there's a lot of reminders not to do that. So what does the government need to get right? We have a new administration coming in. A lot of work on their plate. What do they have to do well? Two thirds of responses had something to do with getting the vaccine right. Whether it was public education, about vaccines, whether it was the rollout of the vaccines, whether it's building public trust in the vaccines. Those were the main responses. Let me play you one from Tony Fauci because he had a particular view.
Dr. Tony Fauci 
Well, first of all, what I would like to see is something that I had been asking for all along is that although I totally respect the Federalist approach towards government, where the state have a significant amount of leeway in doing things the way they would want to do. I would like to see a bit more of a uniformity respecting the differences of state, will you have a consistency and a uniformity in your approach to this outbreak? Will you do certain things that are standard, so that there's no doubt about what one should be doing at any given time. That's what I really would like to see. The other thing that I would like to see.
Dr. Tony Fauci
Is that the testing that we're doing of not the testing where you're trying to find out in identification, isolation, contact tracing, but more of a surveillance testing of asymptomatic people to be able to get a feel a good feel for what the penetrance of infection is, and people might be able to take it upon themselves to determine "am I infected, if I am, I'm going to stay out of circulation," and meaning if obviously, I get sick, and I need a physician, I will. But if I'm just infected, I don't want to be infecting anybody else. I want to quarantine myself. For the standard amount of time, we've got to be able to do much more of that.
Andy Slavitt  26:06
I think we're hearing Tony say is let's, let's make sure we have a national response. Let's not dilly dally, with the kind of state level responses we had during the Trump era. I think that's what he was nicely saying. And we had some other answers from other folks that were a bit bolder, broader, bigger, etc. Wanting to make sure we're restoring trust in government and civil service, and setting proper expectations in making sure we prevent these things from happening again, and in making sure that our health care system is equitable, all good and important things.
Andy Slavitt 
And quite frankly, if we don't get the vaccine rollout done right, those things are probably less important. So that's where the focus is going to be. I think, as I close the episode, I want to just thank you, again, want to reiterate that we are looking at maybe three quarters of the year, with a lot of restrictions if these scientists are right. We're looking at a massive vaccine rollout program that has to go well and hopefully people will participate in and hopefully it will be successful. We're in a gradual period of time where we all have to continue to be cautious even though we're tired. And we want to get back to normal life.
Andy Slavitt
But there are holidays ahead that we'll be able to spend with friends and family if we do this right. And I'm looking forward to doing it right with you. I'm in the same boat, like you all want to pick up in or and help grow this thing in the right direction. So we'll be talking more in the coming days about all that. So let me tell you about our next couple shows. We have an amazing tool kit that I think is about getting your questions about how we get back to work and if we're going to work and if we and people we love going to work.
Andy Slavitt  28:00
What are both the safety and the legal issues around being indoors and being an employer and dealing with employer situations.  And then we have the new CDC director Rochelle Walensky will make her kind of first major public speech and statement on the new direction right here and IN THE BUBBLE. That and more surprises coming your way. Thanks, everybody. Talk to you next week.
CREDITS
Thanks for listening IN THE BUBBLE. Hope you rate us highly. We're a production of Lemonada Media. Kryssy Pease and Alex McOwen produced the show. Our mix is by Ivan Kuraev. My son Zach Slavitt is emeritus co-host and onsite producer improved by the much better Lana Slavitt, my wife. Jessica Cordova Kramer and Stephanie Wittels Wachs still rule our lives and executive produced the show. Our theme was composed by Dan Molad and Oliver Hill and additional music by Ivan Kuraev. You can find out more about our show on social media at @LemonadaMedia. And you can find me at @ASlavitt on Twitter or at @AndySlavitt on Instagram. If you like what you heard today, most importantly, please tell your friends to come listen, but still tell them at a distance or with a mask. And please stay safe, share some joy and we will get through this together. #stayhome