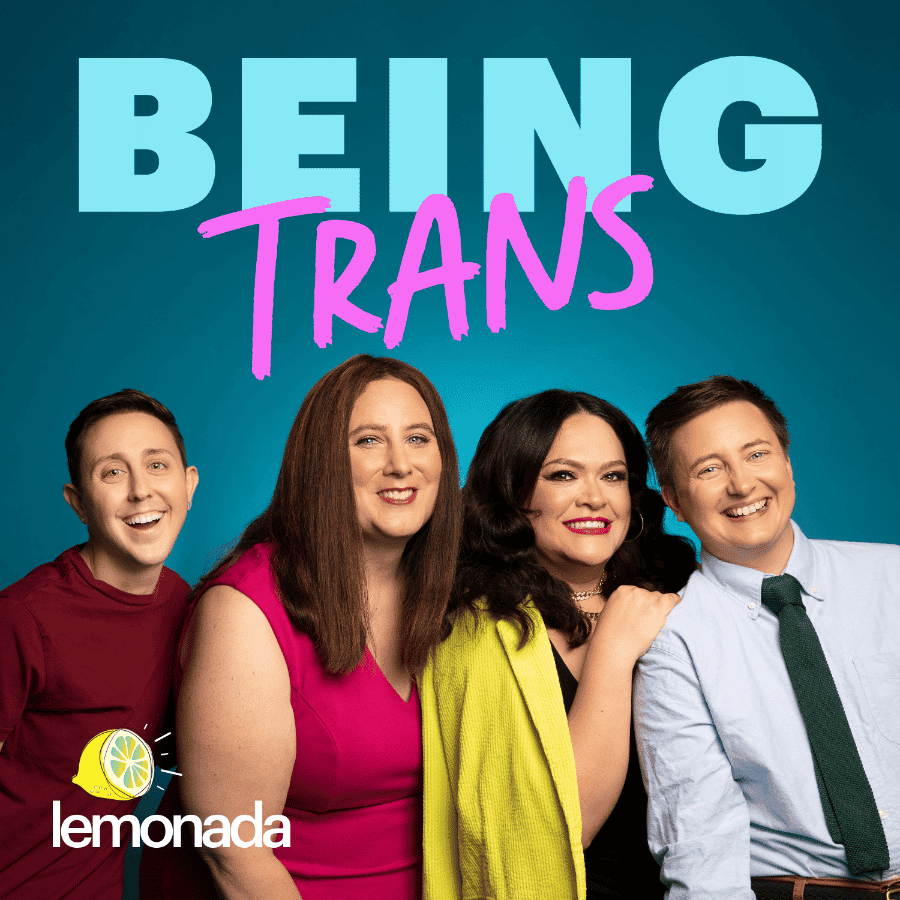 2: We Love Awkward
Subscribe to Lemonada Premium for Bonus Content
Description
Chloe is a trans woman who recently transitioned and is very inexperienced with dating, so much so that she's not even sure about her sexuality but is hoping to change all of that in LA. Jeff has spent years working as a stand-up comic on the road doing various college circuit gigs and is ready to walk away from the intense grind his work demands of him, however this career move is an emotional hurdle that Jeff can't easily overcome.
Transcript
SPEAKERS
Theresa, Sy, Emma, Chloe, Mariana, Monica, Jessica, Eve, Jeffrey, Speaker 3, X, Alex, Emily
Chloe  00:02
My name is Chloe.
Sy  00:03
I'm Sy.
Mariana  00:04
My name is Mariana.
Jeffrey  00:06
I'm Jeffrey.
Mariana  00:10
A few months ago, a documentary crew started following me and a few other trans friends around navigating everything from family, relationships, work, and more. There was always a story worth telling.
Jeffrey  00:27
And that's what you're about to hear. You witness moments alongside us, and you'll get into our heads. On this episode, we follow Chloe.
Chloe  00:35
Because I have so little experience in the dating world for the most part, and I'm just open to all kinds of people.
Mariana  00:37
And we also follow Jeff.
Jeffrey  00:45
Oh my God, have you not seen that? Everybody's getting married right now? This is BEING TRANS.
Chloe  01:13
Hey, how are you? My name is Chloe Corcoran. I am a 39-year-old trans woman from Rochester, New York working in higher education in Los Angeles, California.
Mariana  01:28
Oh my god, you play so nice. And you're watching sport?
Chloe  01:35
I'm still relatively new to LA and Mariana, Who's stopping by tonight is one of my first friends here. And she's introduced me to some other trans people here through her meetup circle. And they've been really important in helping me acclimate to my new city. Oh my gosh, what is this
Mariana  01:52
makeup we can play with makeup?
Chloe  01:54
Oh my gosh, thank you so much. Oh my gosh, this is fun
Mariana  01:58
Like I'm seeing you right now. And I'm thinking like when we go out, maybe just a smoky eye. And maybe lips kind of like a nude but very like glossy.
Chloe  02:08
I haven't done in class, and I haven't done the wings either. But I'd like to try both.
Mariana  02:13
I have a dose and make you feel like so ready to go out? Like a superhero.
Chloe  02:18
Yeah. So how was your week?
Mariana  02:21
Last night we had this party. And I'm still recovering. I was still like, oh my god. It was fun. But it was a lot of love a lot […] A lot of good-looking guys around. Shirtless over there. Do you ever go out?
Chloe  02:39
I've gone out by myself a few times. Because I don't know how many people here. So hoping to change that.
Mariana  02:45
Are you open to me like people?
Chloe  02:48
I am. I'm trying to meet people. I'm on a lot of dating apps and stuff like that. But I guess I grew up with like an idealized version of like, what dating would be like, but I didn't date for so long. While I was not dating, people moved into like a swipe culture or things moving a lot more quickly than maybe I was prepared for or used to, especially, you know, when I was first transitioning, and things like that. So it's been interesting to think about, but like, that would hit me hard. I was like, oh, the whole dating game has changed. I kind of missed out on it. Before I came out publicly, I didn't really see a romantic future because I wasn't being myself. And I wasn't being true to myself. And I guess one of the reasons I ventured out to Los Angeles, is because I am hoping to date and find a partner. On the flip side, dating as a trans person has been incredibly difficult. I'll match with people and then they'll read my profile, and they'll quickly unmatch. Or, like, I'll be talking with someone like a guy or girl and I like trying to get together. I was like, hey, let's meet up for a drink. They're like, cool your place? And I'm like, no, I would rather like go out for a drink or coffee or something like that. Just to like get to know somebody a little bit.
Mariana  04:08
Yeah, I mean, dating is sometimes they're very open about like, you know, dating trans people, and sometimes they don't want other people to know.
Chloe  04:19
I struggle with that a lot. I really do. People get it on an intellectual level, like, okay, yes, trans people are real, their experiences are valid. And then it gets down to another level where people aren't willing or ready to confront their attraction to trans people. And that's part of what makes dating so hard.
Mariana  04:40
Yeah. Because all these murders and everything that happened, like many times they start dating and they hate the fact that they love or attracted to a trans person. I mean, like, I believe that being trans on these days is like people at least people know what's going on. Like before you had to make this whole explanation about it. Now, I think people like are more aware. I think there's more options out there.
Chloe  05:13
Dating as a trans person is hard. And another thing that's layered on top of that, is that I'm still trying to figure out my sexuality, which I guess is kind of open ended, even though I never would have admitted that before transitioning. All of this is pretty intimidating. And I'm hoping that a city as progressive as Los Angeles is the right place to figure this out.
Mariana  05:38
I mean, I always think like, nobody's gonna knock at your door and say, like, hey, can I take you out?
Chloe  05:44
That is yet to happen to me. That has yet to happen anyone I know.
Mariana  05:49
Yeah. You need to be out there. In that energy. Keep it open. That was me last night. I was pretty open.
Jeffrey  06:10
Hi, everyone. I'm Jeffrey. Thanks for coming out tonight. I'm transgender. That's what I am. It means I was a girl and now I'm, I took some testosterone. And now I'm a child. This is Jeffrey. I'm on the road doing a string of shows on the college circuit. I've got four shows in 48 hours. And I've gotten what, two done now. And I have two more left. I'm gonna do like a little Q&A thing. If you can ask me a question that I've never heard yelled at me before. I'll give you 100 bucks. Let's start with you.
Speaker 3  06:58
Have you had any surgery?
Jeffrey  07:01
That's an awesome question. I haven't had top surgery. So I still have the boys. I call them the boys. Don't gender my tits. What makes me different is that I have kind of a comedy Q&A where I challenged them to ask me questions about being trans. The students like it because they get to make the show whatever they want it to be. This week is definitely one of the busiest ones I've had in a while but at least college kids keep it interesting. What I'm gonna go to Mardi Gras. And I'm gonna flash dudes all fucking night. Because in my mind, a bunch of frat dudes waking up in the morning and being like, dude, were we that drunk? Or did that small boy child have really nice tips?
Jeffrey  08:23
I can hear you. Can you hear me? Me and my girlfriend Emma are navigating a long-distance relationship right now because she is currently studying to be a helicopter pilot. So living long distance is hard enough as it is. But then with touring and being on the road all the time. It's hard to kind of match up schedules and just make time for each other. But I try to always catch her between gigs. Well, the show went really well tonight. Yeah, it was good. It was like actually a totally decent turnout for what it was. It was like 45 people. I went awesome. The people who booked me were like, super nice. I warned them that like hey, it might get awkward. And they were like we love awkward. So it was really fun. And now I'm navigating through the college town and all of its little roundabouts because it's hip, and it's a college town and they got roundabouts and trying to get back to the highway so that I can fly out in I don't know what five hours maybe a two-hour drive back to the airport. I've got to drop the rental car off. And it's not enough time even though they gave me a hotel room for tonight. I don't have enough time to stay there. So instead I'm gonna go to the airport and I was going to try and like sleep there but this airport closes from like the life of a comic is, it's insane. And while I know it, and I've done it a lot, it never really gets easier. Yeah, I do have to go find a place and fill up so they don't charge me out the wazoo for gas at the rental car place. Alright, right. All right. well, I love you so much Baby Cakes.
Chloe  10:31
Okay, so this is recording. That's good. This is Chloe. And I'm going to set my phone down here. I am putting on makeup. The makeup that Mariana gave me because I have a blind date tonight. One of my work colleagues set me up with someone she knows another trans woman named Eve. And that is literally all I know about her. So we're going to head to a restaurant up the street. Of course, I want to smell good. A blind date. Honestly, it's a bit intimidating. But I liked that we're meeting in a more organic fashion, as opposed to being swiped right or left in most cases on an app. But I think it's going to be good. I you know, I'm planning for the best. I'm hoping for the best. So wish me luck y'all. How are you today? I'm all set with water and just waiting for my date. Okay, thank you. How are you? I'm Chloe. Eve walks up. And sure enough, she's gorgeous. Which makes me more nervous.
Eve  11:55
Yeah, just with a pumpkin harvest they call it.
Chloe  11:58
And I will do the Florida […]. How are you today?
Eve  12:04
Well, how you doing?
Chloe  12:05
Good. Did you find it okay?
Eve  12:07
Now I got here, right? I'm in South tel so not that far away.
Chloe  12:10
Oh, good. Good. Good. I'm just a few miles that way.
Eve 12:15
I still I don't know the highways that well here yet.
Chloe  12:17
I know that 405 and 5 are big highways. But I don't know where they go.
Eve  12:22
Yeah, I know where they go. I just don't bother me. Yeah.
Chloe  12:27
Suppose we'd be a good pair, then. I know the names. You know where they go. Yeah, we'll make it work. I'll drive and you navigate. Thank you. How was your day?
Eve  12:44
Working. I work in entertainment. I have a really nice boss. She's great.
Chloe  12:55
So I work for Emory University, which is in Atlanta. And I do their West Coast alumni relations. And I go to school.
Eve  13:04
What are you studying?
Chloe  13:05
I'm studying higher education leadership. Mainly, I just wanted to make my brother call me Doctor. And he says that he won't, but if I get the degree kind of has to.
Eve  13:14
I guess I technically have a doctorate but not a doctor a doctorate. Say a law degree.
Chloe  13:19
What made you decide to go to law school?
Eve  13:22
Well, I originally wanted to do LGBTQ rights law. And so yeah, I went to law school at that mine. It was like, right after I came out. So I was just like, oh, I want to like help the community.
Chloe 13:38
I think a lot about whether it'd be ideal to end up with another trans woman, just because there's so many shared experiences in an understanding of the things that we go through. That can be hard to explain to a sis person sometimes. Are you from LA?
Eve  13:56
No, I moved here from DC. Back in July, I grew up in Virginia. I don't have any family there.
Chloe  14:06
My family's all back in my hometown, like everyone which is Rochester, New York. I don't know that any of my family has ever left, actually, I think I'm the first one. I'm really I think I'm the first queer one. And then I'm the first one to leave. I wonder if they're related.
Eve  14:23
I am. I'm the first in a lot of ways for my family. I. Yeah. Well, I'm definitely the first one to come out here to the West Coast. And, like the first yeah, like the person in my family and first person going to college. My family. I don't know what your family is like, but some of my family is like very Trump town. I don't see much of my family. Yeah, I see my dad a little bit. And then my sister. I guess I'll see her a little bit.
Chloe  14:53
My brother and I've come a long way. My dad is quite conservative and very Catholic.
Eve  15:00
My dad, I think had the hardest time. Although my dad's come around, you know, it took him like a year or so. I generally don't talk a lot about trans stuff.
Chloe  15:12
I don't either a ton. You're easy to talk to. Going into this, I was really nervous about how I'd even react. Would I be awkward? Because sometimes I default to that. So far, I think the dates going well, we again, have some shared experiences and some things to talk about and seems to be relatively easy. This was really fun.
Eve  15:45
Let's exchange information. Well, here, I'll get your phone number. I'll text you and you'll have my stuff. Okay, it was so nice to meet you.
Chloe  16:03
Thank you so much. Well, I'm looking forward to hanging out again.
Eve  16:07
Anyway, have a good night.
Chloe  16:17
So I think the day went, well, she's a great person. I'm excited to see where this goes. And yeah, I was nervous. But now I'm really happy.
Theresa  16:26
I'm late. I was like, I've never driven in Los Angeles rain before. And apparently no one else.
Jeffrey  16:49
I'm back in LA. And my good friend Theresa's coming over tonight. And I'm honestly exhausted from the last round of shows. But like really looking forward to seeing a familiar face.
Theresa  16:59
Although this is a random thing. But at some point tonight, if you want to go grab dessert, I'd be down and go grab like a slice of pie or something.
Jeffrey  17:06
Oh my god, that would be amazing. Theresa is the best. Because when I feel like I'm super overworked or busy, like I just remember she's a doctor and like 18 other things. So she's the person I can pitch to about how busy we both are. I got in at like 2AM last night from all those shows.
Theresa  17:27
Oh, well, what was it like on tour?
Jeffrey  17:30
I don't know. It's really rough. You go by yourself. You fly by yourself. You get a rental car by yourself, you know, the hotel by yourself. I think, I don't know. Standup is great. I don't feel like it's a forever thing.
Theresa  17:48
Oh, wow. And how like, when do you think that switched you where you're like, I don't want to do this anymore.
Jeffrey  17:56
I think about six or seven years in is when I started to feel so lonely on the road. So my alcoholism got the worst of the worst.
Theresa  18:07
Well, you're doing like I remember you told me you're doing. You were traveling for weeks at a time, right?
Jeffrey  18:12
Oh my gosh, that's the worst part of it. Being on the road is already crappy enough. You're the only one to keep yourself accountable and sober when you're traveling and on the road. But then add on that you're trans and you're traveling to small cities. Some of them aren't as progressive as Los Angeles. And I'm being super honest, on stage about being trans. Just wears on you a lot. I just am not as happy on the road doing comedy anymore. I mean, honestly, I don't know. It's really hard. Because every time I try to leave stand up, it feels like an opportunity comes that kind of pulls me back in. You're doing what you love. And people are loving what you're doing. And you see the reactions. And secondly, it really was like being able to give back and do comedy at the same time. I get that like so I would do typically an hour show then I would do the 30 Minute Q&A, okay. And then I also said on stage, if you are too shy also to come up to me after the show I completely understand. And those are the times where like, people after meeting me sometimes cried and dealt with their problems or learned stuff about being trans. I had this show that I'll never ever forget. I did a regular show on a college campus. And I got a message after I was done. That said, hey, Jeffrey. I am the 45-year-old man who is at your show yesterday. And I want to let you know, I have always truly felt like a woman. And for an hour and a half yesterday, for the first time in 45 years, I felt normal. So it was important to me that I go to any town, if something were to happen and didn't matter, being willing to be that person is really important to me. This person reached out to me, they've just looking for an outlet and someone to talk to. And so you can be there for them for a second. But like, you know, they're still dealing with it when you leave. They're still dealing with their own lives and a small town. So
Theresa  20:43
That sounds really hard. It's a lot to put on you.
Chloe  21:17
How are you? Emily is one of my friends from home who I really trust. She gives great advice and has a lot of insight that not many people have.
Emily  21:30
The last time we talked, I knew you had gone on a date. Right? And then what happened since then?
Chloe  21:35
So I mean, she decided that we wouldn't see each other again. But it's actually fine, because she gave me the best reason for it. And she said that she's only into masculine women. And I don't fit that. And I was like, oh, I'm actually okay with that. I was kind of surprised to hear back from Eve that she just wanted to be friends. And I totally get where she's coming from and why. But if I'm being honest with myself, it still feels kind of like rejection. So I've been talking this guy from a dating app. And we've just been chatting and kind of joking around a little bit, and he seems pretty interesting.
Emily  22:17
Are you gonna meet him?
Chloe  22:18
So, he asked me to go get a drink. And this is like, the first time that somebody was like, hey, want to do something? And that doesn't happen a lot. So I'm excitedly nervous.
Emily  22:31
Wait. So his idea was to meet you in public?
Chloe  22:34
Yes, he was. He was like, yeah, we can grab a drink. And I was like, awesome. I'm always a little nervous.
Emily  22:45
Well, of course, but it's in public. And you have your phone on you.
Chloe  22:50
One silver lining of being on all these apps is that I'm still talking to some interested and interesting people. The one where I've gotten the most interest is actually from a cisgender guy, which I don't know, like, I want to be incredibly careful, because there's always some kind of violence being done towards trans women. And a lot of it is from Cis men. But it was his idea to meet up. And it was his idea to meet up in public, which makes me feel a little bit safer. You know, also, this would be my first time going out with a guy, and that's a whole thing.
Emily  23:20
To be fair, my experience is only going out with guys. I mean, what makes you most nervous?
Chloe  23:25
It's so new? Like, I have no experience? I don't know what I'm doing.
Emily  23:28
I mean, are you? Are you considering it, though? Because you think you should you know, like you're a woman? And that's the expectation from our society? Or are you actually like pursuing this person? Because he is interesting to you, and you are attracted to him.
Chloe  23:43
While you kind of ask the hard questions.
Emily  23:45
I'm sorry, I know I do that to you all the time.
Chloe  23:47
I know, but it's really good for me. Because now I actually have to think about it. I don't exactly know what I want or like, so I'm not really in a position where I feel like I want to turn anyone down just based on gender.
Emily  24:01
Like gender dynamics in general. Like, how different is it? It might feel different for you to be engaging with a guy instead of a woman.
Chloe  24:11
Yeah. And it'll be really interesting to see how that works out in person.
Emily  24:17
I'm glad that it's in public. You tell me when you're going to be there. And that you can let me know how it goes. You're going to be great.
Jessica  24:35
Hey, Jeffrey, thanks for getting on this call with me. I'm Jessica. I'm the show runner. How are you doing?
Jeffrey  24:43
I'm good. Thanks, Jessica. A friend of mine put me in for an assistant gig in a TV writers room. And amazingly, I have gotten to the interview stage.
Jessica  24:55
Your resume has come to me and looks like you've been busy.
Jeffrey  25:00
I wanted to be a TV writers as before, I wanted to be a comedian. But I put it on hold. I started doing stand-up and seeing them took off. And I can make my living doing it. Landing any job at all in a TV writers room would be the perfect way for me to step away from the college comedy circuit.
Jessica  25:20
And I just wanted to talk with you a little bit more about what you've what you've been up to why you think you're a good fit here. And yeah, just tell me about yourself.
Jeffrey  25:31
Thank you so much. I really appreciate it. And yeah, I have been busy. I was a comedian for the past 10 years professionally on the college circuit.
Jessica  25:45
If you had to name one of your weaknesses, what would it be?
Jeffrey  25:52
One of my weaknesses right now would probably be inexperience. Well, I have worked a lot of admin jobs. I don't know the ins and outs of TV writing, and there will be a touch of a learning curve. But I will tell you that I will read everything that comes my way. I will spend extra time on things. But that being said, I am coming in a bit green. So you know, I don't know something that someone else might already know. I believe you can create your own reality. But the reason I believe that is because I work really hard. I wake up super early. I stay up late. I make time for things that matter and I set myself deadlines. Just what to do.
Jessica  26:40
Well, thank you so much. I guess what I need to know from you is what your availability looks like I'm seeing a handful more people for the position. But if we get back in touch with you within a week, is that okay for you?
Jeffrey  26:55
Absolutely. My availability is 100% I am game and you have me as much as you want or need me. I thought that interview went super well. But it might just be me because I want this so badly. Everything's very competitive. So I honestly have no idea.
Jessica  27:18
Thank you so much. We'll be in touch.
Chloe  27:44
No, somebody else is showing up. I just got to the restaurant for our date. And I have my usual butterflies of course, but I'm really looking forward to connecting with somebody new. I'm going to wait just for a minute to see when he gets here. Okay, great. I'll check back. Okay, thank you. Yeah, you know, I'll have the, the Belgian wheat. And he should be here shortly. A pint please. Hey, how's it going?
Emily  29:03
Hey, it's going okay. Did you get your drink?
Chloe  29:07
So its been about 15 minutes. Is it too soon to text him like I don't want to be clingy or annoying.
Emily  29:13
Of he hasn't checked in with you to say, hey, I'm running late or something came up or I would say wait a little bit longer. It's only been 15 minutes. Traffic can be wonky. Like give it a little bit of time.
Chloe  29:38
Actually, can I have the check? Thank you. I am absolutely humiliated. I've been sitting at this table for 30 minutes. He's obviously not coming. I've obviously been stood up. And this is just absolutely awful. Hey, so, I looked and he deleted the app or unmatched me or something like I have no way to get a hold of him. So I am just getting out of here.
Emily  30:13
Oh, Chloe, I'm so sorry, what a dick.
Chloe  30:16
Like, I'm trying really hard to not let this get to me. But it's kind of getting to me like, I think I had too high of expectations.
Emily  30:26
Here's the thing though, Chloe having an expectation that somebody is going to show up for a date you've scheduled is not too high of an expectation. Okay, so this is completely on him. And if he's going to do something like this, then I'd rather you not date him because he's a jerk.
Chloe  30:41
I just need to kind of reset. I wish I was there. Talk crap about this jerk. You need to come back and visit me. Thanks, Emily.
Emily  30:56
I'll talk to you soon.
Monica  31:16
Hey Jeffrey, it's Monica. How are ya?
Jeffrey  31:18
I'm good. What's the word?
Monica  31:21
You know, I just had a couple of dates. I'm gonna run past you. Do you have a minute?
Jeffrey  31:25
Yeah, let me just pull up my calendar real quick. Okay, great. Okay, Monica is with one of the college agencies who kind of puts me out for college shows. And I didn't expect for her to call immediately after I got back.
Monica  31:37
So looking at block booking, three dates, thinking, right now that's looking like the 15, 16, 17. Not a weekend's not inclusive. Because one of them wants to do a training. So there'll be a second day, which you know, is double price.
Jeffrey  32:00
Yeah. The problem is, I don't really know my schedule. Like, do you know if any of them has any flexibility like to do just weekends?
Monica  32:14
I can check with them. But I don't think so.
Jeffrey  32:21
I'm still waiting to hear back from Jessica, about the possible assistance position. And so saying yes to the college gigs could jeopardize that because I would need to start that immediately. The problem was saying no, right now is that then they don't want to book you anymore. And so then, before you know it, you don't get any phone calls. So I'm choosing my words very carefully here. But I'm also scared. Okay, let me check with everything. And I'll get right back to you. […]
Emma  33:16
It's been pretty good.
Jeffrey  33:19
So, you didn't fly this morning, huh?
Emma  33:21
I didn't, no, the winds are too strong.
Jeffrey  33:24
I miss you, baby. And I'm really proud of you. And I can't believe how crazy your schedule is going to be and how many hours you're going to be in the air.
Emma  33:32
Yeah, if I can. As long as weather doesn't bog us down, I'm gonna be getting like 24 hours a month of flight time.
Jeffrey  33:41
It's amazing. Because that's what I'm really missing him a lot right now. And I'm trying not to burden her with all of my work stuff. Because she has a lot of stuff going on too. And she's in school. And it's just, it's just a lot. It is freaking wedding season. Oh my God. Have you not seen that everybody's getting married right now? Actually, every single weekend, there's a marriage. And they seem like they're all gay. Do we only know gay people?
Emma  34:12
You only know gay people.
Jeffrey  34:15
I think that might be the case. Is that or the only gay people I know that get married? Or maybe those are the only ones that catch my eye because they're the only ones that are Instagrammable. I think the thing is, is that I'm in constant fear that you will propose to me.
Emma  34:36
It's not a great fear to have in a relationship
Jeffrey  34:39
For a while you had that safe?
Emma  34:41
Well, you thought you had the money to just buy a ring and hide it. I don't have the money to propose to you right now anyway. Like, I'm not going to pop a proposal right now because we both agreed it's not the right time for it to happen.
Jeffrey  35:00
for both me and Emma, we see our relationship as a priority. Like we see each other as each other's forever person and is actively working towards her dream of being a helicopter pilot. But at the same time, she keeps our future in mind and makes it a priority. And I just want to make sure I'm always doing the same. And I really do want to marry you. And I want to make sure that that we don't shortchange ourselves on a cool last wedding.
Emma  35:27
How would you propose though? I don't know, like, what you would do?
Jeffrey  35:34
That I keep to myself, you will never know what I'm planning. I love you so much.
Emma  35:43
I love you. I gotta go catch a flight. So I'll talk to you later.
Chloe  35:59
Hi, how are you?
Emily  36:02
Great.
Chloe  36:03
I've been pretty down since getting stood up, to be honest. And it's getting really hard to continuously put myself out there and not have anything happen. Emily and I catch a phone call. Because we've been texting. And she's been checking in on me, which I'm so appreciative of, but I just need to talk to her.
Emily  36:19
No, but really, I really want to hear the scoop. Any other blind dates?
Chloe  36:24
No blind dates yet? I've started some cursory conversations on some of the apps, like, a couple people didn't unmatch me immediately. So I'm like, you know, chatting with them a little bit.
Emily  36:35
That makes me so sad is that some kind of?
Chloe  36:39
Yeah, when people read my profile, and see that I'm trans, they unmatch a lot, which is frustrating and makes me angry and kind of hurts.
Emily  36:49
I was very nervous to be on an app, because I'm a plus size woman, I was very concerned that no one was going to swipe for me. And so for me, like any angles, you know, I just am honest. And I say right off the bat in the bio, you know, plus size woman, bla bla bla bla bla. And so I know that whoever swipes on me isn't going to be surprised or disappointed, be upfront about the thing that you're most insecure about. And I feel like that's sort of what you've done, like you put in your pile that you're trans. You don't hide that fact, you know?
Chloe  37:21
Yeah, and that is good advice. Like, it's a lot easier for somebody to unmask me than it is to interact with them, or they just become a complete jerk. When like, when you're dating and like using the apps, like what are some of the hurdles or obstacles or like, gee, that's kind of effed up kind of moments.
Emily  37:37
I mean, my situation is very unique in its own way. Like I'm jaded and very, very jaded about men, and about my experience, and some of the things that I had happen in my relationship that I just kind of thought were normal, but that I now know are not. I actually think that in some ways, there's a lot of value and like entering the dating world, like you are without a ton of experience, because I feel like your expectations are realistic, at least not, you don't have like, for example, a person that you're comparing everybody to, I feel like you're more of like an open book in the sense that you're willing to kind of see where things go in a truly authentic way. Do you know what I mean?
Chloe  38:27
Yeah, my, why you kind of call me out like that. No, that's so legit. Like, I feel like you just saw into my soul. Like that's like legit, I had never thought about that before.
Emily  38:40
And the fact that you're at the point in your life, where you not only know who you are, but you're accepting of it, and you're starting to learn what it means to really like yourself. I think that's when you start to attract other people who will like you too, you know, like, that's sort of how that plays out. Because I can remember the difference and it makes me feel so warm in my heart and soul knowing that you are able to own who you are, but also that you are starting to like that person because I want I like you so much. I love you. I think you're like one of the best people on this earth. And I want for you to see that so that other people when you're dating them and you're developing relationships with other people that they see that too, because you're worth it, you know, and you've made a lot of progress. So I'm thrilled about it.
Chloe  39:28
Oh my god, that means the world to me, Emily, like some of the things you just said, like, you're worth it. Like I didn't believe that for so long. As you know. Emily has given me a lot to think about, especially when I've never thought of things that way before. And it's really nice to have somebody to take the time to offer those thoughts to me, while still being compassionate about what happened. All right, well, I think I'm gonna get going because I have to call my mom shortly. I will text you in a little while.
Jeffrey  40:13
Hello, this is my first voice memo on my new phone. It says my address. Okay, that's creepy. I'm trying to be cheery because I got an email back from Jessica the showrunner this morning and I didn't get the writers PA job. But that's okay. I'm also currently emailing my agent Monica. And I've decided I'm turning down the college dates, even though she's trying to book me out. So what's probably going to happen now she's probably going to stop reaching out to me for gigs. And now that's okay, I've made peace with it, I'm gonna send my resume out everywhere I can. I'm gonna focus on writing, I'm gonna work on some, like, my original scripts, and I'll keep submitting to things and eventually something's gonna happen. Like, this is kind of that tipping point for me where I just have to make a choice. And I'm gonna go for it, even if it's effing terrifying. Ah, I think what it is, is that, like, I go on the road, and I'm always waiting for like, something big to happen to pull me off. But I just have to make the decision for myself, I'm just going to take charge in and just do it and take the chance. That's what I did with comedy to begin with. And then that's what's going to create the future that I want in my career, and, you know, with Emma, as far as the way I can reach people with my stand up, I'm definitely gonna miss that. But I know that with writing, I even have a chance to like, reach more people. And yeah, I don't know. It's scary. But that's what life is. Like, you have to take a chance in order to get the things that really matter to you. And I mean, that's how you grow and like become the person that you want to be.
Chloe  42:54
Right now I'm at a park to attend a queer speed dating event. And like, I've had a lot of disappointments lately, but I know that I'm not going to meet my future partner sitting alone in my apartment. I'll be honest, something like this would generally freak me out. But if I don't meet my person here, that's okay, too. Hi, Alex. I'm Chloe. I wrote like a personal says my headline is, let's go. And it's let's go to your favorite places. And I'll show you mine. Let's go to places we haven't even thought or heard of yet. Let's go together. Let's go.
Alex  43:33
Hi, I'm Alex. I like giant sweaters, making fun of bad movies, and all things nerdy. I want you to tell me your passions and get me excited about something new. Let's do something that we're both not good at […]
Chloe  43:49
That sounds awesome. I'm Chloe, she/her/hers.
X  44:02
The awesome. I am X.
Chloe  44:04
X, It's nice to meet you. Honestly, it's really nice to be around other queer people.
X  44:09
Absolutely. Like this is my first gay event like that. I've been out to like since I've moved to LA so it's like nice to like be like 100% surrounded by like, hundreds.
Chloe  44:20
There are just so many obstacles to trans dating. But the only way anything is ever going to happen is if I keep showing up, and I have to keep showing up for myself. I spent probably way too much time this week thinking about what did I do wrong on these days? What could I have done better? And honestly, I need to stop thinking that way. I am great. And it's only a matter of time before somebody else figures out that I'm great too. And I just have to keep going I have to see what happens because I deserve to be loved and I felt like held to be who I am today. And I deserve better and I deserve to treat myself better.
CREDITS 45:10
BEING: TRANS is an audio reality original from Lemonada Media's BEING studios, executive producers are Jessica Cordova Kramer, Stephanie Wittels Wachs and Kasey Barrett. Our co-executive producer is Sele Leota. Our associate producer is Myrriah Gossett and our assistant producer is Greta Stromquist. Our consulting producer is Sarah Jossel, Scott Hanlon is our audio supervisor and field Recordist with additional field recording by Maurice Mahiya. Makes him sound designed by David Herman and Michael Raphael. Additional mix sound design and consultation by Ivan Kureav. Our music is by Signature Tracks. Special thanks to the Hot Donna's club and the Glendale room. BEING: TRANS is brought to you with generous support from the Marguerite Casey Foundation and Wellbeing Trust. You can find us online at @LemonadaMedia and connect with us across all social platforms. Subscribe to Lemonada Media on Apple podcasts you hear bonus content, deleted scenes and more from our cast. If you like what you heard today, please tell your family and friends to listen and subscribe. Rate and review us on Spotify, Apple, Stitcher or wherever you get your podcasts. Until next time, thanks for listening and thanks for BEING.