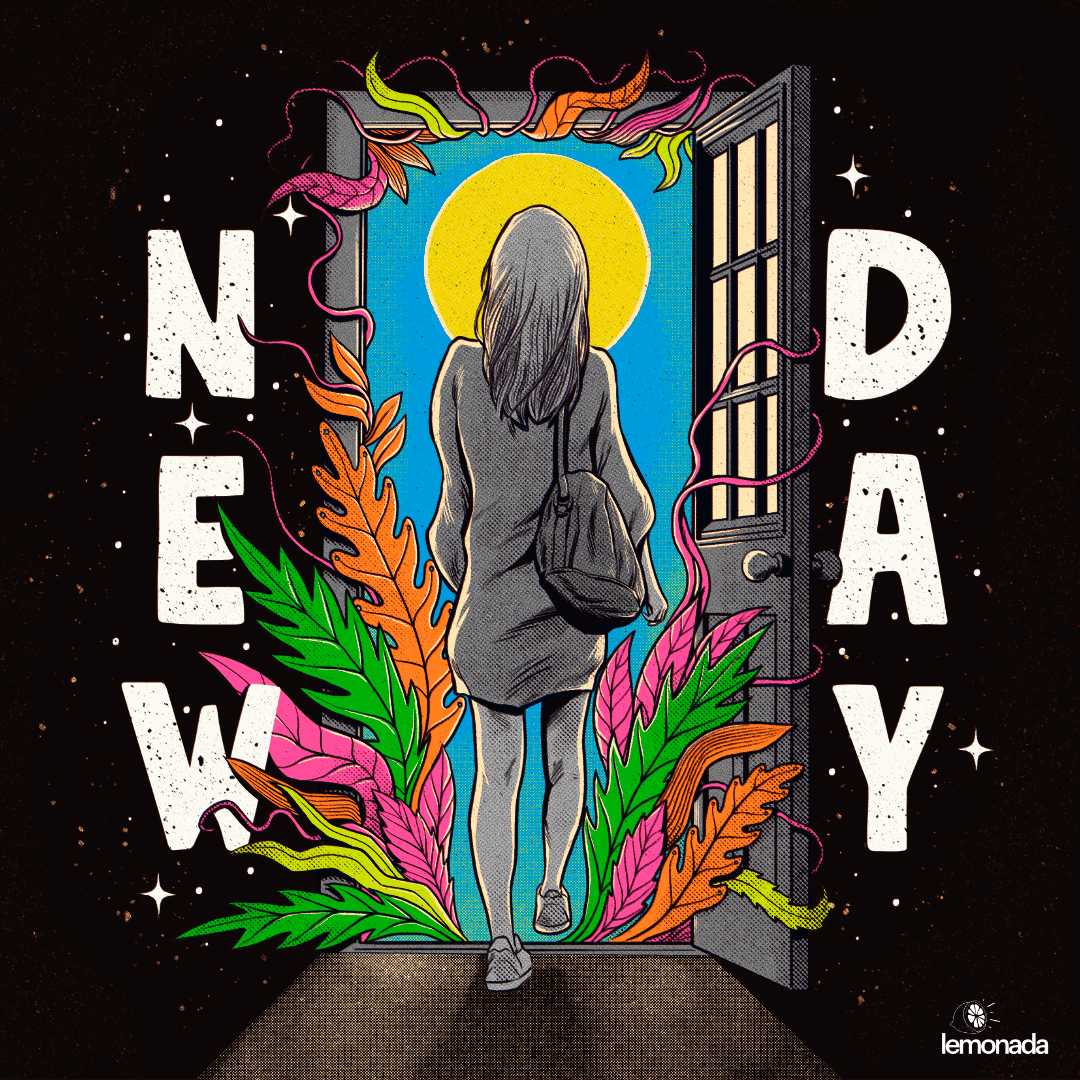 26. How Do I Know My Gender? With Tuck Woodstock
Subscribe to Lemonada Premium for Bonus Content
Description
Many of us never think to question our own gender identity… but should we? And what happens when someone close to us begins that kind of exploration? In this very personal episode, Claire sits down with her eldest child Vera, and trans activist Tuck Woodstock to talk about the world of gender identity. It's been over a year since Vera started to identify as non-binary. While this has been an exciting new journey for Vera, it's been a learning opportunity for Claire, as she struggles to remember to use Vera's correct pronouns. Lines are crossed, mistakes are made, and lessons are learned in this vulnerable conversation. This episode's practice is about exploring your own gender identity and how to support others as they do the same.
Resources from the show
Check out GLAD for LGBTQ public policy information and education.
Watch the Netflix documentary Disclosure about how queer and trans folks are depicted in film and television.
Tuck suggested the following resources because they live in Portland, OR:

SMYRC – a resouce center for sexual & gender minority youth in Portland, OR.
Outside In – an organization based in Portland, OR that supports homeless youth. They also provide medical and mental health services.
Do you have a question about grief or other ways you can take care of your mental health? Send Claire a question to be featured on an upcoming episode www.bit.ly/newdayask
Want to connect? Join the New Day Facebook Group!  https://www.facebook.com/groups/newdaypod
Click this link for a list of current sponsors and discount codes for this show and all Lemonada shows go to lemonadamedia.com/sponsors.
Did you try one of these weekly practices? We want to hear about it! Call 833-4-LEMONADA (833-453-6662) or email us newday@lemonadamedia.com.
To follow along with a transcript and/or take notes for friends and family, go to lemonadamedia.com/show/newday/ shortly after the air date.
Follow Claire on IG and FB @clairebidwellsmith or Twitter @clairebidwell and visit her website: www.clairebidwellsmith.com.
Stay up to date with us on Twitter, Facebook, and Instagram at @LemonadaMedia.
Joining Lemonada Premium is a great way to support our show and get bonus content. Subscribe today at bit.ly/lemonadapremium.
Transcript
SPEAKERS
Vera, Claire, Tuck Woodstock
Claire  00:09
Hi, I'm Claire Bidwell Smith. Welcome to New Day. So before we jump into the episode today, I want to let you know about a new grief certification program I'm offering. The six-week virtual training is open to teachers, healthcare workers and mental health professionals, including coaches, counselors and grad students. It is more important than ever right now to be able to meet the demand for grief support. I hope you'll consider joining me for live instruction and see ease and the opportunity to be part of my grief resource directory. Find out more at ClaireBidwellSmith.com. Okay, that's it for updates. Let's dive in. So this episode is a really personal and emotional one for me. Today, I'm talking to Trans activist tech Woodstock, and also to my 13-year-old child Vera. In the last year, Vera has begun to identify as non-binary, and as using they them pronouns. While I support Vera's choice, I've been having a hard time always understanding what it's about. And I've definitely had a hard time using the correct pronouns. But when I saw that I was causing VR real pain by not adjusting to this change more quickly, I realized that I really need to work harder to both understand what they're going through, and also make a more concerted effort to use their pronouns. In this interview, you're going to hear me at my most vulnerable, you're going to hear me nervous and awkward. You're going to hear me struggle with pronouns with defining my own identity, and even about how I talked with other parents about Vera's choice. Hang in there with me, listeners, as you hear me falter. The truth is, I'm so grateful to have had today's conversation. While I've struggled with this development, and beers life, I've also been amazed that this is their experience. When I was growing up in the 80s, and 90s, it didn't feel like an option to explore my gender in the ways that Vera gets to do. And my hope is that this kind of conversation is one of many that we all get to have with our children, our communities and ourselves. Both Tuck and Vera graciously agreed to talk with me about changing gender roles about how parents can adjust to these transitions both emotionally and practically. And about the trans movement at large. Tuck Woodstock is a trans journalist and educator based in Portland, Oregon, and the host of Gender Reveal an award-winning podcast exploring the diversity of the vast trans experience, through interviews with a wide array of trans non-binary and two spirit people. Vera […] is a seventh-grade student in California and my child.
Claire  02:41
Hi, thanks so much for coming on. It's so nice to meet you.
Tuck Woodstock 
Good to meet you.
Claire 
I start every interview asking my guests how you're doing. But how are you actually doing today?
Tuck Woodstock 
I mean, I got an email from your producer that was like, don't forget about this recording. And I was like, I mean, I for sure did. Because there was literally like a mass shooting and a war and the illegalization of trans youth in Texas. So like not good. You know, like, it's so funny. I was asking, like, how is everyone even keeping up enough to know a lot about geopolitics in Russia and the Ukraine, because I've been really distracted by again, mass shooting and making it illegal to have trans children. And then all of a sudden there was also war, and is simply too much. But it's always too much.
Claire 
It's a lot of overload. What do you do for yourself when you are on overload? How do you take care of yourself?
Tuck Woodstock 
Oh, I just work. That's healthy, right?
Claire 
Sure. I think some work is healthy, certain kinds of work depends maybe? Right?
Tuck Woodstock 
Sure. I mean, the work that I do is directly related to the issues that I am concerned about, right? And so like, when the protests hit in Portland in 2020, my job was reporting on the protests. And when the mass shooting happened last week, my job was trying to like, do sort of vicarious reporting on that. And then right in regards to trans stuff, like my whole job is trans education, gender education, and mutual aid, fundraising. And so I don't mean like, when things are bad, I like, go do accounting. It's like, when things are bad, I like figure out ways to support people. Because I don't know what else to do. Like, you know, with war on the other hand, like I can't do anything about there being a war, but I can do something about, you know, these other things, not necessarily to fix them, but to at least like address them and then not ignore the rest of it. But like there's nothing I can do and so, to that point, I kind of just have to let it go.
Claire  04:53
I think that it's healthy. So let's talk about trans movement. How did you get into this work?
Tuck Woodstock 
I mean, I'm a transsexual, so it behooves me, for trans people to have rights. That's it. Like, I would just prefer that we are treated as human beings. And it feels important to me that trans people have access to healthcare and housing and education and employment, and utilities and gas. And it also feels important to me that trans people have access to other trans people. And so, between those things, that's just like how I got involved in that work. It just felt like the thing to do.
Claire 
Vera, this is Tuck. So, I bought Vera in, I was just about to ask you how you identify yourself in terms of gender?
Tuck Woodstock 
Sure. Can I ask you how you identify?
Claire 
Cisgender? And I use she/her pronouns.
Tuck Woodstock  06:02
Yeah. Are you like a woman or a man, or?
Claire 
I'm a woman? Identifies mostly straight. I've had experiences with other women. So I'm married to a man.
Tuck Woodstock 
So I identify as trans masculine, and I use he and they pronouns.
Claire 
So I'm Vera. When did you start thinking about your gender identity?
Vera 
I don't know. In like, fifth or sixth grade?
Claire 
Okay, so the last couple of years? What about you Tuck.
Tuck Woodstock 
I don't know. Can I ask you when you knew about non-binary people? Because I didn't know that non-binary people existed until I was like, 24. So I just tried to imagine,
Vera 
Oh, no, kind of like school. And then my dad would take us to pride sometimes. And I'm like..
Tuck Woodstock 
Yeah, I love that. So you were like, young. I love that. Amazing. So I think that's like a really interesting difference, right, is that, obviously, there are some people who figured out their trans before they knew the word that trans existed. But I think overall, there's like this really interesting developmental difference where like, a lot of people that I know, didn't know about the existence of trans and certainly non-binary people until they were in their, like, 20s, 30s, 40s. So it's, like really interesting to try to answer the question of like, how old were you when you thought about your gender? When we're thinking about, like, the difference in possibilities? Because it's one thing to like, think about it in the abstract, kind of in retrospect, being like, oh, that was gender. And that was gender. And that was gender. It's another thing to just like, have that language growing up.
Claire 
Yeah, I didn't have that there was no, that wasn't a possibility when I was growing.
Tuck Woodstock 
I mean, I didn't either. Like we didn't have like out gay kids at school, let alone out trans kids. So like, I know, a lot of people from my high school that are like queer trans now, but like, at the time we didn't, like no one was doing that. And, you know, it wasn't like an acceptable thing to be, to be queer. And there were no, there was no conversations around being trans like that just didn't exist on our radar. And so it's yeah, it's really cool. And I know that that changed in that school since then, because I have a friend who is a teacher there still. And she said it was really different. So yeah, it just, it's really interesting to sort of compare those experiences. But I do hear a lot of cis people be like, oh, this is really hard for me, because I didn't grow up with it. So I just want to be really clear that like, none of us grew up with it, like all of the trans people and the babies and 40s and 50s. And 60s also didn't grow up with it. But we just had to figure it out.
Claire  08:40
Yeah, I don't know why I struggle with it so much. Vera's dad struggles with it, too.
Vera 
You're actually getting better.
Claire 
And we're definitely ever getting better. You tell me.
Vera 
You still use my dead names when you get mad at me though.
Claire 
I do use your dead names when I get mad to you. I was talking to some of my friends. I'm 43. And I was talking to some of my friends recently about this. And I said something about dead names. And none of them had any idea what I was talking about. So I was explaining.
Vera 
It was name that you used to use felt like you don't use it anymore? Because it feels like comfortable with your gender. Or like your pronouns or whatever?
Tuck Woodstock
Yeah, it's a term that actually came out of Tumblr, which is why it's so dramatic, but we all just sort of universally adopted it as the term for it. And so I do know that there are a lot of trans people who are like, it's not, it's fine. Like, you don't have to be like that dramatic, but that is the term that we use. And there are a lot of trans people who it does feel very much like don't say that name around me. But also don't say that name for me ever, in general. So I just try to tell cis people that if you know someone's dead name, your entire job is to just never say it. Your whole job is to never disclose it to anyone and never use. I mean, it's obviously it's difficult when you're changing the name that you use for someone and you know, I have friends in my life who are actively changing their name all the time. And you know, it can take a little bit to like, get that memory reflex going in your brain because you're recording those neural pathways. But I'm just thinking in the context of, you know, intentionally using it, like your whole job, if you have someone's dead name is to just try to minimize sort of the contact that anyone has with that name.
Claire  10:26
Yeah, I'm working on it. It's hard. Sometimes I feel like you accused me of being transphobic, when really I'm just trying to rewire my neural pathways, I mean, I had an on a cheat sheet, she went by Penny for years and years and years. And then at some point, she decided she only wanted to be called Penelope. But it took me some time, it took all of us, we all mess it up for a long time, and she would get really mad at us. But I do want to ask both of you, if you could tell me what advice you have for parents whose kids are changing genders. And trying to kind of, you know, stop using dead names, change pronouns, all of those kinds of things, what advice you have for parents who are struggling to understand it, or to actually do it?
Tuck Woodstock 
Yeah, I mean, I think that the biggest thing for me is like one just to recognize that it's like, extremely cool and exciting and wonderful and a gift. And that being trans is a gift. Because I think that a lot of parents come at it as like, this is an obstacle that will overcome or like, this is the thing, I love you despite this, or this is challenging, but I'll get through it, instead of just like, wow, this is amazing. I'm so thrilled for you. And being trans is a gift. And I'm like really, really excited for trans kids to get to be trans. And to that, no, I think, I think a lot of us when someone around us changes their name, or their pronouns, or anything else that the language that they want us to use refer to them, it can seem to us very, like, why are you doing this to me, like my best friend who's in another room of this house right now changed her name from a one syllable name to a three-syllable name. And I'm like, oh, my gosh, I have to say so many more syllables, every time I want to say your name. Now, this is so annoying to me. But it's not actually about me, it's actually about her. And so I think just remembering that, like, this isn't something that someone is my child is doing to me, to make me look like a bad person or to defy me or to challenge me it is actually something they're doing for them. And I get to have be witness to it. And that is like super, super exciting. And I think just sort of reframing it to be like, oh, my child, despite like coming out of my human body, perhaps or otherwise, like being tied to me, is not actually an extension of me, they're actually their own person. And I get to witness who that person is. I think that's like the really exciting thing. And other than that just practice, like literally all the time. Because again, you have to re-carve those neural pathways, and it just takes a lot of practice, and they will get fixed eventually, but they will get fixed a lot faster if we are constantly practicing, instead of only practicing when our kid is in the room or like only practicing, you know, when we're in a good mood or whatever.
Claire  13:25
I use the wrong pronouns when you're not in the room.
Tuck Woodstock
I mean, so does my mom, you know, so like, I understand, like, that's just like, a thing that a lot of us have to deal with. And it's really challenging. So I guess also advice I have for parents is and again, I'm not like trying to speak to your relationship clearly or on a podcast together. But like, advice I have for parents in general is that like, if your kid pulls away from you for a little bit, and you're messing up a lot and your kid is pulling away, it is because it is painful to have someone who is that close to you who is messing up it like actively is painful, whether or not you have good intentions. And so I think try to just like let your kid have some space. And then if you are doing your best consistently, they will come back to you. Instead of trying to like force them to feel super close to someone who is doing things that hurt them over and over again. Because like that isn't fair to ask. And kids are allowed to have boundaries around that just like adults are.
Claire  14:21
How does that sound to you? That does that feel good? I know that I was surprised in the beginning how much pain it was causing Vera. When I used the wrong pronouns. Like I was startled by it. There would be times when we would be at a restaurant or something. And I would say to the waitress, like she'll have a whatever and all of a sudden Vera would look across the table at me. And I just was startled by how much it was affecting her.
Tuck Woodstock
Yeah, I just feels I think to me, like it just feels a lot like either not being seen or not being respected or not being taken seriously. And I think with parents especially it can feel and I'm not saying that this is how you feel but I'm just saying like, this is how it can feel, that your parents are like asserting that they know your gender better than you do. And I think that's like a parental dynamic, right? Where like parents often are, like, I know what's best for you. And often they're right. And so it's hard to separate the fact that like, especially when you're a minor, like parents do, you get to be like, I know what's best for you and these are the rules. But in this case, it's like, this kid is actually telling you what's best for them. And so it's, it can be disheartening. When it feels like you're not listening, you're not taking it seriously. And I understand that you're just making mistakes. And that happens to everyone. But I'm just saying like, there's like this gut feeling that's like, surpasses logic where it's like, I know logically that you're doing your best but like, it still feels to me in my heart that I'm like not being seen or not being respected. Because if I was being seen and respected, you would know my gender is or you know my name is. So I think that's where a lot of that hurt comes from is just like really wanting to be like, seen as a full person and an autonomous person. And I think that like that comes through with time, but also everyone's different. So I don't mean to like project my baggage onto everyone. But that's just I think that's like a sort of common feeling.
Claire  16:04
I'm going to let Vera unless either of you guys have any questions for each other. Any last questions?
Tuck Woodstock 
Do you have any questions? I feel like you've got it. You're set. You're good to go. I am sure I'll have like 100 questions after this call. But I don't have any questions for you right now. But I'm happy to meet you. Thanks for coming on the call.
Vera 
Nice to meet you.
Claire 
Thank you so much for talking with Vera. I've had a much easier time adopting their friends pronouns just because I'm meeting those kids for the first time. So I meet them as he they. I also have a daughter, Jules. And it's always been easier for me to refer to Vera and Jules as girls and say, girls, let's go. It's just been this automatic thing for so long. But I don't have a problem with Vera's choice. It's just I keep messing it up. And I feel terrible when I see how uncomfortable it how upset it makes them.
Tuck Woodstock 
Yeah, it's rough. And it's rough too. Because when we are able to gender like so I completely relate to having someone who can gender my friends correctly, but not gender me correctly. And again, that comes back to being like, oh, so you can do it. But you're not doing it for me. And I understand that. That's not how you feel. But like, that's how yeah, that's how it feels inside to be like, I'm so happy that you're gendering my friends correctly. Because I want my friends to be respected. And if my friends weren't respected, like, I wouldn't be able to bring them around you and that would suck. But like, if you can do it, why aren't you doing it is like that big, that big feeling? It's really challenging to be around, I think emotionally.
Claire 
One of my other things that I struggled with is that when I'm talking about Vera, to my friends, or whoever, I feel like they're not going to know who I'm talking about when I use they pronouns. And so I either have to stop and explain Vera as using they them pronouns now, or it just feels I don't like.
Tuck Woodstock  18:17
Like one second, that's one second to say Vera's using the […] now, like, I don't know, I don't think that's like an extravagant time out of your day.
Claire 
No, you're right. I don't know. I'm just still trying to figure it all out.
Tuck Woodstock 
Yeah, I mean, I just think that, like, if we're thinking about the way that trans people talk to each other, that is exactly what we do, is we just stop and say Vera's using them pronouns now, and then we just keep going. Or if we're not sure, you know what pronoun someone's using, then if someone's telling a story about their friend, Sam, then I can just interrupt and be like, what pronouns are Sam using these days and be like, he/they, or whatever. And we're like, okay, so cool. Just want to make sure. It's, it's not like a thing that needs to stop the conversation and go off in a whole other direction. We're just like getting information the same way that if someone was talking to me about their new boyfriend, and they were just like, my boyfriend, I might be like, what's your boyfriend's name? And it's just like, for the ease of the conversation, right?
Claire 
Okay, yeah. But in my world, what is happening is parents are talking about trans movement, non-stop, and they have a lot of questions and a lot of confusion. There is phobia in some places. And so when I do stop them and say that, then it turns into this whole conversation, wait, Vera is changing pronouns? What does that mean? You know, and then we get into a whole thing,
Tuck Woodstock 
You can have a boundary, right? Like you can be like, what I'm telling you is various changing pronouns. If you want to know more about the concept of non-binary identity and youth like here are some resources that I know of that aren't me because I actually am not an expert in this experience. And I'm actually making mistakes all of the time. And so why don't I point you towards things that are not me. I think that like We actually get into trouble. When people who don't really in general, just in life, we get into trouble. When people who are not subject experts try to be subject experts for each other. And so like, there are a lot of things that I wouldn't speak to you because I am not an expert in it. And I would just be like, oh, I actually everything I know about that I know from like, this podcast and this person that I follow on Twitter, and so like, why don't you actually go look at their work? And because I'm just sort of purely regurgitating what I learned from them. And, you know, we all have, yeah, we all have phones, we can just google immediately.
Claire 20:33
Why do you think parents struggle with it emotionally, not just the like neural pathway changing.
Tuck Woodstock 
I mean, all of them do, you know, like, some of them don't. But like the ones that do, I think, like a lot of it is that it's they have trouble removing themselves from their child, because it's hard to see your child as an autonomous being when you again, often, like created them out of sex and food. And then regardless, like raise them and are, in many ways, like responsible for them, and probably named them. And I think in some ways you can feel implicated, because you gave them a name, and you gave them a gender. And then they were like, I actually don't want that one. And I'm sure that there's like a place that feels hurt, that they're rejecting, like the name you so thoughtfully gave them or like the gender that you decided that they were. And I also think that like, a lot of parents, extremely, not all, but like a lot of parents do have a lot of difficulty, like separating themselves from their children, because their children feel like an extension of themselves. And so to see that your child is actually an autonomous being who makes different decisions from you, including decisions that you don't understand, are always challenging, whether that's your child like getting their nose pierced, or whether it's your child being gay, or whether it's your child like wanting to be famous singer, when you want them to be a doctor or wanting to be a doctor, when you want them to be a famous singer. Like it's like, it's really challenging to let your children be who they are, even if that's not who you would be. So I think when cis parents have trans kids, some of them are like, well, that's not what I envisioned for you, what I envisioned for you is that you would be a nice young girl, and you'd marry a nice young man and blah, blah, blah. And so I think it's hard, like, it's hard for all of us, you know, like, I just have a cat. So I don't have to deal with this, you know, like, very intentionally, like, my cat has a rich inner life, but also like, I never have to deal with her being like, I'm actually going to go to war now, you know, I'd like, she can't join the military and caused me like a deep emotional struggle, which I would have, if my cat joined the military. So you know, like, it's very, it's very easy for me. But that's, I think, sort of what I've heard and witnessed.
Claire  22:47
Now that makes a lot of sense. Where would you point parents who are struggling either emotionally or logistically or whatever they're going through? Where would you point them for resources on understanding it more? Finding support?
Tuck Woodstock 
Yeah, I mean, there's a wealth of resources. So I would say like, the number one priority would just be making sure that like the information you're getting is from trans adults, because that's the best source for this stuff. And then it sort of depends on like the format of what you enjoy learning, or how you enjoy learning, because there are a lot a lot of books on this these days. There's all sorts of you know, organizations and website, there's like Glad and there's PFLAG is still around. And there's a lot of support groups, specifically for children with trans kids. And you know, there's stuff probably in your local area, depending on where you are, there's stuff on the internet, if you'd rather do it that way. There's also podcasts like I make a podcast called Gender Reveal that's just trans adults talking to each other. And I think I know that a lot of trans listeners have asked their parents to listen to Gender Reveal, because it just I think is maybe more helpful to get your mind around the fact that your kid can be a successful, happy, thriving trans adult, when you hear successful, happy, thriving trans adults talk to each other. Because I think for a lot of us growing up, our only representation of trans adults were like sex workers, dead sex workers, right? Like that's what we saw, like objects of radical […]. There's a really good documentary called disclosure about this, about our media representation of trans people. And so if you're only concept of trans adults, or like dead objects of scorn, objects of ridicule, poverty, you're not gonna want your kid to be trans. And so I think that like hearing from really, really thriving trans adults. If you're on social media, even following those adults on social media can really help you be like, oh, actually being trans doesn't preclude my child from like having a rich and wonderful life and successful life and I think that is also helpful just to be like, oh, right, like the world isn't ending. Their name is just different. Everything else is fine. And yeah, just like searching out anything that you're worried about just like trying to like find a resource of trans people talking about it, because there's so much misinformation on trans youth, especially right now, which is what's driving, again, the like, illegalization of trans youth in various states around the country.
Claire 
Can you describe what the experience is like for a trans kid whose parents aren't supporting, what they're going through, and the changes they're making?
Tuck Woodstock
I mean, I can't because I was not a trans kid that knew that they were trans. But I can say that, like, statistically, we can see that having supportive parents or supportive guardians is the number one indicator of mental health in trans children. And so your response is literally the most important thing in your child's life. That said, we also have seen through empirical research, that trans kids who are not supported through their school and family, and sort of like, you know, social circle, in their transition, they have worse mental health outcomes, they have higher rates of depression, higher rates of anxiety, higher rates of suicidality, an average of like 40% of trans kids will attempt suicide at some point if they're not supported. That said, kids who have parental and social support and are allowed to transition socially and perhaps medically, if they get to like the puberty, walker stage, they have the same mental health outcomes as other kids. And so the difference between a trans child having poor mental health outcomes, depression, suicidality, etc, is not whether or not they're trans, it's whether or not they're allowed to be who they are. And so there's just this argument that trans people make over and over again, trans adults that are like it is lifesaving work to have to let your trans kid be trans. And then these anti-trans people come in, and they're like, well, that's just like, not fair that you're saying that, because there's no way for me to argue with like, whether I want my kid to be dead or not. And so that's like, not a fair rhetorical tool. And it's like, it's not a rhetorical toll, we're just telling you, that we're trying to, like, make sure that your kid stays alive. And so I don't want it to seem as a threat, I don't want it to be like you have to support your trans kids where they literally die. But like there is a not small statistical chance that your kid is going to have a poor mental health outcome, if they are not supported. And I just think that, you know, I'm not a parent, as I said, but like, it would seem that parents would want their kids to not be extremely mentally ill, if they can avoid that.
Claire  28:08
Where are kids who are not supported at home turning to for support?
Tuck Woodstock 
I mean, I don't know I really work mostly with adults, there are a lot of really, really good organizations. So I can say like, in Portland, Oregon, where I live, like I could tell you the ones that are here, there's something called smart, which is the sexual minority youth Resource Center, and a group called Marrow that was for queer youth and trans youth. Outside In is also for like, a really good resource for queer and trans folks who are homeless or like in poverty or things like that to access medical care. So wherever you are in the country or outside of the United States, like there are going to be the equivalents of those in your area. And depending on how big the area is, you know, they're going to be more or less supported. But no matter where you are, like that kind of stuff is going to exist, because trans people exist everywhere. I think there's this concept that like in red states or rural areas, trans people don't exist. And that's actually like, where trans people are often like the most closely knit like those groups are the strongest because they need each other to survive the most. And so those groups are going to exist anywhere in the country.
Claire 
What can we be doing? Like, what are actual steps that we can be doing as just general people to help support all of this and change things?
Tuck Woodstock
So I would say two things. And I would say like maybe the easier thing is, in the majority of US states right now there are bills in process of, you know moving through the legislature, or already being passed, that criminalize different forms of trans youth existence whether that is trans kids being allowed to play sports, trans kids being allowed to access health care trans kids allowed to be trans in school. There's this movement now where teachers are being required to be mandatory reporters if their kid in their class seems gay or trans, they have to inform their parents, which is violence. And obviously, like queer and trans books being banned also. And so I think the easiest thing is just to look at what bills are going through your state legislature and do everything you can to make sure that those don't exist because illegalizing trans people criminalizing trans youth is not going to make they're not be trans youth, it's just going to be more dangerous for trans youth the same way that like criminalizing abortion doesn't make abortion go away, just makes it less safe, it's exact same thing. And they're both, you know, the same issue, it's the same issue of bodily autonomy. And so that's one. And the second thing, which is harder, is learning to see trans people as fully human and fully trans. And that's really challenging, because we're not raised to do that, like we said, like neither you nor I were raised in that. But again, listening to those podcasts, reading those books, just knowing trans people and treating them like human beings, really carving those neural pathways until it is less challenging for you to like, use whatever language or whatever people, I think is the number one thing you can do. There's this focus right now, among stray people on pronouns and pronouns are really important. But many trans people have observed that working to reconceptualize the way that you think about gender, and realizing that you also have a gender and that we all have a gender, and that this is just the thing that exists and is not unique to trans people, that will help you use someone's correct name and pronouns. But using someone's correct name, and pronouns will not necessarily lead you to a greater, more expansive understanding of gender. And so if you can pick one of those two things, try to focus on really interrogating what gender is and how it shows up in your life and how it plays a role in yourself and how that then extends to other people.
Claire 
What would that look like? Like, What would someone like me ask myself?
Tuck Woodstock 
Yeah, so I guess you can ask yourself, I think the first question and I'll ask you this, you don't have to answer if you don't want to, but I'll ask you is, how do you know your gender?
Claire 
I've been told, like, I guess that, you know, like, I don't know, I've always just identified as a woman and female. I don't know why, you know, because this is how I was told I was?
Tuck Woodstock  32:08
So I guess like, then I would say to interrogate that. And I'm guess I'm not, I'm not giving you homework, but you asked me, so I'm using it as an example. I would then spend a bunch of time being like, okay, let's say that my identity is actually mine, and not what other people tell me. So if my identity is mine, and not what I'm being told, then how do I know I'm a woman, and maybe just think about that for like, a long time. And then you think about, okay, if I'm having a challenging time, describing why I'm a woman, but I know I'm a woman, then why do I think it's so important? And I'm not saying you do, but like, would it be so important for trans people to prove that they're really women, or that they're really their gender in order to access health care in order to access like us, treating them as people? And then we can sort of understand Oh, right, gender, like, isn't real? It's not a real thing? We've just liked all sort of decided that we're going to pretend that it's real. And I think once we get to that a lot of things become a lot easier, because you're like, oh, gender isn't just a thing that trans people made a gender is just the thing that trans people have thought about more than I have thought about. So trans people are actually again, the subject matter experts in gender. And so then you can move on to biological sex. And you can be like, oh, it turns out that not only is gender a thing that we all made up collectively, because I actually can't describe what it means to be a woman now that I'm really thinking about it. But also biological sex isn't binary either. It's actually just like a spectrum. Because of I think of the way that my body looks as a woman, it looks different than like the other women that I know. But we're still all women. And so that also isn't just one thing. And so I think just sort of thinking about breaking down those walls and being like, oh, everything that I thought about this is actually based on like something that someone told me when I was six years old, and sort of like re interrogating that again, using resources like gender reveal, using resources, like other podcasts, other books, other films, I think, is the best way to do that. Because once you have had sort of had that, and like, work with yourself, to think about what does this mean to me? And what would it mean, if this was taken away from me, you can then extend it to other people easier.
Claire  34:19
I love all of that. Thank you. I feel like you're being very generous with me.
Tuck Woodstock 
I just don't want you to feel like because I'm using you as an example that I'm like, personally attacking you. I'm just like, you know us in the 1.
Claire 
No, but I think that we all need to do a certain level of personal interrogation with ourselves and look into this. I mean, I agree and I'm okay being uncomfortable. I want to I want to learn I want to grow. I am really excited for Vera and their friends because this wasn't available when I was their age. You know, I remember being in ninth grade and I had this hot dream about this girl in my like, home at class or whatever. It was that long. And I remember I woke up in the morning and I was like, oh my god, I can't tell anybody about this. And what does this mean? Which is ridiculous because like 10 years later, I was making out with women but, you know..
Tuck Woodstock
I  that you said you were like, straight up Jason at the top of […], honey, it's okay. You don't to, it's fine. I don't know any word that's not straight. Any of the other ones you can take. There's so many. Bisexual, queer? You know, I would say queer because it just means anything that's not straight. And then you don't have to ever think about it again. Okay. But yeah, that's the thing is like we all grew up, or a lot, most of us grew up not having this be an option. And like I said, some people figured it out anyway. And that's incredible. I know, people who transitioned when they were teens who are in their 40s. Now, and I don't understand how they knew to do that. Especially like pre internet, like, how did they do it? But for a lot of us, like, this is just a thing that we didn't have available, it didn't occur to us that there was a possibility and seeing that with kids. Seeing them like no earlier, I just feel like they're so ahead, because I also had to like, figure out that I was queer or gay, or whatever, you know, after college, and I had to figure out that I was trans after college and thinking about, I could have saved so much time, if I had done that work like 10 years ago.
Claire  36:25
Okay, last question. What do you hope things will be like in 10 years?
Tuck Woodstock 
That's so funny. So the end of every episode of my podcast is, in your ideal world, what would the future of gender look like? And it splits into two categories, and one of them is like, gender doesn't exist. And the other one is like gender exists, but it's very easy to just move around and do what you want to do with it. And there's not a particular stigma around being any particular way. And there's not like these bureaucratic hurdles, and being a particular way or these medical hurdles, and being a particular way. So what I would love is to move towards either of those futures, where we're taking gender off of driver's licenses, because that doesn't affect how I drive a car. And I shouldn't need to like mandatory report my gender to each individual government agency. And we're sort of giving each other all like a lot more grace with changing things, and maybe changing things multiple times the same way that, you know, people might go by Bobby when they're a kid. And then they go by Bob, and then they go by Robert. And then they go by Bob, again, like that. I want that fluidity for everyone. And I want that forces people to because I hear a lot from cis people is like, well, yeah, I hate my name. And it's like, you can also change it like not only trans people can change their name, anyone can change their name. It's not that hard. And so just allowing everyone that fluidity, allowing everyone to choose, like what they want is the ideal. So my hope is as there's continued to be more and more people who come out as trans, even though again, visibility without resources, and production is violence, it will at least lead more people to be like, oh, well, I know a trans person, and they are not the literal Christian devil and thus, like maybe they can also have rights and be allowed to exist. So I'm hoping that we're like, moving towards that. And we'll see. We'll see if it works.
Claire  38:32
Thank you so much for the work you're doing to move us towards that place. And thank you for being kind and generous with me today.
Tuck Woodstock 
Of course, thanks so much for having me.
Claire 
This interview was hard for me to listen to. I feel like I'm often trying to show you the real me, the messy, complicated mistake making me but that doesn't always happen. I sound too polished most of the time. And I am polished in a lot of ways. I've been in the public sphere for a long time. And even when I talk about being vulnerable, I can't always show it. But what you heard today is definitely an aspect of my life that I'm struggling with. But that's how we grow, right? Most of the time, I can't even believe this issue has been a hard one for me. I was raised by very unconventional parents and I've lived a pretty unconventional life. It's been surprising to me that I haven't been able to roll more easily with the cultural change that is at hand with the trans movement. But today's conversation was a reminder that rolling with change means self-reflection, and often self-interrogation. If we are to evolve these things are essential. Talk asked me, How do I know my gender? And I didn't have a good answer, because I've never taken time to consider it. So for this week's practice, if you're not already there, will you join me? Ask yourself what does gender mean to me? How much of my definition is based on societal norms rather than my own experience? If someone misused your pronouns, how would that make you feel? When you hear someone describe their gender experience, what comes up for you? What resonates with you? What makes you feel unsettled and uncomfortable in your body? Consider what a world would look like without gender. What do you feel like you would gain? What do you think you might lose. And for parents out there struggling to embrace their child's chosen identity, here's what I'm learning. Think about how Tuck said that it's a gift that your child wants to be themselves, and that this is an exciting journey for them. Be supportive of the language your child wants to use, and make it a priority to use their correct pronouns. And remember that Tuck says using your child's preferred pronouns beyond when they're in the same room as you, or when you're in a good mood is a great way to validate your child's experience and to show them that you see them, respect them, and that you take them seriously.
Claire  40:48
Remember, your child is an individual first. The overall goal here is to be more conscious and conscientious of the gendered language we use. Okay, so in addition to all of that, I want to give myself something to work on to. To begin with, I'm going to start using various pronouns correctly, I'm going to continue holding an open space to hear about anything they're thinking and going through in regards to their gender identity and anything else. And I'm going to spend time really pondering my own gender, where my gender identification comes from, and what it truly means to me. I mean, we all heard Tuck call me out about not being straight. Lastly, I'm going to devote more time to reading about and supporting the trans movement. So if clarifying via his new pronouns means diverting into a larger conversation than great. And in order to be better prepared for that, I'm going to do more research, be able to offer more resources, and generally have more clarity about my own sense of gender. If you like me feel like you need some more help. Here are some organizations and resources where you can gain more knowledge about gender and identity, and these will all be in the show notes. Obviously, you can start with Tuck's podcast Gender Reveal, glad is an organization that supports LGBTQ public policy and education. Disclosure is a great Netflix documentary about how queer and trans folks are depicted in film and television. Tech also suggested the following resources because they live in Portland. Smirk is a resource center for sexual and gender minority youth in Portland. Outside In is an organization based in Portland that supports homeless youth. They also provide medical and mental health services. You can also follow trans and other queer folks on social media, or watch a YouTube video about being trans queer from time to time. The point here is to hear from people with lived experiences as you're researching and trying to understand gender. As always, thanks for listening. And if you get a chance, send me a question through my new online forum at bit.ly/newdayask, it's totally anonymous. You can literally ask me anything and you can find the link in the show notes. Or if you just want to tell me about one of your weekly practices, call and leave me a voicemail at 8334-LEMONADA, that's 833-453-6662, or email me at newday@lemonadamedia.com
CREDITS
NEW DAY is a Lemonada Media Original. The show is produced by Jackie Danziger, Liliana Maria Percy Ruiz and Erianna Jiles. Kat Yore is our engineer. Music is by Hannis Brown. Executive producers are Stephanie Wittels Wachs, Jessica Cordova Kramer, Lily Cornell Silver and Claire Bidwell Smith. NEW DAY is produced in partnership with the Well Being Trust, The Jed Foundation and Education Development Center. Help others find our show by leaving us a rating and writing a review. Follow us at @LemonadaMedia across all social platforms, or find me at clairebidwellsmith.com. Join our Facebook group to connect with me and fellow NEW DAY listeners at facebook.com/groups/newdaypod. You can also get bonus content and behind the scenes material by subscribing to Lemonada Premium. You can subscribe right now on the Apple podcast app by clicking on our podcast logo and then the subscribe button. Thanks for listening. See you next week.