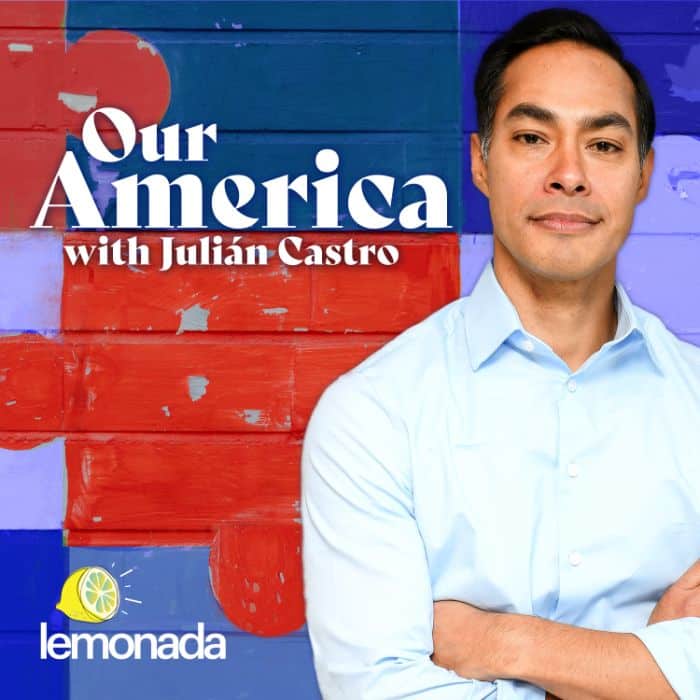 A Seat At The Table For Native And Indigenous People
Subscribe to Lemonada Premium for Bonus Content
Description
After a year of disproportionately high rates of COVID-19, the major losses within Native and Inidigenous communities have underlined just how deep-seated historical discrimination still is – evident in an overwhelming lack of access to water, electricity, and health care services on reservations. We're joined by Áshįįhí Clan member President Jonathan Nez of the Navajo Nation and climate activist and journalist Julian Brave NoiseCat of the Canim Lake Band Tsq'escen to talk about reopening Navajo land, the Biden/Harris American Rescue Plan's investment in tribal lands, and what Secretary Deb Haaland's historic confirmation to the Department of the Interior means for the health and environmental justice of Native and Indigenous communities.
Keep up with Julián on twitter @JulianCastro and Instagram @JulianCastroTX. 
Resources from the episode:
Click this link for a list of current sponsors and discount codes for this show and all Lemonada shows.
To follow along with a transcript and/or take notes for friends and family, go to http://lemonadamedia.com/show/our-america shortly after the air date.
Stay up to date with us on Twitter, Facebook, and Instagram at @LemonadaMedia.
Transcript
SPEAKERS
Jonathan Nez, Julian Brave Noisecat, Julian Castro, Rep. Deb Haaland
Julian Castro  00:01
Last Tuesday, we celebrated the historic confirmation of representative Deb Haaland as the first Native American appointed cabinet secretary in our country's history.
Rep. Deb Haaland 
I believe that it's the fact that I relied on food stamps to feed my family that makes me qualified to advocate for families like mine. It's the fact that I overcame addiction that makes me qualified to help people who are in their own struggle. It's the fact that I know what it's like to be indigenous that makes me qualified to advocate for our country to meet its trust responsibilities.
Julian Castro
Within the Interior Department, Secretary Haaland will oversee the Bureau of Indian Affairs, the agency that's responsible for creating and implementing policy that affects our country's native peoples. Her confirmation is a big step forward because of her personal experience with the struggles Native Americans face, which have only worsened in recent years. The disproportionately high rates of COVID and tribal communities are result of deep-seated problems, such as inadequate infrastructure for electricity, and running water on reservations, which make it hard to stay sanitized during a pandemic. And social distancing can be a big ask for those who often live with parents and grandparents under one roof, and whose community is so integral to their day-to-day life.
Julian Castro 
I spoke with Áshįįhi clan member, President Jonathan Nez of the Navajo Nation less than two hours before Secretary Haaland was confirmed, and exactly a year after the first COVID case was discovered on Navajo land. We talked about COVID 's impact on Native communities, the Biden-Harris American rescue plans investment in tribal lands, and how the Navajo nation's high vaccination rates have prepared it for a soft reopening. Climate activist Julian Brave NoiseCat of the Canim Lake Band Tsq'escen also joins me to talk about what kind of strides Secretary Haaland and the Biden administration can make for the health and environmental justice of native and indigenous communities.
Julian Castro  02:19
This is OUR AMERICA. I'm your host, Julian Castro.
Julian Castro
President Nez, thank you so much for taking a little bit of time to speak with us. Your tenure started in early 2019. And then, about a year ago now we went right into this pandemic. And at one time, in May of last year, the Navajo nation had the highest per capita COVID infection rate in the country. Since that time, the nation has seen 1,218 casualties, almost 30,000 cases of Coronavirus. Can you reflect on the last year of grappling with this pandemic?
Jonathan Nez
Well, Julian, thank you for having us on the show today. On behalf of the Navajo people. I wanted to appreciate your service as the HUD Secretary under the Obama administration. As the first time I met you when I was vice president. And as you mentioned, the past two years being the president who would have known we will be going through a pandemic, right? And I didn't know that we'd be governing through a pandemic. For us here on Navajo, we developed our team, a preparedness team before even one case was identified in the southwest. I think if we were a state Julian, we were probably been the maybe the 48th, maybe the 48th-49th state to get a confirmed positive case. So we really did well pushing, keeping the virus up.
Jonathan Nez  04:16
But once we got surrounded, all the states around us and Mexico was that last state within a week. And matter of fact, Julian, this is the week one year anniversary of our first case that was identified on the Navajo Nation and then also our first death. Over 1200 of our Navajo citizens have lost their lives to the virus and our thoughts and prayers go out to those families and over close to 30,000 of our Navajo people you know caught the virus here on Navajo. Many have recovered, but there has been some long-term health problems from those who caught the virus. And I just appreciate the friends of the Navajo nation who came in to help you know, even though there was a lack of response, you know, from the previous administration.
Jonathan Nez
574 tribes, the CARES act was intended to help give direct relief to US citizens, but the first citizens of this country had to wait. And we had to file a lawsuit against the previous president just to get our share of resources. And that happening here in the most powerful nation in the world was really troubling. In our case, here on Navajo 30% to 40% of our Navajo people don't have running water or electricity, and CDC telling everyone to wash your hands with soap and water periodically. But here in the most powerful country in the world, you know, we don't have the best infrastructure. But you know, with the help of many out there around us, are friends of the Navajo, we manage to keep the virus at bay, if you want to call it that.
Jonathan Nez  06:15
And I contribute that to the Navajo people, because they honored and respected and listened to healthcare professionals, and also listened to protocol. And I just wish that some of our other leaders throughout this country would have done the same maybe then we wouldn't have seen some very high outbreaks in this country. But I think overall, we did our best with the limited resources that we've had, that were given to the tribes and in our case, the Navajo Nation.
Julian Castro
You know, I'm here in Texas, and about a month ago, we went through a few days during a winter storm where millions of Texans didn't have electricity, and many did not have running water. And so to hear you say that, in the Navajo Nation, which is one of the largest tribal communities in the United States, it covers parts of Arizona, Utah and New Mexico 27,000 square miles, that 30% to 40% of people don't have running water 30% to 40% of people don't have electricity. How in the world is that even possible? In 2021?
Jonathan Nez
Well, we learned a lot from the CARES act allocations, as you know, Julian, tribal trust lands are compared to any other federal lands throughout the country. You have to jump through a lot of hoops meaning that there's just so many regulations involved, just to even build a home and just to get infrastructure in place. And when the cares money came to us, you know, we focused on water infrastructure, electrical infrastructure, broadband telecommunication, because we wanted to make sure that people stay home, and they need broadband internet capability.
Jonathan Nez  08:15
People working from home, students doing their classrooms from home, electricity, you need electricity for broadband, water 30% to 40%. As I said, don't have running water. People have to haul water, believe it or not Julian, my family still haul's water. And I'm the president, you know, and it just shows you that there's just a lot of bureaucracy and policies involved. And I know when you were HUD Secretary, we did some changes for homes, to build homes here on tribal land, trust lands. But when it comes to infrastructure, we really are pressing this new administration now, to update and to change. I mean, if you can wave federal regulation to build a wall on the US and Mexico border, couldn't you do the same thing in Indian country so that indigenous people can have running water and electricity and other infrastructure?
Jonathan Nez 
And so you know, those are items that we're bringing to the attention of the Biden- Harris administration, and yes, they are engaged and we do have a seat at the table and, of course, Julian, you might know that in Arizona, tribal indigenous people, you know, turn the state from a red state to a blue state and help get those 11 electoral votes to Biden and Harris and I actually I was one of those electors that cast my vote for the Biden-Harris administration. So that was an awesome honor to have for on behalf of the Navajo people.
Julian Castro
In the early stages of this pandemic, Navajo nation has had one of the highest infection rates for COVID-19. Today, y'all have one of the highest vaccination rates for anywhere in the United States. How is it that you've achieved that?
Jonathan Nez  10:13
Transparency. You know, not, we didn't politicize what's going on with COVID-19. We framed it in a way, by utilizing our way of life teaching our culture and tradition. wearing a mask wasn't a political statement. wearing a mask was you're a warrior, going into battle. And you need to wear your armor, and one of those armors was wearing to mask and the weapons were the shots that are given now and washing your hands with soap and water, social distancing, and staying home as much as you can. We had townhall meetings, we still do, Tuesdays and Thursdays every week giving updates to the novel people. You know, Julian, we even had Dr. Fauci on one of our town hall meetings in how he said, Navajo could be a model in how to push back on the virus.
Jonathan Nez 
And the only reason I truly believe that we got hit hard is because other jurisdictions around us didn't take this seriously. You're doing everything you can in this little island on the Navajo Nation trying to keep the numbers down. But everywhere else around you. They don't have no mask mandates. We had mask mandates, and we still do. We started last April. And we put some of the most strict protocols in place in this country. Even as far as saying, lockdowns, no non-Navajos on our nation, we can do that. Because we're a sovereign nation, we have the ability to govern ourselves. And we took that seriously to protect the health and well-being of our citizens.
Jonathan Nez 
And we have a large percentage, of course, it's like that and communities of color, a large percentage of our people that are in that most vulnerable population category, higher rates of diabetes, cardiovascular disease, cancer. And once some of those individuals caught the virus, you know, it took them some of those teachings from our elders have gone with them too. And now it's our turn to share our way of life teaching our culture with others. And you know, I think that was one of the reasons we were, if you want to call it successful and pushing back on this viruses because we didn't politicize it.
Julian Castro  12:41
As a testament to the resilience of the Navajo community and to your leadership. Today is actually a big day because you're reopening, doing a soft reopening. Talk to me about what y'all are doing now what you're able to do now that you've been able to contain the virus.
Jonathan Nez 
Yeah, well, today we are going from the red category to orange, we've been having some very low daily COVID-19 numbers for over a few weeks now. And then you got the over 85% of the vaccination that were given to the Navajo nation have gone into the arms of our Navajo people that's 180,000 plus shots given and I think leadership and health care professionals reassured the Navajo people that this vaccine is safe. Those that have gotten vaccinated feel that now's the time to get back to some normalcy, not 100%. But there's some light at the end of the tunnel there.
Julian Castro
Just before he took office, President Biden and vice president Harris released a plan for tribal communities, and signaled the importance of tribal communities to their vision for the future of our country. And now, with the passage of the American rescue plan, there are dollars that are specifically aimed to support and uplift native peoples. What are your hopes going forward?
Jonathan Nez  14:24
That's a very good question, Julian. And the plan that was developed for indigenous nation had indigenous leaders a part of that development and gave them recommendations, including us, you know, now President Biden and now vice president Harris, were down in Phoenix and met with tribal leaders and I was one of those individuals. It was unique because not many people get a chance to even talk to both of them at the same time, but five of us tribal leaders had that opportunity. Once that happened, I knew there was something different.
Jonathan Nez
I knew that there was going to be an opportunity for tribes to be at the table on all these discussions. And now you fast forward to the American rescue plan, over $31 billion going to indigenous communities, for health, education, infrastructure. I mean, I'm hopeful you got to be hopeful and disposition, as you know, hopeful as a leader, that things are gonna change and look at what's happening today. As we're speaking, there's going to be a vote in the Senate, you know, there's going to be an historic vote.
Julian Castro 
That's right. And what will that mean? What will Congresswoman Haaland's confirmation as Secretary Haaland mean, for Navajo Nation and the broader indigenous community?
Jonathan Nez 
Let me let me just say first that Deb, I've known her since before she got into elected office. She's a trailblazer, first Native American woman in New Mexico to be a Congresswoman, now first Native American, and to ever be even considered to be a cabinet member, Secretary of Interior and I'm hopeful within minutes from now that she will be approved by the Senate. And that's just so overwhelming for tribal communities, that we're going to have one of our own, in this administration, that will bring a fresh and a different perspective to government, and to the American people, our worldview, and to have Deb Haaland oversee federal lands, not just for Native Americans, but to protect those lands, for the future of all American citizens.
Jonathan Nez  16:59
Here's an opportunity to just change some policies for a different way of doing things. And as my vice president always says, we were never invited to the American dream. But I think this is the first time we will actually have a seat at the table to experience that American dream for our children and our grandchildren, and those that are yet to be born.
Julian Castro
Just an hour and a half after my conversation with President Nez ended, Representative Haaland was confirmed as Secretary of the Interior. After the break, we hear from Julian Brave Noisecat on land rights, the Green New Deal, and the importance of Haaland's groundbreaking confirmation.
Julian Castro
Julian, thank you so much for joining me, what a pleasure it is to get to sit down with you. Because even though you're not 30 yet, you have already done amazing things that so many people are very proud of. And you were one of the first voices to say, hey, we have an opportunity here to nominate Deb Haaland, and to tout the historic significance of that, and also in substance, because of her perspective, what she could do in that position. What do you hope she's able to accomplish over this next term?
Julian Brave Noisecat  18:31
You know, I think that it's going to be a significant challenge just to, you know, right the ship. And I think that showing the success of indigenous leadership, at the highest levels of government is itself going to be a very important thing. The person who breaks through the glass ceiling, you know, is also proving to everyone who's doubting them, that they can do it, that their people can do it, and are thereby creating opportunities for those who come behind. And of course, Holland is inheriting a very broken agency that was tampered with quite purposefully by the Trump administration. You know, the Bureau of Land Management was moved to Grand Junction, Colorado, which led a whole bunch of people to quit.
Julian Brave Noisecat
you know, there was a fire sale of leases to drill on public lands for oil and gas at the end of the Trump administration. And there were countless rules that were tampered with or rolled back that she's going to have to fix. So I think that you know, just showing her remarkable skill set as a leader is going to be itself incredibly important. And then I think beyond that, I see Haaland's conservation as an extension of that grassroots push that has been going on for over a decade of indigenous peoples being at the forefront of Environmental Leadership of environmental causes of the fight against climate change.
Julian Brave Noisecat
That started in many ways with social movements and is now being recognized and affirmed. at the highest levels of the United States government. And I think that there are really compelling opportunities that Haaland can lead and be a part of, to empower tribal nations as the original stewards of this land, and to, you know, strengthen indigenous rights and sovereignty at the same time, as we take on this epic fight to mitigate climate change.
Julian Castro  20:25
It was definitely a moment to celebrate when she got confirmed. And at the same time, it makes you ask yourself, like, why in the world did it take so long for one of the President's appointed cabinet members to be a Native American?
Julian Brave Noisecat 
I mean, I think that we have to tell the truth about what this country has done that in some places, in cases still is doing to native people in the circumstances that far too many of our relatives are living in. You know, the third Interior Secretary, a guy named Alexander Stewart described the United States mission with respect to native people as to quote civilize or exterminate us. And in many ways, the Interior Department played a leading role in that attempted assimilation and annihilation over the years, whether we're talking about the privatization and theft of lands, the Dawes Act, the implementation of the boarding schools, where Native children were taken away and had their languages and cultures quite literally beaten out of them.
Julian Brave Noisecat
You know, the era of termination, which lasted from the 40s to the 60s, wherein the stated policy of the United States towards tribal nations was just that to terminate their legal status. And so I think if you look at that long history of I mean, not just exclusion, but really what was in some instances, I think we need to, we need to call it what it was, which was a genocide is still living in many of our communities and families. And you know, that makes it incredibly difficult for someone like Deb Haaland, to rise to, to leadership. And I think that makes her story, which is an extension of that history, that much more remarkable.
Julian Castro  22:14
I visited a native reservation for the first time when I was HUD Secretary, I went to Pine Ridge in South Dakota. And in Pine Ridge, I saw some of the deepest poverty that I'd ever seen in one home, there were 18 people living there, including two families that were living in the basement, this dirt floor basement. That boggles the mind I think of a lot of Americans who don't understand the depth of injustice that has been committed against native peoples in this country, and that continues to affect their lives. What do we need to do as a nation to change that?
Julian Brave Noisecat
You know, I think that I'm a very strong believer, as someone who writes and reports and does research occasionally, in the fact that truth is the only ground upon which justice can stand, you know, we need to, we need to know the truth. And from the truth, we can start to build towards justice. And I think, especially when it comes to native people, there are so many historical and current truths that have not been told or grappled with, that we do need to tell her grapple with. So for example, you know, you're speaking to the, you know, the housing crisis that exists in in Native communities.
Julian Brave Noisecat 
And actually, at the end of your 10 years, I'm sure you know, at HUD, there was a joint report from the Urban Institute in HUD on just the incredible depths of the devastating depths of the housing crisis in Native communities where I believe if I remember that report correctly, if you accounted for the number of people who are couch surfing and living with relatives, to keep a roof over their head in Indian Country, something like one in five people wouldn't be considered homeless or housing insecure, which is just a boggling, mind boggling statistic.
Julian Brave Noisecat  24:21
And if you think about, you know that from a conceptual perspective, you know, the United States was built on the theft of homes from Native people, the theft of home and homeland. And to this day, far too many of our people are still living in the long arm of that legacy and are still living with without a home in the place where our ancestors are buried and our you know, our gods reside and all that sort of stuff.
Julian Brave Noisecat 
And, you know, I think that most people don't know that, far too many lawmakers don't know that, far too many journalists don't know that. And I think if we're going to build towards On these many enduring issues, we need to be telling the truth, we need people to be learning and grappling with the truth. And from there, I think we can start talking about what justice would look like.
Julian Castro 
There is a lot at stake for Native communities as we begin a new administration. One of the things is the well-being of tribal communities in our country, and particularly the environment that they live in, you are credited as one of the architects of the Green New Deal, which would have a massive impact on our environment in this country, and more importantly, around the world as well. Walk me through your interest in environmental justice, and racial equity, and how those two things intersect in your mind.
Julian Brave Noisecat  26:05
Yeah, so I'll just be really forthright in saying that I actually entered the environmental justice conversation area, primarily through the indigenous rights angle. So over the last decade, you know, in a decade where I was very much sort of coming of age, politically, and in many other senses, you know, there were a number of very prominent native led movements that were focused on, you know, the impacts that extractive industries and projects can have on our communities and nations, you know, think of the Dakota Access Pipeline and the movement at Standing Rock, the movement to stop the Keystone XL pipeline, the idle no more movement, which was led by First Nations in Canada, you know, those were all things that were happening when I was a young man.
Julian Brave Noisecat 
And of course, as someone who was, you know, more politically inclined, grew up in Oakland, you know, was very interested in the history of social movements and progressive politics, those were things that I followed and got involved in, in the ways that I could at the time, essentially, you know, sort of following the oil up the supply chain of the pipeline, as well as the supply chains of power, brought me to DC and eventually led me to an interest in focus on climate change and climate justice. So I actually entered sort of the climate space very much from the indigenous rights perspective, and very much from sort of the racial justice angle.
Julian Brave Noisecat 
You know, I think that the Green New Deal very much has that ethos, you know, it's a resolution, it's not like a fully developed governing plan, but at its core is about, you know, tying the fight against climate change, to the enduring effort to correct for inequality and injustice that persists in our society and often breaks along racial and gender lines. And you know, that sort of vision is one that that was very appealing to me. And one that I, you know, as a young person working in sort of the political media policy sphere really wanted to help develop and was obviously very privileged to be one of the people who had the opportunity to be in sort of the trenches working on that, over the last few years.
Julian Castro  28:17
You've spoken about the green new deal as not strictly just a set of policy proposals, but really also a narrative to help people understand why it's so urgent that we change our ways when it comes to our environment and combating climate change. That narrative has been under attack from the beginning. But recently after the November election in places like my home state of Texas, and then recently, even more recently, after the winter storm, when Texas politicians got on Fox news and blamed the green new deal for a shortage of energy in the state. It seems like it's the right wing's favorite target. Talk to me about the positive narrative, and then how we deal with the misrepresentations, the lies on the other side.
Julian Brave Noisecat
You know, I think that the positive narrative around climate change probably looks a lot like, you know, the sort of way that Biden and many members of Congress have increasingly been talking about it, and that's good jobs, reduced pollution in your community, improvements that you can feel and see, cheaper energy costs, new technologies, all of that sort of stuff, and also leadership from American industries on a lot of these issues. I think that you know, obviously, there's a second part of that, which I think we're not as good at talking about, which is that what do all those things add up to they add up to stability, right?
Julian Brave Noisecat 
And there's a lot of people who, you know, are undecided, or in the middle, who are much more skeptical of those sorts of messages. And I think that if we just continue to tell a compelling story about what climate action can do, and we show that with real action and real policy, you know, I'm confident that we can win this big debate.
Julian Brave Noisecat 
They add up to, you know, security of a job, security of a functioning social safety net. And of course, also the security of a stable climate. And I think that one thing if I had one criticism of the way that Democrats talk about these issues is that we see that ground, the emotional ground that also sort of the rhetorical ground of security, to the right, far too often, you know, they, in the case of Texas say that it's coal and natural gas and oil that's going to protect people, you know, that it's conservative values and family values that are going to be people's security blanket amidst you know, the anxieties that free markets bring on to communities and societies.
Julian Brave Noisecat  30:42
You know, we saw that in Texas, we saw a lot of misinformation, frankly, from right wing media, which is I don't know what to do about that other than to amplify the truth. And, you know, I think that that's going to be a reality has been a reality for far too long. And it's going to be a reality for a long time moving forward. But I'm also hopeful that, that at the end of the day, you know, the truth, the truth does went out, you know, if you look at some of the polling that we've done at data for progress about, you know, the sort of fear mongering about the Green New Deal, there are some people believe that, but they're mostly already the people who are already sort of sucked into the right and sort of conservative media ecosystem.
Julian Castro
One of the priorities of President Obama, when he was in office was to establish stronger relationships, nation relationships with tribes. He held a tribal summit every year, and then other formal meetings, as well as reaching out informally. And the policy of the administration, I think, focused on Native communities more than there had been in the past. It seemed like there was a step backward under the Trump administration. And now, the Biden Harris administration is, is trying to pick up where brock Obama left off. What advice would you give the administration?
Julian Brave Noisecat  32:28
Yeah, I mean, I think that so much of the Obama administration's efforts were designed to include native people in ways that native people had not been recognized and included before. And of course, a lot of that was, as you said, you know, lost in the years during the Trump administration, you know, during a presidency where Trump kept a portrait of Andrew Jackson for his desk in the Oval Office, you know, that was his thing. You know, I think that inclusion is great. And inclusion is really important. I still read far too many, you know, policy documents and plans, for example, that when they're just listing the various jurisdictions that exist in this country, forget to add tribes, you know, they'll stay states and localities, but they'll often leave out tribes.
Julian Brave Noisecat 
So I think that we still need to make those efforts at including native nations. But I'm really, I'm really interested in this thing that madam secretary Haaland now embodies and represents, which is native leadership and empowerment. You know, I think that particularly again, on issues of environmental injustice, on climate change, there's a real opportunity to empower native leadership on those issues, which is not just about, you know, inviting them to the table. It's about asking them, what their plans are, and what it might look like to empower native people to lead and set the agenda on some of these issues. I'm hopeful that, you know, under the Biden administration, you know, we're going to start to see more and more native leadership.
Julian Castro
You are at the vanguard of progressive activism and change. What makes you hopeful these days?
Julian Brave Noisecat  34:09
I think I am incredibly hopeful right now because we've seen in this deep despair of the pandemic, and an incredible amount of fighting spirit, in sort of the democratic, democratic grassroots of this country. The movement that arose after George Floyd's murder was probably the largest social movement in the streets in United States history. I think that that gives me a great deal of hope that there are so many people out there that see the injustice and want to see, you know, the right things happen. And I think that I'm also increasingly hopeful that the institutions that are set up that are so post to absorb and respond to that sort of set of democratic against all the democratic demands for change. You know, I think can.
Julian Brave Noisecat 
Madame Secretary Haaland's confirmation to me suggests that over time, the sort of ideas and spirit of change that comes out of you know, activist circles, can in fact reach all the way to the upper echelons of government and can start having real governing power. It takes some time, sometimes it takes too much time. But I'm hopeful that over you know, the long period across the generations that change will add up to really meaningful things for all people. our country still
Julian Castro 
Our country still has a long way to go. to rectify the genocide, white colonizers committed against native communities, and the long track record of discrimination at the hands of our federal government. But strong leadership can make a world of difference. And Secretary Deb Haaland's confirmation sends a powerful message that in the Biden administration, native voices will be heard, their civil rights will be upheld, and progress will be made to improve quality of life and economic opportunity for native individuals in the months and years to come. Next week, we talked to author Adam Jentleson about the ugly truth of how the senate filibuster came to be, and about the prospect for reforming or even eliminating it this year.
Adam Jentleson  36:35
If you forego progressive priorities, they're certainly going to fail if we leave the filibuster in place, and that includes things like voting rights, immigration, many climate change policies. If you sacrifice those priorities now, in the hopes that the filibuster will be around later, you are betting the farm on the idea that Mitch McConnell will let us keep the filibuster when it becomes in his advantage to get rid of it.
CREDITS
OUR AMERICA is a Lemonada Original. This episode was produced by Matthew Simonson. Jackie Danziger is our supervising producer. Our associate producer is Giulia  Hjort. Kegan Zema is our technical director. Music is by Hannis Brown. Executive producers are Stephanie Wittels Wachs, Jessica Cordova Kramer and Julian Castro. Help others find our show by leaving us a rating and writing a review. Follow us at @LemonadaMedia across all social platforms, or find me on Twitter at @JulianCastro or in Instagram at @JulianCastroTX.