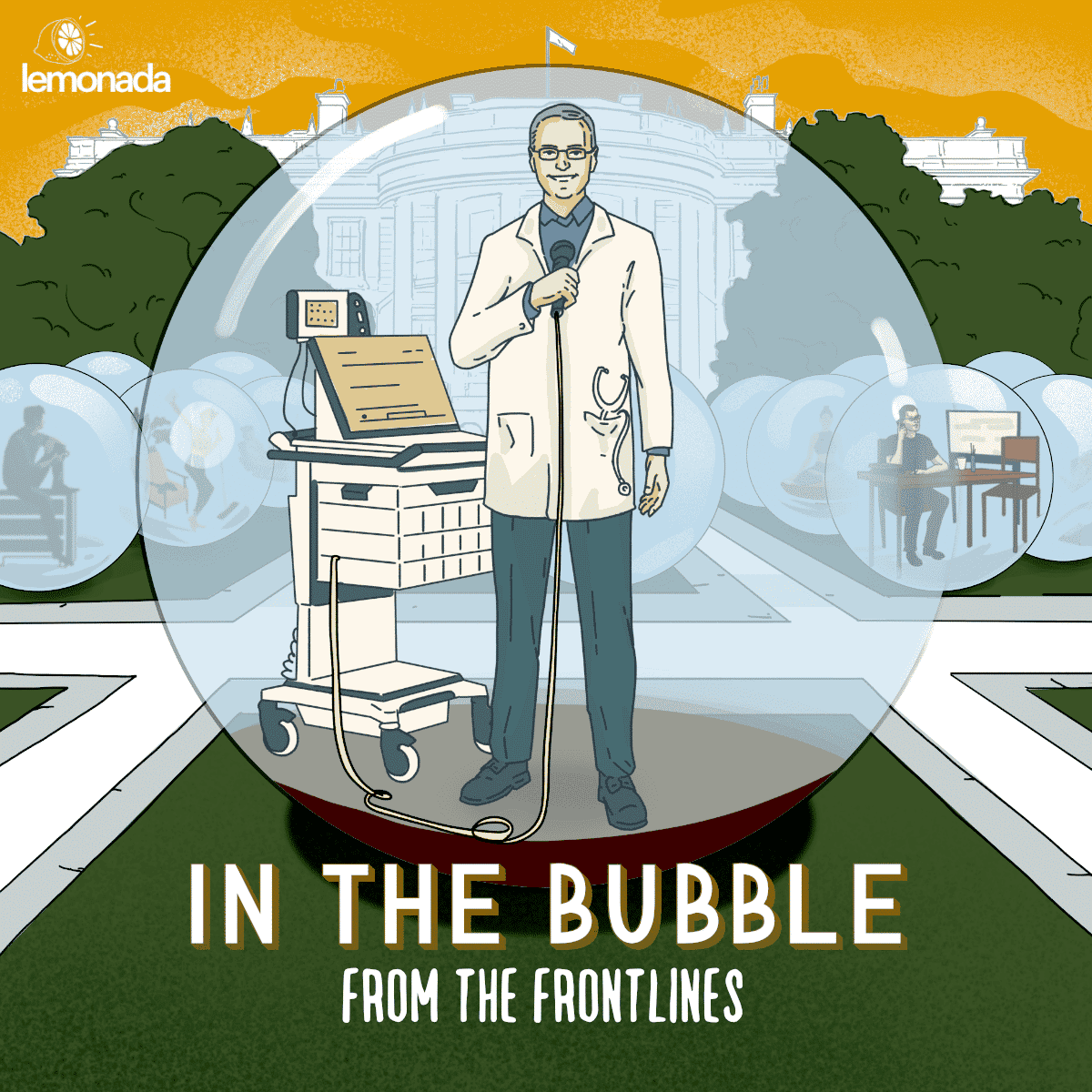 A Year of COVID and Predictions for the Year Ahead (Part 2)
Subscribe to Lemonada Premium for Bonus Content
Description
Ashish Jha, Dean of the Brown University School Public Health, joins Dr. Bob in the second of our three-part series marking one year of the pandemic. They discuss why Ashish initially thought the US would fare well, what he makes of the variants circulating today, and where he thinks we'll be with COVID-19 a year from now. Be sure to check out the first episode in this series with New Jersey Governor Phil Murphy and keep an eye out for the final episode with Apoorva Mandavilli, science and global health reporter for The New York Times.
Follow Dr. Bob on Twitter @Bob_Wachter and check out In the Bubble's new Twitter account @inthebubblepod.
Follow Ashish Jha on Twitter @asishkjha.
Keep up with Andy in D.C. on Twitter @ASlavitt and Instagram @andyslavitt.
In the Bubble is supported in part by listeners like you. Become a member, get exclusive bonus content, ask Andy questions, and get discounted merch at http://lemonadamedia.com/inthebubble/
Support the show by checking out our sponsors!
Check out these resources from today's episode: 
To follow along with a transcript and/or take notes for friends and family, go to www.lemonadamedia.com/show/in-the-bubble shortly after the air date.
Stay up to date with us on Twitter, Facebook, and Instagram at @LemonadaMedia. For additional resources, information, and a transcript of the episode, visit lemonadamedia.com.
Transcript
SPEAKERS
Dr. Ashish Jha, Dr. Bob Wachter
Dr. Bob Wachter  00:08
Welcome to IN THE BUBBLE. I'm Dr. Bob Wachter. Well today you're in for a treat. This is the second of our three-episode series, marking the one-year anniversary of the time that the pandemic really came ashore in the United States. Please check out the first episode, which aired last week with Governor Phil Murphy of New Jersey, which was terrific. And keep an eye out for the final episode, which will air on Wednesday with a Apoorva Mandavilli—the science writer at the New York Times. But for today's episode, I talked to Ashish Jha, Ashish is Dean of the Brown University School of Public Health. I've known Ashish for a couple of decades, he trained at UCSF at my institution.
Dr. Bob Wachter 
And I knew then even as a resident and chief resident that he was destined for great things. He was brilliant and warm and terrific doctor, great teacher. But he's exceeded even my lofty expectations, becoming the nation's top researcher in the areas of health policy and global health. As you'll hear, as soon as COVID became a thing in the United States, he personally and his entire research group pivoted to focus on it, he knew immediately that this was going to be an extraordinarily important issue. And he would have the ability to make a major contribution and that he has his combination of blinding brilliance, really uncommon wisdom, and great clarity has made him one of the go to people for the media on Twitter.
Dr. Bob Wachter
He is someone that everybody turns to understand the big picture. And so when we decided to do this series, and thought about who would be terrific to help us really make sense of the past year, all of the things that have happened, scientifically, politically, the tragedies, to help us think about where we are now. And to help project where we might be a year from now. It was a no brainer that Ashish had to be one of our guests. So I think you'll enjoy and learn a lot listening to him as I always do. You'll hear a reference at the very beginning to Team Jha. It's because my daughter's worked for Ashish for a couple of years, when he was still at Harvard before moving to brown.
Dr. Bob Wachter  02:24
And Ashish, his research team calls themselves Team Jha, very tight knit group. And they all work extremely well together to produce a body of literature that really is unmatched in American Health Policy. So it's always great to talk to Ashish, and I think you will get a lot out of it. So let's go ahead and ring up Ashish Jha.
Dr. Ashish Jha
Hello.
Dr. Bob Wachter 
Team Jha, how are you? We finally got you without a tie, yay!
Dr. Ashish Jha 
Every once in a while.
Dr. Bob Wachter 
I was wondering if you sleep n that freakin thing. How are you? Absolutely
Dr. Ashish Jha 
Absolutely. One tie all day. About once a week, I take it off and put on a separate time.
Dr. Bob Wachter 
Thank goodness. Okay, you're ready to get started?
Dr. Ashish Jha
I am.
Dr. Bob Wachter 
Great. Let's start with a year ago. Tell us about what you were doing at the time before the pandemic became a thing?
Dr. Ashish Jha 
Yep. So Today is March 4th. And a year ago was my last flight that I was on. I flew from London to Boston. And I didn't that was gonna be my last flight for a year. And I was in Europe studying European Health Systems. I was taking a sabbatical. And I had spent the previous couple of weeks in the Netherlands and in the UK, talking to patients, doctors, healthcare system administrators. And during that few weeks, watching what was happening in the United States watching what was happening in Italy, it dawned on me right kind of middle to late part of February.
Dr. Ashish Jha  04:05
That my initial assessment that the US was going to do pretty well in this pandemic, was going to turn out to be probably pretty horribly wrong. And so I remember arriving in Boston on the 4th of March. And talking to the team and saying, like, we've got to pivot, full speed on to COVID. Like whatever else you were working on yesterday, starting today, we got to work on COVID. So the sort of seriousness of this was I think really coming into focus.
Dr. Bob Wachter
And what was it let's just kind of divide that up into what was your first signal that it was serious? And then what was your first signal that the US was not going to do well with it?
Dr. Ashish Jha 
Yeah. So, you know, back in January of 2020, I wrote a piece for Health Affairs about the coming pandemic, and I think was published on January 29 or so. And I said, you know, basically the There's a pandemic coming. And I'm really worried about the world and how the world is going to do with this Coronavirus pandemic. And then I said, but I'm not worried about the United States, it's going to do really well. It will leave, it will, we'll get through it largely unscathed might have been my words. Half a million Americans have perished since then. And so it's worth thinking about why did I get that so catastrophically wrong.
Dr. Ashish Jha 
And one was, I assumed that we had a terrific public health agency that we had all of this capacity, we'd have widespread testing everywhere by February, early February. And we would pick up cases that came into our country, we'd isolate people, and we would really be able to stay on top of this. And there were people who thought I was being a little too optimistic. But I thought, we got CDC, we've got all these labs we like, who would you rather be than us.
Dr. Ashish Jha 
And I remember, in late February, and I was actually in Switzerland, I remember one day reading some reports about more failures of testing. And this light bulb went off in my head that like, we had wasted the entire month, and we had not set up a testing infrastructure. And given what was happening in Italy, it was very clear that we probably had cases spreading in the United States, and we just were blind to it. And that's what I think, got me to realize that like we were in some serious trouble.
Dr. Bob Wachter  06:23
So you're about the most astute political observer that I know, certainly in the world of health care. Did you believe that these agencies were so good that they would operate independent of the political world? Or did you believe that for some reason, the Trump would sort of decide to take this seriously and move off all the usual shenanigans and really, you know, approach it presidentially? What led you to get that wrong?
Dr. Ashish Jha 
Yeah, a couple of things. One was, I didn't necessarily have particularly strong beliefs of how effective Donald Trump himself would be. I think, if someone had said to me at that point, he's going to be a disaster on this, I would have been like, yeah, I believe that. But I guess here are the two or three things that I thought would bail us out. I really thought that our political structures were much stronger than they ended up being that I thought if Donald Trump downplays this tries to mismanage this, you have a congress that's gonna like push because this is a pandemic, and political stripes are gonna be put aside. I thought governors, especially red state governors, they're going to face the consequences of people getting sick and dying.
Dr. Ashish Jha
They're going to push the federal government. And I thought, our agencies were so strong and so capable, that, you know, even a little mismanagement from the White House, that we have all of these other ways in which they're going to be able to function, Congress will get the money, they will be able to do and, and then some part of me thought and at the end of the day, like, Trump wasn't the most competent person, but he really wanted to get reelected. Surely his incentives are keep this thing under reasonable control so that it doesn't disrupt his narrative. All of that made me think the political system would not sort of collapse and fold the way it did in terms of in face of the public health crisis.
Dr. Bob Wachter  08:18
Yeah, it's interesting. I tended to think of Trump as a singular failure on COVID. And then I read something on Twitter recently, which I thought was really interesting, which is, if you think about the last three pandemics, Woodrow Wilson failed miserably in 1918, didn't talk about Influenza once, was focused on the war. Reagan didn't talk didn't mention the word AIDS in the speech for four or five years. One wonders, I think, sometimes you can look at Trump in the last three or four years and think of it as a kind of singular aberration. But there, is there something in the American political system in the American character that is uniquely bad in pandemics?
Dr. Ashish Jha
No, I wouldn't, I wouldn't blame it on American character, because I could also point you to the UK. And if you ask the question is the UK his performance been better than American performance on this pandemic? That totally clear like deaths per capita, they've been worse than us. So I do think that health crises, challenge political leaders in ways that others don't, often political leaders are very good at like ascribing blame to others and part of what makes some leader successful is they can like right, say they can blame Iran, blame Russia blame China.
Dr. Ashish Jha 
There's no one to blame here. Right. This is an external event, and it continues. And there are some political leaders, I think, Angela Merkel as like the kind of quintessential one of who rise to the occasion and but a lot of political leaders don't do very well against things like a health crisis like this. It's just I thought our institutions would hold up better. And that's the part that I clearly got wrong.
Dr. Bob Wachter  10:00
Yeah, one more question about the past and we'll pivot to now you are in the middle of a job change, I think you had just decided to become dean at Brown not to ask you whether you would have done anything differently. But how did that play out? While this was happening, you very quickly became consumed with this. And it seemed to be your main focus. And every time I turned on the television there you were, extraordinarily good at that. How was that to sort of change careers after you've been in the same place for most of your career? In the middle of all this?
Dr. Ashish Jha 
Yeah, very, very strange in lots of ways, but like, it's hard to know, like, what this change would have been without the pandemic and hard to know what the pandemic would have been like, without, like, just these things got conflated, I guess, is the point I knew. At that point. In the in the early days, I can in March and April and May was all focus on COVID. And as like Maine, slipped into June, I started realizing, oh, my God, I really am actually leaving this institution. And I started really working much more on focusing on transition, thinking about the new job.
Dr. Ashish Jha
But trying to do all of that while staying pretty engaged on the policy stuff with COVID. And then on the media stuff, as well. Of course, it's very bizarre to start a new job in a pandemic, right? Like, I haven't met 95% of the faculty I work with in person. I've only met them on large Zoom calls. That's a bizarre thing. But I look at this all as part of like, everybody's had a strange year. Sure, switching jobs in the middle of it all is one strange feature. But there's so many things we've all been through.
Dr. Bob Wachter 
Okay, let's fast forward to today. And go ahead and just tell us your assessment of where we are today. And you know, sort of everyone is kind of trying to figure out where their needle is between optimism and pessimism. Where's yours?
Dr. Ashish Jha  12:08
Optimism, certainly about the future, I feel really clear. And I know we'll talk more about the future, I feel very clear about like a very clear, pretty clear on where we will be in June, July, the next month or so is a bit more muddy. We've had infection numbers come way down. And then they've been sort of flat for the last week. And I expect them to continue coming down slowly. Like I'm not expecting a fourth surge. But there are things that like are dark clouds on the on the horizon that we can't ignore. And the single biggest one, of course, are the various variants of concern, whether it's the one first identified in New York, the one from originally from the UK B117, which remains very, very concerning growing rapidly across the United States, probably 10%-15% of infections now.
Dr. Ashish Jha
And then every day, we hear about new things about the P1 from Brazil, and B1351. That originally from South Africa, like all of these are concerning, I guess what gives me hope in all of this is so far, I haven't seen any evidence that our vaccines will not hold up to them. You know, maybe not perfectly, and maybe we'll see some few more infections, than we saw in the clinical trials. But largely, I think our vaccines will hold up, it will protect people, people won't get sick and die. And our job right now, so vaccinate like crazy. And I feel like that's happening. So despite these uncertainties, I land more on the optimism even in the short run, but certainly medium to long run lots of optimism.
Dr. Bob Wachter 
So you and I wrote a couple of Op-Ed's in January that were partly driven by a seeing the vaccine rollout and how terrible it was, and trying to figure out how you can simplify the system and maybe speed it along. When you look at the vaccine rollout now do you feel like we've gotten a handle on it, we're doing pretty well.
Dr. Ashish Jha  14:09
Better, certainly better, a lot better. distribution has gotten better. We're getting close to 2 million a day. We're still hitting some supply constraints. But as we get into the later parts of March, I can imagine days where we should be able to vaccinate 3-4 million people in a day. By the end of March, not every day. But like I can imagine a day where we hit 3 million. And we need to be there like we need to get there. And right now I am pushing states to keep expanding capacity. And they say to me, well, we don't have enough supplies.
Dr. Ashish Jha
I'm like the supplies are coming and you want to be ready with the capacity. And there's always this little bit of a balancing act. We could you know, because states want to expand capacity and just have it sit idle and I'm like, the supply is coming and it's coming so soon. So I do think we've mostly worked it out. Again, some states really continue to struggle. But they've also been standout states. And overall, as a country, I think we're doing okay, on distribution, I just want us to be able to do more than we're doing now.
Dr. Bob Wachter 
The narrative, you know, a couple of weeks ago was we're in a race between the vaccines and the variance, the variance, or the main dark cloud. And in the last couple of days, a new dark cloud has emerged, which is Governor's beginning to not just relax restrictions, but essentially make believe it's over, how dark a cloud is that? How problematic is people sort of declaring victory at this point?
Dr. Ashish Jha 
I think it's a moderately dark cloud. So let me explain why. So I see, like, for instance, what Texas just announced or Mississippi, of opening things up fully, as if there was a race between the variants and the vaccines, they decided to come out and help the variants out a little bit. And, you know, it was gonna be a tight race anyway. And I just, I don't think it's helpful. Look, what we need to do, before variants become dominant, we got to get everybody who's high risk vaccinated. I don't care if every 20-year-old is vaccinated, but everybody, ideally over 55, everybody with a chronic disease, that gets us into early mid-April, before we're gonna be able to do that, unless we can get to three, 4 million a day, in which case might be a little earlier than that.
Dr. Ashish Jha  16:21
At which point it does become meaningfully safer to open things up much more. Because A, you're gonna have a lot of population immunity and B, even people who get infected are not likely to get sick. And again, I look at these moves by these governors. And I think no one's saying keep stuff close till June, or at least I'm not. But I'm saying more like four, six weeks away from a point where high-risk people will have gotten their first shot, and many of them their second shot. Can we just hold on for that much longer? And I guess for some people, the answer is no.
Dr. Bob Wachter
You have been a big proponent of testing and testing has been problematic throughout the entire course. Where do you think we are now with testing? And are people sort of forgetting about testing is a strategy and it's sort of been taken over by vaccines and people's headspace?
Dr. Ashish Jha
Yeah, I worry a lot about that, Bob. And if there's one place where I would sort of knock the Biden administration for not doing enough, it's on testing, I think they've generally have done a very good job on across a range of things. But I think they could be more aggressive on testing, we saw, we've seen huge drops in testing as infections have come down, just a reminder that we use testing as a pure reactive thing. And so when there's a lot of infections, we get more testing and when infections come down, testing drops. That's not how I mean, that's fine. But that's not the entire testing, strategy. Testing works best when you use it in a proactive way to make things safer. And that requires serial testing of high-risk populations, or people engaging in higher risk activities.
Dr. Ashish Jha 
We're not doing enough of that. And we need more testing available, and it will add a real layer of protection. And one of the things I've tried to remind people is like, even under my most sort of optimistic of scenarios, we're not going to get 90% of Americans vaccinated, not because we won't have the vaccines, but like, we're gonna have a hard time getting that many people convinced they ought to be vaccinated. That means there will be events, there'll be gatherings where people will walk in, and 30%,40%, 50% of people may not be vaccinated, those are going to be higher risk events.
Dr. Ashish Jha  18:30
And we're going to want to make sure we have widespread testing available to make things safer. And I'm worried that we're not paying enough attention to that, we're not investing in that. And in fact, we're sort of sending the signal that testing was important last year, but we don't need it anymore. And that's not true.
Dr. Bob Wachter 
And another strategy that has become emergent, and people are beginning to talk about is the whole idea of vaccine passports and immunity passports. We interviewed an epidemiologist from Israel, where they're instituting such a thing. What do you see if the future of that in the United States?
Dr. Ashish Jha 
Well, I certainly see organizations, private organizations mandating vaccines. So a debate that's been happening in a lot of universities, we're having this discussion at Brown, do we just require that every student staff and faculty members vaccinated in the fall? We know with a few exceptions for good health reasons, it would make the campus dramatically safer for everybody if we did, and I think lots of private companies are gonna require that so it's not quite the immunity passport, but it's a notion of that, right? Which is, if you choose not to be vaccinated, you maybe can't come back to campus. I mean, that's, I think that's gonna come up over and over again.
Dr. Ashish Jha 
The other part is, I think about again, we started this conversation talking about international travel. I used to do a lot of flights to Asia, and flights from Boston to Hong Kong are 16 hours and you're spending 16 hours in a small space with like 300 people you don't know. And I will feel a lot more comfortable getting on that airplane. If I know everybody has been vaccinated, even though I've been vaccinated and still makes me reasonably comfortable to fly now, I'll feel much better about that.
Dr. Ashish Jha  20:15
I can imagine a lot of airlines saying, we're gonna have a hard time getting as far back as we want in terms of business unless we require vaccinations, especially in countries that have plentiful of vaccinations. So I do think those things are going to become more commonplace, at least for a while. And I don't like I'm not sure I'm opposed to that. If you have vaccines that are widely available, you can do it right now. But like in May, June, seems reasonable to me.
Dr. Bob Wachter 
So last question about today, how is your life different today than it was a year ago, I, since every time I turn on the television, I see you, I assume you're on even more than that. I've had a few days myself where I've done eight or 10 media appearances. And after two days, I'm exhausted. And then I see you having done a version of that pretty much every day for a year or so. How's that felt? And how do you get the rest of your life done?
Dr. Ashish Jha 
So as you might imagine, I have a fabulous team, which makes all of this much easier in terms of the media stuff. You know, it's obviously it takes some amount of time, but I feel like it's important. And it is felt from the feedback, I've gotten that people find it valuable, which is why I've continued engaging in it. But as the pandemic comes or recedes, as it will, the pandemic will not be the number one news item on an ongoing basis. That means the need for public health people talking about it will go down. And that will be good for everybody. We all need to spend less time thinking about COVID-19.
Dr. Ashish Jha 
And that day will come think sooner rather than later. And that will make a big difference for everybody. But it'll make a big difference for me, because there's other stuff I want to be thinking about and working on. As you know, Bob, like there's a whole set of stuff on health and healthcare that I've been interested in for a long time, pretty much all of it has been on pause for the last year. And I'm excited to get back to a lot of those things. I'm also excited to like, learn my job that I've taken on in the middle of the pandemic. So the agenda of things to do when the pandemic recedes is long. And I'm looking forward to digging into it.
Dr. Bob Wachter  22:31
Okay, a year from now, where do you think we will be as a country.
Dr. Ashish Jha 
In a lot better shape, I think like COVID will still be around, we'll still have to think about it every once in a while. But the single biggest thing is right now COVID is like the thing that dominates our lives, the fact that like, it sort of shapes everything that I think will be gone, I don't think it will be such a dominant feature, it'll be a thing that we need to deal with. Now, we will of course still be dealing with the scars of the pandemic. But my expectation is that 70%-80% of Americans will be vaccinated I'm hopeful. We may any be getting boosters, because of some issues around various I'm hoping a lot of the world will have gotten vaccinated by then.
Dr. Ashish Jha 
And we will start having a better sense of what the new normal is going to look like and when I say new normal, like, you know, I often talk about like, we may need to do testing and certain things may have restaurants where before you can go and sit down and have indoor dining, you're gonna like to get an antigen test. Or you may do that in hotel. So like, there's all these ideas that I have of like what life could look like, but I don't really know.
Dr. Ashish Jha 
By next March, I think we'll have a much better sense of like, oh, how is the new normal going to play out? Because we'll be settling into a set of new routines. I wouldn't be surprised if we have if it's March 2022, that we have just come off of a couple of months of like a little mini spike of cases, because this does seem like a virus with real seasonality to it. And it'll have taught us some lessons. But I think it'll be a very different time period, where COVID will be a thing but not the thing.
Dr. Bob Wachter  24:16
Do you think that life is normal in terms of crowds, masks, etc? And then there's an announcement one day that Tony Fauci gets trotted out and says it's back. And it's time to de-densify, and we've got to close this and please put your mask back on. Is it going to be that sort of periodic and are we going to sort of pull back to 2020 for a brief period of time, or just think it's in some ways background noise?
Dr. Ashish Jha 
Yeah, maybe a little in between. And so, look, first of all, there is like the low likelihood but really bad outcome scenario of its March 2022, and a new variant has arisen from India or Brazil, that really renders our vaccines completely ineffective or mostly ineffective. And we're all sitting ducks, because essentially, we have a population that's got no immunity or little immunity. And it's starting to spread quickly in the United States. In that scenario, it's like coming close to 2020 again, I think that's a very, very low likelihood scenario, I just think it's so incredibly unlikely. And I can imagine that we'll have little spikes.
Dr. Ashish Jha 
You can imagine cities putting in short term mask mandates, I can imagine, if given like, you know, businesses or restaurants de-densifying for periods of time, but my hope is, we'll have lots of testing, we'll be able to identify this suffer early, we'll be doing lots of sequencing, and that we'll see this stuff coming, it will have a modest level of disruption, but not everybody remote for a month. And we'll find our way through it. So for a little while, restaurants may go to 25% for if you're seeing a little spike in cases in that community. For a little while, people will start wearing masks much more often. I also think some things will change more permanently.
Dr. Ashish Jha  26:09
You know, I remember the first time I ever went to Hong Kong, I remember being struck by the fact that like 5% of people walking around, maybe 10%, were wearing masks. And I remember thinking this is like really strange. I can't imagine you wake up with a cough and a sore throat and November you're gonna put on a mask before you go anywhere. Like those cultural changes will become much more common, but I don't think it's likely that we'll have a Tony Fauci comes out and says, we have a national emergency. And we're going to, I think we'll see stuff coming a lot more just where we've got so much more capability.
Dr. Bob Wachter 
Do you think the capability will stick or a road? I guess that's probably in a year, you can imagine that sticking. But that's more of a five-year question. Do we forget this pretty quickly?
Dr. Ashish Jha 
Yeah, it's really up to us, right? I don't know. Like at this moment. I think this has been such a traumatic experience for our country. It will shape people for a generation, it's hard for me to imagine. And again, I hate using analogies like 9/11. But 9/11 changed a lot about our country for a long time. And we didn't forget, like some things may forgot for quickly. But much of it stayed with us for a decade or longer, and still stays with us today, right? I think this is at least as big as that, if not more from a psychological and every other point of view. So I think it's gonna stick with us.
Dr. Bob Wachter 
Last question about a year from now. And then when one word that schools fully open normal a year from now?
Dr. Ashish Jha 
I sure hope so. Like we will have all of the capacity, we will have all the ability, older kids will all be vaccinated. I actually think by a year from now, the younger kids will be vaccinated. It's hard for me to imagine why we wouldn't be able to open and have schools open and robust.
Dr. Bob Wachter
Last time you were on the show, you promised everyone a fourth of July barbecue at your house. And I hear you're pretty good at it. Is the invite still open? You think it's happening?
Dr. Ashish Jha  28:06
Absolutely. Now, one of the mistakes I made last time, I've made this mistake before is I hadn't discussed this with my wife before I said this on the air. It turns out Andy has a little bit of a following. And like a few different people heard this from his podcast, so my wife heard about it from somebody else. And that's not how you usually want to play this stuff at all. That said, I feel really confident, like really, really confident that I can have a safe outdoor barbecue at my house. Now in my backyard. It's like good for about 20 people. I think we got much more than that it get really tight. So 20-25 people, my only requirement of folks is gonna be they all be vaccinated, but like everybody I know wants to get vaccinated.
Dr. Ashish Jha 
And if it rains, we'll be okay indoors. Again, my house will be a little tight for 20-25 people, but other than that, I think it's okay. And I you know, somebody asked me recently, what about Memorial Day? Now we're getting aggressive. And I think Memorial Day might be possible. But July 4th feels really comfortable.
Dr. Bob Wachter 
Great. Well, you'll be pleased to know you'd probably tell your wife we have more than 20 to 25 listeners. And so we could you may want to think about moving or renting a place.
Dr. Ashish Jha 
May need to rent a place.
Dr. Bob Wachter 
Yeah, right. But I will be there. I'm looking forward to it. It sounds great.
Dr. Ashish Jha 
All right. Well, definitely Bob, you're invited. It'll be awesome.
Dr. Bob Wachter 
Thank you, Ashish. I think that's it for me. Thanks for doing this, really terrific.
Dr. Ashish Jha 
It was so fun to be back on and you know, you're no Andy Slavitt, Bob Wachter.
Dr. Bob Wachter 
No, I know Andy Slavitt, Andy Slavitt is a friend of mine. You and I go back forever. And you know exactly what I am. Yeah. Andy looked at a lot of people and he became desperate at the last minute and here I am. Anyway, thanks for doing this.
Dr. Ashish Jha  30:04
It was fun.
Dr. Bob Wachter 
Well, as expected, that was terrific. And just brimming with wisdom and clarity. And humility. I, one of the things I've always admired about Ashish is that he is not afraid to say I got it wrong. And as he says it, you can see the gears in his brain turning about, you know, why did I get that wrong? And how can I make sure that I get it right next time, and he doesn't get it wrong very often, he is really an astute analyst of issues that relate to health and where health intersects with politics and policy. And that is why he's been such an essential person throughout the COVID pandemic, and will remain that way.
Dr. Bob Wachter 
Well, thanks for listening. We have a lot of other great stuff coming up on IN THE BUBBLE. We have our final installment in this series, with Apoorva Mandavilli of the New York Times coming up next time. After that, we've got a number of other great episodes covering a wide range of issues, we're going to do another Vaccine Toolkit, this one on the J&J vaccine, and how to make sense of the complexity of all the vaccines. We'll talk about variants, we'll talk about the efficacy numbers, we'll talk about what we've learned over the first few months of the vaccine rollout. And as we're seeing how well the vaccines are actually working in real life, we'll talk about other vaccines that might be on the horizon.
Dr. Bob Wachter
So I think it's going to be a terrific and important episode will have a couple of guests, one of them will be vaccinologist Kathleen Neuzil. We're gonna have an episode where we discuss lessons from the HIV and AIDS epidemic. That was the beginning of my career in medicine, I moved to San Francisco in 1983, to start my training, and that is when the tsunami of AIDS hit, and many similarities to COVID. But some really profound differences. And so we thought it'd be worthwhile talking about the lessons of HIV AIDS, not only to understand them in the context of COVID, but they probably I think they give us a sense of some of the lessons from COVID that will carry forward as we hopefully can look at this pandemic through the rearview mirror but have to prepare for the next one.
Dr. Bob Wachter  32:34
For that one, we have Gregg Gonsalves of Yale and Carlos Del Rio of Emory. Gregg is an epidemiologist, Carlos, an infectious disease doctor, both of them are very much involved in AIDS from the beginning. And finally, we'll do a show on vaccine passports if you heard the show on Israel. One of the most interesting parts of that was we learned that Israel now that most of the adults in Israel are vaccinated, they are doing something pretty bold, which is requiring that people show evidence of vaccination in order gain entry to stores and to theaters and to sports stadiums. And as I predicted before, I think that's going to be the most controversial issue as we move in into the summer, once everybody has a chance to be vaccinated.
Dr. Bob Wachter 
How do we deal with the fact that some people will choose not to be vaccinated and is there access to certain places restricted? For that one, I'm going to be speaking to NYU ethicist, Arthur Caplan, who is very wise and very interesting, always has fascinating takes on issues like this. And so that will be in a couple of weeks. So a lot of great stuff coming up on IN THE BUBBLE. We can see the light at the end of the tunnel, but there's still plenty of tunnel there and a lot of issues that are worth dissecting. So thank you for listening and for joining me today. Until next time, stay safe.
CREDITS
We're a production of Lemonada Media. Kryssy Pease and Alex McOwen produced our show. Our mix is by Ivan Kuraev. Jessica Cordova Kramer and Stephanie Wittels Wachs executive produced the show. Our theme was composed by Dan Molad and Oliver Hill and additional music by Ivan Kuraev. You can find out more about our show on social media at @InTheBubblePod. Until next time, stay safe and stay sane. Thanks so much for listening.