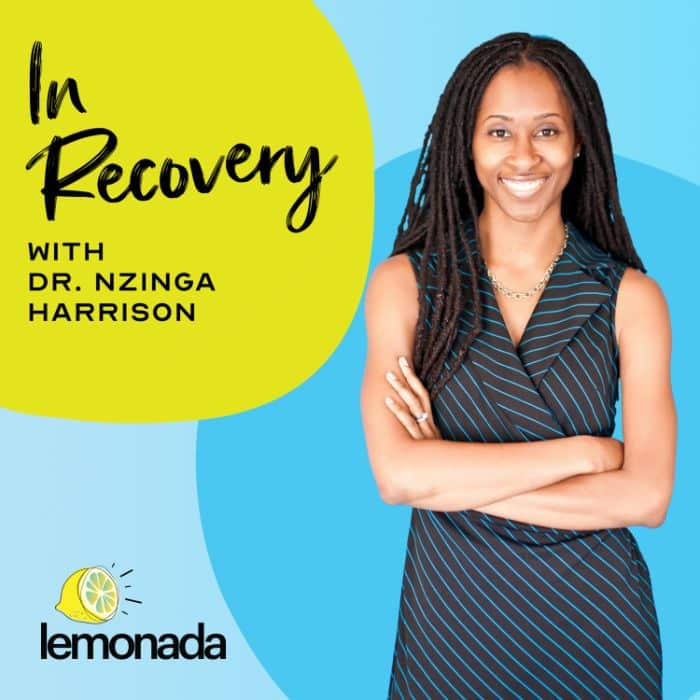 Ask Me Anything #2
Subscribe to Lemonada Premium for Bonus Content
Description
Lately, it seems like we are looking for answers everywhere about everything. Luckily, Nzinga is here to answer more listener questions about all things addiction. One man wants to know how he and his partner can find healthier coping mechanisms, especially in the wake of election stress. Another woman asks how she can use her own addiction experience as a cautionary tale for her 11-year-old brother who's fascinated with drugs. And, a pharmacist is looking for resources she can provide for clients who may be facing addiction. Nzinga answers these questions, and a range of others, in the second "Ask Me Anything" episode.
Please note, In Recovery contains mature themes and may not be appropriate for all listeners.
Have an addiction-related question? We want to hear from you! Call 833-4-LEMONADA (833-453-6662) or submit your question through this form:  bit.ly/inrecoveryquestions
Did you know that this show is supported by listeners like you? You can become a member, get exclusive bonus content, and discounted merch at www.lemonadamedia.com/membership.
Other resources mentioned in the show:
To follow along with a transcript and/or take notes for friends and family, go to www.lemonadamedia.com/show/in-recovery shortly after the air date.
Want to follow Dr. Harrrison? Of course you do! Find her on Twitter, IG, and FB @naharrisonmd
Stay up to date with us on Twitter, Facebook, and Instagram at @LemonadaMedia.
Transcript
SPEAKERS
Amelia, Dr. Nzinga Harrison, Claire Jones, Ginger
Dr. Nzinga Harrison  00:04
Hey everybody, it is the Monday after election day, and you are listening to IN RECOVERY. So I know for at least half of the country, the world feels like it's on fire. By the time I'm taping this, I don't even know the outcome of the election. But we're split basically 50/50. So I wanted to acknowledge that this is a tricky time. And on IN RECOVERY, we talk about all things addiction, but really try to take a wider lens about what that means for our mental health and functioning more broadly. And so we'll do some of that today. In this episode, which is ASK ME ANYTHING. I'm Dr. Nzinga Harrison. Let's get in it.
Claire Jones
So our first question has to do with exactly what you're just talking about. The stress that I think a lot of people have been feeling over the last week, it was sent to us through our form. And I'm just going to read what it says.
Claire Jones
"This season has been very depressing for me and my partner, my wife and I have been eating and drinking out of control. What started as a coping tool is now just making everything worse, the election has pushed us over the edge, even if Biden wins, last night confirmed our worst fears about the country. I'm not sure how to commit to better choices when everything feels so hopeless. It's really hard to turn things around when I can barely get it together to just get through my workday and be a kind partner. What advice do you have for making a change when all you want to do is crawl under the covers and hide?"
Dr. Nzinga Harrison
Yeah, so first of all, is to recognize that you're not the only one feeling this way. So thank you for sending it in. Because I think everyone, at least that I've been talking to is somewhere on the same spectrum that you're describing. And we can look into, like there are surveys going out that show people like 80% of their people rating, their distress as moderate or high and 75% of people endorsing symptoms of depression anxiety are both over the last week and 20% of people using illicit drugs when they weren't before and 25% binge drinking in the past week when they weren't before. So the first thing like always on IN RECOVERY is like you are not alone in this, we totally get it, we totally understand it.
02:28
The first is let yourself have those emotions, like you're having this reaction, which is really like hibernation, and we hibernate in response to danger, whether that's psychological danger, physical danger, emotional danger. And the environment. I mean, the current environment from COVID, to the election to all of the other stressors that have come along with that has been very emotionally dangerous, and very full of uncertainty, which in our brains takes up the danger rating. And so biologically, psychologically, socially, it makes perfect sense why you're exactly where you are, I would say, Be kind to yourself, I love that you're making the extra effort to be kind to your partner, point that at yourself as well. The other thing is that when our emotional danger brain turns on, it literally is biologically designed to turn down our thinking and future looking brain.
And so the only thing that becomes important is the danger in that moment, because your brain is like the only thing that's important is that we survive in this moment. And so this sounds like you're falling into what we will call all or nothing thinking, which is kind of being stuck in the dark tunnel of the emotional psychological danger. And that thinking part of your brain not being able to look forward to the light. And so just a couple of things. Listen, racism has been in the United States since the beginning of time, it's going to be here, no matter who gets elected president, whoever it is, racism was going to be there. The work was gonna be there. The divisiveness is gonna be there. On the next day, no matter who won. Yes, half of the country, whoever, whatever side, you're on half of the country voted differently than you. So half of the country voted differently than me. Half of the country voted with me.
04:32
How do I let that empower me? How do I let that encouraged me to be motivated to figure out how I can make a change? If I'm worried about compassion and empathy falling by the wayside? How do I become a beacon of light for compassion and empathy? And like really use the darkness as an opportunity to figure out how you can be the light. I think once you can force your thinking brain because you can do it, it just doesn't happen automatically. Once you can't force your thinking brain into really evaluating the situation, which is that there's work to be done either way, then you say, okay, and how do I take care of myself so that I can be best in the position to be that light? How do I get my coping? How do I get my eating and control? How do I get my drinking and control? What are the root causes of that? What are the triggers of that? What are the support system? I need to do that, but the first step is like really forcing that thinking brain to turn on so that your danger brain can stop having 100% control right now. Did that make sense to you, Claire?
Claire Jones 
I think so. Let me try and say it back to see if that if it makes sense. So, well the first thing you said was like, feel those feelings.
Dr. Nzinga Harrison
Feel it.
Claire Jones
I guess I don't know it. The next step is to is to think sort of more of like, what can I do? and accept? Is it a bit of acceptance?
Dr. Nzinga Harrison  06:05
I think the first step is acceptance, acceptance of how I feel how I am reacting to the current situation. And then the second is empowering yourself, that you actually have choice in how you react. And you actually have power to incrementally change things. Even no matter who ends up being the president. In our everyday lives. We have the power to incrementally change the interactions we have with people around us and our families and our communities to try to be that beacon of light. And give yourself time you might have to grieve. You might have to grieve. So when we when people are acutely grieving, we don't ask them to do the work of world change. We create space for them to grieve.
Claire Jones
Nor do we ask them to do the work that was a previous baseline for them.
Dr. Nzinga Harrison
That is correct.
Claire Jones
It's like recognize that you're grieving or recognize that you're in this space and think, Okay, what is something I can do while I'm in this space?
Dr. Nzinga Harrison
And one of the things, so magic formula is support system. support, support, support support. It won't be easy, but you will do it. We all will.
Claire Jones 
Yeah. Also, you mentioned the biological, psychological, social, cultural, political, and I think that we should have an acronym. The acronym is BOPSCOP. I can just imagine you start again, sentencing like okay, so we always talk about the BOPSCOP.
Dr. Nzinga Harrison
The BOPSCOP, it is done. It is done. Blame it on Claire, y'all.
Claire Jones
As an audio producer that cuts out like.
Claire Jones  08:02
Our next question is from Amelia, she left us a voicemail. So let's take a quick listen to that.
Amelia
Hi, there, Dr. Harrison. And the reason why I'm calling is I have an 11-year-old brother. I've just been really like wanting to know how to talk to him about drugs. Like what if it's a kid who's really readily at risk? He talks about drugs. Like he's really excited about it. You know, I'm babysitting him. And he'll ask a lot of questions about drugs. And he'll talk about, you know, wanting to do drugs  when he's older. And it really broke my heart, because he even was telling me that, you know, he's already abused, some prescription medications that he's been prescribed. That's very much how I was at his age, and definitely went on later to have challenges with substance use. But right now, you know, it's just weed and everything's pretty under control for me. But it's really just hard to know how to kind of veer a young person off that path. I've definitely been trying to talk with him really open. And I felt that he responded really well. But at the end of the conversation, he still really had this idea of like, ah, but it's cool. Like drugs are cool. Like, I don't care about my body. Like he literally said, I don't care about if I die at 20. So if you could give me some advice on this, you know, I'm really thinking about kids and preteens. So, thank you so much and bye.
Claire Jones
Thank you, Amelia for leaving a voicemail. Nzinga, what are your thoughts?
Dr. Nzinga Harrison 
Oh, man. Okay, so first of all, don't let me miss out on saying congratulations to you for finding what sounds like some stability around your own addiction and substance use. Congratulations for having created this relationship with your baby brother that he can talk to you this way. I'm about to use a big word Prognostic Factor. So Prognostic Factor, Amelia, we use the medicine to say like, what is something that predicts whether in this case, your 11-year-old brother will do well, or will struggle. So we look at a bunch of different things that are wrapping around basically the BOPSCOP, that's wrapping around the illness and try to say like, these are the things that are going to help him do better. And these are the things that are going to put him at risk for doing worse.
Claire Jones  10:28
And also just a small reminder, in case people are confused, we're now BOPSCOP means biological, psychological, social, cultural, political.
Dr. Nzinga Harrison 
Inputs to illness or health.
Claire Jones 
Right.
Dr. Nzinga Harrison 
BOPSCOP
Claire Jones 
BOPSCOP
Dr. Nzinga Harrison 
You, Amelia, are a beautiful prognostic factor for your 11-year-old brother, so that you are already thinking about this and that you care deeply enough and that you're actually a person that he can talk this freely. And this honestly to, really is like a very positive Prognostic Factor for your brother. That said, your baby brother is at significant risk. So I know if we go through his BOPSCOP, I know that he's biologically loaded for addiction because he's biologically that's my assumption related to you. So you have some genetic sharing there. Also, this last line, I don't care about my body, I don't care if I die at 20 really makes me concern. So we're in the psychological right now, whenever I hear that from 11-year-old, I immediately want to know what else is going on in life.
Dr. Nzinga Harrison
So a lot of 11-year old's 20 is literally is like 90 years old, it's so far away. But I don't care if I die, I really need your little brother to see a therapist and get evaluated for depression, anxiety, anything else that might be going on to lead him to think about that, because my hypothesis is that he's romanticizing, using alcohol and drugs as an escape from some sort of pain that he is currently in. If you have experienced things that are not fun, and games with drugs, keep it real with your little brother, like, this is what I went through. And I would never want you to go through that. Keep it real with him to hear you say you don't care about dying at 20, hurts me and makes me really worried for you and makes me think you're in some kind of pain, you can talk to me about that also, and open up that line of communication and just listen, I would actually specifically ask him about suicide. Among the fastest increasing suicide rates, we have our among kids 10 to 14. And so put it on the table and ask him directly, like, have you thought about killing yourself or hurting yourself? And what kind of thoughts have you had? And how far along have you gotten in those thoughts? You've already done the hardest part of the work, which is creating the ability for him to even talk to you like this.
Claire Jones
Totally. I'm the youngest of four. When I was younger, I would never let it on. But they influenced me so much. You know, it's like my parents would be like, Don't do this. Don't do that. And it's it was so easy to disregard that because they're my parents. I was like, whatever. But I thought my siblings were there like
Dr. Nzinga Harrison
Way beyond 20 years
Claire Jones
Like you guys are dinosaurs.
Claire Jones
I'm sorry, Mom and Dad, you guys are super young, doing great thriving. But coming from my siblings, I really took it to heart and I would never show them that. But it mattered a lot to me. They were like big role models. So I think even if he doesn't let that on at all, it's it can be really helpful for you to be real with him. More questions right after this break.
Claire Jones  14:05
Our next question comes from Kat who sent this to us over our form. And this is what she says.
Claire Jones 
"I am 27 years old and I pretty much dealt with addiction from about 12 years old. I'm currently six years clean from meth seven years sober from Fentanyl and Heroin. I pretty much think about getting high or needing something every single day. Does recovery mean just not taking the drug? Or does recovery mean I won't crave these things anymore? I'm currently in therapy but really would like to know that recovery is possible in the way I wish it could be meaning I won't want the drugs anymore. So what is the definition of recovery?"
Dr. Nzinga Harrison  14:42
Yeah, thank you Kat for this super intimate look into what you've been going through. So first of all, congratulations on everything you have time from and congratulations on fighting these cravings day after day after day. Like I recognize the amount of effort. The short answer to your question, does recovery just mean not taking the drug? No recovery is BOPSCOP. It's biological, psychological, social, cultural, and political. So I'm going to go through those for you in a second. Also doesn't mean you won't ever want the drug anymore. No, think about that the same way you think about the physical healing process. So I always say, if I slice you across the belly right now with a machete, and it was gruesome, and your bowels are hanging out, I know, make it worse. And you're hemorrhaging. Okay, I'm done. But I want to give you the whole visual, that is very painful, you get to the specialist that you need the surgeons of all types. And you eventually get to the point where you have a scab.
And when you brush up against that scab, it hurts. i.e., you have craving, but you don't constantly have craving every day. And then eventually you get far enough from that injury, that you have a scar. And you look at that scar, you can touch that scar, you can bump into that scar, you can remember what it felt like when you had the scab, you can remember what it felt like when I first sliced you across the belly, but you don't feel the pain. Right? That would be like, I can remember what it was like when I was having cravings every day. Even though I don't have those cravings anymore. When you say every day you're craving something that tells me something about your BOPSCOP is not being addressed. So biologically, make sure if you have any underlying depression, anxiety, ADHD, physical health condition, chronic pain condition, anything like that, that you're getting helped to optimally manage that because otherwise, that is keeping you in the scab stage of healing.
16:55
Psychologically, I know you're in therapy, I love it, congratulations, make sure you're getting at whatever was going on before 12 years old, that might still be affecting you. Because that is picking at your scab, and keeping you from moving on to the scar stage. For your social, cultural, political, socially, make sure you have your support system in place, we were just talking about how it takes a whole village, it takes a whole village and that'll be your recovery support system. But that's also, I don't know anything else about you. So whatever other parts of your identity are important to you, making sure that you're getting support along those facets of your identity along with being a person in recovery. And then social, cultural, politically. We know just like in the environment; the environment is infused with so much stress right now. So make sure you're moderating your news, make sure you're moderating your social media, make sure you're curating positive information to come your way as well. And if we can start dipping in all five of those pieces of the pie, coupled with time, will get you further away, and the cravings will get less frequent. And they'll get less intense. And then you'll know later, let's say a year from now, when you have a strong craving, you'll be like okay, something in my BOPSCOP is off.
Claire Jones  18:27
Okay, so our next question comes from Sarah. And this question is not necessarily about addiction, but it is about therapy, which we talked about a lot on this show. And I thought it brought up a really important point and wanted to have us talk about it. So this is what she says.
Claire Jones  18:41
"I was in an incredibly abusive marriage. And when I reached out to my pastor for help, I was told that we needed to go to marriage counseling, and I was too afraid to even consider that. I knew I would never be able to be honest in front of my husband, as he was threatening me in dozens of ways if I ever said anything to anyone. I had agreed to do counseling separately. But he became incredibly scary and enabled by his therapist. And meanwhile, my therapist was telling me that we needed to go to marriage counseling, even though I was telling her how bad things were and how controlling he was. No one ever talks about how dangerous therapy is and domestic abuse situations. I needed an advocate and a safety plan to escape not therapy."
Dr. Nzinga Harrison 
Yeah, Sara, thank you for writing this then. So one, I hope that you're in a safe place now. So one the same way we tell people, if you're going to get help for a heart attack, you have to go to a specialist who knows how to safely treat heart attacks. And so what I'm seeing here is that your pastor was not equipped to know what to do in a dangerous domestic violence situation. Exactly what you need is what you said, which is an advocate and a safety plan to escape. And you're exactly right. That is not therapy. Those are different things. And so let me just drop, because this I cannot. Like, Sarah, I cannot thank you enough for sending this in. And I cannot put a fine enough point on how important this information is for any person who is in a violent situation right now to know who to safely go to, because reaching out for help can be very dangerous, as Sarah experienced, as she is describing to us.
20:31
And so, Claire, let's drop this in the show notes but the hotline.org and go to it right now Claire, and anybody who's listening go to it right now, because I want to put a fine point on just how in tuned, domestic violence advocates are to the risk involved in reaching out for help. A safety box pops up that says, internet usage can be monitored, and is impossible to erase completely. If you're concerned your internet usage might be monitored, call us. The point is that I'm sorry, Sarah, that your initial attempts to get help were to people who did not have an adequate expertise in the risk associated with a severely violent domestic relationship. And so my guidance here is not to throw pastoral counseling out, not to throw therapy out because those will become useful and helpful at some point in the journey, but at the point where you need advocacy and an escape plan, where your safety is at highest risk, the place to go is an organization that has that expertise.
Claire Jones 
Yeah, and both of those, the website and the phone number will be added to show notes too.
Dr. Nzinga Harrison
Okay, yeah, great. Okay, that's enough talking. Let's take a break.
Claire Jones  22:08
So we got a voicemail from a pharmacist named Ginger, and I want to play it because I love it so much.
Ginger 
Hi, Dr. Nzinga Harrison, I've been a community pharmacist in the United States for roughly 20 years, I often find myself on the front lines of the opioid epidemic having to make critical decisions with very little information in front of me. I make every effort to educate people. Just an example. I counsel every parent who picks up a narcotic for their teenagers, wisdom teeth. Additionally, I asked the pertinent questions when I see a patient steadily increasing medications of abuse. As simple as it seems. Sometimes I have to push back on prescribers who prescribe a 14-day supply of narcotic cough syrup for an illness that usually only lasts three to five days. With all of this sometimes I feel like it's a losing battle. I've been at the polar ends of the epidemic to patient outcomes that are etched in my professional experience I would like to share the first I was a newly licensed pharmacist, working the bench when the County Sheriff called me to ask if I filled this specific prescription. And I said yes, and he proceeded to tell me the patient overdose on it and is deceased.
Ginger
It broke my heart to think that I filled that prescription. On the other end, I have an experience with a mom, who came in to tell me her son became addicted to pain pills. After having his wisdom teeth out. He went to college found other opioids. She came to me after her son finally found treatment for his opioid use disorder and was first prescribed Suboxone. She pulled me aside and wanted to tell me with tears in her eyes. And let me know that I've been the only healthcare practitioner who has treated her son with dignity and empathy during this entire process. She just want to say thank you. My asking question is this, is a provider on the frontlines when I have a suspicion that somebody is on a complicated slippery slope with managing a psychiatric diagnosis and or a pain diagnosis and substance use disorder? What are some very clear questions and or suggestions I might make for them? To encourage them to seek help? Thank you so much, bye!
Claire Jones  24:18
Ginger, we need more people like you.
Dr. Nzinga Harrison
We need more gingers.
Claire Jones
Yes. Okay, and Zynga. Take it away. What are your thoughts? I
Dr. Nzinga Harrison
I think the first is exactly the feedback that you got from the woman that you helped her with her son and she pulled you aside and said, "You're the only one who has treated her son with dignity and empathy during this entire process." And so I just want to keep bringing us back and back and back to the importance of dignity and empathy when you're approaching people who are struggling. And so here, Ginger, every single person that you're looking at that prescription, and it's raising your red flag, they're struggling, whether they know they're struggling or not. And so if they know they're struggling, when you reach out with dignity and empathy to provide the education, that's going to open up the opportunity for them to ask for help.
What I would ask is that you ginger, and anybody else in the same position who is listening, have a resource queued up for them. And it can be hard to know what those resources are in your community; I totally get it. So my challenge is one pull up and like just have a shortlist of an organization that you trust a hotline that you trust, that's not going to take them down through a whole bunch of changes to actually connect to help. And so here I'm gonna give a shameless plug to Eleanor Health. If you are in North Carolina or New Jersey, Eleanor Health can be your answer. But also, if you're not, we have free support groups for anybody in the world, that can just be that very low-level entree for a person who thinks they might need help, two is, don't underestimate the family. The family and support system using family very widely here, this is just whoever is wrapping around this person who's being affected is often very good conduit.
26:21
But so Ginger, cue something up for them also, because even if you can't talk directly to their support system, a lot of times before people can see themselves struggling, they've already been hearing from their loved ones in their support system that I'm concerned about you. And so my favorite resource for that, and this works for everybody around the whole country is WETHEVILLAGE.co It's an evidence-based support program specifically for the loved ones and support system. And they've like been shown that providing that support to the support system actually increases the chance that the individual with the addiction gets into treatment. So go ahead and queue up ELEANORHEALTH.com and WETHEVILLAGE.co, But please, please, please look for some local resources, also for your people so that if that window opens, you're able to provide that resource right there.
Claire Jones 
I mean, what are some questions that she could maybe ask in those situations where she has a suspicion that somebody might be in a complicated situation.
Dr. Nzinga Harrison
So the easiest I will point you to is the cage aid, CAGE/AID Claire, I can drop you a link so that you can put this in the resources that predicts substance use disorder. And the first one is having you ever felt like you should cut back and so coming from a pharmacist, you can say, I'm looking at your profile, and I see that your doses have been going up and I see that you've had a couple of different prescribers. I'm just wondering if you ever felt like you needed to cut back. The second question is A for annoyed so C was for cut back where spelling cage C was for cut back as for annoyed? And it is. Have you ever been annoyed when other people talk to you about this medication or any other alcoholic drug use? G is for guilty. Have you ever felt guilty about the way you're using this? E as for eye opener. Have you ever felt like you needed this first thing in the morning or you weren't gonna be able to get through the day?
28:30
Now she's dealing a lot with pain meds and so some people will be like, yes, but yes, but yes, but yes, but the but doesn't matter. Right? If you answer yes to one of those questions 77% of the time, that's predicting a substance use disorder. So she could easily and I would say for all pharmacists, when you see something that comes as a flag, it could be part of your pharmacy procedure. And you could introduce it like that to say like, this is what we saw in your profile that were a red flag. When we see these red flags, we just want to make sure we're supporting people. We ask these four questions. Have you ever felt the need to cut back? Has anybody ever annoyed you about it? Have you ever felt guilty? Have you needed an eye opener? If the answer is yes, that actually predicts 77% of the time I would not use the word addiction. It scares people away that you might be struggling. If you are struggling already preprinted out. Here are some resources.
Claire Jones
Great, we are going to keep doing these kinds of episodes. He sort of asked me anything episodes so keep sending us questions keep leaving us voicemails. We really like doing these episodes. And Nzinga, do you want to say anything to wrap up?
Dr. Nzinga Harrison
I will wrap this episode. Basically just with a thank you. So let me say thank you to Cara and Emilia and Kat, and Sarah, and Ginger, sometimes it feels like it can be easy when we're asking people to call us and leave a voicemail or just fill out this form. But you're sharing very painful experiences. And so I know that's not easy. And I'm just conferring upon each and every one of you the title of gardener, because you have planted seeds for someone today. And I hope that we've planted seeds for you for sure. But you have definitely planted seeds for someone else. And I think, collectively, if we just keep sharing even the scariest part of our own experiences and our lives and keep planting seeds, then we're walking in the right direction. So just a heartfelt thank you to all of you.
Claire Jones  30:49
I second that motion. And we'll see everyone next week.
Dr. Nzinga Harrison
All right. Bye. Bye,
Claire Jones
Bye.
CREDITS
IN RECOVERY is a Lemonada Media Original. This show is produced by Claire Jones and edited by Ivan Kuraev. Jackie Danziger is our Supervising Producer. Our theme was composed by Dan Molad with additional music by Ivan Kuraev. Stephanie Wittels Wachs and Jessica Cordova Kramer are our Executive Producers. Rate us review us and say nice things follow us at @lemonadamedia across all social platforms, or find me on Twitter at @naharrisonmd. If you've learned from us, share the show with your others. Let's help this stigmatize addiction together.