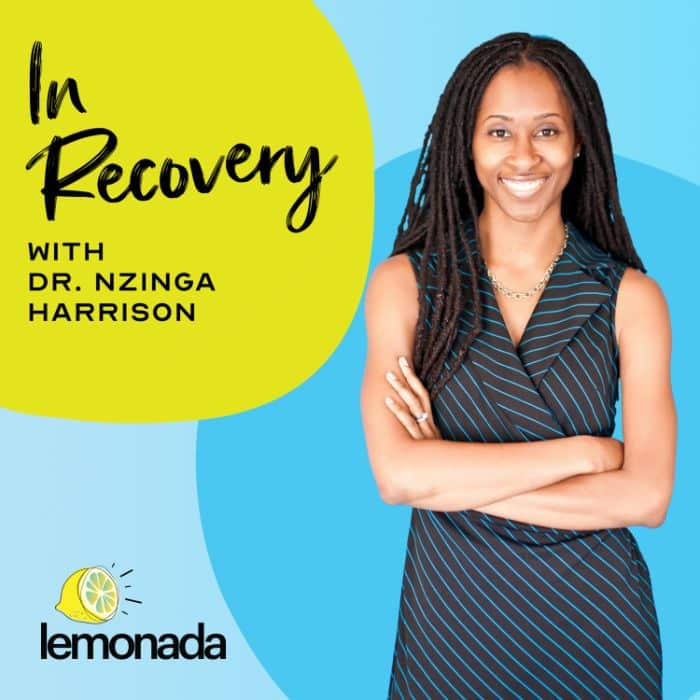 Ask Me Anything Is Back!
Subscribe to Lemonada Premium for Bonus Content
Description
One woman's family seems to be addicted to chaos, but she's not sure if that counts as an addiction. Plus, a man is curious about the similarities between adderall and meth, in the hopes of understanding his own jump from one to the other. And another woman cannot stop obsessively checking her ex's social media accounts. Nzinga answers all of these questions and more in our first Ask Me Anything of Season 2.
Resources from the episode:
Please note, In Recovery contains mature themes and may not be appropriate for all listeners.
Click this link for a list of current sponsors and discount codes for this show and all Lemonada shows: Sponsor Links
Have an addiction-related question? We want to hear from you! Call 833-4-LEMONADA (833-453-6662) or submit your question through this form:  bit.ly/inrecoveryquestions
To follow along with a transcript and/or take notes for friends and family, go to www.lemonadamedia.com/show/in-recovery shortly after the air date.
Follow Dr. Harrrison on Twitter, IG, and FB @naharrisonmd
Stay up to date with us on Twitter, Facebook, and Instagram at @LemonadaMedia.
Transcript
SPEAKERS
Dr. Nzinga Harrison & Claire Jones
Dr. Nzinga Harrison  00:03
Hey, everybody, thank you so much for tuning in for this week's episode of IN RECOVERY. I'm your host, Dr. Nzinga Harrison. And this week, I'm super excited. This is our first Ask Me Anything episode of the season, where we literally just answer your questions. So these episodes were really well received last season. And we have so many awesome questions already about so many different topics. So I think we can just get started, Claire, if that works for you.
Claire Jones 
Yeah, definitely. Let's hop right into it.
Claire Jones 
Our first question is from a listener named Jess, and she says "I first shoplifted as a teenager and was caught on one occasion. Since teenage years, shoplifting of small, not high monetary value items from stores and theft from others has been a part of my life, on and off all in secrecy to the very closest loved ones around me. I'm now in my mid-30s, and was recently caught at my employer and subsequently fired for misconduct and violation of company policy. It's only now that I'm realizing that I have an addiction, and I'm facing it and wanting to get help." That's sort of the context of our question. Here are the questions. "For someone that has an addiction to a substance such as alcohol or drugs, my understanding is it's pretty essential and vital for most people in recovery to not have these items in their home, or within easy access. I'm wondering what I should do with the things in my home that I've stolen?"
Dr. Nzinga Harrison
Thanks, Jess, for sending in this question. So first of all, you're not alone in this, you're actually describing a textbook case of Kleptomania. So Kleptomania, as defined in our diagnostic manual is recurrent impulses to steal, feeling increased tension before the theft, and then feeling pleasure or gratification at the time of the theft. And so you can think about this, like we think about addiction, that increased tension before the theft is like craving and withdraw. And then that pleasure or gratification that the time of the theft is like the intoxication, that resolves the negative feeling of that increased tension.
Dr. Nzinga Harrison  02:14
And so to get straight to your question, yes, for those people who have a goal of complete abstinence, from the substance that they're using, we do ask them to not have that substance in the house, because it's just too much of a trigger. And so I would say the same thing for you the things that you have stolen, yes, get them out of the house, because they serve as a trigger, to have you develop that craving type of sensation that will then drive you to want to steal to resolve that and give you some relief from that feeling.
Claire Jones
She says "family members of mine are having a hard time understanding the addictive element of my condition as I'm not putting a substance into my body. What are some words I can use to explain it to them?"
Dr. Nzinga Harrison 
So actually, definitely check out National Association for Shoplifting Prevention, that's shopliftingprevention.org, the words you can say is that our brains are constantly taking in information from our environment. And we don't have to actually put a substance into our body because our experiences act just like substances. And our emotions act just like substances. So even though you're not taking alcohol, to resolve the anxiety you get before you steal, stealing is the equivalent of alcohol, it is literally working in the exact same neurobiological pathway, which is the dopamine pathway.
Dr. Nzinga Harrison 
So if they can try to understand that our behaviors actually are chemical, and physiological, then that will help them understand how a behavior can resolve your anxiety, just like a substance could resolve your anxiety, same chemicals, in terms of other things that you can do. You know, we always talk about everything biologically, psychologically, socially, culturally, biologically, get a full evaluation, there is often a depression or an anxiety that is contributing to symptoms of kleptomania. Even if there's not a medication, Naltrexone, which is a medication we use for alcohol and opioid addiction.
Dr. Nzinga Harrison  04:32
It helps decrease stealing behaviors, or an antidepressant might also help psychologically, we have three different therapies that have been shown to help covert sensitization is when you imagine yourself stealing, but then you imagine something really bad consequence happened to you because you stole and you play that over in your mind and that decouples the stealing from a positive emotion to a negative emotion, there's a version therapy where you actually like cause yourself pain at the thought.
Dr. Nzinga Harrison 
So like, put a rubber band around your wrist and then snap your wrist if you think about stealing. And then systematic desensitization is imagining yourself wanting to steal, but then not stealing, and coupling that set of thoughts to your brain. And then the last thing I'll say, is National Association for shoplifting prevention, has online free support groups, get yourself some support, because you're not in this alone, and the less you're alone, the easier it'll be to get in recovery. So good luck, Jess.
Claire Jones 
All right. Our next question comes from Preston, let's take a listen.
Preston 
I am 31 years old, he/him, I have, you know, a pretty important job. I've worked for two different presidential campaigns in my relatively short lifetime, I've got you know, my bachelor's degree and my master's degree, you know, I'm a fairly successful person. But my question to you is this, with so many people, you know, I don't have an addiction to alcohol, I don't have an addiction to another hard substance like that. But I have all of these addictions to so many other things. I am, you know, at this point with COVID, and everything I'm, you know, severely, according to my BMI, morbidly obese, I don't feel that way.
Preston  06:42
But I know that, you know, by the charts, I probably am. You know, I know that I have unhealthy eating habits, I have an addiction to sugar, I have an addiction stress, I have an addiction to like Nora said in her episode, I have an addiction to kind of the negative aspects or reaching out for negative feedback rather than positive. I have an addiction to I don't know how to put it but you know, finding the negative in others. And, you know, the list could go on and on all of these, you know, addictions of screens, addiction to the you know, to news, I mean, I part of it's part of my job, but it's also true, I, you know, my screen time is off the charts, because I'm usually reading news on the computer, while I have like live news on at the computer.
Preston 
And like I said, part of it's my job. So it's hard to get away from that it's hard to, you know, food you have to eat. So my real question boils down to this. Number one, how do you prioritize the most egregious of those are the most concerning? And then number two, is it possible to get all of those relegated to a responsible or a manageable place? You know, it is possible to go from someone who, you know, has so many different things that they claim to. So from someone like you, who could maybe address the problem of, you know, dealing with multiple, you know, addictive issues in someone who, you know, isn't addicted to one specific thing. And if I could just pick that one thing, you know, I would be on a much more healthy wavelength. There are a lot of issues at play. So I appreciate it.
Dr. Nzinga Harrison  08:32
Hi, Preston, thank you for sending in this question, if it's okay, I'm gonna lay you on my couch just a little bit. So first, let me answer your questions before I lay you on the couch. How do you choose what to prioritize, you could use one of two strategies there. The first strategy is which of your addictions is causing you the most dysfunction. And you can try to start with that one. Because the work that you put into any one of these addictions is going to apply to the others. The other strategy, you could use this, which of these do I think is the easiest to tackle?
Dr. Nzinga Harrison 
Because sometimes getting success under your belt makes it easier to take the next step. So you know how we say like, don't try to eat the whole elephant, take one bite at a time. Or we say, grab the low hanging fruit, right? That's the like, do the easiest one first to build your momentum towards the next one. So you know yourself best to decide kind of which one of those strategies makes the most sense for you.
Claire Jones 
I like that advice.
Dr. Nzinga Harrison 
You like that? Hey, okay. Thank you, Claire, for that positive reinforcement.
Claire Jones 
Anytime.
Dr. Nzinga Harrison
So now let me lay on my couch a little bit Preston. There is a common thread through the things that you listed as being addicted to and besides sugar, even though in a way it can be that, especially if you have binge eating, and it comes with kind of like guilt, and that negative emotion, stress, negative feedback, finding the negative in others, addicted to screens reading the news, which is very negative these days. It sounds like to me that you're punishing yourself. And the reason I say laying you on my couch, because you opened up with everything that has been so successful about your life, and then you erased all of it.
Dr. Nzinga Harrison  10:36
And I wonder if there's not some early life experiences that you had, that taught you no matter how much you succeed, you're not good enough, and you deserve to be punished. That's what I think I hear. And if I'm right about hearing that, then I understand why you're compulsively doing so many behaviors that cause you pain, because that's how you've conceptualized what you deserve, based on the experiences that you've had growing up. And so I would say, you probably know what I'm about to say therapy. Like, I definitely want you to have a full psychiatric evaluation because when I hear this kind of compulsive behaviors in a lot of different realms, I always have to think about depression, I always have to think about anxiety.
Dr. Nzinga Harrison 
So I want you evaluated for that. But psychologically, like, I would love for you specifically to find a therapist who has a skill set and insight-oriented therapy, or dynamic therapy, that is a therapy that is focused on figuring out how our early life experiences are affecting our concept of health and our perception of the world today. And then interpersonal therapy, like you said, you're also looking for the negative and other people. To me, that's like a fear of being able to trust someone to see the real you. And so I would just really encourage you to get a therapist and then I think that therapist can help you figure out which of the strategies that makes the best sense for you. Because I would be afraid if you choose the one that's the hardest.
Dr. Nzinga Harrison  12:16
It's because you're setting yourself up not to succeed so that you can reinforce that message to yourself that you don't deserve to succeed, not knowing you at all, only having heard a short voicemail, I would recommend trying to grab the lowest hanging fruit. Also, I hope you have somebody that you feel meaningfully connected to that you can let see your entire self. And I hope that you have some activity in your life other than work, that you feel like you're meaningfully contributing to the life of somebody else. I know you were probably like; I didn't ask to lay on your couch. But hopefully that was helpful and at least gives you some next steps for how you can walk towards your own recovery.
Claire Jones 
Can you give an example of an activity that you do that positively impacts someone else's life?
Dr. Nzinga Harrison 
Yeah, so like, let's say Preston, loves dogs, then volunteering at the pet shelter, or fostering a dog, or even babysitting friends, dogs, right? Or, let's say Preston goes, and plants flowers at the local nursing home. Or let's say he goes and visits people that don't have any loved ones. I mean, you know, like it will have to be like something that brings Preston a sense of meaning of being important and making a difference in somebody else's life and else doesn't have to be a human. Some other being in the world.
Claire Jones 
It can be people close to you, too. Like it doesn't have to be strangers.
Dr. Nzinga Harrison
No, it doesn't have to be at all. I mean, like, I just spent the whole day Sunday with my niece, because I knew she would love it. And then because she loved it so much, then I felt like so much gratification, because I could tell how much it meant to her.
Claire Jones  14:13
Okay, cool. Cool, cool. Cool. I was like, I don't know if I do that.
Dr. Nzinga Harrison 
Every single one of us needs to be doing something tangible, that we know is contributing to meaning in the world. It is actually like a basic human emotional need to be contributing.
Claire Jones 
Should we take a break and come back after some ads?
Dr. Nzinga Harrison
Yes, let's do that. All right. So who do we have next, Claire?
Claire Jones 
So our next question is from Nicole, who says "a few members of my family seem to be addicted to chaos. It always seems to be someone else's fault or externally rot, is loving chaos and complaining about what's going on and addiction. It's usually my stepmother, her daughter, and now her daughter, who is also sadly bulimic, that situation appears to be true. I'm not living close by, but it's just the latest calamity and a long line of calamities."
Dr. Nzinga Harrison
So in short, yes, we can definitely be addicted to chaos. So remember, the definition of addiction that we're using is continued behavior despite negative consequences. And I can hear in your answer the negative consequences that your family is experiencing as a result of chaos. And so I'll go for this nature versus nurture type of explanation. Whenever anybody asked me nature versus nurture, my answer is yes. So if we think about it, biologically, when you're born, your brain and your body physiology is developing in response to the environment. So if the environment is chaotic, your brain chemistry is developing a chaotic pattern, your body physiology is developing a chaotic pattern.
Dr. Nzinga Harrison  16:10
If there are big like, high intensity, emotional things that happen repeatedly, then that actually sensitizes your emotional response to be bigger, even in response to small things. And that feeds this cycle of chaos. And so generationally, we're passing that along, biologically. Psychologically, we're born with no coping skills and no way to interact with people, right? Like when you need something, when you're a baby, you cry at the top of your lungs, we learn our way out of that.
Claire Jones 
Some of us still do that.
Dr. Nzinga Harrison 
Okay, exactly, right? Yes, we're learning from the adults how to experience negative emotions, stress, fear, uncertainty, without it being chaotic, unless the adults that we're learning from are responding chaotically, in which case, that's the way that we know how to react. And then socio-culturally, when you're growing up in those types of environments, then you learn to associate importance or validity with emotional intensity. And so if there's a lack of emotional intensity, you actually feel empty, and meaningless. And you go search for that emotional intensity. And that's kind of like the addictive loop, right? So the same way earlier, when I said, with kleptomania, when you start to feel that anxiety build right before you steal, that's like the craving and withdrawal of a substance. And then you steal and you feel the relief. That's like the intoxication.
Dr. Nzinga Harrison
For chaos. It's that feeling of emptiness and not feeling connected, like feeling untethered. That is the withdraw craving part of the cycle. And then the chaos is the drug. And you feel a sense of relief, which is the intoxication. So yes, chaos can absolutely function like an addiction. And then so you know, I have the same recommendations bio, psycho, social, cultural, look for underlying depression, anxiety, there are medications that can help psychologically, learn distress tolerance, mindfulness, meditation, coping skills, and then socio-culturally, look for life meaning, and get a support group, there are tons of people that are having the same life experience and being connected actually helps undermine it. What do you think, Claire?
Claire Jones  18:43
That's just, that whole answer is so fascinating to me. There are some parts of that that actually ring really true. I think for me on a smaller scale, my family's very dramatic, there's a lot of big feelings, big feelings all the time, what a loud voices. And everyone likes to talk about their big feelings all the time. And so I have learned, the way that relationships work, is to be intimate by talking about feelings. And so then if things are going well, and you don't have a lot of feelings to talk about, or feelings are sort of number, which like has been the case in a lot of COVID.
Claire Jones
Then that feeling of like, who am I and like, what do I talk about with my friends? And like, do I have a personality outside of just like talking about our feelings as 100% happened to me in the last couple of months of because of this, like sort of numbness that I've alluded to before. And so that's just that's like really interesting as you were saying that I was like, oh, man, this sounds very familiar to me. On a smaller scale I think. One question I have is mindfulness and meditation are those considered distress tolerance or distress tolerance different a separate thing.
Dr. Nzinga Harrison  20:02
mindfulness and meditation are techniques that you can use to develop distress tolerance, but there are tons of techniques. Okay. Okay. Cool.
Claire Jones 
Let's go to our next question. This is a voicemail from a listener who is going by the initial J.
J
Hey Dr. Nzinga, I live in the Midwest area. I suffer from a number of mental conditions, particularly PTSD and ADHD. I was prescribed Adderall, which I took as prescribed for a while, but with the whole pandemic and some other stuff going on in my life. Kind of started taking more than the recommended dosage and one turned to two, two turn to five, five turned to ten and ten turned to meth. I sort of kind of used to self-medicate for a number of reasons. I don't smoke it or shoot it or anything. I just occasionally snort it. And I mostly just break it down into like a pill and so my own gel capsules with it. But anyways, my question for you doctor is Adderall and Ritalin. Adderall is amphetamine and delivers methylphenidate, the methamphetamine and so on and so forth. Right.
J 
So I'm kind of wondering if maybe you could get more into the kind of like more to chemical or maybe I don't know what the word for it is? How exactly does methamphetamine affects the body differently than Adderall even though they both got you know, the word amphetamine in the name and how is that different from Ritalin? And I'm sure you get where I'm coming from with that. Anyways, that's really the bulk of my question, because you know, as someone who has conditioned that tries to self-medicate for this and everything. I think it's good to know I love to do research. Anyways, Doc, I love your show. I only listen to that one episode, but you sold me I'm a permanent listener now.
Dr. Nzinga Harrison  22:01
First things first. Midwest love born and raised in Indianapolis, Indiana. Second thing second, I love that you listen to one show, and that it resonated with you and made you a lifer. So everybody be like J. To get into your questions. All of the substances that you mentioned, Adderall, Concerta, Ritalin, Amphetamine, are more alike than they are different. Methamphetamine is a little bit different. And I'll draw a distinction for you in a second. They're all stimulants. All of them work by increasing our fight or flight molecule, norepinephrine, which is scientific word for adrenaline. That is the way that all of those worked. And so the effect that they have on our brain and body is the same when you get a surge of adrenaline, your pupils dilate, you focus, you concentrate, you make decisions faster, your heart races, your blood pressure goes up, your blood vessels constrict, glucose is released into your bloodstream.
Dr. Nzinga Harrison
All of this is in preparation evolutionarily to run from the tiger that is about to eat you. We use these for ADHD because of the focus and concentration that it can give for those folks whose brains don't naturally have a level of focus and concentration that's helpful to them. The progression that you described is actually not uncommon. So like in 2018, 5 million people misused stimulants, whether that was cocaine, amphetamine, methamphetamine or prescription stimulants. More than 1 million of those people were misusing a prescription stimulant. And so I really want to draw a difference between methamphetamine and the rest of our stimulants, even though like I just told you, they all mostly have the same mechanism of action.
Dr. Nzinga Harrison 
Methamphetamine is particularly dangerous, because the molecule actually goes inside the nerves though, and breaks the infrastructure of the nerve cell like breaks the nerves ability to do his job and kills it. The same is true for ecstasy, which is in a different drug class, but similar phenomenon. And so we actually see like, permanent psychosis, permanent depression, permanent paranoia, permanent anxiety from methamphetamine, in a way that we don't see with the other stimulants. Nonetheless, they are all very dangerous, associated with anxiety, agitation, paranoia, weight loss, abnormal heartbeats, that drop you dead, heart attacks, strokes, overdose death, high blood pressure, high blood sugar.
Dr. Nzinga Harrison  24:43
And so just like you notice J, the warning sign I was taken two, then I was taking three and then I was taking four and then I was using methamphetamine. This is how you start to know the warning signs of having a problem and exactly like you said, J, that was when your stress and isolation went up because of COVID. And so COVID has been such a desperately dangerous time for so many people, especially like you said, you have PTSD. So you have another mental health condition, you don't, you have another substance use disorder, you don't, like COVID has just been an excruciatingly difficult time.
Dr. Nzinga Harrison 
And one of the ways we learn in this country to deal with excruciating difficulty is to drink it away, or smoke it away, or use it away, or some other behavior in a way. And so it doesn't surprise me, J, thank you for sending in this question, because I think there are probably a lot of people who can relate. And so less for you, Jay, and more for the other folks who are listening who have not yet recognized that they have a problem or are worried if they do have a problem. The cage can help you. And if you listen, last season, you heard about the cage, but it's a four-part questionnaire. And if you answer one, yes, I'm worried about you. So just google Eleanor Health, do I have a problem? And that scale will come up for you. And then if so, talk about how to get you some help.
Claire Jones  26:17
More questions right after this break.
Claire Jones 
So this is actually one of multiple questions that we've gotten about Adderall addictions. We had another one that I want to follow up with that was asking about the increasing rates of Adderall addiction. And she said, she was prescribed medication pretty soon afterwards, started abusing it and developing an addiction. She's three and a half years into her recovery and learned that she's not alone. A lot of other people have also become addicted. But she says, particularly among women, but I find it's not talked about enough. Can you talk a little bit about that?
Dr. Nzinga Harrison
Yeah. So first things first, congratulations on three and a half years in recovery. It can be harder with prescription medications, because we don't have the same level of stigma around prescription pills that we do say around quote "street drugs" like methamphetamine. We are definitely seeing Adderall addiction on the rise. Like I said to J, a million people in 2017 were misusing prescription stimulants with Adderall being one of those. We are definitely seeing it on the rise just like everything else in this period of COVID. That's because the stress has like outstripped our coping skills. And it does make you feel better.
Dr. Nzinga Harrison 
I agree with you. It is not talked about enough. In medical circles. We're starting to talk about this more stimulant addiction and benzodiazepine addiction and there's being more awareness around that. I'm not sure about the gender split that you said less talked about in women than men. What I do know is that ADHD is less likely to be diagnosed in girls than in boys. And so that may be the phenomenon that you're seeing. Because when there's undiagnosed ADHD, the risk of misusing stimulants is higher because of the untreated ADHD. So that might be what you're experiencing. But thank you for shining the light on that because we definitely need to raise our awareness of it.
Claire Jones  28:39
Our next question comes from Perry, who says, "Hi, this may sound silly, but I can't stop obsessively checking my ex's social media. He's married with a kid now. And every now and then he emails me. I have avoided emailing him back, but I still check his social media pages every day, multiple times a day. Now I even look at his wife's pages to see pictures of him and what they're up to. I'm not sure what this even does for me, but it's something I do absentmindedly. When I'm bored or procrastinating. I even created a fake account so I can look at their Instagram stories. I don't care enough to engage with him, but obviously I care. Why am I doing this and how can I stop? Please help."
Dr. Nzinga Harrison 
Okay, Perry, thank you so much for sending this in. I'm gonna do just a little bit of compassionate confrontation with you. When you say I just do it when I'm absent minded or bored or procrastinating, but also that you formed a fake profile, which is very active and not passively and not just procrastinating. So if we think about this with our same kind of like three step addiction cycle, which is like withdraw, craving intoxication, then what I want you to do is to actually keep a log because there is an emotion that you're having that is serving as a trigger or either you get an email from him, which is also serving as a trigger.
Dr. Nzinga Harrison  30:03
But there's an emotion that you're having, or a thought that you're having, that's serving as a trigger. And then you're engaging in your addictive behavior, which is like this cyber checking on your ex's social media, right down a log, so you can grab what that thought is and grab what that feeling is. And then the second step is, once you recognize that thought, or that feeling, do a behavioral replacement. So when I get this thought, or this feeling instead of checking his social media, because right now it is happening on autopilot, which is why I had to start with that gentle yet compassionate confrontation. It is happening on autopilot.
Dr. Nzinga Harrison
And so what we're trying to do is introduce some space in between that thought or that emotion, whatever it is, and the behavior of checking so that you can consciously decide to do a different behavior. The answer to the question, why you're doing it, is to resolve the discomfort of whatever that thought is, or whatever that emotion is. But first, we have to know what those are, then we have to create this space for you to choose to do something different. And then we have to figure out how to address whatever that thought is, and whatever that feeling is. What do you think Claire?
Claire Jones 
Blew my mind today, Nzinga.
Dr. Nzinga Harrison 
Oh, man, I slept at a Holiday Inn last night. I'm telling you.
Claire Jones 
Different contexts, but like, same thing. yeah, totally. Yeah, totally makes sense. I'm just applying this to my personal life. I'm a Leo, you know, it's like everything centers around me in my life.
Dr. Nzinga Harrison 
My best friend Carrie Berry is a Leo
Claire Jones 
Carey Berry. So I'm just yeah, that's just yeah, that just blows my mind. It's very interesting and makes a ton of sense to me I got rid of my Instagram. I like the one I've had for years made a new one for work in quotations. It has like one picture, and was like, I'm only gonna follow things that are, like, important to me. And it still made me feel like shit.
Claire Jones  32:31
Because I think that's what Instagram does, right? It just like makes you feel bad. And I think I was when he as you were saying that, I think I was like, well, what's that uncomfortable feeling that I would use a lot of times when I go to Instagram, and I think a lot of it was like whiteness stuff. Because the thing I follow on Instagram is like, a lot of anti-racism stuff. And it was like, if I read this meme, I'm doing like the work, you know, because it's like, I'm educating myself. But I always feel really like weird after that. And AJ was like, I feel like, this is not the way to be anti-racist is to like, read a bunch of Instagram feeds. You're probably right.
Dr. Nzinga Harrison 
Yeah. But if the thought was like, I need to be doing something. Once you can grab hold of that thought, then you can do something more tangible that actually brings you positive benefits instead of the negative consequences you're experiencing from Instagram.
Claire Jones 
Yeah, exactly. And I mean, luckily now like, I don't really engage with it that much. I have. I have moved away from it a lot. And it's been extremely helpful. But as you were saying that I was like, Yes. Makes so much sense to me. I love AMA's, man. Okay, thanks.
Dr. Nzinga Harrison
You too, Claire, can ask me anything.
Claire Jones 
Well, I think that's it for our first AMA, it went by so quickly.
Dr. Nzinga Harrison
It did go by so quickly.
Claire Jones  34:01
We have so many other questions that we have to answer. So, but they will be answered in our next AMA, which will be soon, we're going to try and do these pretty frequently. So if you want to ask Nzinga something, call us at 833-453-6662. Or you can send us a question through our Google form, which you can find at bit.ly/inrecoveryquestions. And that's it for this episode.
Dr. Nzinga Harrison 
Awesome. Thank you all for sending in all your questions. I wanted to say I'm so heartened, because not all of these questions are classics, substance addiction. And so I think the audience is really getting this idea of like being able to look at ourselves through this continued behaviors despite negative consequences lens and I think that creates so much opportunity to break down barrier and stigma but also just for like all of us to be getting ourselves some help. So, kudos to y'all. I love that and we will talk to you next week
CREDITS
IN RECOVERY is a Lemonada Media Original. This show is produced by Claire Jones and edited by Ivan Kuraev. Jackie Danziger is our supervising producer. Our theme was composed by Dan Molad with additional music by Kuraev. Stephanie Wittels Wachs and Jessica Cordova Kramer are our executive producers. Rate us, review us, and say nice things. Follow us at @LemonadaMedia across all social platforms, or find me on Twitter at @naharrisonmd. If you've learned from us, share the show with your others. Let's help to stigmatize addiction together.