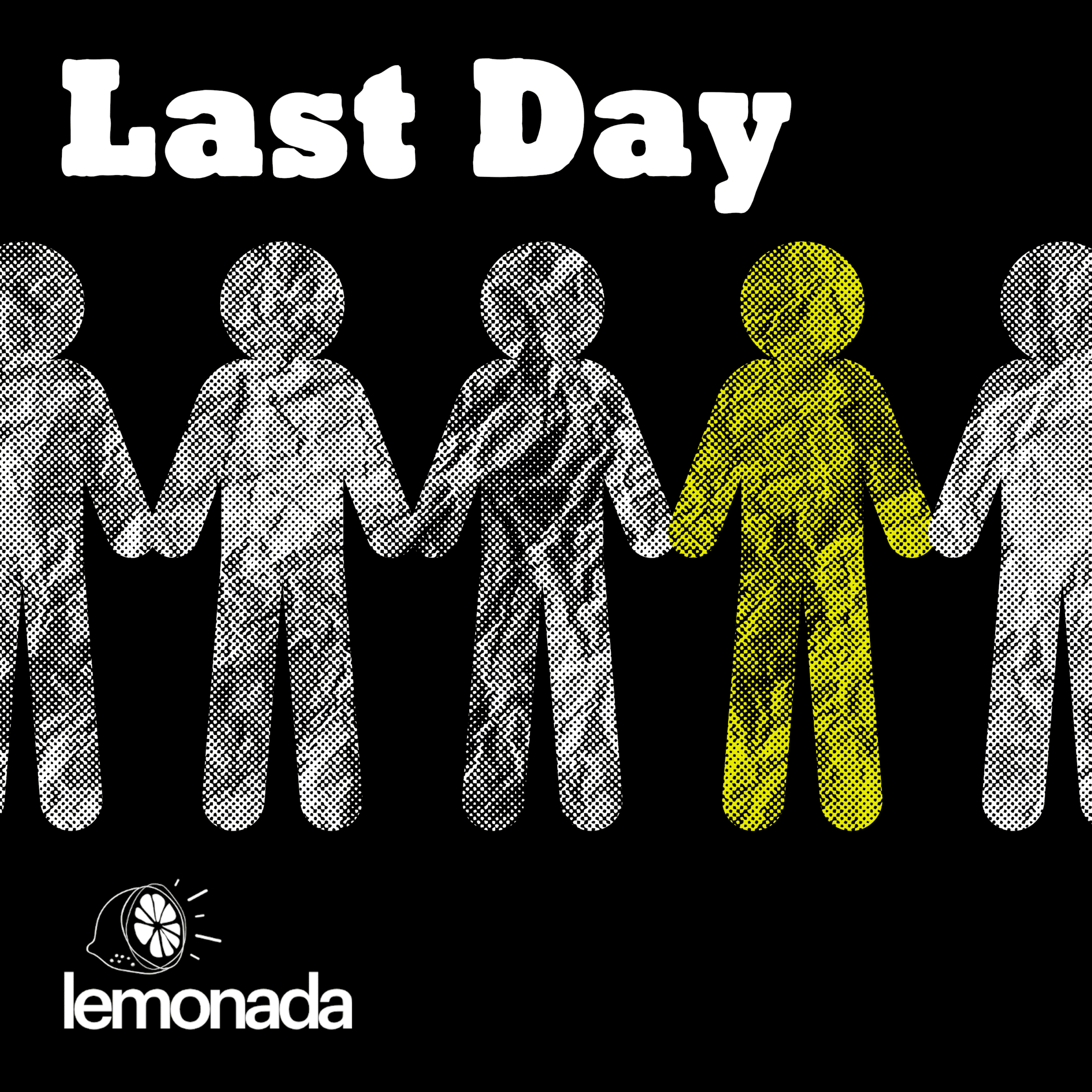 Bystander
Subscribe to Lemonada Premium for Bonus Content
Description
This week, we're pulling apart the idea of a "bad neighborhood" and learning about community trauma. We travel to Southwest Atlanta, where Sharmaine Brown's son, Jared, was killed after being struck by a stray bullet. We dig into deescalation, changing identities, and old school parenting.
Resources:
To learn more about the people and organizations featured in this episode and access critical information about suicide and violence prevention visit: https://lastdayresources.simvoly.com/.
Stephanie Wittels Wachs is the host. Jackie Danziger is our supervising producer. Our producers are Kegan Zema and Giulia Hjort. Hannah Boomershine and Erianna Jiles are our associate producers. Music is by Hannis Brown. Executive producers are Jessica Cordova Kramer and Stephanie Wittels Wachs. This season of Last Day is created in partnership with the Kendeda Fund, the Annie E. Casey Foundation, the Pritzker Pucker Family Foundation, Levi Strauss & Co, and Everytown for Gun Safety Support Fund.
Follow Stephanie on Twitter and Instagram at @wittelstephanie. Stay up to date with us on Twitter, Facebook and Instagram at @LemonadaMedia. If you want to continue the conversation with other listeners, please join our Facebook group at https://www.facebook.com/groups/lastdaypodcast.
By the way, we have two whole other seasons! Go listen to them wherever you're listening right now. You can also get premium content and behind the scenes material by subscribing to Lemonada Premium on Apple Podcasts.
Want to become a Lemonada superfan? Join us at https://joinsubtext.com/lemonadasuperfan.
Click this link for a list of current sponsors and discount codes for this and all other Lemonada series: lemonadamedia.com/sponsors.
To follow along with a transcript, go to www.lemonadamedia.com/show/lastday shortly after the air date.
Transcript
SPEAKERS
Ali, Sharde Brown, Sharmaine Brown, Aaron, Stephanie Wittels Wachs, Alfred, Speaker 6, Myrtle
Stephanie Wittels Wachs  00:00
Atlanta, Georgia 10:49pm in apartment complex on the city's south side. What you're hearing is footage from a show called The First 48. The premises basically a behind the scenes peek at real life homicide detectives in the critical first 48 hours of a murder investigation. For homicide detectives, their chance of solving a murder is cut in half if they don't get a lead within the first 48 hours. It is a typical True Crime reality show. And part of the selling point is that the show has unprecedented access to crime scenes and interrogations. It even features a hotshot detective who walks around wearing a fedora. In this episode, Fedora guy and his colleagues are investigating the murder of a 23-year-old black man in Atlanta in July 2015. A young man gunned down. He was an innocent bystander and another one injured. Show runs on stereotypes and specializes in the kinds of stories that seem to be on the rise these days across America. Were flooded with news headlines about the recent spike in gun violence in major cities like New York and Chicago. But Atlanta gets its fair share of airtime too.
Stephanie Wittels Wachs  02:49
Unlike suicide deaths in the Mountain West, urban gun violence is national news and national entertainment. But between the brutal statistics and overly dramatized TV shows, it can be hard to see the actual human beings behind these stories.
Sharmaine Brown
If you haven't been personally impacted, you see it totally different.
Stephanie Wittels Wachs 
This is Charmaine Brown. She's the mother of the young man whose death was featured in The First 48 clip you just heard. His name was Jared. He was funny, a prankster from day one. He would do stuff like convince his cousin's to climb up on the roof and then move the ladder once they all got up there. He even wanted to be a stand-up comedian when he grew up. But he didn't get to grow up.
Sharmaine Brown 
You just you hear it in a news and you'd be like, oh, wow, there's, you know, sorry to hear something like that happen.
Stephanie Wittels Wachs  04:05
His family didn't really have a choice about being featured on the show. Why? Because the producers of the first 48 worked directly with the Atlanta police department. So they already had access to the footage following Jared's death. Tragic stories like Jared make good fodder for shows like this, that air footage of lifeless Black and Brown bodies and use coded language about the dangers of the quote unquote bad neighborhoods where the shootings take place, as if the dangers were the fault of the people living within them. The reality is far more complicated than a sensational TV show cares to grapple with because community gun violence is systemic. It is the result of decades of very intentional policy decisions that we will grapple with over the next few episodes.
Stephanie Wittels Wachs 
This week we are talking about gun violence in Southwest Atlanta, where resources are scarce, and guns are everywhere. I'm Stephanie Wittels Wachs. This is LAST DAY. In the summer of 2015, Charmaine Brown and her husband had just gotten back from a weekend away visiting family.
Sharmaine Brown
So at the time, we were there in South Carolina, we had taken my father home on a visit. And we came back that following Monday.
Stephanie Wittels Wachs  06:02
They drove him through the garage, like they always did. And it wasn't until the next day when her husband went out to run errands, that he noticed something on their front door.
Sharmaine Brown 
As he was driving out, he saw a card left on the front door. So he pulled back in, he got the card off. He looked at it. And then he said, he threw it up on the dash. And then one of his friends called him. And so he started telling us, so I got this card, you know, from off the front door and it says Fulton County Medical Examiner's Office. So his friend told well, you need to call and, you know, and so he did, the caller answer. Yes. Do you know Jared Brown? And he said, yes, I know him. That's my son. And they say, well, unfortunately, they brought him in over the weekend, and that he was deceased. And so when he told me he was just streaming, saying, Jared is dead, and someone left a note on the door, and I thought, that doesn't even make any sense. Why would somebody leave a note on the door? Well, I rushed home from work, and he was sitting at the kitchen table. And he handed me the card. I still in disbelief. I was like, surely this is a mistake. And I called and they said the same thing. Basically, we have him here and where would you like his remains to be sent. And at that point, I just lost it.
Stephanie Wittels Wachs 
It took Sharmaine and our family a long time to piece together the whole story. Some of it didn't actually come out until the trial and the whole time every twist and turn, just felt unbelievable to Sharmaine. To understand part of what makes Jared story so shocking. You have to know where he comes from. Those voices are our producers Jackie, Kegan, and Ariana driving up to Sharmaine house. Jackie is excited because nothing screams suburban dream home like a cul de sac. And Kegan apparently loves to say the word cul de sac. I am not there because as I mentioned in episode one, I had two unvaccinated kids at home. And this was the height of the Delta surge. But my team of invincible, fully vaccinated producers spent seven days in Atlanta last summer on our behalf. Sharmaine's house is about a 45-minute drive out of the city. And the further they drove, the bigger the house has got. Her home is in a beautiful development with manicured lawns and multiple cars in every driveway. It's basically the prototype for the American suburbs. And the exact opposite of what comes to mind when you hear urban gun violence. Their house is really classic on the inside, big black leather furniture and sprawling family photos on the walls.
Sharmaine Brown 
Yeah, so this picture here, and this is when they were younger. And that's another picture of him when he was younger, because he would take pictures like that, you know, as a family. And then stuff happens and yeah, you feel like I miss all that time.
Stephanie Wittels Wachs 
Jared died almost seven years ago, but he is still very present in this house. There are keepsakes and pieces of his legacy in most of the rooms, including his own.
Sharmaine Brown  10:03
I mean, we haven't changed much in his room, besides a couple just one thing, his bed is still the same, but our grandson is of course, he thinks it's his room now. So he says that that's my room. I say no, that's my son Jared's room, and he will say, you don't have a son. I say yes, I do have a son here. He's three years old. He doesn't, you know.
Stephanie Wittels Wachs 
Sharmaine said Jared was a pretty typical teen, he played basketball video games, and he was funny. And it's not just his mom who thought so, everyone we talked to you kept saying that if he were still here, he definitely be a viral sensation by now. And apparently it started early on.
Sharmaine Brown 
He was a jokester. So he loved to tell jokes, always telling us stories, always doing some type of mischief, or always doing tricks.
Sharde Brown 
I will say as a kid, I didn't think saw me his things were funny. But yes, it was hard to like really be serious with him because everything was a joke.
Ali 
This is Sharde, Jared's older sister. I chatted with her over zoom last summer. There were three kids in the Brown family. Jared was the middle child and the only boy.
Sharde Brown 
There wasn't many people that could meet him and not get along with him like he's just could vibe with anybody.
Stephanie Wittels Wachs 
Was he always like that? Was he always really easy to get along with?
Sharde Brown 
Well, I won't say that but well, you know, siblings as you're growing up, you kind of butt heads or whatever.
Stephanie Wittels Wachs 
Jared also used to butt heads with his parents. He seemed
Sharmaine Brown 
Like he went through that rebellious stage from almost like, from the age of eight, all the way up until about 18.
Stephanie Wittels Wachs 
To keep Jared's rebellious behavior and check. Sharmaine said she and her husband relied on old school parenting.
Sharmaine Brown  12:00
Old school parenting to me is totally different than a way parents parent now. Like we were never trying to be our child's friend. We wanted them to know we are the adult and you are the child. The rules were the rules. It wasn't rules for boys or rules for girls, it was the rules.
Stephanie Wittels Wachs 
Even though the rules were the same, Sharde said she and her brother approach them a little differently. For example, if you're a teenager in Georgia, the number of people you can have in your car is limited by law.
Sharde Brown 
Well guess who's gonna follow the rules so their car doesn't get taken, me. But Jared on the other hand, because he's so friendly, when he goes to work his parts on job, he's gonna pick up somebody, he might pick up three more people and drop them off home and then my dad finds out and well, then you're not going to have your car.
Myrtle 
My sister-in-law, she would share stories of okay, you know, Jared is getting older now and he's trying to find his way.
Stephanie Wittels Wachs 
That's Jared's aunt, Myrtle. His dad's sister, Myrtle has two daughters that were around Jared's age. So back, then she in her mind would often call each other to commiserate.
Myrtle 
You know, just talking things through about Jared wants to do this, but I don't think is a good idea or may have come home late. But at the end of the day, these are our rules, and we're going to have a conversation with you. We're going to make sure you know that we love you. But at the end of the day, once you get 18, and you don't want to abide by those rules, then we have to make a decision. And I remember that at some point, Jared did decide that he wanted to kind of branch out on his own.
Sharmaine Brown 
When he got 18. I mean, at that point, he was, you know, young adult, so to speak, and made his own decisions at that point, you know, of where he wanted to be.
Stephanie Wittels Wachs
Jared wanted to be in the city. After high school, he decided he wasn't interested in college, he just wanted to start working. And like Zach from episode one, this transition from being at home to living on his own was tough.
Sharde Brown  14:05
You know, life is hard period as you're trying to figure yourself out. I've graduated high school; do I go to college? What do I do next, and then when you hit bumps on the road, it can get harder and harder to get yourself out of that. And so I just think that he was living where he could, you know, live and where he could take care of himself.
Ali 
And where Jared could afford to live with Southwest Atlanta.
Sharde Brown 
When I went to visit where he was living it, you know, it was just like, gosh, I don't know why he chose to. You know, I don't want to say not be in a good living condition, but why he just chose an alternative route to get somewhere he may have wanted to be.
Stephanie Wittels Wachs
I get this as a big sister. Sharde understood Jared's desire to leave home, to carve out his own identity, away from the cul de sac, although she wasn't a fan of where he chose to do it. But Jared made his choice. And he was building a life for himself. He found an apartment and a roommate.
Ali 
We talk about anything. So like a brother from another mother type.
Stephanie Wittels Wachs 
That's […]. He and Jared lived together, work together and hung out day and night.
Ali 
He really care about people by making them laugh, like, look feel good. So he had that knack of just still making you laugh, even when you're mad, you know?
Stephanie Wittels Wachs 
And most of the time, they were laughing. But there was a lot going on around them that wasn't funny.
Ali 
It wasn't the best apartments, you know, it's the average community, you know, police are allowed to drive by in areas where we are drug infested. You know, […] it was more easily you did drugs or you sold drugs. You had always seen it. At the time I didn't have a car so me and him used walk to work every morning. So we used to see people dealing and people using all the time.
Stephanie Wittels Wachs  16:11
[…] said he grew up in a similar neighborhood just north of Atlanta. And he had no idea that his friend came from a very different environment.
Ali 
He never really showed up on the hill, you will never know that he was from that top area, because he was like, he adapted to it very well.
Stephanie Wittels Wachs 
By adapting to it, […] means that Jared took on an entirely new identity, Trey.
Ali 
I think Jared was in the past. So in order to race in the past, he had to create a new person. So he created Trey, created an alter ego for himself. […] was born around him and his surroundings.
Stephanie Wittels Wachs
Jared became Trey to everyone but his family who were left mostly in the dark about who Trey was and why he existed, including his sister Sharde.
Sharmaine Brown 
I remember one of my aunts saying that he liked the name Trey. He thought that was a cool name for the girls. But I don't know, it just seems like it was deeper than that for me to feel like you totally want to change your name and your identity, you know this, that something I can understand his thought process and why he felt the way he did a lot totally. So I can understand that. But I think for my parents and maybe some of my other family members, they were like who is this? Who is that? As a parent, you want the best for your children. And I'll always felt like we try to provide that by not living in the you know, city park. We always live out in a suburban areas always felt like you know, we just tried to provide the best for him. My key gravitated to the opposite side of what we had wanted for him. So it always seemed like the harder we work to give them a good life, it's just like he always gravitated back like it almost like he lived in a like sometimes in a fantasy where he felt like, I want to see how the other side is living. And I want to experience that like I already know how I'm living on this side. But it seemed like he just wanted the opposite.
Stephanie Wittels Wachs  18:59
If Jared wanted the opposite of his suburban lifestyle, he found it at the Casselton apartments in southwest Atlanta. Here's his roommate […] again.
Ali  20:22
You know, like you hear the sirens all the time, you hear the gunshots, you just try to make sure you're not in that area when it's going down. You know, you don't want to be a victim. You don't want to be a witness. And after a while, is not like you get comfortable with it, but you get normalized to it. It just goes on around you, and it becomes your everyday routine.
Aaron  20:46
There's a lot of community trauma. You grew up seeing certain things, you grew up learning how to cope with certain traumas.
Stephanie Wittels Wachs 
That's Aaron Johnson. He's the trauma response manager for a nonprofit in Atlanta called CHRIS 180. We wanted to learn more about the south side of Atlanta, and Aaron was kind enough to take the team for a drive.
Aaron 
When I speak of these traumas, I want to be as specific as possible. Community trauma is a type of trauma. And community trauma looks like maybe abandoned buildings, abandoned homes, trash on the ground. And with trauma comes coping, so people learn how to cope with it.
Stephanie Wittels Wachs 
We've talked a lot about individual trauma on this show. But the concept of community trauma was new.
Aaron 
So what happens is people who live in these communities, they grow to believe that this is normal. Is it normal to see trash on the ground? Is it normal to see abandoned buildings? Is it normal to see tires everywhere? This is normal. And with normalizing, it also takes away from the pride in the community. So do I have pride with something that I can just throw trash on the ground? Not necessarily right? And community trauma is a breeding ground for violence. So people don't necessarily take care of their community. They don't mind shooting it up.
Stephanie Wittels Wachs  22:23
Perhaps this is why gunshots were a regular occurrence where Jared and […] lived. Driving around. The team didn't seem any standard neighborhood amenities like grocery stores and pharmacies, but they did hear a lot about guns.
Ali 
I just know that anybody got one. You can go get a gun like you can go get some drugs on every corner. So it's not nothing that's hard to get.
Stephanie Wittels Wachs
So yeah, it's not hard to find a gun in southwest Atlanta. And like we learned in Montana, where there are lots of guns. There are lots of gun related deaths. Which brings us to Jared's last day. On the evening of Saturday, July 11 2015, Jared and Ali were just getting home from work. A few of their neighbors were having a barbecue and Jared wanted to join. He asked Ali to come with him.
Stephanie Wittels Wachs
One time I told him I was tired. Nah, I'm tired, I'll go home and relax.
Stephanie Wittels Wachs 
Elise stayed behind, and Jared headed over to the barbecue to meet up with his neighbors, including his friend Chris. Unbeknownst to Jared, Chris had been playing video games earlier that day with a guy named Larry. He ended up selling Larry an Xbox for about 30 bucks. Later on, Larry called Chris to say the Xbox didn't work. And he wanted his money back.
Ali 
So I guess the dude felt like he felt like he was doing a play, because dude […] game and the game didn't work. So the dude pull back is started shooting over a video game.
Stephanie Wittels Wachs  24:00
So Chris and Larry are playing video games together, but we're also in rival gangs, which only heighten the tension. According to court documents and witness testimonies, Larry's cousins picked them up, took them to get a gun. And they headed to the apartment complex to look for Chris. The security gate at the complex was broken. So they drove right in. And when he saw Chris at the cookout, Larry opened fire. Jared was standing right next to him.
Ali 
First of all the bills and therefore he was assigned late so he's still living. And training was the innocent bystander. He was just there around persons being shot at and he got killed.
Sharmaine Brown 
All I keep thinking about as my son lost his life, over $30, over $30 video game, like what in the world. Jared was 23 like he has so much life left, like I felt like that's not supposed to happen. I mean, you never want that to happen to your kids. You don't want to bury your kids. You want your kids to be. It's so unfortunate, and it was so senseless. That's the hardest part. He wasn't doing anything like it's just so senseless.
Stephanie Wittels Wachs
Chris was shot in the leg and taken to Grady Hospital where he was patched up and eventually sent home. Jared was left on the ground. The police arrived, followed by The First 48 TV crew. By the way, footage of his lifeless body would appear in the episode despite his family's wishes. He was eventually taken to the Fulton County Medical Examiner's Office. They're the people who left a note on Sharmaine's door. But until the next morning, Ali was still in the dark about what happened to Jared.
Ali  26:09
the next morning somebody came my door and knocked on my door and told me to trade and so when I walked up there and that's not a blood I was still left on the ground and all that and the police contacted me so we can verify the body.
Stephanie Wittels Wachs
What was that like going identifying the body?
Ali 
It was so tough. Just wore on myself like just can't be true, but then hoping that I can just, it's just a dream like you just wake up and he can still be here. Okay, I will describe the pain in it. But it just is unbearable. To say goodbye lifeless, is not something expected for someone who was so lively all the time.
Stephanie Wittels Wachs 
Ali was left pretty powerless throughout all of this. Even when he went to ID the body. It wasn't like in the movies where they pull down the sheet and give the person a moment to fall apart and then give them space to put themselves back together. According to Ali, they didn't even let him inside. They claimed the gate was broken and made him ID his best friend's body from a photo outside the building. He also told us he learned that Jared was carrying something on him when he died.
Ali 
Me and him used to believe affirmations. So I didn't know that he used to walk around with his because I used to walk with mine. So I didn't know that he had, I had motivated to do that until after he passed away. When he died, it took a piece on me. We were so close, still miss him every day […]
Stephanie Wittels Wachs 
Nearly seven years have passed since Jared's last day. But for Charmaine it's still deeply painful to think about. She can't even bring herself to retrace his steps.
Sharmaine Brown 
I've never been to the apartment complex. I don't know anything about it no more than what my daughter's, my two daughters did go. But I've never been and I just that's not a place I want to go, never went.
Speaker 6  30:03
What did your daughter's tell you about it?
Sharmaine Brown
They didn't like the area. And it's painful, because that's the last place he took his breath. And it's not a place that I wanted him to be. I always felt like Southwest Atlanta, I always felt like the area was bad. We know that a lot of crime has happened in the area. And so I knew that he was over in the area. Of course, that's not where we would have wanted him to be. But he made the decision and he was of age to make his decision.
Ali 
Sharmaine knew that being a young Black man can be dangerous, in some communities, more so than others.
Sharmaine Brown 
I always talked to him about his dad always talked to him about, you know, you could make one bad decision, and it could change your whole life. And for me, I felt like him at that rebellious state, and wasn't listening to us as parents, you know, put him in a state where, you know, he was on a different side of town. I mean, it could have happened anywhere, it could happen here. I mean, violence now was everywhere. I just, I know for Jared, that he didn't have to be there, he could have been here.
Stephanie Wittels Wachs
It's true that violence in America happens everywhere. But Sharmaine doesn't fall asleep to the sounds of gunshots in her neighborhood, Jared and Ali did. But I don't even want to suggest that Jared brought on what happened to him because he moved out of his parents' house, like, let's be honest, who doesn't have a rebellious phase where you leave the nest and try to figure out who you are and where you belong, where you try to carve out your identity outside of your family of origin. At the core, this is what Jared was doing. I did it too, at his age, I left Texas, moved to New York City did a lot of wild things. Thank God there was no social media at the time. But ultimately, I was on a private college campus with all the means and resources I needed, surrounded by other kids who had all the means and resources they needed. This wasn't the case for Jared. He moved to a neighborhood that has been systemically cut off from resources for generations. And you know what, 1000s of people are born there or live there by necessity, because it's the most affordable area and a rapidly gentrifying city. And the bottom line is that your zip code shouldn't determine your lifespan. Charmain zip code is characterized by cul de sacs and manicured lawns. So she never expected to be one of these stories. Now that she is she's realized that this chapter isn't only about the person she's lost. It's also about the people she's gained.
Sharmaine Brown
I have a really good network of Survivor Sisters; we lean on each other. This is definitely not a club that you would want anybody to be a part of. But it's nice now that you do have someone that relate and understand, because literally, the friends that I have now, and the friends that I had, because it's like they don't understand. And so even though we all a group of survivors, we understand each other.
Stephanie Wittels Wachs
Sharmaine met a lot of her survivor sisters, through her work with Moms Demand Action, a movement that started in the wake of Sandy Hook. She also started a foundation called Jared's heart of success, where she works with young people in her community. The more she works in violence prevention, the more she and her family recognize the need to de-escalate the kinds of arguments that led to her son's death. Here's aunt Myrtle again.
Myrtle  34:17
Whether it was a video game or it was a car, it does not constitute you take in the life of someone. It doesn't. I mean, when I was growing up, you had a fistfight and you got over it. And next day, your friends again or sometimes it's the same day. But the folks now their thought process is my way to solve an argument or a disagreement is I'm going to pull a gun out, I'm going to shoot you. And I don't have the answer.
Ali
We heard a similar thing from Alfred Garner, the Director of Community Initiatives at CHRIS 180. He works closely with Aaron who gave our team the driving tour of Southwest Atlanta.
Alfred
When we was growing up, we would fight like hand-to-hand combat wrestle. You know, when I was in high school, you know, if you can pick somebody off their feet and drop them on a bat, you know what I'm saying? He was the guy. Now, that's not the first go to these young people want to shoot first. You know, I'm saying that's embedded in them. The lack of connectivity, even what the rassling They're fighting, I'm connecting with you in some capacity, where we both can walk away from what the lesson learned.
Stephanie Wittels Wachs 
Alfred, Aaron, and the rest of the team at Chris 180 are providing children, adults and families with high quality trauma informed behavioral health and support systems. Because like we heard in Montana, they don't think the guns are the issue.
Alfred
We're in Georgia. That's the reality. guys gonna be in Georgia. I don't think this change no tie. So I'll probably make necessarily the guns, this the defusing and encouraging people to have a conversation.
Stephanie Wittels Wachs  36:06
And Chris 180 is here to facilitate that conversation.
Speaker 6
Chris, what it is an acronym, right? We thought it was a person really? When are we gonna get to meet Chris 180? So what does it stand for?
Alfred 
So it's funny you say that, because every time I go out in the community, everybody like Chris, Chris, and I'm like, my name is Alfred. So I always have to kind of remind people just that stands for creativity, honor, respect, integrity, and safety. So we have to be creative in how we provide interventions, you know, we don't necessarily have to be reactionary about stuff. Sometimes we can be proactive. And we have to be creative in how we do that.
Ali
And when it comes to interventions, sometimes the most creative solution is going back to the basics.
Alfred 
That's where our community lacks the ability to say, I don't like what you did. Man, I'm sorry, for what I did. I apologize for what I did. And try not to make it happen no more. You don't, I'm saying we can't have that conversation. That's my biggest thing. We can't talk to one another. Let's have a conversation about how you feel and be vulnerable enough to be able to do that, because it takes some vulnerability to do that. To be able to say you made me feel a certain type of way about what you did. You know what I'm saying? Whether it got to do with money, drugs, gang involvement, regardless of you know, it's the inability for two individuals to have some dialogue and agree to disagree, a walk away from.
Stephanie Wittels Wachs
Sometimes the creative approach is to reclaim public spaces that have been impacted by violence. After a violent event takes place, Aaron is springing into action,
Aaron 
I'm knocking on everybody's door, everybody around that area, I want to find out if they are okay. There was a recent shooting, there was a recent whatever. Is there anything that I can do to assist you and have conversations once I've gotten a pulse of the community, then I start figuring out what's something that I can do to reclaim the space, right, whether it be a peace walk, whether it be a healing circle, whether it be a community cleanup, all these different ideas, serve as a way to not only bring the community together so they can start the healing process, but also bring the community together so we can converse, so we can have a conversation.
Ali  38:39
Aaron is facilitating these conversations all the time, even on the weekends.
Aaron 
What we're going to be discussing today is trauma, trauma, trauma, trauma, trauma.
Stephanie Wittels Wachs
That is Aaron leading a Saturday session of community trauma training.
Aaron 
One thing that I've found about trauma is it comes in many different ways, and it shows up in our daily lives more than we could ever recognize.
Stephanie Wittels Wachs 
When our team showed up to record, they were honestly not expecting the room to be filled with active participants, volunteering to spend part of their weekend, getting trauma informed. There were about 15 to 20 people there all gathered in a big circle of tables in the basement offices of Chris 180.
Aaron 
The more trauma informed we become, the more empathy we have for others and ourselves. Just because you have empathy doesn't mean you open the door for bad behavior. That just means you understand where it's coming from. It doesn't mean that you don't have barriers, or boundaries.
Stephanie Wittels Wachs 
Aaron is the perfect messenger for this work, because of his own life experiences. Before getting into violence prevention, he taught in an alternative school, where he constantly saw kids acting out as a direct result of their own trauma.
Aaron 
I work with a lot of young people who have I've experienced violence and experience other traumatic events in their lives, a lot of their experiences I share, because I grew up in the same community, I did see violence fairly often, from just fights to shootings, maybe some stabbings here and there, but it was really normalized, and you learn how to cope and allow the coping that I learned wasn't necessarily the best coping mechanisms, right? But because a lot of the violence was normalized, I didn't think that I needed to go to a counselor to talk about it. So much of my experience I didn't understand was traumatizing until I was an adult, and I started going to therapy. This is why it's important for us all to become more trauma informed. So we can have deeper robust conversations where we can promote the changes that we want to see from another space. This is not normal.
Stephanie Wittels Wachs  41:03
When you've been surrounded by chaos, it can be incredibly comforting to hear someone validate that it is not normal. These trainings are empowering, because they invite community members to recognize the harm they encounter every day, and proactively do something about it. Trauma training is just one of many creative approaches, Chris 180 offers to help heal the community. Because they know that a shooting does not just affect the family who lost their person.
Alfred  41:32
You know, it's so much connected to once you pull that trigger, and I don't think I'll community understand. Understand that because now you got to go away for 20 years because of that. Now this person is this day. So now both sets of parents in law one is grieving from the sense of loss that they've experienced.
Stephanie Wittels Wachs
Sharmaine knows this better than anyone. She's not the only person whose life changed forever when Larry pulled the trigger and killed Jared.
Sharmaine Brown  42:05
My family has been affected his family has been affected, there's no winners here. Yes, he has, you know, life, but he has a child. So you're in jail for the rest of your life. So now what happens to your child, so then it becomes a cycle.
Stephanie Wittels Wachs
Today, Larry is in a Georgia State prison, serving a life plus 20-year sentence for Jared's murder. These events set off a ripple effect that reverberates through communities across generations. It impacts everyone involved that night, the shooter, the guy who walked away, Jared Stanley, Larry's family, his daughter, and then you zoom out and you think about the community that experienced the shooting, and then lived with the stigma of that story being shared on the news. And then seeing your home as the scene of a crime in a sensational TV show. All of these people are bound together by violence and trauma. The more time we spent talking to folks in Atlanta, the more we were able to see how pervasive and complex this issue is. Gun violence is a public health issue. But it's also a symptom of a much larger societal problem. These so-called bad neighborhoods are places where systemic racism, poverty, and unresolved conflict are met with a lack of resources. And the results are often fatal. So now, we've been to Georgia, and we've been to Montana. And while the problems facing these communities and the communities themselves are very different, they have a shocking amount in common because the factors that drive someone to put that gun in their hand whether it's to harm themselves or harm others, stem from the same feelings of fear, powerlessness, isolation, and an inability to cope. Next week, we dig a little deeper in Atlanta, and pull apart the whole idea of the bad guy with a gun.
CREDITS
LAST DAY is a production of Lemonada Media. Jackie Danziger is our supervising producer. Our producers are Kegan Zema and Giulia Hjort. Hannah Boomershine and Erianna Jiles are our associate producers. Music is by Hannis Brown. Executive Producers are Jessica Cordova Kramer and me Stephanie Wittels Wachs. We are thrilled to partner this season with the Candida Foundation, the Annie E. Casey Foundation, the Pritzker Pucker Family Foundation, Levi Strauss and Co, and Everytown for Gun Safety. You can find more mental health and legal arms restrictions resources along with info about some of the voices on the show in the show notes and at lemonadamedia.com/show/lastday. If you want to hear more LAST DAY, we have two whole other seasons. Please go listen to them wherever you're listening right now. And while you're there, I implore you to take a moment to rate review and subscribe. It is the number one way that you can help the show. Join our Facebook group to connect with me and fellow LAST DAY listeners at www.facebook.com/groups/lastdaypodcast. You can find us on all social platforms at @LemonadaMedia. And you can find me at @wittelstephanie. You can also get bonus content and behind the scenes material by subscribing to Lemonada Premium on Apple podcasts. I'm Stephanie Wittels Wachs. See you next week.