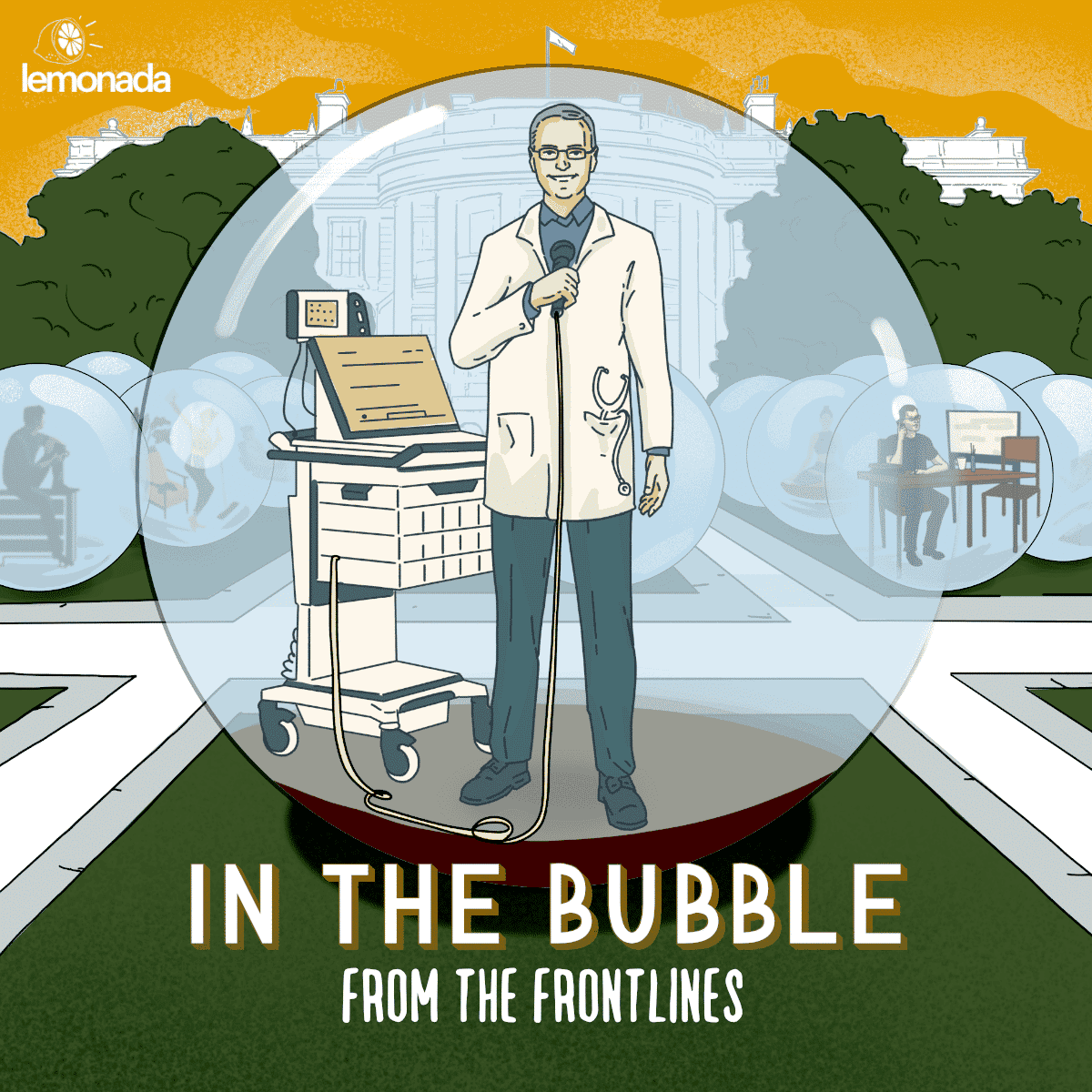 Can the CDC Regain Public Trust? (with Julie Gerberding)
Subscribe to Lemonada Premium for Bonus Content
Description
Dr. Bob calls up Dr. Julie Gerberding to address vaccines, the CDC, and how public trust factors into both. Julie has vast experience with all of those topics, having served as president of Merck vaccines and also as CDC director under George W. Bush, the first woman to serve in that role. First, Bob and Julie discuss the vaccine rollout, how the variants may affect things, and Merck's failed efforts to develop a COVID-19 vaccine. Then, an important discussion about the CDC, and how to avoid politics from interfering with science in the future. Plus, the lifelong lessons she learned about infectious diseases during the HIV epidemic as Bob's Chief Resident at UCSF in the 80s.
Follow Dr. Bob on Twitter @Bob_Wachter and check out In the Bubble's new Twitter account @inthebubblepod.
Keep up with Andy in D.C. on Twitter @ASlavitt and Instagram @andyslavitt.
In the Bubble is supported in part by listeners like you. Become a member, get exclusive bonus content, ask Andy questions, and get discounted merch at http://lemonadamedia.com/inthebubble/
Support the show by checking out our sponsors!
Check out these resources from today's episode: 
To follow along with a transcript and/or take notes for friends and family, go to www.lemonadamedia.com/show/in-the-bubble shortly after the air date.
Stay up to date with us on Twitter, Facebook, and Instagram at @LemonadaMedia. For additional resources, information, and a transcript of the episode, visit lemonadamedia.com.
Transcript
SPEAKERS
Dr. Julie Gerberding, Dr. Bob Wachter
Dr. Bob Wachter  00:07
Welcome to IN THE BUBBLE from the frontlines. I'm your host, Dr. Bob Wachter. Again, every time we think things are stabilizing COVID throws us a few new curveballs. Most of the news is good, cases have peaked and are starting to come down here in California where I am. The cases have gone down by 50% in the last couple of weeks, we have a new administration in place with a lot of COVID related initiatives that are coming out all of which seemed perfectly sensible to me. New leadership, emphasizing competence and science, one of the most prominent new leaders we have is the new head of the CDC, Rochelle Walensky. Who Andy recently interviewed on the show, the vaccine rollout has been bumpy, but it's happening, it's getting better.
Dr. Bob Wachter
And the number of people who have been vaccinated is growing every day. But of course, now a new shadow that we have we talked about last week on the show is the variants and what they will mean in terms of their increased infectiousness and maybe even some resistance to the vaccine. So there's a lot going on, what I wanted to talk about today, were two big issues, and one is leadership and particularly focus on the CDC, what we learned from the past year at the CDC and what is going to happen, that's new there, and also wanted to talk about a little bit more about vaccines. And so as someone who prizes efficiency, I realized that I could have two guests, but if it was possible to have one that would be great.
Dr. Bob Wachter 
And I realized that we could have one and that's Dr. Julie Gerberding. The reason is that Julie ran the CDC from 2002 to 2009, where she dealt with a number of threats, including the threat of bioterrorism after 9/11 and the SARS epidemic. Then after leaving the CDC, Julie went on to take a number of key roles at Merck and one of them was to lead Merck's vaccination program. So her current role is that she's Merks chief patient officer and executive vice president. Julie I also go way back, she was my chief resident at UCSF in the mid-80s. And she was actually the national leader in helping to understand occupational risk and transmission of HIV, the risk that someone could catch HIV, for example, from a needle stick.
Dr. Bob Wachter  02:25
Julie was doing that work when even when she was a resident and a fellow in infectious disease. So she's had a long and storied career, but really has a unique perspective, unlike anybody I can think of in that she's both run the CDC and run the vaccine development process at one of the great pharmaceutical companies in the world. So thrilled that Julie is able to take some time to talk with us today. So let's get Julie Gerberding on the line.
Dr. Bob Wachter 
Hello, Julie, thanks for being with us today.
Dr. Julie Gerberding 
Thanks, Bob, it's really fun to have this chance to talk with you.
Dr. Bob Wachter 
So let's start with the big picture, sort of if you call the friends up, and they said what is the current state of the pandemic? How do you see the big picture? We'll drill into the specifics of that in a second, but from 35,000 feet? What would you say about where we are today?
Dr. Julie Gerberding 
You know, from a global perspective, I think we have to acknowledge that we still are essentially in a surge. Yes, we see some hopeful signs of a decline in cases and maybe a decline in deaths that is around the corner, but we are still seeing more virus particles being transmitted in more parts of the world than since the beginning of this pandemic. And we have a long way to go before it's contained.
Dr. Bob Wachter 
The biggest curveball over the last several weeks is the emergence of these variants. And we've talked about them on the show, but what is your take on them? How worried should we be particularly in the United States based on what we're seeing in other parts of the world?
Dr. Julie Gerberding 
Now, when you think about these variants, it's sort of a microcosm of the whole pandemic. Science is on our side; Mother Nature is not. And what Mother Nature is really doing here is demonstrating that viruses evolve, and they will evolve faster than we can evolve medicines and vaccines to combat them. I think we've been lucky that this particular Coronavirus is not prone to large scale rapid drift.
Dr. Julie Gerberding  04:24
But clearly the emergence of these variants is worrisome, particularly the more recent ones that contain the E484K mutation, that does seem to be a signature for reduced activity in the context of the vaccines and the monoclonal antibody therapies. And this is just the beginning. We're seeing these variants emerge before they even coming under vaccine selection pressure. And when we start having more widespread use of antivirals, we'll have to be on the lookout for the same phenomenon.
Dr. Bob Wachter 
So how does the emergence of these variants both the ones that seem to be more infectious and the ones that maybe can evade the vaccine, at least partially, how does that change our approach over the next year?
Dr. Julie Gerberding
You know, it's a numbers game in a sense, right? So the more rounds of transmission and the more new virus particles that are circulating in the human population, the greater the chance for a resistance mutation to take hold, and then become the dominant strain if it has the competitive advantage. So the faster we get vaccine out there, and contribute to the reduced transmission through the other means social distancing and masks, the less chance.
Dr. Julie Gerberding 
The less statistical chance there is for a new variant to emerge and take hold. It's a tall order right now, given that we are at the only the beginning of vaccine launch. But the faster we can take advantage of the impact on transmission, particularly in the hot zones, where we know there is the most transmission, the better chance we have of accelerating our containment strategy.
Dr. Bob Wachter  06:02
So we'll get to the CDC in a little bit, and a little bit of time on vaccines. And the theme really, for the past. Maybe the theme two months ago was being ecstatic about finding these two vaccines that were remarkably effective. The theme for the last month seems to have been the sluggishness and the bumpiness of the rollout. So, talk us through the rollout and what you think has gone wrong, and did it surprise you?
Dr. Julie Gerberding 
There are five hurdles to having a successful vaccine program, efficacy, safety, durability of protection, robustness in the context of an evolving virus, and then the whole roll out logistic and human behavior that has to play into that. We've done very well initially with efficacy; safety is looking pretty good considering these are new platforms. durability is a question mark. But at least in the short run, we should be confident that we'll get sufficient duration of protection to be meaningful from a public health perspective, we're a little worried around the robustness and virus drift. But this last, the fifth hurdle is the worst.
Dr. Julie Gerberding
And part of that is a predictable surprise, knowing that we're never going to be able to launch with the full supply of global vaccine that we need. Of course, the supply chains are challenging for the mRNA vaccines because of the cold chain requirements. And then the distribution, uptake, affordability and access issues. Getting right down to the bottom line is am I willing to roll up my sleeve and allow someone to administer a new vaccine to me, it is kind of a best of both worlds. On the one hand, the fact that we're even able to have this problem so early in the pandemic is a miracle of science. But on the other hand, it is human nature.
Dr. Julie Gerberding 
And trust is at an all-time low across the board. So naturally, our ability to get people to take vaccines is challenging. In terms of the logistics of the process, clearly, there's high variability across the United States and globally. And we need to understand what we should have been planning for and doing better to at least take that piece of the equation off the table. This is a predictable surprise; we've known that the rollout was going to be tough. We've known since we determined that there would be vaccines that we'd have to cross this bridge.
Dr. Julie Gerberding  08:32
And yet, it's as if people had never thought of it and that we're inventing the wheel as we're driving the car, because everybody is doing it a little bit differently and we're learning many lessons the hard way. So I think there's a solution here. But it's bumpy out of the starting gate.
Dr. Bob Wachter 
Do you think the distribution problems will be worked out? Let's say in the next month or two? And if so, it sounds like then we hit a supply probably, we hit the supply bottleneck we thought we'd always have in some ways we were distracted from it early on, because the rollout was so bumpy, is that where do you think we are four to six weeks from now?
Dr. Julie Gerberding 
I hope, I hope that the logistic part of the equation is solved and I feel cautiously optimistic about that based on a few personal experiences. First of all, I had responsibility for the smallpox immunization program, which was a very small program in scale compared to what this is, but the emergency responder smallpox program was a logistical challenge and the problems were solved fairly quickly. Second, probably more germane is the situation in 2004 when we lost half the nation's vaccine supply for Influenza and we had to flex on a dime and try to get half of the supply out to cover as many of the highest risk people as possible.
Dr. Julie Gerberding 
I won't go into the details but it was a big challenge and at the frontline of our public health system with the cooperation of Sanofi and our distribution channels. We were really able to do a good job of offering the people who needed vaccine the most. And we learned a lot. Fast forward to 2009 pandemic, once the vaccine was available, the rollout was pretty straightforward. So I think we've got experiences under our belt that could have informed the planning and preparation for this. But it just either wasn't something that was well harmonized, certainly wasn't well communicated.
Dr. Julie Gerberding  10:26
And I think what we're learning is that you can't have a centralized top-down approach, you really need to engage the entire delivery system in the planning and the process, compared the situation in West Virginia, where the rollout seems to have gone much better than it has in states that were highly dependent on the federal planning and the slowness and the challenges that that is created.
Dr. Bob Wachter 
That's kind of interesting, because often people look at the lack of a federal response, and the lack of coordination is being the problem. And yet, it sounds like one of the lessons you're taking from what we've seen so far is that there were parts of it that might have been to top down. So how do we reconcile that, what's the sweet spot there between what the Fed should be doing and what has to happen locally?
Dr. Julie Gerberding 
And I think in a sense is plan horizontally, execute vertically sort of paradigm. In other words, the planning needed to embrace the various sectors, the National Guard, the pharmacy chains, the public health officials, the healthcare delivery system, that broad network of people that needed to come together and really inform a plan. But once you have a plan, then each piece of it needs to understand their part and how to do it, and execute on that piece in a consistent and cohesive manner. And instead, we have kind of 1000 flowers blooming so that some things are working and some things aren't.
Dr. Julie Gerberding 
And at the end of the day, as we always say in public health. If you've seen one local public health department, you've seen one local Public Health Department, they have many different requirements, many different stakeholders and constituencies and many different assets, human and physical resources that really have to be thinking about how to adapt a plan to a very local specific situation.
Dr. Bob Wachter  12:19
Maybe one more question on the variance and the intersection with vaccines potentially, I haven't heard anybody give me a really good answer to this one. So let's say in the summer, we vaccinated half of the population and then the South African strain becomes a dominant strain here or one like it where the vaccines don't work as well. And Moderna and Pfizer and maybe others have rejigger the vaccines to be more effective. What's the approval process for that? And what is the rollout of that going to look like? You know, when we're that far along?
Dr. Julie Gerberding
Well, I'm trusting that any new product that has to be brought into play will have a science base behind it and the appropriate clinical data to support it. So I can't imagine that we would just, as you say jigger the vaccine, and then roll it out widely to the population without the appropriate demonstration, it would be wonderful to have reliable surrogate markers of immunity so that we knew how to compare one vaccine to another as we do with influenza. So we may have more information to help accelerate that bridging as we go forward. But I think for right now, there will need to be a period where there is a clinical trial process in play.
Dr. Julie Gerberding 
Won't take as long or be as big as what we experienced with the initial rollout of these vaccines. And we're advantaged by having safety information that should be fairly similar to a tweaked version of the vaccines that we already have. So probably less concerns about safety and just more concerns that the change actually will result in the desired improvement in efficacy in the context of variance. I think also, the big part of this is going to be the psychology. Right now, we're all kind of leaning into this idea that get everybody vaccinated, get through this crisis phase, and by the end of the year, we'll be in some state that feels more normal than where we've been for the last year.
Dr. Julie Gerberding  14:19
But if we're now switching to a model that says "No, this Coronavirus is going to be with us for a while and it will evolve maybe more like influenza." So we're going to have to plan on periodic immunization, periodic updates in terms of sustaining our immunity. That's a little bit of a different mental model and it will take people a little bit of time to trust that and to get their heads around it. Not to mention the challenges of executing it.
Dr. Bob Wachter
Let's shift to trust for a second. You know, one of the things that struck me during your tenure at the CDC was your I've known you forever. So you're an exceptional communicator, you're very good at taking complex issues and describing them in ways that are accessible. Talk us through the communications challenges about the vaccine. And particularly, when you were running the CDC, there was no social media, there was maybe early social media, but not like today.
Dr. Julie Gerberding
That was the BlackBerry days.
Dr. Bob Wachter 
Yeah, the BlackBerry days, there was sort of limits on how much disinformation could come through various pipelines, it's very different today. So how do you approach this issue about educating the population and dealing with misinformation as it pertains to vaccines?
Dr. Julie Gerberding 
Well, clearly trust is the determinant of success here, but it's complicated, you know, the simplest paradigm is, say what you know, say what you don't know, tell us what you're going to do to get better answers, and then keep us updated. And that's important, because telling the truth about what's going on. And revealing the whole picture of that truth is one of the foundational pillars of trust. But in a situation like this, where it's really risk communication, it's a very emotional environment. And there's a lot of ambiguity, there's a lot of change. And there's a lot these days because of social media, a great deal of misinformation and disinformation that's kind of contaminating the more traditional channel.
Dr. Julie Gerberding  16:29
So one has to really communicate kind of credibility and empathy. That's not always easy for people who are more comfortable in the left-brain zone. But in that right brain zone is the part of us that needs to be able to say to people, you know what, this is hard. I wish it was easier. But this is a new virus, we don't know everything we need to know. And it's going to be a rocky road as we figure it out. But we're all in this together. And if we can really stick together and try to take care of each other and be thoughtful of each other, we have a much better chance of getting through it in a way that works for everyone.
Dr. Julie Gerberding
And I think that the concept of that, that sort of empathetic communication that doesn't try to talk people out of their fear, or their anxiety, or their vaccine hesitancy, if you will, but rathe1r acknowledges that that's a pretty normal reaction to a new situation like this, we can c1reate some common ground here and find a room to go forward. And then just really w1ork hard to keep the sort of network of influential communicators on the same page. And that latter piece has been, I think, where our biggest failure has been. This here 1and there, we have some really terrific communicators in the context of this pandemic.
Dr. Julie Gerberding 
But their good work is undermined by the person next to the1m who says something different or takes the information flow in a completely differ1ent direction or undermines the guidance and the advice that's been given. So I hope that what we can accomplish with sort of this reset of new leaders in place federally and 11in many states is an agreement that we will have a cohesive and consistent guidance and messages, and then, over time, hopefully rebuild the trust that I think we've lost.
Dr. Bob Wachter  18:30
The question of supply. One of the roles you've had at Merck was you ran their vaccine program for a while, it strikes me that there should be almost no limit on what the federal government should be willing to pay, if they could markedly increase the supply at this point given particularly given the pressure of the variants and that we're running a race against a foe that's going to run faster. Is the bottleneck money? Or is it a case where there's sort of no amount of money you could spend and just the system has limitations in it, that cannot really be overcome any more quickly?
Dr. Julie Gerberding
I do not perceive that money is the bottleneck. Now, you know, on a global basis resources to assure that we can get vaccine to the people who needed everywhere in the world is in part a financial challenge. So I'm not suggesting that money doesn't play a role in our ability to protect the world. But in terms of securing and producing vaccine supply right now, it is not that there isn't enough money, or that people aren't willing to invest in accomplishing that. It is a bottleneck of manufacturing. And as many people realize, under normal circumstances, our vaccine manufacturing capacity on a global basis is limited. We're very often in short supply of various important vaccines. There's just no buffer in the system for something that goes wrong or materialness to make the vaccines going into a shortage someplace in the world.
Dr. Julie Gerberding  20:03
So we're always in a situation where we have just in time delivery of vaccine supplies, because we don't have excess capacity even under the best of circumstances. So now we come into a situation where suddenly we need to flex all the spare manufacturing capacity that we have and any that we can build quickly. And it just can't happen fast enough, just because it's really hard. Anyone who's ever visited a vaccine manufacturing site understands how huge they are, how technically complicated and how it takes usually several years to build a new plant. So it is a bottleneck.
Dr. Bob Wachter
Yeah, yeah. Merck announced this past week that it was stopping its process of trying to develop a COVID vaccine. Can you tell us a little bit about what happened and what lessons that holds for vaccine development for COVID?
Dr. Julie Gerberding
Well, Merck had two partnerships for very early-stage vaccines based on platforms that we have, and will continue to have a lot of confidence in. But in both of the vaccine phase one studies, we did not achieve a level of immunity that was close to what is happening after natural infection. So that would signal to us that this particular formulation, or these particular approaches really weren't going to be able to contribute very much. And we need to go back to the drawing board and think a little bit differently about how we work with these platforms. One of the platforms we know can be successful, because it's the platform that we created our successful Ebola virus vaccine on.
Dr. Julie Gerberding 
The SV platform that we've been working on with IRB. So we're disappointed to say the least, we were hoping that we would be able to add something to help with the challenge. But it does give us the opportunity to repurpose our scarce manufacturing capabilities in creating the supply of the antivirals that we're working on and we have a couple in phase three, phase 2,3,4,1 and phase three, for another that we really are excited about. So hopefully, we'll be able to show some benefit from these investigational products and can contribute to helping all the people who are infected and at risk of having severe disease.
Dr. Bob Wachter  22:23
So you know, when the first two vaccines got reported as being 95% effective, I naively and knowing very little about vaccine development, sort of thought, well, maybe this isn't too hard that the spike proteins a pretty big target, and there will be many others that come down the pike, and they'll all work. What turns out to be so hard about this?
Dr. Julie Gerberding 
I think vaccines are hard, no matter what platform you're using, just in my 10 year, which is relatively short. In the vaccine world, we lost an HIV vaccine at Merck. This happened when I was still at CDC, but it was a huge disappointment, mega investment and complete failure. I've been involved at a time and we lost a very promising staff for this vaccine. We've had slowdowns and stops of some of our other really needed important vaccines for children and adults. So it's hard work to get everything perfectly. And you have to remember that the safety bar is set very high so that we have to put safety above everything else.
Dr. Julie Gerberding 
So that eliminates a whole lot of things that might make a vaccine more efficacious, but create an immunologic reaction that might not be safe enough to be used for protection. So it's just very challenging. Then I think when you look at this platform with the Coronavirus platform where actually there are Coronavirus, vaccines for animal infections that Merck has a couple and so do other companies.
Dr. Julie Gerberding 
So we've learned a thing or two about Coronavirus vaccines, pretty much all of these Coronavirus vaccines that are in animal use are have to be given more than once like annually if it's an animal that lives for more than a year. So these are you know some lessons about the class of viruses the single stranded RNA Coronavirus class that suggests that they're pretty crafty.
Dr. Bob Wachter  24:35
All right, let's turn to the CDC. Put yourself in the shoes of Dr. Walensky, who we interviewed on the show a couple of weeks ago, you've gotten the call you're taking over the agency. The agency by all reports people are demoralized and have been the agency's been politicized for the past year. Tell me how you would have approached that problem?
Dr. Julie Gerberding
Well, first and foremost is that the work that needs to go on inside of the CDC to build trust in the leadership and the ability to use science as the foundation for the public health decisions, and that the leadership is willing to stand strong and that science no matter what the price might be. So I think that's really critical. And I know from talking with Dr. Walensky, that's exactly what she intends to do. Part of that effort also needs to build a team and build the trust within the team so that the CDC can get back in the business of concentrating on the work that it's doing and less on the combating the political surround sound that it's had to contend with. I think, broadly speaking, while we have many, many urgent public health issues besides COVID.
Dr. Julie Gerberding
If we don't get this COVID vaccine and population health containment efforts squared away, doesn't really matter what else the CDC does, we have to get this right. So it really does have to be job one for everyone within the agency. But CDC can't do it alone. So that also means rebuilding the networks and the support for the local and state health officials, and all of the partner organizations that have to really come together. I know the CDC is up to it, because they've done this before. But it is a little bit like pushing a reset button and saying, "okay, that was then, this is now. Now what do we do? What are the true priorities, the must wins, let's get those things right. And then we can concentrate on everything else."
Dr. Julie Gerberding  26:35
And I think one of those things does mean rebuilding trust, I've already said within the agency, but we also need to restore the trust and confidence that people have in the CDC, outside the agency. Behind the curtain, people are demonstrating a lot more trust in the CDC than you might guess by reading the media. 2.2 billion hits to the CDC website, for example, where people looking for information, and you can't go into too many big box stores or airports where you don't see the CDC signage, recommending what people need to do.
Dr. Julie Gerberding 
So I think the CDC messages and the CDC science is out there, but we just need to shine a bright light on it, fix the things that need to be fixed, don't get me wrong, but also just restore that confidence and trust that people deserve to have in the agency.
Dr. Bob Wachter
I imagine during your tenure, there probably was politics. There's the laws of gravity there, there must have been times where there were political pressures and maybe countervailing scientific knowledge. So I assume every CDC director has to navigate that. So what are some of the things you learned along the way? And as we think about a future, for the CDC? Are there new guardrails or new protections to prevent a replication of the last four years?
Dr. Julie Gerberding  28:02
Well, I agree with you, Bob, that every federal agency has some kind of politics to deal with, because that's the nature of government. Our mantra has always been, you know, get the public health science, inform the policy advocate for science-based policies. But recognize that what you end up with at the end of the sausage making process isn't necessarily always going to be ideal from your standpoint. And that's where our ability to inform and educate the public as well as decision makers, just really important. So that is part of being a government leader, and you'd have to develop some comfort with that. But I also think that there is an importance of drawing a line in the sand. And I was extremely fortunate during my tenure, at least in retrospect, where, when I sit down with Tommy Thompson and talk with him.
Dr. Julie Gerberding 
After the anthrax attacks, how we would manage a public health emergency thinking terrorism at that time, but any public health emergency, and the Secretary Thompson at that time just really said, "at the end of the day, CDC needs to run the public health emergency." Now you will have to take responsibility for communicating what you're doing for interacting with all of the other parts of government that are involved, but CDC needs to lead it. And so when SARS happened, just a few weeks after that conversation, he was really true to his word. And I feel like, I can't remember any instance during that emergency where I was unable to say what I thought was the scientific truth.
Dr. Julie Gerberding 
And the right advice and recommendations for the US government. It's not to say that we didn't have some heated conversations about shouldn't be this way or should it be that way. But at the end of the day, it really felt like science prevailed, and we were able to do our job so it can happen under the current structure. But I think one of the scary things to me is that we've now learned that that ability really depends on the surround sound of who else is in government and how they operate. And I believe now having watched the last year unfold, that it's time to really consider structural change within the CDC reporting position in the government.
Dr. Julie Gerberding  30:25
To make sure that we never end up in this situation, again, where the political process can completely overwhelm the scientific efforts. It's one thing to say, you know, we're making decisions on behalf of a body politic. And we see the science as supporting that. And it's another thing to say we don't like your science, and we don't like where it takes us. So we're going to do something different, that can never happen again.
Dr. Bob Wachter 
Can you give us a sense of what that structural change might look like?
Dr. Julie Gerberding
Well, there are lots of things to consider. And I am co-chairing a process at the CSIS global health security commission, where we really want to take a look at these structural options, had a few conversations with supportive members of Congress, one model is kind of the Federal Reserve model that was implemented way back, I think, in 1913, to avoid politicizing the central banking system in our country.
Dr. Julie Gerberding 
So that's something to study and understand if there could be any relevance there. I'm not suggesting that's the solution. I'm just saying that these problems that had to be solved before, and at the very least, CDC needs a budgetary reform, so that it is not budgeted on a year-to-year basis, but actually can properly invest in the kind of long-term preparedness that our public health system needs.
Dr. Bob Wachter
Let's get to that for a second. Another former HHS Secretary Mike Leavitt once said before a pandemic, everything you do will seem alarmist. After a pandemic, everything you do will seem inadequate. So there's this real tension about preparedness and investing sufficiently. I assume we'll do that, you know, the minute COVID ends and that it will wane over time, because that's kind of the nature of preparedness. So how do we protect against that? How do we prepare adequately for the next one, particularly if a couple 3, 4, 5 years go by, and we don't have anything like this again.
Dr. Julie Gerberding  32:23
It's really tough and this has been a challenge. It's the cycle of crisis, and then complacency. And the money Follows the crisis and goes away when the face of complacency sets in. And that's where I think we need that federal leadership. We need a mindset that accepts health security as part of our national security, planning and investment. And just like we invest in weapons that we pray; we never have to use and who eventually those weapons eventually become obsolete. We need to be investing in the countermeasures and the capabilities for bio protection that we hope we never have to use, but they're there if we need them.
Dr. Julie Gerberding 
Unfortunately, they're not a great deterrent to Mother Nature. So we'll have to think other ways that we might be able to invest in predicting and pre-empting the kind of emerging infectious diseases that we're increasingly likely to be plagued with. So there's a piece for research and all of this definitely. But I think that a preparedness apparatus, the kinds of things that would allow us to have had Coronavirus vaccines in further stages of development in the freezer, or would have allowed us to have a Strategic National Stockpile that had the supplies that our health system needed, including syringes and gloves and masks and everything else.
Dr. Julie Gerberding 
Or that allowed us to have the kind of preparedness investment, the planning and the exercising necessary to understand how we would launch a national immunization campaign or maybe in some cases, a national pill distribution process. These are capabilities that we have to develop. And if our mindset is, well, this is once in a century, and thank goodness, that one's over. We're not going to get there. So leadership has to step up.
Dr. Julie Gerberding  34:16
And that's part of what all of us who are able to interact with leaders in different sectors. That's a message we need to consistently deliver. And you know, you Bob is being chairman of medicine, you have a really important voice in California and a really important voice in Washington. And people will listen to that voice because you've been on the front line.
Dr. Bob Wachter
Thank you. I want to ask about the front line and your entry into the worlds of public health and pandemics was in the 80s as was mine You were my chief resident at UCSF when HIV exploded. And your early research was on HIV and occupational exposures. What did you learn from that experience and that's been useful in thinking about COVID?
Dr. Julie Gerberding
It's really hard to go back to that time. But prior to the emergence of HIV infection, there were a lot of influential people in the medical community and elsewhere who believed we had come to the end of the infectious diseases era, that we had vaccines and antibiotics. And we were good, let's move on and study heart disease or diabetes. And so HIV came as a rude awakening in every sense of the word. And, of course, the tragedy that we experienced as young trainees in San Francisco where most of my patients at San Francisco General had HIV, and most of my patients were likely to die within the next six to 12 months by the time they were hospitalized with the complications.
Dr. Julie Gerberding
That's take my life forever. It shaped my life in terms of recognizing the power of emerging infectious diseases and the importance of being able to detect and respond to these threats. It certainly informed me about stigma, which we see even in the context of COVID, today, and how human nature can get in the way of doing the things that behavior changes, etc, that help provide protection. But I think on a hopeful note, Bob, what would it really taught me was that science will bring solutions to some dimensions of these problems.
Dr. Julie Gerberding  36:26
You and I both lived through the pre-antiviral era for HIV, and we know what it meant when we finally got highly active antiviral therapy, and patients could look forward to living healthy lives for a long time. So science can help bring solutions. But even though they are necessary, they're not sufficient in our social environment, our social determinants of health, and the whole surround sound of behavioral economics and human behavior are equally if not more important. We have a long way to go there.
Dr. Bob Wachter 
Well, Julie, I think that's actually a good note to end on. And I think a hopeful note, because we recognize that there are answers out there. And if we allow science to do its thing, including this the sciences, not just a virology and immunology, but also of behavioral health and sociology and political science, there's a lot we can learn to, to respond in the right way. So thank you for your leadership. Thank you for all you're doing and all you've done in in helping to keep us safe. And I really appreciate you spending time with us today.
Dr. Julie Gerberding 
Thanks, Bob. I enjoyed the conversation. And as always, stay safe.
Dr. Bob Wachter 
I'm trying, you too.
Dr. Julie Gerberding 
Thank you.
Dr. Bob Wachter 
My thanks to Julie Gerberding for really a fascinating talk, what I hoped we would get out of it is these deep insights into what it's like leading the CDC and some of the challenges that Rochelle Walensky faces and trying to turn that battleship around. And she seems to be doing a terrific job in this this first week or two. And then also insights as to into the vaccine development process. And the fact that Merck with almost unlimited resources pulled the plug on their vaccine efforts just demonstrates how hard this is, and how really lucky we are in a way that the first two vaccines out of the box from Pfizer and Moderna turned out to be so effective and so safe. It really is an it's something that we're very fortunate to have.
Dr. Bob Wachter  38:33
And now we just have to have a distribution process that matches that. So thanks for listening today, we'll be back with some fantastic shows. In the next week or two. I'll be interviewing Don Berwick, most of what I know about improving quality and patient safety I learned from Don, and who also lead Medicare and Medicaid before Andy did. We'll also be talking to Julia Marcus. Julia is a professor at Harvard and studies the impact of behavioral change on people as in fighting infections. She's done a lot of that work in HIV, but has thought deeply about how that all plays out in COVID.
Dr. Bob Wachter 
And we'll get into the issue of COVID fatigue, you know how, we're now a year into this, how people deal with all of the restrictions on their lives and how we balance the need to try to stay safe with the need for people to live their lives as well. A tricky topic, and Julia has thought as deeply about that as anybody I know. We'll also get our first report from Lana Slavitt, who will give us an Andy report from Andy's first couple of weeks in Washington, what's happening and how he's doing and I know he wants to show back so we'll hear about that too. So looking forward to the next few episodes. Until then please stay safe and look forward to talking to you soon.
CREDITS
We're a production of Lemonada Media. Kryssy Pease and Alex McOwen produced our show. Our mix is by Ivan Kuraev. Jessica Cordova Kramer and Stephanie Wittels Wachs executive produced the show. Our theme was composed by Dan Molad and Oliver Hill and additional music by Ivan Kuraev. You can find out more about our show on social media at @InTheBubblePod. Until next time, stay safe and stay sane. Thanks so much for listening.