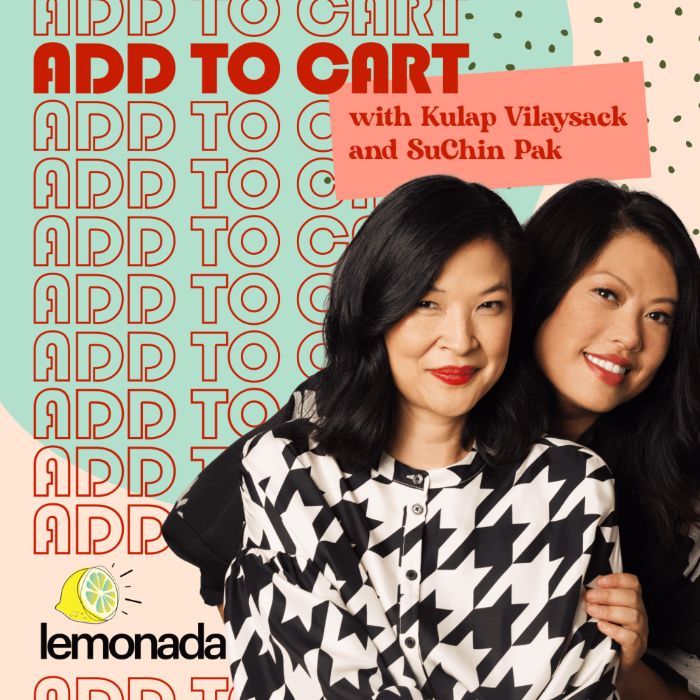 Dance Battles with a Rubber Hand with Atsuko Okatsuka
Subscribe to Lemonada Premium for Bonus Content
Description
In a jam-packed show, Ku talks about the best wedding she's ever attended and Su shares about Mike Bender's new book. Then comedian and creator of the #dropchallenege, Atsuko Okatsuka joins for a hilarious conversation about dancing, tiny suitcases, and ways she can make the most out of a $40 impulse buy. Plus, a heartfelt and heartwarming sidebar with Asutra founder Stephanie Morimoto with journalist and co-founder of the Very Asian Foundation, Michelle Li.
Please note, Add To Cart contains mature themes and may not be appropriate for all listeners.
To see all products mentioned in this episode, head to @addtocartpod on Instagram. To purchase any of the products, see below.
Atsuko is on tour! Check out if she is doing a show near you!
Kulap's outfit for Matt McConkey's wedding was one for the books. She looked regal and chic. You can emanate dear Kulap by buying her Dress, Earrings, and Shoes.
Check out Mike Bender's newest book:
If you too want to buy a fake silicone hand like Atsuko, you can find one here.
Asutra has some of the best pain relief products and for AAPI Heritage Month, Asutra is partnering with The Very Asian Foundation to amplify AAPI voices and representation nationwide, supporting access to AAPI books for schools and students in need.
Stay up to date with us on Twitter, Facebook, and Instagram at @LemonadaMedia.
Joining Lemonada Premium is a great way to support our show and get bonus content. Subscribe today at bit.ly/lemonadapremium.
Click this link for a list of current sponsors and discount codes for this show and all Lemonada shows: lemonadamedia.com/sponsors
Transcript
SPEAKERS
Michelle, Stephanie Marimoto, Kulap Vilaysack, SuChin Pak, Atsuko Okatsuka
SuChin Pak  00:10
Hello everyone and welcome to another brand-new episode of ADD TO CART. Now this is a show about all of the things we buy, the things that we buy into and what it says about who we are. I am SuChin Pak.
Kulap Vilaysack  00:24
And I am Kulap Vilaysack and we have some great guests and a sidebar with SuChin coming up. Yeah, yeah, but before we get into the show, I do want to talk about why I'm think listeners can hear my voice is so hoarse.
SuChin Pak  00:40
I was gonna ask, I was like, are you sick?
Kulap Vilaysack  00:42
I'm heart sick. Because I wish I was still at my dear friend and former guests of the show. Matt McConkey is wedding. Yeah, formally Matt McConkey. Now, Matt Grassi.
SuChin Pak  00:55
Oh, he's changed his name. This is for real
Kulap Vilaysack  01:01
Su, I've been in many a wedding. The best I've ever been to.
SuChin Pak  01:06
Wow. I'm not surprised.
Kulap Vilaysack  01:10
I've met some of Michael's family, some of his friends. The way that we talk about Michael for Matt, and just the type of amazing person that Michael Grassi is. His friends were like, that's how we think about Matt. And I like to me so beautiful. Su did we ever talk about the dress codes at all for this wedding?
SuChin Pak  01:34
No. I haven't heard anything about the wedding.
Kulap Vilaysack  01:36
Okay, so the dress codes. So there were two events. The night before was Michael's birthday, and also the welcome party. And the dress code was call me by your name, casual. What does that mean? Well, it means that you should dress like you're attending a relaxed luncheon at a sun-drenched Italian villa. Think open collared shirts and flowy silhouettes in earth tones and lush pastels.
SuChin Pak  02:07
Are you actually reading from an invitation.
Kulap Vilaysack  02:12
I'm reading from their website, so it's easy code breezy, laid back and gay. So this these dress codes Su like the since that, like dropped when we were told what to do. I think everybody has been so engaged like what are you wearing? Let me see what you, I don't know if he should wear that. Wear this, like it just.
SuChin Pak  02:37
It's brought the group together. How genius is that?
Kulap Vilaysack  02:42
And what is so funny is that like Casey in particular, was just like trying different ideas for like both events. Am I gonna wear this I'm gonna wear that. Finally like the week of she got this great outfit. And that was this pink blush suit. And I'm like this is called me by your name you have to wear it. You look so good. Then Matt and Michael show up at the welcome party. And Matt is essentially wearing the same thing. The equivalent of wearing White to a wedding.
SuChin Pak  03:21
But listen, Casey really understood the assignment. Some would say she got the a plus. You know?
Kulap Vilaysack  03:29
I of course, I thought it was really fun and funny. I think it's great that they were in matching outfits. The outfit for the wedding, the dress code was fashion forward. It still makes me laugh. Cuz when they go hey, what does it mean? What does fashion forward mean? I'm scared. They're like don't be, you don't have to look like you're fresh off the runway. We just want you to feel like it. So go bold, make some statements and live your truth. And then just an addendum about shoes. The higher the heel the closer to God.
SuChin Pak  04:19
Wow, this is quite an invitation.
Kulap Vilaysack  04:23
All right. Okay, so I'm going to do this. And then there was a so much talk, like, is that fashion forward enough? So I posted a picture over the weekend of just Matty and Michael and Matty is like, best friends aka sisters, basically. And you guys can see my dress and a lot of people were wondering about my dress.
SuChin Pak  04:45
I mean, I'm not going to play favorites. And because it's unfair. Also, you're my pod wife. But let's be real. Yours was the best. It's not a contest.
Kulap Vilaysack  04:59
In our friend group it is, at that wedding it is.
SuChin Pak  05:04
And you chose the color of money you chose the color of richness you chose. You chose that Gucci green it held your body in the right places, the slit in the le.
Kulap Vilaysack  05:22
Your seeing one leg I need to let you know that it was a double slit double slits for both legs hit that link the maker of this beautiful dress.
SuChin Pak  05:35
This dress on this website at Bergdorf Goodman by Bronx and Banco doesn't even do it justice like this doesn't even look sexy. You're right the model, they should replace this weird person with the photo from the wedding. Do I have to add this to cart but I the double slits that scares me but I could maybe put some leggings. I'm kidding. This was so gorgeous.
Kulap Vilaysack  06:11
This dress was $550. That's not cheap. I went a little cheaper for the shoes. And you know you look at these shoes, Su, they're from a brand I was not familiar about them at Nordstrom using a Rakuten for all of this you guys.
SuChin Pak  06:32
I can't even search without an activate these.
Kulap Vilaysack  06:35
Azalea Wang, these are some shoes. They were comfortable.
SuChin Pak  06:41
There are $109 You guys they look like they're $5,000.
Kulap Vilaysack  06:47
But like I was writing the line of tacky. Like that's where I was gonna try to kind of do that was my fashion forward like idea. Okay, and so that's where  I wanted to go. I guess the word opulence is what, I was thinking. But it's a gold platform shoe with essentially. And then you know, I wore, you know, my go to small Gucci red clutch, wore a pair of earrings, which I didn't take any photos of but there are these like gold tone snake earrings that I got from article 22. And they are a company that takes bombs that the US dropped onto Laos and makes jewelry out of them. They're so gorgeous, snake earrings. So it was very, you know, I was also kind of wanting to give you know, I love that Gucci babe.
SuChin Pak  07:46
You gave it, I didn't know what the dress code was. I know your friend group loves the dress code. But man, you guys all looked straight out of vogue. And you were the cake topper.
Kulap Vilaysack  08:03
I appreciate that. I also want to tell you, because I haven't told you this is that Matt put together a Sex in the City scene.
SuChin Pak  08:13
What do you mean?
Kulap Vilaysack  08:19
To open the wedding. Not the reception. The wedding. The ceremony. He had myself June, Casey, Lara Kindred take on the roles of the women from Sex in the City and do a scene.
SuChin Pak  08:41
Before the ceremony, you did a Sex in the City scene?
Kulap Vilaysack  08:44
I'm sorry, to start the ceremony. To start the ceremony, the string trio starts the Sex in the City theme song. We take our places behind the mic and then a scene begins. That was four to five pages long.
SuChin Pak  09:04
So basically no gay wedding can ever happen after this wedding. Like they somehow broke the sound barrier of gay weddings.
Kulap Vilaysack  09:14
I played the role of Samantha Jones.
SuChin Pak  09:16
Of course. Not of course, there's a few Samantha's in your group.
Kulap Vilaysack  09:22
June and Casey. Well, yeah. I mean, there was some talks and people were not happy with who they were assigned Casey did not like taking Charlotte on. But what I want to say and I keep saying to her, is that, like, me and Laura, who Laura played Miranda, June played Carrie, Casey and June, the actresses in our group, the, you know, true thespians. They're gonna get the challenging roles. They're gonna get more of a word count. They have more stuff to do to convey me. I just say things like I put dinner rolls and my poochie. That's what needs doing I am limited. I was not calm and collected about it. I was so worried about like fucking up.
SuChin Pak  10:13
That's so unlike you too, but that's a lot of pressure.
Kulap Vilaysack  10:16
I felt the pressure, I really do and because Matt is my brother. Yeah, it was perfect. It was so perfect. Every moment was so fun. Was such a celebration of their love. I love their love. You know, Matt and I, we really do we connect on so many things. But you know, like, Matt's adopted, I adopted by my stepdad like, there's some like, you know, there's these feelings that we understand about each other. And I was around when Matt met his birth mom. And you know, I think it's just to have her there. And she's such good friends with Matt's mom, Evelyn. Have […] and his birth mother there and to have them both speak. Man oh, man. That's really powerful. To see everybody speak, to see, it really was just so much about like blended families because we had stepdads and birth mothers and husbands of birth moms and half-brothers. And step moms that you know, mean, like, there was just like so many type of variations of family of blending of family. And then both Matt and Michael have such deep and rich found families, like such deep and like we all of us would truly do anything and everything for them. I love him so much. And it was so perfect. And all the music was perfect. And the food was delicious. I don't know, and this is why my throat is just gone. Like I just was screaming and laughing and I couldn't stop crying. I just I lost so much water weight. Just so beyond touched.
SuChin Pak  12:20
Well, that's amazing. I'm so glad I couldn't wait to hear about it. Because I knew that you know you were out of pocket for the weekend. Before we get to our guests, though, can I give a quick add to cart? I just wanted to give a quick shout out to my husband, Mike Bender, past guest on this podcast. So I don't know if you remember during the pandemic, there was this book called The Boy, The Mole, The Fox, and The Horse. By Charlie Mackesy, I'm not sure how to pronounce it. Oh, it was like an international bestseller. You couldn't buy this book. At some point, it was the biggest book on Amazon. It was huge. And there was something about this book, where it's a beautifully illustrated book. It's a kid's book, but not really, that people in that time, they found hope and love and some sort of joy. And it was very touching and heartfelt. And I think people really needed to hear that and read that. And so my husband got that book as a gift. And he decided to do a version of that book. And it's quite different. It's a cynical version of that book. And if you know Mike, that's not surprising. And you know, he was like, this is a beautiful book. I love this book. There's also a part of me, that's like, we're in shit times. Things are shit. Yeah. And, and I feel like shit all the time. Let's lean into that. And so he has written a book. It's called The Kid, The Troll, The Wolf, and The Hearse. Yes, there is a talking hearse. Okay with a coffin inside. And you know, wildly rigid, it's a no mosh you know, and while the original book, you know, talks about hope and love, you know, there are quotes in this book, you know, some of my favorite drawings. And words are, you know, the greatest illusion is that happiness makes you happy, you know, stuff like that. Where, where, if you know, Mike, you know what this is, but he just kind of wanted to give catharsis to just cynical people like him that are lovable as well. And you can get it on the Kickstarter. It ends next week, May 26. So it's a very short kickstarter, and then the book will be delivered by Christmas. So really, it's just the perfect gift for you know, any cynical bastard in your life. If you know, myself and Mike that is our love language. It's cynicism and awkwardness.
Kulap Vilaysack  14:56
Oh, shout out to my friend Mike bender. This man And he's so just like industrious in the midst of he is dealing with as you guys have read his article and men's health just a times debilitating health issues. Y'all want to be cynical but like I see this man triumph, you know like I see it, too, you know. So yeah, I mean I'm so impressed.
SuChin Pak  15:25
He is truly a creator. Like we talk about creative people. The only thing that makes him happy is to create.
Kulap Vilaysack  15:33
Will definitely post on our social media and send the link out.
SuChin Pak  15:46
All right, so without further ado, let's get to our lovely guest.
Kulap Vilaysack  15:51
Oh my Stars and Stripes Forever. People of America, people of the universe, wake up, wake up, wake up, wake up, take off your socks before they get shot off your feet. Because our guest today is a comedian and actor, a writer, a sensual dancer, a starter of all things she's been seen on The Late Show with James Corden. Our Cynthia live from the Roosevelt I mean, she was all over this recent Netflix is a joke festival every day working, getting her money getting her bags, aborting her family, and she still is autonomous and her own woman is well known for starting the drop challenge accidentally with her grandma. Please welcome Atsuko Okatsuka.
Atsuko Okatsuka  16:45
Thank you so much. I feel so seen. I feel so seen. Oh my god.
SuChin Pak  16:49
That's all we do here is just watch what you're doing all the time.
Kulap Vilaysack  16:53
This is a big part of my life. I've known you and known of you for a long time. And it's so exciting to see what was inevitable and that being your star rising.
Atsuko Okatsuka  17:06
That's so sweet. Oh my god. What is this, just a family get together? Oh, my God. The gone right part is, friends giving? Yes, how y'all? You know, obviously, I feel the same way about you too, you know, so no big deal.
SuChin Pak  17:38
Not too long ago. We all you know, did some torquing together, online. And boy, did I learn about some muscle groups that were pretty much you know, non-existent. Before we did our little dance therapy. It was so fun.
Kulap Vilaysack  17:59
Su, have you ever popped that ass before.
SuChin Pak  18:03
I can't say I even popped it, at that dance. Butt popping session, I was trying to look for my ass. And, and you were very clear about what to do and what muscle groups to use. Even if you don't have a butt like me that you could still pop it. And I tried it.
Kulap Vilaysack  18:22
A plus. That's the group that we all organize with. It's Asian American Women in Entertainment. During the pandemic Atsuko graciously volunteered her spirit in her ass to teach us how to twerk.
Atsuko Okatsuka  18:37
That was the segue I was trying to give you by saying a plus. So that was good. I'm glad you got to plug that because  it's a beautiful space that you're, you know, provide. And, you know, I was like, oh, yes. You know, it's like therapy and safe space in all this. And then you're like, can you just come? Just like, shake that, shake that butt And I was like, sure.
SuChin Pak  19:03
We hold multitudes as Kulap says, you know, we can we can fight for visibility and for representation. And we can shake that ass.
Atsuko Okatsuka  19:15
Yeah, it's truly like, for me, it was like survival. And that's how I learned it. Because, you know, my body. This body of an engineer that I got from my father shouldn't be able to do that, you know, but it was, I would just want people to know, it's not like a thing. It's not like I was born and I was like, they were like all that juicy behind. She's gonna be able to do that one day.
Kulap Vilaysack  19:41
I'm so glad that the doctors didn't say that about your baby body. I'm glad.
Atsuko Okatsuka  19:46
Yeah, no, that's true. That will be weird. Especially because it was my uncle that pulled me out of my mom. My uncle is an OBGYN. And my family loves a discount. So they were like oh, my mom was like, yeah, just have my brother do it. Which is like such an intimate? I don't know if you'll have a relationship like that.
Kulap Vilaysack  20:10
I am certain that I do not. This is beautiful.
SuChin Pak  20:13
My husband was bare. He was leaning out, let's say leaning out so hard that at one point the nurse was like, my knee kept flopping over because you know, when you're that medicated down there, somebody has to prop up all and he just he was leaning out so hard.
Atsuko Okatsuka  20:30
Because he didn't want to get splashed.
SuChin Pak  20:33
He's like, Oh, God, no. splash zone don't have my raincoat on. I was like, hello, yeah, I need my legs.
Atsuko Okatsuka  20:40
There are certain things that like, with friends or our loves, like, we don't want them doing the scientific things, you know, like, you don't want to get a pap smear from you know, your husband, right? You shouldn't. That would just change your sex life, I think. And luckily, you know, they were brother and sister, you know, my mom and uncle. So that wasn't gonna tarnish that. Maybe in some cultures, some places, you know?
Kulap Vilaysack  21:10
Do you think there was a deepening?
Atsuko Okatsuka  21:13
Like, it didn't tarnish their sex life. Yes. With each other. Because there was none in the first place. But yeah, it probably like deepened their sibling bond. I'm still shy around him. I'm still like oh my god, you saw that, you saw me? On my first hour. Oh my god, I'm so shy around this uncle. But anyway, yeah. So it was like high school during high school. You know, I had a hard time making friends. And so, you know, I was trying to fit into different groups. And it was the cheerleaders that took me in and that's how I, I learned what I can do with my body. And, you know, they sort of like really pushed me, you know, I can express myself through my body, because I had a hard time with words. Ah, yeah. So like, dance and what you can do with your hips and your butt like that. That goes back to like, finding my first community, you know, kind of, yeah, cheerleaders.
SuChin Pak  22:18
I did not see that coming.
Kulap Vilaysack  22:20
They were the pack of wolves that took young Atsuko to go in. Showed the ways of the hip.
Atsuko Okatsuka  22:26
Well, I don't know what your cheerleaders were like, at your schools, but my weren't like bring it on cheerleaders. They were like, oh, if it weren't for cheer. We would have joined a gang that kind of, like a lot of them had like, yeah, some had been shanked before, it was very different. It's not like cheer like you see in Netflix.
Kulap Vilaysack  22:49
Yeah. My school. Like the cheerleaders weren't that popular girl. So popular girls were a dance line. And then exactly my year, I think my sophomore year, they started a step team that would maybe last two seasons. And I was a part of that.
Atsuko Okatsuka  23:04
Of course. Yeah. Step team also pivotal to a lot of kids lives you know, growing up.
Kulap Vilaysack  23:10
You know, and I'm going to show you guys when I see you guys in person, I'll do the two or three moves that I remember. I can't wait.
SuChin Pak  23:16
I mean, why wait, you know what I mean? Anytime during this recording, if you want to just get up and step it out.
Kulap Vilaysack  23:24
Kind of tough.
SuChin Pak  23:27
I'm learning something new about well, the both of you.
Atsuko Okatsuka  23:30
No introduction needed, next time you see us just go straight into it.
Kulap Vilaysack  23:34
That's how I will greet you both.
Atsuko Okatsuka  23:37
What I haven't seen in a while in the streets. Maybe because I live in Silverlake, you know everyone's stiff here. They're I haven't seen a dance battle in so long, live.
Kulap Vilaysack  23:49
It should just like it should. That's how we should just be breaking. You know, in this post pandemic world. I know. We're still on pandemic. But as we ease out to something different. Maybe that's what we do. Have Michael Jackson style.
Atsuko Okatsuka  24:06
Hash it out. Yes. Instead of argument. Yeah. You know, fights in a grocery store. If it's the last homeless and you're trying to get it, you got to dance it out. That's right. Whoever has the most spirit. You got served
Kulap Vilaysack  24:21
You got served and like body roll it body roll it and see what happens. Just see.
Atsuko Okatsuka  24:26
Yeah, and then you'll get maybe you'll get wrapped who you never know who's watching. Right? And so you win that battle. Boom, you've got mail. You have an agent now. You got served and you've got mail, two pivotal movies in my life.
SuChin Pak  24:44
Career advice, you know, conflict resolution, body movement. Yeah, we covered it all. And we have yet to get into your list.
Atsuko Okatsuka  24:57
Maybe SuChin was a popular girl. Is that why you haven't said what group you were in?
SuChin Pak  25:01
I wish that were the case with my Connie Chung Bob haircut. I too have an engineer's body but not as voluptuous as your engineer body.
Kulap Vilaysack  25:14
And then what years did you teach Sunday school?
Atsuko Okatsuka  25:17
Oh, you taught Sunday school? Sounds like you were pretty popular.
SuChin Pak  25:24
I mean, geez, the boys wanted some of this honey. You know what I mean? Buzzing around all the time. Really hard to keep it? Keep it under wraps.
Atsuko Okatsuka  25:35
Because there were like, Jesus, she's teaching the Word of God.
SuChin Pak  25:39
Yeah, I mean, Jesus was my man. You know?
Kulap Vilaysack  25:43
Many years later, she becomes queen of MTV.
SuChin Pak  25:47
Still with Jesus on my side.
Atsuko Okatsuka  25:49
That's what I was saying. Like with TRL you because you said you never like found your butt or shook it like not even TRL days?
SuChin Pak  25:56
Oh my god. Not even TRL days not even post TRL days.
Atsuko Okatsuka  26:02
It is because during that time, I was like Limp Bizkit. And like that's hard to dance too?
Kulap Vilaysack  26:07
She talks about how she was like in studio with Usher completely unmoved.
SuChin Pak  26:34
You got it bad.
Atsuko Okatsuka  26:39
Confessions. These are my confessions. I cheated on someone.
SuChin Pak  26:45
That's right. Yeah, that's right. Yeah, it was, they were deep times, you know, soul searching times when I was there. And, you know, I have to say my Sunday school background probably really did help me get into it, you know, with Usher and his confessions. You know, I was comfortable in that. […]
Atsuko Okatsuka  27:09
Where you could be like, he's a sinner. I'm a sinner. I can relate. Yeah, totally. Little John and I talk now, by the way, just the side note.
Kulap Vilaysack  27:19
What do you mean? Like how do you know I want this flex, I'd love you to go deeper.
SuChin Pak  27:23
We talk as in because in Middle School Talk means you know, something more than, so get into it right now.
Atsuko Okatsuka  27:31
I want to bring back talk. As in like, you're just literally talking to each other. And none of this code word stuff. Everyone's so horny. Just grow up. Okay. I'm talking to him. Just like I'm talking to you. Both of you.
Kulap Vilaysack  27:48
You're not trying to fuck. But I mean, everyone is so horny.
Atsuko Okatsuka  27:53
No, that's true. Everyone's horny. But they're just, y'all, maybe you have this problem. Because you know, you are both very, like, flirty, you know, and I'm flirty too. But I have this essence that sort of shuts down. That possibility of hooking up. I feel like Yeah. When people talk to me, they just assume we're not hooking up. Do you have that power? No, you could just tell like, um, oh, yeah, immediately. friendzone to and you know, sure, we all have our people or, you know, yeah, our partners. So maybe that helps. But you know, people still try to fog. Knowing you're married. Yeah, we're still going back to Lil Jon. I want to give you all a compliment first, though, that, you know, people probably still try to like wink eyes at you. Like nobody does that with me. They always they always say oh my that's cool. Oh, no, that book is an is actually her hair. Oh, no, she really rocks that every day. We'll come back to this. But Lil Jon and I are just talking like friends. Like he's my uncle. I'm his niece.
SuChin Pak  29:22
Well, we know what uncles do in your family. So let's say let's pick a different, he's like your, he's like your second cousin.
Atsuko Okatsuka  29:29
He's like my second cousin. He just really enjoyed because Lil Jon songs were very pivotal during my cheerleading days, we would use his songs a lot for our routines. And so I sort of grew up listening to just like hype that hype energy that you know, I'm not like a deep person when I listen to music. I don't need the lyrics to be like, you know, mind blowing thing. No, just a simple Yeah, just a simple to the wall. We're like, we're gonna we're just excited to be here, you know? And, and so, in some of the dances that I do with my grandma that I posted online, we use his songs, and he found them. And so that's how we started talking. And so like, next time we're in the same city, you know, we're gonna try to hang out and collab and I don't know what he's gonna do at a stand-up show, but you know.
Kulap Vilaysack  30:25
Be there, you just sit down. He's gonna be your hype man.
Atsuko Okatsuka  30:29
Yeah, right. Yeah, I think it might be fun of like, a standup is doing their set. And then he just has like, a word or two in the background. Yeah, totally. Or repeat the punch line, you know, like, […], You know, whatever. They're all have to keep up the lines. You know, you know, when you get a light when you have like, two minutes left. Yeah, he can be the light.
Kulap Vilaysack  31:04
We need to get into your list. But really quickly, I want to know like, what type of shopper are you? How would you describe your style?
Atsuko Okatsuka  31:11
Right. I'm very last minute. Oh, no, I didn't plan. I'll get whatever version of it is left. Really fast. I needed this tomorrow. kind of person.
Kulap Vilaysack  31:22
You went to art school. Number one, let's talk about, let's be clear to everyone who's listening. Right? Your fashion is very artistic and quirky, and bright. But even with that, you're like what's left? What are the drags?
SuChin Pak  31:37
Okay, she's an artist, you can she can piece anything together. You are one of those types of people. I feel like right that you're like, Okay, I can work with pretty much anything I can make it. Make it cute. Make it cool.
Atsuko Okatsuka  31:48
Yes, yeah, sort of an unprepped. But I see beauty and things, you know, whatever is left over. Like when I'm stuck in a small town or something. A game I like to play in my head is like, I look around, you know, within, like, the two-mile radius that I'm around, you know, at a tiny hotel, next to only highways. And think if I had to live here, where would I shop? You know? Okay, so I would shop at Walmart, let's see what Walmart has, you know, that would I would make styles happen out of the things at Walmart. You know, and I would make friends at this diner because, you know, they seem to have a little more of a diverse group than this other diner. You know, like the I'm very survival mentality. Yeah. It's a lot of sheer will not a lot of prep. You know, when I buy things, it's the same. You know, it all comes from our upbringing doesn't it, right? The way we shop. Absolutely.
Kulap Vilaysack  32:45
Absolutely. And you're, you're an immigrant. How old were you when you came to America?
Atsuko Okatsuka  32:51
I came here when I was 10. And I just had like, a carry on. And I thought I was gonna be here for two months.
Kulap Vilaysack  32:58
And your grandma surprised you?
Atsuko Okatsuka  33:00
Yeah, she lied to me. She kidnap my mom and me. Pretty much.
Kulap Vilaysack  33:06
She's like, we're gonna go on vacation. But then surprise, we're staying here.
Atsuko Okatsuka  33:11
Right. And I think with that mentality, I think that's where the survival mentality comes from.
Kulap Vilaysack  33:16
That's a straight line right there.
Atsuko Okatsuka  33:17
That's very clear. Work with what you have. So I just had to work with what do I have.
Kulap Vilaysack  33:22
Yeah, the equivalent of a large tote probably. That's probably what you had on wheels. And look at you now look at you now. Let's get into her list. Let's see what Atsuko has added to cart or let's say Add to small child suitcase. The first item is a tattoo practice fake hand.
Atsuko Okatsuka  33:54
So I guess tattoo artists practice on these like, prosthetic hands that they buy, I'm not a tattoo artist. I'm not trying to do that at all. But they so they can practice on what feels like flesh, you know, at home and I wanted to do this bit it was for a stand-up bit that and I just you know, I was like, I want to try it out. But I have to actually get the prop to see if it works. So I don't know how much it was $40 or something.
Kulap Vilaysack  34:24
40 bucks for just essentially a fake hand.
SuChin Pak  34:29
This is a fun gift.
Atsuko Okatsuka  34:30
I spent $40 yeah, and I had it like shipped as fast as I could because again I needed it the next day for a show that I was like this would be a good show to try this app. And the bid was okay, so I haven't done it since, it's in our Christmas tree which we still have up.
Kulap Vilaysack  34:55
Do you think you'll take it down before the next Christmas?
Atsuko Okatsuka  34:59
I don't see a need to.
SuChin Pak  35:01
This hand looks real. When you touch it, does it feel like a real hand?
Atsuko Okatsuka  35:09
Yes, I know, this is an audio. It's a podcast, but I can it's two seconds away. If I can just show it to you..
Atsuko Okatsuka  35:17
So just picture me talking. And I'm just like, this is my microphone right here, you know, and so just like, oh, my God, you know, doesn't it look kind of real, right? So I'm very surprised. Oh, my God, you know? It bends to the fingers, you know. So I can, you know, plot for an ear, you know, I have an evil plot, you know, I'm just doing if you can't, since you can't see what I'm doing. I'm just playing with the hand. But it's very realistic. And it moves. You know, you can do peace signs. You know, you can flip someone off, you know?
Kulap Vilaysack  36:06
Coz I know you smoke. Have you tried smoking with that hand?
Atsuko Okatsuka  36:10
You know, it only really fits like a vape pen. Because it doesn't have bones in it. Sorry. I got carried away.
Atsuko Okatsuka  36:26
I forgot about the bone part. And you know, versus this prosthetic can tattoo artists use just for skin purposes. But yeah, no, I mean, if you look, it does. I'm about to vape through it. Yeah, so that's why I bought it and the bit doesn't work, doesn't work.
Kulap Vilaysack  36:47
Because you before you said it went okay. But now you're saying it didn't work out, you won't do it again.
Atsuko Okatsuka  36:53
I think it's okay. I wanted it to be this thing where I'm holding the mic with it. But it's so hard to maneuver that and it's hard. And I talk about squirrels and house and wild animals sometimes do wild things like eat your hand and my hand falls off. But it was just really hard to make that happen and fell off like the first second I went on stage. I couldn't even say the words. And then I had to admit like, well, you know, what's sad is I got this rush delivered on Amazon. To just do that, you know? Because now this hand is like, I spent $40 on this thing. And it's like, it's partly why I keep the Christmas tree up because I'm like, well, shit, like, what else? Where else I'm gonna put this frickin hand. It's like May I know, but shoot.
Kulap Vilaysack  37:53
What I would do. I know your lovely husband. While he was sleeping. I would put the hands-on parts of his body.
Atsuko Okatsuka  38:03
Do you think that's worth the $40?
Kulap Vilaysack  38:10
Well, if you think about like 20 bucks is on the Christmas tree. 10 bucks is talking about this on the podcast. Five bucks was..
SuChin Pak  38:19
Immigrant math. She just high fived her silicone hands.
Atsuko Okatsuka  38:28
That's true. It's about how you spread the $40, it's not about displaying it in one location like for Christmas Tree. And being like, This is it? This is $4 No, it's how many uses can you get out of it?
Kulap Vilaysack  38:41
Exactly. And like if it was me, and I had purchased it, that thing would be on Scott's junk. Almost 24/7.
Atsuko Okatsuka  38:51
Oh my God What's your address? You can have this hand like I don't need it. I feel like you will get a better use out of this. And you know what you tell him you know when you tell him when he's like Kulap, enough, enough of this. Okay, stop. I don't like it. Just be like hey, one hand in the bush, what's the say? One hand is better than birds of a feather.
Kulap Vilaysack  39:21
Yeah, two birds in a bush one hand on the crotch?
Atsuko Okatsuka  39:25
Yeah, that does are some for plain words. If I ever heard any, y'all are horny.
Kulap Vilaysack  39:38
Atsuko, thank you so much for coming on the show. Everybody please follow her at @atsukocomedy, everywhere right? Definitely on Instagram.
Atsuko Okatsuka  39:46
Instagram, Twitter, but on TikTok, I couldn't get that one. okay, so I'm @letsgoatsuko on there.
Kulap Vilaysack  39:55
Well, I adore you. Thank you so much.
Atsuko Okatsuka  39:57
Thank you so much for having me all. Lots of love.
Kulap Vilaysack  40:00
Wait, do you have anything to promote?
Atsuko Okatsuka  40:02
Oh, sure. Yeah, I'm just at atsukolive.com For my tour that I'm on right now.
Kulap Vilaysack  40:08
All right, thank you so much.
SuChin Pak  40:26
So excited for a special edition of sidebar today. You guys, we've been trying to get this one on the show for months. And finally, the stars have aligned, Stephanie Morimoto. She is the owner and CEO of Asutra who and I fell in love with Asutra. It is a game changer for us, especially after trying their pain relief creams and sprays. And we're gonna get into like, how does this work? All right with Stephanie, but she's also joined by another badass AAPI woman, Michelle Li. Michelle Li is an award winning veteran journalist who co-founded the very Asian foundation in January 2022, just this year, alongside friend and fellow AAPI journalist […]. Now some of you may have seen this story when it went viral on New Year's. We're in a new segment on air Michelle talked about you know, all the things that people eat during the holidays, it was very light. She shared that hey, many Koreans eat dumplings around this time. A viewer then called in and left a voicemail telling her that she needed to, quote keep her Korean to herself, and was being quote very Asian. Well, 1000s took that hashtag very Asian and posted all sorts of stories and images about their culture in support of Michelle and since then she's been on The Ellen Show, who helped seed $15,000 to create a nonprofit focusing on supporting and celebrating AAPI communities. And these two powerhouse women are launching an awesome campaign for AAPI Heritage Month here in May. So to tell us about this. Please welcome Stephanie Morimoto, and Michelle Li.
SuChin Pak  42:17
So excited to have you both on but before we get into the partnership, Stephanie, I just, I have to start with you. We finally get to have you here in person. As you know, Asutra is a big Add to Cart. Game Changer. Specifically the ease your pain away cream. I've been obsessed with it. Maybe I'm putting it on too much. I mean, this is where I'm going to dive into it. Why does this work so well, Stephanie, now that I finally have you here.
Stephanie Marimoto  42:46
I'm so excited to be here. I'm so excited it's a game changer for you. So our pain creams work so well for a few reasons. They have great ingredients. Magnesium, which is so good for everything from muscle recovery to muscle cramps to pain relief. Menthol, which provides that cooling sensation, freezes the pain away. We know the menthol we know that menthol I remember my grandfather massaging my dad and his shoulders with menthol back in the day. And then Arnica which is an herb that helps with inflammation.
SuChin Pak  43:26
Now I've tried so many different versions of this cream. This works beautifully. As we said on the podcast before you guys can listen to other episodes when we talk about this. It's like the light has been turned out Michelle, have you tried this pain cream? Because we need to get her this? It's like you know I'm going to now all the like, it's like the light switch is just like turned off when you scream. It's incredible. But Stephanie I also want to give folks an overview of you know, Asutra because I don't know I like to describe it as like a self-care 360 brand. You know, it's you're gonna be covered in so many areas. What this self-care means and I kind of wanted you to talk about you know how different this company is from other ones because I really think it is.
Stephanie Marimoto  44:23
Thank you for saying that, Asutra you got the mission totally right. We're all about what we call active self-care. We help you take care of yourself on purpose so you can be your best and we do it in a variety of ways. So our top sellers are for pain relief as you talked about, and sleep support because a lot of people need help with good sleep and staying asleep at night. But we also have great affordable skincare, Bath and Body just anything and everything to help you feel good, smell good and really be your best in the world and in your life. No matter what you're doing.
SuChin Pak  44:57
I'm glad that you mentioned that because I always feel guilty bringing things on the show if the price point isn't fair. And you know, I'm cheap, you know what I mean. But my stuff has got to work, too. And so to me, it's like, there are a few brands that we have discovered over the course of add to cart that check all those boxes. And that's why we love you guys so much is that it is so affordable, it's accessible. In honor of AAPI month, you guys have partnered together, Michelle is here with us. And Michelle is so many things. But just very recently, she launched the Very Asian Foundation. And you created this organization, along with another AAPI journalist, Gia Vang. Right? What did you guys ultimately want to accomplish with this? Because you could have taken that viral moment and gone a million different directions or nothing at all. That's probably what most people would have done like, wow, this is really big. Let me take a while to process this. But you went into action immediately. And what did you want to sort of accomplish with variation?
Michelle  46:08
I think for Gia and I both we wanted to respond to the DMS and the tweets and the messages that we kept getting from people where they felt seen in ways that they had never been seen before. Yeah, but we had so many people who were adoptees, or people of mixed race, or people in the LGBTQ plus communities, people who said, you know, I feel like the Asian community, Asian American community has been covered as a monolith. And this just didn't speak to me. So I just felt honored by that, you know, it really showed me that there just so many more stories to tell. And me as a mother, to a son, who is of mixed race, I realized that we can't find a lot of material that reflects our family. I mean, there's a lot of great material out there. So I'm not trying to say that there's nothing out there. But it just doesn't necessarily reflect our family. So is our family that unique? I don't think so. Right? I'm just saying that, you know, it would be really great if this organization could help fund people who have stories to tell who have things to create. And if we can help them, that would be wonderful. And then of course, you know, raise money for organizations already doing great work, we raised 1000s of dollars for the Asian American journalist Association, and we're raising money for stop API hate throughout May. So yeah, I don't know, we've only been a foundation for like three months. So we're still trying to figure it out. But it's been incredible so far.
SuChin Pak  47:40
Obviously, I think from Elon and beyond, people have been very impressed with just the amount of poise and humor and humanity you've brought to this situation, because they're, you know, some people may not have reacted so calmly. But you did. And I think there's also something very uplifting about variation. It's celebratory. And I think after a few years of pretty horrific headlines, it is nice, it's a nice relief, to post up pictures of the things that make us who we are both, you're different and connected, right? Like there's something really positive came out of something that was not so great.
Michelle  48:28
It just felt really nice to be able to be in the positive about something rather than using a hashtag. That's important. But I mean, using the hashtag, like, stop AAPI hate, please stop hurting us. This one was just about us. And it was wonderful.
SuChin Pak  48:44
Yeah, it's both. So both hashtag stop hurting us. And also, let's celebrate the joy. Like, is that too much to ask for? Right? Yeah. And Stephanie, for you. What resonated with this movement, this kind of message.
Stephanie Marimoto  48:58
As an Asian American woman, business owner, I just I love elevating other women, other women of color, and of course, other API women. And I think what Michelle was saying about this is about positivity. This is about celebrating who we are. I think that's great. We still aren't represented a lot out there. We want to not just help our customers feel better and incorporate self-care intentionally in their day to day, but we also really take seriously taking care of our employees as well. We're diverse, we're 60% people of color on the team and we're supporting our staff to be their best mind, body and soul but also with financial health, and really transforming their lives and their lives for their families.
SuChin Pak  49:41
Before we go, Stephanie, why don't you tell everyone how a sutra and the Very Asian Foundation are working together for me?
Stephanie Marimoto  49:52
Yeah, absolutely. So we wanted to, like I said, really elevate and spotlight other API women who are doing things for their community and Michelle was such a perfect fit, as we talked about such a positive turning such a crazy experience into something positive for the community. So, a sutra is supporting the very Asian foundation with a major donation in May to support the book drive And we're also partnering with Michelle to raise awareness about what the Very Asian Foundation is doing. We're really honored to have target as a partner in this too. So we're doing a panel discussion with them. And they're really supportive of everything that we're doing both at a sutra, obviously, since we're a partner of theirs, and the very Asian foundation.
SuChin Pak  50:34
Well, you guys, I really appreciate your time. And just sitting with all of this is been such a joy. So thank you guys.
Stephanie Marimoto  50:44
Thank you for having us.
Michelle  50:45
Thank you so much.
SuChin Pak  50:50
Alright, so one more thing before we go. Our producer Claire has been hard at work on her first narrative show from Lemonada Media, and it is called Burnout. Yes, Claire. It's a four-part series hosted by YouTube sensation and mental health advocate Connor Franta.
Kulap Vilaysack  51:09
Burnout has recently become the internet's favorite buzzword and diagnosis for why we hate our jobs. But it has a long, complex history that is rooted in our culture and systems.
SuChin Pak  51:19
I mean, what does it mean when people say they're burned out? Like what is this phenomenon that's making us so miserable? That's wrecking our health.
Kulap Vilaysack  51:27
This series takes a deep dive into the who, what, where, when, why of burnout, and how we as a culture can combat it. Search for burnout wherever you get your podcast. It's out now and make sure to subscribe so that you never miss an episode. And that's it for this week's episode. Make sure to check out everything we talked about on @AddToCartPod and in the show notes.
SuChin Pak  51:47
That's right and give us a call at 833-453-6662 and tell us you know what you're adding to your cards, be it silicone hands, or you know hot green dresses. Let us know what you're adding to your cart.
Kulap Vilaysack  52:07
ADD TO CART is a production of Lemonada Media. Our producer is Claire Jones and our mix is by Ivan Kuraev and Veronica Rodriguez. The music is by Wasahhbii and produced by La Made It and Oh So Familiar with additional music by APM music. Executive producers are Kulap Vilaysack, SuChin Pak, Jessica Cordova Kramer and Stephanie Wittels Wachs. Be sure to check out all the items we mentioned today on our Instagram at @AddToCartPod. Also, please take a moment to rate, review, and subscribe to the show wherever you get your podcast.