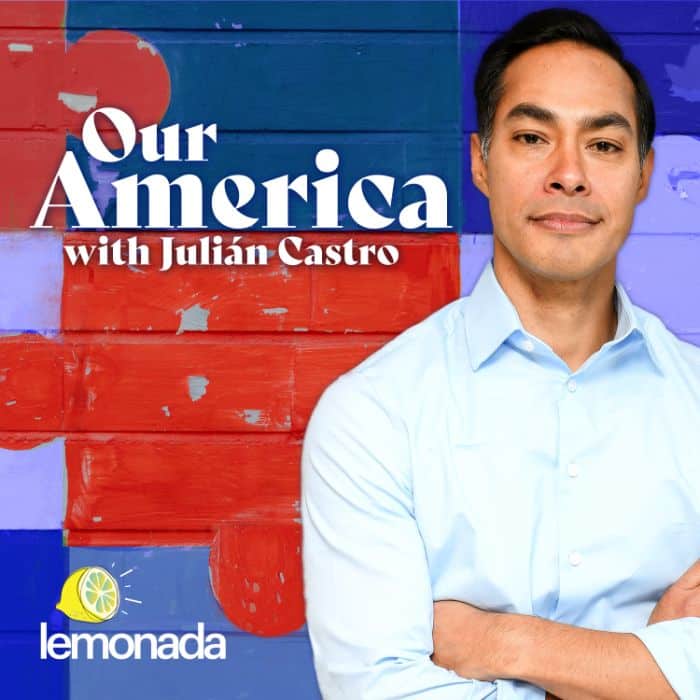 Defending Voting, Protecting Democracy (with Marc Elias)
Subscribe to Lemonada Premium for Bonus Content
Description
Julián and Sawyer talk about the ever-evolving nature of President Biden's two-tiered infrastructure package ahead of a purported final vote and the hotly-contested gubernatorial race down in Virginia set for next week. They also welcome renowned election law attorney Marc Elias to break down gerrymandering efforts in Texas and the continued fight to pass the Freedom to Vote Act.
Follow Marc online at @marceelias.
Keep up with Julián on Twitter at @JulianCastro and Instagram at @JulianCastroTX. Sawyer can be found on Twitter and Instagram at @SawyerHackett. And stay up to date with us on Twitter, Facebook, and Instagram at @LemonadaMedia.
'Our America' is presented in part by the Marguerite Casey Foundation.
Click this link for a list of current sponsors and discount codes for this show and all Lemonada shows go to lemonadamedia.com/sponsors.Joining Lemonada Premium is a great way to support our show and get bonus content. Subscribe today at bit.ly/lemonadapremium.
Transcript
SPEAKERS
Marc Elias, Julian Castro, Sawyer Hackett
Julian Castro  00:13
Hey there. I'm Julian Castro.
Sawyer Hackett
And I'm Sawyer Hackett.
Julian Castro 
And welcome to OUR AMERICA, where we tackle some of the week's leading political headlines impacting your community. On today's show, we're going to be joined by voting rights attorney Marc Elias to break down gerrymandering efforts and voter suppression efforts across our country and in Texas, and the continued fight to pass the freedom to vote act, and John Lewis voting rights Advancement Act in DC. But first, let's focus on the latest movement on the President's Build Back Better agenda. Sawyer, where things stand right now?
Sawyer Hackett 
Yeah, so after months and months of back and forth on the President's agenda on the infrastructure bill and reconciliation bill, it seems like we finally may soon have a finalized Build Back Better bill. In the Senate, as we've talked about on the podcast before, Democrats are negotiating down the size and scope of the package after a couple of senators, Senator Manchin and Senator Sinema demanded some major cuts. So they're working to scale down the package from you know, roughly three and a half trillion dollars to roughly $2 trillion. But that means the major cuts to some social infrastructure spending. So what is in and out, you know, we have the expanded child tax credit which Democrats were able to include in the American rescue plan passed back in March, that has cut child poverty by 50%. Originally, the plan was to extend it for four years, extend that expansion for four years, and keep that threshold at $150,000 per year for families who make that much can still earn that tax credit.
Sawyer Hackett
Now it's looking like you know, we may have a one-year extension of that, potentially phasing it out. After you know, families make a certain amount. Biden originally proposed covering two years of community college for free, that appears to have been nixed after mentioned in cinema demanded some cuts. Instead, it looks like they're going to focus on Pell grants and some other assistance. Senator Sanders has prioritized shoring up Medicare, you know, lowering the eligibility to 60 to 55, including dental vision and hearing for 10s of millions of older Americans. It's unclear where that stands at the moment, but it likely won't include all those provisions. On paid leave, we originally started with 12 weeks, it looks like we may end up somewhere around four weeks, universal pre-K-seems to still be intact. But there's some issues with childcare,  and how some of these cuts may actually increase the cost for families who need childcare each year. So they're I would imagine that they're going to be looking at adjusting that over the coming couple of days.
Sawyer Hackett  02:48
On clean energy, Manchin has all but sort of killed the Clean Energy Program to penalize utility companies that don't use renewables and incentivize ones that do. They're looking at some other options to curb emissions. But that's a big sticking point for progressives. And then on housing. You know, Democrats initially proposed more than $318 billion in housing investments, it looks like that maybe a little bit closer to 175 billion with some cuts to community development and affordable housing assistance for low-income residents. So early on, you know, obviously, there's more to come on this, we're gonna hear some news probably today about a potential package in the near future. But what do you make of these cuts? And are you still optimistic that we can get this done in the next week or so?
Julian Castro 
I am optimistic. I am optimistic. I mean, from everything that I've been hearing, the President is engaged right now, Manchin is engaged, Sinema seems more engaged, at least than she has been at least you know, she's talking about what she might be willing to accept or not accept more than in the past, be more specific, which is helpful. Also, you know, you watch packages like this come together on different pieces of legislation, whether it's a budget, or it's on an issue, it's almost like they reached this point of no return, you know? And once they pass it, you can tell once they get past that you can tell that, like something is gonna get worked out. There's got to be some sort of compromise. I would be surprised at this point. With all of the time, all of the effort, all of the activity from the base on this, all of the activist pushing, I would be surprised at this point if they come up empty handed.
Julian Castro  04:31
Now, as you mentioned, I mean in your rundown, right? That's just, that's the first part. The second part is okay, well, what is it actually going to look like? I'm disappointed, for instance, that the affordable housing component of this is getting slashed basically in half. And I'm sure that you know, there's people who are passionate about different parts of this are also very disappointed and I understand that, I think all components of this that we just talked about whether it's universal pre-K, or investing in childcare, or affordable housing, or climate change, all of those things have been under invested in and they need urgent attention. And so the Democrats have some very, very tough choices to make, I hope going forward as they make those tough choices, that they will always send to her, the most vulnerable people in this country. And that's why things like cutting child poverty drastically and making sure that people have a safe, decent, affordable place to live, and ensuring that seniors can live out their golden years in comfort. They're so important, it's a time when they need to remember their values as Democrats.
Sawyer Hackett 
Right. And I think, you know, nobody's feeling that pressure to deliver on these things more than President Biden. I mean, I think he sort of took a backseat in negotiations letting Congress sort of hash things out early on, but it appears, you know, he's jumped right into the heat of things. He's having people over to the White House to talk about these things, to talk about what's important, what's going to be included, what's not going to be included, he did a CNN town hall, I think it was on Friday, and sort of laid out some of his red lines on these policies. I think one of the things that concerns me most is the messaging here. I mean, we've spent nine months negotiating or talking about how big and transformative this package is going to be. And now we're talking about some major cuts, and we're talking about scaling things back. And there's going to be certain constituencies that you know, raise their alarm about things that are being cut. I think it's important, you know, both for these upcoming elections that we have, but also the president's poll numbers, the midterms, that we still talk about these things as transformative to make sure that voters know what is going to actually be delivered to them when we do pass this thing, regardless of the cuts, which are going to be impactful, but also, the package is still going to be incredibly transformative.
Julian Castro 
Well, yeah. And you know, the other component is how to pay for it. I mean, they're not settled on that.
Sawyer Hackett 
So it's in the package. Right?
Julian Castro 
Yeah. I mean, let's put aside for a second, as many people have pointed out so many times that, that question never gets asked when the defense budget sales through and there's hardly any, any real scrutiny on that budget. And I want to say they got billions of dollars $10 billion more than their actual requests this year. $787 billion in all sales through, but let's put that aside for a second. One of the things that President Biden said and that CNN town hall was revealing was that in his conversation with Senator Sinema, she opposed raising, raising revenue through increasing taxes on the wealthy or big corporations, right? I mean, raising taxes on the wealthy and big corporations is popular across the board.
Sawyer Hackett  08:00
That's the singular issue that Republicans care about is keeping that tax rate for corporations low and for wealthy people low if, if you're not on board with Democrats on the issue, like can you even call yourself a Democrat at that point?
Julian Castro 
Well, I mean, you have these companies like Amazon, having blockbuster years during this, this pandemic, making record profits, and a number of others huge corporations in the country that are paying either nothing or almost nothing in federal taxes. It's amazing that that she would have that position. But I think ultimately, that they're going to be able to come to a good compromise there, I believe that you will see an increase in corporate taxes, either directly through that corporate tax rate or through closing loopholes that we never should have had in the first place. And then also, hopefully, increasing taxes on the super wealthy in this country so that everybody is paying their fair share.
Sawyer Hackett 
Well, and it looks like this is the one thing that Sinema sort of out on a limb by herself on, Manchin has said publicly that he supports raising the corporate tax rate. He supports raising taxes on, you know, extremely wealthy individuals. But Sinema is the one person who's drawn a red line on the corporate tax rate. And, you know, people have pointed out she voted against the Trump tax plan before and now she's seems to have backtrack on that corporate tax rate. So that's interesting, but she also appeared to make some comments or maybe her office put out some sort of background statement indicating that she might be on board with a billionaire's tax.
Julian Castro 
There you go. I mean, yeah, it's like, nothing happens. And then everything happens, right? All of a sudden, like in the last 48 hours or something.
Sawyer Hackett 
I mean, this is the, you know, a wealth tax. This is something that you propose during the campaign. Obviously, Elizabeth Warren is known for having championed during her campaign but a wealth tax included in this In this build back better bill, I think is probably just as popular as any number of the different policies that are included in it. So the pay fors is the one time where the pay fors are just as popular as the policies. And we should not let her you know, off the hook on that for sure.
Julian Castro  10:15
Yeah, I mean, it's also good to see President Biden and the White House be really in gear now. Fully engaged, spending a lot of time on this, willing to spend political capital, I think is CNN town hall was part of that getting out there in front of all these issues, trying to explain it to the American people. And Joe Biden does, I think, a good job when he gets in front of an audience of putting it in plain terms, even in terms that people who are not liberal, and may not even consistently vote Democrat, are able to relate to even if they have a disagreement with it. And so I thought that he did a pretty good job in that town hall. And now, it's about grinding it out and getting to a resolution on this. There seems to be an urgency to get it done before he goes to Glasgow. Climate change is, of course, going to be a huge issue that he'll address at that conference. And to the extent that they can get investments in combating climate change, I think that's going to be another good win as part of this.
Sawyer Hackett 
That was a cornerstone of the original Build Back Better agenda that he laid out on the campaign. I don't think that he can, I don't think that Democrats can afford to walk away from the climate change provisions here, especially because this is probably the last chance we're going to get to address climate change via legislation for you know, years, if not decades. Especially if you know, things aren't looking good in the midterms. Same can be said for housing. And I know that, you know, you've been outspoken about the need to invest in housing right now. Because, you know, 7 million people are still behind on rent. You know, today, a group and I'll just plug this myself, but today, a group of 30 or more, you know, former HUD staffers people that I worked with, under you know, your leadership and Under Secretary Donovan's leadership at HUD, wrote a letter to the administration and to Congress urging them to include those housing investments in the bill better agenda, essentially saying, you know, this may be our last shot to do it.
Julian Castro  12:25
Yeah, I mean, so important, so important. I mean, the studies have shown there's not a single county in this country where somebody who's working for minimum wage full time, can afford the rent on a two-bedroom apartment and not be rent burdened, in other words, paying less than 30% of their income in rent. So we have this affordability crisis out there that's being made worse by the pandemic, and now is the time to invest in more affordable housing opportunity. It's not only going to help lower income Americans; it's also going to help the middle class. So we know what the stakes are here. Democrats need to deliver the results that they promised in the November 2020 election. And if they do, I think that's going to be a boon to Americans, and certainly to the Democratic Party. If they're not able to get their act together and do it. I think it's going to hurt him. Before those 2022 elections, though, of course, we have a very important and high-profile election coming up in Virginia, where former governor who's trying to become the next governor, Terry McAuliffe, because remember, Virginia, they have this crazy term limit, I think you can only serve what four years?
Sawyer Hackett 
Right, four years, one term at a time.
Julian Castro 
This is worse than Mexico that has like one six-year term limit right for president. In Virginia, you have one four-year term limit. So Terry McAuliffe served then Ralph Northam took over McAuliffe is trying to come back now that Northam is done. And on November 2, he's facing Glenn Youngkin. been in the news a lot because people think that it could be look at the 2022 midterms. What's going on with that one?
Sawyer Hackett  14:05
Right? Yeah, Virginia, Virginia is known for having these crazy, crazy election laws. We have an off-year election, which comes you know, one year after a presidential election every four years and one year before a consequential midterm election every year. I think we've and you know, the term limited. It's a four-year term. Obviously. Terry McAuliffe is served as governor.
Julian Castro 
You grew up in Virginia. From Virginia originally, you grew up there.
Sawyer Hackett
I'm proud Virginia resident, obviously, because it's an off-year election. People are concerned about low turnout; people are worn out. You know, there was this huge effort to get people out to the polls in 2020. And I think, you know, voters are feeling a little apathetic about the race. It's obviously a race between Terry McAuliffe who served as governor and Glen Youngkin, who is this extremely wealthy private equity executive turned Trump apologist. You know, the race has been very close from the start, but you know, recent polls have put them pretty much into dead heat. Early voting is ending on this Saturday, October 30. Election day is next Tuesday, November 2nd. Virginia is a reliably blue state. But I think because it's an off-year election because Republicans have sort of ginned up this energy in their base with this misinformation campaign. Has Democrats really concerned about what it signifies for the midterms? What it signifies for the President's agenda, what it signifies for our prospects in 2024? It's an interesting race to be sure.
Julian Castro 
Well, they should be concerned. I mean, the latest poll that I saw had the race at one of them had 48-48 with another candidate, a third candidate had like 1%. And another one, which was a Republican polling firm that did it had Youngkin ahead. 43-41. I mean, what's going on there?
Sawyer Hackett 
Yeah, I mean, you know, Terry McAuliffe has largely framed the race, has tried to pin Glenn Youngkin to Donald Trump, and sort of the dangers of today's Republican Party. He's pointed out that Trump has endorsed Youngkin, six different times, Trump has said that Youngkin will, quote, do whatever we need him to do once he's in office. He's pointed out that Youngkin is against gay marriage, and he's likely to outlaw abortion in Virginia, you know, just like they did in Texas. And a couple weeks ago, there was this this thing where, you know, at a Youngkin campaign event, his supporters pledged allegiance to a flag that was carried during the insurrection at the Capitol. Obviously, something that the McAuliffe campaign was really quick to attack. But Younkin has played this game where he tried to distance himself from Trump while not, you know, dismissing Trump's support. He's tried to, you know, gin up this energy among the Republican base, and make it about these fringe issues that motivate the base things like critical race theory, transgender bathrooms, and he's really sort of endorsed Trump's lies about election fraud, and it has people worried about, you know, potential elections aversion or challenges in the courts if he loses. Anyway, so President Obama was in Virginia this weekend, rallying support from McAuliffe in the final stretch. We wanted to take a little bit of a listen to those remarks.
Sawyer Hackett 
Vice President Harris was also in Virginia recently, she pretty explicitly highlighted Youngkins extreme position on issues like abortion. Here are those remarks.
Julian Castro  18:24
Oh, that hurts. It hurts to hear that. Don't Texas, our Virginia. You know, as a Texan […] my pride, of course. Yeah. I mean, but look, I understand what she's saying. And I was born in Texas, grew up in Texas live in Texas now. There's no question that this state has become in some ways, a laughingstock because of the Neanderthalic leadership, if you can call it that of the state GOP, the abortion ban, the extreme gerrymandering, the voter suppression, the racial priming in their politics, the ridiculous far right, talk on guns and immigration and refusal to do anything about climate change. I understand what the Vice President is saying. You know, I think there are a lot of great things about Texas and GOP leadership does not reflect the true Texas of today. Because there are a lot of people that want it to go in a different direction.
Julian Castro 
But this is, I think, a good strategy for Terry McAuliffe to nationalize the race, to remind people they're in Virginia. You want a Donald Trump acolyte, like Greg Abbott in Texas. You want him in the legislature in Virginia to do these kinds of things that we see going on? In Texas, I bet there are a lot of Virginians that don't want that. And midterms are all about amping up the turnout of your base. I have a feeling that this focus on these types of issues is going to help amp up enthusiasm in the base to actually go out and vote in early voting and through November 2. This worked for Gavin Newsom in California. I mean, folks may remember three or four weeks before the election. Some polls actually had it very close within a couple of points. And Newsom nationalized the race. He also had a lot of resources, but so as McAuliffe, he nationalized the race. He, you know, he made Larry Elder a stand in for Donald Trump. And at the end of the day, his margin of victory in that recall, was exactly the same as his margin of victory in his last gubernatorial race. I think Terry McAuliffe is pulling out the same play card right now. And hopefully it works.
Sawyer Hackett 
In all of these elections. They try to make it sort of a referendum on whoever is currently in office. Right. I mean, this is an off-year election, right after Democrats picked up the Senate, the House and the White House. You know, we in 44 years, that trend has been that who whoever the incumbent party is in the in the White House, the opposite party wins in the Virginia gubernatorial election the year after, the only person to break that trend is Terry McAuliffe in 2013. So it leads to some good precedents there. But I, you know, I want to talk a little bit about what this race means for Democrats. The media is obviously going to make it you know, if we lose this race, the media is going to make it a sort of death knell for the midterms. You know, they tried to do the same thing with that Newsom race where even though we won handily, they still said over the fact that there was a recall means that means that Democrats are in trouble. But you know, this is a blue state. And so of course, it's going to be a wakeup call for Democrats if we lose. But, you know, I think it's I think it's important to examine what it means for the Democratic Party, especially in terms of electability, I would love to hear your thoughts on that about what kind of candidate is electable?
Julian Castro  22:10
Yeah, I think he's gonna pull it off. I think he's gonna win. I think Democrats are going to get out and vote. It is possible. Of course, that doesn't happen. I also think that there's a larger point to take, if that happens, which is that, you know, you can't count on this centrist moderate approach, necessarily getting you through these elections. Progressives often get derided or put in a corner, whatever it is, because hey, you're too out there. You're too liberal. You know, in a place like Virginia that just became a blue state recently was a swing state for a while. You have to be careful; you have to run as a centrist. Well, I mean, Terry McAuliffe, he's the ultimate pragmatic Democrat. If you looked up in the dictionary, pragmatic Democrat, that would be Terry McAuliffe, and Terry McAuliffe right now, if you believe the polls is basically tied with Glenn Youngkin. In a midterm like this, could somebody who's more progressive, who excites the base more who they're more amped up to get out and vote for probably? Would they be doing better? We don't know. But in the least, I think that progressive candidates should not be dismissed the way they often are as an unwinnable candidate. You can't be successful. If Terry McAuliffe loses this race in Virginia, I think that's just one more piece of evidence to put that, quote unquote, conventional wisdom into doubt.
Sawyer Hackett
Right. I mean, I think that primary, the McAuliffe primary was kind of a, you know, is very similar to the 2020, Democratic presidential primary in that, you know, McAuliffe was largely framed as the most electable candidate. And, of course, you know, voters did have knowledge of him, He had extremely high name ID the state actually had a fantastic record as governor before, but framed as sort of one of the only candidates who can make sure that we can ensure victory in Virginia. But I think you're right that like in these off-year elections, where turnout, especially turnout among the basis is key to victory, you know, maybe picking the candidate who, you know, most assuages voters potential problems with Democrats or whatever it is, isn't the right strategy to actually, you know, chin up the base, get some energy and get people to the polls. I think that's the most important factor here.
Julian Castro  24:36
Well, we're gonna see we're gonna find out and hopefully anybody that's listening, who lives in Virginia and is eligible to vote will get out there and vote and or talk to somebody that you know, that's eligible to vote in Virginia. And hopefully, McAuliffe will pull it off. Well, as all of this goes on, including this close Virginia race. We're also keeping a focus on the larger picture of our democracy, and specifically, how do we defend it? How do we push back against these assaults on voting rights and voter suppression efforts throughout our country, I'm excited to have our next guest who is right in the middle of that fight. I don't think there's anybody that is more in the middle of it, and he's doing it in our courts. We're going to have Marc Elias on when we come back.
Julian Castro 
Welcome back to OUR AMERICA, in 2021, there has been no issue that has been a bigger fight on Capitol Hill and courts around our country than the issue of voting rights and the future of our democracy. Marc Elias is a renowned attorney of the Elias Law Group, who specializes in election law, voting rights and redistricting. He founded Democracy Docket last year, which focuses on these particular issues. He even oversaw the state-by-state response to lawsuits contesting the 2020 election results. Marc, welcome to OUR AMERICA. I mean, you're recognized as the preeminent democratic voting rights attorney, you're in court all the time, with lawsuits all over the place. And you'll tell us how many states and I want to get into some of your specific work in a second. But first, can you just give us an overall take on this wave of voter suppression and election subversion taking place across the country? How alarmed should all of us be about it?
Marc Elias  26:58
So first of all, thank you for having me. And thank you for focusing on this really, really important issue, because what we are experiencing right now is unprecedented. You know, you really, you'd have to go back to 1965. Or before, to see the level of effort by state governments to make it harder for people to vote, and make it harder for people's vote to count. So you know, it's always dangerous, comparing one historical period to another because they're all unique. But suffice to say that, right now, I think the challenges facing democracy and free and fair elections are as big as any challenges our country faces.
Sawyer Hackett 
So Marc, earlier in the show, we talked a little bit about the upcoming Virginia gubernatorial election that's taking place next week, and how important it is for folks to get out there and vote. But I saw on Twitter that your team joined a lawsuit with Virginia Democrats suing the United States Postal Service, maybe it happened last week, over delays in some of the election material getting to folks houses, can you talk a little bit about that suit? How big of a problem is this in Virginia? And how concerned are you?
Marc Elias  28:13
Yeah, so I'm very concerned. So we actually are representing the Democratic Party of Virginia in that lawsuit. And, you know, effectively what we are seeing are the consequences of the slowdown in the mail service. And some of the policies that were instituted at the end of the Trump administration and now into the Biden administration by the joy, and what it is meaning in Virginia where there is more vote by mail, now than has historically been the case, Virginia, actually, historically, not unlike Texas, was not a state with no excuse absentee voting. Now, it has no excuse absentee voting, so we're seeing a higher, higher level of voting by mail. And in three counties, we identified, you know, 30%-40% of the ballots that are that have been returned to the Postal Service, not making their way through. So we brought a federal lawsuit on Friday. And, you know, the goal is very, very simple, which is that voters who go to the trouble of voting by mail and return their mail ballot should not face disenfranchisement, because of delays at the Postal Service. So we're hoping that the Postal Service will see this lawsuit, and we'll make sure those ballots get processed quickly, but if not, that the courts will step in.
Julian Castro 
You mentioned Texas, of course, I'm here in Texas, and we're no strangers to attempts in this state to suppress the vote. I mean, just recently, right, we've seen a number of voter suppression pieces of legislation, the state has launched an audit of the 2020 election results that's focusing on the four largest Texas counties. And also recently, the governor signed off on maps that extremely gerrymander the state to benefit Republicans. But I think that a lot of Texans has been surprised at the scope of all of this and how quickly the pace is picked up. Where do you stand in terms of your pushback in court on the Texas plans?
Marc Elias  30:35
Yeah, so Texas is a good example of what the big lie has meant, at the state level. You know, Texas had some of the most restrictive voting laws in the country, before 2020. Donald Trump, as you know, one Texas in 2020. In fact, Republicans did pretty well in Texas in 2020. And yet, that still has not insulated Texas, from the big lie. The suggestion that perhaps there was some, you know, the baseless suggestion that there was somehow something done wrong, and the need to make voting harder. It's not just SB1, the omnibus bill that made voting harder. But remember, before that omnibus bill passed Texas, earlier in the legislative session passed two other bills, SB1111, which targeted transient voters, homeless voters, student voters, and made it harder for them to register and to vote, and also a bill that was targeted at the voter registration process and the so-called wet ink requirement. So you know, Texas has reacted to the lies of Donald Trump and the Republicans by taking a system that was very hard to vote and made it that much harder. And we know that when they do that they don't hit all populations or target all populations equally. They targeted young voters, as I mentioned, and in one of the laws, they targeted Latino voters, Black voters, and transient voters. So it's really shameful display by the Texas legislature with respect to redistricting. You know, it's, as you said, the you know, without section five of the Voting Rights Act and preclearance, the legislature passed a map that is, in my view, unconstitutional. In my view, it's violated section two of the Voting Rights Act. And I've said that as soon as the governor signs it, I expect there will be litigation.
Julian Castro  32:50
Talk about the racial component to this, when we got the latest census figures a few weeks ago, they showed that about 95% of the growth in Texas over the last decade, has been by people of color. And at the same time, these gerrymandered maps that the legislature put forward diminish the power of people of color to elect their first-choice candidates. Sort a little bit of that out for us in terms of what that looks like when you challenge it in court.
Marc Elias 
Sure. So this is, you know, in some ways, reminiscent of 2010, when I believe after the 2010 census, or I should take 2011, after the 2010 census. Texas gain I think at that point four seats entirely the result of minority population growth. And we saw a similar effort by Republicans to limit the effectiveness of that growth and representation. And we're seeing that again, now. I mean, the fact is that the Republican Party of Texas is fighting a demographic battle that in the end, they can't win, but they can win it in any given year through voter suppression and have no, make no mistake that that the kinds of racial gerrymandering or violations of section two of the Voting Rights Act are just another form of voter suppression. And so, you know, whereas George W. Bush, as much as I disagreed with him, and I disagreed with him profoundly. You know, he wanted to compete for the Latino vote, and in fact, when he was governor of Texas had successfully competed for the Latino vote. The modern Republican Party is the party of older voters, White voters, and really is trying to use tactics to prevent the majority of the electorate from garnering majority power.
Sawyer Hackett 
So Marc, you brought up the era, the Voting Rights Act and how a lot of this is taking place against the backdrop of having a sort of gutted voting rights legislation federally, Senate Majority Leader Schumer indicated last week after Senate Republicans use the filibuster to block the freedom to vote act, that we may see a vote as soon as this week on the John Lewis voting rights Advancement Act, we expect that's likely going to fail, you know, just like the freedom to vote act. But do you think there's any sort of hope in turning Manchin and Sinema around on this? Or do you think our only hope within the next few years is, you know, on your work in the courts?
Marc Elias 
Well, I hope it's both. I mean, I hope it's both, you know, first, before we glide past the John Lewis voting rights Advancement Act, in 2006, the Congress passed the last reauthorization of the Voting Rights Act, 98 to zero in the Senate, the primary proponent of it on the outside was Walmart Corporation, and the Business Roundtable. It was signed into law by George Bush, a conservative Republican President, I think, in the house. I may be wrong, but I think only 33 people voted against it. So it was broadly bipartisan, non-political, supported by the business community. And here we are in 2021. And it did not garner a single vote in the House among Republicans. Every Democrat voted for it, not a single Republican voted for it. And we're slated now in the Senate to see the same thing where not a single Republican votes for the Advancement Act. And that's just shameful.
Marc Elias  36:47
And so before we move off of it onto the filibuster, and I'll answer that, we can't lose sight of just how depraved the Republican Party has become on voting rights, that they don't only vote against, you know, freedom to vote, which, you know, is, you know, an expansion of voting rights, I think, a very important one, a very significant one, historic one, but they won't even vote for the thing that was, you know, 98 to zero a few years ago. So, that's the state of the Republican Party in terms of how this bill moves forward. Here's what I've said. I think Senator Schumer has done a very good job of navigating this, he got 50 Democrats on board for the freedom to vote act, we're going to presumably do the same now with the John Lewis bill. And at that point, having exhausted all of the avenues to get Republicans on board, it's going to be up to the Democrats in the Senate to look themselves in the mirror and ask whether or not they are willing to let Senate rules become the suicide weapon for American democracy.
Marc Elias 
And I'm hoping that the answer is no, you know, whether that's a repeal of the filibuster or an exception to the filibuster or […] to the filibuster? I don't know. But we can't let American democracy be sacrificed to a Senate Rule, an anti-majoritarian Senate rules. So I think one way or the other, we need that now, that's not going to do away with the need for litigation in court, because I'm sure as you all know, in Texas, the you know, I don't think the state of Texas is going to wake up one day and be like, oh, great. Look, there are new voting laws, we need to abide by them. I think we're going to have a protracted set of court fights, but it's going to be a better set of court fights than without those laws.
Julian Castro  38:36
You recently along with a team of other partners, left Perkins Coie, which you'd been at for a while you developed this voting rights, democracy protection practice at Perkins Coie. And y'all have gone off on your own to focus on these democracy protection cases, and also started democracy docket. Talk to me a little bit about that decision. You know, why you chose this route? And about Democracy Docket and what you think adding in the media component, getting the stories of these voting rights cases out adds to it?
Marc Elias 
Yeah. So you're right. I had been at my firm for 28 years. I literally my entire career.
Julian Castro 
It is a long time, people that practice law, I mean, that is I mean, you were already the preeminent voting rights attorney. There are a long time. So what was the decision about?
Marc Elias
So it was not an easy decision, but ultimately, I found myself, you know, talking to people and saying that at this time in our history, they need to do everything possible to protect democracy. And I asked myself, you know, what is the best platform for me to walk that walk? You know, I was doing it as you mentioned already at my previous firm, and I'm very proud of the work we did. But I decided that, that for me the time had come to create a new law firm that was mission driven, so we only take on three, three kinds of clients. Number one, clients that help Democrats win elections where we continue to be the leading law firm for Democratic Party and Democratic campaigns. The second is that helping citizens vote. So, as you said, have focused a lot of our energy on non-partisan efforts to make sure that voters are able to vote. And then the third is helping progressives make change.
Marc Elias  40:37
If you're not doing one of those three things, and ours is not the best law firm for you. And that's just a different environment than I had practiced in a large national law firm with all kinds of clients. So every day we just do those three things. We have Democrats win citizen vote, and progressives make change. With respect to Democracy Docket, you know, Democracy Docket was an outgrowth of my work, first in 2020, and now, in 2021. And I think it's really important that people in an age of misinformation and disinformation, people can go to a site and find accurate information about voting, information about redistricting. And if they want to see these court cases, if someone is listening to this and says, you know, I don't really trust Elias' spin about this Virginia lawsuit. Well, you can go to Democracy Docket, you can click on Virginia, and you can actually see the court pleadings, you can see what we say happened. And you can see what the other side, when they file papers, what they say happens. So, you know, Democracy Docket is an effort to be a progressive outlet, information and news, but also be a repository, you know, in redistricting litigation in voting litigation, so that people can read for themselves what the sides are saying and what the courts are deciding.
Sawyer Hackett  42:00
So following the 2020 election, Trump obviously launched a number of different lawsuits across the country, challenging the election results, you sort of led the response to a lot of those suits and prevailed in nearly every single one of them. However, since then, you know, the states have passed a number of new laws, not just around voter suppression, but also on elections version, some of these audits, and they've chased out a lot of these local officials who have sort of refused to go along with Trump's attempted coup here. How confident are you that we'll be able to be just as successful next time around if Trump wins, and we haven't passed, you know, a democracy reform or voting rights legislation at the federal level.
Marc Elias 
I'm not confident, you know, I'm not confident. I worry every day and I write; I wrote something. You know, last week, I've written something this week, about this very topic of election subversion and how the voter suppression laws will give excuses to Republicans like Trump in 2024, to oppose certification of elections, you know, people don't realize that between the time you vote and the time they elect, the candidate is certified the winner, there are a number of important steps, the votes have to be counted, they then have to be certified typically at the local level, the county level, and then they have to be certified at the state level, and in the case of presidential elections, then they have to be certified by Congress. So there's lots of steps where people acting in bad faith can trip things up. I don't worry actually as much about the certification that takes place at the congressional level as I do the certifications that take place at the state and local level. And that's the reason why, you know, we need new legislation to make clear that, you know, they can't make offering someone a bottle of water or crime and then say everyone who received a bottle of water is now a criminal, and their votes don't count. And that's the reason to overturn an election. So it's very important that Congress pass these new laws.
Julian Castro  44:11
Marc, before we go. I mean, give us just a peek down the road, as you see it. We got huge consequential elections coming up in 22′, 24′, of course, you know, how do you see this going? And then also, what are ways that listeners out there can get involved and do their part, to advance our democracy.
Marc Elias 
What we are doing right now is buying time for democracy. We're not going to solve it. We're going to buy time for it. And in that time, we need the hearts and minds and the culture of Republicans to change much in the same way that you know, the Supreme Court ordered school desegregation in 1954. But in the early 1970s, a young Kamala Harris we're still being bused right. We didn't see things change. And we still have segregated schools in many parts of our country. But we didn't see things change just because a court order or just because a law passed, it ultimately will require in the area of voting for Republicans to no longer feel like they need to. They need to promote the big lie, the Republicans will need to stop viewing, allowing everyone to participate in elections as their only path to victory, they need to stop viewing, holding down minority voting strength as the key to their success and district, if we don't have that all of the laws and lawsuits will sort of buy us time from election to election. But eventually, it'll catch up with us.
Marc Elias 
What people can do and really the reason why I started Democracy Docket is they can speak out; they can do the kinds of things that you're able to do. But they can do it in their own lives. You know, not everyone is going to have a podcast and be able to command the attention that you're able to command. But everyone's got a circle of friends, everyone's got a dinner table, everyone's got a Facebook group, or a book club. And people need to speak out and say that what's happening with democracy is not okay. That efforts by neighbors to deprive neighbors of their right to vote is not okay. And hopefully, if everyone in our audience, everyone listening to this has those conversations, not just in the comfortable settings of people who agree with them, but in the uncomfortable settings of people who don't agree with them. But bring forward a message of inclusion around elections and challenge why, you know, maybe your uncle, or your cousin is saying what they're saying maybe then we'll have a chance to change the culture on voting.
Julian Castro  46:57
And where can folks find information on the work that you and Democracy Docket are doing?
Marc Elias 
If you go to democracy daca.com You will see, everything's posted there. You can subscribe, the newsletter is free. And you will be able to stay up to date on everything happening and redistricting, democracy and voting rights.
Julian Castro 
Wonderful. That's democracydocket.com. And I think your advice about you know, every person having a role to play even if it starts with their own families, great advice, especially with Thanksgiving in the holidays coming up. And Marc, I know I feel a lot better, knowing that you're out there fighting these battles in court and winning an overwhelming percentage of the time. Thank you for doing it. And thank you for giving us a little bit of your time.
Marc Elias 
Well, thank you very much for having me.
Sawyer Hackett  48:10
So as always, we want to end the show with some good news. Julian I know you had some personal good news from this weekend, traveled back to your alma mater, Stanford for your reunion. Tell us a little bit about that.
Julian Castro 
I did, 25 years, I can't believe that. My brother Joaquin and I graduated from college 25 years ago, where did the years all go by but we went back, had a wonderful time got to see some old friends. Joaquin and I did a little event together for some of the students there and talked about our first election, that was where we first got it got involved in politics. We ran for the first time. It was an election..
Sawyer Hackett 
Tell us a little bit about that about that election, because I don't think people know about the story about you guys running against each other. And what that looked like?
Julian Castro 
This was a crazy election, the spring of 95′. We were running for the student senate, there were 43 candidates in the race and the top 10 vote getters would get to be student senators. The rules were you can only spend $90. That was the campaign finance limit. You could only campaign for one week, and the voting was actually online. They were ahead of their time in 1995. They're at Stanford, Joaquin and I both run at least the stakes are low, right. It's just the Student Senate. But so we ran, both of us ran in this field of 43 candidates. And on election night, in April of 95′. We were there everybody was huddled up you know to get the results. They announced the first-place winner and my brother and I tied for first place with 111 votes. I'll never forget that moment.
Sawyer Hackett 
And you guys tried some sort of Like strange campaign tactics, right? Wasn't that there was some something with fliers.
Julian Castro  50:05
Yeah, we found the best real estate in college. election campaigning was to put our fliers on the back of stalls, bathroom stalls. If you think about it, you have a captive audience there. So we flier all the restrooms, the bathroom stalls with our fliers, people would read it when they were taking care of their business. And what can I say, it worked. I mean, you know, we tied for first place, which is fantastic. We got to serve on the student senate, except that we don't know who the better politician is yet, so we're gonna have to resolve that later. But it was a good, good way to spend the weekend.
Sawyer Hackett 
That's great. Yeah, so as always, we'd like to finish the show with some positive news. So if you have some good news to share with us or a story that you found interesting, leave us a voicemail at 833-453-6662 and visit People First Future at peoplefirstfuture.com and subscribe to Lemonada Premium on Apple podcasts. You can also find Julian and I on Twitter, at @SawyerHackett and at @JulianCastro, go ahead and follow us.
Julian Castro 
Thanks for listening. We'll see you next week.
CREDITS
OUR AMERICA is a Lemonada Media Original. Our Producer is Xorje Olivares, with executive producers Jessica Cordova Kramer, Stephanie Wittels Wachs and Julian Castro. Mix and scoring by Veronica Rodriguez. Music is by Xander Singh. Please help others find the show by rating and reviewing wherever you listen and follow us across all social platforms at @JulianCastro, at @Sawyer Hackett and at @LemonadaMedia. If you want more OUR AMERICA, subscribe to Lemonada Premium, only on Apple podcasts.