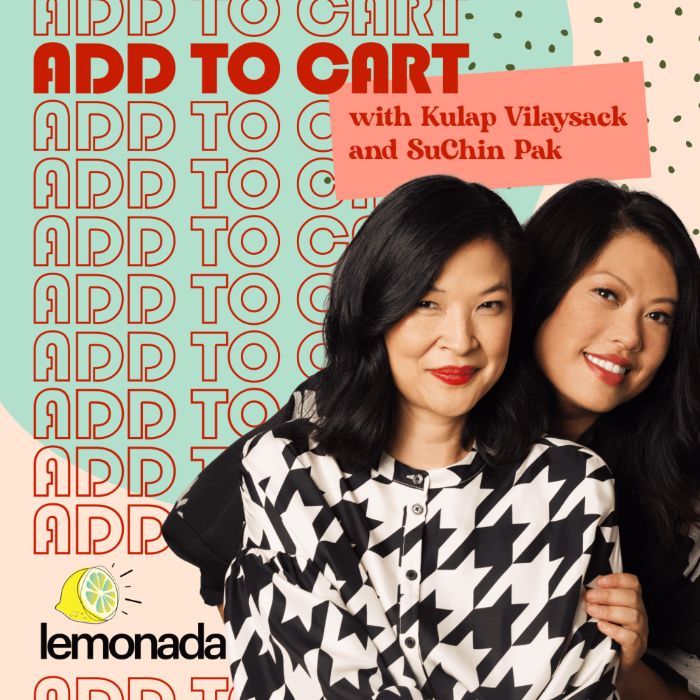 Deranged Sleep Routines
Subscribe to Lemonada Premium for Bonus Content
Description
Listen. Is it a coincidence that shortly after Ku and Su did a two-part shower routine, celebs started tweeting about how they don't bathe their children or wash their hair? We're not sure, so we're trying it out again, but this time with sleep. Get cozy and put on your sleep uniform (are you a Ku, with a soft mini dress? Or are you a Su, clad like a 1920's newsboy?) Let the aunties take you right to zzz land.
Please note, Add To Cart contains mature themes and may not be appropriate for all listeners.
To see all products mentioned in this episode, head to @addtocartpod on Instagram. To purchase any of the products, see below.
Stay up to date with us on Twitter, Facebook, and Instagram at @LemonadaMedia.
Joining Lemonada Premium is a great way to support our show and get bonus content. Subscribe today at bit.ly/lemonadapremium.
Click this link for a list of current sponsors and discount codes for this show and all Lemonada shows: lemonadamedia.com/sponsors
Transcript
SPEAKERS
Kulap Vilaysack & SuChin Pak
Kulap Vilaysack  00:11
Hello, and welcome to another episode of ADD TO CART. A show about the things we buy and buy into, and what they say about who we are. I am Kulap Vilaysack.
SuChin Pak
And I am SuChin Pak. You know, we were trying to think about, okay, what, let's do a theme, you know, we had a lot of fun with our deranged shower routine. And then Claire. Producer Claire. Was like, I would love for you guys to do a sleep routine. So this isn't like a skincare routine. This is very specifically targeted towards sleep. And Claire, so we may be doing this for one person as well. I'm fully on board with that.
Kulap Vilaysack
She does great work, guys. And you should treat the people you work with well.
SuChin Pak 
I wish she's probably going to regret that she asked that question as she I feel like in her heart and she would never say it. Regrets a lot of questions she asks us, but we go in, you know, when you ask us to do something we put on latex gloves. We go elbow deep. Straight into the deep hole of it.
Kulap Vilaysack
Yeah. And I'll put my face in. I'll always put my face in. Let's get into our sleep routines. Did you start snoring?
SuChin Pak 
That's the most average snore that I could conjure up.
Kulap Vilaysack
I didn't realize that Michael Winslow was in our midst.
SuChin Pak
I don't know who that is. But I take great offense. What's your snore sound like mine is…
Kulap Vilaysack  02:00
Well, Michael Winslow is from the beloved police academy films. He was the one who did all those […] sounds. I mean, foley probably not the best way but he does like sound effects with his mouth.
SuChin Pak 
From the 80s.
Kulap Vilaysack 
I just was surprised that you did a snore sound cuz you're not known for your sound effects. And it delighted me. I'm sorry if that wasn't clear. And now we will begin our sleep routine.
Kulap Vilaysack 
I'm heading to bed later than I think you are. 10:30.
SuChin Pak 
Don't assume.
Kulap Vilaysack 
Okay. Okay. All right. I did assume so I'm strolling up at 10:30 that's when I'm like, let me get started to get settled into my routine. How about you?
SuChin Pak 
Well, when this question was posed, I approached it a little differently. I have a two-prong answer for it. First prong is I start thinking of bed around 5PM. Like as the end of the day come, I start to be like, okay, I'm shifting into bedtime mode down. You know, like, now I have to start to strategize how we're gonna shut it down. So that's 5PM-ish. And then I'm in bed. 8:30. New socks, new underwear.
Kulap Vilaysack  04:05
Wow. I probably won't go to bed until you know 11:30 midnight.
SuChin Pak
That's true on many nights for me if not later, but I am in bed at 8:30.
Kulap Vilaysack
So I'm going upstairs. I'm changing into pajamas. I like to wear an Ever J Pajama. But I love a PJ I love sleep wear; I love loungewear I am the embodiment of loungewear as a person.
SuChin Pak 
I've seen this Ever J. Is it like that cotton that's like so soft and it's like almost jersey?
Kulap Vilaysack
That's 100% right.
SuChin Pak 
Oh my goodness. And you like a short, you're just your knees are out.
Kulap Vilaysack 
Everything's out and if not this short set, it's going to be like almost like a you know, a cotton mini dress. I'm not covering the legs. Unless it's the winter. You're already sweaty and I can tell. Okay, so speaking of sweating.
SuChin Pak
Yes.
Kulap Vilaysack
I want the temperature in our room to be like 75. Okay, but my husband needs a cooler. Because he runs hot when he sleeps.
SuChin Pak 
Yeah, well, he's a very tall, tall gentlemen.
Kulap Vilaysack
He's 6'2. He sets the nest to heat at 67 and cool at 71, it's very cold. And he does run hot.
SuChin Pak
Well, especially next to a cotton Mini.
Kulap Vilaysack
Alright, so SuChin, talk to me about what you're wearing. Go through it again, because we want to have new listeners. And you shan't rob them of this experience.
SuChin Pak  06:05
Okay, all right. Let's calm down. Okay, you are sleeping in a I don't even, it's so cold. It's so cold in your room. I mean, the temperature of my room is I don't know what it is. I just know. It's not drafty. There can't be any waft of air. Everything needs to be static, and still and not drafty. So that's the temperature is not drafty. I have been accused that I wear more clothes to sleep than I do during the day. That's fine. I'm okay with that. I don't like a draft. I don't like a draft in the room. I don't like a draft on my body. So I can't have any skin exposed, because that's draft potential. My face is exposed because I want to live.
Kulap Vilaysack
But just barely.
SuChin Pak 
My face is not exposed. Layer one. Well, first, we all know we got to get in clean undies. Okay, and we got to get in clean socks. And I have experimented with many socks. You know, those fuzzy socks, you know that people wear, that was my thing. I realized I was like; my feet are very..
Kulap Vilaysack 
Okay, it just hit you. It hit you that this was what this episode's going to be. It struck you like a lightning bolt.
SuChin Pak
They're like, is there such a thing as a draft probe? Like almost like, almost like I picture like a metal, a metal stick that you could wave around. And it would alert you if..
Kulap Vilaysack
Like a weather […] that spins, like when a tornado was coming.
SuChin Pak  08:09
And I for some reason, I think of like a Ghostbusters. You know, just like a metal wand that goes around and detects drafts. My feet are, oh, I have really fucking sensitive feet. Like my feet are the ones that will tell me, ma'am, there's a draft in here. And the rest of my body will be like, no, there's no draft. We've shut down the events. We've closed the doors, everything. And my feet will be like, no, there's a draft and they're never wrong.
Kulap Vilaysack 
So your feet, if I may is like the canary in a coal mine?
SuChin Pak 
That's right. So I discovered after some time, I realized that those socks, the knits too loose, it's a loose knit. And at first when you first get them, they're kind of tight shut over a few washings that knit gets really loose.
Kulap Vilaysack
These isn't for performance.
SuChin Pak
No, it's not for performance.
Kulap Vilaysack
This is a casual fabric it's meant to be worn leisurely.
SuChin Pak
That's right. These ladies were not made for this job. So I have discovered these hiking socks and I buy them in bulk.
Kulap Vilaysack
These are from the brand Dickies work wear brand Dickies or what Gwen Stefani he would wear in the 90s these are Dickey's women's dry tech, advanced moisture wicking crew socks, and SuChin and called them hiking, they're hiking socks that she shall be wearing in bed.
SuChin Pak
My thing is, is that these are, you know, day to night socks and I like these because it's a tight weave. And most importantly, they go all the way up your shin
Kulap Vilaysack
Real quick, do you go hiking?
SuChin Pak
No, I hate hiking, hiking is walking uphill hot. So then we are in some sort of, sometimes I'll do like a black legging if it's a warmer night, but if it's you know winter time, autumn time, I like to do a sweat pant and any sweat pant will do all you need to make sure is that it has an elastic cuff, okay, nothing loosey so that you can then put the hiking sock over the elastic […] because sometimes when you're sleeping and you're kicking around, your pants right up, but if you have a sock securing that, just holding that down you will never get that exposed skin that could be deadly.
Kulap Vilaysack  10:41
And it is part of the exposed skin because you purchase from Amazon children sweat pants and so they do right up four inches wherever you got adult sized, they would lay a little longer.
SuChin Pak
Yes, they fall right below the knee I am in 1920s newsboy.
Kulap Vilaysack
There's something in my throat and my eye.
SuChin Pak
No, no, no, no, no, no, I work with it. I work with it. So I pull up the sock it's fine you know they're nice thick the material is fine, is the sizing I get it the sizing I made a mistake. It's fine. I'm living with it. That's what adults do. They live with their mistake. I may be wearing Jr sweat pants but I'm an adult living with my mistake. I made that mistake at the beginning of the pandemic and now it's me. Anyway so that's that and then I do a long sleeve shirt.
Kulap Vilaysack
Yeah, of course. I'm sorry. My bad.
SuChin Pak
A long sleeve shirt. Cotton, can be any material not too thick. You know it's fine. I like you know I keep my top a little breezy.
Kulap Vilaysack
Is it a larger size so that is kind of?
SuChin Pak
It's usually a men's usually it's my husband's like something that he doesn't wear anymore and I just you know co-opted as mine and there you go simple.
Kulap Vilaysack  12:17
Now, SuChin, I see here because I'm looking ahead at this run of show that our producer Claire, beloved Claire has provided. You also […] with an air purifier in your bedroom.
SuChin Pak 
Yes. Tell me about yours.
Kulap Vilaysack
Mine is, if you hit the link SuChin, is the AirDoctor Air Purifier. This is in our room. This is going 24 hours a day. So this is supposedly 100 times more effective than ordinary purifiers. How did I hear about it? Well, a lady whom I visited, who I got my Yoni steamed at her business or place of business. Basically the air purifying part of it is unrelated to the time that I got my Yoni steamed and also got Mayan tummy massage. This is for fertility you guys. I noticed her air filter system like that's really nice, talk to me about it. And she did for a long time. And I was like I'm not sure. And then it popped up in goop. And I thought all right, the combination of both these white ladies.
SuChin Pak
Yeah, if it's cleaning around […] this is legit.
Kulap Vilaysack
Moses? I think that's her son's name. Anyways, so I got this or by got it. I put it on my list of things for Scott to get me for my birthday. Whatever year I got this, which I think I've talked about this, on the show is what I generally do for my birthday. And for Christmas. I create basically a wish list. And he shops from that store that I created. Because I know..
SuChin Pak
You put an air purifier..
Kulap Vilaysack
I sure did. And I got it. I got it.
SuChin Pak  14:03
Surely there was something else more sparkly that you want.
Kulap Vilaysack 
You're thinking that I only get one thing.
SuChin Pak 
Oh, oh God, that hurts that smirts. I get one shot if I get a shot at all. And I'm going straight for price tag. I don't even care. I need a price tag and a good return policy. Like what is the most expensive thing I can get in return? For another expensive thing? is what I want my husband to get me.
Kulap Vilaysack 
Yes, yes. So a lot of people may not relate to me and that's fine. That's fine. This is not  this routine is about. Being relatable. Cuz we love that minute two, gone. Bye bye. But anyway..
SuChin Pak 
I have, I still have hope.
Kulap Vilaysack 
That we're relatable?
SuChin Pak
I feel like there are a lot of people and you guys, call us. If this, this is not relatable. I don't know. I don't know. I genuinely don't know that's what I've learned on this podcast is I have no frickin idea what people. I just don't.
Kulap Vilaysack 
tell you a little bit more about this AirDoctor. Yeah, it is supposedly 100 times more effective. And then the state-of-the-art ultra HEPA. There's dual action carbon gas trap. There's a sealed system. It's very quiet. It's supposed to take out you know, it's near our dogs. So it's got the dander, it's getting, you know, bacteria, smoke viruses, dust mites, mold, 10 microns of mold, SuChin. And I think I got it when I really wanted to have as when the fires, the California fires. And I was looking at our air quality. Especially that fire season. It was like, purple, red, like very bad, like the worst air.
SuChin Pak  16:07
And if you wait to get these, then you're not gonna get any, because there was a run on these kinds of filters during..
Kulap Vilaysack
That's right. So I highly recommend it. Of course, it's not cheap. It's in our bedroom. It's you know, and I think especially while we sleep, I want to make sure that I'm sucking in some sweet ass air. What's yours like? What do you work with?
SuChin Pak 
We buy these air filters. They're called Blue Air. I don't do the research on this stuff. I live with the research scientists. I let him do it. So I assume it's great. And we have one in every room. And I don't know, over the years, maybe bought two dozen of these. You know, just like as we move anytime we move, we buy a whole new set of air filters. You're right, this is unrelatable, they sell these everywhere right now. I saw them at Target the other day. Yeah, they're not like terribly expensive. They're not cheap. They're somewhere in the middle. And yeah, so I sleep with that, but I sleep with it more for the sound. Okay, so we have that and then I'd sleep with just the classic again. Everyone's got one of these, the dome sound machine. And I have that right next to my head. So I like to have a barrier of sound. I'm such a light sleeper. I'm such a terrible sleeper that if I have any light or sound or draft. That's it. I'm up.
Kulap Vilaysack
I don't need it. But Scott does. It's not a dome. I had a dome in my old office. But generally, Scott's a light sleeper like you are, I'm a deep sleeper.
SuChin Pak
You're now in the room. We know what the temperature of the room looks like. We know what you're wearing. So once you're in your PJs, is that when you? Are you washed up?
Kulap Vilaysack
Now I moved to getting washed up. And that includes my oral care which we've talked about ad nauseum. Then I go into my nighttime skincare, which is the most involved of my skincare like versus my daycare, right? I'll give you some hero products. But I'll take photos of my vanities. And you will see that there are way more products than I imagined because a painter uses many paints, right? She doesn't just use primary colors. So if I have makeup on, then I'm going to use an oil cleanser. Now for years I've dug up, take oil away from your face. You must have an oil cleanser, right? So you do that I do that first. And then I do a water-based cleanser like from goodlight, the cosmic do water cleanser. And then I move into a toner like the Naturium BHA liquid exfoliant, we've talked about these products before. And then if I feel like it, I'm gonna put some essence on a little essence like from Nisha, Missha time revolution. I'm prepping my skin taking moisture, right? Yep. I've talked about this eye cream before eye cream very important. I always do an eye cream no matter no matter what. Never skipping the eye cream. I use the goop genes all in one. And then here, here I'm doing a serum. Maybe it's from our friend at Good Light. likely it's going to be an ampoule from Missha time revolution.
SuChin Pak
I love it.
Kulap Vilaysack
And at this point, maybe I'll use a tool. You know like your face, or your classic face rollers. I've got you know it in rose quartz. I have it in Jade. My niece Dana gave me a solo wave. We talked about a little bit with our past guest Chriselle Lim, maybe it works I don't know. But to you know, to win the lottery, you got to buy a ticket.
SuChin Pak  20:01
You have so many tickets.
Kulap Vilaysack
I have a lot of tickets, a lot of tickets. And then I'm going to put on a moisturizer, a light moisturizer. Maybe it's an Naturium retinal complex cream guy. And then to end it I'm going to put on a sleeping mask with some of them call it a sleeping pack. Like right now I'm using the […] waterdrop. So that's, that's my face. That's my face. Oh, and my lip, my lip of course and putting a thick lip mask.
SuChin Pak
Claire said do you keep that on all night. Absolutely.
Kulap Vilaysack
I'm not wiping it off and keeping it all. Oh, I understand because I said mask. It's not actually like a clay mask. It's like a cream. And what it does is like it traps moisture. So you don't lose moisture when you're sleeping.
SuChin Pak 
Forget that face. Look at that face producer Claire, do you think Ku on her watch a drop of moisture shall leave that mochi skin?
Kulap Vilaysack 
And also Claire, I mean, I've got as you know of discuss of linen, parachute sheets and pillowcases. Why would I ever remotely think of harming them?
SuChin Pak 
What? You have white sheets?
Kulap Vilaysack 
Oh, yes honey.
SuChin Pak 
The way you move through life. no apology, no F's given.
Kulap Vilaysack 
That is how clean I am. Now, Claire. What I realized now is that I ran through that battery of things that I do, but I'm making sure that the stuff is soaking into my skin. So by the end of it by the time I've put that last step in, it's not that I'm goofy at all. It's already pretty much a seeped in. So do not worry. I shan't be dripping upon my sheets.
SuChin Pak 
Not from the top. I just keep picturing you in that mini dress. That's God talking to you. We're gonna get back.
Kulap Vilaysack  22:22
Yeah, you're right. You're right. You're right. You're right. And you're being a good friend. And I appreciate it.
SuChin Pak 
Because I opened the door and I said no. Bad friend. Good friend closed door. Door is closed.
Kulap Vilaysack 
Okay, right now I'm probably with well within my 10:45 range. You're at 8:30 you've done a skincare routine. You've changed to do PJ's. Clean underwear and socks. Do you want to give us a little bit of what you do on your face?
SuChin Pak
So then, yeah, I do my skincare routine after dinner. You know, that could be like 6:37 you know, and so I do all of that. And then I'm in bed at 8:30. But I'd like to save my last step, my oils for right before bed. I don't know why, I just do I feel like I just, it's a massage. It's part of the ritual. It relaxes me and so I mist because I think it's important to mist before you put anything else on your skin, you want your skin to be a little bit wet. And then I put on my last moisturizing step. And right now I'm really into your friend's skincare line, Blunt. And so I'm using this CBD balancing oil because I've noticed that I don't know if it's just like summer I'm getting a little bit of adult acne. So I'm doing that and, and I also like to then do my last step also incorporate some calming essence oil. I've used many different kinds right now. This isn't actually a calming essence oil, but I use it as my daughter has eczema. And so I started to read about these homeopathic topical remedies that have essential oils in them and it's from forces of nature. Didn't work for her.
SuChin Pak  24:21
Okay, but it smells amazing. It smells like a walk in a deep redwood forest on a crisp, fall day. And so I'll put a few of these drops into my hands and then do that last bit. I'll put it in my hair just to kind of get me again. Nighttime routine is all about calming, winding down. You know, because I've had so many sleep problems. I've actually done the cortisol, have you done the hormone cortisol test where they do the saliva. So like three times a day.
Kulap Vilaysack 
I have low cortisol, I know that from my blood, but not through my saliva.
SuChin Pak 
So I did it through my saliva. So you have this kit, your doctor orders this kit. And then you basically soak cotton pad with saliva three times a day, they send it in and they tell you what your cortisol levels are during the day. And interestingly enough, usually people start off with high levels of cortisol, which will get you up in the morning and then around 4pm or 5pm, it starts to wind down till it gets to none while you're sleeping, and then it goes back up. That's the natural rhythm of how cortisol is supposed to work in your body. Mine goes in the morning from zero, like zero, like nobody understands how I get out of bed. And it slowly ramps up and it peaks at like seven. Wow. And then it never falls. All night long. My body is pumping cortisol. So for me, it's about how do I get that calm reaction. And also I clench my teeth at night. I do the heat and the massage and the heat and the massage is really helpful for me unclenching calming my nervous system.
SuChin Pak  26:12
And for migraines, which I get a lot and it's all related. The clenching causes muscle tension, which causes migraines. So I have to tell you, nothing has worked better than and we've talked about this this Lanshin massager. And it's this little porcelain, you know, manual massage, or you fill it with hot water. I use oil and then I just go to town, a neck, my jaw. And I've slept with a night guard for years because of the clenching. I was actually cracking my teeth. They were falling out of my head. This is how it started. And I don't use a night guard anymore. So that's what I do.
Kulap Vilaysack 
So when I was doing all of like my skincare all that that's at my sink in my bathroom, the stuff that you're talking about right now, this is beside your bed, it's on your nightstand.
SuChin Pak 
That's right, nightstand. I have lots of oils, I have a mist and I have a Lanshin massager, and a bevy of different essential oils. I they're all good. You know what I mean? But it's just right now this is the one that I feel is the thing that signals my brain to hey, you're okay. And then I just want to get to the last bit of it because Dear God, let's get through this.
Kulap Vilaysack
I cannot wait for this because I just peeked.
SuChin Pak 
I have a sandwich. A night sandwich in bed.
Kulap Vilaysack 
Okay, but I know you to be someone who really cares about their oral care is really concerned..
SuChin Pak 
That's right. I don't do my oral care until after my night sandwich. Listen, people with children may relate. You end up eating dinner like it's 536 o'clock with the kids, right? You're just kind of munching and blah, blah, blah. By the time I'm ready to shut my lights off at 9:30 it's been a half a day of not eating, like I'm starving. So I generally have a piece of brioche toast with almond butter and some apricot jam. That's what I like. And I eat then in bed while I read my book.
Kulap Vilaysack  28:38
How does your husband react to that? Is that his favorite?
SuChin Pak
That is a tricky question. Because over the years, he has had less fight.
Kulap Vilaysack
No, because aged you, you just you. You wear them down.
SuChin Pak
It started off. Oh God, let me not air his secrets. Let's just say this man is tidy. Okay? And everything was white. And I would eat in bed. And it was the last stand. You know, it was this is where I'm drawing the line. I cannot abide by this. It will never happen. Guess what? We're married. We have two kids and I'm eating in bed. I'm not going to tell you who one.
Kulap Vilaysack 
You shall have your sandwich.
SuChin Pak 
Yeah, I shall have my sandwich and he shall keep his mouth shut. So he grumbles a bit and that's fine. I do lay down a dish towel I have to admit. I realized I wasn't doing that just to just like stick it to him. And I said let me lay down a dish towel. So I'll tuck a dish towel in my night shirts.
Kulap Vilaysack
So romantic.
SuChin Pak 
Yeah. And then I go and I brush my teeth.
Kulap Vilaysack 
Wow. Okay, so we're not done yet with you, though, because we haven't even talked about how you cover your face, you know? So you brush your teeth. You hop back in about what happens.
SuChin Pak  30:01
I'm hopping back into bed. I'll do a little reading. I'll take my melatonin. You know, when I read the lights are out and I have a little book light because you know, now we need to shut down. And then okay, so how I was doing it before this show and how I've always done it is I have four pillows. I sleep on a beam pillow. I don't know what they're called, what are they called? It's filled with beans, an organic buckwheat pillow.
Kulap Vilaysack 
Sorry? What's the buckwheat pillow for? Like, what does it do?
SuChin Pak 
Okay, so my pillows are such a personal choice. So the buckwheat pillow for me, I like to have a very firm, like, grip when I sleep like it needs to every part needs to be supported like iron hands, because I get a lot of neck pain and that sort of thing and migraines and buckwheat pillow. What I like about it is that you can form it to any shape like if you beam together. It'll hold that shape. But it is hard. And also it's noisy. Their beans, so like your ears on it. So it's really not mine. It's a little crunchy. So that's that I use a king size pillow between my knees. My knees are bony. So two pillows. Then I put a pillow over my head. I'm a side sleeper. But I can't breathe. So then I use another pillow to prop that pillow up. So I just have a little triangle of air.
Kulap Vilaysack 
So you're only, you're using a child size beam pillow. That's it. That's it for your neck.
SuChin Pak 
Oh, yeah.
SuChin Pak 
You have more pillows under your neck?
Kulap Vilaysack 
I have two pillows underneath my neck.
SuChin Pak
That would give me a crick. That's too high for me. But then we discovered sleep crown. We discovered this sleep crown. Lauren brought this up on our podcast. Lauren Lapkus brought this up. And I was like, What is this thing? We got one. And now I just put that on my head. It takes care of the problem of I can breathe because of the shape of the sleep crown. And then obviously it blocks the light and the sound which is what I'm using the pillow for over my head anyway.
Kulap Vilaysack  32:29
And it's so soft. It's so lovely. I love it. Sometimes I put it on my face but then I'm like I don't want to ruin my bangs because now I have bangs so then I just sometimes, I just hold it. I should remove from cart being on my phone. I'm in bed in you know, scantily clad in a light jersey. And I'm under the covers freezing. Because husband, he's been asleep. He's somebody who like hits the bed asleep. I need time to go to bed and a time to wake up. I really do. I just need time. I need time. Yeah, if I'm finally in bed, let's say by 11 I'm going to need that hour to just not be sleeping yet. And a really bad habit again what I should remove from cart is being on my phone. So what am I doing? I'm hitting all my social media in cycles. Come back to Instagram maybe somebody you know, maybe somebody had something to say while I was on Twitter. And that's the time when I'm like you know what, let's read the news. Like what is going on in LA Times right now? What's happening in my city? What's happening in Washington?
SuChin Pak 
We might as well just record this podcast right after that, that 11:45PM.
Kulap Vilaysack
and then I get thought in my head. Okay, I'll do some research. Everybody some research, could be anything? Maybe, maybe, maybe Italy's open now maybe we will look into a trip to Italy or maybe it's something like oh, yeah, like Hatshepsut, the Emperor, the Egyptian emperor, who everyone thought she was a man but she was a woman just put a beard on so she can get respect. She's cool. What's she up to right now?
SuChin Pak  34:37
But this power hour as I'd like to now call it, this power hour gives you your edge, Kulap. I'm just realizing cuz Kulap knows everything. I have never sent her a link, a picture. And not only she does you know everything she also knows what everything about what I should know about, this is where you put on your cape. You fly mentally around the world, you check on your baby's, you check on Hapshetsut, and you get smart, and then you wake up that lead.
Kulap Vilaysack 
I mean, this is tough because I you know I'm supposed to remove from cart.
SuChin Pak 
RFC still not ATC, you could, you could still do this. But we could do this at maybe after dinner, before you start watching your shows. Let that be.
Kulap Vilaysack 
But here's the thing. I am on social media then as well. But you don't have any problems sleeping. Yeah, I guess. I guess that's the thing. You have problems sleeping.
SuChin Pak 
I mean, I would love to do this. Because it's a quite time during the night, but I'm too scared if I opened up..
Kulap Vilaysack 
Yeah, so I'm probably going to bed. Let's see. 12PM and then I'm sleeping solidly not waking up at all. probably getting up around seven. What are you? What's going on with you?
SuChin Pak  36:12
I don't know when I go to sleep. Because I don't you know, look at that. It's another thing. I will never ever, ever, ever look at a clock before I get up. Right? Because I've done that. And then it's terrible. So I have no idea. It could be 3AM, 4AM it could be 11PM it just kind of depends. And I then am up almost every 45 minutes thereafter.
Kulap Vilaysack 
Going to the bathroom, right?
SuChin Pak 
Go to the bathroom. I'm up there's a draft I have to pull my sock up. I you know the pillow between my legs creeped up a little bit. Now it's too close to my you know all of that.
Kulap Vilaysack 
I actually am so impressed that you're able to function.
SuChin Pak
I may medical miracle. Just go ahead put me up in the Natural History Museum. This woman she's spent 80 years awake. many nights I have not slept a wink. But you eventually sleep. You sleep. You get you get there.
Kulap Vilaysack
You are a medical miracle. Truly like I would be you know, we already the warning right of cussing. I would be such a cunt if I didn't get at least seven.
SuChin Pak 
And now you know why I am.
Kulap Vilaysack
But you're delightful.
SuChin Pak
No, I'm delightful for two hours with you. He's always saying that he was like all your friends. Oh giggly SuChin is out with her friends. And then the raging sleep deprived horror show comes home. And just snacking, cramming up in bed. I know, he's held. No, he gets it. You know, he's been dealing with his own stuff. And so he's really had a lot of trouble sleeping for the very first time. And I have to say, there's so much empathy. It's kind of been, again, terrible that he has had now is having sleep problems. But there's like a deeper understanding of who we are. Knowing this piece, and you can't know this until you experience it. Like, yeah, how much of your life is ruled by the lack of sleep?
Kulap Vilaysack  38:50
Because everything is somewhat theoretical until you experience right? And that's the Okay, you know, this is why I like astrology, SuChin. And how did I find a way I did? I did. I'm also a miracle. But it's because like, a, to know what hand another person has dealt? You said the piece right? And this analogy to the card, right? Yes, we're a sum of everything involved we do in our past experiences. And to know that part, like what is operating, how you're, in this case, how exactly you're operating. That piece makes a difference. This cart is huge. To have an understanding like that. I just was saying this is I can imagine how that helps.
SuChin Pak 
So Claire, I don't know if this is what you wanted. But this is what you got. You see, and the thing is, is she'll keep asking questions. And we'll keep elbows deep. I'm not facing but elbows deep. Into all your burning questions.
Kulap Vilaysack  40:02
You ask a question and then we go hard. And we give details that no one asked for. Nobody wants. We reveal intimate parts of ourselves, of our marriages, of our husbands. They don't want that either.
SuChin Pak 
So that's it. Hopefully you're asleep. You know we have heard from someone called in and said that they listen to us and fall asleep. I take that as the greatest compliment. Hopefully that person is well into an REM, just cozy wozy.
Kulap Vilaysack 
I hope you're tucked in. cared for. Loved. Lights out. Night.
SuChin Pak 
And if you want them when you wake up, you can find everything that you missed. On @AddToCartPod, you know, you can have the links. They're all in our show notes. You can buy things you don't have to buy things you can also just look at things.
Kulap Vilaysack
You don't have to do anything you don't want but if you want to, you can leave us a message and tell us the weirdest part of your sleep routine.
SuChin Pak 
Does it involve a sandwich?
Kulap Vilaysack
And that number is 833-453-6662. We'll see you in your dreams.
CREDITS
ADD TO CART is a production of Lemonada Media. Our producer is Claire Jones and our editor is Ivan Kuraev. The music is by Wasahhbii and produced by La Made It and Oh So Familiar with additional music by APM music. Executive producers are Kulap Vilaysack, SuChin Pak, Jessica Cordova Kramer and Stephanie Wittels Wachs. Be sure to check out all the items we mentioned today on our Instagram at @AddToCartPod. Also, please take a moment to rate, review, and subscribe to the show wherever you get your podcast.