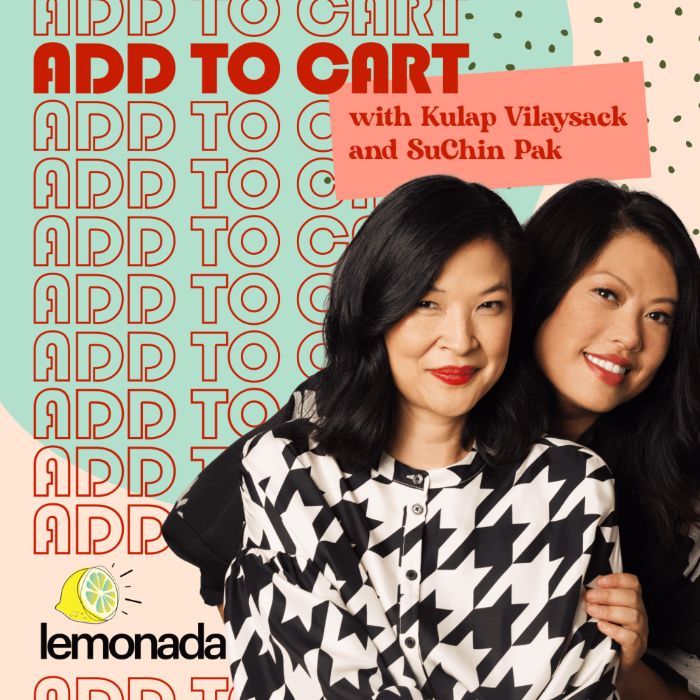 Five Pounds of Gummy Bears and Other Budget Buys
Subscribe to Lemonada Premium for Bonus Content
Description
This week SuChin and Kulap talk about some of their favorite budget buys. They dive into how growing up in an immigrant/refugee family (respectively) still impacts the way they think about buying new things, throwing away food, and accepting free samples. Plus, they respond to listener DM's and suggest their go-to budget staples.
Please note, Add To Cart contains mature themes and may not be appropriate for all listeners.
For a list and links to all products mentioned in this episode, head to @addtocartpod on Instagram.
Click this link for a list of current sponsors and discount codes for this show and all Lemonada shows: Sponsor Link
Stay up to date with us on Twitter, Facebook, and Instagram at @LemonadaMedia
Transcript
SPEAKERS
Kulap Vilaysack, SuChin Pak
Kulap Vilaysack  00:09
Hey, everyone. Welcome to ADD TO CART. I'm Kulap Vilaysack.
SuChin Pak
And I'm SuChin Pak. And this is a show where we talk about the things we buy and buy into and what they say about who we are.
Kulap Vilaysack 
This week we're talking about budget buys.
SuChin Pak
Yay! My favorite
Kulap Vilaysack
Products and ideas that are affordable and work. Plus some of the ones we really want it to work but didn't. So in thinking about this episode SuChin and made me think of kind of my old habits. Since I'm a kid of refugees. You're an immigrant. And I actually saw you post something on your stories. And you taking an orange from a tree?
SuChin Pak 
Yeah.
Kulap Vilaysack
What did you say, SuChin?
SuChin Pak 
I said that the immigrant in me feels like I made it.
Kulap Vilaysack 
Yeah.
SuChin Pak 
You know, the thing was I am renting a house now in beautiful Southern California somewhere. And there are these orange trees in the driveway. So every time I get in the car, I pick an orange and I eat an orange in the car. And I feel like a Kardashian when I do that. And then wait, Part B Kulap. I love that you brought this up. The other part I wanted to say was right now Satsuma oranges are in season and they're at Whole Foods. And a bag of them that are like in those plastic knitted bags are like $6.99 or something. And every time I pass by there, I think I just saved
Kulap Vilaysack 
$6.99.
SuChin Pak 
$6.99 on the way here. I made money.
Kulap Vilaysack 
High key though, the true immigrant refugee experiences if that tree wasn't yours, and you plucked it.
SuChin Pak 
Oh, yeah. For sure.
Kulap Vilaysack 
I mean, that's where my aunties and uncles like they had a route you know, any neighborhood maybe the neighbors don't even there's, there's a route you know, I got your lemons. I got you limes. I got your persimmons; I got your avocado.
SuChin Pak  02:12
Let me tell you this. When my parents come, they're here now. When they come and they go on walks in the neighborhood. They come from their house with pruning shears and a pillowcase. Because they take cuttings from all the neighborhood yards. They take all the cuttings.
Kulap Vilaysack 
Oh, wow. To propagate at home.
SuChin Pak 
Propagate at home for free, number one. Number two, when I got married, we rented a house for my parents to stay in and Mike and I stayed just like for my family to stay in. And it had a small avocado orchard. Like locusts in the night.
Kulap Vilaysack
Okay, this is exactly what, okay like locusts in the night. This is so right. This is so right. Because I wanted to talk about, you know, I've done well for myself, I live a life of abundance. We've talked about this, but there are still things in old habits that I cannot drop, regardless of what's in my bank account. And what you're talking about here is anything that is remotely complimentary. Right? Like I cannot go to a hotel and not take all of the toiletries, all of the waters that are free. Anything like in the lobby.
SuChin Pak
And ask for more. By the way, just say "Oh, hi. I'm so sorry. Could you also, we've ran out of shampoo." All of the shampoos are gone.
Kulap Vilaysack
I have so many grooming kits. You know, but it's like and it's not even like for me. It's like I could possibly give them away like it is for the village.
SuChin Pak 
The village enjoys.
Kulap Vilaysack 
And if it can in any way be used. It's so hard for I can't toss it. You can't get tossed.
SuChin Pak  04:07
Do you keep your takeout containers?
Kulap Vilaysack 
Yeah, well the especially the black ones with the plastic. Oh yeah, that gets reused.
SuChin Pak 
I have to hide them.
Kulap Vilaysack 
From who?
SuChin Pak 
From Mike.
Kulap Vilaysack 
Yeah, cuz the plastics, right?
SuChin Pak 
He's just like, "Please don't do this to us." And like when I have to so I wash the zip lock bags. You know, I'm not talking like a marinade in an olive oil. I'm talking like a few crackers when added a few times. I'm washing it out. And then I have a little area in the laundry room that I've hidden from Mike where I drive them out. And then I refold them. And I put them in the drawer for myself.
Kulap Vilaysack 
I was just talking about this with our friend Lin Chen too. The inability to waste food if it's possible to give it away. Make it into something else. It feels so bad to like to throw food away. Like to a detriment and in some ways, like the other day. I had two slices of pie, I don't need sugar in this house, but I couldn't do this. pies, chocolate and banana cream pie. So like texted my friend Do you want this pie? And he's like, no, I'm watching my sugars. I'm like, "Ah, Scott? Do we throw this pie away?" He was "Yeah." I'm like "Whoa." Just like I'm even sweating retelling.
SuChin Pak 
Oh, I'm sweating too. I was just [UNCLEAR]. Like you're making me sweat. What happened to the pies? Don't tell me you threw them away
Kulap Vilaysack 
[UNCLEAR] away.
SuChin Pak 
Two whole pies?
Kulap Vilaysack 
Two slices. two slices. Let me be clear. Oh my god, I'm so sweaty.
SuChin Pak  06:01
This my friends love to make fun of me. And this is an old story. But a good story. My friends, my dear friends who love this podcast, Adam and Ryan. And they joke about the time that we went to a brunch spot and there was a waffle leftover. It's a waffle, you know. It was like it's cool. I took it I put it in a napkin and put it in my purse. And they just laughed at me and made fun of me all day. And a few hours later, I wanted to snack. Ate that waffle.
Kulap Vilaysack
You had that purse waffle ready to go.
SuChin Pak 
I took out the waffle out of my purse and I ate it walking around the East Village. And to this day, to this day, whenever they see me they're like "You got a waffle in that bag." And I maybe do have a waffle in that bag.
Kulap Vilaysack 
You got something in that bag.
SuChin Pak
Oh yeah. biscotti little cookies from the plane. Are you kidding me? I say yes to all of it. I'm mostly gluten free and yet, and yet, I will say yes. I'm also I don't like peanuts. But do I hoard all the Southwest peanuts?
Kulap Vilaysack
Am I so full and I'm in comfort plus, and they're like they showed me a basket. Go ahead. I'm like I will. Go ahead, banana, chips, chocolate. What? Here I go, you coming back? you coming back? My bag is open. Like do yourself a favor. Pour it in.
SuChin Pak 
Someone will want it.
Kulap Vilaysack
So much of our cuisine has to do with using every bit of the animal. To broth, to awful.
SuChin Pak 
We have soup all day long. Because we have so much miscellaneous meat we have to boil because you can't actually eat it. That's why we're soup culture,
Kulap Vilaysack
Soup and then rice just to get by, you know, like just to get by. And like that has everything to do with like, my parents, their background, them coming as refugees. And also, because we didn't have a lot of money growing up, I would have to make dinner for my little sisters while my parents worked, you know, their double shift with like, sometimes just random Food Bank pantry items. Like you know, that's the only reason I ever heard of like, corned beef hash in a can like, that's the only reason I came across it ever. And I'm sure what I did was like, make some egg in that and there we got an omelet with some rice.
SuChin Pak  08:26
That's keto. Put that up, put that up on the keto site.
Kulap Vilaysack
And the same is the last thing I want to add, which I know you're gonna relate is that you're going to use any product that you have until the last drop until the container is clean, which is the obvious thing. Dish soap, hand soap, you know, like oh, there's a little bit.
SuChin Pak 
Add water.
Kulap Vilaysack 
Add water. Yeah, add water. So even the other day using my clarins gel bust lift cream. And I couldn't there was nothing else could be pumped and it was really hard to flip it over and just knock it all out. So I'm like oh q tip. Rimming it, rimming it.
SuChin Pak 
That's what I use. I get those orange like those wood sticks that you push your cuticles back?
Kulap Vilaysack 
Yes.
SuChin Pak 
Never touch the cuticle.
Kulap Vilaysack 
Not once.
SuChin Pak 
That's a perfect length to get into that serum. Get right in there. Do you know what I mean?
Kulap Vilaysack 
That's another immigrant kid thing is using something not for its purpose.
SuChin Pak 
Do you know how many uses for chopsticks there are? You can unclog your sink with it. You can get the last of your serum with it. Yeah, so many uses for chopsticks.
Kulap Vilaysack 
It is my go-to tool. Like I couldn't reach something the other day. It was in my backyard. I was like I can't reach turning on the Christmas light that I put on. Here we go that extends my arm. A chopsticks length.
SuChin Pak  10:09
By the way, that's like a good eight inches. I mean, that goes from you know a mean, from normal to like basketball size pretty soon like you are in the NBA of reaching chopstick.
Kulap Vilaysack 
Chopsticks makes all Asians Transformers.
SuChin Pak  10:28
My brother came was here and I was making him tacos. And he was like, in this taco meat. He was like "Is there broccoli and carrots?" I'm like "Yeah" I just sauteed it with the ground turkey because I had a few. I eat all the broccoli. You know, I eat it down to pretty much two inches of that stock. I don't understand that stock is so you peel it. You got to peel it because it's rough. And I chop it up and I put it right in a taco and my brother's like this is the weirdest taco meat I've never had broccoli. I'm like, and he joked he was like you if you had a cooking show, your cooking show would be called Make it fast. Make it last.
Kulap Vilaysack 
I love it.
SuChin Pak 
I make it fast. I chop in uneven sizes. I don't care. And then I make it last. Because then what I do with that make it fast make it last that taco meat that also has every vegetable in it from my fridge that needs to be eaten. When we don't finish it. What do I make it with it? Next day? I put some tomato sauce on it. Got a nice little meat sauce. And I put it on pasta. Every time.
Kulap Vilaysack 
Look, and you're getting your nutrients in.
SuChin Pak
Yes, it's about minutes. And then it's pasta night. Wednesday, Thursday, come on over, every week.
Kulap Vilaysack
All right, we're gonna take a break. And we'll be right back with more ADD TO CART.
SuChin Pak 
All right, welcome back to ADD TO CART. And this week's episode, we're talking about all of our favorite sort of budget finds, budget philosophies. And so let's get into it. So I have a budget buy and it's the category of budget buy that I love the most it's a Bucci budget buy Oh yeah. And I think I've told you about this. And I've talked about this before, but it's a company called Blue Land. By the way, shout out to the API mother who is behind this. Yeah, so it's a really simple concept. And what it is, is that you get these cleaning bottles that they send you with the kit. So it's one for like window, you can, it's a surface cleaner, whatever, and you put a tablet in, and then you fill it with water and that tablet dissolves in the water, creating a cleaning product. So we can replace all of your plastic bottles for life.
SuChin Pak  12:50
You never have to buy another bottle of window cleaner. You never have to buy another bottle of tub and tile cleaner. You never have to buy hand soap again. And so two things. One is that the cleaning products that they sell are plant derived and very clean, fine to wash down in your drains. Number two, obviously, all those plastic bottles we buy every month, every few months, when you have to replace that. Where does that end up? 90% of our water is filled with microplastics. And so yes, it's landfill. It's this, it's that but it's in our water.
SuChin Pak 
I mean, we use so much plastic. So the whole point of this company is that you'd never have to buy another plastic bottle filled with a cleaning product again, you get these tablets, they're in paper, they're beautiful. And you just drop one in and it dissolves. And then that's it. And they're great products.
Kulap Vilaysack 
Okay, that's my question. For cleaning. They're good. They work.
SuChin Pak
If you use seventh generation or any of these other eco products. This is comparable. If you're a bleach person and you're bleaching things. this isn't gonna bleach. But these are comparable to any of those products. You get a beautiful glass bottle, you have that for life, all you have to do is buy those tablets for $2 where are you going to get a full-size thing of soap. So it's not only environmentally friendly, it's the only supporting a small business owned by a woman who got an investment while she was very pregnant. Just think about that.
SuChin Pak  14:29
It's inexpensive, because a lot of times, you know, when you're buying things you have to consider all of that, you know, I'm willing to pay a little bit more if I know that the environmental impact maybe is.. And you kind of adjust things as you go but this product, there's no real compromise to this.
Kulap Vilaysack
I'm looking at the clean suite, which is like kind of like the overall kit. It includes seven reusable containers and refills and we got foaming hand soap You've got cleaning sprays, dish soap, dishwasher laundry, and that's $83. But that's a lot. There's a lot in there. And the products look good, which you know, is important to me. I'm in. I'm in. What else?
SuChin Pak 
So the other budget friendly item that I wanted to recommend is not really an item. It's an app. And my friend Kim, who also loves this podcast, told me about it's called Fake Spot. Have you heard of this?
Kulap Vilaysack 
No.
SuChin Pak 
And it's an app on your phone. And what it does is, a lot of the reviews on Amazon are not real. They are done by whatever companies and marketing companies and all of that. So you don't really know if a product that you're buying actually does what it says by the people, you know, that are using it. So what this does is every time I go to say, Amazon. If I want to see if the reviews are indeed real reviews, I just click on this app, and it will tell me if my product is actually being reviewed by real people. And so this will help you kind of differentiate between, like what you know, are products that are being pushed to us and sold to us that aren't really being used by people or ones that people actually genuinely love. So it's just an easy app. That helps you be a smarter, more budget friendly consumer.
Kulap Vilaysack  16:29
This is really cool.
Kulap Vilaysack 
My contribution to today's ADD TO CART budget buy is I have a lot of, you know, expensive lotions and creams in my bathroom. But this one is tried and true. Old school. My best budget buy is  Palmer's Cocoa Butter Formula Daily Skin Lotion. And for this size, which is 13.5 fluid ounces. It's $6.95
SuChin Pak 
Got to love that.
Kulap Vilaysack 
It's all the things you love. It's organic, it's certified.
SuChin Pak 
I mean, this company and this product has been around. I don't even know how long when something like that, you know, when it's something that's been around this long. It's tried and true.
Kulap Vilaysack 
Tried and True. And I wanted to get down to Oh, yeah, so it's fair-trade coconut oil. It's ethically and sustainably sourced. Rainforest Alliance certified. No animal testing. It's a member of the world cocoa foundation. Don't you want to be a part of that gang?
SuChin Pak
Absolutely. And how do you use it? Like what's your sort of? I wouldn't want to say ritual with it. But what's your practice with it? How do you apply it?
Kulap Vilaysack 
So after I shower, this body gets a slather, SuChin. Tip to tail. We are rubbin' dubbin' with this lotion.
SuChin Pak  18:01
I'm going to let you continue go on. Slipping and sliding
Kulap Vilaysack
We're slipping and sliding. I try, sometimes I don't have time. But it's important to me that I moisturize. It's a big part of who I am. I might truly like I haven't had a manicure pedicure before core. And I'm not even remotely pretending. Like I've got cuticle six two. I'm not using them. I got everything to make me look better and yet it's not. Not gonna do it. I'm not doing it. It's not happening.
SuChin Pak  
For who? That's like my new thing I've been anytime any of my friends post something beautiful. On Instagram. I'll message and be like "For whom?" Just for whom? For who is that platter for?
Kulap Vilaysack 
I always knew this but so much of like, my appearance my clothes. It's really for my girlfriends. It's really, that's the audience. Truly that's more the audience.
SuChin Pak
Because that's the audience going to appreciate it. And vocally appreciate it the most If I'm going to go through that effort. I want to hear it you know,
Kulap Vilaysack 
From somebody who knows.
SuChin Pak 
We're going to talk about the things that we have tried to save money on but came to bite us in the butt. I'm going to go first. If we never do another episode that I get to talk about this. I am removing from cart Airbnb's. Shitty, shitty refund customer service policy.
Kulap Vilaysack 
I mean, it's notorious.
SuChin Pak
It is so bad. I don't know if the other sites are as bad but Airbnb's is so bad and that company is so big. They just made a ton of money, they went public, they should be putting some of that into the customer service and the people that are making them rich. So I years ago, my family, we went to visit some friends in Montreal and two kids. They were probably ages two and four not fun to travel anywhere, which is why we picked Canada. And we got in late we picked an Airbnb that was big enough for everyone. And when we showed up, it was a House of Horrors.
SuChin Pak  20:39
First of all, they said it was one apartment but then it had a little weird like fake door in the kitchen that led to an outside hallway in the like [UNCLEAR]. And then you went to another apartment across the way. So, I was like wait, these are two apartments this it was just bananas. There was cobwebs wasn't clean. It was and I was like we don't have anywhere to really sleep because these apartments are broken up I don't so where I can't put the kids in another apartment across the hallway you know.
SuChin Pak
So we kind of tried to contact the owner but a lot of times with Airbnb now because you know they're third party they hire out people to do it and I don't know. Anyway so, long story short, we ended up booking ourselves into a very expensive hotel last minute and sleeping there. And we never got our money back, we never slept one night in that Airbnb lost 1000s of dollars.
Kulap Vilaysack
So this isn't even removed from cart their policy. I feel like this is removed from cart Airbnb.
SuChin Pak
It's hard though. You know, Airbnb is so ubiquitous, and it's easy, and it's convenient. And you want to save money, so you don't want to stay in a hotel. So I wanted to recommend. That now, yes, I've used Airbnb since. It kills me every time I have to book through them. But I you know, sometimes you can't help it. And so, two things I do is whenever I want to stay in an Airbnb, I sometimes just look up like for example, Salt Lake City vacation rentals. You know, I start there at like local kind of smaller agencies that are maybe doing it in the city. So there and then I've tried have you ever tried this AvantStay company?
Kulap Vilaysack
Yeah, that sounds familiar to me.
SuChin Pak 
They don't have a lot of homes. I don't think they're not as extensive as Airbnb but you have these little companies like AvantStay and you can go there and they have a few cities and really great homes. And there we stayed at a place. The customer service like the upstairs neighbors was really loud. I mean, within 15 minutes, this situation was remedied. I mean, they had such great customer service. The place is immaculate, they do you know everything.
Kulap Vilaysack 
Yeah, are you familiar with Vrbo?
SuChin Pak
Yes, are they different?
Kulap Vilaysack
I was just looking at we have confirmation that it's not the same company and often the same places use both services kind of like Lyft and Uber when I'm looking for vacation homes sometimes the same places will be on both. But yeah, that's a big burn that's a big Airbnb burn, you got burned.
SuChin Pak 
the end of it is that like yes of course you want to save money and all of that but sometimes paying a little bit more money for these smaller services like AvantStay or like a local you know, home rental place where the customer service is better at the end of the day you may actually be saving money because if something does go wrong, then they're there to help.
Kulap Vilaysack
So I have my remove from cart is before I say it, I just was like a little bit of a background. I went on the very funny podcast I SAID NO GIFTS! with Bridger Winegar, who is the best name. And he is a real fun person to talk to. Check out our episode. And he and I spoke briefly about Gummi Bears, Gummi Candies, and one of his listers, replied to a tweet he posted and said, you know, you'd like gummies check out this brand, Albanese World's Best Gummi Bears. So I go and I look for it. And I'm looking at prices do I take in that I'm buying a five-pound bag? Not really. I'm just taking in prices. I'm thinking I don't want a bunch of small bags. This is what I'm thinking. I just want to try these bears, right?. So then I get a delivery and it's very heavy. And I open it up and it really landed that I bought five pounds of gummi bears
SuChin Pak  25:03
Wait, five pounds? I'm trying to understand. That's how many gummi bears is that?
Kulap Vilaysack 
Well, let me just show you.
SuChin Pak  2
Yeah, show me the five-pound bag.
Kulap Vilaysack 
I have a chip clip on it. I've had maybe handful just for myself. They are excellent bears. It's not that I'm saying. These are these aren't great bears. These are great gummi products.
SuChin Pak 
14,00 5-star rating. So yes.
Kulap Vilaysack 
Great, great product.
SuChin Pak
But you still have half the bag. I
Kulap Vilaysack 
No, this is.
SuChin Pak 
What are you going to do with that?
Kulap Vilaysack 
Don't say that. Don't say that.
SuChin Pak 
[UNCLEAR]
Kulap Vilaysack 
[UNCLEAR] taking all of these as soon as we get off of this podcast. He already knows he said he would.
SuChin Pak  26:00
That's a bag of gummy bears that cycled through a few friends. You know what I mean? Like your friend isn't going to have to pass it on to another friend. It's going to get through a few households. It's fine. You did it once. You thought you were, he thought you were.
Kulap Vilaysack 
I was looking at price.
SuChin Pak 
Saving some money.
Kulap Vilaysack 
And then in the end. That's the thing about sometimes buying in bulk. Okay? This isn't toilet paper. These bears can't help me there. And what an image that is. All right.
SuChin Pak 
Let's pause there. That's all our budget stuff, right?
Kulap Vilaysack 
Yeah, yeah.
SuChin Pak 
That was I fun, we got to do that often.
Kulap Vilaysack 
Oh, yeah. Much like our self-care will be returning. On that note, we'll be right back with more ADD TO CART.
Kulap Vilaysack
Hey, everybody, we're back on Add to cart and for our third segment something new. It's our listeners, DMs answered. I don't know if you know this, guys, but if you go to @AddToCartPod, you can slide into our DMs.
SuChin Pak 
And you know what? Kulap and I we, answer every single comment, dm. I love doing it.
Kulap Vilaysack 
Yes. And so we're gonna dress to DMs. And the first message we got is from Mike. Now, Mike happens to work for Lemonada.
SuChin Pak 
But his was a genuine question.
Kulap Vilaysack 
It's a genuine question. But I know he has my cell phone. I know he has both of our email addresses. He went in the DMs. And he asked this question
SuChin Pak 
But you know, what is so great about this is that he has all of our contact info. He helps us you know, make our Instagram sites and all of our marketing materials so beautiful. He also cuts..
Kulap Vilaysack  28:06
Our logo. He's our visual genius.
SuChin Pak 
But he was like, but that's that hat. I'm gonna put on my listener hat. Truly, like that's how you know you have a fan. This is his unpaid hat. He's like "That's my job. hat. You pay me to do that. You pay me to make it look pretty. But this is my normal. I'm just a listener hat." And he DMed us this question which is so great.
Kulap Vilaysack 
And it is. "Do you have advice about hand creams for sensitive skin? (both scents/perfumes and lotion are a nah) Great show, real wizards."
SuChin Pak 
He DMed us because he was genuinely asking.
Kulap Vilaysack 
Well, first off, what I didn't realize is that you then had a full-on conversation with them.
SuChin Pak 
I'm customer service all the way baby. You ask us a question. I'm, that's I don't care what I'm doing. I'm putting down what I'm doing. Running to the you know, my computer. I saw that DM come in and I went right in there. I was screenshotting I was pricing things out. And so I had a full conversation with him.
Kulap Vilaysack 
Okay, well, I have a product but I want to hear where you guys landed.
SuChin Pak 
Okay, so well. This is very interesting. So the first thing I said was, I'm going to go high end with it. I'm going to go high end with it. I'm going to go real luxury. I'm going to go Aesop hand cream.
Kulap Vilaysack 
Okay, yeah, I know it. I know it well.
SuChin Pak 
Yes. So I said that the Aesop and he said "No, the essential oils in it are too strong for me. It hurts my hands." I was like "Oh, so then I went" I had three or four and he nixed all of them. He's tried them. So then I went and I went to the other favorite site that I use all the time, which is Strategist on New York Magazine site. So I went and I looked up their favorite hand creams and they had an inexpensive hand cream by Gold Bond, which is, I think, a brand and he said "Any Gold Bond cream, I react to." And I had to go down. So I went to classic, Vanicream. Have you tried Vanicream? It's been around forever people get in tubs of very thick, thick cream. He said he's tried it. He was not impressed.
Kulap Vilaysack  30:19
Tough customer
SuChin Pak
Tough customer. So, then I was like, all right, I only got one thing left. It's been around forever. You get it at Whole Foods. The  Walita. Have you ever tried the Walita?
Kulap Vilaysack 
Walita, yeah. I know that brand.
SuChin Pak 
And they have a very nice because sometimes when a cream like the Vanicream can be really thick. And so you really have to work it and I feel like sometimes when your hands are that dry, it doesn't even absorb. You know what I mean? you almost need a lighter texture..
Kulap Vilaysack 
Scales at this point.
SuChin Pak 
Yes, for your skin to absorb. So that Walita sometimes will help me with my hands. And he said "I'll try it" which I kind of felt like I lost him. I kind of felt like, I kind of felt like after the Gold Bond and the Vanicream he was like "Oh, maybe she's not gonna have the answer to this question." I feel like he gave me a courtesy like "Oh, thanks" but I never heard back from him. I don't know if he's gonna try it.
Kulap Vilaysack 
Oh, wow.
SuChin Pak
His wife is our producer. She's come on screen now shaking her head. What? Kulap, what's your what's your advice for Mike
Kulap Vilaysack 
Well, I think Kulap has got a solution. This is a product called by Duke Cannon. And the product is called Bloody Knuckles. It's fragrance free. He said he doesn't like fragrance. It's made with Lanolin. And it's called a hand repair balm.
SuChin Pak 
I want that cream.
Kulap Vilaysack 
And interesting. $15 for five ounces on their website, but I saw it at target for $9.99. It feels nice. It's not sticky. And it does the job. Mike, you let me know. You let me know. Bloody Knuckles.
SuChin Pak  32:04
Kulap, I can't wait to try that. So we'll see. We'll see if you got the winning ticket. Because clearly, I lost him. I actually lost him on the line. You know what I mean? I had him and then I lost him and that it didn't feel good because We both have such a sense of pride in recommending things. And I always like to know when I always like to be helpful, and I really failed him. So thank you Kulap for saving our reputation.
Kulap Vilaysack 
That's right. We're a team. We're a team. And Mike is part of our team, which is again. He's part of our ADD TO CART team.
SuChin Pak 
Beside the point. This is a genuine cry for help. I let go of the life raft. He's floating out there in a sea of hand creams that aren't working and Kulap.
Kulap Vilaysack
He was Castaway. Much like Tom Hanks.
SuChin Pak 
You threw one. You threw a buoy. And here he is. Maybe he's come back. We'll see. All right. Well, report back or let you guys know what Mike thought. Once he tries it, maybe. Maybe Stephanie you can put it in his drawer. Help him out with that. Okay, so we haven't. This is so fun. I don't know what we're gonna do with this DM, but it was so good. We have a next DM from a gentleman named Robert, who said:
SuChin Pak
"You asked if any listeners wanted to share their own remove from cart items. So I humbly submit the Jam Advent Calendar from Bonne Maman. Sounds delightful, doesn't it? A month of fanciful spreads each day bring you a new sweet discovery and all that packaged in a box apparently illustrated by the same guy who did my eighth grade French textbook. Well, there you go. Sure. Sounds like a bit of whimsical holiday fun, but you should really take a beat to evaluate your household daily jam needs. Before buying this." This actually reminds me of your gummy bears. "If like us, you typically go through one small room service sized jar a week, one a day for 24 days is maybe too much. And as with any advent calendar, there's an inherent pressure attached to those dates. We're already a week and a half behind who you are eating jam could be so stressful. If like share, I could turn back time and remove from cart. I would."
SuChin Pak
Though it's good to know we're stocked on jam for the winter. Oh my god, Robert.
Kulap Vilaysack 
It's so funny because it's like you do think oh, this is so cute.
SuChin Pak 
And he's just like jamming everything. He's like "Tacos? put jam on it, did you put jam on that? What are you eating? Put jam on that." And you're like "But I'm just, I'm having an apple." Put jam on that Apple" and also it's self-contained. So you just start giving it away. Robert, what are you giving out for the holidays? You're giving out jam.
Kulap Vilaysack
It's hard when you do, it's tough because the Advent Calendar. It makes you feel like you got to do it every day
SuChin Pak 
So much jam.
Kulap Vilaysack 
It's an assignment. Oh they do this like wine advent calendar, but you know, two weeks in it's like, you know. If you don't drink every day it's tough.
SuChin Pak 
All right.
Kulap Vilaysack 
Okay, well guys, that's our show. That's it y'all make sure to check out all of our great budget suggestions and fails on Instagram at @AddToCart and you know, please continue to slide into our DMs.
SuChin Pak
We love it as you know. Hope you all enjoyed this episode. And of course we'll be back next week.
CREDITS
ADD TO CART is a production of Lemonada Media. Our producer is Claire Jones and our editor is Ivan Kuraev. The music is by Wasahhbii and produced by La Made It and Oh So Familiar with additional music by APM music. Executive producers are Kulap Vilaysack, SuChin Pak, Jessica Cordova Kramer and Stephanie Wittels Wachs. Be sure to check out all the items we mentioned today on our Instagram at @addtocartpod. Also take a moment to rate review and subscribe to the show wherever you get your podcasts.