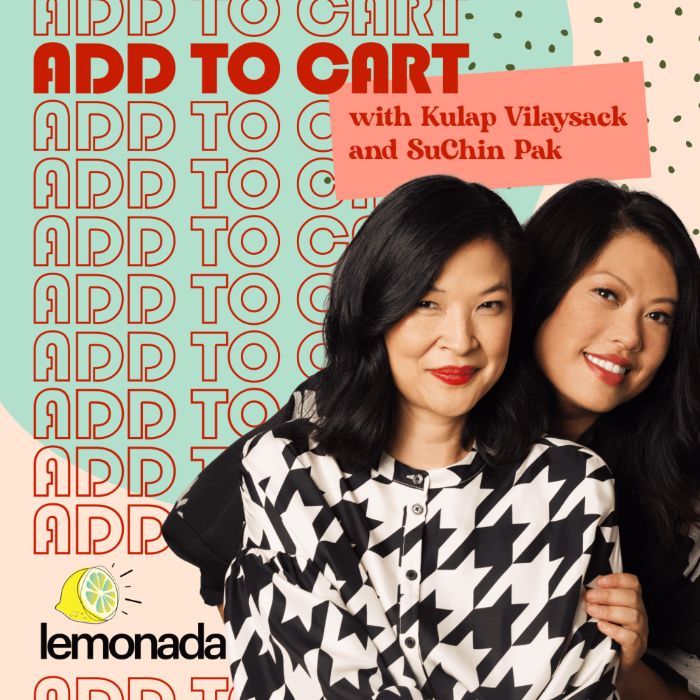 Glass Hair and Other Phenomenal Summer Tips (with Jenny Yang)
Subscribe to Lemonada Premium for Bonus Content
Description
Hot Vax Summer is in full swing and Ku and Su are here to tell you about their best summer add to carts. Ku has found the best new party toy for your backyard BBQs since Bop-It. And, could it be? Is that, SuChin? SuChin Pak? In a somewhat-swimsuit-like material?? Plus actor, writer, and comedian (and Buffet First Responder) Jenny Yang joins to reveal her latest add to cart items.
You can find more Jenny Yang at https://jennyyang.tv/ or on insta @jennyyangtv
Please note, Add To Cart contains mature themes and may not be appropriate for all listeners.
For a list and links to all products mentioned in this episode, head to @addtocartpod on Instagram.
Stay up to date with us on Twitter, Facebook, and Instagram at @LemonadaMedia.
Joining Lemonada Premium is a great way to support our show and get bonus content. Subscribe today at bit.ly/lemonadapremium.
Click this link for a list of current sponsors and discount codes for this show and all Lemonada shows: lemonadamedia.com/sponsors
Transcript
SPEAKERS
Kulap Vilaysack, SuChin Pak & Jenny Yang
Kulap Vilaysack  00:11
Hello, everyone, and welcome to another episode of ADD TO CART. A show about the things we buy and buy into and what they say about who we are. I am Kulap Vilaysack.
SuChin Pak 
And I am SuChin Pak. Well, this is our final episode in the Spotlight and boy has it been bright. I feel more alive. I feel like I've got some color. I just it was such a delightful month. And we're so happy to have so many new listeners. Thank you to Apple podcasts. Thank you to all of you guys. Thank you to all of you guys who rated and reviewed and subscribed. I mean, it's just made such a big difference. And I don't know, I just feel very, very humbled and grateful and just kind of also special. You know?
Kulap Vilaysack
I like that you feel special. It's about dang time award winning veteran journalist, SuChin Pak. And this week we will be talking about our best summer Add To Cart. And that's right, our sizzling selects for the summer.
SuChin Pak 
And then we have labor organizer, turned comedian, actor and writer Jenny Yang. All of her hilarious stories and practical add to carts. It's a fantastic conversation. So let's get into it. Summer time.
Kulap Vilaysack 
SuChin, I'm going to start with a game changer for me. Now we have talked quite a bit on this podcast about sunblock.
SuChin Pak 
So much. I'm like, not only have we talked about you and I have separate threads about it. Is that unusual? I feel like during this time of us all quarantined and in our homes. We were just walking more outdoors more and spending more time outdoors. So I feel like it's just everybody's sunblock crazy.
Kulap Vilaysack  02:11
So much sunblock. I'm trying a past guests ideas. I'm doing all of it, but I still come back to this product, SuChin. And this product is the Neogen Dermatology Day-Light Protection Airy Sunscreen SPF 50. It just it doesn't feel like sunblock. It's light. It's effective. I first was introduced to it by Soko Glam like my go to place if I want to get Korean skincare. But now I get it wherever I can get it because it often sells out. But have you tried this yet?
SuChin Pak
No, I don't. I'm not used to wearing sunblock that I can't actually feel. Like I get paranoid all day long. I'm like reapplying with my powder, my sunscreen powder because I just I'm so used to having the mineral sunblock, which isn't, which is a very different type of sunblock. So what is it about this one that's so different?
Kulap Vilaysack 
It's the lightness of it. It feels like it's a light moisturizer. It's got no scent. There's no white cast, there's none of that. To me, it's like of course to jet I know your habits. You would put this on as a base and then you put your powder afterwards. I mean, that's what would happen.
SuChin Pak
And it seems so crazy. The intimacy that we have here on this podcast. How you hold me in such.
Kulap Vilaysack
Also it seems excessive to put on two different types of sunblock and two different types of textures and yet, you know, we've got, we've got a sleep episode on its way at some point, a sleep routine episode and coming off of what you already know from our shower episodes. Excessive seems not to be a problem for us, which still is, even though I practice it confounding.
SuChin Pak  04:06
You know the thing with sunscreen now that you say it, I was like, I wonder what the root of this is. I mean, there's many routes, but one of them is my I don't know, my obsession my weakness, where I think everything is a scam. And so I put this lightweight on and I'm like, well, this doesn't feel like I have anything on. It's not killing the joy of my skincare routine. How do I know? How do I know I'm protected? Yeah, so then I slather myself with the powder. And it's a trust issue for me. I'm realizing I have a hard time trusting.
Kulap Vilaysack 
But here's the thing, you know that I have phenomenal skin.
SuChin Pak 
Everybody does. Please is not a secret. I hold on my own. I'm not gonna pretend.
Kulap Vilaysack 
I've opened myself up during this time of ADD TO CART to see what other people are up to. And I'm coming back to the scheme changer, guys.
SuChin Pak 
By the way, it's on sale. $25.60 for 50 milliliters. That's the other thing that always when I see a sunblock that's so expensive. I'm like, no, I don't want it to be so expensive because I want to slather it on all day head to toe.
Kulap Vilaysack
Now, SuChin, I feel like you have a game changer to start us off.
SuChin Pak 
I do have a game changer. And again, this was a last-minute Game Changer this morning. I said, what have I been doing? So, we've talked about glass teeth.
Kulap Vilaysack 
From Caissie St. Onge, yes.
SuChin Pak 
What do we mean by that texture? We mean that it's smooth, that it's porcelain, like, there's a finish to it. That is durable, yet also delicate. Okay, glass teeth. All right.
Kulap Vilaysack
Well, I don't. Let's break it up. I don't think anyone wants to hear that their teeth are delicate.
SuChin Pak  06:00
Well, sure. Sure. Sure. Sure. Sure. delicate, not in strength, but perhaps in texture. You know, just in that finish.
Kulap Vilaysack
Refined.
SuChin Pak 
Refined. Thank you. That's really what I'm looking for that smooth, squared in the end, you know.
Kulap Vilaysack 
You have become so disgusting because of my influence. It's a joy to watch and to experience. What I really am liking it. It's not just with words, but it's gestures, which our listeners are really missing out.
SuChin Pak 
I'm trying new things out and I'm having fun. It's just this time with you two hours a week. I just let my, I put my fun cape on. You know, I just tie it around like top button. And I say have fun. Remember to have fun. So, we talked about glass teeth. I am now going to introduce you to glass hair.
Kulap Vilaysack
Okay. Wow.
SuChin Pak
This is called. I'm gonna mispronounce it. Okay. It's Inphenom Hair Treatment. Okay, it is made in Japan. May we? And it is a shampoo and a conditioner. The conditioner is called a hair treatment. And let me give you some of the things it promises. This is how I would describe it as having used it. Have you ever had like a Japanese hair straightening treatment?
Kulap Vilaysack
I haven't.
SuChin Pak 
So I have had that. And it's pretty intense. You know? I mean, I think you have to have a certain type of hair texture, because for a while I look like an oily sea otter. You know. It was to really have mild panic, because it's not cheap. And I was like, huh, alrighty.
Kulap Vilaysack  08:02
It's like straight and like, but it was up against your head.
SuChin Pak
Yeah. And just like flat and flat. And the woman who said it to me was like, don't worry. When you wash your it'll come back. You know what I mean? It changes the texture of your hair. For three months, I had the best hair of my life. I had the kind of hair that you wake up. And you're like, ready for photoshoots. You know what I mean? Like, go ahead. Get out the Nikon, the Canons, get out whatever cameras you have, because I'm ready. I mean, it was a photo finish hair like, but it's expensive. So I went on a trip with my girlfriend who has long hair, and it looks like there's treat I was like so how often you get your hair straightened and she was like, oh, I don't get that treatment. And I was like, that's not your hair, normal hair texture. That's something and she's like, no, you have to use this hair treatment. But it is as close to that feeling of the Japanese Straightening hair treatment as I've ever gotten in just a shampoo and a conditioner. And immediately I walked out of the shower and I was like, my hair weighs differently.
Kulap Vilaysack
Now off mic, when we logged into our Zoom what was the first thing I said?
SuChin Pak 
Oh you did say something about my hair. Did you not?
Kulap Vilaysack 
It looks lustrous.
SuChin Pak
My hair does look phenomenal.
Kulap Vilaysack
It does, it truly does. I was going to jump to my next add to cart but I looked ahead and I'm going to have to go straight back to you friend. You're going to add to cart but you're not adding to cart a swimsuit. Please explain.
SuChin Pak 
You're not allowed to look ahead. We know that I yes jump in a pool in my underwear and my bra. And guess what, guys? I'm here to tell you from the other side. Nothing's different.
Kulap Vilaysack  10:06
Yeah, I know. We've heard you say that. There's some things that are different.
SuChin Pak 
But I used to buy swimsuits. And if I were to buy a swimsuit, I would buy it from the place that I always bought my swimsuits. So go ahead and click on the first link. These people will not steer you wrong. You pronounce it SEE but it's spelled S E E A, and they do all different kinds of swimsuits mainly for active people in the water.
Kulap Vilaysack
This is what is funny is that you are neither active on land or in the water. And what do you have filling my eyes right now is a Nazar bodysuit and it's a woman who is very muscular. She's surfing and she is battling a wave right now.
SuChin Pak 
She needs a suit. You know what I mean? To make sure that she battles this wave like a warrior like the warrior that she is. Okay?
Kulap Vilaysack 
I mean, it is amazing. It's a streamline dancers catsuit.
SuChin Pak 
For your quote, balletic footwork in the waves. That's right. It is a one piece that goes from your breastbone all the way to your ankle. Okay? And you can go  surfing, paddling, or what does it say here? Yoga. I believe that's a dry sport. I'm just saying..
Kulap Vilaysack 
SuChin, when is the last time you did yoga. Tell me when you did yoga the last time.
SuChin Pak
I can't tell you. But what I can tell you is yoga is done on dry land. Guess what else is done on dry land under wearing and bra-ing. Laid out a theoretical basis here. This one I picked because really with you in mind. Or with folks like you who don't mind showing a little bit of skin now they have, they have a body suit in Navy, that it does not have the bat cut out like this. This one has the bat cut out so you can still feel like gidget the sea goddess. This is my swimsuit references they go back to 1948. So this is a version of a swimsuit that I could wear and feel all the things I want to feel when I'm in a swimsuit.
Kulap Vilaysack  12:47
Can I buy this for you. Will you let me buy this for you?
SuChin Pak 
I don't need it.
Kulap Vilaysack 
if I buy this, will you wear it? Come on.
SuChin Pak 
No. Kulap, please. Go to the second link. They also have you guys have you ever swam in leggings? You've never swam in leggings?
Kulap Vilaysack 
No, I haven't.
SuChin Pak
What? Swim leggings are the best.
Kulap Vilaysack 
Guys, quickly before she launches. I know that she's ramping up to something. This woman who I'm looking at, she's athletic, it's sun protection for watersports, LeSage and puck. I don't recall hearing any sort of watersports that you're participating in. I don't know. Even though you do live in Santa Barbara, you know, I've never heard you say I'm going to get on a jetski or I need to worry about the coral upon my legs.
SuChin Pak
My swimming pool is kept at a very, very cool temperature of 92 degrees at all times. It's so hot that the pool cleaner came back the next day and said I have not seen this kind of bacterial growth in your swimming pool. And it's because it is as hot as most people keep hot tubs, and you have to turn down the temperature for this chlorine to work. I haven't been incense but the pool is cooler. And if I were to go in, I would go in leggings. I don't like to draft and water is just a submerged draft on every surface of my skin.
Kulap Vilaysack  14:41
You've heard it here folks. Water is a submerged draft. The new biography memoir by SuChin Pak. Water is a submerged draft. Now SuChin, you're turn. I have some pool related stuff. Okay exactly happened near a pool. First thing I want to talk about is the Lana Floating Seat. This is a seat for your pool. Is this cool? It is a quick drying mesh seat that has a fabric border for optimal comfort and is stitched with a eight and a half diameter noodle for extra cushion, buoyancy and durability. The fabric is marine grade sunbrella fabrics. And then it's filled with mold and mildew resistant foam beads. It's the chillest. It's a chill seat in the pool. Recommend I get a front gate right now it's on sale. And it's on sale for $109.
SuChin Pak 
You guys, also just all of the Lana water toys. You know what I mean, like they have a water hammock. That's interesting.
Kulap Vilaysack  16:06
I used to get inflatables. And the thing about inflatables is that they puncture, right?
SuChin Pak 
You use the for one summer and then you're like okay, I gotta replace all this stuff and like that mold resistant thing that's interesting to me that they're filled with glass beads because that's when you know that this is like quality. You're going to have this for a while.
Kulap Vilaysack 
I've had this for two seasons now. Looks stills good as new. And I'm interested in things that last and this guy last. So this is a big recommend.
SuChin Pak 
See that's the kind of watersports. See this lady lounging, she's lounge. Yeah, because she has to kick her feet from the edge of the pool, does she not?
Kulap Vilaysack 
You said lounge. All right. Sure. The other thing that I want to recommend is a projector screen with a stand and if you hit that link SuChin it's an Outdoor Indoor Foldable Anti Crease Projector Screen. And while my family was in town, we broke this out for the first time with a projector and played a movie outside and the screen set is only $218. The screen is 135 inches. That's pretty big. Also last week, Jason Mantzoukas came over and we watched the finale of Disney +, Loki. Great picture gorgeous, amazing, looks amazing. And really, really easy to take up and down. And it has a case and you just throw it in your garage. And since unfortunately, the numbers have gone up in Los Angeles and we there is a massive mandate once again to wear masks inside. I shan't be going to a movie theater until those numbers trend down. We're definitely going to get a lot of use out of this projector. Okay, what's your next add to cart?
SuChin Pak  18:06
Okay, so my next add to cart and this one it's a summer Add To Cart for sure. But it's a little bit of a stretch. It's just that first link. Go to Cabbages and Kings. Which is just the cutest kids brand. I've loved them for years and years and years and it's a mama you know she's got four kids; she does this and she just launched these summer tote bags. And they're matching so you get the big one and then your kid gets the small one. And they're so sturdy. They come in so many different colors. I've been using it all summer. And so some you know a lot of times it just the size and the durability of a summer beach tote is so important. And then they have this little mini me summer tote.
SuChin Pak
Now, I am not the type of person who will dress my child up in matching clothes. But she has taken to this thing and she takes it around and it and she puts her sunblock stick in it and then she puts all of her toys in it. And when we walk out onto the beach, it matching summer nylon tote. I'm tearing up right now. It's so freakin cute. I can't even stand myself. And it's so it's such it's such a cute gift idea. It's such a cute idea for your kids. I just think it's great whenever you can encourage children to be a bit more independent to take, you know, ownership of their own stuff is always great, but this match it killed me. Plus, it's so durable. It's a great brand overall I think it's a smaller brand. I just I love talking about this woman's you know what she stands for and she just everything she does is really high quality and just gorgeous. So that's been our summer tote situation that's been so fun.
Kulap Vilaysack  20:16
I'm getting it for past guests Lauren Lapkus this like screams Lauren Lapkus to me, I mean it's premature for her baby. But still I know she's gonna love it. I added to cart already while you were talking.
SuChin Pak 
Everything will fit in there towels, toys, you know, umbrellas, whatever it is. So that's it. Okay, your turn.
Kulap Vilaysack 
Really quickly. I want to recommend to everybody to watch Season Two of I Think You Should Leave with Tim Robinson. It's on Netflix. Tim Robinson is a hilarious actor, sketch performer in general. You may remember him from Saturday Night Live. He also had an equally hilarious and gone too soon Comedy Central series called Detroiters which, if you haven't seen definitely add to cart as well. But Season Two was out. Me and Scott we're dying. Laughing we watch the entire season in like one sitting.
SuChin Pak 
Looked at this guest star on this. Steven Yeun? Well, I have to start with season one.
Kulap Vilaysack 
Oh, it's so funny.
SuChin Pak 
That's what I want to watch right now. It's summer. You just want to laugh.
Kulap Vilaysack 
The title. It really gives you a sense of like a lot of characters that Tim does are people that you would say, I think you should leave. He's so hilarious. He's a genius. He truly is a genius. And so my final add to cart is something that Scott bought from somewhere at Universal city walk when he went with my family, but here it is online. SuChin, it is an alcohol shotgun.
SuChin Pak  22:42
What the heck is that? I thought you meant free hand sanitizer.
Kulap Vilaysack 
You know us hand sanitizer has alcohol in it. This you're gonna take to the mouth. This is, so you load your favorite alcohol, aim, shoot, and drink. It's a shot party accessory that holds up to 1.5 ounces.
SuChin Pak 
When you shoot it out. Is it funnier? I mean, like, what is the thing that makes us so great at a party?
Kulap Vilaysack
Okay, this is slo-mo. It's a slow mo video for my nephew's birthday.
SuChin Pak 
She's never been more delighted.
Kulap Vilaysack
My middle sister Anita is giving me a shot of casamigos tequila right to the mouth. Now the force of it is stronger than you'd expect. It's shocking. It hits you at the back of the throat. My brother-in-law saw that and still said let me do it to myself. Now I don't have that video ready for you. But he did it as such short range. He, I don't know. I don't think any ended up in his mouth like the shock of it hitting the back of his throat and coming out. And him coughing. It was so funny. And then it escalated my friends saying who is a chef. He's not a big drinker. And he was like, I'll do it if it's filled with […] and […] is unfiltered fish sauce. Thick, pungent, brown liquid and it's stinky, which makes papaya salads a lab really dimensional and tasty.
Kulap Vilaysack  24:30
But rarely do you take it as a shot to the back of the throat. So Anita we started calling her the executioner. We filled that shot with stinky fish. And he like 123 scream I LOVE fish sauce. Knocked it down. But we weren't done. We weren't done. The last thing we did saying agreed that he would take […] the same way, hot sauce guys. He said he would take a shot of hot sauce. I do have one inflatable float that is […] inspired. We put them on that float. We kind of three to one. And then Anita, my sister shot him directly in the chin. And it basically went down his body. And there was splatter on his thighs. And it looks like it was a massacre.
SuChin Pak 
Oh, this is hours and hours of fun. Oh, I love it. I love this high stakes game that you and Scott always. I do feel like it. Both of you guys are so down for this. That's great. That looks like so much fun. I can see what you were bummed when your family left. That text made me so sad.
Kulap Vilaysack
I was like, oh, what is this? Oh, I'm really depressed that my family left I'm so bummed out. I'm still bummed out. And it's been days.
SuChin Pak  26:02
This is what you did. You made it too fun. And now you're sad. And that's why I always like to have a load medium fun flame. So that when it's gone, I nod to it being gone. And then I move on in my sadness, just like every other day.
Kulap Vilaysack 
What a way to end our summer episode SuChin Pak.
Kulap Vilaysack 
SuChin Pak, please welcome to our show. Oh my I'm so excited. Hold on. I gotta dial it down a little bit.
SuChin Pak
I saw you drinking it full strength from the can. We're not young ones.
Kulap Vilaysack
Our guests coming forth. Please welcome fresh, fresh and former labor organizer turned stand-up comedian, writer and actor. What is that? How many threats is that? I don't know. In 2020, she was selected as one of Variety's 10 comics to watch as vultures. Comedians you should know and you should know her. She's currently A writer for HBO, Max's Gordita Chronicles. She is the creator and host of comedy crossing a hit stand-up comedy show held inside the Animal Crossing Video Game and Watch live via Zoom. And since June 2020. Well, within the quar the show has raised nearly $40,000 for Black Lives Matter related causes, please add to cart, Jenny Yang.
Jenny Yang
I'm here. Thank you. That was an incredible introduction.
Kulap Vilaysack
Well, you're an incredible person.
Jenny Yang
Thanks for having me. I'm so excited.
Kulap Vilaysack
Jenny. We like to ask our guests, what type of shopper are you? I am a practical shopper.
Jenny Yang  28:07
Except when I'm bored. This is what happens. I'm very practical. And I enjoy it. Like I enjoy utility shopping. You know I love gear. Right? If I'm doing a new endeavor, I want all the do hickeys I want to see what the people need. The moment I was like, I want to like invest in like a camera kit and audio. That was a whole process. I got really into you know making cocktails over the quarantine like a lot of people. Some fancy barista style coffee drinks. So I you know, I'm out here looking at all the little doohickeys, do I want to stir? Do I want to coupe glass versus an etched antique looking glass? Yeah, so other if that's how that's like my immigrant cheap way of justifying a purchase and a set of purchases because to me, I'm like, oh, it's for something. It's like truly for something.
Kulap Vilaysack 
During the pande, you also, you got into making homemade pasta.
Jenny Yang
I did. Oh yes. I love cooking. And I had this motorized pasta cutter thingy. Just sitting in my storage a few months before the pandemic and in my head. I was like, okay, around March is when my writers room is gonna end and that's where I'm just gonna, like, be chill work on my own stuff and like make pasta like a, like a sultry fucking European bitch. You know, like just luscious noodles with butter and parmesan. I mean, that's all you need. Just salt and pepper. Like, you know, I want to be one of those people. Like, you know, it's this life of opulence that I wanted to live. And so when it just so happened that the pandemic occurred around the time that I was done with work. I was like, well, I guess this is it. It feels a little more depressing than the sultry under the Tuscan sun vision. You know It felt more like a survival.
SuChin Pak  30:02
Lemonade. You know what I mean? You just got to make, add more sugar. It's a little bit bitter. It's a little bit tartar than you want it.
Jenny Yang
Just add more sugar. It was before I was gonna, like, do it like it's a vacation. But when the pandemic hit, I was making fresh pasta, like white knuckling it, you know, I was like, I'm gonna put on makeup, and I'm gonna smile, and it's gonna be great. You know what I mean? That's what it felt like.
Kulap Vilaysack
We were all coping in different ways.
SuChin Pak
And then when you dive into this, because this is fascinating. When you dive into whatever you're doing, whether it's making pasta, or camera gear, like where are your go to sources? Are you scrolling the internet? Are you reaching out to friends? Experts?
Jenny Yang
Yeah, I like to toggle between a consumerreports.org you know, I buy this subscription. I grew up in a house of two much older brothers. Okay, who one works in computers and the other works in like business and they just this is the influence. You know, it's like better look at consumer reports. Like, I'm like an old fucking uncle. You know what I mean?
SuChin Pak
She's like, the youngest consumer reports subscribers. They're like, Oh, my gosh.
Jenny Yang
Usually it looks like a Bruce Springsteen concert. So I checked that out. And then I like I google like reviews and stuff. So I try not to buy purchase on Amazon anymore, even though it's so convenient. Because Jeff Bezos is, you know, Lex Luthor. And so I'm trying to like just like, do the research on Amazon. Right? Look at the reviews and then maybe go another way. But yeah, that's usually what I do.
Kulap Vilaysack
I'm so excited to talk about this first item that you've brought forth to us. Yeah, I of course, follow you on all social media. Yeah, you posted about this. I think it broke the internet. And then SuChin retwitted it. And I heard from her that she's ever had so many people reach out to her about anything before. I got two East Asians with me. Let's talk about the 8pc Ear Pick Earwax Removal Kit. It's an ear cleansing tool set. It's a wax remover tool with a cleaning brush and storage box. Jenny, take it away.
SuChin Pak  32:32
I mean, first of all, wait. Let me. Before it. Sorry. I don't mean to cut you off. I love First of all, the clarification of East Asians versus non-East Asians. I learned on this podcast that our wax is different. I've looked at Ku and I said she's a sister. We understand each other. We share things and now we're aliens in a foreign land. I can barely see her. Our waxes are different.
Kulap Vilaysack 
I know shocking to both of you. But you've known me for years now. Don't you feel like I'm more of a wet wax person?
Jenny Yang
Listen, I grew up East Asian all my life. And I didn't know that. Another wax was possible. I came to America on television in films, my own boyfriend. Just come you know, people, white people were so committed to using q-tips after they shower. And that confounded me because I was like, What is wrong with your ears that you felt like jamming a q-tip in there doesn't seem practical, because I know my earwax is dry and flaky. The way it might be like, you know, like dandruff. You know what I mean? And so to me, the sort of fuzzy tip of a q-tip seemed unnecessary. You're just stabbing.
Kulap Vilaysack  34:18
You guys, what you guys are missing on this podcast is both SuChin and Jenny's emphatic space work.
Jenny Yang 
Just imagine like we're jerking off our ears. You know what I mean?
Kulap Vilaysack
Little penis. like a fairy and a consenting fairy adult man's penis.
Jenny Yang
Listen, this is the thing. It was a week ago that I discovered that there was ear wax. I was different than mine. And it blew my mind. It truly is the first time I realized this because I had no reason to look at a white man's ear wax, you know, I'm saying and so I just like everyone was like me, but now we all know we live in a pluralistic society; we need to understand that there's diversity. And that's on me. Okay, that's in me. All right, I made assumptions. But I didn't know that other people didn't experience this very intimate, not talked about sort of like ritual as a child where I would, you know, lean my head down on my mom's lap, and she would grab like a little ear spoon or ear scoop to go inside my ear canal to pick out like dried flaky ear wax from the edge of my ear canal.
Jenny Yang
And so I posted about this because I didn't realize and so many Asians came out of the woodwork mixed race Asians, too. They're like, ooh, one ear is dry. The other is wet. Listen, there's a lot going on. But apparently the same gene that makes our earwax drier for East Asians is related to how we don't have as much body odor. You know, listen, I'm not a fan of eugenics. But this obviously is a more evolved part of our gene pool. You know what I'm saying? I'm just gonna throw that out there. Because wet ear wax, ew.
Kulap Vilaysack  36:15
Look, look, when I let myself go. And I don't wear deodorant. It's right.
Jenny Yang
So Southeast Asians, I'm sorry. You know what I mean? This is just continuing the oppression that East Asians enact on the rest of Asia. And it's a part of our genetic colonialization and it's unfortunate, and I really truly wish we could stop that.
SuChin Pak 
We got the 8pc Earwax pick, number one, they have major grip handles so that scares me a little bit, that you're doing something so in it physically tense that you have to have a grip on it, you know, like a power tool, but then also, so tell me how you use this because you can't do this on yourself. Somebody else is doing it right?
Jenny Yang 
I've lived a lifetime with this ear wax. I can do it on myself. Just so you know.
Kulap Vilaysack
She's an independent woman.
Jenny Yang
I am, SuChin, gosh, I realized oh, I don't have a full kit like we did when I was younger, which, you know, when I was younger, we had a bamboo one and we had a metal one. And so I was like, This is nice. I love kits. Anytime you have a kit, I love it, like something with a carrying case. I will always choose that over the other ones. So I like this and I like that it has like a little you know, like, the way people have a honey and they on commercials. They drizzle it with like a little honey cone circular. So this kit has a mini version of that for the wet ear wax people? They have a straight up honey dripper.
SuChin Pak
And then and then they have a little nylon bristle brush.
Kulap Vilaysack 
I want to know when your parents, when your mom did this for you guys. Was this like the only gentle thing that she ever did to you?
Jenny Yang  38:02
100%
SuChin Pak
Gentle?
Kulap Vilaysack
It was not gentle.
SuChin Pak 
I mean, yes gentle, I think in the grand scheme of things how I remember it is the same way. Only you'd be holding a stick of Juicy Fruit gum that you could have after my mom was done cleaning. And I just have these memories of just holding the gum, just waiting until she was done picking it so that afterwards then I could have my treat.
Kulap Vilaysack 
Next we have the Human Gear Go Bites Trio Utensil Set. This is from Ari Eye. First of all, it's got a case. So I know Jenny likes it.
Jenny Yang
I love me a case. I'm a girl on the go.
Kulap Vilaysack
One time Jenny came to my house for a party and you know that she had her own chopsticks in a case.
Jenny Yang
I don't remember this but you did remember this?
Kulap Vilaysack 
Yeah, it's great.
Jenny Yang 
It's a straight up crowded Hollywood party. I don't give a fuck. Listen If I was going 100% I would have brought Tupperware. Let me help you out. Kulap, I know you're not going to finish this food. These assholes aren't gonna eat. They're all on a keto diet.
SuChin Pak 
Jenny, did you bring it because you knew there was gonna be food there or do you just always have chopsticks in your bag?
Jenny Yang 
Okay. You are what we call a first responder to a buffet.
Jenny Yang 
I almost always have a chopsticks in my bag. Why is that funny? Listen, why am I being taught to buy my own people about the chopsticks? This is why I got it. Listen, I always have chopsticks and I always have that kit and recently I lost a couple of the utensils from that kit, which is why I need to replace it. It's my way of being eco-friendly and always being prepared. You know what I mean? I'm not gonna wait until I'm going to like the Hollywood Bowl or like some kind of picnic in order to have a utensil, you know, fast and ready. If you are ready, you don't have to get ready and that's how I live. And that's why you always have sturdy non-splintery chopsticks. Okay? And look at this kit. If you look at this kit, it's a carrying case, it's flat packs, okay, if it's in my purse, you have a spoon and a fork and a knife. And if you look closely, there's a tiny toothpick. If you're Asian, you know the beauty of a toothpick. I'm not out here trying to eat your sinewy meats and not having a toothpick. Okay?
Jenny Yang  40:41
How did you know?
SuChin Pak 
Did you cut out of her bio? Is it you skipped over?
Jenny Yang 
At fancy parties I'm 100% hovering at the food. You know, I mean, I don't care. I could be in a hot dress. I could be in a tight dress. I'm gonna be by the food.
SuChin Pak 
And I also love that you specify that it's non-splintery chopsticks. Cuz we all know what that means. So they're metal chopsticks or they're plastic chops?
Jenny Yang
They're plastic. They're plastic. Yep.
SuChin Pak 
That's my preference as well. I was just wondering; I always like to see who is using the metal versus the plastic.
Jenny Yang 
I know. Listen, I respect Koreans and the Korean culture, but the flat thin Korean metal chopsticks. What are you you're eating with Legos. Like that's how it feels you're eating with Legos. How are you trying to clip up a little pea? You can't pick up at edamame with that little fucking metal Lego Korean chopsticks.
Kulap Vilaysack 
You got to stab, at that point as the skewer.
Jenny Yang 
They look like Angular skewers. They're very violent looking. Listen, I'm not gonna make any assumptions about Korean culture. But you have a lot of Han. Okay. Koreans like to be proud of their fire. And not surprising. Okay, that their main chopstick looks like a weapon.
SuChin Pak 
Nothing surprising there. Absolutely.
Kulap Vilaysack 
Now the East Asians are turning on one another. If anyone keeping any track.
SuChin Pak  42:07
Usually it happens about three quarters then.
Kulap Vilaysack 
But here's the thing. Anybody who's getting any shade like agrees with it, though? And that's the beauty of being Asian.
Jenny Yang 
I mean, I can make fun of Chinese people. Don't worry. We have thick ass plastic ivory looking stubby chopsticks that can't pick anything off. You know what I mean? So why are we even doing that?
Kulap Vilaysack 
Up next is something I'm very excited about the Ube Extract. Ube Extract by Butterfly now I love I love anything flavored by Ube. There is a LA bakery, formerly called Frank and Lucy bake shop on sunset. But now it's called I think Ube baby.
SuChin Pak 
What's Ube?
Jenny Yang 
it's like a purple yam that can be used in many applications. It could be used a lot in a lot of Filipino Southeast Asian deserts, mostly Filipino I've seen. But I love this extract. I love this extract because I've been getting into like my home barista, swag. I have friends who like do coffee roasting and coffee sales. Like when coffee supplies a good friend of mine Sarah Wynn and Nick Cho who runs Wreckingball Roasters and I'm just obsessed with food and drink people. And so I was like, I'm gonna get into this. I'm gonna like make fancy things. So like, there's like a coconut shaken Ube latte you can make with coffee. You know?
Kulap Vilaysack 
Sounds amazing.
Jenny Yang
And so I have an espresso machine, a Breville. And then I use that as a base. You can always spike it with a little of this, you know, Ube extract that's like slightly sweet. It's like a little bit of a syrup. And it just makes everything better.
Kulap Vilaysack
And are you kind of saying Ube flavoring in general? Or do you really like this brand?
Jenny Yang
I do like this brand. I haven't used other brands. There was a McCormick's brand, but it looks more like essence rather than a syrup. And so I like that this has a little bit of sweetness, because you can you know, just do that and you don't have to add tons of stuff. But you know, other people like things that are more sweet. I like this hint oh sweetness.
SuChin Pak  44:13
And Ube for those that don't know, the purple potato. The sort of Asian palate sweetness is so different than a Western sweetness, right? When you go into an Asian dessert place. A potato is sweet. That's a desert.
Kulap Vilaysack 
There's usually like a little bit of bitterness as well. All the green tea, the matcha desserts, right? We like a balance.
Jenny Yang 
For sure. Yeah, I feel like you know, I have once cried when my uncle in Taiwan. Gave me a plate of cut up tropical fruit. Like I have literally shed it here because it was so beautiful, the star fruit, passion fruit, dragon fruit, guava. You know, I mean, mango. I feel like for a lot of Asians fruit is desert. Which is just so weird to Western folks. You don't I mean, they're like fruit. Oh, you mean with like, more sugar crumbles and you know, pastry? No, just fruit. Just fruit is fine.
Kulap Vilaysack
And for those of you keeping score, we've turned on the white people once again, we have united, it was over sugar.
SuChin Pak 
We needed to point it out. We're here again, we're here together. We're here together.
Jenny Yang 
I was an assistant for a sitcom as one of my first jobs in entertainment. And it was like all white people, all the assistants and I brought a red bean bun to work. And I was like, hey, guys, you guys want to try this red bean bun? It's really good. And then one of the guys who's like, a snotty kid of like a legendary tv director. He's so quiet. He just goes nobody wants your bean bread, violent much, Oh my god, the violence. It's not even micro aggression. It's a macro aggression at that point. Nobody wants your bean bread. It's like not full. Okay, Asians. We'd be loving beans as a dessert. Calm down back. See, I still hold it in my heart. Still salty about it.
SuChin Pak  46:27
Well, that man you know, he needs we need to deliver some bean bread to his house.
Kulap Vilaysack
Yeah, Jason Reitman.
Jenny Yang 
Are you now predicting?
Kulap Vilaysack
Max Landis?
SuChin Pak 
I hope none of this gets cut. Not one second of this guy. I don't know who these people are.
Jenny Yang 
Well Kulap's out here naming names now.
Kulap Vilaysack 
My peanut butter wax ears.
Jenny Yang
Just allowing the Southeast Asian to go do this dirty work, man. just suck it.
SuChin Pak 
Here we are. Here we are back again. Turning on each other. And the wheels of time to move on.
Jenny Yang 
Time is circular, SuChin.
Kulap Vilaysack 
Jenny, I could talk to you forever. Please tell our listeners where they can find you on the internet.
Jenny Yang 
I'm at @JennyYangTV on Instagram or Twitter. I'm always on, you know, trying to avoid life.
SuChin Pak
It's the best entertainment. It's infotainment. It is both informative. It's entertaining. And like I said, I don't come up with this stuff. I only just repost everything you do and all of the leftover juices, you know what I mean? They flow into my account and I welcome it with open arms. Leftover Jenny Yang juices all I ever hoped for so I really appreciate it.
Jenny Yang  48:20
This has gotten sexier than I thought it would. This is very sexy. This podcast, who knew Add To Cart very sexy.
SuChin Pak 
That's a wrap. That's a wrap. We went bathing suits and fish sauce bombs. I mean, come on. This is the summer that I'm talking about.
Kulap Vilaysack 
Yes, pour some alcohol into your shotgun for Apple spotlight and Apple podcasts were so much amazing work highlighting our show.
SuChin Pak  48:52
Thank you guys. And you all continue to highlight our show please keep those ratings and reviews and subscribes coming. Thank you so much for that.
Kulap Vilaysack 
and if you still want to listen, we'll be here next week. We ain't going nowhere, you can follow us on Apple podcast or any other podcast listening apps and we'll be there.
SuChin Pak 
To find all of our lovely add to carts. Find us on Instagram always @AddToCartPod
Kulap Vilaysack
Leave us a voicemail, tell us what you'd want to have shot into your mouth at 833-453-6662. Extra points if you story it and tag at @AddToCartPod
SuChin Pak
Quite an invitation there. All right, we will be back next week everyone thank you.
CREDITS
ADD TO CART is a production of Lemonada Media. Our producer is Claire Jones and our editor is Ivan Kuraev. The music is by Wasahhbii and produced by La Made It and Oh So Familiar with additional music by APM music. Executive producers are Kulap Vilaysack, SuChin Pak, Jessica Cordova Kramer and Stephanie Wittels Wachs. Be sure to check out all the items we mentioned today on our Instagram at @AddToCartPod. Also, please take a moment to rate, review, and subscribe to the show wherever you get your podcast.