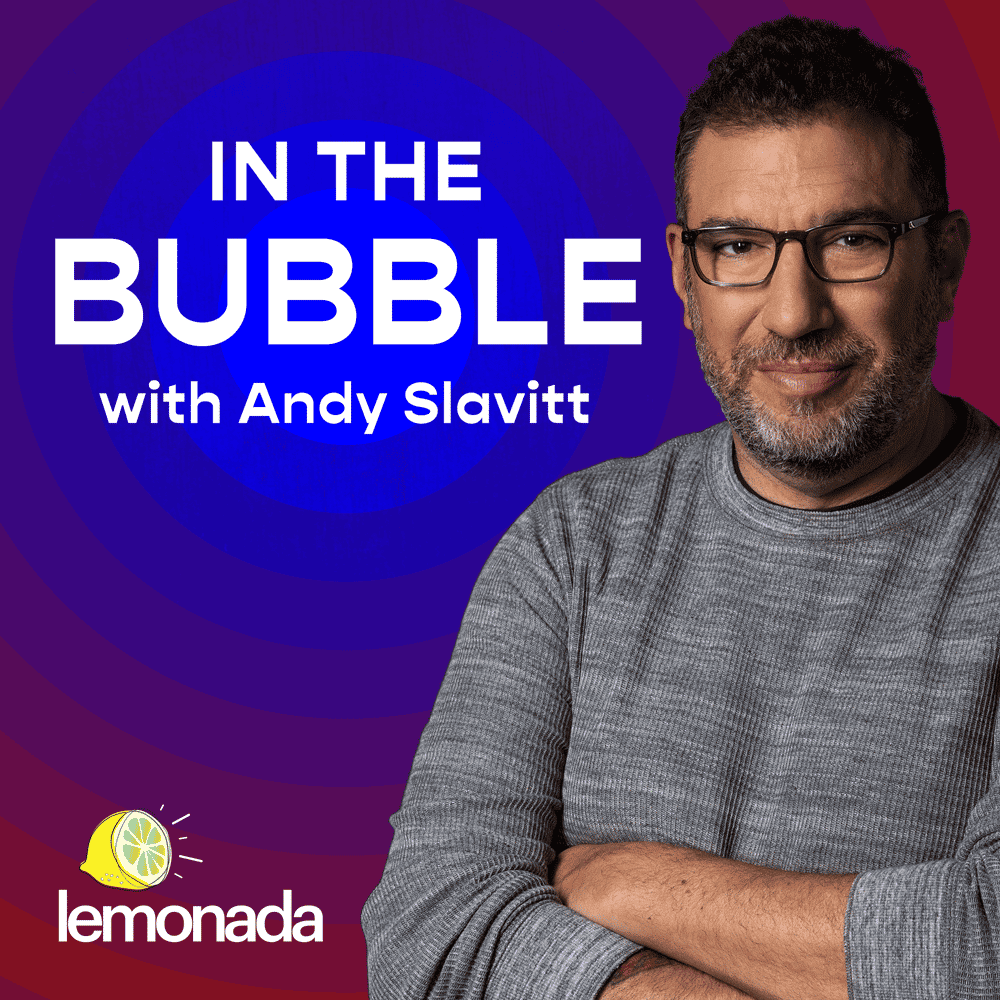 Good News About Drug Costs (Live from the Aspen Ideas Festival)
Subscribe to Lemonada Premium for Bonus Content

More than 65 million people rely on Medicare for health insurance in the United States, and as Boomers continue to enroll, the agency is expanding its coverage while trying to contain rising costs. The person who heads this effort is Dr. Meena Seshamani, director of the Center for Medicare. In a special live episode taped at the Aspen Ideas Festival, Andy talks with Dr. Seshamani about the changing scope of the agency, how it increased coverage under the Biden administration, and what will happen as expensive new drugs like Ozempic face ever growing demand. Plus, Andy gets an inside look as the agency prepares for the implementation of the new Medicare Drug Price Negotiation Program.
Keep up with Andy on Post and Twitter and Post @ASlavitt.
Follow @drmeenasesh on Twitter.
Joining Lemonada Premium is a great way to support our show and get bonus content. Subscribe today at bit.ly/lemonadapremium.
Support the show by checking out our sponsors!
Check out these resources from today's episode: 
Stay up to date with us on Twitter, Facebook, and Instagram at @LemonadaMedia.
For additional resources, information, and a transcript of the episode, visit lemonadamedia.com/show/inthebubble.
Transcript
SPEAKERS
Dr. Meena Seshamani, Andy Slavitt,
Andy Slavitt 
This is in the bubble with Andy Slavitt. This is our first show in front of a live audience in Aspen, Colorado. Today, we will be talking about healthcare. Let me say first a big thank you to Aspen Ideas Festival, the Aspen Institute for hosting this event. And the audience. Speaking of which, you all will have a chance to ask our guests questions at the very end of the show. So be ready. Now, Medicare is relevant to everyone in some very obvious ways, and some non obvious ways. The obvious way we all pay into this program our entire working lives. And we count on it when we need it as we age. And along with Medicaid. It is the single biggest poverty reducer in the country. Less obvious. Medicare influences many of the things about healthcare that we experience every day the decisions that get made that affect all of us what things are covered, we often wonder, why is this thing covered by my insurance and why not? How much doctors get paid, how doctors get paid? And everything from the crutches that you get to the therapist that you need to the rehab facility. Many of the decisions on how all that works, have the roots and decisions get made by Medicare. Certainly, if you're looking for one person to blame for your complaints about the healthcare system, you could do worse than my next guest. Now, certainly, I think you will find that my next guest is not to blame at all, I hope for the things that tell you about the healthcare system and in fact is working on those various things. But we'll get into that. It's a lot of responsibility. And it's also the largest place where our taxes go. More money goes to provide health care through Medicare then goes to the Department of Defense. And because of all of this, the decisions made by Medicare face an awful lot of scrutiny and an awful lot of lobbying. So my guest today is the woman who runs it all, Dr. Meena Seshamani
Andy Slavitt 
Very good applause moment. I guess they don't get plenty. So we're going to talk about some big decisions that Nina and Medicare are facing. And let me just name a few that may be on your mind today. How and whether weight loss drugs will be paid for how we plan to pay for big new things like Alzheimer's medications, and the new crop of very expensive medications that could be game changers in treating cancer, and many other illnesses that will follow. And we will talk about something that America is about to do for the very first time, negotiate with pharmaceutical companies, the cost of prescription drugs. If you wonder who is leading the charge in that negotiation in that process, it is in fact, my guest today, Dr. Mina. So we will get into all of that stuff. But first, how does one get themselves in the position to run Medicare? Tell us what makes you tick?
Dr. Meena Seshamani 
Well, thank you, Andy, for having me here. And thanks to the Aspen Institute for having me here today. So my background is a physician. I'm an ear, nose and throat specialist. And I'm also a health economist. And I think I have had the privilege and really an incredible opportunity to bridge those worlds through what I've done. With my career where I've taken care of patients at the bedside, I have seen where the healthcare system works, and what a profound impact those of us in healthcare can have on people's lives in a very real, tangible and lasting way. And when the system doesn't work, how tragic that can sometimes be. And you know, Andy, just to give an example. So you and I worked on the affordable care act together. I don't know if you know this story, actually. So after you and I worked on the affordable care act together at Health and Human Services, I went back and was practicing medicine, again, as an otolaryngologist, which is an ear, nose and throat surgeon. And I had a woman come into my office with a mask on her neck that was enlarging. And I examined her, and I was pretty sure that it was thyroid and the speed at which it was growing. I was pretty sure it was cancer. And I said to her, Okay, we're gonna get some imaging, we're gonna get a biopsy, figure out what this is. And she told me, Well, my health insurance only covers office visits, and prescription drugs. And she has a seat, she was a temp worker, like an admin temp worker. And I said, Okay, she said, so I can't get that done. And it was October. And I said, okay, in November, it's gonna be open enrollment for Obamacare. So I showed her the DC Health Link website, I said, I want you to go on to DC Health Link, I want you to get a health plan. And then we're going to take care of this. And so I followed up with her, made sure that she got an Obamacare plan. She did got the biopsy, it, in fact, was cancer. I referred her to one of our specialists, and she had her thyroid removed. And I think that's just an example of how we talk about these heady policies. Right? We talk about, you're saying how Medicare is the largest payer right a trillion dollars in claims, it's more than 64 million people. All of these numbers represent real people with real issues with real opportunities in their lives. And that's what motivates me in this role that I have now how can I serve all of those people so that everybody can have a fair and just opportunity to achieve their optimal health?
Andy Slavitt 
Okay. So you did some pretty amazing things, which I think I will get to in a second, I think, thank you very well suited for this moment, particularly the moment of negotiating prescription drug costs. Someone who's both a physician and an economist, it seems like Right place, right time, at least for the for all of us, that you're here. But I want to maybe just start about on the Medicare program itself, your responsibility. Now, the Medicare program has gone through iterations since 1965. When it started, it started as a hospital benefit. And then outpatient benefit. You know, it added some things over time, including prescription drug coverage in the early 2000s. It has a both a public and a private component to it now. So it is evolved. Maybe not with the times, but it has evolved to reflect at least Congress's view of what needs to happen next, give us the modern vision for Medicare the program over the next couple of decades. How should we be thinking about the vision for what that program should be it should mean and what it's all about?
Dr. Meena Seshamani 
Yeah, well, I'm going to pick up on something you said Andy about how the program evolved to reflect the changing, you know, times changes from Congress. And I would say me moving forward. And certainly this is how we are viewing it and how I'm viewing it. It is evolving to drive changes. I think that especially through the pandemic, we have seen where the healthcare system is broken. And I think the Medicare program stands to really drive a lot of the changes that we want all of us out of health care, we want to be cared for as people not treated for our diseases, right? And so through the Medicare program, where can we create models of care, where people aren't just someone who comes into a doctor's office with a specific diagnostic code that the doctor will document that then has a service done, that's a specific claim that then provides a specific payment. But instead, here's someone who has healthcare needs, who has things going on in their community that impact their health that we as a society and as a healthcare system want to take care of. And so I think, you know, through the various parts of the Medicare program, because as you mentioned, some people choose our Medicare Advantage, which is where Medicare partners with private plans, some people choose traditional Medicare, there's prescription drug coverage, ultimately, what is all of it about? It is about providing better care, improving health, and spending the Medicare dollar in a smart way, so that we can really drive those improvements in the health care system and for real people.
Andy Slavitt 
Can you talk a little bit about that tension that exists between the last thing you said the health care costs, and the care that people feel like they deserve as whether in the Medicare program where people have paid in and feel like they're entitled to certain benefits that are promised to them, or the spillover effects to the rest of us that aren't yet in the Medicare or Medicaid program. But also insurance companies make these sorts of decisions. You have to balance this incredibly precarious thing. There's something called the Medicare trust fund, and it has to have enough money in it to pay the claims, and Congress has to be allocating money. In order for that to happen. We spend a lot of money on these programs. And yet people want more seniors want dental care coverage, they want vision covered. They want more mental health care coverage. They don't want to see their doctors underpaid. So help the person who's sitting out there going, Yeah, I'm one of those 64 million people. And I don't really feel like the system is set up for me, I feel like it's run by either a managed care plan, or by some government official who doesn't really appreciate these needs, and maybe even trying to save money at my expense.
Dr. Meena Seshamani 
Well, I'll pick up on what you said, Andy, about the saving money at my expense, because I actually think it's the reverse. If you can keep someone healthy, you prevent that hospitalization and who really wants to be sick, right? Who wants to be in that hospital?
Andy Slavitt 
Okay, let me challenge it. What are we doing to keep people healthy?
Dr. Meena Seshamani 
Exactly. So I think, you know, that's where being able to invest in preventive care, being able to think about what are the various things that impact people's health? You know, I'll give you another example. You know, in my prior role, I lead care transformation for a major health system. We had a woman with chronic obstructive pulmonary disease. So lung disease, who came into our ER 17 times in like three months. And we were wondering what is going on for the lung disease, and we had a community health worker go out to her house. And it turned out that her electricity was getting shut off because she wasn't able to pay her electricity bills. And so her nebulizer wasn't working. And so that's why she kept coming back into the emergency room. So the community health worker, worked with the utility company, right, we got the electricity issue fixed, she stayed healthy, and she didn't come into the emergency room. That's an example of where you can keep people healthy. And it actually saves money, and actually, like, spends money in a smarter way. So I think that's kind of what I would say, you know, and we'll talk about this with prescription drugs, where if people can afford and take the medications that they should take, that can keep them healthy and can prevent all of these issues down the road.
Andy Slavitt 
So I will I will grant you that. We all believe in that. I think we all believe thing healthier, reduces costs in the short term. But there are clearly other examples, unlike the example where people are overusing the emergency room because a small problem hasn't been solved. where for example, someone will have a late stage cancer and there's a very expensive drug or someone will want something diagnosed because they think it may be missed and Medicare says, You know what, you're not in touch with another diagnosis yet, because that diagnosis is adequate, but their doctor may be telling them something different. So we all know we run into those situations where we have a limited budget, and those rules have to come into effect somehow. We don't know where they come from some come from Congress, some come from Medicare. But how should we philosophically be thinking about those trade offs? How do you think about those trade?
Dr. Meena Seshamani 
Well, actually, you raise a very good point, Andy. And this is something that I have a tangible example for what we have done, because I think ultimately, what's important to us is that people are able to access the care that they need. And it came to light for us. This is the Medicaid in the Medicare Advantage program, where we partner with private plans to provide Medicare benefits. And a lot of people have had difficulty accessing care, because there were all these hoops that they had to jump through the technical term is prior authorizations.
Andy Slavitt 
We'd love that term, don't we?
Dr. Meena Seshamani 
Prior authorizations. where, you know, the physician has to get approval from the insurance company to be able to provide a treatment. And this was something that we have heard about, from patients, from providers, from experts in the field, and also from health plans, where they're like, well, we need clear rules of the road here. And so recently, we made some pretty significant changes saying to health plans, that if you have these kinds of protocols in place, they have to be well established, publicly available following clinical protocols that are reviewed every year, you have to have clear paths for appeals, etc. I mean, these are the kinds of things that we are constantly iterating on, because it is so important to me. I will tell you, I had to deal with prior authorizations when I was practicing, right. So things like the clinician on the health insurance and should have relevant expertise, when they're making a decision about whether a treatment should be covered or not, right. Some of these things, it's really thinking about common sense, right, and really trying to constantly embed that in our program.
Andy Slavitt 
Are these, in your mind, things shared among Democratic and Republican administrations? Or are some of the things you're saying, which I think do sound pretty good to people specific to a philosophy that comes from, say, a Democratic administration,
Dr. Meena Seshamani 
I view very much that what we're doing is really about the health of people. That's not a Democrat issue or republican issue, you know, two areas that are prime priorities for me and for the Medicare program, rural health and behavioral health. Those are issues that span blue, red, right? Where, you know, we have done so much in trying to bring more providers to be trained in rural and underserved areas, because where people train, they learn the needs of those communities, and they're more likely to stay in practice. You know, we are expanding behavioral health, like what providers can work with the Medicare program, mobile vans, to bring opioid treatment to people in their communities. We all know that rural and tribal areas have been decimated by the opioid crisis. And people can't drive hours upon hours to go to a treatment facility, so we are paying for vans to come to them. Those are not partisan issues. So we're about to enter a new era, an era where prescription drugs are going to be negotiated by Medicare with the prescription drug companies. So as we get into this topic, maybe help Americans understand what's going to change that they're going to see and when.
Dr. Meena Seshamani 
So this Medicare drug price negotiation is part of the new drug law, the inflation Reduction Act, but we'll call it the new drug law that was passed last August, there are three main buckets to that law, that I think people will see the impact of. Number one, there are changes to the Medicare prescription drug program, some of this has already gone into place and has literally been life changing. Starting in January, people with Medicare can get recommended vaccines at no cost to them out of pocket. So people were previously paying sometimes $200 for a shingles vaccine. Now you don't pay anything. Insulin, no one pays more than $35 for a month supply of an insulin covered by a by a prescription drug program. I will tell you, Andy, I lead our diabetes management pathway when I worked in the health system, the number of people who could not afford their insulin. And that was the reason that they were so sick. All of the time. I have had I had one woman told me that she was paying for her brother's insulin, because her brother couldn't afford it like this impacts not only the people with diabetes, but the communities and the families in which they live. That went into effect in January. And insulin pumps goes into effect July 1, in another big issue in 2025. No one will pay more than $2,000 Out of Pocket in a year for prescription drugs, which is huge.
Andy Slavitt 
So how much are some people paying today is at high end.
Dr. Meena Seshamani 
1000s upon 1000s of dollars, because there's right now there's no limit to what people pay 8000 9000? I mean, it can go up. So that's huge for people to being able to access.
Andy Slavitt 
These are people on fixed incomes.
Dr. Meena Seshamani 
Correct, people who are oftentimes on multiple medications, right. So that is one bucket, real tangible impact for people. The second bucket is something called the inflation rebate, you gotta love the really sexy terms that that policy was basically, drug manufacturers have been able to increase prices over the years. Now, if they increase drug prices faster than inflation, they have to pay the difference back to the Medicare program. So that will discourage the runaway price increases that have been happening.
Andy Slavitt 
Yes. And I recall, when we were at CMS, there were literally hundreds of drugs every year that were priced double digit price increases. And so we made a decision to say because we didn't have this law, we were going to publish a file every year thing every drug that increase its price by 10% or more. Many of them were just get under the radar we were going to publish publicly. And the next year we had an amazing number of drugs that increased by 9.9%. Finally, how that works. So more or less people will price what they can get away with. And that's a that's a that's a huge even if it's a more difficult thing for people to comprehend. That will keep costs more manageable.
Dr. Meena Seshamani 
Yes. And then the third bucket is the drug negotiations. So, in January, we put out here the steps we're going to take to set up this drug negotiation program. So there are various guidances, that we are putting out data collection requests, we're really getting input from everyone, because as you said, Andy, I mean, this is historic, for Medicare to be able to negotiate previously, the law, I think you had mentioned before, right? There are certain things in Medicare law and in the Medicare lied and said that Medicare could not negotiate. Being able to negotiate is an important part of how a market works, right? With anything that we purchase, in our economy. And so to be able to negotiate, I think, presents a huge opportunity for us to really drive the conversation of what benefits do drugs bring to the health of our populations, and what do we pay for them? So we are working with patient groups, drug manufacturers, health care providers, you know, academic experts, you know, pharmaceutical manufacturers health plans, everyone, because this is an area that's really ripe for change, and we want to capitalize on that opportunity to really drive positive change in this area.
Andy Slavitt 
Now, are you both setting the rules for how the negotiation will work? And taking one side and the negotiation? Isn't that a bit problematic?
Dr. Meena Seshamani 
Well, what we do is by setting the rules of the road, it's basically things like, the law gave us certain factors that we have to consider when we are negotiating. And what we say in this guidance is, how are we going to think about those factors? So for example, the factors include things like what benefit a drug provides, what are the costs of production, what kinds of patents the drugs have. And what we have put forward is that the foundation for us is going to be the clinical benefit that that that drug provides, because ultimately, that's what matters, right for people. So being able to think about, does this drug address a need in our communities that has to date not been met? So will this really make a meaningful difference in people's lives? So
Andy Slavitt 
Let me clarify this to make sure that I get this right. So if I'm a drug manufacturer, and I make a drug for rheumatoid arthritis, and if that drug looks exactly like or very similar to drugs that already serve rheumatoid arthritis, you will factor that into the price negotiation, and presumably not give me much more if I create a drug, and I can prove to you because I have data here, you got to go through trials to get to the data, that there is a increase clinical benefit of 10 or 20%. Does that mean you will, in effect, metaphorically pay me 10 to 20% more,
Dr. Meena Seshamani 
We will take that into consideration. And, you know, you mentioned the data through the clinical trials, this actually goes well beyond the clinical trials. And I think that's important important point. Because, you know, again, fancy one word randomized control trial, fancy walk word means this is not necessarily how things work in real life. Right? So
Andy Slavitt 
Phase four.
Dr. Meena Seshamani 
So how does the drug actually work in real life, when people are trying to take this drug in their home, maybe they're on 15 other drugs, right? Maybe it's something that has this has to be taken at exactly a certain time, so many times a day, these are all things that now we can actually take into consideration.
Andy Slavitt 
You're gonna require people are going to have put together real world evidence.
Dr. Meena Seshamani 
That's exactly real world evidence. And this is something that we've been working very closely with the FDA on. So Commissioner, Caleb, and I work very closely together, because this has always been a priority for him as well. Right? How do we actually exit the very scientific world to then see how things actually play out in the real world? And I think a lot of us know that the real world oftentimes throws you curveballs, right? And that's something that I think is a really huge opportunity for us, so that we can see how does this drug meaningfully improve people's lives? How does it address the needs of different populations, and that'll be the foundation.
Andy Slavitt 
So let's talk about how this is going. Has there been much opposition or controversy or criticism from the drug companies as to how this is proceeding?
Dr. Meena Seshamani 
Have you read the news?
Andy Slavitt 
Do you mean the lawsuit?
Dr. Meena Seshamani 
You know, we have worked really hand in hand with everyone we have from the time the law passed in August. I have met with pharmaceutical companies With patient groups with with health care providers, ultimately, my job is to implement this law in the most thoughtful way possible to bring the most benefit that we can pay.
Andy Slavitt 
Maybe you can tell us the points of discussion, controversy, etc, that you're hearing the most about, where are people saying, hmm, there might be an unintended consequence, or I have concern about about this?
Dr. Meena Seshamani 
So, yes, I think there has been a lot of talk about innovation. And, you know, is this going to harm innovation? I think this actually drives innovation for the cures and therapies that people need, it comes back to what we were talking about Andy, with where we want to ground this in what benefit does this drug bring to people? There are plenty of, you know, you mentioned where there's like a slight change on a drug for something that's already in existence, what does that ultimately bring to a community versus something that is a jump that addresses an unmet need, or really addresses a big barrier, you know, an issue of something that's very complex for someone to take versus something simpler for someone to take. That's what we're really driving at. And we're we want to drive innovation in that way. And I will say that there are many who say that, also, I mean, ultimately, why do people go into health care, because they probably do want to help people. And this is a way that we can really drive that market in that direction. And I will, I will say, it is it is interesting. Also, when you see, Bayer just announced that they're investing a billion dollars in research in this country, there is a new the venture creation firm that was behind Maderna, they have created a new startup for, you know, research in the US. So innovation is definitely well alive and thriving.
Andy Slavitt 
You know, like, I've been a very outspoken advocate for this change for a long time, including being on edge. So I think this is a change we need. I think it needs to be implemented well. And by the way, just just for kicks, do you talk about the bottom lines, what the bottom line looks like at some of the largest pharmaceutical companies?
Dr. Meena Seshamani 
Yes. Well, I think last year, they had record profits.
Andy Slavitt 
We're talking like $20 billion.
Dr. Meena Seshamani 
Globally, we're talking trillions.
Andy Slavitt 
No, but for a company. So do they, if they do they have money to invest in r&d? That question, I think we can take off the table. But it's not so simple. I mean, biotech and biotech companies rely on biotech investors to buy their stocks, when they have a promise of a drug. Those biotech stocks, for example, have to be based on a premise that there's some market afterwards. And there is some legitimate concern, even though not every drug is gonna be part of negotiation. There's some things that are accepted. But there's legitimate concern that overall, people will just be less inclined to want to invest in some of these long shot carriers and ideas. And so, you know, we have to figure out how to, to balance that. And because the pharmaceutical industry is a little self interested, there have been some, but there have been some third party analysis, which has shown that there will be some marginal decline, I think, in the amount of new drugs produced, or new innovations produced, is that is that right is what is independent data say that happens?
Dr. Meena Seshamani 
Well, I think some of that also comes to what you were talking about before, Andy of what are those innovations? And what are the innovations that matter? And what are the innovations that maybe don't contribute as much so
Andy Slavitt 
I'm not worried that we're going to not find cures that we would otherwise find as a result of this negotiation?
Dr. Meena Seshamani 
And I think that this can really drive the kind of innovation that we need. But I will say this is also why to your point of being able to implement Well, this is why it's been so important to us for day one, to have monthly meetings with manufacturers, monthly meetings with health plans, strategic conversations, we have an open door, because exactly to your point, Andy, we want to make sure that we are thinking through all aspects of this. It's very complex and very thorny, and we want to try to avoid any unintended consequences.
Andy Slavitt 
And you do get high marks from everyone for being very open and transparent. Nina, which I think is credibly important. There's also this bad word in there you can speak to it of a lawsuit saying that you're violating their First Amendment rights. The way this negotiation is going on, I know you can't speak to the law and to the lawsuit. But is there something here that the public should understand about about this line of thought?
Dr. Meena Seshamani 
Yeah, I'm glad you you brought this up, because you know, This is why we are engaging the way we are. And what I mean by that is, we put out a draft guidance for kind of the rules of the road of how we'll do this negotiation process. And we got very robust comments from everyone on it, which is what we wanted. Right? We want to get constructive comments. Okay, have you thought about this? Or have you thought about that? Could you address this issue? And issues were brought up comments were raised about the negotiation process? And can it be more transparent? That is absolutely something that we are taking into consideration as we work to revise this negotiation guidance, you know, and put it out. And I will emphasize the constructive for us. I mean, as you said, we are working very hard to engage with everyone and engaging in a constructive way is the way that ultimately we're all going to be able to achieve our collective goals. Right. The vision here is, let's make drugs accessible, affordable, and that we are innovating for the cures and therapies that people need.
Andy Slavitt 
Okay, Ozempic in Manjaro. Everybody knows what we're talking about here, drugs that are approved for diabetes. But people are taking them off label for weight loss. And there's a gathering body of evidence. Dr. Califf, who you mentioned from the commissioner of the FDA talked yesterday, much more positively than I actually thought he would about the evidence suggesting that there is a benefit. And that those benefits outweigh whatever risks there are in his mind, although people are still collecting data, but the decision about whether or not people who don't suffer from diabetes can take these drugs is a big one. And many of that that decision really begins in some ways with what Medicare does. So how should we think about that?
Dr. Meena Seshamani 
Yeah. And what Medicare does depends on what the Medicare law says, right? The Medicare law provides us at, say, the 50,000 foot level of here's what you can do and what you can what does it say? So the Medicare law says that the Medicare prescription drug program cannot cover drugs for weight loss. It says that in law, yes, it says that in the statute, it specifically has a carve out for weight loss. And so I think it's an important at a high an even higher level, this comes up not just with this situation, where I think sometimes people don't necessarily know the different parts that come together to create the Medicare program. There's the Medicare law, at like the 50,000 foot level, that gives us its what's called authority to then be able to do regulations at like the 25,000 foot level of policies that then enables care to play out on the ground. So, you know, this is where, you know, one of the things that you mentioned is the ongoing evidence and ongoing data because I think that is very important. We are working very closely with our FDA colleagues on this and other issues, where as you said, if someone has diabetes, that is something that can be covered, you know, by the party program, and we're continuing to look at these issues and see where there are opportunities and what makes sense because ultimately we all have that shared goal of where there is a treatment that is going to keep people healthy, that you know we are able to cover how do we try to improve access?
Andy Slavitt 
So, I'm going to ask one more question while the audience prepares its own question, which we're going to turn to in a second. And it's really on that line of put aside, those two drugs, there are lots of other drugs, that would probably meet the definition of it, this would be really good for us to have not just drugs, but diagnostics, there are new diagnostics, that will tell you, if you've got a solid tumor that will soon be available through blood testing there are and you'd want everybody. And based on the logic, you said earlier, you'd want everybody to get that that diagnostic test so that they didn't downstream get colon cancer die early. And of course, you don't cost all that money, yet, the cost of paying for it for everybody in the country, it's going to be more than would be more than $500 per person. So let me see if I do the math, we've got 64 million Medicare members, times 500. Okay, that's a lot of money. So I want you to put aside the question of what the law says you could do for a second to talk about things, what the law says you actually can do, if you want to, I just want to know how you think about how we as a country should be thinking about the things that are good, but super expensive? Because so many of them are coming down the pike?
Dr. Meena Seshamani 
Yeah, that's a that's a great question. And I think it is some of what you said, Where, if you can, what we call move care upstream, where you can address things earlier, there is that huge benefit for society and for preventing people from getting sick and costing money down the road. And so, you know, it really is both sides of that equation of keeping people healthier, and spending money in a smarter way where you're spending money that's going to keep someone healthy, rather than they get sick. And then after the fact you're trying to fix that.
Andy Slavitt 
How do you do that when you've got drugs that maybe can prevent the very early diagnosing very early, but they have to go to a broad population, because they're very hard to target. And therefore, they'll cost billions and billions of dollars. How do you do that? Because it would achieve that goal. But it would do to do so at an incredibly high expense, how does Medicare, think about those decisions, and those students relate to Alzheimer's, they were really prevention, they really they're all over and they're just gonna get greater and greater?
Dr. Meena Seshamani 
Well, and I think this, this comes back to some of what we were talking about also, with the changes that are happening in the drug space with the new drug law, right, where we can kind of incorporate some of the impacts of these drugs, when we think about, you know, our negotiation process. It also comes through just in the drug plans of how formularies are created, right, the if you know, formulary where there could be a preferred drug that has a lower out of pocket costs for people or less preferred drug, these are all ways that the healthcare market because we are not the only you know, people engaged in this health plans are as well, that we try to address this kind of issue.
Andy Slavitt 
So let me ask the audience, raise your hand, please, if you want to ask a question. Go to the back gentleman in the white.
Speaker 3 
Thanks so much for a great talk. I'm Connor Sheehy, with the Senate Finance Committee on the side that's probably less popular in this room is you know, well. I wanted to ask you about the last piece you mentioned with respect to the role of health plans and pharmacy benefit managers and their formulary designs. We're seeing a lot of patients paying based on the list price, and a number of other PBM practices that are actually blocking access to lower cost biosimilars and other drugs. If there's bipartisan interest in the hill, I was just interested in what your agency's thinking in terms of how to tackle some of those misaligned incentives that are that are ultimately blocking patients from accessing drugs that would cost them a lot less and improve adherence.
Dr. Meena Seshamani 
Yeah, thank you, Connor, for your question. You know, one of the things that we do in the Medicare program is we review all of the formularies for all of the Part D which is the prescription drug program, we review all of the formularies from all of the plans to make sure that they are clinically appropriate to make sure that they are not discriminatory because to pick up what you said Connor, if you have a formulary that say is making drugs for HIV very difficult to access, that is discriminatory, right because it is going to discourage people with HIV from enrolling in that plan. So we have a whole team of pharmacists, etc, who go through each formulary to make sure that it is clinically appropriate that it is not discriminate discriminatory and ensuring access. That being said, there are always avenues for for improvement and as you You know, we are providing technical assistance as the hill. I'm getting applause by the way from Connor right now. You know, we are providing technical assistance to the hill as they are thinking through these issues, it comes back to Medicare law and what that allows us to do.
Andy Slavitt 
And you can finish that up in Washington, I think. Let's go to the gentleman in the Navy jacket. Right there.
Speaker 4 
Thank you. I'm Joseph Musgrave. I work in Ireland. So I'm just visiting for this festival. In Ireland, we fully fund long term care, both home health aides and nursing homes. And I just wondered, given that the Medicaid program does fund some of that, but Medicare doesn't, what your thoughts are about the future long term care needs and how to fund that in the country.
Andy Slavitt 
So the question was around how are we going to fund long term health care needs for the future? And I would ask you to take yourself out of the day to day of what you're allowed to do today, and maybe answer this conceptually, as a healthcare policymaker and economist and physician, how should we as a country tackle the challenge like that?
Dr. Meena Seshamani 
Yeah. And I think, Andy, part of the reason that you're saying to take it out of today, because the Medicare law actually says that there's only certain situations in which home health is paid for. But I think overall, as a as a country, we should again, be thinking about all of the ways in which we can improve people's health, and really trying to drive those changes about care in the community. And, you know, thinking more broadly.
Andy Slavitt 
Let's go to the next question. I think there's a woman over there in the pink.
Speaker 5 
Thank you so much. My name is Emmy. And I'm with health care without harm. Recently, the Joint Commission introduced some voluntary environmental sustainability standards. And I just wanted to ask, especially given the outsized impact of climate change on the Medicaid population, the Medicare population and its intersection with the two priorities you named of behavioral health, rural health, how is cms thinking about climate change and taking that into account as an impact.
Andy Slavitt 
Taking climate for us?
Dr. Meena Seshamani 
Well, I think your question is a is a perfect example of how we all need to be thinking about health more broadly and what impacts health. And to come back to Andy, something that you and I talked about, we have to think about what our levers are in our authorities in the Medicare program to be able to support that.
Andy Slavitt 
We have time for a couple more centered and.
Speaker 6 
Thank you for the conversation centered notice California Health Care Foundation. You have given the severe workforce shortages we have the way that we pay for GME still runs largely through hospitals and through our Medicare program. Is there any thinking in the administration? Are you thinking at all about how we rethink GME as we try to move people out of hospitals and try to get physicians and clinicians experienced in things other than hospital based medicine?
Dr. Meena Seshamani 
That's a great question, Sandra. And actually, one of the provisions that I personally worked on in the Affordable Care Act was the teaching health center program which provides residency training in federally qualified health centers and community health centers to that point and where we are using GME dollars to fund new slots, new training thoughts in rural and underserved areas.
Andy Slavitt 
So I want to say thanks for this great audience. The terrapins great audience. I would ask the audience, should we do more live shows? Okay, this is good. This is good. I want to thank Dr. Mina Cemani, for your service for being in the line of fire, for handling that with such grace for coming in the bubble. And I would remind all of you listening you can email me always at Andy at lemonade immediate.com. You can also get an in the bubble t shirt, hat or coffee mug by going to live in the media laminata media.com/shop. But also, I have to tell you, I think I've told you the most important things Tune in next week, we have another amazing episode. Thank you all. Thank you.
Andy Slavitt 
Thank you for listening IN THE BUBBLE. If you like what you heard, rate and review and most importantly, tell a friend about the show. tell anyone about the show. We're a production of Lemonada Media. Kyle Shiely is the Senior Producer of our show. He's the main guy, and he rocks it with me every week. The mix is by Noah Smith. He's a wizard. He does all the technical stuff and he's a cool guy. Steve Nelson is the vice president of weekly content. He's well above average. And of course, the ultimate big bosses are Jessica Cordova Kramer and Stephanie Wittels Wachs. They are wonderful, inspiring, and they put the sugar in the lemonade. They executive produced the show along with me. Our theme was composed by Dan Molad and Oliver Hill, and additional music is by Ivan Kuraev. You can find out more about our show on social media at @LemonadMedia where you can also get a transcript of the show and buy some in the bubble gear. Email me directly at andy@lemonadamedia.com. You can find my Twitter feed at @Slavitt and you can download in the bubble wherever you get your podcasts or listen ad free on Amazon music. It's a prime membership. Thank you for listening.