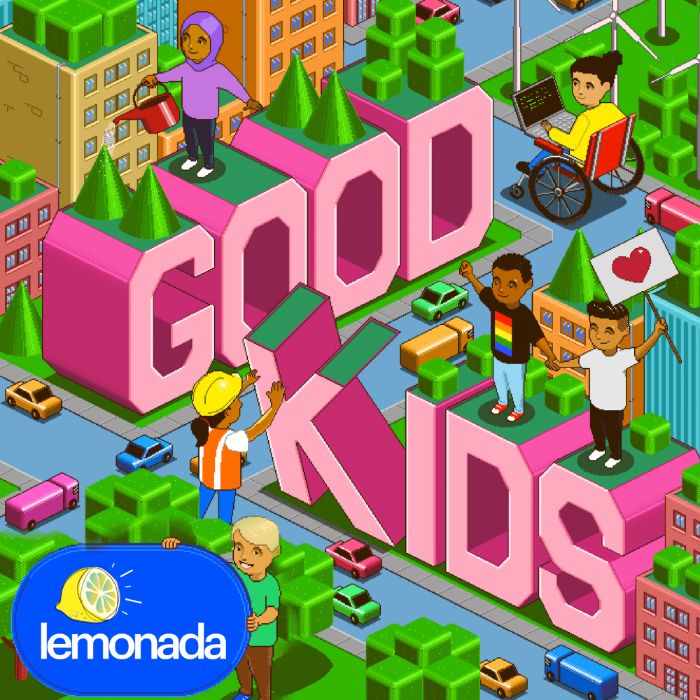 Ho Ho Who Are We Kidding? (with Santa Claus)
Subscribe to Lemonada Premium for Bonus Content
Description
Santa Claus is gearing up his sleigh to deliver an early Christmas present – this special holiday episode of Good Kids. He'll admit, 2020 has been a rough year for everyone, even Santa. "I've talked to millions of children behind plexiglass in outdoor arenas because the poor malls can't open. Rudolph is once again being shunned by the other reindeer! But this time he deserves it. He won't wear a mask." But something that's made Santa's year a little brighter has been listening to all of his favorite podcasts. He shares some words of holiday cheer from his favorite podcast hosts, including Andy Slavitt, Julián Castro, Kulap Vilaysack, SuChin Pak, Nzinga Harrison, Jaime Primak Sullivan, and Stephanie Wittels Wachs.
Support the show by checking out our sponsors!
Livinguard activity masks use materials with amazing properties that deactivate viruses and bacteria continuously, safely and in a sustainable way. They are super comfortable as well. Get 10% off your activity mask when you go to shop.livinguard.com and use code GOODKIDS10 at checkout.
To follow along with a transcript and/or take notes for friends and family, go to http://lemonadamedia.com/show/good-kids/ shortly after the air date.
Stay up to date with Good Kids and everything from Lemonada on Twitter, Facebook, and Instagram @LemonadaMedia. For additional resources, information, and a transcript of the episode, visit lemonadamedia.com.
If you want to submit a show idea, email us at goodkids@lemonadamedia.com.
Transcription
SPEAKERS
Kulap Vilaysack, SuChin Pak, Andy Slavitt, Dr. Nzinga Harrison, Stephanie Wittels Wachs, Jaime Primak Sullivan, Julian Castro, Santa Claus
Santa Claus  00:04
Hello, this is GOOD KIDS. And I'm your special guest, Santa Claus. Oh, am I kidding? look GOOD KIDS listeners. It's Santa, and I'm exhausted. When I first signed up for this St. Nick thing I could never have seen this year coming. It was so long ago, back when the North Pole was still frozen and people took pandemic seriously. They thought the Black Plague was caused by ghosts or something. But they took it seriously. Folks, Santa has been through six tropical storms this year alone despite the best navigation for Mrs. Claus in the passenger seat.
I've talked to millions of children behind Plexiglas and outdoor arenas because the poor malls can't open. Lastly, Rudolph is once again being shunned by the other reindeer, but this time he deserves it. He won't wear a mask. Quite frankly 2020 has been rough. I almost canceled Christmas all together this year. Well, not canceled so much as postponed it to a little May June viesta instead. But I am only human and I was doomed scrolling Twitter one night right before the US election shout out to my old chum at Dan Rather, great fellow.
And I thought boy oh boy do people need old Santa now more than ever. So I called up my new friends at Livinguard masks who made me some lovely and festive Christmas activity masks so I can safely enter the houses of all those on the nice list this very weird Christmas. I highly recommend these masks for stocking stuffers parents. And now I'm ready to do this. Storms ?I'll find a way. COVID? can't stop my sleigh. The war on Christmas doesn't matter because it's not real. Take it from me a third century folk tale with the religious significance of Dumbledore.
02:16
I'm bringing you all the joy you need from a safe distance. I also called my good friends at Lemonada Media to help me cultivate the ultimate podcast playlist for the holiday season. And I thought I'd share it with you today if you like old St. Nick need a little pick me up. First, I rang Mr. Andy Slavitt. From the podcast IN THE BUBBLE who is out there saving lives left and right by putting out funny and informative content to help us all navigate this heck of a pandemic. I texted my buddy Julian Castro host of OUR AMERICA who has been working his tail off for the people all year and really his whole life. He had cool twin brother have his Joaquin go together like trees and tinsel.
I remember visiting them in San Antonio while they were growing up, won't tell you which one was always getting cold though. Hint, it was Joaquin. Oh and Kulap Vilaysack, she hosts ADD TO CART which is just my favorite show on Lemonada. Shhh, don't tell the others. It's just so relevant to the old man here. And if you all listened, maybe my cart wouldn't be quite so full. We also have SuChin Pak who's built up a career in journalism more legendary than St. Nick here himself.
She's broken through more barriers than I can count and I'm jealous as she's even interviewed my absolute favorite pop star Mariah Carey. All I want for Christmas is Mariah Carey to answer my fan letters. Anyway, we also have a nice note about taking care of yourself from my good friend Dr.Nzinga Harrison, the medical expert from the show IN RECOVERY. Gave me some good advice on work life balance she did smart as a whip that one top on the nice list.
04:21
Moving on to Jaime Primak Sullivan, funny lady love her a lot. We have gotten quite close over the years lots of cute letters from her kiddos Charlie, Max and Olivia. Her podcast is TELL ME WHAT TO DO and she brings more joy to all than those Hallmark movies where to ding dongs fall in love while learning the meaning of Christmas. And lastly, we have Stephanie Wittels Wachs. Stephanie hosts LAST DAY which is a beautiful and poignant podcast too. She's Jewish but loves her some Christmas always has doesn't matter whether or not she believes in Me, I believe in her, who wouldn't?
Santa Claus
Without any further ado, here's some words of holiday cheer from all of my new friends.
Andy Slavitt
Oh, hello, it's Andy Slavitt within the bubble with Andy Slavitt's podcast IN THE BUBBLE is your family friendly podcast about life. Well in the bubble during these pandemic days, and I know these holidays aren't easy for everybody. So don't forget to reach out to people that might be alone. Don't forget to have a good holiday yourself. May your holiday be happy. May your new year be great, maybe inspiring, maybe healthy. And most importantly, may it be vaccinated.
Julian Castro 
Hey, y'all, this is who Julian Castro, host of OUR AMERICA. Wishing each and every one of you happy holidays. I hope that you and your family have a Merry Christmas. Happy Hanukkah. Wonderful holiday season. And may 2021 be our best year ever. Take care.
Kulap Vilaysack  06:10
Hi, this is Kulap Vilaysack.
SuChin Pak
and SuChin Pak.
Kulap Vilaysack
And we're the hosts of ADD TO CART and we want to wish you and yours a healthy, happy and prosperous holiday season.
SuChin Pak 
Yes, we're Asian. So the prosperous is very important. a prosperous, wealthy, reigning with money holiday season and health and persimmons.
Kulap Vilaysack 
But cash, cash is always good.
SuChin Pak 
And chestnuts. Asians love chestnuts.
Kulap Vilaysack
Yes, bought with that hard cash.
SuChin Pak
May it rain on you like sesame seeds toasted by a lovely Asian woman.
Dr. Nzinga Harrison
Hey everyone, my name is Dr. Nzinga Harrison and I am the host of Lemonada's podcast IN RECOVERY. Please just practice an ounce of prevention as we swing into this holiday season and surround yourself with people who can be the light and the hope for you. Even if this is a time where it's very difficult for you to be the light and the hope for yourself.
Jaime Primak Sullivan 
Hey guys, it's Jaime Primak Sullivan hosts of the TELL ME WHAT TO DO podcast. It's real. It's raw, it's unfiltered and honestly it's life. So I share with you something that I keep in my phone that I like to remind myself that the holiday season, whatever is beautiful, whatever is meaningful, whatever brings you happiness, joy and peace protect that at all costs. May it be yours this holiday season and in the New Year. Happy Holidays guys.
Stephanie Wittels Wachs
Hello GOOD KIDS listeners. This is Stephanie Wittels Wachs host of LAST DAY and I just wanted to pop in here to wish you all a very happy holiday season. Thank you for listening to GOOD KIDS. I'm grateful for you. And I hope that you have a happy healthy New Year.
Santa Claus
Okay folks, wish Santa Good luck. And for the love of all things holy be nice to each other. It's going to be a long winter but we can do this. Stay safe. Stay home if you can. Thank good nurse and doctor but from a distance and Merry Christmas if you celebrate. Happy Holidays to all and we'll get through 2020 together.