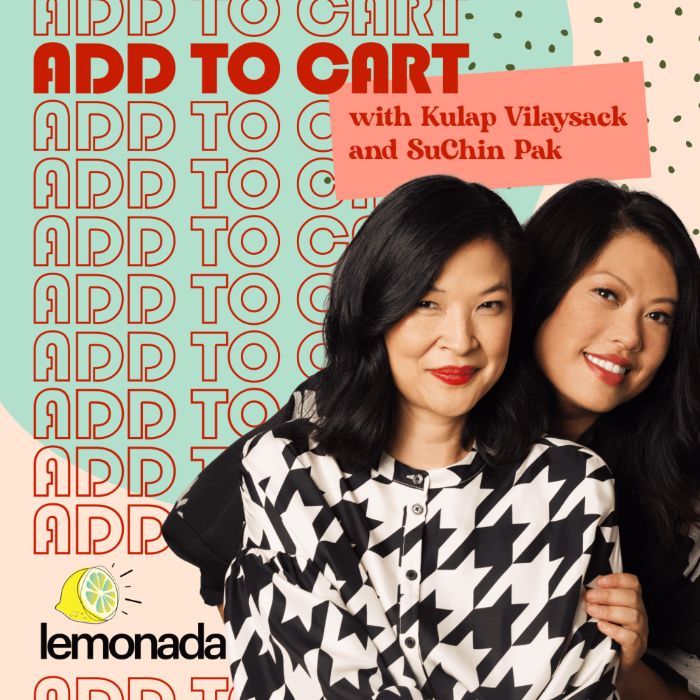 Industrial Puka Shell with Humberto Leon
Subscribe to Lemonada Premium for Bonus Content
Description
Director, fashion designer, restaurant owner, avid shopper, and friend Humberto Leon is here to tell us how he aggressively follows (like, IRL) designers to buy his favorite jewelry, creatively supports all the LGBTQ parents and kids in his daughters' middle school, and methodically organizes his home. This episode is full of such joyous stories from Humberto – hopefully, it makes you smile in this dark time.
Please note, Add To Cart contains mature themes and may not be appropriate for all listeners.
To see all products mentioned in this episode, head to @addtocartpod on Instagram. To purchase any of the products, see below.
Everyone should watch FIRE ISLAND written by and starring Joel Kim Booster with Bowen Yang and Margaret Cho. IT IS A NECESSARY ADD TO CART. A rewatchable rom-com. A revelation.
The necklace from Pauly_T that Humberto drove to buy out at a gallery in Manhattan
Pop Its are sweeping the kid world. So Humberto bought this kit with a  Pop Purse and Toys for his kids.
Humberto created an LGBTQIA+ group in his kids' middle school – he bought a pride flag to hang up (Ku has one on her flag pole too)
Humberto is still debating whether or not he should purchase these Folding Closet Storage Boxes
Stay up to date with us on Twitter, Facebook, and Instagram at @LemonadaMedia.
Joining Lemonada Premium is a great way to support our show and get bonus content. Subscribe today at bit.ly/lemonadapremium.
Click this link for a list of current sponsors and discount codes for this show and all Lemonada shows: lemonadamedia.com/sponsors
Transcript
SPEAKERS
Kulap Vilaysack, SuChin Pak, Humberto Leon
Kulap Vilaysack  00:10
Hello and welcome to another episode of ADD TO CART, a show about the things we buy and buy into and what it says about who we are. I am Kulap Vilaysack.
SuChin Pak 
Ad I'm SuChin puck and today we have such a special wonderful guest he's a good friend of mine and some very life changing universe changing to carts me I say.
Kulap Vilaysack 
Before we get into it I want to highly recommend Fire Island on Hulu. It's a movie that I loved. It's written by and starring Joel Kim booster it also starring Bowen Yang and the legend Margaret Cho, Su, it's so good, it's so perfect, it's a rewatchable rom-com centering Asian gay men.
SuChin Pak 
I mean it's the revolution.
Kulap Vilaysack 
Please add to cart, it's just so well done. It's the direction is amazing the acting the writing, I can't, it's revelation
SuChin Pak
You know, I keep getting texts about it and everyone from all different sources and I just get Fire Island text Fire Island text like it's not even like a sentence just yeah/ alright, so definitely adding that to cart but let's welcome our guest Should we do it? Our guest today is a man of many talents. He started with the cult fashion brand opening ceremony in 2002. He was a co-creative director of French fashion house Kenzo before debuting as a director in 2018 for the film The Everything. He then debuted his restaurant Chifa in 2020, which received the prestigious bib gourmand award by the Michelin Guide, and most recently, he's ventured to music videos where he directed and add to cart favorite growing up by the Linda Linda's please welcome everyone to add to cart, Humberto Leon.
Humberto Leon  02:18
Hi, everyone.
Kulap Vilaysack
The man, the myth of the legend, surfers question. What can't you do?
SuChin Pak 
That's right. That's right. And what's not in the official bio is, Humberto is an amazing dancer. He's also an amazing game organizer. You never met a more competitive human being at sports that are not sports.
Kulap Vilaysack 
You're my kind of person.
Humberto Leon 
It's true. I mean, SuChin knows all the inside outs, all the deep dark secrets of my nerdy gaming, like live scavenger hunting days.
Kulap Vilaysack 
Oh, it's a special person who can organize and design a scavenger hunt?
SuChin Pak 
Oh, yeah. City wide New York. I mean, this is backyard Egg2 Hunt unit.
Kulap Vilaysack
This is the Fairfax district. You're saying NYC, 917?
SuChin Pak 
Have you heard of it? 212.
Humberto Leon
Yeah. cabs, subways, you name it. You have to do it all.
Kulap Vilaysack 
That's amazing. That's amazing. Now you two. How did you become friends?
Humberto Leon 
Okay, so SuChin has her side of the story. I have mine. So SuChin was this like, she was on this talk show called Teen talk. And my roommate at the time name Robbie. He was like, dude, that girl student is` so hot. And she goes to Berkeley. And I was like, kind of in like, not out. But kinda out face. I was like, yeah, man she is. And so we see her walking up and down sprawl. And, you know, we kind of always said sprawl. And so SuChin would just kind of walk back and forth and do her thing. And so I don't know, did we? I don't know if we ever actually met on sprawl or in Berkeley. SuChin, did we or did I meet you in New York the first time?
SuChin Pak  04:19
Well, I have a very, very slight memory. And I don't know if this is an implanted memory of when I used to go into the GAP and return things that I bought and wore once.
Humberto Leon 
Definitely. I knew you. I knew people like you, for sure. And I was a hard GAP employee who was like, this is my life. I am a gapper for life. You are wronging me.
Kulap Vilaysack 
Oh my god, that's amazing.
SuChin Pak
Or I would buy outfits to wear on camera that I could not afford and then promptly return them. Just ever so slightly worn in an air conditioned studio Humberto, by the way, you know, nothing, nothing heavily creased.
Kulap Vilaysack
And we have established that she does not have any BO. So just putting that into the space. Go ahead.
SuChin Pak 
No, it's a powdery fairy scent that I leave behind wherever I go. And so we, yes, mutually we recognize each other from afar. And we've told the story many times, in private and in public, you Umberto were with Carol and a gang of, of ultra-cool. Asian goth kids smoking skinny cigarettes, me with a Greatland green backpack, just traversing the campus by myself from one class to another is our different campus experience. And then, lo and behold, many years later, we met in New York.
Humberto Leon 
It's true, actually, now that you brought that up. I actually remember telling you when I was at the GAP, that my roommate had a crush on you, as you do when you're 19. And you say stupid things like that. I went up to you and I was like, my roommate has a crush on you.
SuChin Pak  06:17
He maybe had a crush on me.
Humberto Leon 
I'm confused.  One thing I'm not confused about is that you are not going to get this return.
SuChin Pak 
By the way, always, always got the return, always got the return. Humberto did me a solid, like go on. Yeah. And then in New York, right.
Humberto Leon
And then in New York, I remember you were doing a segment. And I remember showing you our friend Ben Cho dresses. And this is the year we opened in 2002. So it was really kind of early into our opening ceremony life where you walked in and you didn't even know it was a store because we couldn't afford to buy any merchandise for the store. So there's no inventory. And everyone's like, what is this? And we're like, it's a retail store. And they're like, where's the like, where's the beef? But like, where's the clothes?
Kulap Vilaysack 
It was a gallery, a conceptual gallery.
SuChin Pak 
These are all true stories. By the way, we're lining up. Nothing you have said so far doesn't match up to the exact memory. That's right.
Humberto Leon 
And then we honestly became best friends after that. From that moment on, we saw each other all the time.
Kulap Vilaysack 
I love that and at that time, what color dyed chunks did she have in her hair? Do you remember, Humberto?
Humberto Leon 
I feel like you kind of had a green tint phase. Kind of a purple. You were also really into purple at the time.
SuChin Pak 
It was purple.
Humberto Leon
It was, it was definitely purple. Yes. Yes. I forget about that.
SuChin Pak  08:05
Let us all forget about it.
Kulap Vilaysack 
No, no, no, no, this is my eternal flame to watch over. Then I shall. Humberto, today's your birthday.  And we are so happy that you so happy you decided to join us. And speaking of purple, you share the same birthday as Prince.
Humberto Leon 
Oh my god. That's my like party trick that I tell everybody. But it's like my claim to fame. That I share the same birthday as Prince. I mean, how legendary is that, it's pretty legendary,
Kulap Vilaysack 
The most, the most. I'm from Minnesota. He is our state flower or state bird. He is everything. He is everything.
SuChin Pak 
He is water. He is air.
Kulap Vilaysack 
Humberto, we like to ask our guests every episode. What type of shopper Are you?
Humberto Leon
Okay, I shop like a maniac. And I shop all through the day night. Like I'm that person who like I get up at four in the morning because I have to go pee and then I go back and I start picking up my phone and start shopping again. So I shop day and night. And there's times when I make the purchase right then and there. And because add to cart to me is really also a reminder, it's also like experimenting, so like I kind of remember whether or not I could do something like that. It's also like my kids asking me for things that I'm like should I, shouldn't I. And there's like a ton of that stuff. If I'm like I'm going to start working out gotta buy all the equipment. And then I add to cart everything that you would need to be a pro so then I'm like, am I really investing this money? Am I really going to do it and that's the add to cart because I don't know that I'm gonna really commit. I'm also so that kind of frugal. I need to make sure.
Kulap Vilaysack  10:08
But let me try it out. Let me see it, is this the fantasy I want to live.
Humberto Leon 
This is like my dare like I'm treading on like by adding to cart you can accidentally buy sometimes, you know, especially if you share an Amazon account with other people. And they're like, oh, he wants all that, like, let's just buy it all. So it's kind of like daring and I'm like maybe they should buy it or maybe you know, so you never know.
Kulap Vilaysack 
Maybe it's Mercury in Retrograde stuff happens and all of a sudden.
Humberto Leon 
It shows up.
Kulap Vilaysack 
All the CrossFit stuff that you ever never wanted.
Humberto Leon
It's true. But you know, I also add to cart on people who aren't even trying to sell stuff. So like, I'll be on Instagram. And I'm wearing this necklace, because this is a good example of my friend Polly, who I ran into and I was like, oh my god, I was like, I need that necklace. I'm totally into this, like, hard industrial look. But with puka shells as like, that is like me wrapped up in a necklace. And he was like, Oh, cool. I just started making these for myself. And I was like, so are you gonna make it? And he was like, I'm not sure yet. I'm just thinking. So then I'm like, obsessively on Instagram, like, bombarding him with my own add to cart which is like, well, you make it I'm ready. I'm ready. And then he ended up showing up to an art gallery selling his jewelry. I found out on Instagram, I had to drive to the gallery, ignore everything that was going around and just go straight and buy it. And I ended up buying almost everything he had available and he had just opened and he asked if I could keep it on display so that people could at least see what was being sold.
Kulap Vilaysack 
Well because, Humberto, otherwise, you're recreating your first day and opening ceremony for your friend.
Humberto Leon  12:04
Exactly. Exactly. And I know once it's gone, it's gone. And then I don't believe when people are like, don't worry, I'll make it for you. I'm like, I don't buy that story at all. So I do, it's called like real life Add to Cart, which I am like I'm gonna hunt you down until I could get that thing from you.
Kulap Vilaysack
Yeah, some vendors at first unwilling.
SuChin Pak
The puka shell industrial look, sure, that could be Humberto. But if that story of him, just bullying his friend into starting a jewelry line, then his friend not telling Humberto because he's so scared that he's selling it at an art gallery. And then number two, getting in a car, driving to set art gallery, pushing all the art lovers aside, buying every single piece of inventory. And now your friend has to beg you, could you please leave some so that I can start this business? You told me to start. That's Humberto in a nutshell.
Kulap Vilaysack
I'm in a puka shell and I'm hung up on again square one, which is I never even thought, thought, of the philosophy, the spirit behind a puka shell. And then it makes industrial..
Humberto Leon
industrial puka shell.
Kulap Vilaysack
Yes, yes. I mean, you have an eye.
SuChin Pak
This is why he started opening ceremony, not because he loves fashion, not because he wants to help others, because he just shops 24/7 And he wanted an excuse. He wanted an excuse for that to turn it into a legitimate business expense.
Kulap Vilaysack  14:08
I mean, look, need that resale? Okay, well, let's get into your cart. Let's start with the pop purse and toys.
Humberto Leon
I couldn't even send you everything that's so much stuff like my Bed Bath and Beyond. I couldn't even send you because it's like..
SuChin Pak
Oh my God, I need that. Would you remember right? Of course the discount.
Humberto Leon
Are you crazy? I go and it's like the slot machine when I'm out when I'm paying. And it's like ching ching ching ching. And if I don't get 20% off per item, it's like I can't go, I have to put stuff away.
SuChin Pak
No, I've been known to and I texted cool up this when I tried her Thera gun, couldn't find it on sale, found it at Bed Bath me on with my and I said hey, if you for some reason need another one let me buy it because I have the 20 in case you're not a member so not only do I get joy from getting the 20, any anyone listening. DM me and I will buy your Bed Bath and Beyond purchase at 20% off.
Humberto Leon
I also don't know if everyone knows that the cards that they send you don't expire even though there's an expiration date on it, it's a big myth. They try to like, but we know, we know what's up.
Kulap Vilaysack 
I should say fresh.
SuChin Pak 
BBB. Okay, so, Ku, tell everybody what we're looking at here.
Kulap Vilaysack 
I'm looking at the […] pack toy. And this is so adorable. I assume it's for your kids.
Humberto Leon 
You never know. But you know what? Okay, I don't know if you I mean, do you have kids?
Kulap Vilaysack  16:03
No, not yet.
Humberto Leon 
Okay. So, puppets, I don't know if your kids are into pop its, but it's kind of a thing, like..
Kulap Vilaysack 
Yeah, my nephew's into pop its..
Humberto Leon 
whoever invented it. But there's also so many bootleg versions, I get them all that it's like, no one can own the idea of pop it anymore. But it's really like this weird thing where I'm like, why are you interested in this? Why am I spending $35 on a puppet? Like that's the size of a pizza? And what do you do? I really was like, what do you do with this? And they're like, you pop it. And I'm like, so it's like bubble wrap. It's like, really like durable bubble wrap that goes back and forth. And they're like, yeah, they don't even know what bubble wrap is. They're obsessed with this like want puppets. They want pop it's for their friends. And so yes, this is a deluxe kit that has a purse. Once you know about a pop it, you can't unsee, you can't unsee it. It's everywhere.
Kulap Vilaysack 
They're at a mall kiosk. They're everywhere.
Humberto Leon 
Multiple mall kiosks in one mall.
SuChin Pak
And Humberto I, my kids, you know, at the last day of school, teachers friends, were giving little like presents and the pop its, you know, they had pop its keychains and that sort of thing. And my daughter got some pop its and then my son got another like, weird fidget thing. You know, like you click it. It's something. So she really wanted that clicker thing. And I was like, Zoey, like, I can't control what, I mean, that's what he got. You can't and she really want. I was like, but you got two pop its. And she said to me, she's like, but these aren't even the good kind. They're too soft. Like, the kids are so well versed in the pop it's that how they pop how quickly they pop up is also part of like, they know..
Kulap Vilaysack 
Zoey is like, this is bootleg bullshit.
SuChin Pak 
Isn't that crazy?
Humberto Leo
Yeah, it's like Sashimi at a good Japanese restaurant or sushi at Vons. It's like, it's different.
SuChin Pak  18:04
They look the same, but they're not going down the same. And they're not coming out the same.
Humberto Leon
That is amazing. Well, that's why I'm on the PTA and I am crazy, where I am also a room parent. So I have twins, identical twins. So I have to go in to see what types of like treats and gifts that people are giving. So I don't have to deal with this insanity. So I always make sure that there's fair they're like, why is Humberto coming with like all this stuff from like, they're like oh, the other room has it? I'm like yeah, exactly.
SuChin Pak  18:41
Because you know.
Humberto Leon 
I have to mirror this treat, the snacks, the gifts.
SuChin Pak 
Everything because you're gonna hear it from one of the gals.
Humberto Leon 
I don't want to deal with it.
SuChin Pak 
I feel your pain and that's why pop person toys are number one on your add to cart because this is about survival. You know, this is about how do I move through my life with ease and peace. That's how do we, right?
Humberto Leon 
Yes, that's the ultimate goal. It's all about peace.
Kulap Vilaysack 
So, really it's an Add to Cart, peace.
Humberto Leon 
That's what that represents.
SuChin Pak 
It's not landfill pop it toys, that we both have buckets of no, we're adding to cart peace.
Kulap Vilaysack
The next item is a progress pride flag. It's three by five heavy duty LGBT community gay pride, lesbian, transgender, bisexual, rainbow flag. I have one up June 1st. We did a ceremony, switched from actually the peace flag. This is a great transition into our pride flag. eye exam. I do have a flagpole.
SuChin Pak  20:02
Where is your flagpole? You have to go see Ku's compound. It's a wonder, it's an adult Wonderland. Where is it in your driveway?
Kulap Vilaysack 
Right next to my driveway in the backyard.
Humberto Leon 
And do you do half mass when there's like disasters and stuff?
Kulap Vilaysack 
I should do that.
Humberto Leon 
You really need to do. You need to like, let those flags talk.
Kulap Vilaysack
Yeah, you're right. I need to be more expressive with my flags. Yeah, I kind of put them up there. I let them be and then I forget.
SuChin Pak 
More reasons to add to cart. Okay, so tell us about this.
Humberto Leon 
Okay, so I came from Park Slope. And I just moved to Pasadena. And my were my daughter's go to school, I realized that there was only one other queer parent on the entire campus of 400 kids. So very, very few representation in terms of, you know, me being a gay parent, if there's another lesbian couple. And I came from Park Slope where half the class was queer, like queer parents, and kids who were you know, just like wearing boys wearing skirt, like whatever. It was, like a very, like progressive school that. So you know, and I knew that I was entering a school that was different. So, I actually talked to the principal, and I said, can I start an LGBTQAI+ club and allies on campus? And she said, I don't think there has ever been one in the school district or in Los Angeles County for an elementary school. And I said, I think it's really exciting. I'd love to introduce books into the library. So I kind of thought, I talked to her about like, really kind of thinking about, this as allies, because I also think it's important just to be a resource for people aside from just talking about what it means and representation, but also as a place in case anybody has questions about, what does it mean? Like, what does it mean, if my kid wants to wear a skirt? Or what does it mean, if, you know, they're going to middle school, and they say they have a girlfriend and you know, what does all that mean? So I want it just, so I hooked up with a local organization that can provide more, you know, I can do every day layman's term talk, but I think to give them more of an insight. So we started this two months ago, we had a big pride celebration for the last day of school, which happened to be on June 1. And next year, I'm bringing guest speakers to talk every two months to really, I think, also, it's more of a celebration of different types of, you know, family dynamics, and to show other people that have, you know, what it means to them. So it's also not, I'm not just bringing speakers who are coming that are queer, but also ones that also who are cis, that are allies that actually really kind of see that you get this bigger point of view of what family dynamics mean, and for your children so that they don't also leave elementary schools, so unaware of what's happening in the rest of the world. So that flag represents that.
Kulap Vilaysack
That's amazing. I think you, I just remembered that you met a good friend of mine, Morgan Walsh, who started gender nation, which provides books to libraries.
Humberto Leon
I partnered with her, I partnered with her and brought it into my school.
Kulap Vilaysack
That's amazing. She adores you. She, yeah, she just adores you.
Humberto Leon
I mean, her causes are amazing. And it really actually got kind of jump started me into thinking like, I really have to form something that I you know, we really can talk about things. Talk about things that might be uneasy, but also talk about things that could just be fun and exciting. It should be celebratory. And it doesn't have to be hard hitting just like facts day in and day out.
SuChin Pak  24:20
You know, I just want to roll back to what you said like, so is this the first like of its kind in LA for elementary schools like you did you just do something so major, but like kind of add of just an organic you know, need to sort of see this representation at your kids school?
Humberto Leon
When I talked to my principal, she said she's never seen an example of this in elementary school. I think from junior high in high school and on definitely yeah, but I found because there was so little representation in my elementary school. I really felt the need that I needed a platform and I needed a space for discussion. And I honestly was ready for a lot of also backlash. And I was ready for, like somebody to say, why are you doing this? And I was ready to really kind of tell people why I thought it was important to have a club that people could go to. I also wanted it. I wanted a space where people could come and privately talk to me without needing a forum. So I just wanted to space in I think in life like opening ceremony even at Kenzo, like I've always just created spaces. And I've always looked at it all as like platforms for people to talk. So in my personal life, I tried to do the same. And I think about like, how can I create something where people can thrive or come and talk to me about personal things.
Kulap Vilaysack
Yesterday, I met with another mutual friend, Laura Fried from active cultures, an amazing nonprofit that takes art and food and make something communal and informative. And she said something about creating, creating space to hold space. And that's what you're describing.
Humberto Leon  26:16
It's very true. It's very true. And I feel like if there's anything that I can do, because what how every little like my platform is, but I think if I could open that up to other people and allow for other stories to be told through a community. I think that's like the best thing I could do in life.
Kulap Vilaysack
The next thing we're going to talk about, we've already talked about it. It's the necklace from Polly […] Industrial Puka Shell.
Humberto Leon 
So that's the Instagram photo that I stalked. And then I saw him in person. And I was like, Polly, I need that necklace. And he was like…
SuChin Pak 
Wait, did you know Polly before?
Humberto Leon
I didn't know him before. And I will say he did say to me, that conversation you had with me, aka when I like approached him at the club and said I need that necklace. He was like it was really inspiring. So hopefully my urgency for the need for product really created something.
Kulap Vilaysack
Look at what I'm gathering. And what I'm knowing in just the few minutes on your birthday that I have had the joy of being in present for is that you're what we call a world expander. And so that's what you do. Sure. It's for your own reason I want that necklace. But that amount of focus. And it makes him go, oh, maybe my world shall expand to where I make industrial puka shell necklaces. That's what it is, you expand, you're an expander.
Humberto Leon  28:05
I think, I guess so. Yeah, my, I guess my desire for I mean, also, if I see something good, and I think it needs to exist in this world. And I think that it's an opportunity that somebody should take advantage of. And like, if they love it, to go for it, I will be the person that will champion that like 1000%, so I am that person who's like I've always said you can't let any opportunities go like anything you do needs to be something that is meaningful. It goes back to like, you know, every commercial I did for Kenzo or every anytime I got like a budget, I was like this has to count and it has to be longer than you know, fashion is like such small cycles. It's so sad like fashion expires in six months. And I wanted to create things that I can reflect back on, I have this like 20 year look back that I always think about like I want to look back in 20 years and say I remember that, I remember that moment of when that happened. And so I think it's important to create things that last longer than the product themselves. If that makes sense.
Kulap Vilaysack 
And now a slight turn. Let's get into this four pack folding wardrobe storage box plastic drawer organizer, stackable a shelf basket, this this is an Amazon link but it just feels like Bed Bath and Beyond.
Humberto Leon
The reason that didn't get purchased is because I was looking at a lot of these things. I recently was reorganizing my room. And I was like, I need something that could stack high. So I could like really put sweaters and things up high. But, and then I was like, oh, there's these cute ones from hay and all these different brands. And then I was like, let me look at the Amazon one. And I was like, it kind of hits the spot. But I don't know if it's, you know, sometimes I'm like, is that the quality? Is that what I want to display? My clothes? You know? For my Sex in the City closet moment. So, I don't know. It's like the function is there. But I don't think it's going to hit the mark. When it comes to like the design. They slide, they slide and they stack and they have an open front, which I find really important. So, it has a lot of interesting function.
SuChin Pak  30:52
But it doesn't have that, hey, green, greens, pas deli, and the color coding.
Kulap Vilaysack
Or even sort of a Yamazaki home vibe or something it doesn't quite have. I don't see […] spinning around and around. Manolo's in front of these. The idea of what you want to do, of course, is absolutely arousing to me, but I am seeing what you're saying about the aesthetics.
Humberto Leon
So sometimes I do that. And I think okay, I just need the measurements to see like, what how, if I want to build it out of wood, or if I want to, I just need the measurements.
SuChin Pak
Now are you like a DIY person, Humberto?
Humberto Leon
I am, I like DIY quite a bit. I mean, I like making things a lot. So anytime I find somebody who could, like fabricate anything, I like am on them, like a crazy person because I want to make stuff. I'm just really inspired by people who can make things and so even if it's something I didn't even think about, I'm like, okay, so I'm going to design something with you. Because I'm obsessed with the maker.
SuChin Pak  32:02
Because I mean, I'm just saying, you know can have pastel spray paint, I'm not a DIY'er. You know, you get these little bin cubes and suddenly, they're Swedish, you know?
Kulap Vilaysack 
Our last episode, didn't I see that your bedazzling sandals?
SuChin Pak
Humberto, I was like obsessed with these Marnie hot pink fishermen, nylon, bejeweled sandals. $950, Humberto, do I look? What is this? Just new to the market here? Yeah. And so what I started to do was like, could I DIY it, because it did feel like I could just get a whole bunch of gems and like, hot glue gun it? So, I've got the elements. I've got like a ZARA Nylon fisherman sandal. So, Zoey and I are gonna figure it out.
Humberto Leon 
What are you waiting for? You got to do it.
SuChin Pak 
I'm gonna send you the picture. And maybe you're gonna want one and stalk me. And I'll go to an art gallery and sell out.
Humberto Leon 
You better do a before and after.
SuChin Pak
I'm going to do a before and after. And we shall see. You know, the thing about DIY, I'm terrible at it. But also, when you're trying to do a version of something that you already saw, and that thing is amazing. You're like, I'm looking at this, that squinting my eyes being like, I don't you know what I mean? It's like this container cube. I'm like, if I look far enough, and I find just looking at it the right angle, maybe? Like off my contact.
Kulap Vilaysack 
And I take the lights down.
SuChin Pak 
I put on visors and a hat and scarf. Can I see this across the room and be like, is she wearing the Marnie sandals? Like, do you know what I'm saying? So like you, like this container bin cube? All the elements are there, you know, but is the fantasy there?
Humberto Leon  34:16
It's true. You have to make it to see.
SuChin Pak 
Yeah, I'm gonna make it. I did send it to another good friend of mine who was very fashion and I was like, Yay, she was like, yay. So I'm gonna send it to you because you're gonna tell me the cold hard truth where you're like girl that's for Whole Foods. And nobody else no other eyes shall see this other than the grocery store.
Kulap Vilaysack 
We have to let him go and enjoy his birthday. But real quick. Do you intend to wear your hiking socks with these?
SuChin Pak 
I bought the sandals in Black because I just put a hiking sock. Come on, Humberto. You know, I gotta be comfortable and I'm not pedicure ready. I haven't been pedicure ready in four and a half years.
Humberto Leon 
I love a hiking sock with a fisherman sandal.
Kulap Vilaysack
He is fashion but just your bejeweling sandal sandals, which makes people's eyes go to your feet when you're like, I shall not get a pedicure.
SuChin Pak 
That's too far. No, that's time wasted. I'll never get that back.
Humberto Leon 
I wanted to see this Marnie sandal, because I was gonna say to you that I'm also obsessed with the origins of things. And Melissa did a collaboration with this amazing Hong Kong designer who did the dazzled fisherman sandals. And they're like, probably like $125. I will text you and let you know this. I'll find it for you. But I feel like you can get the OG, the real deal for a lot less.
Kulap Vilaysack  36:13
They're called fisherman sandals and not jellies?
Humberto Leon 
It's a little bit of both. They originate from Brazil. I mean, Brazil is known to produce these, those jelly sandals. Okay. Okay, but I think they're used for fishing and they are made of jelly. Not jelly as in like jelly fish. Jelly as in like, the material.
Kulap Vilaysack 
Humberto, thank you for your knowledge.
Humberto Leon 
I needed to clarify that; your audience needed that clarity.
Kulap Vilaysack 
How can we find you on the internet's, the interwebs? How can we follow your ever expanding career?
Humberto Leon 
I mean, I'm on Instagram. That's probably the easiest. And yeah, on Instagram. Just Humberto. I was lucky enough to get my, just my first name. Like Kate and Naomi.
Kulap Vilaysack
Oh, wow. The same.
SuChin Pak
I mean, come on. Humberto, be honest, when you log on, you know, multiple times a day. Does that not just still give you a little thrill? You've got just your first name. It's amazing.
Humberto Leon 
Let's say every Humberto known to man, DMS me saying, yo, man, give me your Instagram. Give me your answer. Like literally every day. I have somebody asking me.
Kulap Vilaysack 
I can't even, I am Kulap. Somebody had Kulap and I'm like, there's like five of us. Oh, man. So messed up. I know. Thank you so much. I hope you enjoy the rest of your day.
SuChin Pak
Appreciate you.
Humberto Leon
This was so fun. Thank you for having me on.
SuChin Pak
Happy birthday.
Humberto Leon  38:01
Thank you.
SuChin Pak
Alright, that's it for our show. For everything Umberto talked about. Maybe you'll see the reveal of my DIY sandal head to our Instagram at @AddToCartPod.
Kulap Vilaysack
Leave us a voicemail we have giveaways. I haven't done one of those in a while, Su, call us at 833-453-6662 that three six, is like the mark of the devil, the beast.
SuChin Pak
Oh, oh, well, but I didn't know we're gonna go there. See you next week.
CREDITS
ADD TO CART is a production of Lemonada Media. Our producer is Claire Jones and our mix is by Ivan Kuraev and Veronica Rodriguez. The music is by Wasahhbii and produced by La Made It and Oh So Familiar with additional music by APM music. Executive producers are Kulap Vilaysack, SuChin Pak, Jessica Cordova Kramer and Stephanie Wittels Wachs. Be sure to check out all the items we mentioned today on our Instagram at @AddToCartPod. Also, please take a moment to rate, review, and subscribe to the show wherever you get your podcast.