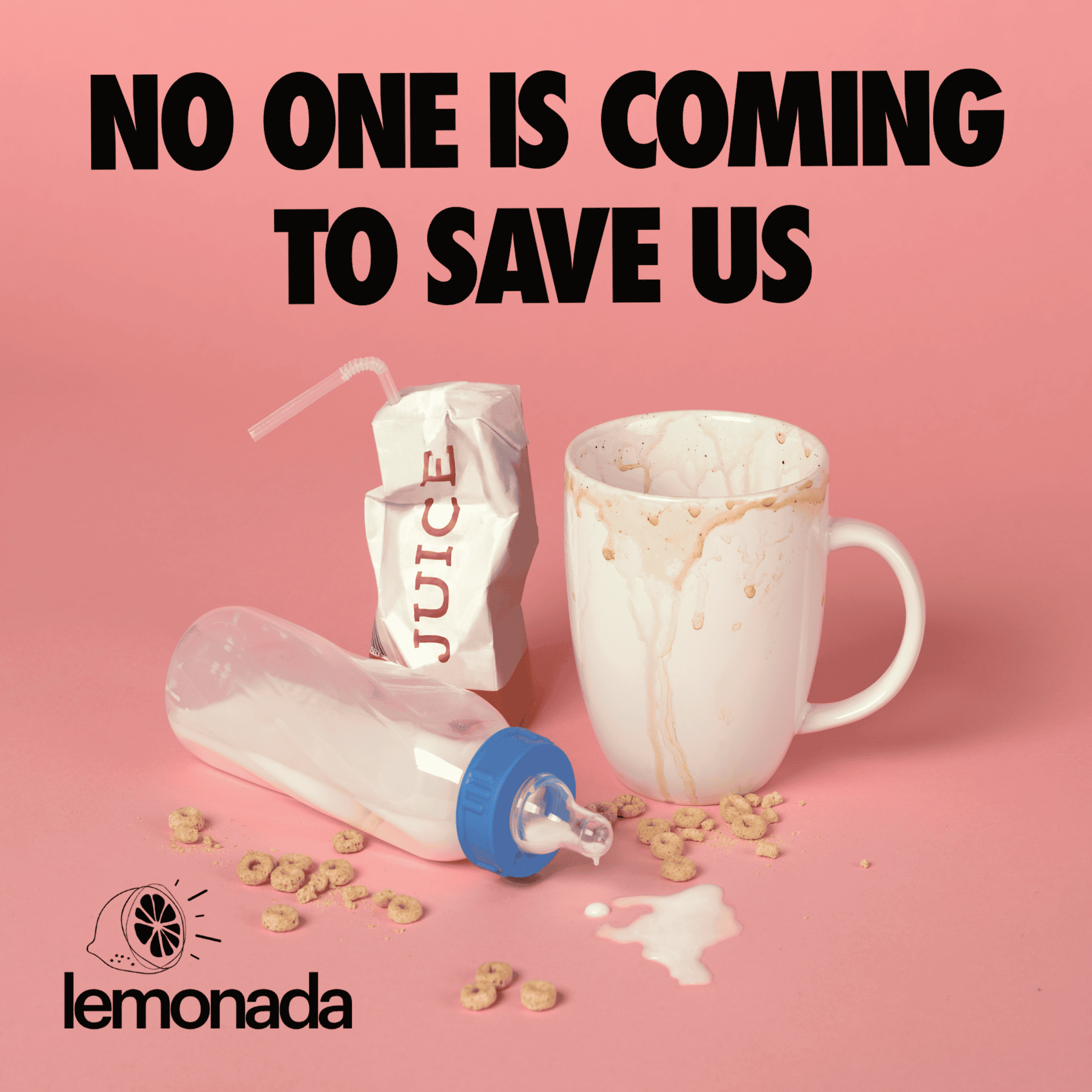 Inside an Abortion Clinic the Day Roe Was Overturned
Subscribe to Lemonada Premium for Bonus Content
Description
As we continue to investigate what life looks like for pregnant people and parents in a post-Roe America, Gloria sits down with an abortion clinic nurse who was in the middle of a procedure when the news broke about the Supreme Court decision to overturn Roe v. Wade. They talk about what it was like in the clinic that day, what this decision will mean for the country's remaining abortion providers, and how it will impact those who already have difficulty accessing reproductive care. Plus, she tells Gloria about some of her most memorable patients, including girls as young as 11, 12, and 13 years old.
This podcast is presented by Neighborhood Villages, and is brought to you with generous support from Imaginable Futures, Care For All Children by the David and Laura Merage Foundation, and Spring Point Partners.
Joining Lemonada Premium is a great way to support our show and get bonus content. Subscribe today at bit.ly/lemonadapremium.
Click this link for a list of current sponsors and discount codes for this show and all Lemonada shows: http://lemonadamedia.com/sponsors/.
Laugh, cry, be outraged, and hear solutions! Join our community: https://www.facebook.com/groups/nooneiscomingtosaveus.
Stay up to date with us on Twitter, Facebook, and Instagram at @LemonadaMedia.
For additional resources, information, and a transcript of the episode, visit lemonadamedia.com.
Transcript
SPEAKERS
Gloria Riviera, Speaker 2
Gloria Riviera  00:00
IN THE BUBBLE with Andy Slavitt is another amazing podcast from Lemonada Media. The network that makes this show. Host and former White House senior advisor for COVID response, Andy Slavitt is here to help you make sense of tough issues from COVID to America's gun crisis to climate change, abortion rights and beyond. And he breaks down the most complex news stories of today in a way that is easy to understand, and gives you the information you need to keep you and your family safe. And in the bubble, they believe the most comforting thing for all of us is knowing what and what not to worry about, IN THE BUBBLE has new episodes out Mondays, Wednesdays and Fridays, wherever you get your podcasts.
Gloria Riviera 
This is NO ONE IS COMING TO SAVE US, a Lemonada Media original presented by and created with neighborhood villages. I'm your host Gloria Riviera. Hi guys. I am glad to be back with all of you this week. And I'm just going to play Captain Obvious for a second and say that the past few weeks have been tough, rough and tough. Another mass shooting, COVID surging all across the country. And of course the loss of Roe vs. Wade. I feel like no one is coming to save us has taken on a whole new meaning. A whole new purpose I guess since Roe is overturned. More unintended pregnancies means more children, and our already threadbare childcare system in this country. Well, we thought COVID was rough and tough. Now, now it's going to be pushed to the brink. That's why on this show, I want to tell you, we are going to continue to investigate what life looks like for pregnant people and parents in a post Roe America. In the coming weeks, I'll be talking to the people affected by this ruling, to the people fighting to restore our rights, to the people who saw this coming, and the people on the frontlines giving care. Which brings me to our guest today. She's a nurse in an abortion clinic on the East Coast. And she was in the middle the very middle of prepping a patient for an abortion when Roe was overturned. She is asked to remain anonymous to protect herself her clinic and most importantly her patients. What I can say about her is that she works in one of just a few clinics in her area, an area where abortion is likely to remain legal and serves as a safe haven for those seeking abortions from states where it is now banned. She's going to tell me what it was like to be in the clinic on the day the news dropped, tears were shed. She'll tell me what it's been like at the clinic in the weeks since Roe was overturned. People calling every day long waiting lists to get an appointment, people having to wait weeks and in some cases, months just to be seen. She says that clinics like hers will be completely overwhelmed as a result of this decision. That is already happening. We'll also talk about some of the most memorable patients she's seen at her clinic, some as young as 11, 12, and 13 years old victims of rape and incest. It makes her stomach turn. And yet she talks about all of this so calmly, I can see why she'd be the person you would want with you. Holding your hand literally and figuratively, once you get to our clinic, when you're having a really difficult time after making what is never, never an easy decision. But it is a decision she will tell us in its own way is a welcome open door to life, so many women choose a life that belongs to them. Her message is clear. The overturning of Roe versus Wade is going to result in a lot more unwanted pregnancies, which means more maternal deaths and poverty and childcare issues. But like I said, she is very calm as we all should be, as we need to be. All right. Here's our conversation. I want to say it's good to see you it is good to see you. And you just came from work. So let's start there. Where were you when you found out that Roe v Wade was overturned.
Speaker 2  04:38
I was doing sedation in a procedure helping someone become unpregnant as we say, and we got a notification on our phones that Roe had fallen and that we were going to be one of the few places on one of the coasts basically that allowed this type of procedure to go on, and we were going to be a safe haven for many people in banned states to continue to come to us. But it was a very sad moment and a lot of tears were shed by myself and my co-workers in different rooms.
Gloria Riviera 
You were in the middle of a procedure doing sedation? I mean, that's pretty far along in the procedure.
Speaker 2 
Yeah, we were finishing up and someone sort of motion that their phone saying Roe fell. And we all sort of took a moment. You know, in my line of work, when I was treating a patient, like, I can't really get distracted for too long. But there's definitely a moment in your heart that sort of falls along with it, that so many people in this country are going to be limited by this. You know, sad, sad day.
Gloria Riviera 
I've talked to people who say, you know, we knew this was coming, we knew it wasn't just the document that was leaked by Politico outlining Alito's decision. But they've been prepared, they've had more time than most. And I guess my question is, do you feel like you were ready to hear this news? Or are you just never ready?
Speaker 2  06:09
I don't think that anyone was ever ready. But I think that a lot of us, were sort of prepping for the worst that you know, that we thought that would happen would happen. I think that no one can be ready. It's kind of like you can't catch up on sleep before you become a parent or something like that, you know, you can't really get all the procedures done that need to be done before this becomes illegal in several states, people are calling every day, people are waiting outside of clinics, and on wait lists for weeks and weeks. And in some cases, months. And it's not something that you can really sort of catch up on ahead of time, because the work is done every single day. And there's a wait every single day, because of already restricted access in many, many states. You know, on that day, it was very sad. And it's a sad reality that we were waiting for it hoping for a small miracle that didn't happen.
Gloria Riviera 
To the patient that is sedated. And you're going forward with the procedure, knowing your work life is about to change dramatically. I mean, that's what I've grasped so far, that there are places in this country that are safe havens, you happen to work in one of them. What do you anticipate happening?
Speaker 2 
So I think that in a clinic like ours, which is a specialty clinic that specializes in abortion procedures, in a later number of weeks that other clinics probably couldn't see. And a lot of high risk patients that other clinics probably couldn't see, our waitlist is very long, we have referrals from maternal fetal medicine specialists and OB-GYN from all over the country saying this pregnancy is lethal to the fetus, or is very, very complicated for the parent carrying the fetus. And this is a really, really big problem. And we have patients with lots of social problems and lots of financial issues and health issues. And, you know, we can only see a certain amount of people, we try our best to increase our volume, but it's really difficult to realize that around half of the states in this country are going to ban access for people that just found out they're pregnant or needing a procedure much, much earlier on, which could save a lot of these people from having problems down the road, if they had gotten the care, they wanted to get much, much earlier. And it's super, super sad, because, you know, we see people that really wanted to get an abortion at 6 weeks, at 9 weeks, at 12 weeks at 15 weeks. Lots of these numbers have dates that they could have gotten care, but either the waitlist was too long, or they couldn't get there, or some sort of barrier happened to them, or they couldn't get to their appointment or the waitlist was too long. And now they're being placed out of every clinic they go to, and now their radius of where they're going is getting a lot further and further. So you're getting patients that are traveling 500 miles or 1000 miles and then all of a sudden, it's impossible.
Gloria Riviera 
Let's talk about your clientele, because you see a lot of different kinds of people in already you've mentioned. Okay, so pregnancies that are in the later stages, and it is determined by a medical provider by the doctor, this is not going to be a healthy pregnancy, either for the fetus or for the mother and that's life of the mother is in jeopardy. So why does it take so long to find out that news and how do they then find their way to your clinic?
Speaker 2 
So a lot of times in pregnancy, the ultrasound hasn't shown a problem yet at 20 weeks or at 24 weeks or you know, when they've gotten an ultrasound or they haven't had testing or the testing was normal before and now it's not or something was just found.
Gloria Riviera 
And what are those some things that are I mean, I remember waiting so anxiously for what is it the 20 week scan?
Speaker 2  10:03
Yeah, lots of skeletal problems.
Gloria Riviera
Stuff you do not want to hear, that moment in the doctor's office when you can tell.
Speaker 2
Lots of congenital heart defects of, you know, different syndromes.
Gloria Riviera 
Bottom line, things are revealed much later, in the weeks of pregnancy than we typically think might be. I mean, I have heard those stories from friends and read about them, of course, but it just, I feel like I'm in a stage where I need to say things out loud to make them be true. So that happens, right? And so then they're told what, you have to face this?
Speaker 2 
You know, this pregnancy is a danger to you, it's not going to survive. You know, your life is in danger as in like your children's lives are going to be affected if something happens to you. That's one I've heard a lot. I mean, if this parent continues a pregnancy with complications that they may have, and something happens to them, you have their previous kids parentless. And a lot of times, that's the only parent that's taking care of them. And that's only parent in their lives. And then they are essentially orphaned. And so, you know, I've heard plenty of times that, you know, that I had an issue with the pregnancy. And the doctor in my state said, yep, that's something you know, something's definitely wrong. But you know, that baby's very valuable to, and I'm really sorry, but, you know, it might be more valuable than you are or like that the pregnancy is basically worth more than the person carrying it. And that's hard to hear. Especially when you hear about pregnancies that already have a lot of problems. And a pregnant person already has a lot of health issues. And the best way to handle this is to not be pregnant anymore. And by kind of any means necessary. And it's really, really hard to hear when, you know, a physician, and the quote, the best interest of the patient is also telling them that they don't matter as much as their pregnancy. And we have had many people with many problems, many issues, many health issues that have been told that and, you know, I can't imagine what that does for their self-worth and their self-esteem that someone saying that their life isn't as valuable.
Gloria Riviera  12:26
You know, we say like saying it out loud helps. But we have said over and over and read over and over, even when the mother's life is at risk, right? Even in the event that delivering might kill the mother. But hearing you say why anyone would ever hear that it just makes it so much more acute. And so you see those wounds, so they get to you. So let's turn to page. And if we can talk about when you're at your clinic and you see someone whose life is in danger, if they continue with the pregnancy, and they have the procedure they are then unpregnant. What does that do to your spirit? And why you chose this line of work when they walk out the door no longer pregnant?
Speaker 2
I mean, that's a common question that I get a lot is how do you do this work. And you know, most of the time, what I say is, I watch people walk through this journey, and I help them get there. And having them realize for the first time in weeks, or even months, that they are no longer pregnant and a no longer in such grave danger, to succumb to all these problems that they've been told they have is incredibly uplifting, and makes me feel like I really did help them through this process. And it's definitely like a rejuvenator that they can go back on with their lives. I've heard this countless times that I can't believe I have my life back. What do you mean, I have my life back. And they don't remember their procedure, but they remember that it's over, even though I might have to tell them a couple times. But it's like telling them several times that yes, it's over. You are okay. You know, you have your life back, you have your freedom back. You can go back to school, you can go back to work, you can have your families again, and you're not burdened by this sort of nightmare that's being created with health issues with issues in pregnancy.
Gloria Riviera  14:39
Can we talk about something that I know you have experience with that is difficult to talk about but we are saying the difficult things out loud at Lemonada and particularly with reproductive rights. So you have seen very young women come into your clinic? Who are they?
Speaker 2 
Most of our, I believe most of our very young patients.
Gloria Riviera 
How young is very young?
Speaker 2 
11 years old, 12, 13. And these a lot of times are patients who really know nothing about reproductive health, they didn't know nothing about sex ed, they weren't taught anything about their bodies yet. And, you know, once in a while, it's because of, you know, something organic and experimenting, whatever. But a lot of times it is because someone was coerced or forced to have sex and resulting in a pregnancy that they didn't know how that worked. And they didn't know, you know, that was happening to them. And they are left traumatized, on top of being pregnant. And sometimes that comes with, you know, legal ramifications and, and mandated reporting. But you know, it is a really hard thing to have to consent a 12 year old to, you know, a procedure that involves a speculum, and medications, IVs, you know, blood draws, you name it, all these little things that accumulate into this experience that this patient has to go through.
Gloria Riviera  16:11
How do they get to you? How do they know to come there, who brings them?
Speaker 2  16:14
Most of the time, they go to a clinic, because something feels different, and a parent takes them, someone takes them, and they find out, they're pregnant, and they have to then go get an ultrasound at a local clinic, or, unfortunately, a lot of states have what we call crisis pregnancy centers, which are basically fake clinics that advertise themselves as a clinic that will help women in crisis with you know, unwanted pregnancy. But when you get there, you are basically given an ultrasound given very, a lot of times religiously based information, urge to keep the pregnancy, put the baby up for adoption, that they'll help you with diapers.
Gloria Riviera
You've heard this happening with like 12 or 13 year old girls?
Speaker 2  17:01
Many, many states have CPCs, these are generally fake clinics, a lot of them do not have proper training for ultrasound it's hard to listen to, and it's hard to see one exists, but here are a lot of CPC is in the US. And you know, you can they're a dime a dozen, you can go to any suburban town, mostly in the southern states, but they're everywhere. And it usually has the word pregnancy in the title crisis somewhere. But anyway, they go to a clinic and find out how far along they are. And sometimes it's farther than their state allows. And in many states, you know, even before Roe fell, it was 6 weeks, 9 weeks, and for a 12 year old to realize that they're pregnant, and then to get themselves to a clinic and then get themselves to an ultrasound appointment. I mean, I could never in my life organize any of that alone as a child, you're old, right? And so you know, if you find out that you're farther than your state's limits, then you are forced to figure out how to proceed. And so you know, and I'm not just talking the younger patients, I'm talking all of our patients are forced to figure out how are they are going to get to a clinic that can give them care. And there are only you know, a handful of clinics that we all kind of work together, more or less to figure out how we're going to get these people cared for. And sometimes if they're over, you know, a certain amount of weeks, they have to then go farther. And we're one of the clinics that will take people that are a little bit farther, and then they have to figure out how they're going to pay for it. And clinics that go further along. They're not inexpensive. And a lot of times they have to be referred out to a funding organization that helps people pay for procedures lodging, childcare, food, a lot of times and travel. So it can be very costly. And you need people on your side. And it's really difficult to hear a mom talking about how she had to get her, her 12 year old or 13 year old out of school to come to, you know, our clinic and organize everything and take off work and also file legal action against the assailant.
Gloria Riviera 
Right, because that's all going on as well. And I know you've said before, sometimes these girls know their assailant.
Speaker 2 
Yeah. Lots of times. Yeah. Or their family members.
Gloria Riviera 
Right. It's a case of incest. Yes. I mean, all of this, like, makes my stomach turn. Yeah. You know, and I'm getting used to that and getting used to figuring out what to do with that, you know, like myself have grown up with Roe being the quote unquote, law of the land. And yet already, in the years that you've been at this clinic, you've seen the barriers and the challenges that exists. While this so called I think we can say now constitutional right has been in place. What do you anticipate happening now that we are where we are. And it makes me think of two things. You mentioned the word nightmare, which was a word that is sent used, right. And something to the effect of pregnancy can be a wonder when it's a wanted pregnancy, but can so quickly be a nightmare.
Speaker 2  20:31
I mean, we get people that have had years of infertility and have gone through $50,000 of IVF. And to be told that this pregnancy is lethal to itself, has lethal anomalies, or otherwise. And this family has to then determine how they're going to make the journey to, you know, get this handled. And that's what I'm talking about by the nightmare. On a different end, you have the 12 year old assault victim. And then on the other end, you have, you know, a family that has been having issues for a long time finally gets pregnant, and has somebody that they don't feel that they can handle, or that is impossible to live outside of birth. And they have to make this decision. And it is gut wrenching, as you watch families be, you know, arrive at the door, just sobbing in the elevator, in the hallway at the door sobbing and having to walk them in and start the process of telling them what's going to happen, and trying to be there, supporting them and trying to tell them if they're religious, that they're not going to hell.
Gloria Riviera 
It's resonating with me right now. Because I at one point said, you know, who has a planned abortion that I don't really know anybody who has a plan to abortion, but what you're saying is, you know, this may be a wanted pregnancy, but there are reasons why it should not go forward. So that would fall under what could be interpreted as a planned abortion, but on a different spectrum than these other quite horrific stories that we hear about. And I still, as I say it out loud. You know, it's like, it's still going to be illegal in all of the states in which abortion is now banned. For all of these reasons. That are horrific.
Speaker 2  22:23
I mean, I always say, when people ask me what I do, or we get to talking about it, I'm not really out with everyone in my life that I do this work, because it can be really taxing to explain, but I mean, I always say when I get to it, that no one plans an abortion, and no one gets pregnant to them. And in abortion, this is not ever anything that someone wants to have happen, no one that walks through our doors, wants to be there, not a single patient. And that's like a 100% fact that, you know, no one plans to be there. And this is a journey for every single person, whether they didn't know they were pregnant until a certain amount of weeks, whether they had a horrible anomaly, that they're heartbroken over whether they were assaulted, whether they're 11, it doesn't matter. And you know, or whether they just don't want to be a parent, it really shouldn't matter. At the same time, on that end, no one wants this. And so everyone that comes to our doors, has to go through this mental gymnastics of getting themselves there. And then going through with this, at the end of the road, you know, this is not a painless procedure, either. You have to go through steps to get yourself through the procedure, even though you have pain medicine onboard. And it's just such an ignorant view that someone would choose this, that didn't have to have this happen to them.
Gloria Riviera 
You spent your career taking care of women who, you know, are having babies and all sorts of different scenarios. But you made a change, you went from a hospital to a clinic. Why did you do that?
Speaker 2  24:01
So yeah, I worked as a labor and delivery nurse for almost a decade. And I started to see the spectrum of reproductive care from uterine aspirations or first trimester abortions for that very fast procedure, still, sometimes a very difficult decision. But, you know, it's the typical under six weeks procedure that we see that we always hear about all the way to delivery of babies, and you start to see the spectrum of that, and how people are treated in both cases. And in hospitals, a lot of times they have abortions for medical reasons, as one of the reasons that they'll do you know, an induction or they'll keep that patient on labor and delivery to deliver them. And I started to see the judgment, kind of weighing upon some of my patients that chose this route for medical reasons whether that was fetal or All maternal. And even still, I mean, I have had a patient who had lethal anomalies, her water had already broken, she was bleeding. And I still heard chatter, saying that she was killing her baby, in the hospital. And you know, you can only listen to that for how many years that, you know, you want to snap back, saying that, like no one chose this. And she was at a hospital that decided to not give her care. And they transferred her to our hospital. And you hear about that more and more now that, you know, a patient has gone into preterm labor and the baby can't survive. And these parents are left with decisions of like, well, now what do we do, we're in Texas, you're telling me that I have a 19 week fetus in my uterus, and my water broke, and you're not going to give me any medication to help deliver it. And so I became the person that took all these patients. And at one point, I found out about this clinic and started shadowing there. And I found out about the mission and decided that I wanted to give this a try, because I had already done lots of nursing tasks in the hospital field, and been a seasoned nurse in labor and delivery. And then I could apply that to my clinic work, I found that the joy that I got from helping a mom through a delivery of her little baby, the joy I got from helping someone through that pretty much compares to an equal amount of joy I get from helping someone get through the journey of getting their life back.
Gloria Riviera  26:46
Again it makes me think of the descent. So you are there when the Wonder happens, right and unwanted child is brought into this world. And you're also there to take the nightmare away.
Speaker 2
Exactly. And so I decided that I could make that transition and go to clinic work full time and help these patients come from all over the country and honestly all over the world to get the care they needed that potentially wouldn't be given to them any other place.
Gloria Riviera
So what does it look like? At the end, after you've said it's over? You're okay..
Speaker 2 
Almost all the time. They cannot believe that everything that they heard from horror stories, or too much googling or YouTubing didn't happen, they can't believe they're okay. They can't believe that they can go on with their lives that they can finally say goodbye, they can finally have closure that they can finally say goodbye to the amount of risk they were in for a number of weeks, they can finally say goodbye to just the panic that they were you know, I have patients that say like, I haven't slept in weeks, I haven't slept since you know, the doctors told me that there's something horribly wrong. I haven't slept since I told my kids that they aren't going to have their little sister, I come back home. You know, the thing is, there's another group of people that decide not to terminate for pretty much lethal anomalies, and they decide to carry the pregnancy to term. And they have to say goodbye to at the end of pregnant when they go into labor when they're induced whatever. And they have to go to the hospital and they have to birth that child and say goodbye, then. And some people believe that it's not as you know, it's, they people believe both sides that abortion is cruel and inhumane. And some people believe that carrying a child that's going to be born and live a very short life and a lot of pain with a lot of surgeries and everything afterwards is more inhumane. But whatever you choose to bleed, that should be your choice. At the end of the day, you know, it's your life that has been going on for all these years. And you need to decide what is going to be better for your mental health, and whatever you believe that's the whole point.
Gloria Riviera 
I mean, it sounds like to me, what I'm hearing is that, you know, through doing this work that by the time a woman walks in the doors of your clinic, the decision has been made and it was her decision and she moved mountains or an advocate for that person moved mountains.
Speaker 2 
We do a lot of work with making sure that this patient is competent and their decision, is well thought out. If there's any doubt in their voice in their answers in how they come off. We discuss it fully. I do not want to ever have someone say that. They feel that they were coerced into making a decision whether it was to keep the pregnancy or to terminate the pregnancy, I don't want anyone to ever say that they didn't think that they got to make that decision on their own.
Gloria Riviera  30:06
And has that ever happened to you at the clinic?
Speaker 2 
No. I mean, that's the thing we go so kind of above and beyond to make sure that the patient is sure that I think that the patient sometimes sort of, I think, probably laugh at us that like. We're very consent based clinic, you know, can I touch you? Can I touch your shoulder? Can I hold your hand? Can I talk to your mom, just like I talk to you and stuff like that? And so I think that they get to know us, and they realize we're in this for their best interest, and then we're trying to make them as comfortable as possible. And that, above all else, we want to make them feel supported, so they can make the best decision for them.
Gloria Riviera 
I know, you know that more unwanted pregnancies will mean more children, will mean more child care strain. Right. It'll mean, more children that need to be taken care of on in what is already a threadbare system.
Speaker 2 
That's one of the biggest barriers for people to miss their appointments, because they can't get childcare.
Gloria Riviera 
Right. Right. So that's keeps them away from their appointments, and will only get worse if they don't have that appointment. Because there will be more children. What is it like? What has it been like in the last, I guess? Where are we now since Roe was overturned? What is it felt like in the clinic and with your coworkers?
Speaker 2
So I mean, like I said on that day, and it was a very sort of somber couple of hours. But we definitely needed to kind of pick back up and keep working, because we're, I guess, frontliners here. We can only serve as many people as it's safe to. But I think that donating to abortion funds is one way because it's going to be expensive. And it's going to be time consuming. So you need to get there as soon as you can. And so what you're going to probably end up doing is calling to get an ultrasound calling a clinic and then getting funds. And the funding organizations are the ones that really kind of carry us to get our patients to the doors. Because they have to have hotels, they have to have food, they have to have Ubers to get everything, everything, childcare sometimes. But that's hardest to think about, is that how people are going to get safely from their band states to us or to other clinics throughout the country.
Gloria Riviera  32:24
And was there a lot of hugging that went on that day?
Speaker 2
Yeah. I mean, yeah, back to the that day. I mean, yeah, it was, it was really, really sad. I mean, that we did have sort of that heads up, which I think probably took the sting out a little bit out of the shock value, shot the surprise. But my point with getting to a clinic closest to you is that these clinics that are open in states where it is going to stay legal, are going to be completely overwhelmed, right, and we already feel that we've had to change a couple of our protocols for the overwhelm, but trying to kind of divvy up. The people in this country that needed reproductive care to a certain amount of clinics that just probably got cut down by a half or more is going to be really, really difficult. And like you said, it's going to result in more unwanted pregnancies, more maternal deaths, injuries, a ridiculous amount of childcare issues, poverty, the list goes on.
Gloria Riviera 
I know, the list goes on, like a domino effect. I mean, this will be the fight of my daughter's life. She will not grow up with this. And she is, you know, a young white woman in this world who will have I hope, what would have had cm still speaking, like, I'm still grappling with it, but she is someone who likely would have had access. And I don't know, my hope is that now, there is a renewed energy around this fight, you are in the middle, you cannot get closer to it.
Speaker 2  34:00
And the thing is, like, I think that some states, hopefully, are going to sort of ramp up their protections. And that's what I've heard is happening. I know that like where I am, it's more of a safe haven, they have told us that they are going to protect what we do as much as possible. And that was said to us by governing bodies, I guess.
Gloria Riviera 
And you believe that? I'm still getting my head around all of this, but you believe that, you feel like you've been told like you keep doing this?
Speaker 2 
I would hope that that that's going to be something that that's permanent. You know, clearly things can change. But we're pretty established at this point. And the place where we're operating out of is also very much pro-choice and not pro forced birth.
Gloria Riviera 
Well, I mean, that gives me it gives me hope and you know, I want to end on a hopeful note. And I go back to the way that you describe like the joy that you got as a labor and delivery nurse is equal to the joy you get in helping a woman have her life back. Yeah. And all the doors that opens, yes. Can you think of any patient that stayed with you where you knew, you know, something was on the line that this pregnancy was going to stand in the way of, and..
Speaker 2
I can mention several girls that were in high school, about to graduate, college about to graduate, you know, up for a job interview about to get their dream job. I mean, I can talk pretty generally about lots of people, right up to the line of something big in their lives that thought that that might not happen to them now, wanting to go to camp, for example, to your camp or something, you know, well, I get to go to cheer camp next week, like, that's one of an example of a couple months ago. And I was like, yeah, you can. And that seems like a very small example. But I see a lot of people that are right up onto the line of not getting to have not only their livelihood, but something big, and they thought they were going to lose it. And that their life was going to take a completely different path. And that they were going to be sort of sucked down into the world of, I didn't want this, I didn't ask for this. I was just ready to sort of give my life over to this pregnancy, this future child, this, the job I can't have, the degree I can't have lots of things because they couldn't get this type of care at any point. And they found us and now they can. And that applies to lots of different situations.
Gloria Riviera  36:51
I mean, I love that you talk about every example from you know, the 12 year old in a horrific situation, to another young girl who, you know, just wanted to go to cheer camp. I mean, even as I say it out loud, I'm like, no, something happened to that woman, that young woman that she did not want.
Speaker 2
No. And you know, it's so much bigger than I think a lot of the conservative lawmakers make it out to be is it like, well, then don't have sex, you know, like, or then don't date, don't whatever, everything that they I can't even go into what they say because it makes my blood boil. But it's so much more than that. It's the whole like, okay, well, then you can tell you are going to, are you going to provide sex education? No. Are you gonna work? If I provide birth control? No. They're not going to do anything to either prevent, this teach more about it? And that's not a reality for pretty much anyone in this world I am. And it's just disgusting for me to hear that that's their take. And that all the way up to the line of rape, incest, horrible fetal anomalies, maternal life in danger, that they don't care. And that's what makes me so sad and so angry is that apparently nothing matters more than a pregnancy or a fetus that may injure or take the life of the person carrying it. And nothing matters and that's in you know, it's very hard to then internalize that me myself and you know, all my friends don't matter. Yeah, women in general, people, uteruses don't matter to them. And it's just, it's really disheartening.
Gloria Riviera  38:33
Well, I want to say thank you so much for being with me here. I have always long admired who you are and the work that you choose to do. And I'm gonna get choked up the love that you bring to your place of work every single day.
Speaker 2 
Thank you so much for having me, and we're gonna do in the work.
Gloria Riviera
Oh, thank you. cheer camp, graduation, college. It breaks my heart to think about the young people whose lives will be thrown completely off course, because they cannot access a safe abortion, where they live. And something I didn't really think about until this conversation. Even if you live in a state where abortion is going to remain legal clinics in your state are going to be completely overwhelmed with people traveling from other parts of the country. The overturning of Roe vs. Wade is going to make it harder and harder for people to get an abortion everywhere in the United States. So if you think this battle doesn't include you, that it doesn't affect you. Think again. We are going to continue to think about how the overturning of Roe versus Wade is changing the landscape of parenthood and care in this country. Next week we'll be having a conversation about how this is the culmination of a long history of discrimination against and control of black bodies in America. We will try to understand the vast impact this decision will have on communities of color. That's all for now. Thank you so much for listening. We'll be back here next week.
CREDITS
NO ONE IS COMING TO SAVE US is a Lemonada Media original presented by and created with Neighborhood Villages. The show is produced by Kryssy Pease and Alex McOwen. Veronica Rodriguez is our engineer. Music is by Hannis Brown. Our executive producers are Stephanie Wittels Wachs, Jessica Cordova Kramer, and me Gloria Riviera. If you like the show, and you believe what we're doing is important. Please help others find us by leaving us a rating and writing us a review. Do you have your own experiences and frustrations with the childcare system? Do you have ideas for what we could do to make it better? Join the No One Is Coming To Save Us Facebook group where we can continue the conversation together. You can also follow us and other Lemonada podcasts at @LemonadaMedia across all social platforms. Thank you so much for listening. We will be back next week. Until then hang in there. You can do it.