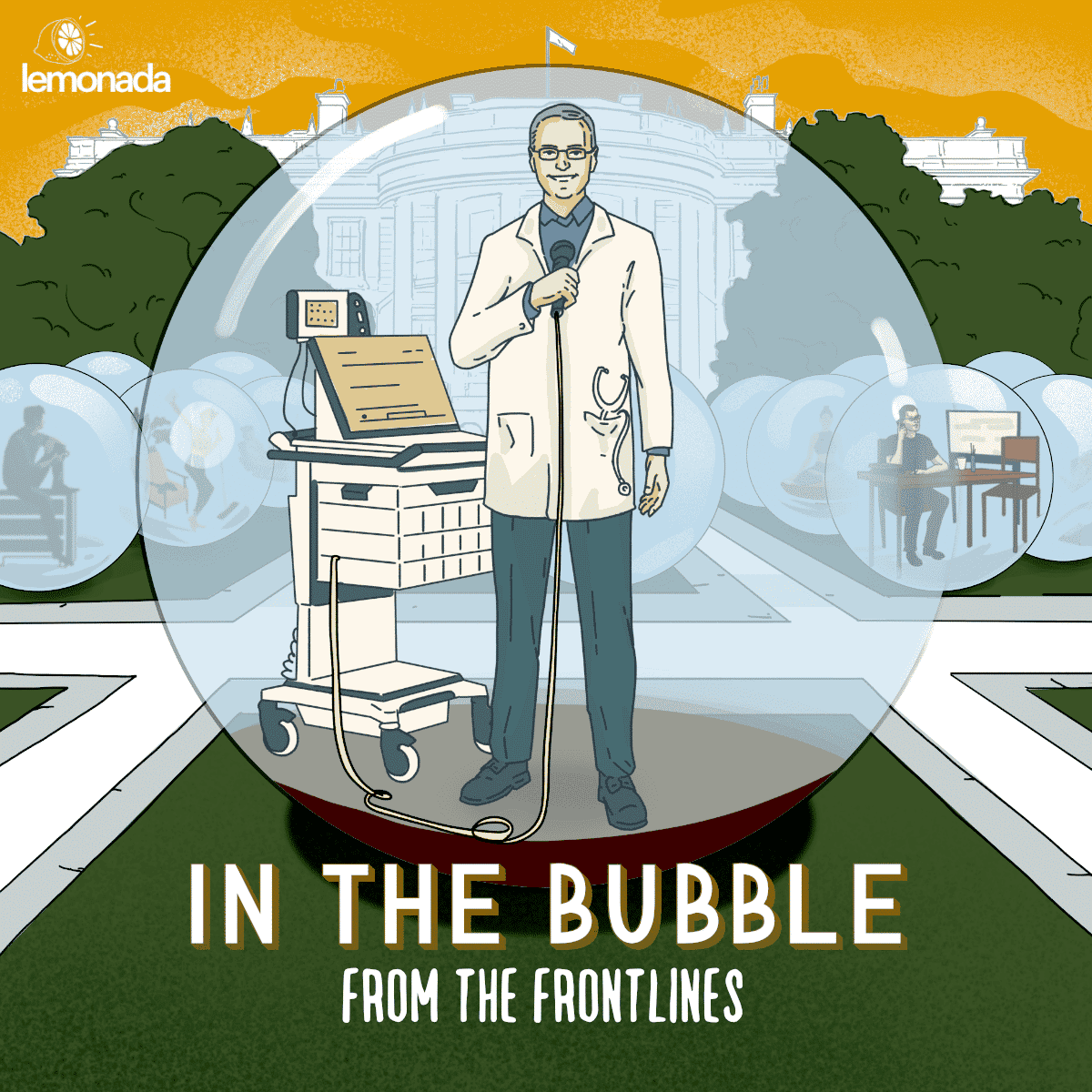 Inside the National COVID-19 Plan (with Atul Gawande)
Subscribe to Lemonada Premium for Bonus Content
Description
Dr. Bob calls up a friend – Dr. Atul Gawande – to bring clarity and empathy to some pretty complicated issues. Atul, a practicing surgeon and bestselling author, recently finished serving on the Biden transition's COVID-19 task force. Atul discusses the work of the task force, how best to handle vaccines and the schools, and what COVID-19 has taught him about our healthcare system, our politics, and our approach to death and dying.
Follow Dr. Bob on Twitter @Bob_Wachter and check out In the Bubble's new Twitter account @inthebubblepod.
Follow Atul Gawande on Twitter @Atul_Gawande.
Keep up with Andy in D.C. on Twitter @ASlavitt and Instagram @andyslavitt.
In the Bubble is supported in part by listeners like you. Become a member, get exclusive bonus content, ask Andy questions, and get discounted merch at http://lemonadamedia.com/inthebubble/
Support the show by checking out our sponsors!
Check out these resources from today's episode: 
To follow along with a transcript and/or take notes for friends and family, go to www.lemonadamedia.com/show/in-the-bubble shortly after the air date.
Stay up to date with us on Twitter, Facebook, and Instagram at @LemonadaMedia. For additional resources, information, and a transcript of the episode, visit lemonadamedia.com.
Transcript
SPEAKERS
Dr. Bob Wachter & Dr. Atul Gawande
Pres. Joe Biden  00:00
Today, I am unveiling a national strategy on COVID-19 and executive actions to beat this pandemic. This plan reflects the ideas I set forward during the campaign and further refined over the past three months. It consists of my transitions teams task Force, Tony Fauci and the team here today and other experts put this plan together. Our national strategy is comprehensive. It's based on science, not politics. It's based on truth, not denial, and its detail.
Dr. Bob Wachter
Welcome to IN THE BUBBLE from the frontlines. I'm your host, Dr. Bob Wachter. Well, you just heard President Joe Biden, that actually has a nice ring to it. President Joe Biden speaking the day after inauguration, about his administration's COVID response. One of the things that's remarkable about it, first of all, is that it's normal. And it's science and evidence based. But also how comprehensive it is, there are parts of it that deal with masking and testing and tracking the numbers and contact tracing and the vaccine rollout and the vaccine supply and support for the public health system. And for people whose lives have been displaced by COVID. It's impressive, and it's comprehensive.
Dr. Bob Wachter
But I have to say what is most impressed by watching the first few days of the Biden administration as it pertains to COVID is the tone. It is the first time in a year in which I feel like we're being treated like adults. We're hearing the truth that's unvarnished; it's not sugar coated. And it's not distorted by being processed through a political filter. And that, of course, is the way it should be. It's the way it should have been. But it's nice to see that rolling out, sort of forgot what that looks like. We're also hearing not only what the government will do, but also what we all need to do. And we're hearing what may happen, including the good news, but not all happy talk. Some of the bad news that we're all experiencing now.
Dr. Bob Wachter  02:06
And these variants really are worrisome, and we've got to take it seriously. So it just felt normal. I felt giddiness watching Tony Fauci and his press conference the other day, it's just that feeling you have it kind of felt like the way I felt the first time I tasted Ben and Jerry's ice cream is just like, Wow, this is so good and feel so good. And it was really fun watching Fauci give that press conference, it just felt like he'd been let out after being under house arrest for a year. Well, our new President has made a number of super personnel choices, because I know Andy is listening to this, I have to mention that Slavitt character, but also one of the ways I knew things would be okay was when he selected the members of his COVID Task Force.
Dr. Bob Wachter 
It was an all-star team that was looking at COVID from a lot of different angles. But one of the members of the COVID Task Force was the most thoughtful person I know in all of healthcare. And that's the person that we're lucky to hear from today. And that's Atul Gawande, you probably know Atul. So I'll be brief about his bio. He's a surgeon and author, a public health leader, and a friend. He's a surgeon at Brigham and Women's Hospital in Boston, and professor at Harvard Medical School, and the Harvard Chan School of Public Health. He's also the founder and chair of Ariadne labs, which is a health innovation center that he started several years ago, at Harvard.
Dr. Bob Wachter 
He's also a little bit of a writer, you may have read some of his things. He's a staff writer for The New Yorker, and author of four best-selling books, including Complications, Being Mortal, and the Checklist Manifesto. As a dabbling, physician author myself, I can tell you that all of us aspire to achieve Atul's level of clarity, insight and humanity that's suffused through everything he writes, whether it's in the New Yorker, or in one of his books, and if you haven't read his books, I'd recommend you go out and do that. So every time I have a chance to speak to Atul, I learned a ton and today is no exception. so thrilled that he's on and let's go ahead and call up Atul Gawande.
Dr. Bob Wachter  04:16
Well, Atul. Thank you so much for taking the time to talk with us today.
Dr. Atul Gawande
Delighted to be here, Bob. That sounds like a nice new, fun gig.
Dr. Bob Wachter 
Yeah. Well, it's an amazing opportunity to talk to the people I idolize about how they're thinking about probably the most important issue in the world.
Dr. Atul Gawande 
That's an embarrassing way to start, Bob, but okay. For two friends.
Dr. Bob Wachter
But it happens to be true. For the last couple of months, you had an interesting role as being on the advisory board for up to that point, President Elect and then president. So tell us what you can share about what it was like on the inside and were there? Was there a lot of consensus or were there some controversial issues that you had to work your way through?
Dr. Atul Gawande
Well, first of all, there were 13 people on the advisory board, including the three co-chairs, and it was an amazing group of people with expertise in a wider range than I've ever had around the table from Native American Affairs to immunology to production of masks, you know, like it was a great group of people. And then it turned out the further surprise was it was really backed up by an equally fabulous range of people on who are already on the transition team that people didn't really know about, like Caitlin Rivers, who's an expert in her own right, from Johns Hopkins. And, you know, the woman who had run the Obama pandemic response task force that had been disbanded by Trump.
Dr. Atul Gawande 
So, you know, they brought a tremendous amount of expertise to the table. Second thing that was, you know, sort of unexpected, but totally mundane, is just how sensible and rational it was. You'd have a meeting. Could be with the president elect and vice president elect, it could be with people making decisions in the transition. And basically, the meetings would start with, here are the issues. Here's the background and the facts. We'd put forward some recommendations, there'd be questions. Sensible question
Dr. Bob Wachter  06:17
Sounds normal.
Dr. Atul Gawande
And then there'd be a decision. And then people would stick with that decision, even days and even weeks later. And that's just such a balm for my soul. After these many years, you just got so used to the idea that that wasn't possible, and I hadn't even appreciated it.
Dr. Bob Wachter 
Let me just make clear Atul. Balm as opposed bomb.
Dr. Atul Gawande 
Yeah, a balm for my soul bomb.
Dr. Bob Wachter 
Yeah.
Dr. Atul Gawande 
And so that was, that was fantastic. And then, you know, every issue we would work our way through, would invariably have different points of view. And we would wrestle with it and sometimes simply report it out. We were not the decision makers. The aim was that where we could or when requested, we were taking the very broad stroke plan and trying to support the transition teams effort to turn it into an actual implementation plan, what became the 200-page Biden national strategic plan for the Coronavirus. And it was amazing to see that as much of those conversations turn up in the strategy.
Dr. Bob Wachter 
How different was the process than it might have been as hard to sort of almost envision this world? But let's say you were taking over from an administration that was a normal administration that handled COVID. In what we would have thought of as a rational way. How different do you think the process of planning would have been?
Dr. Atul Gawande
Well, I think the only comparison I can make was I was on the transition team for the Clinton-Gore transition in 1992. And there was cooperation with the Bush administration, we had regular review sessions with those teams from day one. We went in understanding exactly what issues were up in the air while weren't up in the air, we didn't have trouble getting nonpublic information. And effectively, what I observed in the transition was that access to nonpublic information was extremely hard to get. And you also have the problem that you couldn't staff up.
Dr. Atul Gawande  08:24
So during that transition, you had hearings underway with major cabinet officials. And if I remember correctly, the HHS Secretary having hearings. And so you know, we hit the ground running, I ended up working on Donna Shalala's team at that time. And by comparison, I think almost no hearings got started, because you couldn't even acknowledge the possibility that Biden would be president. And so even without a crisis, it was a deeply flawed transition of power because of the belief that you couldn't acknowledge there was going to be a transition of power.
Dr. Bob Wachter 
Yeah, there was part of it that was that in terms of the quality of the handoff, and it was a part of it, that you had to rectify a whole bunch of things. And it wasn't exactly continuing on the path, but in some ways, creating 180-degree departure from the path. And I imagine that involves some different work than it would have been if things had been going, you know, had been on the rails.
Dr. Atul Gawande 
I think it's inevitable, certainly we experienced it back in the transition from Bush to Clinton, that there was going to be very deep differences of opinion about policy and that wasn't necessarily going to be that compatible. Now, we don't normally think that matters of public health. There are those kinds of debates but when the entire economy is hanging by a thread, and there's plenty of blame to go around that's bound to have some challenge and making the turnover.
Dr. Atul Gawande 
I really think that would have seemed normal to me that there would have been some conflict over those kinds of issues. Less that just, you know, getting access to information about what the status was a vaccine production and what the contracts look like and what was the team going to run into on day one, and then add to it that after January 6, many appointees left. And so there was no one there to even talk to, to get information for an extended period.
Dr. Bob Wachter  10:24
We won't go through the plan in great detail. But what do you think of the highlights of the plan that came out of this work? What are those sorts of top issues that you thought the plan addressed?
Dr. Atul Gawande 
Well, number one was recognizing that it had to be comprehensive, we went from a plan, to the extent there was any plan, it boiled down to saying, we're going to really make sure there's vaccines in production, and tested and all breakthrough nofollow through very little planning around all of the other elements required scaling testing, scaling vaccines, scaling masks, and the supply chain, messaging, you name it. And so the comprehensiveness of the plan to include everything from those items to rebuilding trust, to rebuilding global leadership, are fundamental.
Dr. Atul Gawande 
This is genuinely putting our country on a war footing against a virus and enemy that has attacked this country and laid waste to our people, to our jobs, to our even to, you know, schooling and education. So, you know, you look through it, and it is an incredibly ambitious, stunning document, but only commensurate with the scale of the crisis and taking that seriously.
Dr. Bob Wachter 
Yes, about one particular piece of data that came out of in the report and in the subsequent discussions, which is the 100 million doses in the first 100 days. And you're talking about ambitious, that's a number that's being batted around. Obviously, it's a round number, it's easy to remember, but one can imagine, or one could look at it and say it's not ambitious enough. On the other hand, it's a number that's realistic, and we want to reach any target that we set. So can you take us through a little bit about the discussion around? I don't know if that 100 million came out of your committee, but the discussion around setting a number and why that number?
Dr. Atul Gawande  12:25
It didn't come out of our committee, or advisory board. But I think it reflected actually, the President's own thinking and we fully endorsed it. You know, the discussion after the inauguration has been sort of fascinating, both in that people are criticizing it as potentially not ambitious enough. And then other times as being too ambitious. Here's what I see. We are nearing a million vaccines being able to delivered per day, and we're hitting severe production shortages that imperil those very goals. For the longest time, we wasn't clear we could get the administration infrastructure up and going. And it's still missing in major parts of the country.
Dr. Atul Gawande 
And so that's a big problem. But now you have, I mean, just this week, we have a situation where Pfizer told Canada, they would get zero doses of vaccine this week, and that they are cutting Europe's supply somewhere along 50%. You have AstraZeneca reporting that their supply is going to be a couple months behind. You know, those supply issues are not small matters. There are great areas of unpredictability. And it may yet get solved. Because maybe there'll be a Johnson and Johnson vaccine that gets announced with results in the next few days.
Dr. Atul Gawande 
But right now, I am concerned that the 100 million is still an ambitious goal when I wish it was really easy. The companies have said that they'll follow through on their contracts, but their contracts are about how many they'll deliver by June, if they're delayed by a couple months. That doesn't mean anything to their contracts. But it means a great deal to us as a country, especially while these new mutant strains are circulating.
Dr. Bob Wachter  14:36
One of the things that struck me as I look back on the past year is how right the Trump administration got the vaccine development process in a sea of things that to me they got wrong. First of all, do you have that take? And second of all, what do you think was exceptional about that one process? Or was this just a blind squirrel and they happen to stumble into something that they got right.
Dr. Atul Gawande 
I think that the career scientists in the government are phenomenal. There are some amazing and phenomenal people. And if you cut them loose, they have important ideas. This was Peter Marks and Rick Bright. Peter Marks at FDA and Rick bright at BARD. Identifying that they needed to cut through all of the bureaucracy, pull all of the agencies together, and put the country on a war footing to on warp speed, to enable the production and clinical testing of these vaccines. And what's remarkable was that they were able to win the support of the White House for not getting in the way. And then they were left alone.
Dr. Atul Gawande 
And that allowed it to be successful, there was interference in just about every other component of the process. And then when the White House did get involved and nearly destroyed the credibility of the whole effort by threatening to say that the trial structures could be ignored, that the safety measures didn't need to be in place before FDA needed to approve, they just about stepped on the one thing that had gone right by getting involved.
Dr. Atul Gawande  16:12
You know, as soon as President Trump after the election stepped away from this issue to attacking every form of voting, the absence of his voice on these issues started to allow people to work together, you saw all that a little over a dozen states actually getting mask mandates in place and supporting implementation of masks, even in the places that didn't have the mandates. You saw testing be able to grow as states and cities and counties got it moving and weren't being opposed by the rhetoric of the White House.
Dr. Bob Wachter 
What do you think the future prospects of vaccines will be visa the partisanship? Do you think vaccines are the masks of 2021 that eventually you'll have one camp and the other camp on either side? Or do you think because it was developed under the Trump administration, and they've taken some, I think appropriate pride in that process that it stays relatively on partisan?
Dr. Atul Gawande
Well, you've hit. I think the key thing, but I put it in a slightly different way, which is, we failed to come together as a country on any strategy, we did not come together on being able to agree on masks, we did not come together to agree on and deploy testing. We have come together every state and agreed that we want to deploy vaccines. And it doesn't matter whether it's Republican or Democrat, we are together, we're all clamoring to get vaccine production, you know, the states that are doing great administration, you know, they include North Dakota and South Dakota and Wyoming and West Virginia, pushing vaccine out. And you have a lot of blue states struggling, many of them because of their size, and some of them for more bureaucratic reasons.
Dr. Atul Gawande 
And I think there will be some political tension over distribution, the different states are taking different approaches and willingness to recognize the underserved communities and essential workers and making sure that undocumented people are getting vaccines versus not. So there's some flavors of the cultural divide that is coming into there. But the overall commitment to getting everybody vaccinated, I think is strong and will remain that way. I think around the edges will determine whether it ends up being, you know, 70% getting vaccinated versus 90% being vaccinated. But I think we're committed to rolling this thing out.
Dr. Bob Wachter  18:43
Yeah, but I wonder about the edges in that, that there is the process of distribution and supply and logistics. And there is that decision that an individual is making about whether to take a shot. And that decision may be colored by misinformation or disinformation, may be colored by the state is saying I need to do this. And therefore my libertarian tendencies jump up and say, I don't want that. Particularly I can imagine in a world where we start seeing immunity passports and people, you know, feeling that they're being coerced to do it in one way or the other.
Dr. Bob Wachter 
So sort of independent of I agree with you about the states, but in the final decision by 250 or 300 million individuals, do I take this vaccine or not? Do you think it will stay relatively not partisan? Or do you worry about it descending into a mask like debate?
Dr. Atul Gawande
Well, there's a couple things. One is that there's bound, we have to separate the large number of people who have anxiety about the vaccines because they haven't seen other people enough other people get through it to satisfy their fear of side effects or complications or ineffectiveness. And as the vaccine rolls out, and as millions of people now are showing minimal side effects. The confidence is growing. For those who had been on the fence to jump to the other side and get the shot. There is a concerted campaign that falls into a couple of flavors. One is the Anti-Vax contingent, who are against who have campaigned against vaccines of all kinds.
Dr. Atul Gawande  20:21
Who are making allegations that I don't even want to repeat them because they're crazy. But there's that kind of conspiratorial component and the Anti-Vax components that are just going to be there, and you just have to keep working against. But those have never been at the 30% level. And I think, you know, we're continuing to make progress and ensuring that doesn't turn out to be the case. What would change that is having a president who endorses those beliefs. And that kind of disinformation, pseudoscience, and craziness coming from the White House is what did so much public health damage over the last year. I think there will be a fierce debate. If vaccines move from merely emergency authorization, but still experimental to, you know, being formally approved.
Dr. Atul Gawande
And then starting to see that people are either getting privileges because they have the vaccination or are required for certain jobs to have the vaccination. I think a lot depends on science, that still hasn't come out yet. So far, the main reason to get vaccination is protect yourself. And it's not clear that it stops transmission to others. But if, as I suspect it will, if evidence in the next couple months emerges indicating it also stops transmission to others, then these considerations will be fiercely debated.
Dr. Bob Wachter 
When I told some friends that I was going to get a chance to talk to you, folks who think that you're really wise and helping folks think through complex problems. A lot of them said ask him about schools, which strikes me as one of the most wickedly complex problems here where you know, there were no two sides of the debate about masks and not really two sides on vaccines. But schools really are hard. How do you think about schools?
Dr. Atul Gawande  22:23
I've thrown myself in with him, actually. So part of what I've been doing in the last six, seven months since I left being CEO at Haven was to launch an effort where we've put together partners, including launching a company to enable all the operations and logistics for large scale testing, and now large-scale vaccination. And one of the components has been, we were just announced as part of the state's effort to bring testing to all the schools in Massachusetts, pooled testing. To deploy across the state. My view on this, I see it the same way that I do hospitals, in that if you can maintain good adherence, and control around wearing masks, social distancing, and screening for symptoms so that people coming in, you test the subset of people who get symptoms.
Dr. Atul Gawande 
That has worked very well. You'll remember when I wrote about that last March, and even your hospital was not happy with me that I thought that needed to be the formula that we needed to have universal masking of the patients and of the staff, and drive that out. And it worked. That worked. It kept our hospitals from being the sources of outbreak, that they were in Italy and in Spain and in the beginning. And we were. And I think in schools, that when you can maintain that kind of control, that you can demonstrate that control environment that it works well. But we've seen good evidence that there are circumstances where that doesn't work, when circumstances when the community level of virus is high.
Dr. Atul Gawande  24:12
Even with those measures in place, the levels can be so high that it becomes a source of transmission to teachers, and to people back home for the kids. And second is when you can't actually win the kids over to following the rules. And in certain school environments, you just can't. And that's clearly demonstrated. So I think that where we've reached is also where you have to think about what the staff requires for confidence to come back into the school environment as well. And deploying testing is an important available tool for doing that. We should gear up, drive it at the scale, and it's eminently feasible and it's so important to get the kids back in school for their sake. It also reduces the burden for family members returning to work, and it's also just healthier for all of society.
Dr. Atul Gawande
So my take on it is we can get back to school, we can deploy testing, pool testing, and other kinds of testing are feasible ways to do it. And I think we can move forward. And you know, is it required everywhere, I think where counts are low, you know, where you're in the green zone, or sometimes even in the yellow zone, you can safely get back to schools with masks and other measures. If we can get the teachers all vaccinated, then, you know, we may yet find we have more confidence about doing it, without testing in some environments. With as much virus as we have circulating now. I think we have to be ready to have widespread testing.
Dr. Bob Wachter 
I saw you retweeted something that, I guess Weingard had written that the teachers have been a source of opposition to opening schools in some places, where do you think they land on this now?
Dr. Atul Gawande 
I think that doing a better job of asking and bringing them to the table. I have been working in doing testing in schools for months now. And we've been able to win people over to getting there by respecting what the teachers have to say, what their concerns are, and listening to the reality of, yes, in many schools, they'll wear the masks and do that stuff. But in other schools, they're faced with kids who just they don't have the control over the classroom and the norms in the ways that, you know, we like to imagine that they might, and that with their leaders, they are supportive of deploying testing and having that be a source of assurance and confidence that you know, when coupled with a good tracing program, can keep the school from becoming the source of infection.
Dr. Bob Wachter  26:49
Maybe two or more questions on COVID. And then I want to sort of move out to bigger picture issues in healthcare. It strikes me that we find ourselves in a pretty happy moment. Now, obviously, it's a lot of people sick and a lot of people dying still, but the curves are all getting better. We have a new administration in that believes in science and is as competent people involved. The vaccines are rolling out. And then you have this as COVID seems to like to do you have this curveball of the variance. How are you processing that?
Dr. Atul Gawande
I'm scared, I'm not feeling happy. I am very concerned. Brazil and South Africa, honestly scare the shit out of me. Now, the good news, Israel has gotten to high levels of immunization, and they are somewhere around a third of the country has the UK variant. And the vaccine is working against the UK variant. It's also clear that the vaccines are weaker. It seems that Madonna is reporting the vaccine is weaker, but still effective against the South African variant. And the Brazilian variant is very related to the South African variant. And in Brazil, seeing Manaus go from having been overrun by virus and gotten to very high levels of exposure.
Dr. Atul Gawande  28:10
Now going through another surge where the public hospitals are overrun and running out of oxygen and people being reinfected, is deeply concerning. Are these solvable? Absolutely. Absolutely. The solutions are the ones we haven't followed so far. Which is we need to wear our masks, we need to. I've argued now that given the high increase contagion from these strains, that the increased effectiveness that we really ought to have, the CDC ought to be making a full evaluation of literature my read on it is that the literature supports the idea that single layer masks which is what most people use, single layer cloth masks are effective, but not as effective as medical grade masks.
Dr. Atul Gawande
Surgical masks, the KN-95 and the N-95. And that the general public ought to be switching to the medical masks, and that that will make a big difference. Masks are a still underused, very powerful tool. When we got American mask usage up above 85%. We've seen the hospitalizations in cases dropped tremendously. And that's been a big driver, the main driver of getting the rates down across this country. As the new variants climb, in order to avoid that next surge, and once again, even more hospitals getting into trouble. I think the masks are a big part of it.
Dr. Atul Gawande
I think the other thing is we have not, this is just like January of last year, we once again don't have testing. We don't have the sequencing to know where are these variants. I suspect the Brazilian variant is already here, if not also the South African variant. And we need to know where it is and to make sure we have containment measures around the places where they are, if it hasn't already become widespread. I was glad to hear the Moderna. And hopefully Pfizer will follow suit is already moving to develop a multi valent vaccine meaning the mRNA constructs that would allow for coverage of the South African and Brazilian variant.
Dr. Atul Gawande  30:22
And there is a need for a much speedier process so that as these variants come up that we're not only sequencing and knowing what they are, but then very rapidly working with the NIH to assess the effectiveness with the vaccines, so that it doesn't take six to eight weeks to know if these might be evading the vaccine antibody response. I think all of this could get us to the place where come March, we're not looking at another massive hit, like the UK has experienced and Europe is experiencing. But I think it depends on whether we can follow through on these steps.
Dr. Bob Wachter
It feels like we're in a different kind of race now over the next few months, and the speed of vaccination becomes increasingly important, as does the masking. You know, I live in San Francisco, where people have been awfully good at masking and we have still not hit 300 deaths in a city of 800,000 people since the start of this. And if the country matched our per capita death rate, it would be at 100,000, not 400,000. So it, you know, it works. And it's important to remind people that vaccines are part of the answer, but the other behaviors are critical.
Dr. Atul Gawande 
Couldn't agree more.
Dr. Bob Wachter
Let's switch to some bigger picture issues. I just can't not have you on the other end and not probe you're thinking about some of these. So let's talk about the healthcare system. What is the last year taught you about the healthcare system that you didn't know before?
Dr. Atul Gawande  32:05
I feel like it has mainly demonstrated things that I've been talking about for a long time, which is that we have a system that's all breakthrough and no follow through. I've written about at some length, the fact that we can't you know for what is now the country's number one killer, which is high blood pressure. We are under 50% being recognized high blood pressure and getting it under control. Now, why are we surprised that we then don't have a system that is able to recognize if you have the Coronavirus, and Institute some simple, cheap remedies to protect you. You know, we have a country where a third of the counties do not have an obstetrics unit do not have an option, you know, an OB-GYN.
Dr. Atul Gawande 
And we don't have any system in place to track you know which places are doing better and which places are doing worse or even worse for inpatient psychiatry beds. And we don't have any means to fill the gap. I think the surprise to me that came out of it is that the entire country could recognize and learn the entire medical establishment especially that public health is vitally important to solving those problems. You can't starve that tool of monitoring where the gaps are in the population. And having the glue that public health agencies and local city offices and county offices contribute to make sure that you actually can solve goals at the whole population level.
Dr. Atul Gawande 
Hospitals make sure that anybody who walks in the door are taken care of. But they're not good at making sure that the neighborhood they're in is actually getting the right care, let alone the city and the county. And we spend north of $11,000 per person on the acute medical care system. While it's $56 bucks per person, per capita on the public health components. And I think it's not a surprise that, that part has been starved and then in a crisis is not worked. What is a surprise and what's cool is that everybody in healthcare have recognized and gotten to know their public health people and how important a contribution they are making the public health people have come to recognize they can't ignore the healthcare delivery system.
Dr. Atul Gawande  34:32
They have to interact with all of those components. And, you know, we still to this day can't, we don't have a good system for saying how many places have run out of masks, how many places don't have enough ventilator capacity, that can't be acceptable. Two- three years from now. That will have to be the integration of public health, primary care and health care at a broader level. I think is going to be one of the lasting consequences of this pandemic.
Dr. Bob Wachter 
You've written about a lot of weighty topics, but probably no more so than about death and the process of death in the world. I can't think of an event like this certainly in our lifetimes of this death at this scale and death in a sort of strange way isolating, isolated from friends and family. What have you learned about death, the way we handle death, the way we process death from watching COVID over the past year?
Dr. Atul Gawande
I'd say the thing that I feel like I learned is how fragile our progress in improving care at the end of life has been. The fundamental thing that I got to write about, in my book, Being Mortal, was exploring why I wasn't that effective in addressing issues that were unfixable with people. And knowing how to make decisions with them. And the fundamental discovery was a kind of. So it's so simplistic, it seems like why do I need a whole book to figure this out. But the core of it was that people have goals in their life, they have priorities besides just living longer, that those priorities are different from person to person and change over time.
Dr. Atul Gawande  36:17
The most effective way to learn what people's priorities are, is to ask them, and we don't ask, when we don't ask there is suffering. And what we saw was the extreme degree of suffering that happens when we make only surviving this pandemic, the sole priority to guide the care of people who are extremely vulnerable. And that is left people in solitary confinement in many cases for months on end, the no visitation from families, etc. That was fine for the first couple of months where we just had to figure out what worked and what didn't work. We didn't know masks work, gowns work, like what the heck was going on here. But once we did the idea that we wouldn't provide gowns, you know, I had a I had a relative of mine with Alzheimer's admitted to a hospital around that time.
Dr. Atul Gawande 
And we had figured out, you know, the masks work and gowns work. And because of the potential for shortages, a family member wasn't allowed to come visit. And he was someone who's supremely disoriented, and becoming more and more agitated, and unable to care for themselves. You know, we made an exception that for a parent with a pediatric patient, that they could gown up and be present and pod with them, because we recognize they needed them for their sanity Well, well, a lot of people do. A lot of people do, I just read the most beautiful manuscript from a colleague at Vanderbilt.
Dr. Atul Gawande 
Where they'd had two instances of a married couple who became infected with COVID. And both needed high level care, in one case, ICU level care for both. And they moved heaven and earth to put them in the same room, even as they were on high flow oxygen, so they could hold hands as they got through it. And, you know, just the loss of the humanity in what we were doing, and the way that we accepted it, and medicine. It troubles me greatly. And we are working our way out of it. But we could have done more, and we need to be doing more.
Dr. Bob Wachter  38:20
So maybe last question, as you've processed this past year. And I think we're all processing it as we go along. What aspects of it makes you hopeful in terms of what we've learned, and I not just the medical part, not just COVID, but also the political context and the racial context, we've just seen so much change coming at us so fast. So many, so many surprises? As you sort of take it all in and think about the future? What's your take on it? Are there parts of it that you're hopeful about?
Dr. Atul Gawande
Well, I have to start with what I was depressed to see how easy it was to break our ties enough to not pull together in the same direction to work our way out of it. And what gives me hope is that that those threads have not been torn irrevocably. You simply can't get anything done. If we can't come together around certain priorities, there will always be people who will disagree with those priorities. But where most of the country and 80% of the country wants to fight this virus. All the polls have indicated that all along.  And we've seen whether it's climate change, or guns or other things, we have very high proportions of people who want to do sensible things and pulling the same direction.
Dr. Atul Gawande 
But it's always been possible for disruptive minorities to sever those ties. And so what gives me hope is that it's really nothing about public health or about science. It's that we've learned that we all are responsible and have to speak up and have to go vote and we have to go push and when we have to work our way through the conflict, there is bound to be conflict, we have shied away from the conflict and having those arguments sometimes fierce and mobilizing ourselves to do what's necessary to come together and make the basics happen.
Dr. Atul Gawande  40:21
Whether it's pushing for masks, whether it's being able to get people out and voting, whether it's now getting the messaging, right on vaccines, we're all in it. And if you're on the sidelines, it doesn't, we can't get there. And so what gives me hope is that, that sense of engagement, and deep involvement that we're seeing emerge from all of this
Dr. Bob Wachter 
Atul, thank you so much. Thank you for your leadership. And thank you for what you always do better than anybody I know, which is make sense of really complicated situations and do it with clarity and real empathy. So I'm grateful to you for that and really grateful for spending this time with us.
Dr. Atul Gawande 
Well, you're awesome, Bob. Thank you for everything you've been doing to keep all of us informed in the same way.
Dr. Bob Wachter 
Well, what a pleasure hearing from Atul Gawande, I, every time I listen to Atul, I learned something, because you just know he's thinking deeply about the issues. He's talking to other people to help educate him. And one of the most amazing things about a tool is he has every right to be arrogant, and yet there's not an arrogant bone in his body. He's humble. And that I think, is part of why he's so effective because he's constantly learning and constantly able to say, I know a lot about this and this thing I don't know that much about and I need to learn more.
Dr. Bob Wachter
So that was a real pleasure, and I hope you enjoyed it as well. We have some other fantastic shows coming up in the bubble. Next week. We have Julie Gerberding. Julie is a twofer in that she ran the CDC for a number of years and also ran vaccine development for Merck. So she is looking at our current state through those two lenses, I think that will teach us a lot about the current state of both vaccines and of the CDC. Coming up after that we'll have Don Berwick on really the international leader in many ways the founding father of the fields of healthcare quality and safety, also a former director of the Center for Medicaid and Medicare Services. We'll have Julia Marcus, Julia is a professor at Harvard, who is kind of more thoughtful about the issues of behavioral change in COVID.
Dr. Bob Wachter  42:47
And how people respond to the recommendations and directives to change their behavior and be safe. Julia has studied that more intensively than anybody I know. Learning about it and thinking about it in the context of HIV, but like many people has brought that knowledge and wisdom to COVID over the past year. We'll also get our first report from Lana Slavitt, Andy's wife. Who will give us an Andy report. Hopefully, there's been an Andy sighting. And she's in touch with him and we can hear what's happening on the inside of the Biden administration as they roll out their approach to COVID. So far, it's been very impressive, but we'll hear the inside story and how he and he's doing. So lots of great stuff coming up. Please join us for all of that and until then, please be safe and I look forward to speaking with you soon.
CREDITS
We're a production of Lemonada Media. Kryssy Pease and Alex McOwen produced our show. Our mix is by Ivan Kuraev. Jessica Cordova Kramer and Stephanie Wittels Wachs executive produced the show. Our theme was composed by Dan Molad and Oliver Hill and additional music by Ivan Kuraev. You can find out more about our show on social media at @InTheBubblePod. Until next time, stay safe and stay sane. Thanks so much for listening.