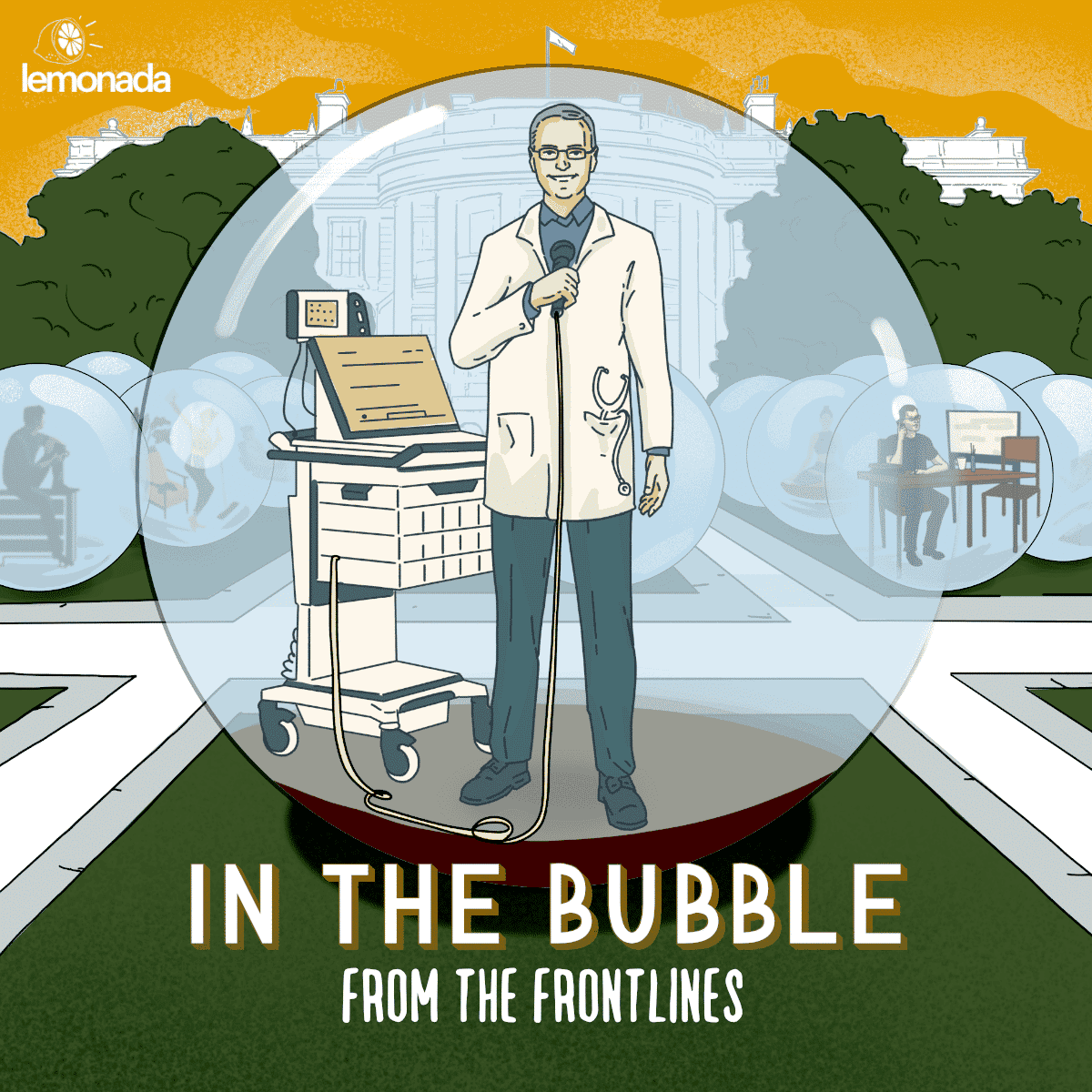 Inside Trump's FDA (with Stephen Hahn)
Subscribe to Lemonada Premium for Bonus Content
Descriptiom
Dr. Bob gets the inside scoop of what went down inside Trump's FDA from the former commissioner himself, Dr. Stephen Hahn. In his first interview since stepping down on January 20th, Steve recounts his dizzying year heading the agency, including his decisions to grant Emergency Use Authorizations to hydroxychloroquine and convalescent plasma, how he ultimately defended a science-based vaccine approval process, and the unprecedented political pressure he felt throughout. Plus, how he's processing everything that happened now that he's been out of D.C. for a few weeks.
Follow Dr. Bob on Twitter @Bob_Wachter and check out In the Bubble's new Twitter account @inthebubblepod.
Keep up with Andy in D.C. on Twitter @ASlavitt and Instagram @andyslavitt.
In the Bubble is supported in part by listeners like you. Become a member, get exclusive bonus content, ask Andy questions, and get discounted merch at http://lemonadamedia.com/inthebubble/
Support the show by checking out our sponsors!
Check out these resources from today's episode: 
To follow along with a transcript and/or take notes for friends and family, go to www.lemonadamedia.com/show/in-the-bubble shortly after the air date.
Stay up to date with us on Twitter, Facebook, and Instagram at @LemonadaMedia. For additional resources, information, and a transcript of the episode, visit lemonadamedia.com.
Transcript
SPEAKERS
Dr. Steve Hahn, Dr. Bob Wachter
Dr. Bob Wachter  00:07
Welcome to IN THE BUBBLE, I'm Dr. Bob Wachter. Today we have a really special guest. He's an old friend. But you know him as the FDA Commissioner over the past year. His name is Steve Hahn. And Steve was the 24th, Commissioner of the Food and Drug Administration. As you'll hear, prior to that, he had a really remarkable career as an administrator at MD Anderson, one of the great cancer centers in the world, in Houston. Prior to that he was at the University of Pennsylvania. I knew Steve long, long, long ago, when we were residents and chief residents together at UCSF. So it was remarkable watching him over the past year as he's navigated some of the most challenging circumstances that any public servant has ever navigated.
Dr. Bob Wachter
Steve became FDA Commissioner in December 2019 and of course, could not have had an inkling of what was about to happen a month later. And then the tsunami hit, and he spent an entire year having to make some of the most momentous decisions imaginable decisions that were going to influence the lives of hundreds of millions of people under unprecedented public pressure, largely coming from the President himself and all of his minions. And watching Steve from the outside, I had a great amount of empathy. As I told friends, in real time, even as he was making some decisions that I wasn't sure I agreed with. I said, you know, he's a really good guy. And he's got a lot of integrity and I think this is going to turn out okay. But I wasn't sure.
Dr. Bob Wachter 
And then there was a moment toward the end of it was probably in the fall, early fall, where Steve made it clear that he was going to go toe to toe with Trump and defend the integrity of science and defend the integrity of the FDA. And I said, I've never really been prouder of anybody because I think it was remarkable. So what you're about to hear, I think is a treat. It is Steve's first conversation, public conversation since stepping down as FDA Commissioner, and he will talk through this remarkable year and how these decisions came to him and some of the things that he was trying to balance and the public pressure and political pressure he was under.
Dr. Bob Wachter  02:25
And how ultimately, he made the right call and one that I think will ensure his legacy. And having saved many, many, maybe hundreds of thousands of lives. It's really pretty amazing. So it was a really good conversation. I hope you enjoy it. And let's go ahead and call up Steve Hahn.
Dr. Bob Wachter 
So, Steve, welcome. It's great to see you. I don't think we've seen each other since we were chief residents together. And I don't want to say how many years ago but it was more than 30 I think, or right around 30.
Dr. Steve Hahn 
Around 30. That's right. That's exactly right. It's been a long time for sure. But it's good to see you, Bob. I think it was 88′? 87′-88′.
Dr. Bob Wachter 
87′-88′ is correct. And I'd have to take out my calculator to figure out how many years ago that was, but it's a long time. So, I assume most of our listeners first heard of you, when you assumed your role at the FDA, but you had a really storied career before that. So tell us in a nutshell, kind of what your career was before the FDA?
Dr. Steve Hahn 
Well, I, you know, I trained at UCSF really was such a terrific experience. And it's great, unbelievable colleagues. But I did my oncology training at the National Cancer Institute, spent a couple years on the staff there, and went to the University of Pennsylvania, I was at Penn for 18 years, you know Penn very well. And really just enjoyed it became the chair of Radiation Oncology, and we built a Proton Therapy Center and really integrated everything into our Cancer Center, and then took an opportunity at MD Anderson Cancer Center where I also was involved in the Division of Radiation Oncology, but then, because of changes in leadership, you know, became the chief medical executive and really had a terrific time.
Dr. Steve Hahn  04:17
It was a little bit of a ton of turmoil there, but had a great time. And then this opportunity came up to go to the FDA, and as you know, as someone who's been involved in clinical research and development of medical products, that was sort of the other side of my career, and it always come to depend upon the FDA to help us move things forward. And saw that as a great opportunity. Not knowing, of course, that you know, six weeks into maybe even two or three weeks into my tenure at FDA, a once in a lifetime pandemic with COVID-19 would appear, you know, in the world.
Dr. Bob Wachter 
So you started in December if I recall.
Dr. Steve Hahn 
December 17. Yes. 2019
Dr. Bob Wachter 
So you didn't know about a pandemic at that point. But you knew about the Trump administration, and you'd seen some of the things in terms of the politicization of some parts of the government that previously were, were less politicized. Did you have concerns about that as he stepped into the role? And how did you think you might manage it sort of independent of the pandemic, just in terms of how you're going to deal with the White House?
Dr. Steve Hahn
Yeah. You know, typically, I mean, yes, concerns, but typically, FDA doesn't have a prominent profile, you know, in any one administration, just because, although it regulates 20% of what US consumers spend money on. And so it's got a substantial role in the country, it doesn't have the same level of prominence. And typically, FDA commissioners are not spending a lot of time at the White House, they're not, you know, they're going about their business. Now, there are hot button issues, as you can imagine, all the time at FDA. And one thing that I learned is you cannot make everyone happy all the time, there are people that the soup is either too hot or too cold, it's hard to find it exactly right.
Dr. Steve Hahn  06:16
And that just was magnified during this. So although concerns but not anything major, I thought it was a great opportunity to apply science and to advance innovation. And, you know, I was really interested in modernizing the purchase to data for the FDA, because that clearly was something that I thought could advance innovation and get medical products more speedily into the hands of consumers and providers. So that was sort of part of my agenda going forward and thought would be an opportunity to have an impact. And then of course, as they said, the pandemic.
Dr. Bob Wachter 
Yeah. So okay, the pandemic hits, I don't know, you hear about it in the newspaper, you get a briefing that there's this thing happening in Wuhan, did your brain begin to spool out the next year and say, "Wow, this could land on my lap in some way? And I have to figure out how to deal with that." Or was that a little bit too many chess moves ahead?
Dr. Steve Hahn
So early on, you know, we heard about the pandemic in early January, and we didn't really think was a pandemic at the time. But certainly, you know, CDC knew about it, we had been in constant communication with CDC. And we started to participate in conversations about what was going on in Wuhan. When we realized, and it took a couple weeks that this was probably going to come to our shores, given the global nature of travel, etc. And you know, just what we know about Coronavirus is in general. We began to prepare the agency, so at the end of January, I think it was January 30, 31st, we set up an Incident Command Structure.
Dr. Steve Hahn 
So from my previous experiences in academic medicine, to deal with the crisis, you set up an Incident Command Center, you, you know, put this on your list of Enterprise Risk Management, and you set up an executive group to review what's going on and to have as much horizontal alignment as possible. So early on, we set that up and really began to think how we were going to handle this from a resource point of view, I have to say one thing that did catch all of us off guard as you can imagine is the fact that because we have a relatively distributed model of medicine, in the United States and not nationwide integrated system.
Dr. Steve Hahn  08:34
There were a lot of moving parts when you come to think of things like supply, PPE, when we come to think of diagnostic tests. And so what that resulted in was a lot of incoming to the agency from a variety of different quarters from academic centers, from the private sector. And that led to basically a doubling of our work. And so we really had to shift people, as well as process resources around the agency to accommodate it, because initially, it was all focused in one center that was dealing with medical devices, blood tests, you know, PPE, etc, and then ultimately shifted to the therapeutic side. So moving those chess pieces around became an important component to managing that the agency.
Dr. Bob Wachter 
Yeah, I think people don't quite get that, but they tend to think of the FDA as medicines in it these days now, vaccines and not the PPE. And not the testing, those are all important parts of your agenda as well.
Dr. Steve Hahn 
That's correct. And then there's the whole food part of this because what came early on as the pandemic rose in the United States number of cases, and there was the, you know, the shutdown, basically, we had to maintain the food supply and food security and one of the primary responsibilities of the FDA, the F being Food was the security and safety of the American food supply and that of course is completely related to national security. So we had to make sure that we were appropriately flexible with our regulations, I'll give you an example. We made a lot of restaurants shut down and so some food that was labeled a certain way for a restaurant, we had to allow that labeling to be used so that those foodstuffs if you could, could be sent to grocery stores.
Dr. Steve Hahn  10:20
And I know it sounds like a minor thing, but people follow those regulations very closely. And, you know, we had to act quickly to make sure that we did not have disruptions supply. So those are the sort of things that we had a whole issue around, you know, is packaging on food transmitting COVID-19. You can you probably remember those discussions, and so we had to do some laboratory work to look at that as well. And also to ask others to look at them.0
Dr. Bob Wachter 
Wow. In January, I think it might have been logical to believe that a vaccine approval process is not going to happen on your watch. If your watch is going to end in January 20. Did you imagine that you would have the kinds of vaccine decisions that we'll talk about a little bit later. But did you imagine that the timeline would be such that you would have to deal with a vaccine approval process so quickly?
Dr. Steve Hahn 
Absolutely not. I mean, you would be laughing at me Bob, if I told you that I did. Imagine that that would be the case. I mean, what happened was historic, grounded in science, basic science in the mRNA platform, in particular, pretty impressive. I call it a medical Grand Slam in terms of the development process. But what we saw was, you know, this convergence of private sector and government coming together and science, really to get this done. And it's interesting, it wasn't until I say late March, April, that we started to have full scale conversations about this, Peter Marks, who's our head of Center for Biologics Evaluation Research, and I can remember the conversations very well talked quite a bit about the fact that the light at the end of the tunnel for the pandemic was going to be around a vaccine.
Dr. Steve Hahn  12:03
And so how are we going to position FDA and work with our partners at CDC and the NIH to make sure that that happens, and ultimately, Health and Human Services and in their efforts around what was called Operation Warp Speed at the time. And so the thought was, we will create this sort of matrix around platforms around preclinical studies that need to be done, and create an approach that allowed us to move seamlessly from one step to the next. And that was one of the big lessons learned for FDA is that the rolling assessment of medical products was we did that with diagnostics, we did that with PPE.
Dr. Steve Hahn 
So that we weren't waiting for a final application to come in from a company or an academic center, and then wait a month or two months, or three months to make a decision. But to constantly look at the data in real time and give feedback in real time, it's really sped up a lot of the processes. And I think that's one of the things that will be a permanent fixture at FDA moving forward, at least I hope.
Dr. Bob Wachter 
So we'll get back to vaccines in a minute. But the first things that came onto your watch, as you mentioned, actually, other things already had been on your watch food and testing, but first thing that at least hit the public radar was therapeutics. And I was imagining you sitting somewhere and watching one of the early press conferences when the President began talking about, let's say hydroxychloroquine. And I actually wondered "how Steve feeling right now?" when was your first inkling that the politics of this we're going to get a little bit wild and the President was going to weigh in on what he thought was a good medicine and a bad medicine?
Dr. Steve Hahn 
Yeah, well, that was surprising. And it was early on, I believe it's March. Some of the dates are a little bit fuzzy, but I believe it was in March when the President started talking about this. But really, before then, there was a lot in the press about this, as you might remember. And what we became aware of FDA is a lot of physicians were writing prescriptions for themselves. And for frankly, nursing staff and others. We'd even heard of some examples of prescriptions being written for frontline health care workers, you know, first responders, etc.
Dr. Steve Hahn  14:20
So we became aware of a significant pressure on the system because as you know, these drugs are approved by the FDA for the treatment of rheumatoid arthritis and systemic lupus erythematosus. And so we were really concerned because one of our primary responsibilities is maintenance of the supply chain. And we had been working on this on the PPE side, but then it became an issue with hydroxychloroquine. And you can see the relationship between the public conversation about it and the pressure on the supply chain, and the shortages that we were beginning to see.
Dr. Bob Wachter
So how did you as you began to recognize that That we're not going to be doing this in a vacuum. There's going to be White House. You could say interference, you could say involvement. But there's going to be sort of a political conversation about medications with the president having his own point of view. How did you begin to think about the role of the FDA and potentially trying to manage this? I spoke to our old friend Julie Gerberding last week, and she talked about surround sound. So how did you begin to think about processing the surround sound and dealing with it while you try to stand up for the integrity of the science?
Dr. Steve Hahn 
Yes, so one of the things that we thought was really important was the clinical trials need to be performed. And we really needed in this particular case, because we thought the effect size of a drug like hydroxychloroquine, would be relatively small. And we had no idea if it would work in the inpatient setting where we knew people were getting sick, or in the outpatient setting, although I think we all had a hypothesis that if it were to work, it would work better in the outpatient setting early in the disease process. And we guess that the effect size was small. So we really did feel that large scale, randomized trials are necessary.
Dr. Steve Hahn  16:08
The complicating factor there is that there wasn't a whole lot of drug out there to actually perform these clinical trials. And if we were going to move away from a situation where there was, if you will, off label use of drugs, which is, you know, completely legal. That's, you know, Bob, you and I probably had done and particularly in the oncology world off label prescription of drugs for some time, of course, we want to make sure it's rooted in literature and science. But that does occur. But if we wanted to move away from that, and determine whether hydroxychloroquine or chloroquine could be a standard drug to be used in the treatment of COVID, we needed these clinical trials.
Dr. Steve Hahn 
So we had two problems facing us at the time. One is the off-label use and the downstream effects of that, which were the fact that some folks weren't able to get the drug for approved indications. And then of course, needing the drugs to perform the clinical trials, because the answer to does hydroxychloroquine work is we need clinical trials. And I remember my conversations in the administration being about that. Now, Bob, interestingly enough, and I know you'd probably find this interesting, this led to are really significantly stepping up our approach to the collection of real-world data and real-world evidence, because we knew that people were writing the prescriptions. And so we started to work with some of the companies that had access University, California being one of them.
Dr. Steve Hahn 
Access to, you know, prescribing data and other information to see if we could look at outcome. And you know, that we learned a lot from that. I will not tell you that those efforts were successful. And they have their limitations, as we know in terms of levels of evidence. But we began to collect those data because we wanted to understand where we were, knowing that it would take us some time to perform those randomized trials. And ultimately, the recovery trial gave us the answer in June. And I'd love to get back to that issue in just a minute. But the Brits did a great job of real world pragmatic randomized trial. And we're able to get data, high level data in a very quick fashion that this country we weren't able to do. And I think there's a lot of reasons there. But that's another lesson learned, from my perspective.
Dr. Bob Wachter  18:30
The decision to given a UA to hydroxychloroquine. I mean, that was the first time for many of us that we looked at and said, "I wonder how much that was political versus science." How did you feel about it? And how are you processing that?
Dr. Steve Hahn 
Yeah, this is a really important one and, you know, in the fog of war, in the middle of something you don't quite have the same perspective is when you look at it afterward. So I'll just lay this out. The way things work at the FDA is that the Secretary of Health and Human Services delegates the authority for decision making to the FDA Commissioner, and then the FDA Commissioner delegates that authority to the center directors in this case, the center was the Center for Drug Evaluation research and Janet Woodcock. And the commissioner can always reverse a decision. It is incredibly unusual at FDA.
Dr. Steve Hahn 
And I think it's only happened once in the last five or six years where an FDA Commissioner reverses a decision that's made at the center level. So that is an unusual situation. But that being said, one thing that does occur is that the commissioner works very closely with the center directors around issues like this. So Janet, and I became aware of the shortages of drugs, we became aware of the need for drug to get into the system so that we could perform randomized trials. And frankly, because the system of use of these drugs is somewhat fungible, to make sure there was enough drug knowing that people were writing off label prescriptions and could do so if they want it to.
Dr. Steve Hahn  20:01
So what we what we did was, we were approached by the General Counsel of Health and Human Services about the fact that there was donated drug to come into the system. And during this time, there was great concern for any donated products, you probably saw it around personal protective equipment, that there needed to be liability protection. So there's something called the Prep Act, which provides during a public health emergency for liability protection. So we were advised by our legal counsel that in order to get these drugs out of the Strategic National Stockpile that had been donated, and into this system, we needed either an INA or an EUA. So Janet and I, Janet ultimately made the decision, but I 100% supported I will definitely not run away from that made the decision to move forward within the EUA.
Dr. Steve Hahn 
Based upon the existing literature that we knew at the time, which was one retrospective inpatient trial from France, that had been published, and very narrowly tailored the EUA based upon that, what we decided at that time is that we would collect as much outcome data as possible so that we could make a decision about that EUA in real time as more data came in. And the other I think big lesson learned from the pandemic is that Bob like a doc in the emergency room, you make a decision with the data that you have at the time, you may not have the full history, you probably don't, you won't have all the tests that you need the scans, etc. But to make a decision that you think might be the best for life saving approach.
Dr. Steve Hahn
And then you modify that decision as you admit the patient to get more data. And this is what we use. And as you can see, what followed afterward was our safety alert regarding the increased risk of torsade. And, you know, other life-threatening dysrhythmias. And then ultimately, a revocation of the EUA, based upon the results of the recovery trial, which showed that it was not a benefit to sick inpatients, knowing of course that we didn't have an answer on outpatients, but we didn't have any EUA for outpatient use. So we just said we'll wait for those data to come in. And we knew that five or six randomized trials were coming and ultimately those randomized trials were negative. So when we received another application for an EUA, and that's in the public domain, regarding outpatient use of hydroxychloroquine, and based upon the Florida five randomized trials that were negative, we defined to support that either way.
Dr. Bob Wachter  22:22
That makes sense. The next big one, at least in the public sphere was convalescent plasma. So how did that one spill out?
Dr. Steve Hahn 
Yeah, so we, again, Peter Marks and I had been talking about convalescent plasma early on, Peter had been involved with some of our colleagues around the world who were using convalescent plasma early in the pandemic. And so early on, we opened up what's compassionate use, basically, but an EIND program so that individuals could receive convalescent plasma and of course, convalescent plasma has been used in other infectious disease outbreaks with some success. We know that, if used properly, it's safe. And we also know that the passive transfer of immunity with this can be effective not in all infectious diseases, but in many. So we started to receive a significant number of applications for these EINDs.
Dr. Steve Hahn 
And Bob, you've probably done this, I know I have in the cancer share, an individual doctor will apply for an EIND for a patient allow it to be given and allows the product to be given. It's a very relatively quick process. But the administrative burden is huge. So we had, you know, we were looking at thousands of these applications per week, and it was taking a lot of time and time away from other things that FDA need to do. So we reached out to academia. And again, this gets back to the point of why we haven't been able to mobilize quickly, particularly among academia to perform randomized trials, and I think that really needs to be examined and critically, but there wasn't a lot of enthusiasm for randomized trial and plasma at the time.
Dr. Steve Hahn 
So we worked with the Mayo Clinic to do what's called an Expanded Access Program. And that's a platform that FDA can use to allow for a fairly rapid but much more smooth administrative approach to the administration of a medical product, really allowing us to collect as much real-world evidence as we possibly can around this. And that proved to be so popular, that by late summer, 100,000 people had been enrolled in this Expanded Access Program. I mean, it's pretty remarkable. And of course, the clinical trials were very slow to start enrolling. And at some point, the Mayo Clinic came to us and said, we're gonna need to end this Expanded Access Program because we cannot handle this, our IRB is allowed us to escalate to certain points.
Dr. Steve Hahn  24:37
But at some point, you need to make a decision. So we were asked by BARDA, which is an agency, a group within HHS that deals with the emergency situations about whether we would do an EUA for plasma. So we started to look at the Mayo Clinic data. And you may remember at the time that there were a lot of problems with antibody assays that the accuracy of those assays were a great question. And so we had to really work through the science around measuring titers, because what we wanted to look at was the relationship between antibody titer in these units, which we had on all 100,000 patients, and then clinical response.
Dr. Steve Hahn 
Ultimately, we had data which demonstrated that there was a benefit and a survival benefit, although small, related to the administration to inpatients seeking patients convalescent plasma. The NIH at the time, asked us because of course this was a post hoc analysis, this was not a preset endpoint of clinical trial, it was basically 100,000 people enrolled in an Expanded Access Program, we determined, you know, we looked at the data and determine what the cutoff would be. So we wanted to look at some independent, if you will, data sets to determine if this was a valid cutoff point for antibodies.
Dr. Steve Hahn 
And ultimately, were able to do that, but had a lot of difficulty with getting the data together. Ultimately, we had to make a decision at FDA. And this is where the issue around EUAs gets into play, which is that the EIA standard which was given to us by Congress after 9/11 is that is a therapy that so the question is that it or the standard is it may be effective, and that the risk benefit ratio is in favor and that really the context of other therapies available. So we felt back in June and July, that we had met the standard for an EUA for convalescent plasma. But we decided to collect more data. And we really came up against the deadline of having to end the program at the end of August. And of course, we made the decision to move forward with the EUA it wasn't popular and every quarter.
Dr. Steve Hahn  26:45
I think folks felt that we should have waited for randomized trials. The randomized trials ultimately bore out that this was a benefit. And it is a relatively small benefit. And then, of course, with the president at the White House, the use of 35%, which was an accurate number, but it was a relative benefit, not an absolute. And, of course, you know, I apologize for that, because I should have been more clear in my speaking and that's part of my job. And, you know, I think it's still the right decision, the EUA is still in place. I think it is a reasonable therapeutic, the benefits small, but it's a very safe therapy. And I suspect that we'll see this EUA continue as more data come in.
Dr. Bob Wachter 
As you describe it, it's all perfectly sensible. I think folks looking in from the outside saw in hydroxychloroquine. And in convalescent plasma, at least the possibility that these decisions were being influenced by these political pressures. And then as you mentioned, you came forward and apologized for the way you describe the outcomes of the trial in terms of the relative versus absolute risk. I remember the narrative at the time was it sounds like, you know, Steve is being pressured by the Trump administration to approve stuff to get stuff out there. And he's even sort of playing a little bit loose with the data to satisfy the administration.
Dr. Bob Wachter  28:10
First of all, I assume you've heard that narrative. And I found myself saying to people, I know Steve, you know, from long ago, he's got a lot of integrity. He's had an amazing career. He believes in science; I don't think so. But I can imagine the pressure on him must be immense. How are you feeling as that narrative sort of began playing out? And you must be kind of weird to hear this global conversation about you, and you know, who you are, and you know, what you're doing? How are you? How are you processing that at the time?
Dr. Steve Hahn 
Yeah, so I mean, obviously, you know, the narrative was concerning. Although, you know, I was very concerned about the narrative, I was much more concerned about the narrative around the independence of the FDA, and the integrity of the FDA and the integrity of the science that was of major concern to me. And up until that point, I thought it was completely possible to reconcile the political aspects of the world because there's never been a time that the FDA hasn't been involved in the political world. That's where the FDA sits and lives. But what I think was different now was the substantial pressure associated with the pandemic, as well, as, you know, the fact that we were in the middle of an election season and, you know, folks wanted wins, basically.
Dr. Steve Hahn 
What I can tell you, which is the truth in our career, folks will back us up is that all the data and the number crunching were done by our career folks. They are the ones that ultimately made this decision. And I know that that runs counter to the narrative, where I think, you know, in retrospect, you know, one of the things that could have mitigated this is to have less involvement of other folks in the administration. And I'll point out Bob, this is just the White House. This was the Coronavirus Task Force. This was CDC, this was folks at HHS, and this was folks at NIH. So at that point I made the decision that we really were going to stand alone in these decisions, of course, ask for consultation.
Dr. Steve Hahn  30:15
But we're going to do as much as we can to make sure that although we want to be transparent, and give as much information as possible, that just our career folks protected from any outside influence would be sitting there looking at things. Because around plasma, I think what we learned was that a lot of people were interested in, of course, it was a US government sponsored EUA, so a lot of people could be involved in it. And I can tell you folks weighed in from the CDC and other places in support of the EUA. And at that point, I said, "Hey, this is FDA decision, FDA decision alone, appreciate your input, you can come to Steve Hahn with this, but nowhere else, and we're gonna have to really hunker down and make, you know, our processes as tight as possible."
Dr. Steve Hahn 
So I stand by the decision, and there was no monkey business with respect to the data. First of all, our career staff wouldn't put up with that. Also, Peter Mark says the utmost integrity, he's, you know, well known and respected public figure, and he just wouldn't do that. So unfortunate the way that that played out from the narrative perspective, but lesson learned in Washington, DC, and that was the whole point in moving forward with therapeutics around monoclonal antibodies, and of course, vaccines and how we handle those situations.
Dr. Bob Wachter
So let's move on to vaccines. Yeah. So as you mentioned, in January, there was no way that anybody could have an inkling, you couldn't write this movie, that the things are going to move along so quickly, that there is actually a possibility that the FDA might be called on to make a decision around election day or before election day. And this narrative has been established a little bit over hydroxychloroquine and over, monoclonal is, you know, is the FDA now been politicized and making decisions because of pressure from the White House?
Dr. Bob Wachter  32:03
You know that, you're in the middle of this hurricane. And it starts to become clear that these vaccines actually are moving along at warp speed, as they say. Was there a moment where you said, "wow, this is actually going to happen. And this is a momentous decision and the President is going to weigh in in a very big way, we're going to get ensnarled and election politics. And I'm going to have to figure out as a, you know, as a public figure, how to manage this and how to manage my agency around all this public pressure on vaccines."
Dr. Steve Hahn 
Well, I think we knew early on that this was going to be a monumental decision. And I think we knew Bob early on that this is not just a decision for the pandemic and for the year 2020. But that this decision would have implications down the road. Because you can argue with something like hydroxychloroquine. But plasma in particular, which is a therapeutic for someone who's sick in the ICU or approaching the ICU, that the risk benefit calculus is a little bit different. If it's a safe therapeutic, you could make that argument just like any doctor would, cancer doctor all the time makes those decisions about risk benefit. But when it comes to vaccines, when you're talking about prevention of disease, when you're talking about the potential for long term side effects.
Dr. Steve Hahn
Really, even though the EUA criteria are may be effective, and risk benefit favor, you're talking about a totally different standard with respect to the EUA. So we took that very seriously. But Bob, I'll even step back a bit when we look at the monoclonal antibodies. And that situation, that was also a situation where the calculus was a bit changed, because we had therapeutics we had remdesivir, we had corticosteroids, we had convalescent plasma. So the context of making that decision was very different with respect to the risk benefit ratio. So it wasn't just vaccines, but it was other therapeutics as well. With vaccines, we realized that, of course, healthy people would be getting this vaccine, and so that we had to be very cognizant of it.
Dr. Steve Hahn  34:05
Now, we also realized that, you know, 1000-2000, people were dying per day of COVID. And so that had to be part of the ethical considerations around in the EUA, because ultimately, certainly became scientific and medical, but there was also an ethical consideration. And so what could we do from a regulatory point of view, other than speeding up the process of development by doing this rolling submissions, if you will. And so in June, we put together vaccine guidance. And we became very clear about and you can see we were thinking early on about this. It takes us months to do a guidance. We did this in about a month. But what are the things we want to see, to actually look at an EUA.
Dr. Steve Hahn
Now there were folks around the country who said don't issue an EUA, do not do an EUA for vaccines, do a biological license application, which is the sort of standard application and approval process for vaccines. But we recognize the fact that this was ultimately a decision by the company. Now, FDA has to make the decision yay or nay. But what application someone submits is ultimately up to the company. And we wanted to provide guidance, we needed clear and compelling evidence from at least one randomized, large clinical trial, phase three trial, we put our stake in the ground. Then as we got closer, we said, we need to be more clear about what components need to be in the EUA.
Dr. Steve Hahn 
And of course, that became a very public thing as well. It was leaked to the press, we had put together guidance, which I was very happy with, which talked about what are the safety data, because that's the side of this that is really, I think the most concerning to folks is, how much safety data will FDA need to see to do an EUA, because we know, under the normal circumstances, we'd have 6-12 months of safety data on a vaccine. And we knew that given the number of people who were dying from the pandemic, that we probably wouldn't be able to have that, you know, level of safety data. So we came up, of course, with the two-month median follow up of participants in the phase three trial. Which, you know, created some controversy, but we stood firm. And that's what we said, we wanted to see.
Dr. Bob Wachter  36:17
Controversy, people feeling like that's too short, or not sure?
Dr. Steve Hahn 
Stringent, now, you know, the, as you probably know, the who came out with, you know, a suggestion that it should be three months median follow up. And you could argue this, but it was a very data science driven decision. Because if you look at the data, of when you see the overwhelming majority of serious side effects of vaccines, it's within the 42-day window after administration of the final dose. So we felt pretty confident about 60 days in terms of capturing as much as possible, knowing of course, that we need a very robust pharmacovigilance program to understand what would be the subsequent side effects associated with any vaccine.
Dr. Steve Hahn
So, you know, I think we received criticism from both sides of the fence. One is don't do any EUA, because you know, healthy people are going to be receiving the vaccine, and there's already a lack of vaccine confidence in the country even before COVID. And of course, there were folks that said, you know, once again, the bureaucrats are getting in the way of the development of a medical product that could be lifesaving.
Dr. Bob Wachter 
So and I guess I should also point out, I think it was in the those that guide is that you also insisted on the diversity of the populations that have been tested on older people on diverse..
Dr. Steve Hahn 
That was back in June, we were very clear about that, and particularly the applications that had been made public. The diversity reflected the US population pretty well.
Dr. Bob Wachter  38:00
So the media was sometimes portraying you as being kind of naive to the ways of Washington, you'd never been in government before. And here you are at the helm of an organization that's going to be making the most momentous decision in the world, really, if you think about it, I'm sure you did. What had you learned by the summer, and maybe by the early fall, that allowed you to navigate the unbelievable pressure, and particularly from the president, who was really pushing very hard for you to make a decision by, well, before election day. What did you learn about politics, the media that allowed you to navigate that in the end extraordinarily successfully.
Dr. Steve Hahn 
So I'm just a step back to the preface of you know, the underlying premise of the question. I will tell you; I am not embarrassed at all by the fact that I'm politically naive. In fact, my feeling about Washington DC, particularly around the FDA, and science-based decisions is that what one needs to concentrate on always is the science and the data. And that, particularly during election season, particularly during an acrimonious time in our history, you know, a little bit of pushing that aside, and not really paying attention to it is in order. I think that would serve the American people in the FDA very well. And I've been outspoken about the fact that I think a serious conversation needs to take place about an independent FDA.
Dr. Steve Hahn 
Because I think we've learned from this that given the importance that the FDA has in the regulation of medical products and consumer products that really, there needs to be more safeguards in place around these issues. So that being said, you know, it was a very difficult time for the agency. We took a lot of incoming and I referred to it to the agency as externalities, you know, reports in the press tweets, leaks. You know, things that really were not helpful in terms of trying to make the absolute best science-based decision for the American people. But nonetheless, it was the environment we lived in. And I took great comfort in the fact that as an agency with the career folks and scientists, we were united in our approach. So although very difficult, and there were some substantial pressures, to make decisions.
Dr. Steve Hahn  40:24
I found it relatively easy to stick to the science and what the career folks were telling us. And again, we relied upon them and their expertise, and they were heroic. I mean, these are applications for you that are 1000s of pages long that normally take three to six months. And you could argue that those applications shouldn't take that long. But in the middle of a pandemic, where our work has doubled. The fact that we did this in three weeks or less for each of the applications we received is a pretty remarkable, and we were very thorough in our evaluation and had to be one for confidence.
Dr. Steve Hahn 
But also, because we got asked a lot of questions, one dose versus two dose, you know, what's the immune level, you know, the immune response, after one dose? You know, what about half dose, those sort of things. And so we needed to understand the data really well, to be able to answer those questions and have a science-based approach to vaccination. And I know there's still controversy about this. But I stand by the decisions that were made.
Dr. Bob Wachter 
Yeah. Did you ever get a call from the White House from? Will you ever called to the Oval Office to talk this through or called by, by the Chief of Staff asking you to speed things up or change your decision-making process?
Dr. Steve Hahn 
Yeah. So from almost every quarter, people had opinions about what FDA should be doing. And I think it's important to remember the context here that the administration was very results oriented, it was all about getting to a result. What you know, I think, was not completely understood Bob, was the fact that at FDA, there's a reason for the processes that we use, there's a reason for the cross disciplinary approach that we use to review of medical products. And that's because we want to get to the absolute best answer, I could give you 10 examples of how that review process really benefited the American people. monoclonal antibodies is a great example of that, understanding the data and slicing and dicing it will allow you to come to the absolute best decision.
Dr. Steve Hahn  42:22
So there was the issue of making sure that we made the absolute best decision around what was probably the most important decision we made all year around vaccines. But secondly, there was a confidence issue. And we said, we put our stake in the ground, this is what we're going to do. We're going to look at the data. We're going to be public about our summary. We're gonna have a public meeting, and then we're going to make a decision. And, Bob, I asked you, even though you're the question here, what would you have said, if we had shortchanged that process and truncated that, without good explanation or rationale? My guess is you would have said, "What the heck? you guys are once again, catering to pressure." Right?
Dr. Bob Wachter 
Right. Of course. Yeah, I remember that moment when you came out and, and made clear that this is the process. And this is what we're sticking with. And first of all, someone who has known you for a long time was really, really proud. I thought it was an extraordinary act of public bravery. I don't know if it felt that way at the time. But it really, it felt extraordinarily important to put the stake in the ground and say, this is what we're going to do and what we're not going to do. Did you think you might get fired?
Dr. Steve Hahn 
Oh, yeah, for sure. No question about it. You know, Bob, it was never about me. It shouldn't, couldn't be about me. So whether I got fired or not, was not relevant to the fact that we absolutely had to have integrity in the process and make the absolute best decision. I mean, we were talking about people's lives at stake. And I made that point repeatedly within the administration that, that this is about people's lives. This is about saving lives. This is about protecting and promoting the public health of the American people. And so, from that perspective, I again have to tell you, and again, maybe it's naive, I felt it was the right thing to do.
Dr. Steve Hahn  44:09
And it didn't feel particularly heroic, it felt like the right thing to do. And, you know, sure. I took incoming calls, and, you know, a number of hits in the press and elsewhere. And so be it. I mean, the bottom line is, did we make the absolute best decision we could for American people around vaccines? And I think the answer is yes. And I think we looked critically at the data. And thank God for the career folks at FDA, because they also felt the pressure and they did a terrific job. They are outstanding public servants, Bob.
Dr. Bob Wachter 
Yeah. That's it's great. Not surprising, but it's great to hear. Steve, I'm gonna give you an opportunity to make news you said we took a lot of calls, but you didn't say whether any of them were from the President. You can decline to make news if you'd like. But did you ever speak to the President on that?
Dr. Steve Hahn 
So the President was very engaged, and I did speak to the President quite a bit around a lot of issues that were pertinent to the pandemic, and did so on a regular basis. So I'm not going to speak about my private conversations with the President. But what I can tell you is that he was engaged, he was very knowledgeable about this, you know, I, we had a very honest exchange, I, you know, I made it clear about what our processes and procedures would be, and the reason that we had to do it.
Dr. Bob Wachter 
How'd you feel when the code was broken, and these vaccines were 95% effective?
Dr. Steve Hahn 
You know, just so thankful for two things, one, the basic science that led us to develop these platforms, really just remarkable investments in technology. But secondly, really had to give credit to the private sector. I mean, you know, some great private entities, companies stepped forward, and did development in an incredibly short period of time, and really put a lot of resources into it. And I was very, very proud of the fact that this had occurred in our country, I think it was. And, of course, it was global. It wasn't just our country.
Dr. Steve Hahn  46:09
But we certainly form these trials in the US, for the most part, very proud of the Americans who stepped forward and volunteer for these clinical trials. And really, very proud of the agency and how we had worked with all parts of the private sector in the federal government to expedite this as much as possible. Bob, I think it's been a remarkable achievement. I think we're seeing now the urgency, particularly the variants that we're seeing of getting as many people vaccinated as quickly as possible. And so, again, I you know, a medical grand slam, as far as I'm concerned.
Dr. Steve Hahn 
Yeah, I still remember that moment in November, and I looked at the headlines, I just was staggered, I could not believe it. You mentioned the variance. What's the process now look like if the companies need to rejigger vaccines for the variance in terms of the pathway to FDA approval for those? Do you have to go through the trial process all over again, or the surrogates that can move that along?
Dr. Steve Hahn 
Well, I'll be speculating, because I'm no longer at the agency. But, you know, my guess is we could use flu as an example here. So, you know, all along, we had been saying that, we wanted to have bridging studies done, meaning our initial clinical trials, the primary endpoint was a clinical endpoint prevention of disease, severe and mild COVID-19 with a vaccine. But what needs to be done is a bridge between the level of immunity that's attained and the clinical outcome, once that is established by a variety of different means. But then these platforms, one could draw the conclusion that if you get a certain level of immunity for a certain period of time, in response to a vaccine, that is equivalent to clinical efficacy, so that will help with subsequent vaccine development, both for the original COVID-19 genetic sequence, and spike protein, as well as the variants that are moving forward.
Dr. Steve Hahn  48:11
So I think what's important for this country right now is to really mobilize all of our weapons in sequencing, and really put a lot of resources to bear on sequencing, we really need to do great surveillance around those isolates that we had in the past, but moving forward to a much greater extent that we've done, understand the science behind those where the genetic alterations are seen, and then look, with neutralizing antibodies as to whether the monoclonal or the vaccines will likely be effective. And then if we see concern, reconfigure the vaccine, if you will, then perform those bridging studies and then allow that to be used for the regulatory decision making.
Dr. Steve Hahn 
Again, I don't make that decision. That's really a question for Peter Marks, but I would see that as a potential pathway moving forward. One other really important thing Bob, that I'm not sure folks are thinking about but that the agency had been monitoring since the summer is the effect of genetic mutations and variants on diagnostic testing accuracy. That's another component that really needs to be looked at and why this sequencing is so important.
Dr. Bob Wachter 
The other big issue the FDA is going to confront around vaccines is there. Just in the last several days we've heard trial results on I think I've lost count, maybe four, other vaccines, the J&J and the Novavax and the and the AstraZeneca and the Sputnik vaccine. How does the fact that the first two out of the box came in so remarkably efficacious influence, the decision making about these other vaccines whose at least top line efficacy numbers are a little bit lower?
Dr. Steve Hahn 
Yeah, again, my caveat is I'm not at the agency. So I don't represent it. But you know, obviously, this is a huge public health issue. Now, part of this is of course, the 95% efficacy and I think the really important part of that, as you would totally guess, and trials that are representative of all age groups, the 95% efficacy, particularly in the elderly is very, very important because we do know that for many of the preexisting platforms for vaccines that as one gets older, there's less effectiveness of vaccines, we didn't really see that with the mRNA platforms, as you know, from the publicly available data.
Dr. Steve Hahn
So I think the context has to be around what are the age groups, and what are the populations in which you are seeing the efficacy of these subsequent vaccines, because you could imagine a scenario where you have a mix and match if you will of different vaccines. Let's say, for example, Company A has come in with an application, overall their efficacy is say 60%. But it's 80%, in those less than 45 and 20%, and those over the age of 80, or 70, or whatever, I'm just making numbers up. But you can imagine a scenario where you could tell or an EUA around a specific population where you see the efficacy, but also where you might be lagging behind in the administration of vaccines. And that would increase the supply and allow you to get to herd immunity.
Dr. Steve Hahn
So that's why the conversation between CDC and FDA is so important. Because the Advisory Committee on Immunization Practices is really responsible for some of these recommendations that go out. And knowing the data, like FDA does, and the number crunching that we've done and we'll do will help inform some of those decisions. So to me, it's got to be a give and take between the two agencies, and then obviously, the public health infrastructure around the country. But to me, that's a rational approach to take. And my guess is that that, that's what we'll be hearing.
Dr. Steve Hahn 
Although again, I have no insight at this point into any of those applications. Bob, just to emphasize for your listeners is that Remember, these are 10s of 1000s of lines of data that the FDA looks at each application. And our scientists and statisticians go line by line. So we can number crunch the data ourselves, look in different strata of ages, and come to some conclusions that maybe the company didn't with the data. It's the reason that FDA is the gold standard for review of medical products.
Dr. Bob Wachter 
That's very helpful. And I hadn't really thought through all the issues of that we might be parsing these vaccines based on different subgroups. And the EUA may be very specific about its approval for different groups. You've had a chance to watch the Biden administration as a private citizen for two weeks. What do you think?
Dr. Steve Hahn  52:39
Well, I'm encouraged. You know, I think expanding production and access to vaccines is really important. I mean, I think that's job number one right now. Well, okay, it's job 1A and 1B, if you allow me to use those terms, I apologize. But that, you know, first job is our continuing mitigation efforts to try to prevent the spread, community spread, that's, of course, is a baseline that has to continue. And I'm happy to see a lot of people talking about that. But then really, you know, our job now is to really as a country is to accelerate the vaccination of Americans. And that's both a supply as well as an operational issue at the state level. And I'm really encouraged to see folks focusing on that.
Dr. Bob Wachter 
Great. I can imagine the day after you left FDA, you had a chance, first of all, to sleep in. Second of all, not to hear criticisms from anybody about anything other than maybe how you cook the breakfast or something or how did it feel? And now you've had a couple of weeks, have you processed the last year in some different way than you were while you were living it in real time?
Dr. Steve Hahn 
Yeah, I think so. And Bob, it's interesting, you don't realize what you're going through in real time, what you do is try to live the moment and make the best decisions with the data that you have. So it's a totally different thought process. And yeah, I absolutely think that the last couple of weeks has been about processing it. I've tended to stay away from you know, reading what's in the press and the media. And I've been in touch with some colleagues back at the FDA just to say hi, I mean, you go to war together and you spend time, you develop friends. And, you know, I'm just cheering for FDA and the American people and the effort against COVID-19 we really have to come together as a country.
Dr. Steve Hahn  54:25
We just can't be one party versus the other. This can't be red versus blue states. This has to be really doing everything we can to fight what is a significant public health menace. So I'm really, you know, of course, focusing on the time and focusing on you know, what happened and sort of processing that but I'm not obsessing or, you know, constantly reliving it. I am confident that the agency is in good hands and moving forward and I'm confident of the decision making and the processes that are in place. What I want to see is just all come together and do the absolute weekend for the American people, Bob, that is so vital and critical in this time if we're to get this behind us, and we need to get this behind us.
Dr. Steve Hahn 
Absolutely. What's next for you?
Dr. Steve Hahn 
I don't know, I'm going to take my time. You know, I kept my medical license, I still have my California license, Bob, believe it or not, there all these years. We're moving back to..
Dr. Bob Wachter 
If you're looking for a job, Steve, you let me know.
Dr. Steve Hahn 
Alright, a job offer on the podcast. I'm definitely, you know, trying to decide what to do moving forward. I'm very interested in the issues around disparities and health care equities, I think, two major observations I had from the pandemic, one is the incredible value of the private sector, and how we have to do everything we can to make sure there's appropriate oversight, but also foster innovation and speed, the process of getting that products, the American people, not just in a pandemic, but overall. And then the other part of this is, we really need to tackle the issue of disparities and health care equities. Because I think we've seen that the most vulnerable among us have been at the most risk, have the least access to care. And we really need to, need to solve that problem.
Dr. Steve Hahn 
Steve, thank you so much for taking the time to chat. Really, really appreciate it.
Dr. Steve Hahn  56:14
You bet, really appreciate the time and my best to everyone out at UCSF and to your listeners, and I appreciate the opportunity to be here.
Dr. Bob Wachter 
Thank you.
Dr. Bob Wachter 
Well, that was remarkable. I have to say that. I really appreciate Steve's honesty. And when you're under a public microscope for this long, I'm sure. It's easy to characterize somebody and think about their motives through your own lens. But having a chance to hear from him, I think you get a sense of his integrity and how challenging this year was, but that he ultimately knew what the right thing to do was and how important it was. And, you know, in the end, he made a decision that may be the most consequential decision that anyone made in all of this pandemic. You know, if he had gotten it wrong, then trust in the vaccines would have plummeted. They might have approved a vaccine that really wasn't ready for primetime. And the consequences of that would have been dire.
Dr. Bob Wachter 
In the end, he stood up for the right thing. And the vaccines that we have really are remarkable feats of science. And really, it was a nice opportunity to hear from him, and to learn what that must have felt like, and I wish him the best of luck as he enters this next stage of his career and he deserves the rest. I hope you enjoyed it, we have some more remarkable shows coming up, including in a couple of days, we will speak with Captain Sullenberger known as Sully. You know Sully as the legendary pilot who landed his plane on the Hudson, saving hundreds of lives and doing that. But Tony is also extraordinarily thoughtful person who's who lectures about leadership, about integrity, wade into issues around COVID over the past year, thinks a lot about safety and prevention.
Dr. Bob Wachter  58:14
We'll talk with Sully about COVID. And not just about the politics and leadership but also about the airline industry and the challenges that it has faced and how it's going to deal with its work coming out of COVID. So that will be terrific. That'll be on Wednesday. Then, subsequent episodes, we have Emily Oster, who is probably the nation's top expert in the schools and the issues of the economics and the politics and the safety of opening the schools. One of the most hot button issues we've all faced. And we also have Don Berwick, Don is probably the most consequential figure in the worlds of health care quality, and safety.
Dr. Bob Wachter 
He's thought a lot about the overall healthcare system as the founder of something called the Institute for Healthcare Improvement and ultimately, he became the head of Medicare under Obama where he helped Shepherd through the ACA. So three amazing guests. We have more in stock for you after that as well so stick with us. Look forward to seeing you back here on Wednesday with Captain Sally. Until then, stay safe and be well and we will talk soon.
CREDITS
We're a production of Lemonada Media. Kryssy Pease and Alex McOwen produced our show. Our mix is by Ivan Kuraev. Jessica Cordova Kramer and Stephanie Wittels Wachs executive produced the show. Our theme was composed by Dan Molad and Oliver Hill and additional music by Ivan Kuraev. You can find out more about our show on social media at @InTheBubblePod. Until next time, stay safe and stay sane. Thanks so much for listening.