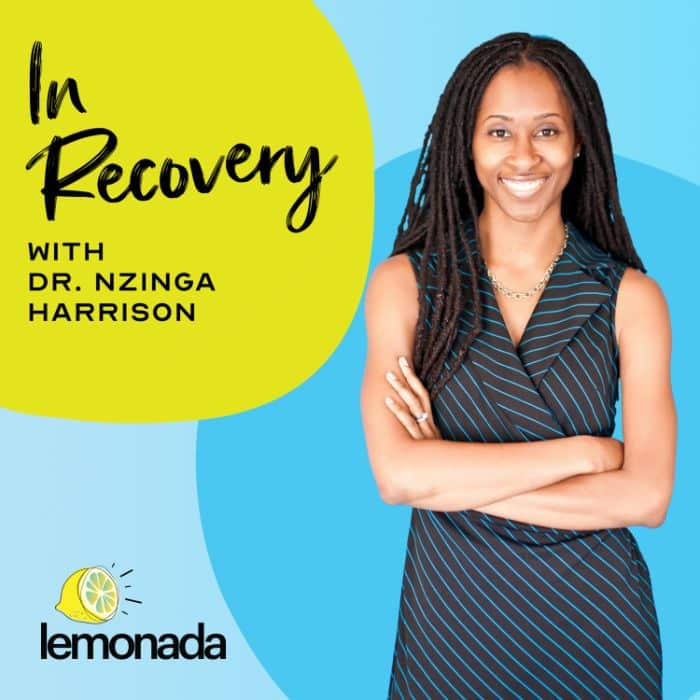 It's Been 7 Weeks Since Her Overdose
Subscribe to Lemonada Premium for Bonus Content
Description
Beth's daughter Brittany was 14 months sober when she turned 29 and was kicked off her insurance, ending her stint at the one treatment program that addressed both her addiction and her mental health. On June 25th she overdosed and died. For our season finale, we talk to Beth about Brittney's legacy, how the system failed her, and what we can do to try and prevent it from happening to someone else.
Where to go to help:
You can take action in honor of Brittany. Go to https://bit.ly/takeactionASAM to sign up for updates on all legislative advocacy opportunities for addiction medicine.
Where to go for help:
If you're looking to find treatment that is the right fit for you, check out treatmentatlas.org
Click this link for a list of current sponsors and discount codes for this show and all Lemonada shows go to lemonadamedia.com/sponsors.
Have an addiction-related question? We want to hear from you! Call 833-4-LEMONADA (833-453-6662) or submit your question through this form:  bit.ly/inrecoveryquestions
To follow along with a transcript and/or take notes for friends and family, go to www.lemonadamedia.com/show/in-recovery shortly after the air date.
Follow Dr. Harrison on Twitter, IG, and FB @naharrisonmd
Stay up to date with us on Twitter, Facebook, and Instagram at @LemonadaMedia.
Joining Lemonada Premium is a great way to support our show and get bonus content. Subscribe today at bit.ly/lemonadapremium
Transcript
SPEAKERS
Dr. Nzinga Harrison, Claire Jones, Beth Boivin
Dr. Nzinga Harrison  00:06
Hi, everyone, welcome to our Season Two finale of RECOVERY. I'm Dr. Nzinga Harrison. For our last episode of the season, we're going back to the roots of the show and talking about addiction. But as we all know; mental health and addiction are so intertwined that you can't really talk about one without addressing the other. Today's interview with Beth Boivin highlights that more than any story we've heard on this show thus far. Disclaimer, we will be talking about sexual assault during this episode. So if that's not something you're ready to listen to right now, maybe come back to it later. Or if you need to skip it altogether, skip it altogether. We're talking to Beth about her daughter Brittany, who died on June 25 from an opioid overdose. Brittany's journey with opioid started after she was sexually assaulted in college.
Dr. Nzinga Harrison 
In her eulogy her mom wrote, quote, It served as the catalyst for several mental health issues. And in recent years as substance use disorder, the substance use was her way of attempting to manage her pain. It was a condition, not a choice. In our conversation with Beth, we talked about where the system failed Brittany over and over again along the way, and how it's time for mental health care and substance use disorder care to be held to the same standards as we hold the rest of health care, period. With that, let's get into our conversation with Beth. Beth, welcome to the show. Is it okay, if I call you mom?
Beth Boivin 
Absolutely.
Dr. Nzinga Harrison
First of all, I'm so sorry. For your loss. I imagine it's a pain that you can't put words to and so just, how are you doing? How long has it been since you lost Brittany? And how are you just as a human?
Beth Boivin  02:01
It was seven weeks yesterday, since we lost Brittany. I guess the best way to say it is I have a lot of ups and downs. I have time where I have very happy memories of her and they provide me with peace and comfort. I have moments where I know that after a long battle, she is finally resting, and she is at peace. And that gives me some measure of comfort. But I also have this huge hollow feeling that sits right about my heart and into the rest of my stomach and soul. That just misses her so deeply. It's hard to describe.
Dr. Nzinga Harrison 
And how do you keep yourself even with that hole? How do you survive?
Beth Boivin 
On the back of Brittany's prayer card. For her celebration of life. We had a quote that said, "grief is the price of love." And one of the things that I do is I think about that often. And I think that it gives me a tiny bit of comfort to know that this hurts so bad, because I loved her so much. And I'm comforted by knowing that she knows how much we as a family loved her, including myself as her mom. And so that, that's what I hold on to knowing that this grief. And this pain is the price I had for having this wonderful, wonderful child in my life for 30 years.
Dr. Nzinga Harrison 
I was at a funeral for my husband's cousin in March. And it was amazing to me that that was the first time I had heard that quote. Me too. And it really is healing. It really does help.
Beth Boivin  04:09
It does help. And my son says it to me regularly when we are you know, talking or crying together. And it's that constant reminder that we were filled with so much love and there's no greater gift than that.
Dr. Nzinga Harrison 
Yeah. So after you lost Brittany and Jackie asked you to come on the show what motivated you to say yes.
Beth Boivin
My daughter was one of the most special humans that I will ever have the opportunity to know. And I began advocating and looking for ways to try to improve the health care system as it relates to mental health and substance use disorder while she was living with these conditions and I knew very shortly After her passing, said I would be devoting a good part of my life to honoring her by continuing this work. I'm motivated by honoring Brittany and the kindness and compassion that she had for so many others, as well as doing anything and everything I can to prevent other families from going through this pain. It's a pain that's quite hard to put words to.
Dr. Nzinga Harrison 
Yeah. So tell me about let's start with little Brittany. I've heard that you've described as a, quote, spirited child.
Beth Boivin 
Yes, indeed. So back in my day, Dr. Spock was the book you turned to when you had your children. But by the time Brittany was 18 months old, we had moved to a book called Raising Your Spirited Child. Aha, the opening paragraph described Brittany so perfectly, a highly sensitive, highly intuitive, very energetic, adventurous and fearless little girl.
Dr. Nzinga Harrison  06:11
This was the definition of spirited child in this book.
Beth Boivin 
And this intuitive nature that she had was just incredible. And the other thing about spirited children, it said, is that they, they are always wise beyond their years. And they can sense the energy of the world and the people around them. And that was so true of Brittany as well. One of the stories I told during her eulogy was that my grandfather in law passed away, just days after Brittany turned three years old. And we hosted a small lunch in at our home, following his service. And Brittany kind of wandered off away from the crowd a little bit. And she was sitting on a large pile of soil that my husband had there for some work he was doing. My husband went up to her and said, What are you doing Britt? And she had just turned three. And she looked at my husband. And she said, I'm just sitting up here. So I could be a little closer to Pip pip. Just as simple as that. But she wanted to put herself as close to the sky as she could. She just always had this spirit about her. And then the adventure and the fearlessness. So she would walk off and she could go with some speed. So for about three years, from the age of two to five, we had Bell's hooked on the back of her […]. She was outside, so we could keep track of her.
Dr. Nzinga Harrison 
Yeah, as she grew up, kind of as a kid and younger, maybe like two teens, what were the things that she became passionate about? Well, she
Beth Boivin 
Well, she certainly became passionate about all things nature. She was one of those kids that absolutely would not step on an ant. She also became passionate about singing. And so she walked in my room, to my great surprise, some time or just before her 10th birthday, and just turned to me out of the clear blue sky and said, Mom, don't you think I sound a lot like Mariah Carey, and I said, really thought so much about that. But sure, she asked if she could take voice lessons. And so we enrolled her in voice lessons. And she had wonderful teachers. But in addition to that, she had a very clear talent for this. And so she performance became the hobby that she embraced as a from the age of 10, up until she was actually selected for the School of Drama at Carnegie Mellon University, which was quite an elite. It's quite an elite program, in fact, over 1000s audition, and they, at that time took 16 women and 16 men for the program.
Dr. Nzinga Harrison
Wow. I love the love that radiates out of you as you talk about Brittany like I feel like I can get such as since it feels like sunshine to hear you talk about Brittany. So we've been talking about Brittany, but let's talk about the two of you. What was your relationship like? Were you close with this spirited child who was you know, taking your creativity to the max.
Beth Boivin
Absolutely. We were very close. And you know, that's not to say we didn't have those mother daughter moments in I was when she was a teenager and a young adult. We traveled together. We went on kind of a tour of a variety of colleges during her junior year because she had to both apply for college and audition because of The nature of the program she was going there for. And we had a wonderful time doing that. So we had wonderful, wonderful times together. And we were very close. And over the last 10 years when she struggled in a variety of ways. I was also her confidant, and the person that helped her access services and other things. And I was the person that spent the most time I would say with her, while most of that was by phone, because we lived a distance apart. It was probably three or four, maybe five hours of phone time every day. So for me, not only did I lose my daughter, I lost a big part of my day, every day. And she was really a very close friend. I could talk to her about anything and everything. And she gave me a wonderful listening ear and great advice.
Dr. Nzinga Harrison  11:14
Can you tell us the moment you first noticed there was something different about her?
Beth Boivin  11:19
The issues really were promulgated by a trauma.
Dr. Nzinga Harrison 
Yeah. And tell us about it.
Beth Boivin 
Brittany, went off to Carnegie Mellon University, as I mentioned earlier, and a couple of weeks after going to school. She was running off campus one evening, and she stopped to help a gentleman who appeared to be in distress. He told her to move on. And she did, she kept running. But he came up behind her shortly thereafter, and threw her in the back of a car and assaulted and raped her. And she begged to be released. And he did release her and told her to run as fast as she could, and get away. And she did. She ran back to the dorms at Carnegie Mellon. And late that night, she called me and she was very upset, but she didn't tell me what happened. So those calls began to come every night at about 2AM. And I learned shortly thereafter that she was going into the shower for many, many hours each evening, and then going into the stairwell next to her room and calling me for the rest of the night until morning came. It took a couple of weeks for Brittany to disclose what had happened to her she was just terrified. And when I talked to her and she sounded upset, I would beg her to tell me what was going on.
Beth Boivin 
Because of course, I knew there was something. And she kept saying the food was bad. And you know, this was bad, but it still wasn't resonating properly with me. And so after just a few days of these phone calls late at night, I went out for the weekend. I spent about three or five weekends out there. And then finally, during one of the weekends that I went out, I went out and because she had collapsed in class. And so we took her to the ER and she was exhausted, dehydrated. And then they did a psych eval. And during that psych eval, she told the story of what happened. And then she asked the doctor to talk with my husband and I and we brought her home. Despite some improvements over the years, she'd never really recovered from the trauma. So she carried diagnosis of PTSD, anxiety, depression, she developed eating disorders, which I think is relatively common after a trauma, such as hers. She developed some OCD, some really solid ritualistic cleaning behaviors that would come and go and flow and so it was hard for her to rest. It was hard to for her to find peace.
Beth Boivin 
After she was traumatized, when she came home, what kind of stuff support?
Beth Boivin
So, I, me with a healthcare background, I said, we've got to find the best of everybody to do the best of everything. And I found her wonderful psychologist who did a did all of her postgraduate work in the field of college women and trauma. And she did a 10-part series with Brittany that did a lot of debriefing work and a lot of counseling work. In retrospect, and I learned as much later, it may have been a little bit too soon for Britney, I didn't know that about trauma therapy. And I wish I had known at the time, I wish maybe somebody had said to me, trauma work isn't as effective until the person is ready for their trauma work and their debrief. And Britney also went to yoga therapy, we were looking for things that were maybe complementary to the more traditional approaches. So she started with a new primary care physician who was in a center for integrative health and healing.
Beth Boivin  16:13
And so they use some supplements rather than medication because that was her preferred way to address that. And they also recommended this yoga therapist in Saratoga Springs about an hour from our home. And so we put that combination together her work at the Center for Integrative Health and the psychotherapy, and the yoga therapy. And as I said, she seemed to do okay. I mean, okay, in terms of, she was home with us, and there weren't great improvements. But she was working a little bit part time and she was participating with her care plan. I guess that's more of what I mean. Restlessness and the eating disorders, we're still very much up and down during that period of time. And then when she returned to Carnegie Mellon for what would be the start of a new freshman year, she had a wonderful psychiatrists there who monitored her very closely, as did the folks in health services at Carnegie Mellon, I give them a lot of credit for their attentiveness to her.
Beth Boivin 
And she gained a little bit of weight back. And under her doctor's guidance, she started on an antidepressant and a very low dose of Ritalin to help her with the ADD. She actually had a very good year at Carnegie Mellon over that following summer though, she decided she didn't need the Prozac anymore. She thought she was doing so much better. And she stopped the Prozac, went back to Carnegie Mellon, and was only there a little over two months when she had a suicide attempt. And so that really put an end to school there. And that came very much out of the blue. She had been doing well, she saw her therapist on Tuesday and Thursday that week, or psychiatrists talked with us every day, was attending class and then one night just took a handful of pills. And then she came home for a much longer period of time and did an inpatient stay and an outpatient, intensive outpatient program for a total of almost two months.
Dr. Nzinga Harrison  18:48
Undoubtedly, something triggered her although it can often be so impossible to even find what that trigger is, especially going back to her being a highly sensitive person. Do you know at what point drug USE started, like, have drug used started before this suicide attempt or..
Beth Boivin
No, it didn't. So that was 2011. The drug use began in January of 2016.
Dr. Nzinga Harrison
Oh, 5 years later, she struggled for five years before she started using.
Beth Boivin
The trigger really for beginning to use heroin was losing her cat. She was this highly sensitive person as it relates to nature and animals too. And her cat got away and there was a fair amount of confidence because it was in the desert that he got loose, that he was probably taken by coyotes, and she just couldn't come to terms with losing them. She walked tirelessly night and day. Put up posters, knocked on doors to the point where I flew out to California to help her because I was so concerned about her. And she had a friend that she had met working at a Grammy party who said to her, I've got something that will help you. And she started using heroin at that time. She could use for three or four months, and then not use for a month and then use again for a few months. And that always was perplexed to me, to a large degree, and it did many of her doctors too.
Dr. Nzinga Harrison  20:40
Well, my hypothesis is that ebb and flow was probably the ebb and flow of anxiety. And being triggered like I can absolutely see how losing her cat to the idea of her cat being pursued and caught by a predator, which is what happened to her. And so I would imagine, as she was so vulnerable, when that person first offered her that heroin, that when she would probably have that same intensity of trauma, reemergence and anxiety that that would kick off another three, four months of heroin use this is hypotheses. But so then she used sounds like if she started 2016, all the way up to what point because I know she actually had a period of sobriety.
Beth Boivin
So she had a couple of periods of sobriety, she came home to New York, from California, and spent a little over a year with us, and had six months of sobriety, and then a relapse. And, frankly, we didn't have quite the quality of programs here in New York, at least ones that I could locate that they did on the west coast. So we began to talk with other families who had been in our position. And we found that there were a couple of terrific programs, both in Arizona and California. And so we made that decision for her to go to program in California. And the first program she attended, didn't work out so well. And then she also lived in a couple of sober living settings that didn't work out so well. And that's an area of great concern for me, the lack of regulation for these, these homes that families spend a lot of money on, and frankly, not regulated, at least in the state of California.
Dr. Nzinga Harrison  22:55
Any state.
Beth Boivin 
Okay, and that troubles me greatly, especially as a health care provider who, again, is required to have certifications for the work that I do in geriatric care. And I think it's equally as important in this field.
Dr. Nzinga Harrison
Absolutely. I mean, I don't mean to jump on a little soapbox, but it comes completely from a lack of understanding of substance use disorders as illnesses. And the stigma associated with it. And I think what else I'm hearing, tell me if I'm not hearing this from you, but this kind of separation that we have of substance use disorders from mental health, and so she went to treatment for the heroin. But were they able to address the OCD, the PTSD, the anxiety that was feeding the heroin addiction in the first place?
Beth Boivin
Absolutely. Not. The first couple of programs, absolutely not. And that was the great struggle, I mean, and the sober living residences. Were the first two as I said, we're really just opportunities for folks with, you know, a house that had a few bedrooms to make money. I hate to say it, but they had absolutely no skill sets. They talked as though they did in the contract. I had the right language in it. But when it came down to it, any, any lapse in judgment, or any trigger was treated punitively in both settings. And, again, a complete lack of understanding about this as a health condition and not a choice.
Dr. Nzinga Harrison
So bring us to how Brittany was doing before COVID started and then walk us kind of through that and tell us about her last day if you can.
Beth Boivin 
So, pre COVID, we had enrolled her in a dual diagnosis program, which did address as you suggested both her mental health issues as well as her substance use disorder. And she had 13 and a half months clean. And she was doing really well. She had at the advice of her doctor moved from sober living into a little apartment of her own. And she was going to program and even though she had no car, she had to walk both ways. And she did it. And she was doing really well. And COVID changed that a little bit. However, the biggest change, and the most disappointing was that she turned 29 years old. And as such, she lost her insurance. She had been covered under the COBRA benefit with my work. And she lost her insurance. And within a day she attended program on Friday and Monday, she could no longer go. My husband and I explored options to pay privately it would have been $5,000 a day for the three days a week. And so this child, my child, she's certainly an adult, but she was my child, relapsed the weekend that she would not have gone back to program on Monday.
Beth Boivin  26:39
And I flew out and spend a month with her. And we put together a piece together a care plan. She now had insurance through covered California. And it simply didn't provide the same benefits for a program like the one that Brittany had been in. So we pieced together different things. And we paid privately for some things. And we put it all together to try to keep her there in this community of folks that she had worked with. But it just didn't have the same impact, nor did it have the same impact because now it was virtual. So we began bringing her home often. And so we had her home for about a total of almost six months during the course of that year. But then she would want to go back and you know, be in her life in California. And so this last time she went back and we spent a wonderful day on Saturday with her, my son and daughter in law and my grandson came up for the day. And then she flew out that evening and she seemed great Father's Day was the next day talked to all the dads in her life. And four days later she passed away.
Beth Boivin  28:06
She went apparently went out on Wednesday evening or Thursday sometime we don't know exactly when and got drugs that were laced with fentanyl. And so she died with fentanyl in her system. And quite sure it was accidental. Her beloved cat was in the apartment desperately trying to get out on that Thursday. But as I mentioned earlier in our discussion today I spoke with her so much that when any more than, you know five or six hours passed in a day, I was very concerned but I did get a call from her psychologist. She had an appointment at noon. And when we talked late Wednesday night I said to her you know remember you have your doctor tomorrow. I know, I know mom, I know. And perfectly fine. I love you so much. I'm going to talk to daddy before I go to bed. And so the next day I just had this feeling that something was terribly wrong when she wasn't responding to my calls or texts and I was saying to her honey, you're missing your doctor's appointment, honey, can you get on Zoom and then I kept texting her all the rest of the day.
Beth Boivin
You know, Honey, I'm worried please check in please check in. And I will say it wasn't uncommon for her to sleep often in the day because she often had very restless sleep at night, if any sleep at all. And so my husband I kept calling my husband saying something's not right. Something's not right. And he said, honey, she does this a lot. She's probably sleeping, she's probably fine. And finally after about six hours I called a friend of hers. And he went over and saw that the cat was scratching at the kitchen window. And he said something doesn't seem right. And he said, may I have your permission to go in the window? And he did. And he found her passed away on her kitchen floor. She was cooking at the time. So she was clearly, you know, it was clearly an accident where she got a hold of something that took her away from us.
Dr. Nzinga Harrison  30:31
I'm so sorry. I actually feel more mad than I feel sorry. I feel a […] actually.
Beth Boivin
I just, it's, it's so disappointing that we just can't do better. We're so smart. And I think at the foundation of all of this, what frustrates me is that I look at I see the advances that we've made in so many disease states. And I keep saying my daughter in law speaks about this so much to me, my other family members, until we treat mental health as health and not mental health. Until we treat substance use disorders as a health condition. We are never going to win this battle. It starts there. When you think about look at breast cancer. And so many of the cancers, my husband has a rare form of lymphoma. And, you know, 20 years ago, they said that, you know, he had five to 10 years to live and very, very happily, he is still in remission doing so well, because of tremendous advances in cancer care.
Beth Boivin  32:00
But we treat cancer like health, we have compassion, and we dedicate dollars and science to this
Beth Boivin 
. And so we teach preventative strategies to young people, and we screen. And yet we do all these screenings for kids, we don't let them play softball without a screening. And yet we don't. We don't screen young teens and kids in school for mental health. They go off to colleges with no screening for mental health. And until we begin to embrace this and embrace the idea that we can do better with treatment, and we might even be able to find preventative strategies for mental health conditions. How do we win this war?
Dr. Nzinga Harrison 
Yeah, I totally agree with everything that you just said. But I also think part of it is like we have to care about the people who are dying, right? Like there has been so much stigma and blame that it's like, literally, people didn't care if you died, because you did that to yourself. And that's what I am really grateful to you for coming on this show to talk about Brittany. Because it matters that Brittany died. That should make us do better.
Beth Boivin 
Brittany died because she was a victim. And if she had died that night at Carnegie Mellon, that would have been so much outrage. And there would have been calls for justice. Calls for help and calls for alarm. But because she was only tortured that night, you know that I put a word only in there, very intentionally. I'm sure there are many people in the world that would lack compassion for everything that she's went through, gone through, excuse me. Unless all of us who feel this way really demand a call for action. And I think the time is now for people to start doing this with mental health and substance use disorder. Or we are going to continue to lose our kids. These people we love.
Dr. Nzinga Harrison  34:32
I agree. I agree. I feel like your call to action. may have been what we needed to hear but maybe we can finish out with what do you want people to get out of Brittany story like what legacy of Britney would you like to leave with people who are hearing you right now?
Beth Boivin 
Well, I guess first and foremost, as Brittany grew into a young lady, even despite her own challenges, and maybe because in part of her own challenges, she continued to be one of the most compassionate and empathetic people I ever knew. So I would say the one thing I would suggest, is, please do everything you can to be as compassionate, and empathetic as you can possibly be. Please understand that every person struggling with a mental health disorder, or a substance use disorder, is somebody's treasured son, or daughter, or brother, or sister or friend. And we love these people. And we are trying so hard to do everything we can to get them the services they need.
Beth Boivin 
And in other circumstances, and perhaps you can comment on this. I've spent my whole life in healthcare, I feel somewhat fortunate that I was able to find the services that I could for Britt, even though they were far from perfect. But what does a young person do who doesn't have that access? Right? And or a parent who is able or willing to guide them through this labyrinth of a, I hate to even call it a system. Because the system suggests that it's well-orchestrated.
Dr. Nzinga Harrison 
Labyrinth of a mess.
Beth Boivin 
Yes, that's it, labyrinth of a mess. And what are those folks do? And how do we guide them, but maybe if we were all a little bit more compassionate, and empathetic. And then I would suggest that for all of you who have been touched, and hundreds and hundreds of people attended Brittany's services, if you've ever attended a service, if you've ever known anyone that has been impacted by a mental health or substance use disorder, get on the phone, call your Congress, people tell them it's time for action, and that we have to do more, we have to devote more resources, we have to treat mental health as health. And we have to invest the monies to make a difference in research and prevention and treatment moving forward.
Dr. Nzinga Harrison 
Thank you for coming on.
Beth Boivin 
It was my honor. Thank you for having me, thank you for the work that you do. I can't tell you how grateful I am to spend this time with you.
Dr. Nzinga Harrison 
I just cannot even get myself together. I had it together until she said, and then she lost her insurance. Like I felt like somebody struck a match on gasoline inside my body how angry I got.
Claire Jones  38:16
That's a person who like out of most people has the best opportunity to succeed. Like they have a parent who is willing to support them through the entire process. They are like, financially, relatively set up for success. And like it didn't work. Like the system failed them.
Dr. Nzinga Harrison 
It was working. No, not even, COVID was secondary. It was until she turned 29. That is something we have complete and utter control over. We can control whether people who are actively receiving health care for chronic and deadly illness lose their insurance. We don't have control over COVID. But we have control over people losing their insurance in the middle of a course of care for an acute and deadly illness. We design that. We said at 29 It doesn't matter what's happening in your life. A computer will tell us your insurance is over. We design that, it's trash. And like Beth said, the fact that mental health wasn't part of most of the treatment centers Brittany went to, also in our control. We also design that and that's how we fail Brittany. Okay, well, I definitely feel like I need some macaroni and cheese after that.
Claire Jones 
Yeah, I know.
Dr. Nzinga Harrison 
So I don't want to Put my voice too much behind Beth's voice because I think she said to us what we needed to know. But what I do want to bolster is Beth's message, that change can come. And it takes all of us to make sure that change comes. So if you've listened to this episode, and you have been moved by this episode, I want to end with a call to action, which is that each and every one of us make it our personal responsibility to be driving change in this system, that could have prevented Brittany's 93,000, others since COVID, and everyone else, or at least some big portion of everyone else who has died because our system isn't working. And so Claire is going to point you in the show notes to the ACM community. It's called The Grassroots Action Center, and will point you to the link, go there, sign up, they will send you alerts for all of the legislative advocacy, opportunities that there are and the app makes it so easy, literally, once you open this app and put your name and zip code in, then you just click the button, and it messages, all of your representatives about the current legislative advocacy opportunity.
Dr. Nzinga Harrison
I've been using it for over a year, it's super easy, it is fantastic. It makes a difference. So in memory of Brittany, as part of her legacy, let's do that for her. And let's do that for Beth and everybody that Brittany, left here still with us to be able to do that work. And with that, thank you to all of you for listening to this season of IN RECOVERY. We tried to really focus on what we're all going through collectively as we navigate COVID. And without all of the people who wrote into the show and called into the show, we would not have been able to do that. So thank you specifically. While the season is ending, we know that many of the topics we talked about are ongoing in all of our lives. So check on yourself. Check on those around you find something that gives you a sense of purpose, no matter how small it is. Its impact is big. Be in touch with your community as best that you can. And we love you all very, very much.
Claire Jones  42:32
We love you all so much. Thanks everyone. Bye bye.
CREDITS
IN RECOVERY is a Lemonada Media Original. This show is produced by Claire Jones and edited by Ivan Kuraev. Jackie Danziger is our supervising producer. Our theme was composed by Dan Molad with additional music by Kuraev. Stephanie Wittels Wachs and Jessica Cordova Kramer are our executive producers. Rate us, review us, and say nice things. Follow us at @LemonadaMedia across all social platforms, or find me on Twitter at @naharrisonmd. If you've learned from us, share the show with your others. Let's help to stigmatize addiction together.