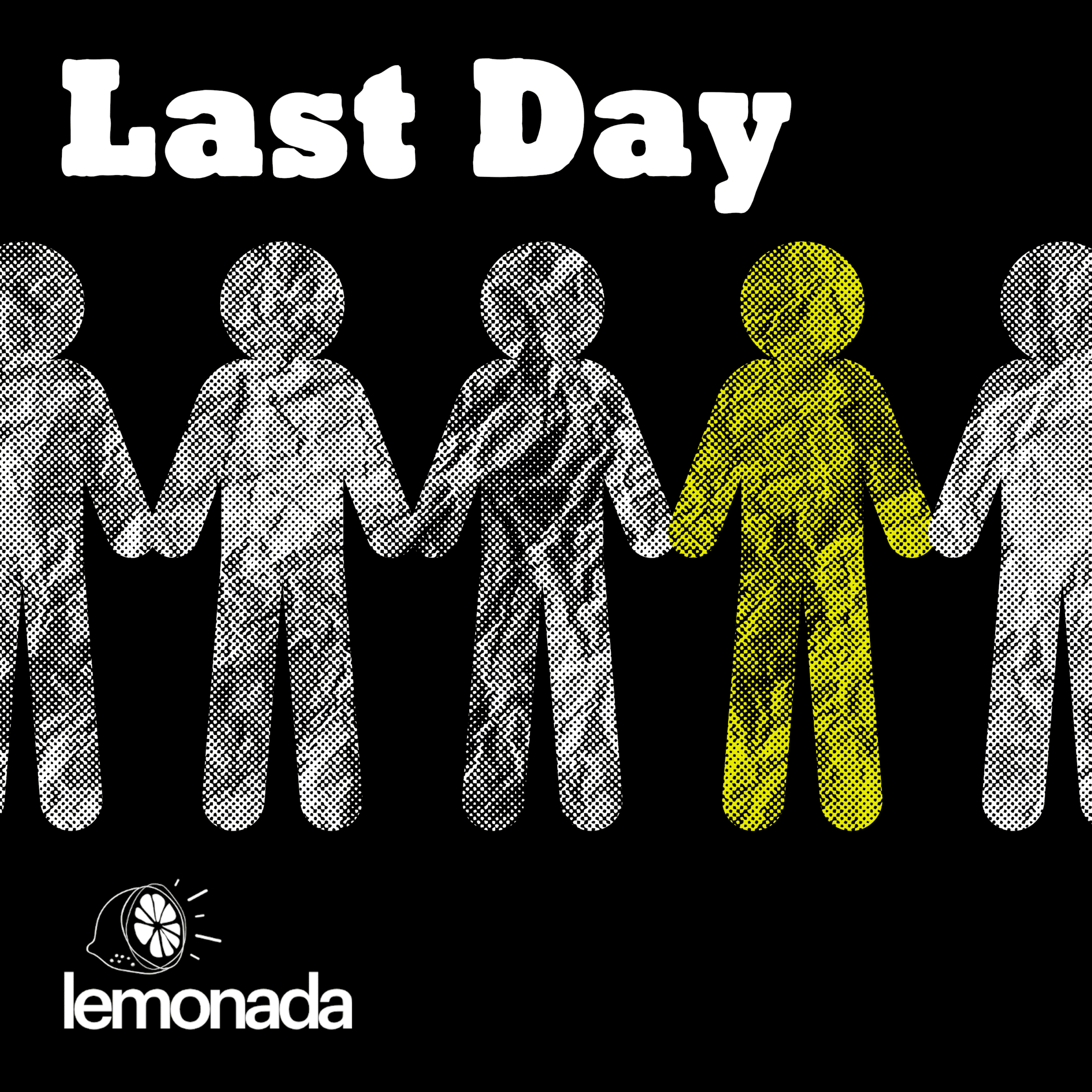 Kind Of, Sort Of, Very, Extremely Intense
Subscribe to Lemonada Premium for Bonus Content
It's National Suicide Prevention Week, and that means you're probably seeing a lot of triggering content. We can relate. The Last Day team is hard at work producing season 2, which is all about the rising rate of suicide episode in this country. Why are more people at risk? What can we do to help? And how can we take care of each other when things feel so hopeless? Season 2 arrives Wednesday, October 14th.
If you are thinking about harming yourself or attempting suicide, tell someone who can help right away
Season 2 of Last Day is created in partnership with The Jed Foundation. Transitioning into adulthood can bring big changes and intense challenges. The Jed Foundation (JED) empowers teens and young adults with the skills and support to grow into healthy, thriving adults.
Transcript
Stephanie Wittels Wachs: [00:00:00] Thanks for listening to Last Day. If you're just tuning in for this episode, welcome. Keep listening. But then I hope you'll go back and start listening from the beginning of Last Day, season one, where we deep dive into Jess' brother Stefano's last day. And then we zoom out to understand the broader opioid epidemic, including the stories of many others. On episode one, you'll get to know me, Stephanie Wittels Wachs, the host of the show, and my brother Harris Wittels, who also died of an overdose in 2015. We will also hear from two of his closest friends, Sarah Silverman and Aziz Ansari. And if you like what you're hearing and you want to make sure we continue to bring you podcasts that you love, you can also become a member of Last Day on Patreon. Check us out at LemonadaMedia.com/Patreon.
Stephanie Wittels Wachs: [00:00:57] Hi, it is Stephanie Wittels Wachs, host of Last Day. Did you miss me? I really missed you and I'm glad to be back here. So speaking of missing things, in case you missed it, Overdose Awareness Day was a couple weeks ago. Now, I didn't know that it was Overdose Awareness Day until I saw my mom's Facebook post. So I'm going to just open up Facebook here. I'm going to go to her page. I feel so lame when I say I have a Facebook page, like I should lie about that, but I don't know. I have a Facebook page. OK, OK, so August 30th at 10:55 p.m.: "Today is Overdose Awareness Day. Please say his name today and pray for all those young souls with so much left to give who have also left too soon, and for those who still struggle. Harris Lee Wittels 4-20-84 to 2-19-15."
Stephanie Wittels Wachs: [00:02:05] My mom is so — I love her so much. She so sincere. She's so earnest. Anyway, she like writes like that and like I think it just nails the point, which is that you don't want to forget these folks. And so these days, these like awareness days are really important because it's a place to officially say like, hey, you know, I'm thinking about my person relentlessly all the time, every day. But you may not be. And in case you have forgotten, they're not here. And that is something that I live with every single day. But I need you today to officially know that I am without them because of this issue. And this week, I'm sure a lot of you are being inundated with stories about suicide because it's the same sort of thing. It is National Suicide Prevention Week.
Stephanie Wittels Wachs: [00:03:00] And that can be really intense, especially for people who have been impacted and touched by this. And you know who can really relate to that experience of intensity? The Last Day team. We are there. We have spent the last three months steeped in suicide stories because we are devoting our entire second season to covering the rising suicide epidemic in this country. And as much as these days are kind of, sort of, very, extremely intense, they do serve the purpose of raising awareness. And you know what? There was a lot of stuff that I was not aware of when it came to this issue. Like, did you know that veterinarians are at an increased risk to die by suicide? Veterinarians, the sweet people who take care of our animals. And then there's like this growing field of AI research that is trying to come up with algorithms to predict exactly who is at risk. How about the fact that building early life skills might be just as important as access to good mental health treatment when it comes to suicide prevention?
Stephanie Wittels Wachs: [00:04:17] There is just so much. And like has it been extra intense to be researching this particular topic in the middle of a global pandemic when the world feels like it is ending and everyone is already coping with a mounting sense of existential dread? Yeah. Yeah. Yeah. Yes. Yes. That has been that has been really intense. And I have been — I'm literally tearing up, you guys because I am thinking of just like last week during our production meeting when our producers, who are incredible, were filling us in on all these stories and pre-interviews they've been doing. And I'm just already openly weeping because the stories are so sad.
Stephanie Wittels Wachs: [00:05:09] And I don't know, I just feel like this deep empathy for people who are who are going through this, who have lost people to this. I am trying to be aware of it this week and right now and the last three months and the next four months. And the thing is, we have been really lucky to talk to some brilliant people who are doing such important work in this field, because this season we are exploring more stories, talking to way more experts. And we are really conscious of how important it is to handle these stories with respect, because last season there was a lot of pressure to not exploit our brothers or, you know, get it wrong and dishonor them in any sort of way. I mean, that would keep me up at night. This season, though, the stakes actually feel even higher because like last year, I just felt like I was going to look like an asshole if I got it wrong and maybe, like, get in a fight with my mom. This year, there are all these rules for how to talk about this responsibly. And if you get those wrong, you could potentially create a contagious reaction because FYI that may or may not be a thing. We are still exploring it. Luckily, this season we are partnering with the Jed Foundation. If you do not know who they are, you need to stop right now, right here, look them up. And, you know, we are hearing from a lot of people out there in the world who are sharing their own stories of loss and survival.
Stephanie Wittels Wachs: [00:06:48] So this is the part where I say to you that if you have a story or if you have something that you think we should be aware of on this National Suicide Prevention Week, call us at 833-4LEMONADA, or you can fill out our very confidential, super anonymous form at bit.ly/lastdaystory. In the meantime, we are working around the clock to put together something really beautiful and really meaningful and really hopeful and really helpful that we can't wait to share with you.
Stephanie Wittels Wachs: [00:07:32] So season two of Last Day premieres Wednesday, October 14th. Can't wait to be back with you. We are thinking about you. We love you. We love you. We hope you're OK. It's gonna be OK eventually, I hope. Right? It's gonna be OK. Hey, good luck out there. Go get 'em, tiger. See you soon.