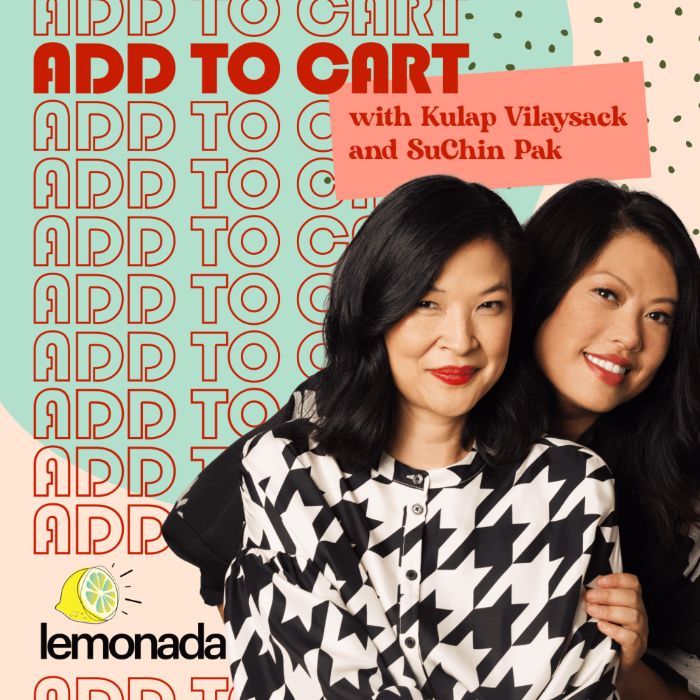 Ku and Su Du the EU
Subscribe to Lemonada Premium for Bonus Content
Description
This episode is the first time Ku and Su are back on mic since Ku returned from Italy. As we know, SuChin was in Paris not so long ago. So the two talk about their separate trips to Europe. Add to Carters, they could not be more different – we're swinging from broom closet to bougie.
Please note, Add To Cart contains mature themes and may not be appropriate for all listeners.
To see all products mentioned in this episode, head to @addtocartpod on Instagram. To purchase any of the products, see below.
Stay up to date with us on Twitter, Facebook, and Instagram at @LemonadaMedia.
Joining Lemonada Premium is a great way to support our show and get bonus content. Subscribe today at bit.ly/lemonadapremium.
Click this link for a list of current sponsors and discount codes for this show and all Lemonada shows: lemonadamedia.com/sponsors
Transcript
SPEAKERS
Kulap Vilaysack, SuChin Pak, Claire Jones
Kulap Vilaysack  00:10
Hello and welcome to another episode of ADD TO CART.  A show about the things we buy and buy into what it says who we are, I am Kulap Vilaysack.
SuChin Pak 
Do you want to do that again? Keep it all.
Kulap Vilaysack 
Hello and welcome to another episode of ADD TO CART.  A show about the things we buy and buy into what it says who we are, I am Kulap Vilaysack.
SuChin Pak 
And I'm SuChin Pak, Kulap, my dear, how are you? Let's catch up. What's going on? How you feeling?
Kulap Vilaysack
Let's get into it. I've already preemptively decided that this episode shall be titled Ku and Su Du Europe, DU is spelled DU as in […]
SuChin Pak 
I mean, it obviously doesn't make any sense. You guys, I am in such a weird punchy mood. Kulap, we're just giggly. I don't know what's going on. I've got eyeliner on my nose. You know, just smearing down my face from laughing.
Kulap Vilaysack 
Look, I've been away before you were away. I haven't even heard a single thing about your trip to Paris. Not one thing I know.
SuChin Pak 
So should we just get into it? Yes.
Kulap Vilaysack 
Let's get into Ku, Su, Du Europe.
SuChin Pak 
You go first. […] You just came back. Yeah, yours is fresh. Mine is but a salty aftertaste in my mouth as I hack up. You know, chia seeds.
Kulap Vilaysack  02:10
Okay, that's interesting. That's very visceral. All right, well, I'll talk about Italia.
SuChin Pak 
You went? Wait, you guys, this trip to Italy that coup? Took just recently was the trip to Italy that you were supposed to take in April 2020.
Kulap Vilaysack 
And we essentially Yeah, this was the I guess it's not a redo. But it was pretty much just like replicating what we had planned two years ago, in to the point where we went to New York for a night and a day. And saw we were meant to see our good friend Sarah Silverman's musical previews back then.
SuChin Pak 
Oh, this is like a time machine.
Kulap Vilaysack
It is a time machine. Yeah. And then this year, we were able to catch one of our preview shows, it's called the bed wetter. And it's based on her autobiography of the same name. It's a musical. She's been working so hard on this, of course prior to the pandemic, and then relaunching it and having to deal with like, cast members and crew having COVID. And it's just really, it really is such a triumph. I'm so proud of my friend. It's great if you're able to in New York to catch the shows, I believe it's debuting pretty soon if it hasn't already. I highly recommend it. It's funny, it's heartwarming. Scott and I said to her, like I've read her book, and that was so meaningful, but seeing it and seeing it done this way. We both feel like we understand her more, more than ever really. And I cried at times, I laughed many times more. So please folks, see that. So I was just so happy to be able to catch that on our way to Venice. So from Venice, well, real quick, Su, you know we've talked about my points. Yes, we have, we've talked about I mean, like Marriot Bonvoy points, you know, like, we've talked about this, yes?
SuChin Pak  04:31
No, because I am one of those people that are point. Not averse, but just so envious of folks that are, that have accrued points but also like know enough about it, that can actually focus their attention for more than two minutes to read how points are accrued and amassed. Like I look at that Terms and Conditions page and the whites of my eyeballs get real big.
Kulap Vilaysack 
I never read a terms and condition page. I just agree. Check. Moving on.
SuChin Pak 
Blackout dates, you can't do this. If your feet are a different size one day, then you can't go here. You know what I mean?
Kulap Vilaysack 
Like a Marriott Bonvoy, Delta, they're not worried about your feet size.
SuChin Pak 
Whatever, I always feel like the terms and conditions. I gotta read through that. Well, then I just give up.
Kulap Vilaysack 
If I may, if I could just read you a little bit, my dear friend SuChin Pak. The issue with you is that you're looking for the cheapest flight and the cheapest hotel. And so you're not hanging on to a brand. Oh, no, that's the real issue with a point, you can't get on board with is because.
SuChin Pak  06:03
Money actually means real things to me.
Kulap Vilaysack 
Well, let me tell you that all of our hotels except for the Amalfi Coast, we're by points. So Su, I'm talking St. Regis, Venice, St. Regis, Florence, and St. Regis Rome. So we didn't pay for those hotel rooms, Su. So talk about money. Talk about money now.
SuChin Pak 
You didn't pay this time. But you did pay to get the points at one time.
Kulap Vilaysack
Well, we have all those points because Scott went on tour.
SuChin Pak 
Oh, that makes me, that's what you, I need one of those in my family. I need like a person who is doing things outside of the home to accrue these points. I don't Yeah, I've got like five points. You know, what do you do? What can I get for five points? I meant like a Chucky Cheese. Go around five coupon tickets. You know, like, can I get a jelly bracelet? Can I get an eraser?
Kulap Vilaysack 
Yeah, right. Right. But we talked a little bit about credit card points, you do?
SuChin Pak 
Again, I have credit card points. Wouldn't know the first thing on how to convert those points.
Kulap Vilaysack 
Here's the thing this is what's shitty about credit cards is that it's tax on poor people. That's number one for you to know that. And two, it's that everything you buy already has that means like people who pay with cash. They're paying for these reward points that people are getting from credit card, right? And I'm saying that to you Su, to say you know, all the different levels but that basically what I'm telling you is that there are free shit that you've already paid for that you're not getting in.
SuChin Pak
Now I'm in, I'm turning my ear to the microphone. Tell me about this. This amazing trip you stayed at six star hotels. Is that even possible? St. Regis are gorgeous hotels.
Kulap Vilaysack  08:10
Yeah. Yes. They're known for their butler service. Yeah, and I forgive you.
SuChin Pak
I can't wait to tell you about my Paris hotels. Oh, this is gonna be great. While you had your butler service, I call my parents room the under the stair hotel room. We hopped around from cheap, cheap hotel room to cheap hotel room Paris looking for the cheapest hotel we could get away with. And our very last night I said, this is an all-time low. And my friend Annie, and she was like, yeah, we've hit some place I'm not quite sure. But we'll assess tomorrow. No windows. And the shower was built into a wall that's underneath the hotel staircase. You couldn't quite stand up all the way. And it was like sloped. And I was like is that stairway to the rest of the hotel, where there's light and people and we are underneath that? I mean, it was like.. It was a hell of my own making and I slept fine. I was slept like a baby. It was totally fine.
Kulap Vilaysack 
Well, then that's amazing. You slept like a baby.
SuChin Pak
I didn't care. I didn't care that I was in a basement in Paris like To me that's..
Kulap Vilaysack 
I get that. Better be in basement in Paris.
SuChin Pak
I'm not thinking of basement hotel in New York. So then you on the other hand, took your Marriott Bonvoy points and stayed at all the finest St. Regis' with the butler services.
Kulap Vilaysack  10:08
In Venice, we're on the Grand Canal, SuChin Pak. And that's where we're at. We're looking at the beautiful, what a romantic city.
SuChin Pak 
This outskirts hotel where we get on a lime bike and I say to Annie, are we in Paris yet? Can you tell me when we will arrive in there.
Kulap Vilaysack 
[…] A little outside of the bike spoke
SuChin Pak  10:49
This doesn't look like Paris. She's like, just a moment, it will look like, right now it isn't $60 a night.
Kulap Vilaysack
I mean, these are different traps. You know, they're different. You're going there to like; you were like past guests. Michelle Collins, right? You are there. It's not you know; it's about being the shopping warrior. That's what it's about. And of course, when you're entering, you know that type of Coliseum, you're going to ride in a lime bike, you're not going to already be there. You have the fanfare of just minutes going by before you enter minutes,
SuChin Pak 
The whole city bracing itself. So I kept thinking, like, I wonder if this city looks at me and Annie coming on our line bikes with our giant plastic tote bags that are empty, and ready to be filled. I wonder if they think gird your loins. They're coming because it does feel like, it does feel like we are committing a violent act against Paris at times. It's just so much shopping.
Kulap Vilaysack  12:25
I mean, you're not pillaging, you are purchasing.
SuChin Pak 
Sometimes I feel bad. I do feel bad. I don't know why. I don't know why. Like, I just keep like we'll be at a store you know, we'll stop by your store. One store where we bought like $700 worth of just blue striped shirts, blue striped shirts with stand up colors, blue shirts with open colors, blue striped shirts, thick blue stripes, thin blue stripes, pin stripes. I mean, there's so many blue striped shirts in the store. And we bought so many of them. And I just was like, it's I kept saying I'm like, this is a bloodbath. This is a bloodbath of blue striped shirts, like, what are we doing.
Kulap Vilaysack 
I wonder if they thought oh, wow, they're going back to Asia to sell these in the store.
SuChin Pak 
At the end, what I like to do is a mass everything I'll post I mean; will I post this? I'm not sure but, and I take that aerial shot for my friend, […] shot. Sure. And I take that shot so they can see and my friend was like, it looks like you guys are about to have a grand opening of a store. Like you have so much stuff.
Kulap Vilaysack 
Now. I'm wondering Su, what if we have a boutique in Santa Barbara? Sue's Clues. No, that's no good.
SuChin Pak  14:19
Again, I didn't know where we're going today. But I like that we are comparing our European trips like this is hilarious, because I was like I don't know what I could say about Paris. I've already said it like that's why I've been sort of […]. you know?
Kulap Vilaysack 
So funny. Because she texts me and Claire and she goes it wasn't as deranged. And then she says she has got a bike three hours on a lime rental with a parachute of plastic tote bags to fill and then bring it back to her hotel, enter this room under the stairs. Nothing to say. This time I didn't buy that much toothpaste just one toothpaste full.
SuChin Pak 
This time I didn't buy a lot of […] I bought so many blue striped shirts. The other day I was cleaning my closet and I was like, oh my god. There's so many blue stripe shirts. Claire, I'm gonna send you. Maybe I was thinking I was like, should I send one of these to Claire? I have so many of them. You guys. Anyway, go on. Oh, gosh. I've you guys. Okay. Okay.
Kulap Vilaysack 
Okay, so we had it. It was clear to me that I guess I should have known that we kind of had sort of opposite adventures. I had. Mine was more of a light shopping trip. It was more because we were going so we went New York to Venice, Florence, Nepali for a night, Amalfi Coast, and then Rome. So we flew into Venice and flew out of Rome. And in between, we took trains and then a car.
SuChin Pak  16:20
So you had to really cart your luggage.
Kulap Vilaysack
I had a cart, my luggage that said, it's different, right. But the place that I kind of went deep, was in Florence. I had read in my research of like going to Italy, what little I did, I like oh, I want to check out saw the article about Officina, Profumo, Farmaceutica, de Santa Maria novella. And I was like, oh, I want to let me check this out. And then when I got there soon, though, you're familiar. You told me you know about this, right?
SuChin Pak 
I mean, it's so weird, because for your birthday, I was just thinking about you going on this trip. And I was like, what can I get her that she could use? You know, and you're gonna talk about this, and I'm so curious to hear I have been such a fan of this brand. I've never been to the original place in Florence. They have outposts. I know. They have an outpost in New York. That's how I became familiar with them. They have an outpost in LA.
Kulap Vilaysack
So okay, let's talk about the pharmacy. It is the certainly the oldest pharmacy in Italy, possibly one of the oldest apothecaries in the world and out of Florence. So in 1212, friars, it's near the Santa Maria Novella Basilica, the church. And Friars nearby started gardening and creating selves and such items to help with the plague in 1212, that's insulins in Florence. And then a foreign and years later, it became public to everyone else 1612. So this is a story historical place, and a lot of the products they use the same formulas that they did back then. And one of the coolest things I thought was when Catherine Medeci left for France, she had the monks make her a signature scent, and it was a scent that was oranges and peppery, it was home and she brought it to the French court. And at the time, what was interesting is it was alcohol based versus like I think oil and stuff and that became the sort of like calling card to this brand and now like dynasties from you know, since various kingdoms and dynasties have made like signature sense from this place. Right? So this location is unbelievable. So you off the street, I'm showing them the storefront, it's beautiful Florence. It's looks great. And then you turn the corner and you enter it. And this is the entrance into again, it's called the pharmacy. And there were dried florals. I'm not even giving it ,it's just as ours was like send links to show you guys. It is truly the most beautiful pharmacy I was ever been in.
SuChin Pak  19:30
Yeah, it looks like a fashion show, you know, during Paris Fashion Week.
Kulap Vilaysack 
It's a museum, there is actually a museum in it and it used to be wow, you know, I'm not great at church terms, but they kind of the showroom part of the showroom is where altars were, not good at that, you know where you pray to God but like truly like mosaics on the walls, beautiful class there, it's just unbelievably beautiful. And so that's where I got, Su, that's where I got like most of my souvenirs.
SuChin Pak
Yeah. What did you get?
Kulap Vilaysack 
You know, hot tip. You mentioned that there are boutiques everywhere but if you, when you buy, this term I like to use to when you buy fresh from the vine. You're not paying for shipping; you're not paying for export tax. And not only that, this is one of those places that that if you spend 150 euros, you get VAT right? You get a refund of the tax on top of that. On top of that, and you're somebody who knows this bread, you know what ain't cheap. And for me, it was like so this is I'm getting in Florence 1212, I'm gonna go deep here. This is where I'm going to buy things for people. And so I went to the shop twice in one day. And then when I was in Rome, I got some more stuff. I was like, this is a because to me like it's quintessential Italy and it's quality, did I buy really stupid like magnets okay, yeah, I did, sure I did. But then I also did this. So for Claire, I got her this gorgeous hand cream hit that link boo boos and again you're like shocked by the price but know that it was cheaper. Now for Su's benefit even at Euro it is more expensive. It is expensive but it's substantially cheaper. And this is like guys we're talking about like the monks they would get irises and various flowers and herbs and stuff from their garden. And right now the garden has moved a little bit outside of Florence but it's still like they've just it's like you know they're using the same sort of stuff, so Claire bear got hand cream knows to open what I got you, time to open. While you're opening I will be spraying the […] rose on my face which was used during the plague.
SuChin Pak  22:23
Just to keep that plague sent away that's you've been doing. Wow. So, you got me the Santa Maria Novella […] What is this? The […]
Kulap Vilaysack 
Yes, it's a mouthwash and I there was choices of mouth washes and I had her describe them to me and I was like what's this best for and she said for the mouth meat and I said, Su will appreciate, this is for gums.
SuChin Pak 
For the mouth meat. You know, I gotta take care of these rotting mouth meats ,you know?
Kulap Vilaysack 
And I was like this, you know this is she's gonna like this and I don't think you can get this in the States.
SuChin Pak 
No, this is stuff I haven't seen. But wait, Ku, this also reminds me of my trip to […]. I don't even know if that's how you pronounce it. I thought about when I was funny that like we both went to Europe at different times. It's not like we're texting back and forth. You know, we're, you know, led knowing that we're living our best European lives and we both end up the same type of places, buying dental hygiene.
SuChin Pak 
I'm inspired by your trip to […]. And so that's what was like, oh, I have to get her dental product. So this is […], what is this? Yes. Now I also got this for Claire. This was developed. So it was developed 1614. It's a specialty of the pharmacy. And it was traditionally called […], which means anti-hysteric water.
SuChin Pak  24:08
Can I just put a straw in it right now?
Kulap Vilaysack 
do or don't do you're supposed to just drop in water, just a little bit. And I thought you would like that because you're, you know, you'd like to make, extend things. Extend things, Just a drop and Claire got it too. And I like the idea of like, oh, because it's old.
SuChin Pak 
And it says it's refreshing and aromatic properties. Dilute one teaspoon. And half glass of water. Yes. I love it. Okay, then. Oh, God bless you for getting me toothpaste. I mean, I love toothpaste from Europe, so much. Is there something wrong with me. My friend the other day was brushing her teeth and she was like I use one of my toothpastes and she was like, this is disgusting. What is this. And I was like, oh, let me see what that is. Oh, yeah, yeah, that's like that's an herbal toothpaste. She was like, I've never had this in a paste form. But I love all those weird toothpaste flavors. I love it. So this is Iris toothpaste.
Kulap Vilaysack 
Iris, flowers in your mouth.
SuChin Pak 
Flowers in my mouth. I know some of you are like, that's disgusting. But there are others of you that are intrigued.
Kulap Vilaysack 
And Iris being the like Florence flower. Like that's the that's the that's the on the coat of arms. And then
SuChin Pak 
A bar of soap.
Kulap Vilaysack 
The latte, yes, so the one thing my only knock on the pharmacy is they have a system where you go to the salesperson, you say what you want, and then someone else bags it for you. They forgot to give me the unscented bar that I paid for, which was what I intended to give you because of Mike Bender, good friend of the show, Mike Bender. So in lieu of that I gave you the […]. I guess you'll have to leave it at your parents.
SuChin Pak  26:15
Oh, it's such a good smell. But you know what soap it kind of dissipates with bar soap. You know, it doesn't really linger.
Kulap Vilaysack 
The thing about this bar soap Sue is they still hand cut it they put it on drying rack for 30 days. This stuff lasts way longer than other bar soaps and then it's some of the highest quality.
SuChin Pak 
The highest quality, you guys. Oh, what a treat and then a kinder bar. By the way through that. Yeah, haven't seen this version. It's almost like a hoho like a kinder hoho, I love a kinder.
Kulap Vilaysack
Because Auntie Kuku, like you know is gonna fill the box and Claire, what else did you get in your box? Because her box, there was room, so I threw in swag. I got hair balm. Wonderful hair brown from hair story.
SuChin Pak 
Oh, just straight up, just straight up from your home closet. You can't wait the postage.
Claire Jones
No, definitely not.
Kulap Vilaysack 
It's from and other stories. Su, you love that brand. It's hand soap and a hand cream, I believe.
Claire Jones
Hand soap and hand cream, this is great. Yeah this is extremely nice.
SuChin Pak 
By the way. I mean any one of us would love any box filled from Ku, she's not filling it with junk. Filling it with high quality.
Kulap Vilaysack 
I did go hey, do you like Star Trek and she's like no, I was like all right, removing things from box, I guess she won't enjoy this Paramount Swag.
Claire Jones  28:04
First thing first thing she said to me back stateside. Do you like Star Trek? I was like. Ku, you're back!
SuChin Pak 
You're back! Hi, I'm back. Star Trek yes or no?
Kulap Vilaysack 
Okay, no other notable places I shopped at is a place called […], which is this small linen shop right by the Pantheon and I got like tea towels and like handkerchiefs and placemats you know, all made in Italy. Things that I'll keep, things that I'm gonna give away. Also, the new husband of Matt McConkey actually now Matt Grassi, Michael Grassi, who listens to this show every week. He's Italian he gave me so many recommendations for food, for everything. And his favorite coffee shop is [..] cafe. By the way, just the coffee culture in Rome, my goodness, like it's just so civilized. They're wearing fine clothing, there are cafes that are wearing tuxedos and it's just hot. It's all so hot. So I went to this coffee place I picked up some coffee for home, I got my best friend Kevin some coffee, got some stuff for Michael. And the last place I went to was Gucci. So where did you go, Su?
SuChin Pak 
You went to the temple. You prayed on your knees at the altar.
Kulap Vilaysack 
It wouldn't be right not to pay my respects, to kiss the ring. I did buy a cocktail ring. Everything I bought which was slides and the cocktail ring. Could I have bought them here. Absolutely. But again, fresh off the vine, it is cheaper. Substantially cheaper.
SuChin Pak  30:04
Your telling yourself that. I'm kidding. Of course it is.
Kulap Vilaysack 
Yeah, the only place oddly it would have been cheaper, Paris, for whatever reason, Paris, 30%-40% to even get Gucci. Su, tell me about all the places that you went. Where did you add to cart in your bag lady bike.
SuChin Pak 
Interesting. Well, okay.  While Kulap was sipping espresso at the St. Regis Hotel, when I go to Paris, It's a trip of errands. That's what it is. I just run from one errand.
Kulap Vilaysack 
The city of lights. The best place to do your errands.
SuChin Pak 
I'm sleeping in hotels underneath staircases, without windows. I am eating from the deli on my hotel bed on bath towels.
Kulap Vilaysack
Well that's what you do at home, to be fair.
SuChin Pak 
Correct. I am looking for deals and steals. I am passing by the East […]. I am passing by the storied house of Chanel. I am passing by Gucci. I'm passing so fast on my lime bike just looking for corrugated iron doors that are rusty, you know and I'm like, oh, pop up sales. You know, little tiny mom and pop shops. I like to go to a hardware store in Paris. Yeah, I like to spend two hours in a hardware store looking at every little nick and neck.
Kulap Vilaysack  32:14
Did we get nick or a neck?
SuChin Pak 
So many nick and nacks. And you know, I could give you a list of places but I don't know their names. They don't have names. These aren't famous places. And I can't guarantee you when you go to..
Kulap Vilaysack 
She doesn't want to tell us guys. She just doesn't want to tell us. Oh my god. These are SuChin Pak state secrets that she doesn't want to divulge.
SuChin Pak 
All I'm saying is that when you go on your trip to Paris, these doors may not even be open. I have no idea. But because I love you.
Kulap Vilaysack 
You'll throw us a bone.
SuChin Pak
I will throw you two giant bones. What I'm bringing to the table are things that of the things that I bought that I loved that you could possibly get on the internet, right? Because it's no fun to talk about something and you're like, I don't know, go to Paris to find out. Right? That's also fun, but that's not what we're doing. So there is this French jewelry designer, but I think she just does a lot of fashion stuff. Her name is Justine […]. We'll put all the links up. And I'm wearing two of her necklaces, one from each trip to Paris. So I'm wearing little pearl guy here. And then as you so it's, it's sort of hard, like rock and roll, but there's a feminine twist to it. There are lots of like metals, but then she'll add like a cute little gem of pearls. They're all very reasonably priced. They're made very well for what they are right. So they're usually dipped in gold. They're made with palladium. She's using Swarovski crystals. So it's not fine jewelry, because that's not what I'm about. But it's a type of jewelry that I put on. I never take it off. I take showers with it. It's lasted a year and beyond. And every time I go, I go to this one little store that has some of her necklaces. And it's on sale, by the way. Super high quality. So I'm going to give you that that hot tip from my basement trip to Paris. I mean, not one museum. Not one designer store. Not one gallery.
Kulap Vilaysack  34:45
That wasn't what this trip was.
SuChin Pak 
Not a fancy restaurant to be seen.
Kulap Vilaysack
No good restaurants?
SuChin Pak 
Amazing food, but maybe I sat in a few restaurants like the last thing I want to do on my precious time in Europe is sit in a restaurant. While the minutes tick away than I know that I could be shopping for sandals, necklaces, scarves, and serums. I just don't have time. What I do in the morning I've told you this before, you go to a bakery, any bakery, which  bakery is the best? You know what the one that's literally in front of you. That's the best bakeries have ever eaten at in your entire fucking life. You don't need a recommendation for bakery in Paris. You go there. You get your breakfast, you get your lunch, you put it in your plastic to go bag and you cart that thing around. And when you get hungry, you just eat it right out the bag. You can be on a bike. You could be walking through a park.
Kulap Vilaysack 
Yeah, I get that. I get that. But let's talk about lunch and dinner.
SuChin Pak 
Lunches, whatever that's in that plastic bag leftover that you didn't eat for breakfast. You know, you go to a cute little, a bio grocery store and you pick up, you pick up a little tub of yogurt, maybe some nuts. Maybe they'll have like dinner. They'll have like a seated baguette, you know, and some chocolate. And then you scarf that thing down. You lay your sweet head on the pillow I brought from home. And then, unfortunately, I had to bring out the big guns. I knew we were going on a long trip.
Kulap Vilaysack  36:37
You knew you were gonna be in a basement.
SuChin Pak 
I brought my like 40 pound bean pillow. And I did I think was so heavy. And my friend was like, well, I guess if you on the way back, you don't need it. So you could empty the pillow. You could leave your buckwheat behind and just take the pillowcase and refill it. But you know what I managed? I managed to do all this and not one. Not one bean was left in Paris. It all came back with me. So that was my I mean, I don't know, blah, blah, blah. That was my trip to Paris. Are we done with your add to carts from Rome? I don't think so. Are we? All right. Yeah. Well, I have another Quick Add to Cart has nothing to do with Rome or Paris. And while back, I had been testing this AAPI brand out called Revela. And it's about their hair serum. Right? In this little bald patch that I have on my on my near my forehead. Yeah, I really started to see after like six weeks, my hair was growing back and there was new hair growth. They finally came out with a new product. It's an eyebrow serum.
Kulap Vilaysack  38:04
Wait, I don't understand. I bought you eyebrow stamps. You're not doing that anymore. I got you. I roast him.
Claire Jones 
Yeah, excuse me. I am introduced those for a reason. No, no offense. That was for all of us.
SuChin Pak 
And by the way, they are in a box that is going to Ku, where I will be bringing her my Paris gifts in person. And then from there, Ku is going to send those eyebrow stamps to you Claire.
Kulap Vilaysack
The Sisterhood of the Traveling Pants except with eyebrow serums.
SuChin Pak
Sisterhood of the eyebrow stamps. So hopefully I won't need to use the stamps as much. Because now they have this eyebrow serum. I mean, it's a no brainer. It's still hair. Right? If the hair is growing on my head, of course this eyebrow serum, I think it's going to work, right? And so I it comes in this. It almost looks like a lip gloss. It has that consistency, which is really nice. It's like a gel and you put it on your eyebrows wherever you have it. I've never had eyebrows really. So it's kind of nice to think that at this age that I will actually get some eyebrows. So I've been putting it on. It's been about four weeks. And I think this stuff works even better than the hair serum, the brow serum. You know, you put it on, you can use it as a brow gel, you know for those of you that have actually brows and so it's sort of, it's really easy to use and consistently..
Kulap Vilaysack 
Do you have makeup on right now.
SuChin Pak 
I have eyeliner.
Kulap Vilaysack
Do you have nothing on your eyebrows right now? They actually, they do look more pronounced.
SuChin Pak 
I know. I know. When I tell you I never looked like I have eyebrows at all but you can start to see a little bit of it growing in and filling in on the spots where I have kind of just like, always had a difficulty growing eyebrow hair. You know you're not taking pills. Yeah, it seamlessly goes into your makeup routine or your skincare routine. I think it's just something that is so easy to use.
Kulap Vilaysack  40:18
Yeah. And I think they have a great guarantee. So if you take a selfie on day one and use a serum for 90 days and don't see a difference, they'll give you your money back. I mean, like that's, that's pretty good.
SuChin Pak 
I would say that's as good as it gets these days. I mean, these guys know their stuff. They're scientists, there's clinical trials on this. So what they say is they actually have the numbers and the science data to prove it. So it's a definite Add to Cart. I love it. I'm still using all of their products. I'm using it for my hair. And now I'm going to try this stuff for my eyebrows. I'm seeing results, you know, you have to be pretty consistent with it, I think. But about week six, I'm telling you, you're gonna start to notice new hair growth.
Kulap Vilaysack 
And that's it for our show. Make sure you check out everything we talked about today on our Instagram at @AddToCartPod. We'll also have links in our show notes.
SuChin Pak 
Links to what?
Kulap Vilaysack 
Do you have pictures of you on a bike? With all the bags? Does Annie have pictures?
SuChin Pak
I'm sure I can scrounge up some pictures. I mean, that's not what we do in Paris. We don't take pictures, who has time on these underground night missions. But I love that we get to put links in our show and who I'm just trying to think of Claire trying to figure out what links to what?
Kulap Vilaysack
Maybe the hotel, the hotel that you stayed at. Maybe we can tag Lime.
SuChin Pak
All those things. They'll be an Add to Cart pod and our show notes by the way call us, tell us about the way you do Europe, you're trying to make that happen it's gonna happen right now it's happening okay or any vacation. How do you vacation? Do you go you know five star as you know butler service or do you go basement style? I mean, I want to know where you fit in that spectrum of vacation styles.
Kulap Vilaysack 
Basement to Butler
SuChin Pak 
833-453-6662.
CREDITS
ADD TO CART is a production of Lemonada Media. Our producer is Claire Jones and our mix is by Ivan Kuraev and Veronica Rodriguez. The music is by Wasahhbii and produced by La Made It and Oh So Familiar with additional music by APM music. Executive producers are Kulap Vilaysack, SuChin Pak, Jessica Cordova Kramer and Stephanie Wittels Wachs. Be sure to check out all the items we mentioned today on our Instagram at @AddToCartPod. Also, please take a moment to rate, review, and subscribe to the show wherever you get your podcast.