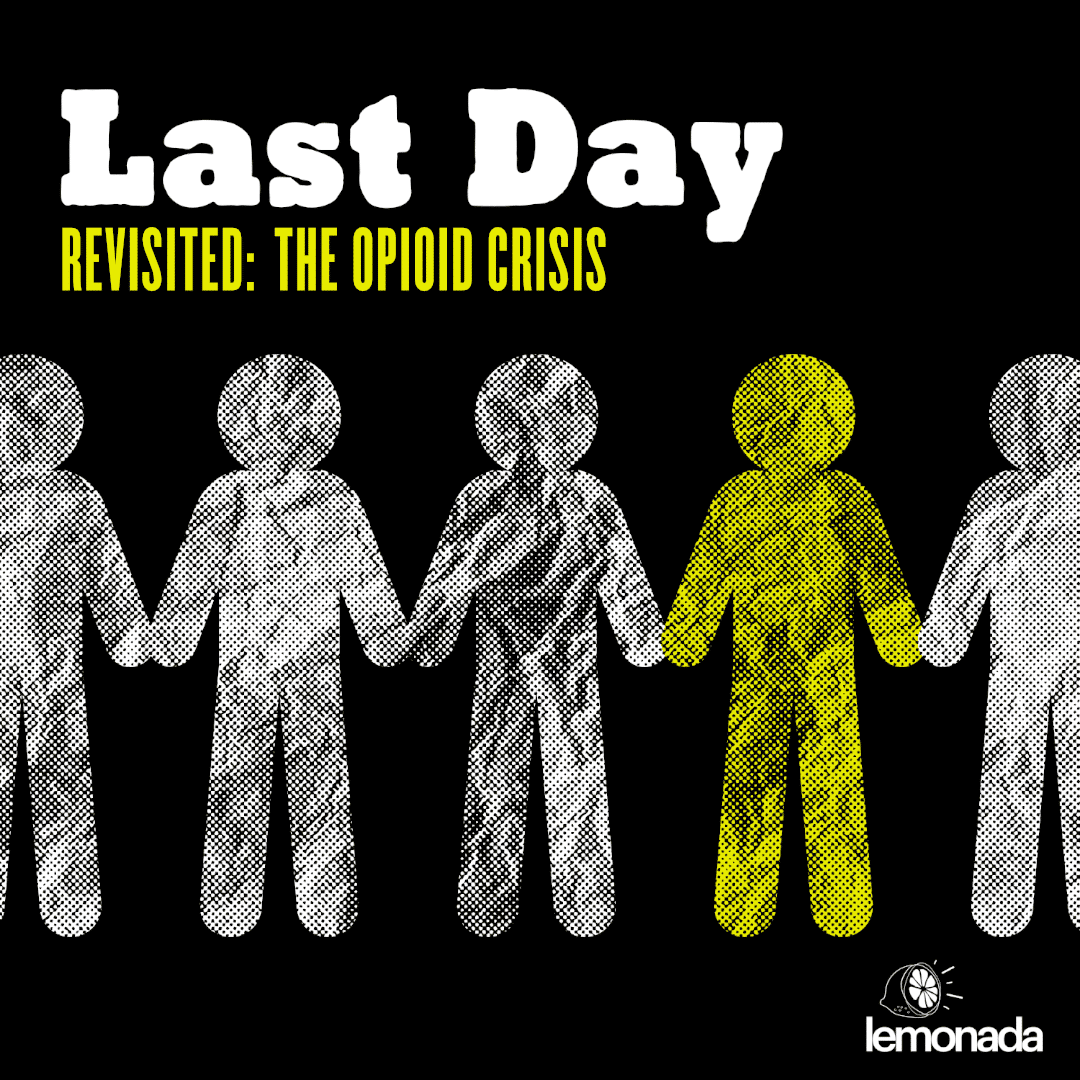 Last Day — Trailer
Subscribe to Lemonada Premium for Bonus Content
Transcript
Doreen Cordova: I saw him uh head back kind of mouth open. I just said to him 'what's going on?' And he's like 'nothing ma nothing' and I'm like 'Stef, are you using heroin?' And he said 'you don't want to know.' And I said, 'I already know.'
[00:00:17] Stephanie Wittels Wachs: This is Last Day, a new podcast from Lemonada Media, about the things that are killing us and I'm your host, Stephanie Wittels Wachs.
[00:00:30] Sam Snodgrass: In your head you're saying "I'm not going to use. I'm not gonna use." And then, you use. It was the most mystifying thing to me in my life, why I couldn't control my own behavior.
[00:00:45] Kat Aaron: I'm sure you guys both noticed just passed someone cooking up heroin with a needle in their mouth as we were walking over here, between the fire department and the prison.
[00:00:55] Karen Host: Sometimes we'll go for the same patient three or four or five times a day. They do everything they can for them, they wake them back up again, they get them to the hospital, and then they walk back out. 
Stephanie Wittels Wachs: We're trying to understand the why and the how of America's most massive epidemics by zooming in on one person's story, more specifically, their last day. 
[00:01:19] Jessica Cordova Kramer: I don't know what on earth he was thinking when he decided this was this was his next step in life. And I think for those of us left behind you're constantly trying to find out, what could I have done differently?
[00:01:35] Stephanie Wittels Wachs: This show is an attempt to figure that out. Our first season, we'll be talking about opioids because, unfortunately, it's the epidemic I know best. My little brother, Harris Wittels, comedian and beloved human died of a heroin overdose in 2015. 
[00:01:58] Sarah Silverman: He said, "You're not going to believe this. I'm in rehab for shooting actual heroin." And it was just I couldn't believe it. I just said Oh my God I I love you and you know.
Stephanie Wittels Wachs: We talk to policy makers, harm reductionists, addiction specialists. People on the ground.  
[00:02:24] Mayor Svante Mryick: This one woman literally has a needle in her arm and looks up at us. And the uniformed officer says 'What are you doing. Insight's just around the corner' and she goes 'Yeah. It's 8am they don't open yet.' And he said 'It's summer hours. They open at 7:00 a.m..' And they all stood up and they took their needle, and they walked around the corner and into the facility. He goes "We want them to get inside and we want them to get help."
[00:02:27] Stephanie Wittels Wachs: We talk to families.
Don: He was describing the demons inside of him in such a way that it just it really brought the hairs on my neck to stand up because he knew it was in control of his life and he couldn't stop what he was doing. 
[00:03:00] Stefano Cordova, Sr.: I keep telling him, "If you stay in Boston you're gonna die." He says "No no no, pop, I'm I'm clean." I said "No no no. Nobody's clean from heroin."
Stephanie Wittels Wachs: And we look for hope. 
[00:03:15] Nzinga A. Harrison: The misperception for people that don't work in substance use disorder treatment programs is that it is overwhelming tragedy and the opposite is true. It is like overwhelmingly joyously seeing people grab their lives back from substance use disorders. 
[00:03:35] Stephanie Wittels Wachs: This is the dream. But we're not there yet. Not even close. Because there are so many people like me who have lost people like Harris – or people who are currently agonizing over the possibility of losing someone like Harris or people who are currently feeling like Harris, and all of these people and their people and their people's people have nowhere to put those big feelings. They don't know what to do or where to go or how to stop the bleeding. [00:04:10] If you are a human being, which I have to assume that you are, then Last Day, coming September 25th, is a podcast for you. Subscribe today on Apple Podcasts or wherever you get your podcasts.