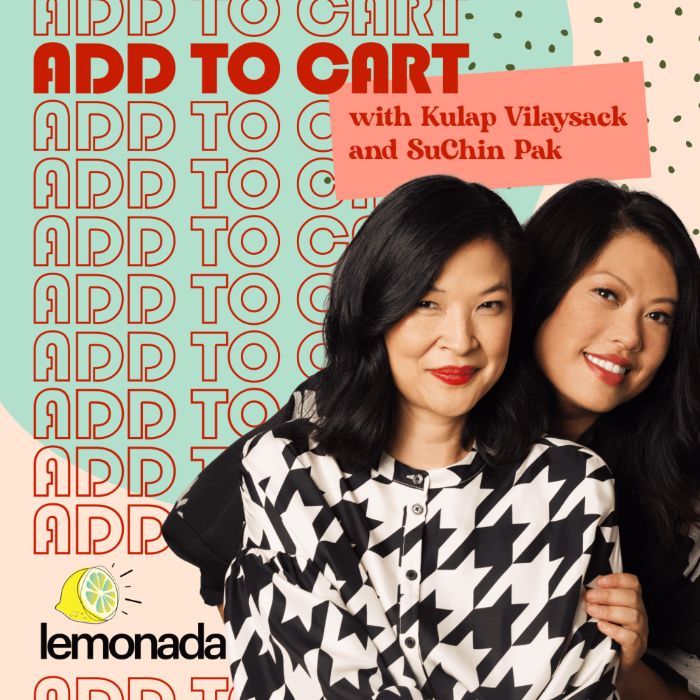 Last, Last Minute Shopping Tips
Subscribe to Lemonada Premium for Bonus Content
Christmas has come early to Add to Cart! This week, Ku and Su gleefully unwrap their presents to each other. For those going into the holiday season legs akimbo, don't worry – the aunties lovingly, but disappointedly, have you covered. They have built their Amazon storefronts from the ground up, and there are gift ideas galore for you last minute shoppers. Plus some fantastic AAPI brands that pack a punch…Happy Add To Cart Season!
Add to Cart has been nominated for a Signal Award, which recognizes the work of standout podcasts. But we need YOUR help to win! Cast your vote for Add to Cart here.
Please note, Add To Cart contains mature themes and may not be appropriate for all listeners.
To see all products mentioned in this episode, head to @addtocartpod on Instagram. To purchase any of the products, see below.
Stay up to date with us on Twitter, Facebook, and Instagram at @LemonadaMedia.
Joining Lemonada Premium is a great way to support our show and get bonus content. Subscribe today at bit.ly/lemonadapremium.
Click this link for a list of current sponsors and discount codes for this show and all Lemonada shows: lemonadamedia.com/sponsors
Transcript
SPEAKERS
Kulap Vilaysack, SuChin Pak
SuChin Pak  00:03
Hello everyone welcome back to another episode of add to cart. This is a show about the gifts we buy the gifts others buy us, the gifts we buy for ourselves and what it says about who we are. I am Auntie Su.
Kulap Vilaysack  02:34
And I'm Auntie Kuku. Fellas, ladies, whoever you may be Christmas is just a few days away. Santa is packing up his sleigh full of serum socks and sweets and getting ready to head out on his long track but here at add to cart we decided we can't wait even a second longer to give each other our gifts.
SuChin Pak  03:03
That's right we are going to open our gifts to each other today but also listen for all you last minute folks, Ku's not one of them I get it but for the other flavor of holiday the manic the hectic the unplanned. No, maybe yes, maybe. Maybe that's some of my flavor too. Okay. Yeah, just maybe there's there's a bit of my flavor.
Kulap Vilaysack  03:28
And by the way, I love you guys too. I just think you could do better.
SuChin Pak  03:34
We opened up our own shops. We are moguls, you know business women.
Kulap Vilaysack  03:44
Okay, so the story behind it is I was at a brunch that Jessica Sinclair was at and she revealed that she had opened up an Amazon storefront and we all made fun of her. And then I realized, why have me and Sue not done that. And then the entire like party of women was like pointing at me. And like yeah, you should be doing this. It literally is called Add to Cart.
SuChin Pak  04:16
The other Auntie's. The other Auntie's got in on it.
Kulap Vilaysack  04:19
Egg on my face. So I came home immediately, texted Su and then just started creating an Amazon storefront. Now, if you guys know my background, I went to the Fashion Institute of Design and Merchandising, who would know that I returned to my roots of retail and become a sales associate for Jeff. I didn't know but here we are. Here we are.
SuChin Pak  04:43
And this is what we're talking about. We're going to open our guests but we're also going to give you guys all those folks those last minute gift items and they're good, and they're good, and they're from our Amazon storefronts, and you're gonna love them. So it's just it presents for all all the way around everybody benefits.
Kulap Vilaysack  05:04
What do you want to do, Su? Do you want to do our present? Or do you want to talk about?
SuChin Pak  05:08
I didn't know that there was an option when there's presents involved open presents.
Kulap Vilaysack  05:14
I thought maybe, you know, sort of a kind of tantric style.
SuChin Pak  05:18
I'm sorry. Is miss my face not coming clear on Zoom? Did you think? Is it fuzzy? Did you think I was someone else? Did you think there was another Asian person on this line? We're opening up presents.
SuChin Pak  05:19
I thought that we were like, maybe it's, you know, in the progression of things, you save the best for last, but it's clear that you want dessert first. I'm sorry. dessert first.
SuChin Pak  05:46
Okay, so I want to open up first. I am the elder. Do I open up the small box or the big box?
Kulap Vilaysack  06:00
Well, it's hard because I don't know what's in what, do you don't I mean, because like it, I made one order. And so it came in different places.And then also before, as soon as opening it, I will let you know that I do not understand it. But I sent these boxes to her old address. When I tell you that I know where she lives. I just don't know what happened. And luckily, the kind neighbor brought it over to her. But mommy brain is real. I'm not as sharp as I used to be.
SuChin Pak  06:00
Okay, so the first thing I see is a bag from […] Okay, so I'm opening it right now. Okay. And what is it? Oh, my God. Oh, my God. It's a chocolate advent calendar type of thing it is and wait. And it's just December. Yeah. Oh, I can already open, can I open one? Because we're on the second. Oh, and each chocolate comes in a little box. Like it's like a little present. Oh my god. I'm actually really hungry. I'm gonna eat one.
Kulap Vilaysack  07:23
We all know Su loves chocolate.
SuChin Pak  07:27
I love chocolate, I love France. But I love love chocolate. Oh my god. And by the way, it's December 2 As we're recording this, so I have to eat the second one. What's even bigger than the first one? Oh my god.
Kulap Vilaysack  07:43
I wanted you to have a daily treat. And I knew you wouldn't do this for yourself.
SuChin Pak  07:50
Oh my god. That's delicious. It's like a crunchy rice crispy milk. Chocolatey one. That was December one. December two is dark chocolate. She's sultry, nighttime. A salted caramel. Oh, wow. She's very grown up. You know what I mean? She's gonna do naughty things. Bad things. Spanky things. I love chocolate, guys. I love chocolate guys. You don't understand. I love chocolate. So good. It's my weakness. Thank you so much. I always buy that chocolate on sale. You know, near the checkout line. I know. I never buy the good stuff. But sometimes the good stuff goes on sale.
Kulap Vilaysack  08:48
for Christmas, I do like getting you things that I know you wouldn't splurge on.
SuChin Pak  08:53
That's why you're so hard to shop for. Because you would splurge on yourself. You gotta get real creative I see is you're like, well, I mean, yeah, you get her this monogram lipstick. Like some of her friends did. But they already did it and she probably already has it. What is, so I got something from a little box opened up.  And it's a Croissant
Kulap Vilaysack  09:24
It's a croissant lamp. It's a Japanese company. And it's made from a real croissant. And then they put stuff to make it like last a while but it's little lamp.
SuChin Pak  09:36
Like I have chills. You guys. It's a real laminated croissant lamp. Oh my god. And I thought it's my most treasure. My most treasure. Zoey's going to come in and she's gonna say mama, what is that? And I'm gonna say Zoey, that's my most treasure.
Kulap Vilaysack  10:02
I picture it like on your test or near you reading and it's not, it's all ambient light it's not like you're reading with it but it's like on top of your books it's on your you know it's just this is what.
SuChin Pak  10:17
Reading by my croissant lamp, Kulap this lamp is it's me in a lamp. You know what I mean? It's like it's a stale but once delicious buttery crispy baked item but made by the artisanal hands of someone in Paris dipped well in Japan preserved in Japan. And and it's me in a lamp I feel very connected to this thing psychically.
Kulap Vilaysack  11:00
Now we've all heard about Su's glass pitcher and the fish, the pitcher, and I'm gonna get really sad. Now, it's the same brand. So I guess two things I ordered you the set and then also the gift of letting you know that food 52 carries this brand. So you can also get the cups from this brand as well but the straws will come to you. Whether it's me reordering it or it's at the neighbor's house.
SuChin Pak  11:46
Oh my god. You guys so as Ku referred to and if you guys remember my first Christmas here with you all an Add to Cart I ordered a whimsy. It is a water pitcher with a glass fish floating in the bottom of it. And now cu has gotten me a set of glass straws with little fish swimming on the bottom of it so that when you drink from the water glass, there's also fish in your water glass. I saw the glasses with the fish actually attached I've never seen, never seen the glass ross. They are so much more whimsy.
Kulap Vilaysack  12:30
The last item I got you. Yes, it's on its way. The last thing I got you know I have purchased an item that I believe was on Shark Tank. And it's called the hugs sleep. And basically what it is, is an adult swaddle. I have gotten for Su, a hooded sleep pod move. Now I'll put a link in the show notes.
SuChin Pak  13:11
It's an adult swaddle. You lose words when you look at this. It's a heather gray. It actually has a hood that can go over your head. Yeah. I am so excited to hug sleep. Oh my god, you guys. All of these people look so happy. Oh, especially the one where she's lying on her side and she's got the hood over her eyes. Yeah, that's me.
Kulap Vilaysack  13:44
That's you. That's you. I saw this and I was like SuChin Pak.
SuChin Pak  13:52
If you see me in the club, you just have to bring the hugs sleep.
Kulap Vilaysack  16:43
Yeah. Basically if you guys are going to the club pack this hug sleep in your bag in case at the club that you're at Su is there. What I what we say what Jenny Yang has said you don't have to get ready if you stay ready.
Kulap Vilaysack  18:11
At a moment's notice, and I bet this packs up pretty tight.
SuChin Pak  18:20
Going to Paris next trip promise you that.
Kulap Vilaysack  18:24
I mean when I'm sleeping on sheets, where a shower is under a stair case, and I'm a little skeptical about the cleanliness of it. Now I have a way to hermetically seal myself into a hugged sleep. You've just elevated my traveling you know just allowed me to really, really dig into the bargain basement ben of hotel rates. And I thank you for that.
SuChin Pak  18:53
I didn't know we could go lower, always lower.
SuChin Pak  18:58
I'm always looking for ways to go lower and this is you brought me just a knot. You play Limbo
Kulap Vilaysack  19:07
You play Limbo with that and you're like, how low can you go?
SuChin Pak  19:24
All right. All right. Okay, your turn. Now we would do it big box. Well, what do you got?
Kulap Vilaysack  19:32
I have to tell you that I did open something you told me not to open.
SuChin Pak  19:36
But I think what you're holding is something that you even if you open it, you don't know what it is.
Kulap Vilaysack  19:42
Yes. So it's from simply to impress. Oh, simply.
SuChin Pak  19:47
Okay. Oh, I didn't know this came. I hope it's good. I have no idea.
Kulap Vilaysack  19:52
It's so good. It's a ornament. It says best gift ever. And it's a picture of my sweet little emerald with her birth date and it's so cute.
SuChin Pak  20:04
I really love a a picture ornament with a date on it. I like to do that every year with my kiddos and my family, I like when the people I know that are coming for Christmas. I like when they can look on the tree and see a new picture of them up in a new picture ornament. That's my favorite,
Kulap Vilaysack  20:26
Su, that's such a good idea.
SuChin Pak  20:29
I do that Yes. I don't get it printed like that. I just get like 2022 ornaments, this year I bought mine from Crate and Barrel you know they all have it, I got it from Michael's. Where is our sponsor money? Okay, I got it from Michaels. And so then I just printed on the color printer at my in laws house and this is what we do.
Kulap Vilaysack  20:56
I think that's such a wonderful tradition. I love that idea. I think I'll start that next year. That's so wonderful. But it's so cute and I love it. Now I have the big box.
SuChin Pak  21:09
I hope I packed this so I hope it's not in shards.
Kulap Vilaysack  21:17
I cannot tell you and it's stuff. I participate in this too. We have to fill a box. We have to fill a box and what I have at what comes out is this Kopiko coffee candy.
SuChin Pak  21:38
Okay. Kopiko coffee candy. I got really into this Kdrama I forget what it was called. And the whole time the woman that one of the main characters is eating these. And I was watching one night and it was late and I was like, I want that fucking candy. I want it so I went on Amazon and I ordered it and it's like a coffee candy cream. So delicious. From somewhere in Asia. And I didn't realize that I ordered the jar of it of like 1000 candy pieces and so I just dumped it into your box and you're gonna love them.
Kulap Vilaysack  22:20
Yeah, they're real coffee extract from the finest Indonesian volcanic coffee beans. That story is very reminiscent to when I bought the gummy bears.
SuChin Pak  22:38
I've been I've been handing this out to anybody that'll listen.
Kulap Vilaysack  22:44
Wait, gosh darn minute. I have pulled off a Lomax box.
SuChin Pak  22:54
Okay, so if you've heard our previous episodes, I got myself a Christmas Village. I've wanted one my whole life and I finally got one. Now as I was buying all of the pieces to my Christmas Village last week, this is my thought with this piece. I was like I'm going to add to Lomax, however you pronounced this Christmas Village for Eme. So in my mind, it's in her room. But far be it for me to tell you what to do with this.
Kulap Vilaysack  23:33
Oh my God, that's such a great idea. I was actually, I was already thinking like, where should it go but.
SuChin Pak  23:38
Because it's not, I saw your village it came after I ordered this and I said, but this isn't like the other villages. This is her own village that I will be adding to. And if you remember last episode, I told you that when I was a little girl, I saw my friend have a little train that went around in her Christmas Village and that memories stuck in my brain all these years. And so I found this one to start her first Christmas Village with a Santa Train.
Kulap Vilaysack  24:23
I know exactly where I'm going to put it in her room. It's so joyful. It's so joyful.
SuChin Pak  24:31
Tell everyone what the image on the box.
Kulap Vilaysack  24:33
So okay, as Su said, it's a Christmas tree with the train around it and Santa's in the the engineer spot. And there's just like joyous people, there's villagers, it's you know, all aboard for the North Pole and there's dogs wearing Santa hats. It is just a tableau of like just a good time and Christmas chair.
SuChin Pak  25:03
Now, hopefully your present isn't in shards.
Kulap Vilaysack  25:06
There's 50 pieces of candy. 20 pieces, 20 to 15 pieces. It's ceramic. It's pottery. It's beautiful.
SuChin Pak  25:21
It's pottery that I collect and I shopped locally. What I got talked about this what I thought I said, I said, let me contribute to the world. So I shopped locally and it's this local ceramicist. I think his name if I'm pronouncing is Jerry […] and I have so many of his pieces so that because you're the hostess with the mostest you put a dip in the middle and then you put like the crackers and the cheese around it and then I got you a little bowl. You know you put little things in there and nuts, olives.
Kulap Vilaysack  26:07
But what is this?
SuChin Pak  26:09
This is one of my favorite pieces from him. It's for your dish sponge.
Kulap Vilaysack  26:15
Oh, wow.
SuChin Pak  26:20
Now, do I have one for my dish sponge and do I also put my checkbooks in it on my desk? Yes, I do. That's why it's on my desk. But it's for your dish sponge. So he's this local ceramicist and I just, I love all of his pieces. And they're all done by hand. And they're all kind of in earthy tones and colors. And, you know, I just pick up a few pieces every year. And I give them out as gifts. I keep some for myself.
Kulap Vilaysack  26:55
They're exquisite. I honestly, not to I'm so surprised that they're they're pristine, and I'm holding up a plate on a beautiful plate. That's you also got methey're gorgeous, I love them.
SuChin Pak  27:13
I liked the idea of I like the idea of building on something for like, for people that are really close in your life.
Kulap Vilaysack  27:23
That's the theme of this gift.
SuChin Pak  27:28
Where you just, you know, for all you know, like I started that tradition of all my friends who were starting to have babies to send them the ornaments. And then these pottery pieces like my, you know, I gave these pieces when I first moved to Santa Barbara and discovered him. So my brother gets a little piece every, you know, year and it just, I don't know, there's something really there's just something really nice about that idea. It's a fantasy that as a child of immigrants and mich mismatch chopsticks that you have. And so I just love that and I hope you've served you're such a hostess. And so it's fun to have pieces like that. It makes me really happy when I have people over and I get to pull out these pieces.
Kulap Vilaysack  28:15
It's the right amount. Because it gives a feeling of abundance. It's inviting to take their caffeinated.
SuChin Pak  28:38
So my final gift to you Ku, which hasn't quite arrived, but you're going to get it is a take back bag. From four days. That's the brand for days is the brand and it's called the Take Back bag. Have you heard of this?
Kulap Vilaysack  28:54
No.
SuChin Pak  28:55
Okay. I thought it was such a cool idea. But basically, it's this brand. That is all about circular fashion. And my understanding of it. This is one step beyond recycled clothing, right? Where they take your clothes that you put in this bag, and they make more clothes out of it. So very few of it actually hits the landfills. So how we normally do it is we buy it then when we don't want it anymore. We trash it. We could quote unquote recycle it, right? And we can drop it off at a donation bin. But let me tell you about 80% of what you donate ends up in a landfill. So there's that and then there's the circular economy which is what this brand is all about. They regenerate, they create more clothing from clothing that is recycled. And so they have this bag and it's $20 per bag and you fill it with whatever you want in your house, and you send it to them, and they will add it to the circular economy, then they give you a $20 gift card that you can use on their site. And they have really cool. I mean, their stuff is great. It's just very basics. You know, it's sweats and loungewear. And just very simple things that I thought anyone could use that you would love. So I just think it's fantastic. So anyway, that's a little something a little, you know, a little auntie stocking stuffer.
Kulap Vilaysack  31:46
Very cool. Thank you so much. That's really thoughtful, thoughtful and interesting.
SuChin Pak  33:44
So as we promised for all the late comers, the harried legs akimbo folks that we know sometimes listen to our show, we've got you covered, okay? We got you covered. We are businesswomen.
Kulap Vilaysack  34:03
We have stores on Amazon storefronts, we work for Jeff.
SuChin Pak  34:10
Do we see, the shady the dark side of this we do we admit it, but sometimes it's last minute and you fucked up. And so you're gonna have to do fucked up things to unfuck it? Yes, sorry. It's got to be on Amazon is the only way that you're gonna get it in three days. I'm sorry.
Kulap Vilaysack  34:33
Sometimes you carry on John Wick like energy to get it done for the holidays.
SuChin Pak  34:41
Don't do it again next year.
SuChin Pak  34:42
You know what I mean? Go to our storefront next year.
Kulap Vilaysack  34:47
Su and I have both various items, things that we talk about. That's right here on Add to Cart. We have beauty stuff we have snacks. Su's got like her books, you know, I'm just saying it's there for you? Of course. Yes. You go link to bio and you you see, you know, Claire's setup, every item we've ever talked about in a doc. But then you know, things are from Amazon just go to Su shop,Ku shop. Yeah, the links are there. The links are there.
SuChin Pak  35:26
It's too late. Santa has already packed up. Yeah. So this is this is you guys are leaning or going hard, you know it. It may not feel good all the way down to your toes, but it feels pretty good down to your butt. You know that we did this for you. So, you know, you know what? And let's just move on
Kulap Vilaysack  35:45
That was like really. That was clear, yeah. It was poetry. You're like, poet lauriat.
SuChin Pak  35:57
All right. So give us an example of like a great last minute gift from your Amazon storefront that you think is a fantastic idea.
Kulap Vilaysack  36:05
As you know, I have a bedroom tree. But prior to me installing my bedroom tree, November 10th. And turning those lights on what I was doing to just create a mood and to self soothe in my bedroom was I bought this bliss lights skylight so that what this is, is an LED laser star projector. And I am a grown woman. I'm 42 husband's 52. It's very nice. It's nice.
SuChin Pak  36:45
I'm adding to my list my list that says my favorites from Ku's list. I mean, this is for the adult kid and the kid kid.
Kulap Vilaysack  36:54
I swear by this too. And I think it's for somebody who just like wants to chill out at home. I mean, you know, like, for Scott, you know, sometimes I'll put up the ocean for him like this ocean stuff.
SuChin Pak  37:09
And it's more than, it's a different worlds.
Kulap Vilaysack  37:13
It's different sort of lights, like different sort of vibes. And the great thing about it is I I operate it from my phone. I do and maybe, so you can change his mood, my mood. I can put a timer on it. I can wow. I mean, it's just it's gorgeous. Like we hit so are you looking at the various..
SuChin Pak  37:34
I'm looking at it. The vibes are good. Just so you know, in some of the rollover images, you know, you have four friends, four young millennial friends having a little wine and shark who'd replate under a galaxy, but it looks like a what looks like the Northern Lights. There's a couple snuggled up on the couch. Yeah, looking at, you know, beautiful Galaxy colored sunset. Yeah. And then there's a gamer who stepped out to go to the bathroom and he's got stars out.
Kulap Vilaysack  38:05
Yeah. Now at first did I think it was for emerald. And then did it quickly move into my bedroom?
SuChin Pak  38:11
It did. You're a Taurus. You need your senses. You need your senses. Okay, what I want to highlight on my Amazon storefront now that I am a shop owner, is I hope I get this right but it seems that Shopbop got some sort of relationship with Amazon. Did you know this?
Kulap Vilaysack  38:40
Okay, hold yes. Only recently because I purchased something for Scott. And it came in a Shopbop box and I was confused. But I have read ahead and Su, you're breaking my mind right now. Tell them what you've done.
SuChin Pak  38:57
So I haven't done this but hey, I can fantasize because it's the holidays right? So first of all, I love that it the Shopbop Amazon experience is that right? It's elevated, right? So you want to give a gift a very extravagant gift or very elevated gift. You know, and it's in the Shopbop like you said box and nobody knows you got it on Amazon if that's the way you want to go. I happen to notice that there was a pre owned luxury handbag section.
Kulap Vilaysack  39:29
SuChin Pak, my storefront I didn't know this was available to my storefront. Wow.
SuChin Pak  39:41
Okay. So now you can go ahead you can go ahead start a tab that says blasted my mind from Auntie Su. I spied this pre owned Celine women's trapeze medium bag. It's a good good, good, it's lack it has a crocodile print its suede. It's a forever bag. This isn't I'm not talking about a gift that you give, you know, your neighbor. Okay, this is obviously.
Kulap Vilaysack  40:10
This isn't for like the office sequence.
SuChin Pak  40:15
But I just wanted to offer that, that I was very surprised to see such luxury and, you know, such elevated luxury. And that's all in my shop and what I did was I went through the Shopbop list, and I put together all the gifts that I thought would be great ideas. And so you didn't have to go through all of it. You know, I'll just give you some highlights.
Kulap Vilaysack  40:45
If you aren't following us on Add to Cart Pod, Su posted a picture of her wrist in a brace. And so what she's done this curated list, it was from her blood, sweat and tears and possible future carpal tunnel syndrome surgery. So like, this is what she's this is a service she's providing to you.
SuChin Pak  41:05
Correct. You know, it's my it's my service to my community. And so some of the things for example, Hey, maybe not everybody's a Christmas person, you know, maybe like my feather. We also celebrate Hanukkah. So from this was, this is a 500 piece puzzle called […] to the world in a beautiful box. And this piece work puzzles, they have a ton of them there. So but this one happened to be one, you know, for the mother in law, who has everything and who will buy everything and doesn't need you to buy it and maybe uses shopping as well as an emotional crutch. And so you're like, oh, gosh, what do I get this person for? Hanukkah, or Christmas? Yeah. This one is if you click on the link there. I love this. It's a luxury shearling insole from Hunter. Yeah, so you put that in a boot. You put that out everything to make it just so comfortable. What mature lady doesn't want that. So anyway, I kind of went through it and I curated list it, it's on Amazon.
Kulap Vilaysack  42:17
I went shopping earlier you this is not what you were. You were bringing me your show. I'm gonna be a little critical here. Like it was like okay, she's like filters, just the filters not even like the the blue air, the actual units but just the filters. But then she […]. And I think she's still gonna […] but then she's […]
SuChin Pak  42:40
And then then I bring a $1400 CLN bag. Cuz I'm all of it. I'm just the filter sock and also the CLN handbag. I'm both don't forget it. I'm a crusty Parisian croissant imported from Japan.
Kulap Vilaysack  43:04
You know that I love a Lego set. I have a few LEGO sets in my Amazon storefront but the one that I'm calling out is the Lego icons orchid building set it's for adults, somebody it may be more of a my specific friend but she came in and she thought it was a real orchid now it was from a distance and I don't think your eyes that's great but.
SuChin Pak  43:31
That's not your problem
Kulap Vilaysack  43:32
That's not my problem, she did for a second think it was a real orchid.
SuChin Pak  43:36
You guys, I have on my at my shop also a my favorite things from Auntie Ku's storefront and I went through everything in your store and added this one to my list and then I got a call this morning from my very very dear friend and also big time add to Carter Kim […] and she said I love this orchid LEGO kit it's in my cart and I said oh well you must have got it from my Amazon store for from antique useless and she said I did. Yeah, I did. So I'm in agreement with you. I'm so glad you but I didn't know you're gonna bring this to cart. I loved this. I saw this and I was like there are so many people you could buy this gift to it's so unusual. I've never seen anything like it.
Kulap Vilaysack  44:25
The things you can build with LEGO, the various kits the last one I built but you know for me, I can't imagine when I'll be doing another one. Yes so I add to that.
SuChin Pak  44:36
Well, I also have on my storefront you know stocking stuffers, little add ons to gifts that you have that you kind of need just something more I also love I'm the person obviously you guys know we are both the type of people who like to give lots of little gifts, bundle gifts, I call them. You may have heard me talk about it. On this show about my very favorite thing, quarter shirt dickies women's bibs, whatever you want to call them, Bejeweled. They're fake shirts that you put underneath sweaters.
Kulap Vilaysack  45:12
I'm sorry, I'm reminding myself of the story of you staying with Chriselle Lim and I've met herself through the show through you. I follow her now. I mean she's like fashionista to the max and that she had to see you in this in a dickey with your bra and I'm sure sweating.
SuChin Pak  45:41
And she was like, what are you wearing? And she's like, in like a Koecher Oscar de la renta gown if I remember this photo shoot she was off to I was like, Oh, I just started playing my sweatshirt because I wanted to change or you wanted to change my dickey because I wore during the day but now I have a have a jewel encrusted one for nighttime. Anyway, she had never seen this she was she's so polite. You know, she's so polite and I shirt she was fucking horrified and maybe a little scared to leave her luggage in a room alone with me.
Kulap Vilaysack  46:23
Sort of collared shirt. There's Su with some shears just cutting most of it.
SuChin Pak  46:29
God bless her and I tagged along in the strip. You're right. And I was frantically running around looking for my sweatshirt to go over my jewel encrusted detachable blouse color faux Dickey color shirt, whatever you want to call me and you got me to. I'll drive for you one. Every one I showed this to tell about the buy. This is 1299. I have all of my favorite ones on my storefront. You don't have to go through the 1000s of them that are on there because I already did. I've already done it and I've returned 950 of them. Okay, because the quality I still look for quality. You know, there's lace ones. There's Pearl encrusted ones, there's Julen crusted ones, there's Peter Pan collars. There's so many variations. Let me tell you, you guys are like, okay, someone's going to get this. They're going to be so delighted. They will have never heard heard of this. They will never have seen this in action. And you will display it for them in action and they will be changed, is all I'm saying. $12.99. Okay, so enjoy.
Kulap Vilaysack  47:40
I mean, I gotta say the idea of these being stocking stuffers is tantalizing.
SuChin Pak  47:46
Tantalizing, honey, you're about to be the star. You're welcome. Okay, you've got eight foot ornaments. Yeah, okay, fine. everage everyone is pulling out a julienne crusted Dickie, according to their personal style, and color. I mean, if not now then when? Not guarantee you're right.
Kulap Vilaysack  48:15
You're absolutely right. The last thing I brought is something that I think I've talked about before this is okay. So this is essentially like a tarot deck. And this is the first sort of deck that I owned. And it's called the wild unknown animal spirit deck, and guidebook. And so, okay. There may be people who, you know, maybe find, like normal Tarot terms, like, you know, the, the queen of cups or sort of that sort of genre, the hanging man, that might be too, maybe too much to buy into or get into, I really think this deck, which has sort of animal totems, it's great for like every day, to pull a card and to kind of think about what you've pulled and bring it into your day. I also, there's different types of spreads that you can do. And what I find to be greatest is just kind of focus on being really mindful. Maybe you want to just think about, oh, what should I know about today or I have a problem. And think about that while you're pulling the deck. And when to me when it's like an animal you can kind of throughout the day, sort of picture that animal. To me, it really helped us sort of like beginning into the sort of like spiritual deck world. Also, every year I do the yearly deck which is like the spread that like there's a card per month and overall car to think of the year but I also really love to just like give readings to my friends and for me. What those readings are is really like using this deck as a tool to have a deeper conversation.
SuChin Pak  50:00
Deeper conversation with others yourself. I think it's one of those things to where it's intention setting. You don't have to buy into anything other than, here's an intention. And it's a powerful intention today. And I think that there's something that practice of doing that really can help build on all of the other kinds of spiritual beliefs. And, you know, ways that you move through the world. So I love I'm a big deck person, I've got like, the abraham hicks deck card, you know, where you pull it. And again, it's an intention, a question, something to think about. And I really enjoy it, that reminded me I haven't brought that out in a while. It's somewhere packed away. So I'll have to look that up. But I love that idea.
SuChin Pak  50:10
Yeah, I think I'm somebody who is not great with meditation. So it's just a way to sometimes it's a way to quiet the mind is a way to sort of be introspective, it's a way to just like, be mindful. Also, I found it fun.
SuChin Pak  51:10
And they're gorgeous. And they're gorgeous. My final thing I wanted to tell you guys about for last minute gift ideas is I have a category called Great AAPI gifting ideas where I have put together some of my favorite API owned brands, creators, authors, there's books, there's spices, there's tote bags, it's all different price points, you know, little stocking stuffers, something you know, more extravagant from beauty to home. So I put it all on there. I thought that that's always kind of nice to look at a list that's curated that way. Yeah, that's great. We both have the Tomarion and portable infrared heating pad on there. I mean, that's an extravagant gift.
Kulap Vilaysack  52:01
Game changer. My body was broken after Thanksgiving, just like hosting and like I had to get me to bed with my little Tomarion.
SuChin Pak  52:13
By the way, brought us to the hospital. Nurses were very confused, first alarmed and then I said no no, it's not plugged in. It's just a heated rock because they don't obviously want you can't have things plugged in in your bed. My dad of course is freezing in an air conditioned hospital. I just heated that up put that stone in his bed he couldn't have been happier. I was explaining it to all the nurses they were like wow, blowing their minds it was great and so that's on there so take a look around it's been so fun to curate these, other than the fact that like it's just more ways that we quote unquote shop.
Kulap Vilaysack  53:01
I've put hours.
SuChin Pak  53:04
You guys can go there and be like this is a lot of time but I you know what it has kind of distracted me when I sometimes really needed it and so there it is and last minute gifts who everybody needs last minute gifts, there are guests that are coming yep that you didn't know and if you're not Paul Scheer where you already have a pre wrapped you know, surprise guest present under the Christmas tree. Here you go.
Kulap Vilaysack  53:35
Well, that does it for another episode as we head into the holidays and march towards the end of the year.
SuChin Pak  53:40
All of this stuff is on our Instagram you'll see all the gifts we sent each other plus of course the links to our Amazon storefronts because we are moguls. It's all in the show notes as well.
Kulap Vilaysack  53:51
Wishing you and yours all the best this holiday season and we can't wait to add to cart more in 2023.
SuChin Pak  54:03
There's more add to cart with Lemonada Premium you will get access to all of lemon autos premium content including our premium episode where we get a chance to chat about a few items that didn't make it into the show. Subscribe now on apple podcast right where you listen to this show.
Kulap Vilaysack  54:28
Guess what, Add to Carter's? We have been nominated for a shiny shiny award. The signal awards seek to recognize standout podcasts and we have been nominated as Best Lifestyle pod.
SuChin Pak  54:39
Thank you. But of course we need your help to win. So go to vote.signalaward.com or visit the link in the show notes to cast your vote for Add to Cart.
Kulap Vilaysack  54:51
ADD TO CART is a production of Lemonada Media. Our producer is Claire Jones and our mix is by Ivan Kuraev and Veronica Rodriguez. The music is by Wasahhbii and produced by La Made It and Oh So Familiar with additional music by APM music. Executive producers are Kulap Vilaysack, SuChin Pak, Jessica Cordova Kramer and Stephanie Wittels Wachs. Be sure to check out all the items we mentioned today on our Instagram at @AddToCartPod. Also, please take a moment to rate, review, and subscribe to the show wherever you get your podcast.