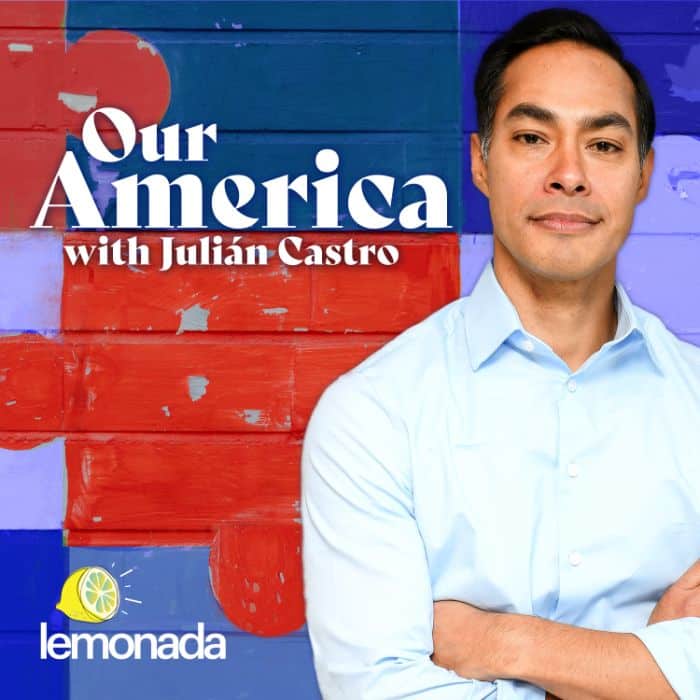 Life After Deployment
Subscribe to Lemonada Premium for Bonus Content
Description
After nearly a decade in the military, Jason Kander had grown accustomed to the demands of deployment in Afghanistan — but it was his return to civilian life that presented the biggest challenges for him and his family. Today, Kander talks about life during and after service, the career shift into politics that led him to seek treatment for his PTSD, and the dangers of thinking of trauma as "unearned."
Resources from this episode:
Keep up with Julián on twitter @JulianCastro and Instagram @JulianCastroTX
Support the show by checking out our sponsors
You can digitally purchase life insurance from Haven Life Insurance Agency at havenlife.com/ouramerica.Haven Term is a Term Life Insurance Policy (ICC17DTC) issued by Massachusetts Mutual Life Insurance Company (MassMutual), Springfield, MA 01111 and offered exclusively through Haven Life Insurance Agency, LLC. Policy and rider form numbers and features may vary by state and not be available in all states. Our Agency license number in California is 0K71922 and in Arkansas, 100139527.
The Marguerite Casey Foundation, creating greater freedom for changemakers to create a truly representative economy. Learn more at caseygrants.org, and connect with the Foundation on Twitter and Facebook.
To follow along with a transcript and/or take notes for friends and family, go to http://lemonadamedia.com/show/our-america shortly after the air date.
Stay up to date with us on Twitter, Facebook, and Instagram at @LemonadaMedia
Transcript
SPEAKERS
Jason Kander, Julian Castro, Reporter on TV
Julian Castro  00:01
The Selective Service ended the draft for the Vietnam War in 1973. Which means that, for almost 50 years, hundreds of thousands of Americans have made the choice to risk everything to serve our country. For some, it can be one of the toughest choices they ever make. But Jason Kander told me that for him, it was different.
Jason Kander  
The military was in the maybe one day category, in my mind, it was like, I really admired service. And I was like, maybe one day I'm gonna do that. And then 9/11 happened.
Reporter on TV  
This just in, you were looking at, obviously, a very disturbing LIVE SHOT there. That is the World Trade Center. And we have unconfirmed reports this morning, that a plane has crashed into one of the towers of the World Trade Center.
Jason Kander  
And to me, it was just real simple. You know, I was about to turn 21. And I just thought of it is no different than World War 2 broke out my grandpa, when World War 1 broke out, my great grandpa went, that's just it seemed to me what you were supposed to do. For me, I was like, if I don't go, somebody else is gonna go. And who am I to say like, well, I grew up this way. And I had this education, like, I just felt, I felt like I had an obligation to do it, because I could.
Julian Castro 
As we approach Veterans Day, I've been thinking a lot about people like Jason, who have served so bravely, are we doing enough to make sure their needs are met, both on and off the battlefield? This week, I talked to Jason about his experiences in combat, his life after service, and how some of his toughest battles were fought right here at home.
Julian Castro 
This is OUR AMERICA. I'm your host, Julian Castro. 
Julian Castro 
Talk to me about the moment when you arrived at your place of deployment, what you felt like, I mean, there's a whole new world for you. Well what does it feel like? What's the experience?
Jason Kander  02:12
It's interesting, because when you are going through training, or at least for me, you are told a few things. One of the things you're told is, well, don't worry, when you get over there, you'll have blank, you know, armored Humvees or whatever, you name it. The other thing that we were told, like an intelligence training was, well, you won't be doing x, like you're not trained for this. So you won't be doing that. None of that stuff is true. Like once you get on the ground, and it's a war. Everybody's just trying to win the war. Everybody's just trying to do the job and meet the mission. And so one of the first things I remember, is my very first convoy, feeling like, Okay, I'm GI Joe here, right? Like I'm waiting for my convoy. I haven't even been given my rifle yet, but I got my pistol on my hip, I covered it on my battle rattle. And I really thought like, I was pretty tough. And then instead of armored Humvees, and like a really, you know, bad news looking guy in a machine gun up on top, which is all the things I was expecting, were pulled up or unarmored Mitsubishi Pajero, which is just Mitsubishi's answer to the Ford Escape. And that's what we were going to drive from Bagram to Kabul in. And I like went from tough to sick to my stomach. 
Julian Castro  
Not a lot of protection, basically. 
Jason Kander  
Nothing right, like the same thing. I mean, actually, the Jeep Cherokee I drive around Kansas City would be better than what I did convoys in Afghanistan for months. But I got there, and I got to do all that stuff, which was really exciting. And at times really frightening.
Julian Castro  
Now, how many years were you on active duty?
Jason Kander 
So I was Guard and Reserve for my career, but I did about nine years in the Guard and  Reserve. I was a captain in December of 2011.
Julian Castro 
And you decided to jump into politics. You ran for the Missouri State Legislature and won.
Jason Kander  04:00
Yes. So I became Missouri Secretary of State I was 31. I was the first millennial ever elected to statewide office, which comes with no additional powers. But it looked cool on my parents fridge. So that was good.
Julian Castro 
What made you decide to run for public office? You know,
Jason Kander 
You know, I think it was a combination of things. I remember, in particular, one mission where we had to go through the job and pass using vehicles, which is just a super dangerous road trip, even if there were no Taliban, instead of having helicopters, because those were in Iraq and just stuff like that. It was the first time in my life, I'd ever been on the receiving end of decisions made by public officials that negatively affected me. You know, I'd been a political science major and all that stuff, but like a lot of political science majors, I think I saw it as like a game. And when I was in Afghanistan, it became really clear to me like this is not a game that says really serious consequences. And what struck me more and more, the more time I spent in politics, was how few people there were in elected office who had done something harder than the campaign that put them in that office in the first place. And so to me, it was just about trying to be somebody in a position to make decisions based on what was the best thing and not what was the best thing for me. And so that's always what I tell young people when they talk to me about it, because you know, I'm sure you have the same thing where people come to you and they say, I really like your path. Here's what I'm thinking of here, right? I mean, all the time. And yeah, and I'm always telling them like, well, there is no path, spend less of your time thinking about how to get yourself to the next place, and more of your time just thinking about how to make a difference where you are, because if you do that, the other stuff will work out.
Julian Castro 
At the very end of the Obama administration, President Obama was asked about, you know, who's a rising star out there in the country? And he said, my guy in Missouri Kander, and then you made an announcement that you were going to run for Kansas City Mayor, and began a campaign in addition to there had been speculation that you might run for president.
Jason Kander  06:13
You and I have seen each other on some events.
Julian Castro 
That's right. In fact, I remember seeing you I think it was at some sort of young democrats event. Yeah, it
Jason Kander 
Yeah, it was like the national young Dems. And I want to say Houston.
Julian Castro  
It was in Texas. Yes. I remember that. You and I had it, we had a chance to chat. What was your decision making process there about running for mayor of your hometown?
Jason Kander
Yeah. Well, let me give you the for public consumption version from the time that is also true. But then I'll give you the end. Here's the rest of the story. I had decided that. Yeah, I mean, look, prior to that, obviously, I was getting ready to run for president. I mean, who wasn't really at that moment, right?
Julian Castro  
I could vouch for the fact that is true. Yeah. I think 25 people did,
Jason Kander  
And it was like at that at that time, it was like 50, we're thinking about it, you know, and publicly what I said, and I felt this was I really wanted to try and make progress at home and dial in on taking what I built, and applying it to my hometown, rather than to a presidential campaign, I thought that I could, you know, take the fact that I could make phone calls to people like you and everybody else and, and just, you know, bringing that to bear for my hometown. And I thought that I would get a lot out of serving my neighbors. And I believed that the best argument for progressive values was progress, people can see which I thought I could do at the local level. And then the other parts of the story that I didn't talk about for some time after was, I was also really struggling with with post traumatic stress. 
Jason Kander 
At that time, undiagnosed, untreated, because I was unaware of it. In fact, I should have been aware of it, I suppose. But I just denied the idea that I that I had it and I had been struggling for years since I came home with nightmares and hyper vigilance and depression at times and all sorts of stuff, emotional numbness, it's a long list. And I was getting concerned about it. But I wasn't yet ready to admit to myself that was post traumatic stress. The story I told myself was that that's it was just something was wrong with me. And I kept telling myself It couldn't be posttraumatic stress, because what I gone through was, to me not conventional combat. Now, what I've since learned is that almost everybody, no matter what they went through combat wise, thinks that it was no big deal compared to what other people went through. And that's just part of the training. It's necessary, right? Because if you think what you're going through is a really big deal. You won't keep doing it. 
The problem is, they don't really flip that switch off. And so for me, like because I hadn't been in firefights, I'd been in a lot of rooms that I wasn't sure I was going to get out of alive. And I'd been out by myself a lot. To me, I couldn't have posttraumatic stress, I hadn't earned it. And it felt like stolen valor to say so. But I thought something was really wrong. And so I thought, well, maybe I can feel redemption. I can fill this hole. If I go home, and I serve my neighbors in my hometown, and I get off the road. And I also told myself, I'll go home, I'll run for mayor, and I'll get treatment at the VA. And I went home and I ran for mayor, that part I did. And that was going great. We were ahead by a country mile in every poll and we were going to win by a lot it was a really fun way to run for office. But when it came time to actually go get help at the VA. I filled out some forms. I didn't have the courage to answer them honestly, because I was concerned about how it would look politically if it got out and honestly and I wasn't being honest with myself yet. So I didn't do that part. 
And then things got worse and worse. It got to the point where it was suicidal thoughts and it was concerning. It was scary. Things got bad enough that I called the suicide hotline. The Veterans Crisis Line. And what struck me was the tone of the woman's voice on the other end of the phone was so casual and mundane, not uncaring, she was very caring. But it was just clear that I didn't sound different than anybody else she had talked to in that shift or in that job ever. And then I googled, my wife and I googled post traumatic stress and really read it without trying to deny it. And it was like it was written for me. Like, I was hyper vigilant, you know, had never, in my mind really come home from Afghanistan in the sense that I was really concerned about our son's safety, my safety all the time. 
10:34
And so I would be on the road all the time, and I'd call home and I'd be, you know, did you lock every door? Did you know all that stuff and then also, Personally, when I was home, I'm waking up in the middle of the night with these violent nightmares, so that I had to come to terms with that. And then once I did, I just decided, you know what, I've been sort of self medicating and avoiding myself, through my work through, you know, attention, and, you know, everything to keep myself from being in a position to just be alone with my own brain. And that's when I made the decision not to continue the campaign.
Reporter on TV 
And an open letter released today, Kander an Afghanistan War Veteran says he has Post Traumatic Stress Disorder. After 11 years of trying to outrun depression and PTSD symptoms, he writes, "I've finally concluded that it's faster than me"
Jason Kander 
Very possibly could have made the announcement, and then got treatment during the campaign in one but, but I just knew myself, and I just thought, if I'm going to commit to getting better, that's what I got to focus on. So that's why I just, I made that my job for a few months. I just said enough. And I stopped everything and went to get treatment for post traumatic stress at the VA. And I'm really glad I did.
Julian Castro 
And how did it feel when you made that announcement?
Jason Kander  
It was really frightening, because I had no idea whether I could get better, right? Like I had never been to a single therapy session, when I made that announcement. I didn't. I didn't know anything about post traumatic stress, other than I seem to have it and it sucked. And that was it. That's all I knew. And what that meant was, I was trading in the one thing in my life that was really going well, which was my career for what was really a leap of faith that I could that I could get better. I remember the day I made the announcement. My wife was traveling for work. And I had friends here at the house with me and everything. But I had to go pick my son up from school. So I made the announcement like one o'clock and then I went to go pick my son up. And I realized like, I wasn't sure I mean, it made national news. So everybody knew it. And I was like, I'm not sure the school is gonna let him go home with me. Because I just told the whole world, I'm suicidal. And so I had two of my best friends with me go to school with me, it turned out there wasn't a problem. But that was a pretty stark thing. Like I had just gone from being a guy who people thought might run for president to I don't know if the school will let me take my son home. So it was a big change in my life.
Julian Castro  13:06
What effect did it have on your family?
Jason Kander 
Well, my wife, we learned as I started therapy, my wife had secondary post traumatic stress, which is a real thing that happens pretty often. And that really I think a lot of more people need to know about because the person who's living right adjacent to that can develop a lot of the same symptoms, and can develop that hyper vigilance and that anxiety without having the underlying trauma in the first place. And so my wife and I both went to therapy, we went to separate therapist, and then at night, we would compare, you know, and it was, that was a really interesting process, because I was thinking about this today, it was sort of like to colorblind people, who are gradually gaining the ability to see new colors, and then getting to talk to each other about it at night.
Julian Castro 
As many as 20% of veterans of the wars in Iraq and Afghanistan deal with some degree of PTSD. And according to the Department of Veterans Affairs, there were more than 6000 veteran suicides each year, from 2008 to 2016. These are sobering numbers. And it's taken a long time to build the awareness needed to make changes.
Jason Kander  14:20
There have been some big gains made by the military in the last few years. But there's a few things that I think haven't changed. And one of those is we have to get a lot better at the handoff process and the separation process and making them one in the same and what I mean is, when you separate from the service, you can go on you can insert your ID card and you can go on to the military server, and it'll show you like red, yellow or green of your health status, like down to the mower, right? Because they know everything going on with you so they can make sure you're deployable while you're in the service. But then the day you leave. If you decide to go show up at the VA you would think and most people assume that it's the same government and they just yesterday literally knew everything about me health wise, you think that you'd show up and you'd say, hey, Jason army, here's my social, and they're gonna pull everything up. But it doesn't work that way. I mean, you show up at the VA, and they don't know who you are.
Julian Castro 
So they don't share that information that they have for for people who are active duty or reserve.
Jason Kander 
For any of it. There's a big project now to to change that, but it's taking way too long. And it's one of the things that really discourages and puts a lot of veterans because the other thing is, when you go from soldier to veteran, a marine to veteran or whatever, honestly, it's a few years before you even think of yourself as a veteran, it's just a mental transition. And so for that process to then be that much harder, it's a big problem. And then the other piece that just needs continual work is much harder. And I sort of referenced this earlier, there's this really, unfortunately, necessary form of brainwashing that the military does. And that sounds really bad, but I'll explain and it is that from the moment you get off the bus and basic, the the lesson is ground into your head that what everybody else is doing is way harder, right? 
Jason Kander  16:09
This is no big deal, what you're doing. And like I got a buddy who told me that, you know, he did parachute school. And he was saying, like, if there hadn't been somebody in the door in front of him who jumped out first, like he never jumps out the door, right? Like, you know, if he'd been the first one, he never does it. And that's like the whole principle, right? So from the moment you get in, you're taught that a buddy of mine says, you know, somewhere, there's like a guy who was a third wave of D-day sitting in a VFW explaining that he it was no big deal. He was third wave, there's always somebody who did more, right? And that's fine. Because like, in my job for me to keep going into those rooms, or to keep going back out on the road. I've got to be thinking, well, this is no big deal. 
Jason Kander 
Other people, this is the job and other people are doing much harder stuff. Because if I'm thinking about the fact that like, and this is crazy, I might get kidnapped today, then it's gonna be really hard for me to go back and do that job. And for somebody else, it's how do you go on the next patrol? If you are thinking it's insane, that they're shooting at us? Right, like, so that's important to do the job. But then when you leave, nobody sits you down and says, okay, you need to know, that was pretty messed up. Like,
Julian Castro 
they need to put it in context, basically.
Jason Kander 
That was a big deal. What you did was a big deal. And, and it and it's, it might be really hard for you and and and to turn off that thing that they've put in your mind that says what you're doing is not a big deal. So because nobody does that. That's why you know, we're always asking this question. What do we do to get veterans to understand that it's not weak to ask for help, that it's important and that it's okay. Well, we got to figure out how to flip off that switch. Because that's why people like me, and so many others were sitting around having these symptoms and going, but what I did was no big deal. 
That is the number one thing I heard from other veterans after I made my announcement, which was the most important thing I read in your announcement was I didn't think I had earned it. Because they said, but I heard what this guy Kander did, and it seemed like he earned it. And if he didn't think he earned it, then maybe I'm wrong to think I didn't earn it, you know, and I think that's the most important thing is just as people leave, we got to tell them like, Okay, that was pretty serious. And there's going to be some issues. And as people come home, you know, from deployments, we got to make sure they understand.
Julian Castro  18:38
Through veterans community project, you're dedicating your time, your talent, your effort to trying to reduce veteran homelessness in your hometown. Talk to me about what motivated you to focus on veteran homelessness and how does that tie in with the mental health challenges that we're talking about?
Jason Kander 
So here's what happened for me is, I went to the VA for the first time, the day before I made my announcement. And here I am, like I got a phone full of influential contacts. I got a Georgetown Law degree, I got pretty good, decent high level government experience. And I found that it was overwhelming. And I was like, I don't know how to navigate this process. Now, six weeks before that I had toured veterans community project in Kansas City, and I was blown away by it. And so I reached out to one of the founders of VCP, as we call it, and I was like, Hey, I'm making this announcement tomorrow, which was probably a bit of a surprise to him. And I was like, and I'm not sure what to do, and he's like, why don't you just come in? So six weeks after getting the VIP you're going to be mayor to her. I walked through the front doors of the Outreach Center, just like any of the thousands of veterans who have done so in Kansas City, and then they expedited.
Julian Castro 
And just six weeks earlier you had gone through to tour the facility as a candidate for mayor. 
Jason Kander 
Yes, thats right. And now I'm you know, I'm another vet walking through the handled my paperwork expedited it a week later I had my first therapy appointment, the VA. And I was really inspired by that the mission of not just like helping every veteran, but also focusing on ending veterans homelessness. And I started after I, you know, treatment started to go really well for me. And I started to think like a little bit about doing other things. And I started hanging around on VCP and kind of volunteering. And at that point, they had been so successful in Kansas City, eradicating veterans homelessness, and serving all veterans, that they were getting invitations to expand all these other communities around the country. After a month or two of that. This is like seven months after I started therapy. They said to me, Hey, why don't you just come here, and be in charge of our national expansion? You've done this before. And I was like, Yeah, I think that's what I want to do. So now, I'm the President of veterans community project. And  we've broken ground on a new village of tiny houses for homeless vets and outreach program in Colorado. 
20:55
We are about to dedicate land in St. Louis in a couple weeks. And we're getting really close to starting projects in Milwaukee, and Cincinnati, and Oklahoma City, and other places. And for me, it's an enormous opportunity to do what I thought I was trying to do. You know, all those years ago when I deployed, which is if I do a good job, maybe some more people get to come home safely. And I never really felt like I achieved that the only two times I've ever felt that way or three days after my announcement    . When I woke up, my wife told me that she read in the news that the amount of people who were calling the Veterans Crisis Line had tripled in that three days. And I remember thinking, that's the first time I've ever felt like I helped some people get home safe. And now every day in this job, I just feel like that's what I get to do, I get to help people come home safely. And a lot of those people are on the street because they're dealing with untreated undiagnosed, post traumatic stress. And we're able to bring them in and finally give them what they need. 
21:53
I think about this always, in terms of whether it's a veteran or anybody else who's just thinking about their their job, like, you know, get interviewing for the next job. If it's known that they sought mental health treatment, how does that affect it? And how have we moved the needle toward making that not affected? And I think that we've done well, in the last couple of years, but I do feel there are forces out there that, you know, want to keep things the way they were and want to make things simple and act like there's people who are okay, and there's people who are not okay. And I think that every time anybody does that, it cost people their lives. And I think on top of that, it costs people potentially their careers I knew, I felt like, for me, I stayed out of the public eye for several months while I got treatment. And I was trying to achieve post traumatic growth. And I, you know, it's always a, you work to maintain it. But I've done that I've reached that. And it's a beautiful thing for me. 
 22:45
But it was really important to me to then once I'd done that to go out and do the interviews and to try to be a role model for that. Because I wanted that to be what somebody was thinking about when they had a young veteran across the table from them. And they were thinking about hiring them. I didn't want them to think about well, you know, Jason Kander had, and he had to get out of everything I wanted them to understand. Yeah, and then he got treatment. And now like, that guy seems a lot better than he was. And that guy seems like he'd be a better employee now. And I just think we all have to be public about it. Because like, half the people who walked down the street, I mean, half the people you see, at least are battling something.
The first speech I gave, you know, I went from given like two speeches a day I went like a year without giving a speech. And I went, I gave a speech to a VA mental health summit. And so I gave this speech. And then they surprised me afterwards by bringing up this, this veteran, who then told his story, and he had been out of the service for like 30 years. And he had like a PhD. And I think he was a local superintendent of schools, and he had been very successful. And then he retired, and he started having a lot of problems. And he started to have suicidal thoughts. And it was right around that time that I made my announcement. And he told this whole story in front of his big crowd and me and like, I'm crying, and he's crying. And, you know, he said, you know, had it not been for that announcement, like, I wouldn't be here. And the thing about that is, is like, I'm really fortunate to get to hear from people like that all the time. But what I always remind people is, is that we live in a day and age where we're all living public lives to different degrees, right?
24:20
Whether it's because of social media, or you know, just whatever in your workplace, everybody's just naturally be more up in each other's business than ever before. What that means is, if you feel like you need help, you should one go get that help and two not be shy about letting the people around, you know, you're doing it for two reasons. One, as I found out, you'll commit to it harder if you have people around you and in my case, like the whole world, who will be holding you accountable because they know you're doing it, but two, you never know who in your circle of friends or who in your orbit will find out that you're doing that and you'll give them license to go get help and you might save their life. So I always try to remind everybody like you don't have to, you know, be somebody that a lot of people have heard of to make that difference in a lot of people's lives.
Julian Castro  
Some people might say that you're better positioned today than you were three years ago to run for statewide office or even to run for president one day. Have you thought about getting back into politics?
Jason Kander 
I'm not in any sort of serious way if I thought about it, you know, but it you know, I guess for me, I feel like, and I think you, I would imagine feel the same way like neither of us are running for anything right now. But I would not describe either of us as not being in politics. You know what I mean? Like, I'm sure so I very much feel, I feel like I'm in politics with out like, things like, quarterly fundraising deadlines, and all that kind of stuff.
Julian Castro  
The contribution and expenditure reports fill out every quarter and all that stuff.
Jason Kander 
Right? Like, you know, I don't know about you, but I really enjoy it when it's the last day of the quarter. And I don't know it until I get an email asking me to give and I go, I didn't even know. But know that the real serious answer, I guess, is that, you know, I'm not saying like, I would never run for something again, it's just, I right now, that's not what animates me or motivates me, I'm not even, I don't think about it well, like, you know, I used to, I used to think about it all the time. Because, one, that's what I did for a living and two, it was like, the presence was so unpleasant for me that one of my, like, avoidance strategies, I think, was to just constantly think about the future because it was just, it was a happier place than the present. And that's just not true for me anymore. Like I'm enjoying my life. And and I'm, I'm just really enjoying my life. And I really like the work I'm doing. So look, it's possible that a number of years from now, at some point that I may say, you know what, yeah, I'm gonna run for President or I do want to run for Mayor. But it's not gonna happen right now. But what about you? I mean, you know, we both get this question every day, like.
Julian Castro  27:03
Same thing. I mean, I haven't taken anything off the table. But I don't have like this burning desire to run right now. Part of that is probably because I just got off of almost two years of constantly being on the road. But the last seven months have been great, because it's been a total 180. I've been at home all the time, managing my kids virtual learning. And I, you know, I'm stay at home dad, basically, right now, which it's been really nice. I've spent more time with my kids in the seven months than I probably have over the last, you know, three years combined. Because I've been traveling so much.
Jason Kander 
You know, it's funny about that. And I bet there's a home for you, too, is that I hear, you know, constantly on social media, but occasionally from people in person. Questions that implicit in the question, and this was not implicit in yours, because you get it. implicit in the question is usually this assumption that I'm desperate to be running for something again, or desperate to be in office again. And it's always interesting to me, because it's sort of like, Well, once you've experienced that you can make a difference in a lot of different ways. It's a pretty high threshold to say, like, no, I don't need to see my kids this much, or no, I don't need, you know, like, I think, yeah, people who have never done it, understandably, don't realize that. It is an all consuming thing, there's no part of me that's like, geez, I just really miss call time. Like, it's not happening. You know, but really, my big thing that I contribute politically is my podcast MAJORITY 54, which is where we equip people to, you know, have civil but persuasive conversations with people who aren't progressive, but they'd like to see them become progressive. So it's based on the fact that 54% of the country voted for somebody not named Donald Trump. And we just help people have real conversations, to win over the people in the other 46%. I don't need to have my name on the ballot to feel like I'm, I'm trying to make the country better for my kids, you know, so why not be able to do that and be the little league coach, like that seems pretty great.
Julian Castro 
Absolutely. Absolutely. Well, thank you for more than doing your part. And you're the example that you've said, and thanks for keeping your voice out there.
Jason Kander 
Thanks, man, thanks for the opportunity to do this.
Julian Castro
Better and see and do things that many of us can hardly fathom. And Jason really shine some light on that cruel irony, that's so often, the attitudes they developed to help them survive in combat, are the very same attitudes that can make flipping that switch off so difficult. It can be so hard to admit that something's wrong and to admit that help is needed. But it can be so rewarding to break through to the other side. If you're a veteran, or you know one who might be struggling, there is help out there. Dial 1-800-273-8255 and press 1 to reach the Veterans Crisis Line that Jason called when he needed help. Or you can text 838255 or chat online at veteranscrisisline.net. Next week, we look back at the historic 2020 election. We'll look at the wins, the losses, the disappointments, along with the happy surprises, and we'll start looking ahead to what comes next
CREDITS
30:46
OUR AMERICA is a Lemonada Original. This episode was produced by Matthew Simonson. Jackie Danziger is our supervising producer. Our associate producer is Giulia Hjort. Kegan Zema is our technical director, music is by Hannis Brown executive producers are Stephanie Wittels Wachs, Jessica Cordova Kramer and Julian Castro. Help others find our show by leaving us a rating and writing a review. Follow us at @lemonadamedia across all social platforms, or find me on Twitter at @juliancastro or in Instagram at @juliancastrotx