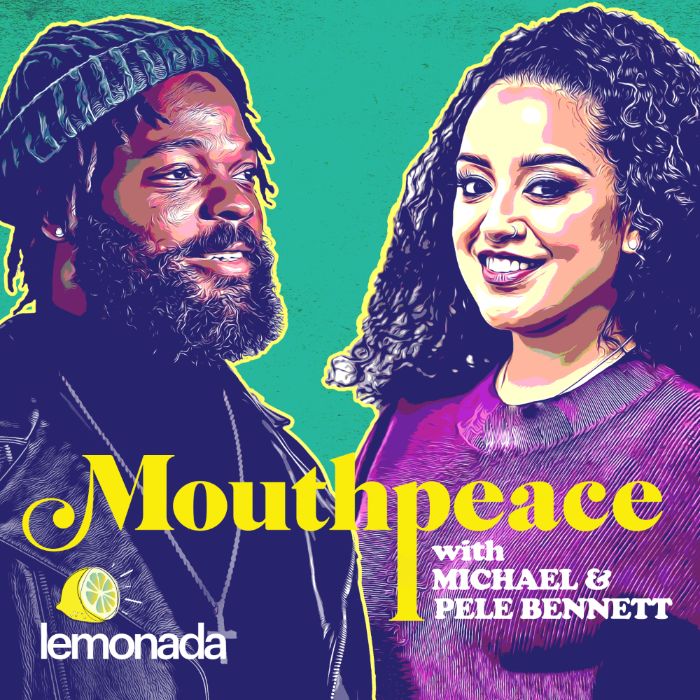 Mouthpeace: Official Trailer
Subscribe to Lemonada Premium for Bonus Content
Michael Bennett is a unicorn. The NFL defensive lineman for the Dallas Cowboys, is both a Super Bowl Champion and self-described feminist. Pele Bennett is no slacker either: she's a food advocate and a skilled Polynesian dancer. Together, the Bennetts have taken on everything from racial justice work to authoring a children's book to parenting three daughters. (Did we mention they're high-school sweethearts?) In Mouthpeace, the Bennetts invite listeners and guests into their professional and private lives to take on topics provocative and personal: from sitting out the national anthem to keeping their sex life fresh. Like Michael and Pele, Mouthpeace manages to be many things at once: hilarious, inquisitive, and unfiltered. NSFW: explicit content.

[00:01] Michael Bennett: Wait, wait. This is live? Oh, shit. Wake up. Wake up. This the official trailer of the brand new podcast by Michael and Pele Bennettt called Mouthpeace with Lemonada Media. I'd say that we met on the bus and I said that she wanted to marry me when she saw me. But she doesn't recall the story being that way. I was on a bus and she needed a place to sit. And I was just like, "You can sit here, Pele!" And that's how we met. 
[00:31] Pele Bennett: Negative. That is not true at all. I do remember going on the bus, and you were on that bus a couple times. And then I decided not to take the bus anymore. Not because of you. No, I remember meeting you and actually I didn't like you. Not your looks, it was more your personality. You were really goofy, loud, you were like a clown in the hallway. And you kept trying to ask me out, talk to me, and —
[00:55] Michael Bennett: I ain't try to ask you out more than one time. 
[00:57] Pele Bennett: Every week we're going to talk to each other, and our friends, about things like the NFL and sports. 
[01:03] Michael Bennett: And we're going to talk about culture, of course, and the state of politics.
[01:07] Michael Bennett: In other news recently, the NFL — people are getting backlash from the Redskins again because of their name. And people are wondering if they should have a name change. Because imagine if the team was called, you know, the Washington Crackers. People would be mad because that'd be a racial slur. And if the Redskins N-words — ooh, they wouldn't be able to play at all.
[01:26] Michael Bennett: And we're going to talk about raising kids in this crazy fucking world. I can't even lie, I think Peyton is the main reason why I feel like I've made it this far in the NFL, honestly. Because I feel like at that point, looking at her is like another level of, like, you cannot fail. You cannot fail. You can let yourself down, but you cannot let this child down, like, you have to be able to provide for them.
[01:48] Pele Bennett: And we're definitely gonna talk about S-E-X. Sex.
[01:51] Pele Bennett: To be honest, communication during sex. That would be my pro-tip. Communicate while you're having sex. If he's in the wrong area, let him know. 
[02:02] Michael Bennett: Yeah, don't make it be painful. Say, "that's too painful!"
[02:03] Pele Bennett: But don't say it in a bad way. You know, you gotta say it in a nice way. A gentle way. You can sing it, you can do whatever you want. You gotta help him out, which is gonna help you, girl. So let him know what he is doing wrong. 
[02:19] Michael Bennett: Every week you'll get pro-tips from us. You're welcome in advance. We're also gonna talk about — hmm — whatever the fuck we want to. It's our show. That's it. That's the end of that shit. We'll be airing new episodes of Mouthpeace every fucking Friday.
[02:36] Pele Bennett: Please don't forget to subscribe now on Apple, Spotify, Stitcher — 
[02:41] Michael Bennett: Or wherever the hell you listen to podcasts when you try to hide from your family, whether it's in the bathroom or in the car. Just make sure you subscribe now.