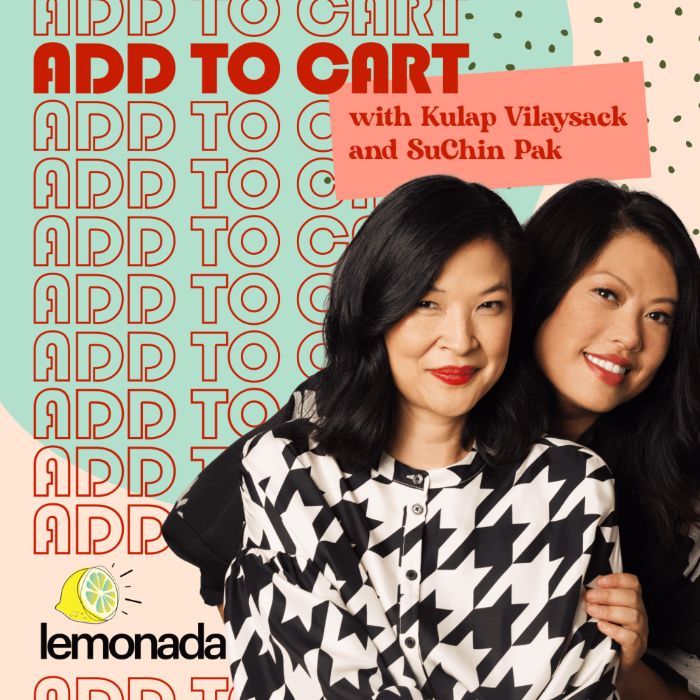 Moving Our Mothers
Subscribe to Lemonada Premium for Bonus Content
Description
This week, Su and Ku are trying to move their parents into their own places. Ku's helping her mom get organized with *baskets* while Su keeps spotting her mom pulling pillows out of the garbage. They talk about fashion this week, but it's a wide range. On one end, Kulap is WOWing us with her first Nuuly dress (she looks like a literal queen), and on the other, SuChin is actively searching for "the shoes you give someone working the night shift, please." It's dynamic!
Please note, Add To Cart contains mature themes and may not be appropriate for all listeners.
To see all products mentioned in this episode, head to @addtocartpod on Instagram. To purchase any of the products, see below.
Stay up to date with us on Twitter, Facebook, and Instagram at @LemonadaMedia.
Joining Lemonada Premium is a great way to support our show and get bonus content. Subscribe today at bit.ly/lemonadapremium.
Click this link for a list of current sponsors and discount codes for this show and all Lemonada shows: lemonadamedia.com/sponsors
Transcript
SPEAKERS
Kulap Vilaysack, SuChin Pak, Claire Jones
SuChin Pak  00:14
What is happening. Kulap is a vision, it's sort of Gucci Dior. She's got poofy sleeves. She's got a new hairdo.
Kulap Vilaysack 
This is a fresh cut, but go ahead talk about my skin.
SuChin Pak 
Yeah, yeah. Please don't interrupt me. Your skin. So do we fresh hidden at the right reflection points. But let's talk a moment about this top. It's given me very wealthy. English chateau.
Claire Jones
I'm getting Bridgerton vibes.
SuChin Pak 
We had to, let's tell our listeners. We started our normal session as we all do, just catching up. And both Claire and I were shrieking so loudly that Ku had to take herself off camera. That's a very familiar, familiar place. Because I was once there.
Kulap Vilaysack
Yes, this is very similar to what happened to you when you were showing us your newly top. This dress is also from Nuuly.
SuChin Pak
No. And I said before we recorded. I said well, that's not a Nuuly top and she said oh yes it is. Wait. So you did it. You got your Nuuly softbox, Claire, look at you. I mean, Nuuly come on board. I mean, obviously we're fans of the brand and the company. Oh my goodness, the three of us.
Kulap Vilaysack  02:01
This is you know; this is what I wear around the house now.
SuChin Pak 
Scott's letting you around the house in that, he's letting you get packages. He's letting you chase coyotes. He's letting you go to the grocery store in that?
Kulap Vilaysack
I wear this out. This is a second time I've worn it. I wore this to see three hours of the Batman just amongst the people.
Claire Jones 
I bet no one even watched that movie with you in that dress there.
SuChin Pak 
Paparazzi flashing. They were all taking sneak peeks of you. Just so you know. It will be trending on Twitter. Three to one probably right now. You don't even know, you shoving popcorn in your mouth in this Bridgerton vision from your Nuuly box. Wasn't it so fun?
Kulap Vilaysack 
It's so fun. This is a farm Rios dress. It's very, I think I'm gonna stand up a little bit. It's very tropical.
SuChin Pak
But it's also very, very chic tropical there. Very […] tropical. You know, when this isn't this isn't surf shop at the dollar store.
Kulap Vilaysack 
Oh, you know, Su, we need we need to start the show. We didn't said our names yet.
SuChin Pak
I know. But I'm so distracted. I don't even remember what my name is. I'm so lost in the volume of your ample bosom.
Kulap Vilaysack 
I'll start and I'll say hello, and welcome to another episode of ADD TO CART, a show about the things we buy and rent from Nuuly and what we buy and rent into. I'm Kulap Vilaysack.
SuChin Pak
And I think I'm SuChin Pak. I mean, last I checked, but I'm not quite sure anymore. Temperature is hot. Running hot today. You guys, we're gonna put this video up.
Kulap Vilaysack  04:02
We might have to, we just might, Claire's clearly started something will Nuuly be the new Dr. Tungs. That's what I want to know.
SuChin Pak 
Well, I hope they'll actually come on to sponsor the show. Let's try that Nuuly, well how about that invitation? Because we're obsessed. We are
Kulap Vilaysack
obsessed to How's it been going? Tell me what we've been up to. I mean, I know you and I both moved our families into their new homes. I'm going to talk about that later. Do you have any updates in Santa Barbara in that regard?
SuChin Pak 
No. I mean, you know my parents are living in half a home that's being constructed and yet they are staking it down like pioneers. No heat. About 30-40 degrees here at night. But their happiest can be living in half of a house. that will soon be a full house and it will be theirs. We're moving along. We're moving along and this whole situation with moving my parents will be a thing of the past. Right, Kulap? She's in. They're gonna be in. And then that's it. That's it. We don't ever have to talk about them ever again. All our problems are solved.
Kulap Vilaysack 
Yeah, yeah, obviously that's how things work. All the decades we've been on this earth. Yes, that's right. That's right.
SuChin Pak 
They're not going to ask me to pay their bills. They're not going to ask me how to open gravy jars. I watched my mother tried to make herself a cup of coffee. It was frightening. None of those things, from now one they are self-sufficient and independent.
Kulap Vilaysack 
Yes. Okay. Yes. And I think it can positivity be toxic. Yeah, you know, maybe. But who knows? Who knows if this is the case here.
SuChin Pak  06:09
Let's manifest it.
Kulap Vilaysack 
Let's try at least. Moving my mom. It's a full-time job, Su, as you can attest, there's prep during, it's body breaking. But as I sit here with a fresh haircut with my skin scanned by opti and my cheeks with euphoria blushed on it. I feel fantastic.
SuChin Pak 
I'm scared. When it goes this hard. I hear the violent screaming in the undertone. It's the subtext of the violence. That is going to scare me.
Kulap Vilaysack
Well, I have to tell you you violate your rights, that is my base. Absolutely. You are correct. But it is a battle cry of freedom. Because guys, everything went well. Everything is fine. But I do feel like I feel I know that there is more to be done as SuChin said, but like there's a big hump, as you guys know, was to get find apartment for Mom, get mom back to Minnesota. And it all really went well. It went well. And I just want to tell you some of the add to carts. Yeah. And we mentioned moving crates before. Do you remember we talked about that? Yeah. And I looked into some for this move, but I couldn't find, there wasn't ones that I could get delivered. But I found an even better situation, which is picking these rental crates up at U-Haul?
SuChin Pak  08:09
I didn't even know they did that.
Kulap Vilaysack 
Either did I. for 12 SuChin, under 20 bucks. This is cheaper than what I was doing before. The downside is you're picking them up and dropping them off. But like who cares? But it's 20 bucks for a week. And we didn't even use it, we use it for like three days. Like game changer.
SuChin Pak 
How is this not on all the vans zipping across this country that they get. You can rent U haul moving crates. That's incredible.
Kulap Vilaysack 
The woman who helped me was like, Oh, you're the first person who's ever rented these. So I don't know how long they've been doing it. But it's truly so convenient. Su, in the short time I was there three trips to Super Target. You're talking about watching your mom you know make coffee and go huh, conversations with my mom, know that I am purchasing everything. We're fighting over me purchasing a fire extinguisher, a small one to put under her sink. I don't need that. But what if there's a fire? Just like I'm getting it for you. Like and me wanting her to be organized so buying things like baskets and stuff for her exact, Su's laughing because Su, doesn't get doesn't cotton to this either.
SuChin Pak 
We had the same trip.
Kulap Vilaysack 
Oh okay. Sorry.
SuChin Pak 
The thought of my mom actually using the plastic bins that I bought, it just, it makes me laugh.
Kulap Vilaysack 
She was like what does that for? What is that for? Why is that? Like, don't worry about it. Don't worry. I'm gonna handle it. And her unpacking things to watch me move everything around, me going this year not unpacked enough because I watch her Su, I watch her just shove things in the closet.
SuChin Pak  10:19
Is she pulling things out of the garbage bin because I went back day two and half the stuff that I'd put in the garbage bin. Ah, here's the throw pillow, throw pillow with bleach on it and some sort of oatmeal crust. I'm hoping it's oatmeal. And I said, this was in the garbage can. But here it is. Now the now there's garbage juice on it. So let's put that right on the couch.
Kulap Vilaysack 
My mom was like, at the end of it. She was like you're very organized. As we did a tour Su, as we did a tour of like, Mom, this is where everything's at. This is where I put that, this is this basket.
SuChin Pak 
Did you have a video of that?
Kulap Vilaysack
I should have because you get to see my psychosis, which is this belief that my mom needs a basket of various tapes. It is my belief that she needs masking tape, duct tape, shipping tape and scotch tape and I look at that basket and go there's something wrong with you.
SuChin Pak 
And when you go back next time there will be used toothpick flosses and one sock. I've never seen so many used toothpick flosses, ever.
Kulap Vilaysack 
Su, let me add to this conversation, like just mangled toothbrushes. Just mangled. Like but why are you keeping them? You don't even use it anymore. What is this? Why is there a handful of them in an old vase That's so dirty with batteries.
Claire Jones  12:07
This so perfectly describes my relationship. My romantic relationship.
Kulap Vilaysack 
Oh, knowing can shake continue. Continue Claire, what about […]
SuChin Pak
Is he pulling toothbrushes out of the vase? Or you willing toothbrushes out of the vase?
Claire Jones 
I'm the person that likes to put everything inside of baskets. I'm like, let's put all of our jar tops in a basket and then I come back and it's like, yeah, I find like one sock and a piece of coiled up floss and like four lesson plans and old chopstick that's been through the washing machine seven times in his basket and I'm like what? And both of us thinks that the other one is psycho. And we have this ongoing joke that I like tidy all of his things away. So anytime that he loses something he'll be like Claire, where did you tidy my passport? Or like Claire, where did you tidy my shoes?
SuChin Pak 
That's cute that you still use the word tidy. Wait till year 10 of marriage.
Claire Jones 
As you're describing this, I'm laughing some like this happens daily just within my house within a matter of hours this happens.
SuChin Pak
I know. I know. I'm going to tidy here. I get both sides Okay, so go on.
Kulap Vilaysack 
I kept like grabbing like she had, I kept grabbing things. I'm like, you need to go over this. And there was one package. And I was like, there's food in here. And you just put it with your underwear. Like what's in it? She's like, Oh, that's the stuff you sent when the pandemic started and I had sent her like granola bars and like jerky sticks. Like just hand sanitizer and stuff like that. I was like, we have a pantry now. Let's put it in there. I mean, even the kitchen alone were where she was like putting, like condiments on the bottom things that she'll never be able to share. She's replaced two knees. So are you going to crouch down to get your MSG at the very back of this open? No, like, we'll put your pots and pans there. I'm gonna move this here. Like this was the constant thing and she's like, I bought utensil organizers, she was like what's that? I'm going to do it. Just let me do it. And her attitude is like, it's just going to be harder when I move again. I was like, well, we're gonna be here at least a year. Let's just make it comfortable, Mom. Let's set you up for success. That's what I'm saying. We went to Goodwill four times twice in two different locations.
SuChin Pak  15:07
They're like not you, lady. We have enough. Thank you. We've got enough single socks.
Kulap Vilaysack 
We drop stuff off. And then I was like, let's, you know, let's pick some stuff up too, right? Let's get, you know, like side tables. And now we got her two side tables for like 10 bucks. And they're perfectly fine. Perfectly great.
SuChin Pak 
Oh, they're even better at those prices. Are you kidding me?
Kulap Vilaysack 
The last thing I want to just bring up those kind of really special to me is that my nephew Kai? When I got there, he was like, convinced my mom to let me take off school. I was like, well, you like school now I thought he's like, no, I like it. But like, I want to hang out and like okay, so I like asked my sister. Yeah, can he, I guess help us out. One of the days that we're moving, you know, she's like, Yeah, great. And so we went to dinner the night before with like, family and then he came back with me to my Airbnb. Then we went over to mom's place. I was like, bring your stuff in. He's like, well, how long are we going to be here at grandma's? Like, the whole day. I thought we're gonna hang out on my house. I was like, what? Then you have gone to school, Kai? What did you think we're gonna do, play video games?
SuChin Pak  16:22
Yeah. You fucked up my plans, lady.
Kulap Vilaysack 
Oh, so you didn't want to hang out? Okay, got it now. That said he was so helpful. He 11 years old. He set up by the treadmill I got my mom, her request. And this is a treadmill that to even get it to start. You have to sign up for a free trial. A monthly free trial to this like program. So he signed her up, set it up and then cancelled it. So smart, smart boy. And then he put together by himself, like rolling laundry sorter.
SuChin Pak 
Are you hoping that your mother's gonna sort her laundry?
Kulap Vilaysack 
It's more about a being on a roller cart. So that cart can be rolled to the laundry room down the hall. It's less about the sorting part. Let me just answer, she doesn't. But it was more fighting something that could roll. And it not being the excuse that she can't carry something to her laundry.
SuChin Pak 
Correct. You've removed all her damn excuses. Damn you.
Kulap Vilaysack 
The shift between each of our roles. It couldn't have been more clear and obvious. But I think we've really settled into that and we're comfortable in them. And the last thing I just want to talk about for the move is just while my nephew is succeeding at putting together this laundry sorter on wheels. I am fumbling while putting together a bedside table for my mom. And I just the last part is like just putting the drawer on it. And I screwed up somehow. And it won't shut, it's smooth until half of the drawer. And then it won't physically shut.
SuChin Pak  18:28
Oh, so it's a ledge. It's really simple. You're not perfect.
Kulap Vilaysack 
I'm not perfect. But I think this trip was as perfect as it could possibly be. My mom is excited to see what the next you know; chapter is for her now. Just quickly I said this be the last thing I did I order a small security feature for her. Well, two security features. One was a personal alarm called […] so that she can you know if she got scared, she pulls it apart, it starts shrieking and lights up that she can carry on her person at all times. And then just hanging by her door. They call it like a tire knocker and it's just essentially a wooden, small wooden bat that I have ready to go now what do I imagine is going to happen? Maybe somebody tries to enter and she can just pick it up you know and say fuck off get out of here and just hit them over and over. Is that bright? By where she puts her coat? Yeah, yeah, that's part of it. And will she ever use it? Probably not. But does it make me feel better?
SuChin Pak 
You got her a back scratcher. My dad will be using that would be using that as a massager.
Kulap Vilaysack
You step in dogshit, you got to scrape it off the bottom of your boots. But enough about me, Su. I've talked for too long.
SuChin Pak  20:04
My cheeks hurt laughing so hard.
Kulap Vilaysack 
Wait a minute. Wait is this when you say you're adding to cart a senior citizen shopping spree? Is this for your parents or for?
SuChin Pak 
No, that would be for me a while back I can't remember when I went to Los Angeles to visit some very good friends of mine. And I wasn't going to stay the night, I had doctor's appointment I was going to come in, have a little lunch with them and get back on the road. But one thing led to another and they convinced me, stay the night. Why are you always in a rush, you're always halfway out. And I really struggled with it. And these are two of my closest and dearest friends in the world. And the reason I struggled with it was because I didn't pack my pillow. And I looked at my two friends who I don't see at all, you know, the quality time, you know the time we'll never get back, this time during the pandemic that we've all felt the loss of the people that we love the most. And I looked into their eyes, and I said I can't because I didn't bring a pillow. And I love you. But I can't. And I said this is ridiculous. You can sleep one night without a pillow. And the pillow I travel with is why I got this travel pillow from Coupe. And it's fantastic. It rolls up into a little ball and into a little like roll. It's very small. But then it expands. And you can fill it with latex or you know, more of the foam. I filled it with more buckwheat because I love a buckwheat pillow. So this is the little pillow that I travel with. And I realized I'm at that age, where not even one night, not even six hours of tossing and turning and barely sleeping can be allowed in discomfort. I've just come to that point. You know, like when we're younger, we used to like sleep in hostels, and take the red eye and the cheapest way there and that they and I literally could not spend time with the two people I love dearly because I didn't have a fucking pillow. So what did mama do? And we went shopping, and we said, I'm going to get me a pillow.
Kulap Vilaysack 
So, are we, I hope what we're doing is we're creating sort of a senior SuChin go bag.
SuChin Pak 
That's right. So I was limited to the street that I was on that we were having brunch and I looked around me and I said oh look, it's a TempurPedic mattress place. So I went in there and I said sir, give me your best pillow. And I have never spent so much money on a pillow, spent $200 on a pillow that I will sleep on for one night, had to do it. Took that as we were walking I have realized that I've been suffering from back pains as I've told you from my walks. And in front of me was a Hoka store. Okay. Hokas are a sensation. Let me take you back for just a moment. I won't take too long. My father-in-law, Jules, during the beginning of the pandemic came into our house with the most ridiculous Moon shoes in aqua blue that we have you have ever seen. And we laughed at him. We laughed, we pointed and we laughed and we said what are those Baba? That's so stupid. And they were bright pink and they had huge soles. He looked like he was going to a rave. And we just laugh. These are I don't know if they're popular, but these are. I see the young people wearing these. Claire, have you heard of Hokas?
Kulap Vilaysack  24:10
Let's bring up AJ again. She's saying that he has a lot of them and she called them stupid ass shoes.
SuChin Pak 
Oh my God. He has a lot. They're ridiculous looking, aren't they? They're made for the you know, cushioning your feet in a comforter is what it is. I went in there and I said there were other more fashionable colors, more fashionable styles. My two friends who had never heard of Hokas either very into workout culture, Adam and Ryan, friends of the podcast. Each bought a pair. A side note. He said he worked out on the thing the next day and almost bounced off of the treadmill that he was on. It was so bouncy. And I went in there I said give me the one that are for the senior citizens. The orthopedics. Give me the ones that work the night shift at your local emergency room. Give me that shoe. And they're like, oh, okay, and this is the shoe I got the sole of the shoe is thicker than the actual shoe itself. I got them in white. They were so expensive. You guys, game changer. I came home and Mike said when does your shift start? He said what the hell are you wearing? And I said I'm wearing my orthopedic hokas.
Kulap Vilaysack 
Wait, Su, I have a question. So the […] you provided so are these men's shoes, the specific ones you got?
SuChin Pak 
The ones I bought or the Hoka men's bondi SR in my mind stands for senior citizen. Side note you guys do not go to hokasports.com which I kind of I love them so much. I thought about getting a pair for my mom and then I got scammed. So just go to hoka.com, and I'm going to share with you a picture we got I should have prepared this but I'll text you a picture of us with our giant Hoka bag. My giant TempurPedic $200 pillow that I'm going to use for one night just sashaying down the street with the young people just knocked over by our boxes in our senior citizen this in tiny little baby but shorts and boobie tops, you know go into their you know, hot yoga classes and I'm like get out of the way. There's comfort coming your way, move out, move out, comfort is coming. I also wanted to say another thing speaking of shoes, add to cart, one of our listeners had sent in an insole that you can put in your sneaker, she's podiatrist and listens to this show, so shout out to her. And she recommended these insoles and I put these insoles into your […] which are also very comfortable. And dare I say it rivals the comfort of the Bondi.
Kulap Vilaysack 
Is this something that you can, like could you put these in your chucks? Could you pick them up?
SuChin Pak
I bought two pairs. Just you know for one for my […] and then one for my Converse. But you could take them out. You could put them in flats. You could put them I mean anywhere. But this particular brand they're called Superfeet.
Claire Jones  28:06
I love them.
SuChin Pak 
So listen, if you're not you know, you're not at that point at Ku's point where we're getting custom made in souls. These could be maybe a bridge.
Kulap Vilaysack 
Yes. I'm very interested in these Hokas. I have a pair of what I like to call my dad shoes. My dad's sneakers because when I wear them I look like a dad and this will, I've worn them to the ground. They saw their last legs in Minnesota. And so now Jules Bender is changing my life.
SuChin Pak 
Listen, that Hoka store we I mean, three of us dropped some major Hoka coins at this Hoka store and no regret. My two friends they were like I can't even believe that these existed. How did you know about these? And I was like, well, you are not hanging around enough. Hip 80-year old's is what I'm saying you need to have more in the No 80 year old's in your circle. That's your problem not mine.
Claire Jones 
Well the good news is too is that dad shoes are very in for fashion as well. So not only are you in comfort, but you're also in style.
Kulap Vilaysack
I mean, these are basically bought Balenciaga's.
SuChin Pak 
It's more your local nurse than a Kim K. But sure, you know, especially when you've got your Jr sweats and your hiking socks pulled over them. So these are my walking shoes.
Kulap Vilaysack 
Let's get into some removed from cart. This is old news, but I wanted to just talk about it because I think it's important is I had a as you both know, I had a super mild case of COVID-19, that classic vintage.
SuChin Pak 
Did Scott get it?
Kulap Vilaysack  30:00
No, It's just me.
SuChin Pak 
He's still fresh as a daisy over there,
Kulap Vilaysack 
He's still ducking it. Yeah, I had COVID I'm so lucky to have three shots in me that I think it made it a very, it was a nice. I was afforded a nice break in my room for some days. I tested positive on a Thursday PCR test. And then by Sunday, I did another PCR test, and I was negative. And so I was released pretty quickly with the five days basically.
SuChin Pak 
Wow, now you can go out there.
Kulap Vilaysack 
Timing wise, no one's trying to get COVID but timing wise, you know, from the time that I was got that positive test. It was 10 days to go to Minnesota. I felt a little bit more, you know, on a plane with my mom. Going to Goodwill Super Target showing her all the local Asian stores so she knows where to go. Like I felt better about the situation.
SuChin Pak 
I got COVID and I booked a trip to Paris. So I understand.
Kulap Vilaysack 
Your COVID situation was horrible. You were moving. Your house wasn't ready. And it was just you and your children in a hotel.
SuChin Pak 
That's right in the room. That was tough. Mama had to go very far to see the tower of I fell. To erase the memory of that time. I'm removing my cart. I'm having a hard time I'm trying to remove my cart giving my children the best vacations ever. This is a pressure I have felt for years every year, spring break, Thanksgiving, Christmas. You know, summer, that's a big one. And I see all the busy mom ants around me just you know, booking things and packing things and children are in camps. They're at art studios, languages, cooking. I've never been the type of person to do this. And so I'm staring down spring break, and then summer is coming, and I have no plans. And while that's terrifying, I have to relieve myself of this pressure that I have got to give my kids some sort of like, you know, holiday or summer break that will go down in the history of summer breaks. I have all this guilt about like, should I be renting a camper van and taking them to the redwood forest. I mean, these are all things I do not want to do. You know, I also don't want to get up at like 8AM after a year of getting up at seven to get them to school to get them to camp like I want to break I want to sleep in I want to watch TV I want to do nothing with my kids.
Kulap Vilaysack  33:14
But don't they want that to sue because I just follow you on. I follow hear your stories. And I see what Zoey writes and you jokes and they want mama they when mom was tired or when mom was happy mama's face is about the same like they want. They don't want that they would rather have a mama enjoying her time. I don't think the kids want you to be up that early on a vacation.
SuChin Pak
They don't, they think they do. Because they you know, they see all their friends going off to these camps, but they don't. And I think probably deep inside that they understand that that's not this family. You know, I just think that vacations really put a microscope on to like a lot of parent guilt. And this is so funny because I missed a very important interview with you. Because I got into this loop, I got a friend of mine had posted some pictures of her daughter at horse riding camp and I was like I got to get Zoey into horse riding camp. And I went down this thing and I missed the interview entirely because I was so wrapped up in trying to figure out how to get my daughter, the most amazing experience on a horse, which is something that she's been acting, asking for and I can't seem to give this to her and I feel like shit. So I want to remove from cart this kind of pressure. But, given that, the kids are going to be home, probably most likely for most of the holidays. So I want to make it sane for all of us. I am on a mission this break to teach them how to be a bit more independent, you know, and so I've got some ideas. Number one, these children are fed around the clock snacks that I have to prepare. So he likes green apples. Kai likes red apples. Zoey like Sun Butter, Kai likes almond butter. Zoey likes it with chocolate chips. Kai likes it with salt. That's one snack that I have to prepare. And so this is the time where they're going to prepare their own snacks. And I say go, you can actually bite into an apple. I know you've never done it before. Try it out. The world is doing it.
Kulap Vilaysack 
I love this, Su.
SuChin Pak 
Another idea that inspired by Claire, why don't I drop them off at the library? Why I drop them off at the library? Hey, I spent my entire summer either in a library or in a minivan parked in front of my parents restaurant for three months. That's what we did. I played in a minivan or a library. And it was fantastic. I read everything I've read all day long. So I dropped them off at the library for a few hours.
Kulap Vilaysack  36:01
Probably at this time, there will be activities on top of their own reading. There's always a great kid activities at the library. Love this. Love it.
SuChin Pak 
And what do you think about this? Can I teach my seven and my nine-year-old to do their own laundry?
Kulap Vilaysack 
I was doing my entire family's laundry at their age.
SuChin Pak 
Exactly. Right? We lose perspective, I've forgotten that I used to keep the house clean and feed my younger brother at this age while my parents worked. So it's just really interesting. Like, we get so caught up as parents into like the lens becomes so narrow. That unless you really make an effort to step back, and to remember how you grew up, how your parents grew up, there is a whole world out there that abides by a different set of rules. I think we really get ourselves into this kind of guilt trap. That's just a terrible place to be. And I'm removing it from cart.
Kulap Vilaysack
Well, it's hard because I think in some ways I could understand for you. Because the way that you mother is different than the way your mom mothered you. And you know, you're 100% improving upon her and her you know, I'm saying this very kindly. Your mom didn't care about how you vacations. And I don't know if she knows what Sun Butter is. And so no offense your mom, she had to put do a lot of different things. She was up against other things that you stand on her shoulders for, right? So I think it's also like, this could be very reparative for you. Because it's like in tell me if I'm wrong. Sometimes if something touches my childhood, I'm like, oh, this is wrong. The laundry, like the laundry piece. It's like, you know, doing their own laundry, learning how to do laundry is great. But you would never ask them to, you know, wash your bras and then get mad at them. Like, you know, if it wasn't done correctly, and I'm speaking about my very specific experience, like it wouldn't be like that you wouldn't be screaming on the top of your lungs, you know? To just do that plus also crazy amounts of work. Right? So there that there's a way for you to give them that sort of autonomy and responsibility without being harsh or unkind or unloving. Like that is possible.
SuChin Pak  38:35
Yeah. No, you're totally right. Because the guilt, it rubs up against that, that trigger of our childhood. And, and I never thought about it that way before because it's like, I didn't ever do anything for holidays. We didn't ever go anywhere. And so, you know, I want to give my kids the extreme opposite of that, because that was Oh, terrible. Yeah, but I think that the reparative work, as you were saying, is to be not only loving, but really forgiving of our childhood, you know, just to let that go so that it's a lot easier to make decisions when you don't have to carry that around every time you make a decision about a snack.
SuChin Pak 
I'm gonna try this out. We'll see how it goes. I will take pictures of little ones. I mean, there are going to be psyched. I'm not sure Mike is gonna let me do this. Mike, it's gonna be like, you're gonna let them touch our lives. I'm like, cuz he man he really loves, our laundry machine. I've never seen a man fuss over a laundry machine. Yesterday I saw him just eating lunch, you know what he was reading? The manual for the washing machine, I kid you not. This weekend, you know what he wanted to do? He wanted to take apart the middle thing and clean it. And I said no friend, that is a journey you must take on your own.
Kulap Vilaysack 
I think it would make everybody happy. And will there be resistance? At first, always, you know, it's like it's changed sometimes rubs people and little ones the wrong way. But at the same time, it's like, you're going to be so much happier, I think. I really do.
Kulap Vilaysack  40:30
Well, look here we're, you know, this is a family activity. So anytime the kids are going to touch the machine. Well guess what? Mike can be right there watching over them. And you know what else he's gonna be upset how messy your kitchen is going to be once they do all that Sun Butter stuff. But guess what? He can be right there. And his part of the workshop, just to show them how to clean it all. It's great. All hands-on deck. All hands-on deck.
SuChin Pak 
Everybody's going to camp. Everyone's going to mama camp. How about that? You guys have wanted free to get to a three-month mama camp. I love it.
Kulap Vilaysack 
And if auntie Kuku's invited she'll do put things in baskets correctly.
SuChin Pak 
It's basket day guys. Our camp instructor for the day, auntie Kuku is here with various basket.
Kulap Vilaysack 
That is it for this ep. Check out all of the items that we discussed at @AddToCartPod on Instagram.
SuChin Pak 
And call us at 833-453-6662. Leave us a voicemail, tell us what you're adding to cart, what you're removing from cart, game changers. All that good stuff.
Kulap Vilaysack
What did you buy at Super Target? We'll be back next week.
CREDITS
ADD TO CART is a production of Lemonada Media. Our producer is Claire Jones and our mix is by Ivan Kuraev and Veronica Rodriguez. The music is by Wasahhbii and produced by La Made It and Oh So Familiar with additional music by APM music. Executive producers are Kulap Vilaysack, SuChin Pak, Jessica Cordova Kramer and Stephanie Wittels Wachs. Be sure to check out all the items we mentioned today on our Instagram at @AddToCartPod. Also, please take a moment to rate, review, and subscribe to the show wherever you get your podcast.