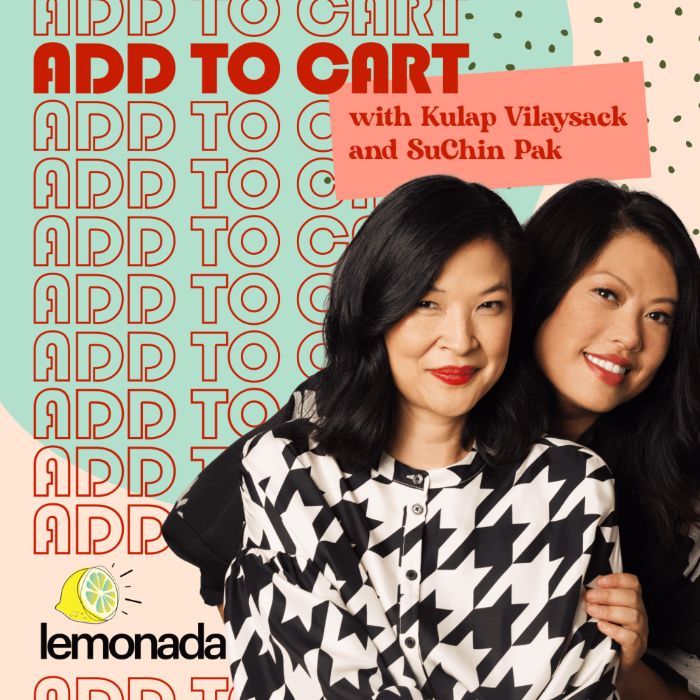 Our First-Ever Halloween Episode (feat. Herie Pang)
Subscribe to Lemonada Premium for Bonus Content
Description
Just because Kulap and guest host Casey Wilson gave you Christmas tips doesn't mean Halloween was forgotten! Producer Claire would never let that happen. This week Kulap shares her Halloween game plan, including her deodorant choice for the night. SuChin shares what's stopping her from moving into her new house. Plus, EVIMEROK CEO Herie Pang joins for the second-ever Sidebar with SuChin.
Please note, Add To Cart contains mature themes and may not be appropriate for all listeners.
To see all products mentioned in this episode, head to @addtocartpod on Instagram. To purchase any of the products, see below.
Stay up to date with us on Twitter, Facebook, and Instagram at @LemonadaMedia.
Joining Lemonada Premium is a great way to support our show and get bonus content. Subscribe today at bit.ly/lemonadapremium. Click this link for a list of current sponsors and discount codes for this show and all Lemonada shows: lemonadamedia.com/sponsors
Transcript
SPEAKERS
Herie Pang, Kulap Vilaysack, SuChin Pak, Claire Jones
SuChin Pak  00:10
All right, kittens and cats, dogs and puppies. Welcome to another episode of ADD TO CART, a show about the things we buy, things we buy into and what it says about who we are as a people's. I'm SuChin Pak.
Kulap Vilaysack 
SuChin the tiger King pack, and I'm Kulap Vilaysack, this week, it's Halloween, Su, are you being scary right now?
SuChin Pak 
No, so scary, go on.
Kulap Vilaysack 
We'll be talking about how we are celebrating this year. Sounds like Sue is going hard. And we've got some spooky add to carts. Even our producer Claire will join us she loves this holiday.
SuChin Pak 
I have no idea.
Kulap Vilaysack 
Yeah, we are forcing her to be on mic as well.
SuChin Pak 
We are also going to bring you our second sidebar with SuChin. That's weird saying my name. But you know, it's our second sidebar.
Kulap Vilaysack 
It's like you are grasping who is it? Who's having the sidebar.
SuChin Pak  
Oh, it's me. So I'll be talking to Herie Pang, who is the creator behind Evimerock, this really amazing device. It's unlike anything that's out there on the market. But more on that later of course.
Kulap Vilaysack
Because we have another anniversary update for you. Teasing the gluten, you know.
SuChin Pak 
Other opera glove, you know, just the slow reveal.
Kulap Vilaysack 
Now it's add to carts first year birthday. We talked about last week, happy upcoming birthday. But we didn't say something SuChin, you tell him what we're up to.
SuChin Pak 
Okay, so we told you that we're coming up on our one-year anniversary, we told you that there's something special what we didn't say was we're working on a very big giveaway. It is our first and yes it will be filled with all of the stuff Ku and I have been talking about, obsessing over this past year. It's gonna be major and we can't wait to share it with you. So the first thing you have to do is head over to Instagram at @AddToCartPod for all the details. And it's just gonna be fun to get into this. I just giving things away. We love giving things away. We're Auntie's.
Kulap Vilaysack  02:30
We do, but until then, on to the […]
SuChin Pak 
That's a ghost?
Claire Jones 
It prompted her in a ghost voice.
SuChin Pak 
I thought she was doing like an old lady in an ice bath.
Kulap Vilaysack 
Same. Same. Alright, let's kick off this Halloween episode
SuChin Pak 
She's still so cold.
Kulap Vilaysack 
My nipples are hard.
SuChin Pak 
Let's just do this or 45 minutes. I'm thoroughly entertained.
Kulap Vilaysack 
Claire real quick. Tell us why you love Halloween so much.
Claire Jones 
Because I love seeing fat babies in costumes. I like spooky things.
SuChin Pak 
The thing about it is I realized when I listened to our podcast, the people don't get to see our faces. We're often silently hysterically laughing off mic at each other. So when you say you like spooky things? So for instance, ghost stories like what do you talk
Claire Jones  04:02
No, I can't handle scary movies at all.
SuChin Pak 
That's what I thought because spooky sounds more like, you know what I mean?
Kulap Vilaysack 
Like murder true crime.
Claire Jones 
Nope. No, can't handle that.
SuChin Pak 
I know a little bit about Claire and I just thought I just I think spooky is the right word. I just wanted to make sure we were all on the same train. Okay, so you like spooky things. You love cute little chubby babies and cute little chubby Halloween costumes. What else?
Claire Jones 
I like the way that like two-year old's timidly go up to your door and their parents are like go on like say trick or treat and they're like trick or treat and then they like called out their little hands. And then you give them candy and then they like look back at their parents like is this okay? And then they like waddle away. It makes my whole heart explode last year because the COVID people were buying PVC pipes to just shoot candy down their steps at kids to you know, stay six feet away and that was honestly probably the highlight of my COVID year.
Kulap Vilaysack 
Okay, so you and I like Halloween for the same reason. I don't care about an adult party. I've done those. Those are my 20s, maybe into my 30s I don't care about it. To me Halloween is for the children. I don't like scary movies. I am a chicken shit.
SuChin Pak 
I didn't know that.
Kulap Vilaysack 
Now, Su, do I think I'll be an asset to someone in, you know, my pod if we're ever in sort of a zombie apocalypse? Absolutely.
Claire Jones 
Yes, I will thrive in a post-apocalyptic world.
Kulap Vilaysack 
Yes, but I'm not going to be watching the new Jason film as much as I love Jamie Lee Curtis, I shan't I shan't. And so this year, Su, I will be returning to my good friend […] Schrader's house to give candy away because nobody climbs up my hill, but his house, they close down the streets. So we got kids come in from all neighborhoods. I'll be working. Let's just say I'll be working.
SuChin Pak  06:14
And what will you be working in?
Kulap Vilaysack 
Oh, great. We're getting into this. We're getting into this. Before we launch into that, what are your feelings about Halloween?
SuChin Pak 
Well, this reminds me of when I was dating my husband, Mike Bender, and I was at his house one year during Halloween, and I saw him white straight male go out into the streets. Because there weren't enough kids coming you know for his taste. Calling to the children that he has candy.
SuChin Pak 
And I was like, babe, I gotta tell you, that does not a good look. You best come inside. I don't think you should be calling children.
Kulap Vilaysack
And if you're cold my vans right there. Kids come get my candy.
SuChin Pak 
You know, I don't know if we shared this before cuz I feel like this, wait, is this our first Halloween together on this dear old pod?
Kulap Vilaysack 
It is!
SuChin Pak 
Yeah. So I grew up in a Born-Again Baptist household. I was a Sunday school teacher and so Halloween was forbidden. Also were immigrants. The thought of handing there's no way your parents handed out candy. No immigrant hands out candy. No, no. And we then would gather at church and we would have the Noah's Ark party. Okay, where everybody dressed up as an animal from Noah's Ark. And they would give out candy there so that we wouldn't be tempted by Satan spawn, running around the streets celebrating the day of the dead. That's what we did as good Christian so my feelings about Halloween. It's a new thing, and I'm watching and I'm learning I got kids. They're very excited about Halloween. And I'm for it. I dust out the same costume. Mike and I have been wearing it since our kids were born. I'm a hot dog. He's a hamburger. I dust that thing out. And we do it. I like to keep it moist.
Kulap Vilaysack  08:36
This hotdog just snap.
SuChin Pak 
It's got moist. Go ahead. Tell me what you're doing.
Kulap Vilaysack 
I will be not in costume. But I will be dressing for the occasion. I recently added to cart two sweatshirts for me and Scott to wear. They're both made by Disney. These are classic sweatshirts. Scott in dark Heather. It's a Mickey Mouse as a mummy.
SuChin Pak 
It's classy.
Kulap Vilaysack 
Because we want to be able to move again. We're working okay. That's what's happening. I've done this one year before it was nonstop between 6PM to 9PM. Non-Stop. Okay, so I'm wearing a cute black sweatshirt. Minnie Mouse. She's flying on a broom. These are classic items that we're going to wear again. We shan't waste, right? OH, but now Sue, Something you're going to be excited about is that I am styling my sweatshirt with something. I'd like you to hit that link.
SuChin Pak 
What is this? What do you styling it with? Oh!
Kulap Vilaysack 
What is it, Su?
SuChin Pak 
Styling it with a Diamond Pearl false. Peter Pan, fake color half shirt, Dickie. Ku, you know, I am tearing up a bit at feeling so vindicated and also validated the image of you in a shirt bib passing out candy just sweating. It just gives me; it makes my toes curl. I'm so happy.
Kulap Vilaysack  10:29
I have been influenced by SuChin Pak. Now, my dogs, they've gotten their costumes. They've had them for weeks now. This year, I went with a theme for my girls. It's a tropical Hawaiian theme. I do love the islands of Hawaii. And Claire if you would like to share some of the photos this year, Molly will be a pineapple. And Georgia. A Stingray.
Claire Jones 
Let me add another one.
SuChin Pak 
This is so cute. Oh my god. I mean, it's just as cute as little chubby babies. I mean puppies in costume.
Kulap Vilaysack 
My favorite thing in terms of costumes because you know, they have like Wonder Woman they have that stuff. But really to put a dog as a food item or ate another animal really gets my goat. Why would they be a fruit? Why is she a creature of the sea?
SuChin Pak 
This may shut down the internet. Who cares? That Travis and that other Kardashian got engaged? Who cares about those photos?
Kulap Vilaysack 
We knew that was happening. Did you know that a stingray costume for a dog even existed? Probably not. Who cares? Yeah, they love each other. We know it. It's that part. So clear. Congrats by the way. Kourt and Trav were so casual before of us. Now Su, I just want to move on to my final and last item. If we can be serious just for a second.
SuChin Pak  12:14
Okay, let's do it.
Kulap Vilaysack 
There is nothing more terrifying or horrifying than body odor? Nothing. Almost nothing. Don't even try to list anything. Right? But except for the horror. The terror of non-aluminum deodorant that does not work and ruins your clothes. Oh, because we've done this. We've discussed this with our past guests. Jenny Yang. I am not like you and her. I'm not East Asian. I am Southeast Asian and when I smell girlfriend, I smell
SuChin Pak 
Wait, like body odor.
Kulap Vilaysack
Yes, girl.
SuChin Pak 
Are you sure it's not like? I don't know. Shrimp Chips? Or, you know, other Asian foods? Yes.
Kulap Vilaysack
If I rub that upon my pits. Underneath my tits, maybe my hoo-ha.
SuChin Pak 
Okay. Okay. Okay.
Kulap Vilaysack
SuChin, we're different, okay? You have dry wax; I have wet wax. I will stop my tirade. Claire. Do you have wet or dry wax?
Claire Jones 
It's sticky.
Kulap Vilaysack 
That's wet.
SuChin Pak 
It's wet. If you have to pause, it's wet. So okay, so when you wear deodorant that doesn't have aluminum in it.
Kulap Vilaysack  14:17
I've done. Tom's of Maine. I've done all these different things. And I just gave up. I said, You know what? The technology hasn't met my musk. But Su, I'm telling you, I found something in my sojourn four years where I just was off on my own just filling my pits with aluminum and other chemicals. The technology had they'd been they've been lying in wait; they've been working on stuff. They figured things out. And so now I have a game changer. A Game changer. And it's Kosasport. It is the serie clean chemistry. AHA serum deodorant, serum for the pits, you love a serum. It's just like a roll. It's just a roller. Yeah, just a roller but you pinch from the bottom. You don't even need to pinch. It's just ready to go just like me. Ready to go moist.
SuChin Pak 
Now. How did you hear about this? I tried to you guys. I tried to move it along. Okay? I try but these two fools. These two you can't. Did you see I tried. You tossed that ball and I dodged it and I tried to move us forward.
Kulap Vilaysack 
And some balls are sticky.
SuChin Pak 
You see, you guys see? This is what happens.
Kulap Vilaysack  16:01
Su, I'm answering your question. I took a chance on this product.
SuChin Pak 
What I have to say you guys if you guys don't know this already. Ku, will take a chance take a chance. She won't she doesn't need to vet it. She doesn't need to research too much. You just drop a hint. And then it's in her cart. You know?
Kulap Vilaysack 
I didn't bring this up to you guys to like really, really took it to its paces. I you know like I have months now on this guy.
Claire Jones 
How many months?
Kulap Vilaysack 
At least six.
Claire Jones
Wow. Whoa. In addition to my, my wet wax, I also have stinky pits. And I've been on my natural deodorant journey where you use it for two days and you're like this one works. And then day three, it doesn't work anymore. So this is great news. I smell bad right now.
SuChin Pak
And the thing is unlike me, you know, obviously not to brag but I don't have body odor but I also don't move. Claire is an active girl, she's an active person. She's out there in the wild. She's climbing rocks and trees and riding bikes. No, not manual bikes like the olden day. She's eating out of tin cups with like little foldable you know fork out in the wild and headlamps in Utah, Moab. I'm sending you this Claire, this game changer, and then we'll report back now we'll have a case study of two. You don't need more than that.
Kulap Vilaysack 
I'm also trying something that I recently got on Sunday. It's the mega babe. The green deo, this is a daily deodorant with antioxidants, chlorophyll, vitamin E safflower. I will report back Claire. We're gonna give this like a couple months before I say yea or nay. Okay, but so far, two days in pretty nice. Real mild smell. So far. So good
SuChin Pak  18:05
You're going to be working hard this Halloween. And so is this deodorant.
Kulap Vilaysack
Yeah, I mean, truly, that will be the test right? If at the end of my kid candy passing out duty, if the pits of my Minnie Mouse Halloween sweatshirt has any sort of putrid scent then whoa.
SuChin Pak 
And it won't be on your bib. Because the bib is just a bib. And that's the beauty of it, isn't it? And once again, she is victorious. By she I mean me. Anyway, let's say just wanted to clarify.
Kulap Vilaysack
We are back SuChin Pak.
SuChin Pak 
We are back. We are back. You know I just do have to say I want to make a quick little side note here.  Kulap, I think I talked to you about this before last week I talked about my trip to Paris. I talked about my sleeping pills. I think I'm maybe overdoing it
Kulap Vilaysack 
I'm sorry, how so?
SuChin Pak 
Yeah, at first I thought it was jetlag you know, which is natural. And I'm just like, really hard, really hard getting this motor started, you know, and then I thought it was early onset Alzheimer's. You know, I said, man, this is an underwater I haven't and this is pretty scatterbrained for me. And then today, I was like, oh, it could be the amount of sleeping pills I am consuming since I've come back from Paris, so I think I have to hold back a little bit I've been so excited to try all these French pharmaceuticals, you know?
Kulap Vilaysack  20:12
Follow up though? Are you sleeping?
SuChin Pak 
I am.
Kulap Vilaysack 
I kind of want you to hang with this for a little bit. I don't want you to overdo too much. But let's get some let's get some more hours under your belt, you know? And maybe this is just the body shifting a little?
SuChin Pak 
Yeah, that could totally be absolutely true. I did lie to you a little bit; I have no intention of slowing down. So I felt bad because you were so kind, you know, right there. And I thought you were going to be judgy. My bad. I'm coming down off with some pretty strong […] pills.
Kulap Vilaysack 
So well, you know, look, this space. It's deranged. It is unhinged. And chaotic. Chaotic is the new, the third very apt word to describe us. And this space friendship and podcast.
SuChin Pak 
Chaos. So I think you know, I shared a bit I finally have moved in to our home, our new house. I have to say, Kulap, no surprise, I'm sure to you. But what type of mover? Do you think I am? There is the type of mover who likes to unpack likes to really have momentum, likes to organize, you know, has ideas, maybe even is awake? And then there's the other type of mover? Who is the opposite of that? What category do you think I fall into?
Kulap Vilaysack 
I think that you were describing myself a cool mover, and then the opposite would be assumed mover.
SuChin Pak  22:15
It's a Su sitter, you know, I like to sit. And I like to think, I like to think and then I'd like to think somewhere. And it is driving like crazy. Sure. And I can't help it. I, I have been trying to unpack just one box. And I get stuck. You know, I pick it up. And I just I look at it. And I say, I don't know, do I need this patch? You know, I didn't use it. It's cute. I could put it on some things on a tote bag. Maybe. So always jean jacket, this is what I've been saving this patch for haven't done it won't ever do it. What do I do with this patch? Boy, am I tired. I go I get a snack. I do a little meditation. And then the day is done. We have no furniture. Everyone's carrying around one chair to the different various tables, whether it be a desk or an outside table. Maybe you want to sit next to a telephone Well, you better grab your chair because there's the one chair for you that you can sit on in my house. And I don't know when this house will be done. You know, it's a house that we have put some thought and some care into we've ridden it, it's the house that we're going to be in for a while. Everything feels really big. It just feels like weighted. It's just feels weighted it feels I give up. I look at this wall and I think, okay, today I'm going to figure out what is going to go on this wall. Is it a piece of art? Well, is it an abstract art? Is it a photoprint? How big should it be? What color should the frame be? Should it be one or two pieces? Should there be a piece? I start to do that. And then just everything shuts down.
Kulap Vilaysack  24:08
I'm curious though, is that fun? Well, it doesn't sound fun for you.
SuChin Pak 
Is it fun for you? When you're decorating?
Kulap Vilaysack 
Yes, very much. Like and also organization is fun for me.
SuChin Pak 
It's not overwhelming. Claire, what about you, Claire?
Claire Jones 
I do that in my free time, even if I don't need to do that. That's like, oh, I like Google benches, or rugs or frames or plates. I like thinking about that stuff.
SuChin Pak 
Oh, wow. I don't know. Yeah, there's that focus part of it. I think there's an emotional attachment here that I'm not quite sure what it is. It's something related to feeling like I have to get everything perfectly right. It just has to be the perfect desk setup and it has to be the perfect organization. And then there's the other aspect of it is unlike you guys, organizing does not throw me buying things for the home settling into a house doesn't excite me.
Kulap Vilaysack 
Let me also this is dripping with privilege. And I know you're gonna, like laugh me off the pod by me suggesting this. But this last move, not only did I have people move, we've talked about that, I had organizers who unpacked as well. And so there are people who do this for a living. Sometimes it's like, do you want to do and delegate what you don't want to do?
SuChin Pak 
Exactly. It's a much more efficient way to live your life. Yeah, they do what they're going to do faster. Yes, faster.
Kulap Vilaysack 
And do you want this? You want that? You know that? You go through that? So it helps move things along. And then I do like the finishing stuff. So it's just something to consider. If you don't like to do it, then why make yourself feel bad if you have the means. I think it would help lift a weight off of you.
SuChin Pak  26:05
It is something to consider, and I appreciate it. That's kind of where Mike sort of sits, you know, he's like, I know you don't want to spend the money and you don't want to […] He's like, but the amount of time that you're hemming and hawing doing this stressing out, getting a little depressed, like having anxiety about it, and not actually working on the stuff that you really love. Like you're losing money, you're just out the door. Like, I don't know what you're saving at this point. So I think that could be right. I think. I think already I feel a little bit more clear about it. I just I've been a little stumped.
Kulap Vilaysack 
Su, we are old. Wait, is that right? Hold on. Let me take it back. Like we're at an age where like, we know who we are. Yeah. And we still got to get stuff done. It's like why self-flagellate about not being a person you don't even want to be?
SuChin Pak 
It's because we're so used to it. God, Self-flagellating, that comfortable feeling.
Kulap Vilaysack 
You know that feeling, you lived in that feeling. What if the feeling you had when you were at home, was a feeling of being rooted of clarity of boxes being put away of really being able to settle in, be with your family, be with your thoughts? And feel a sense of hopefully serenity and freedom? What about that feeling?
SuChin Pak 
Yes. Can you add that to my cart? Adding to it right now.
Kulap Vilaysack 
You've really earned doing what you like to do. If you take anything away, and I know it's hard. I know it's hard.
SuChin Pak 
You hit it. I know. Oh, attack. Got it. Hit the chip.
Kulap Vilaysack  28:03
That's right. But we're playing battleship right now. Claire, do you have anything to add?
Claire Jones 
I think also this doesn't have to be your Marie Kondo time. I think that's a lot of pressure to put on yourself on top of moving into your house. You can just set the goal just yeah, putting things up getting it unpacked. And then later, down the road, then you can like go through the stuff again. I mean, because I think I said this to you earlier on the phone today. Just now after one year of already living here. I like look around the house and I'm like, okay, now it's where I want it to be. And that's after a year of living here putting things up taking them down. I would say just get unpacked first and then you can have the fun, then it's fun.
SuChin Pak 
It's this preciousness, it's this pressure. I don't like it. I don't like this because it starts to ignite this part of me that I generally over the years have done a lot of work to keep in control. You know, which is kind of like you don't have to go for the gold every single time it's not worth it. That's also I'm just realizing as I'm talking through this thanks guys therapy session is that I am paralyzed by that feeling of pressure. And it's that feeling that I have had my whole life. I don't fucking want it anymore. I'm too old for this shit. But you know, when you're not conscious of it, and you're tired on a lot of French sleeping pills. You're just like, wait, it creeps up? Yeah, you know, it's a real warm bath that you're just in and suddenly you're like, no, I don't want to be in this bath. So I think as I'm talking to you guys, I realized wait a minute. I can do things I want to do things. Nobody gives a shit. And we just get in it and I think that that feels already I'm more awake. But anyway, so I thank you for this more I'm sure to share and reveal as I move into this house, but I really thank you guys for once again, kind of helping me focus on the thing that's going to get me moving. Yeah. So thanks, guys. Alright, we're gonna take a quick quick break and then when we come back, we're gonna have a sidebar with SuChin, that's me, and with the creator of this really fantastic device called the Evimerock, and we're going to hear all about it in just a moment.
SuChin Pak  30:43
Alright, we're back. So a while ago, our good friend Laura Izumikawa came on the show and told us about something called the Tomarion 2, right, it was her add to cart we were highly influenced. When she said it virtually eliminated all of her chronic back pain. I was like, What is this thing I needed, add it to my cart. It's an infrared device that heats up in just six minutes and stays warm for two hours. But I mean, for me, it stays warm for five hours even. It is a permanent bed buddy in my room. And it's unlike anything I've ever seen. So because of all of these things, I wanted to invite the founder of Evimerock the company behind this product for a sidebar. So everyone please welcome heavy paying to the show. I'm so excited. First, let's tell everyone, how do you describe what this device is? Because I have a hard time describing it to friends.
Herie Pang 
So my one sentence answer is it is a heating pad. But it is not just a heating pad. It's a far infrared heating pad. So most people actually don't know what far infrared is. The best way I describe it is. It's like sunbathing without the suntan.
SuChin Pak  32:05
Okay. And without losing too much of our audience or even myself, what is far infrared heat? What are the properties that make it so unique from let's say putting in an electric pad which I have many electric pads and have stopped using over time?
Herie Pang 
That's actually a great question. Because honestly, this device actually was gifted to my mom, she had chronic health issues. And so the way that we were introduced to the Tomarion 2 was because one of her friends kept telling her she needs to buy this, but my mom has had like, every single heating pad you could think of because she's a Korean ahjumma and you know, in Asian culture, heating your body, keeping it warm is very important. It's just your overall health is all dependent on this, like blood circulation.
SuChin Pak
Come on guys, Korean spas. It's everything you need to know about a Korean person. That's it. Beginning middle end.
Herie Pang 
Yes, you got to be warm. Yeah. And so a normal heating pad that you can buy for like 20 bucks, it only heats the surface of your skin. But far infrared heat actually goes into your body about 1.5 inches. And so it goes into your tissues, it stimulates blood flow, it elevates your core body temperature. So it actually heats up your body. And you won't see that with anything else. And this is not something that's like new technology. It's been around for a long time. And even in Eastern medicine, it's been used for almost like 3000 years. So this heat, I don't have to actually advertise it because if you just Google it, you can see all the benefits of far infrared heat.
SuChin Pak 
Now describe to everyone because I also keep calling it my rock and because it's shaped like a rock and it's covered in the most fuzzy warm cover that zips on and it's just it's an organic feeling in the sense that when you're using this, it doesn't feel like you're plugged into something it doesn't feel like a device. I think how you're describing the heat which is like being out in the sun is a good way of describing what the heat feels like but even the device itself, it's like you're taking a rock that had been out in the sun and you're bringing it into your bed like tell us about why this shape, what is the benefit to it and why that's so important to the device.
Herie Pang  34:36
It's a patent product in Korea, it's a medical device and even here in the US it's an FDA registered device. So it is very unique because most far infrared heating pads they're all plugged in the patent on Tomarion 2 is actually there is a gem there's a rock called Tourmaline and it's called an electricity rock. So basically, this Tourmaline is what is emitting the far infrared heat. The way it works is you charge it for six minutes, and then it heats up. And then it's warm for three hours. And it's crazy. So everyone thinks, oh, it's a battery inside there. No, it's not a battery. This is not battery charged at all. It's through the rock, the rock is getting heat up. And after six minutes, it'll stay warm for three hours. It's crazy. And so that's why it's patent. And in Korea, it's been over 10 years, and it's still the hottest rock out there. It really is.
SuChin Pak 
The hottest rock out there. Oh, my God. I also want to say, though, yes, it heats up for three hours. But I mean, for me, because I bring it into bed at night. And when you put it under the covers, it will stay warm forever. Right? in the morning. It's still warm. Yeah, I just put it next to me like do you actually have to have it on your body?
Herie Pang  36:02
So you know, another thing that's very unique about this is the reason why it stays really warm on your bed for hours versus if you put it on your body out cold is this reacts with whatever it's touching. So if it's touching, like your bed or something, it'll stay warm for hours, because it's not actually taking as much heat. It's a range. Some people who are really healthy. They're like, oh, my gosh, it's five hours is still hot. I'm like, wow, you're really hot. Like my son uses it a lot. He's like omma, it's still hot. It's because it's reacting to your body. to answer your question. No, you don't have to put it on. But if you put it on, it will definitely heal more of the places that hurt.
SuChin Pak 
Yeah, there's nothing. I've never seen anything like this. And I've been using it now ever since Laura came on the show. And it's not only I think restorative and like all like the aches and pains. And I'm always complaining about it on this podcast. But it is so relaxing.
Herie Pang 
Yeah, it totally is it kind of sounds weird. At first I'm like sounds a little fruit fruit. But actually, if you dig into it, there is you know, through this rock and the for infrared heat. So both of these two together, you detox, you also are able to relax, it helps you sleep. It's through all these different properties that because of the heat that's emitted into your body, it relaxes you. And I don't want to say my face looks great. But everyone has been asking me oh, how do you like what are you doing? Like you're glowing? And I was like, I'm literally drinking water and doing this morning and night. And it really does change. Like even the way that you look. And I don't say this lightly because I'm all into my K beauty routine. And I put stuff on. It is really interesting as you use it throughout time, you'll see the benefits.
SuChin Pak  38:07
Well, before I let you go, I do want to ask a question a very important question. What are the K-dramas you are obsessed with right now? I need to know all of it. People it's not just squid games. All right?
Herie Pang 
So I am actually my friends call me whenever they need a new recommend. I've lived in Korea for about seven years. So I'm fluid. So I've watched everything. One of my favorites that not a lot of people watch because they will dismiss it because it's a historical piece is called the crown clown. And it's on Netflix now. You will be on your seat like till the end on the edge. The love story is so beautiful. The entire story is just phenomenal. My husband hates historical pieces. And honestly, after he watched us he was like, this was legit good. He was like, I need to go watch the movie. And then he watched a movie. It's like, oh my gosh, the drama is so much better. So highly recommend it. And you will regret it. Okay,
SuChin Pak 
Fantastic. Well, thank you so much. I was so important for me to have you on as a sidebar because I think whenever I become this obsessed with something, and especially if it's something that I just I've never experienced before, I had to ask you all the nitty gritty questions but I really appreciate your time and I love that I also got a bonus new thing to watch for K-drama.
Herie Pang 
Thank you so much for having me and thank you for letting me introduce the Tomarion 2 and hopefully people will be able to try it and love it as much you know.
SuChin Pak 
Oh yeah, we'll start the fan club here. Alright, there it is. Another episode coming gone just like that like a ghost, like a figment of our spooky imagination.
Kulap Vilaysack  40:05
Find everything we talked about on today's episode and on @AddToCartPod. If you want to buy things check out the show notes wherever you are listening.
SuChin Pak 
Call us though and tell us about your Halloween costume 833-453-6662 Do it for cu do it for producer Claire and gee do it for me too.
CREDITS
ADD TO CART is a production of Lemonada Media. Our producer is Claire Jones and our editor is Ivan Kuraev. The music is by Wasahhbii and produced by La Made It and Oh So Familiar with additional music by APM music. Executive producers are Kulap Vilaysack, SuChin Pak, Jessica Cordova Kramer and Stephanie Wittels Wachs. Be sure to check out all the items we mentioned today on our Instagram at @AddToCartPod. Also, please take a moment to rate, review, and subscribe to the show wherever you get your podcast.