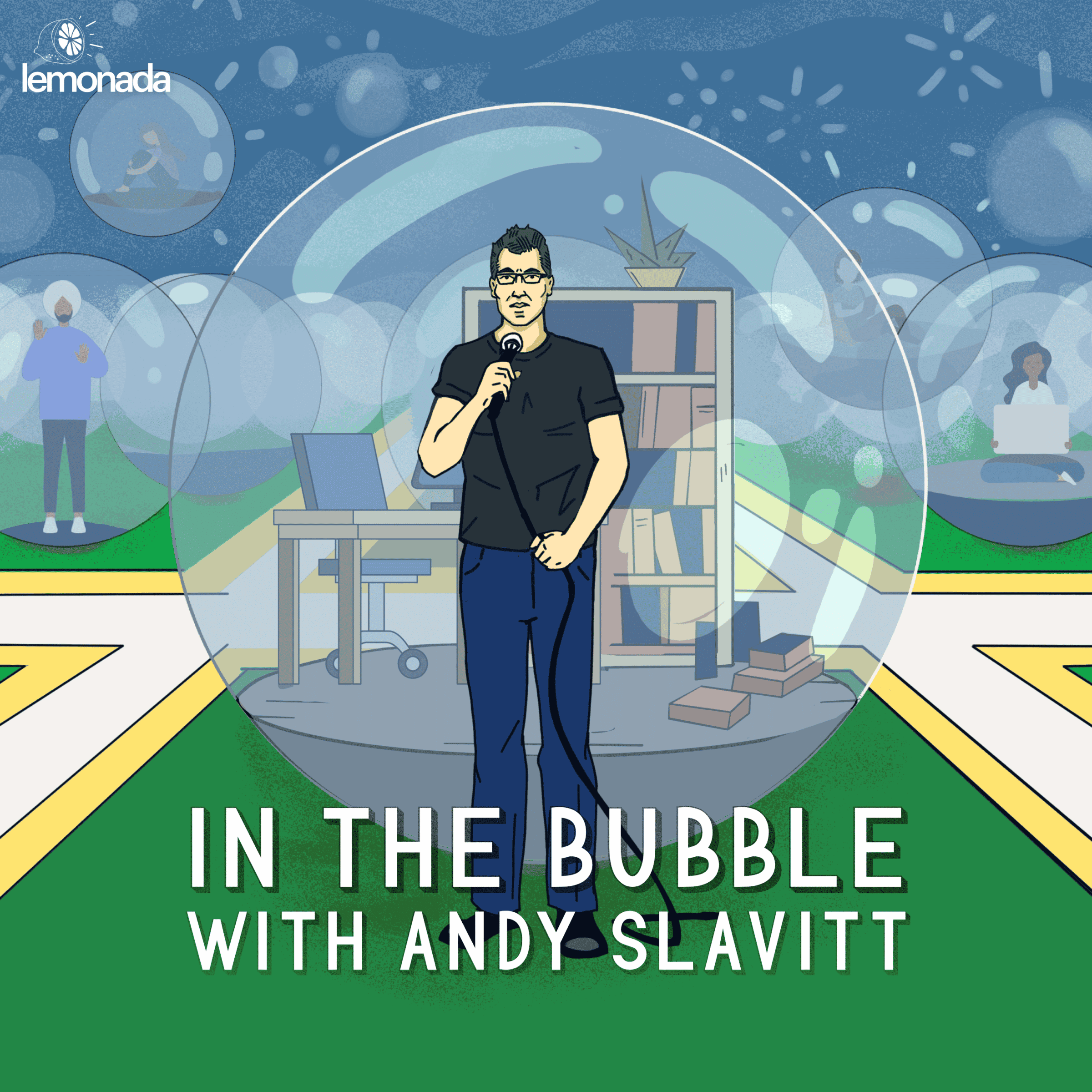 Our Next COVID Vaccines (with Pfizer CEO Albert Bourla)
Subscribe to Lemonada Premium for Bonus Content
Description
Andy sits down with Pfizer CEO Albert Bourla, who is cautiously optimistic that a vaccine for children under 5 will get approved by June and a variant-specific vaccine that better protects against Omicron will be approved in the fall. Albert stresses the seriousness of Long COVID, comparing its severity to cardiovascular diseases. And Andy traces a throughline between the harrowing journey of Albert's parents, who narrowly escaped the Holocaust, and the CEO's own journey racing the clock to create a vaccine to save lives.
Keep up with Andy on Twitter @ASlavitt and Instagram @andyslavitt.
Follow Albert Bourla on Twitter @AlbertBourla.
Joining Lemonada Premium is a great way to support our show and get bonus content. Subscribe today at bit.ly/lemonadapremium.
Support the show by checking out our sponsors!
Click this link for a list of current sponsors and discount codes for this show and all Lemonada shows: http://lemonadamedia.com/sponsors/
Throughout the pandemic, CVS Health has been there, bringing quality, affordable health care closer to home—so it's never out of reach for anyone. Because at CVS Health, healthier happens together. Learn more at cvshealth.com.
Check out these resources from today's episode: 
Stay up to date with us on Twitter, Facebook, and Instagram at @LemonadaMedia.
For additional resources, information, and a transcript of the episode, visit lemonadamedia.com/show/inthebubble.
Transcription
SPEAKERS
Andy Slavitt, Albert Bourla
Andy Slavitt  00:18
Welcome to IN THE BUBBLE. This is your host, Andy Slavitt. It is Monday, April 18, we have a very exciting show. We have on the podcast, Albert Bourla, the CEO of Pfizer, we're going to talk about some things that are on everybody's mind, but are not yet publicly known that Albert will have some insight into, namely a few things on my mind, I want to press him on. I know they're on yours as well. Number one, what is the likelihood of a variant specific booster for Omicron. And in the fall, that's a place where I will press and you'll hear that he gives us a straight answer. I'm going to press also on what's going on with kids zero to five, that is going to be a really important topic, we're going to talk about Paxlovid, and what's happening there with the therapeutics, and we're gonna talk about long COVID and what Albert thinks about long COVID. And I think he has a really interesting perspective on what can be done there. And then we're going to spend some time he is out with a new book called Moonshot inside Pfizer's nine-month race to make the impossible possible. And it documents kind of his, not just the development process of the mRNA vaccine, a little bit of his life, which is I think you'll find quite interesting. He's the child of Holocaust survivors. But also, he becomes kind of almost a world diplomat, negotiating these deals with governments. And there's something pretty revealing about what the US did and didn't do. And it's negotiation with Pfizer, that when I came into the Biden administration, we were faced with, some of that will be interesting, because we'll go into some of those things. And it's an incredible human-interest story, movements of accomplishment. And look, I understand that people have very ambivalent feelings, to say the least about pharmaceutical companies, I count myself among them. You know, I've been a critic of the industry, and its pricing practices. Make no mistake about that. I've also been partnered with the industry during the COVID response, quite closely. And so I've seen what their scientists are capable of, as well. So you can evaluate for yourself when we talk about some of those issues, some of the pricing issues. That's not the main focus of the conversation. But it is something that I discussed bring up and I have committed, we have another guest on next week to talk about healthcare issues and healthcare costs. And I've committed, that after that, we're going to come back and have a fulsome conversation about drug pricing. But I hope you enjoy this before we get to it, I want to give you an update on what you're most interested in, which is of course, the status of IN THE BUBBLE, and the Webby Awards. For those of you that have voted for us. Thank you so much. We are in second place. That's kind of pole position, right? 23% of people for the best health and wellness podcast. And we unfortunately, we trail the leader by who has 53%, good for them. I'm sure it's a great show. But that's the one episode then we're also nominated as Best host. And there. We have moved into third place ahead of Seth Rogen. It sounds very, very egotistical of me to be promoting this. But if you haven't voted and you want to vote, of course, we'd love for you to vote. You can go to webby awards.com. And you can vote for our show in two categories Best host and best health and wellness show. You can vote for us, anyway, embarrassing to ask, but thank you. Let's do this. Let's get to Albert Bourla.
Andy Slavitt  04:10
Albert Bourla, CEO of Pfizer, welcome to IN THE BUBBLE.
Albert Bourla 
Thank you very much, Andy.
Andy Slavitt 
Let me talk about some of the current questions that I think people face worth thinking about as to where science goes and vaccines and therapeutics. The Virbac just met recently, which is the advisory committee to the FDA to discuss I think there was a robust discussion of what kind of vaccines or vaccine strategies should the US have next? So I guess I'd say that the playing field and you please correct this, if I get it wrong, is considering you know, should we have a next round of vaccines in the fall that are designed the very same vaccines we have now that were designed for the wild type virus. Should we have a vaccine that's designed for the Delta virus? Should we have one designed for the Omicron virus? Or should we have a bi-vaillant or multivaillant by which and I'll explain what those words mean, by which is just basically a combination of one or more. What can you tell us about what we know and what to expect?
Albert Bourla
There isn't one I think, what the Virbac didn't discuss was there. I think this is exactly what discussion that we should be having. And I think it's a very important thing to live with us to our own views. And it's the developers of the vaccines, the inventor. I think it's a matter of public health. And you know, for it is it needs to have a very significant point of view that involves regulatory authorities to start with, which is FDA and Virbac. There was a lot of discussion, I don't think any decisions were made during that, I think, based on everything I'm reading, and if I'm reading well the minds of the individuals that they spoke I think they want to have a decision by June. Now, we don't know if we will have anything different than what we have right now, just to start, right? But the chances are there because we are working both us and Moderna on different types of vaccines center, testing different variants, vaccines with different variants to see how they control Omicron and the other variants. So I think by June, there will be more information available and likely a direction from Virbac, but as to what they would think the most beneficial way to address the next wave in the fall would be if we could. And if they come, for example, and say, you know, we need to have some an updated vaccine that will have both the old variant and the new variant, or an updated vaccine, we will have the new variant provide that covers the old variants as good as the previous vaccine. And all of that are things that we will be ready for all scenarios in our games.
Andy Slavitt 
One of the promises of the mRNA vaccine, in fact, one of the reasons I think it sounds like you chose the platform was for the I'll say the plug and play capability, the ability to move quickly. And you started, you know, we first saw Omicron, you know, around Thanksgiving, you know, US Thanksgiving time. And you know, the ability to move that into the lab and into being able to study a new vaccine is something that we've talked about should be able to do. And I think 90 to 100 days was the goal. So now we're sitting here in in mid-April of 2022. Do we feel good about the ability of Omicron specific vaccine to be developed and get to market?
Albert Bourla  08:08
Yeah, I do feel we need to wait for the entirety of the data to come. But we already started seeing data and already marks and to each other more data in April, and you will see more data in several weeks. So I don't want to speak now. Because in my life, I have seen surprises with science when the entirety of the data are coming out. But to your question, do I feel good that we will have one? Yes.
Andy Slavitt 
So then the question becomes, if that's possible, would that vaccine be effective against other variants known variants like Delta and wild type? Or is there a need for a bi-vaillant? And is that, does it create complexity, because you're changing dosages and so forth, is that the kind of thing that you think we'll be ready to iron out by the time a decision would need to be made in June?
Albert Bourla 
We should, I think the decision will be made, what we need to do likely approvals will be in the fall. But again, depending on different situations, but the goal is that the new vaccine will cover as good as the old vaccine, all the previous variants. That will be non-inferiority. And in addition, we'll cover well, way better, the Omicron which is the weakness of the current vaccine.
Andy Slavitt 
And it sounds like you know, we're now seeing BA2, BA3, BA4. So it appears we might be seeing what scientists call a drift, not shift. I would be more likely to see variants off of the Omicron lineage. If we got very excited with the first vaccine around numbers in 90%-95%. In retrospect, we could have been excited with much lower numbers than that, those numbers overperformed. And maybe we made a mistake in emphasizing that because now the public may have in its mind that that's the kind of numbers vaccine should perform at.
Albert Bourla  10:13
Your right, because if you remember, the FDA, and the European authorities, they should set the bar at 50% to approve a vaccine, 50% was going to be enough to approve a vaccine, ourselves, we placed a little bit higher at 60. We had 96. And then everybody felt that that's the new standard. And that's what, let's say, makes a good vaccine. And that's an excellent and beyond expectations vaccine, but vaccines that protect to a lesser degree, they have a significant role to play in public health.
Andy Slavitt
There's a broader question about boosters, and how frequently to boost in general. And one of the things you cover in your book is around your partnership with Israel. And they're really excellent data and surveillance, analysis and measurement of the vaccine and booster usage. You know, there's different philosophies, one's philosophy that says, you know, we should offer the vaccine every five or six months, so that we can prevent infections in long COVID. There's another philosophy which says we should only offer to high-risk groups. And then there's a philosophy which says, if we require people to have vaccines every six months, we're going to fail, because it'll just be too hard to get people to comply. And we should really aim for once a year. I think people are very confused at this point in time, about what the guidance is, because I don't think people really know. But I also don't know that people know how to make the decision. Do you have a view as to where this is likely to head and how people should be thinking about it?
Albert Bourla
Look, currently, with everything that we have in our hands, likely people need three plus a booster. But all that was before Omicron, I'm sure that if we had Delta likely, the third one would be an annual, but Omicron changes the landscape. And the third one just became an opportunity for the fourth floor. I truly think that, that will not be sustainable for the masses for the years to come. I think that people will not complying to the same degree that they did in the first year in the country, in their next years of doing the fourth or fifth or sixth doors. There. This is why I think it is a very big need to develop a vaccine that will last the year. A yearly vaccine, it is a vaccine, but it is well accepted by everyone because can be incorporated in the routine of healthcare can be matched with flu vaccinations, can be matched with and can be easy to remember, it's not easy, technically, to make a vaccine. This virus has some specific characteristics that make it so big public health problem. And one of them in addition to the variants, which is a very big one. But another one is that the immune protection that creates to the individuals from natural infection, I'm not talking about vaccinations from natural infection, doesn't last, so people will get sick. And we have seen a lot of cases that they can get sick again. And they can get sick again three times. And sometimes these were the same area not even with different variant, doesn't last long. So to make a vaccine that will be able to last longer than the natural infection and go to the year is technically very challenging. But we are up to the challenge. And we are working very smartly. In order to develop something like that. I can't say we have it in the pocket. But I can say that we will try to make it happen.
Andy Slavitt  14:25
Let me go to a couple of other places. I think the one place is where I think there are a fair number of upset people are parents of kids zero to five. I think they have had their expectations dashed a few times in terms of when a vaccine would be available. And I feel talking to the folks that they don't feel like they have an adequate explanation as to why we don't have a vaccine. Now they're angry with the FDA, because they believe that the FDA would be wise to get this out more quickly. I think the people at the FDA, obviously are studying data. What can you tell us about, well, first of all, what's happened to date? And what you think the issues are? And it could you give parents some sense of not just the explanation, but what they should be expecting next?
Albert Bourla 
First of all, I don't think anyone should be thinking that it is FDA's responsibility, it is not at all actually, if anything, FDA is extremely collaborative, and they are very flexible in order to address public meet, the public health need of getting vaccines for the for the younger kids. So that's really, I don't think they have anything to do with that. What happened and things got delayed is Omicron, we had studies that we were progressing in the kids from six all the way months, all the way to five years old, with a very low dose, that will be very, very safe. So it was three micrograms, just to make the comparison, and adult is receiving 30. So it's 1/10 of it. And those studies, were supposed to give results. And two, as we could see with the previous vaccine, that you get very good protection with a two. And then maybe you need a fair to maintain. But then what happened is Omicron. So when we started comparing not only against Delta, that was the previous one. But against Omicron, we realize the same thing as we realized in adults, in adults, two doses, they provide very little protection against Delta. The third dose makes it very strong. So we realized that this is the case, also for pediatric. So we extended the trials to go to the third dose. In fact, if you remember, we had already spoken with FDA. And actually FDA asked us, FDA ask us submit your data of the two dose. But then we saw that efficacy on the 30%, or 40%, we didn't think is good enough, frankly. So we told them hold the data on the second. We don't want to get licensed based on that. We will provide you pretty soon data on the third dose, which we think will provide dramatically higher results. And then we know that we do have a vaccine. So this is where we are.
Albert Bourla  16:30
So right now you're evaluating how effective the vaccine effectiveness of a third three milligram dose, is that right?
Albert Bourla 
Vaccine offer free initial doses that will protect kids at extremely high levels. Exactly.
Andy Slavitt 
And when do you expect, do you have an expectation? I got pilloried on Twitter for suggesting that it would be June. You think June might be optimistic?
Albert Bourla  18:05
No, I hope we will aim to make it in June.
Andy Slavitt
Are there are there any safety concerns that you have? I understand, you're suggesting that you move it up in increments, so to make sure that, that it is safe for the child participants. But as you get up there, it should, if there's anything you've seen, which would suggest that there's anything this is going to be anything other than just as safe as it is for other age groups.
Albert Bourla 
No, this is a very delicate age group. So safety is a paramount importance. This is why we went with this very low dose. And I'm very confident. First of all, I know not confident I know so far that the safety looks very, very good. Because safety, you can see it earlier than you can see the immunogenicity, and safety that will be I think my expectation is we will have zero issues with safety. We're waiting to see the efficacy. And my expectation is that will be very good.
Andy Slavitt 
We had some leading scientists on the program last week who said that getting vaccinated reduces the chance of long COVID by about 50%. And it reduces the symptoms as well. It's long COVID, an area that Pfizer is studying and looking into and seeing whether or not there are solutions that are pharmacological solutions.
Albert Bourla 
Yes, it is. It's a terrible, terrible situation right now with long COVID and affects, I think more than 100 million people right now, with long COVID. I think lung COVID could become as big as cardiovascular diseases. It's a very biggest thing. And we are doing several things to try to understand it and develop interventions.
Andy Slavitt 
So let's talk about Paxlovid if we can, which is from everything I hear an amazing story. Now, I don't have data, but I hear through all of the channels people I talk to that people who have gotten prescribed Paxlovid, which is your oral therapeutic drug in within the first few days of being diagnosed pretty amazing results in terms of reduction in symptoms. I have a friend nearby who just took pecs love it. In fact, I have two. And I've talked to people in some of the sports leagues who have given Paxlovid out to some of the professional athletes. And we have observations. What can you tell us? I mean, vaccines are what we all we talked about. But this is pretty promising. Am I missing something?
Albert Bourla  20:45
You're not missing anything. First of all, I also hear these anecdotal cases of success. And I haven't heard the opposite. But I don't base my conclusions on looking anecdotal, I base it on the clinical studies that are fully controlled, and you can measure things apples to apples, and the results are stunning. Instead of 10 people going to hospital, only one goes and nobody died. And also that happens very quickly, as you said, we know that. Right now, in January in February, we were sorting supply in March, we gave a lot. And now in April, really we make it a non-issue supply. So I think it should be available everywhere. In fact, I'm hearing sometimes that some doctors will be reluctant to prescribe it. Unless if it is very high the risk, because they are under the impression that there is not enough. So they want to preserve it for really, the high case is no it's not the case, there is a lot. And in fact, the US government started the pilot program with what's called test and treat, where in pharmacies that they have clinics inside the pharmacy, so they have prescribers, you go and you do your test. And then you can get the same time if you're positive, you can get the prescription and go. That's for CVS, for Walgreens for Walmart, as far as I know, they are all participating in the program.
Andy Slavitt  22:21
And you can go to covid.gov and you can find a site near you.
Albert Bourla 
By the way, this is a very good site, I went into covid.gov, that the White House, I think released it, is very, very easy to use, very simple. And you can find immediately where you can get test and treat or if you have a prescription from your own doctor, where you can go and get.
Andy Slavitt 
Your vaccine or you can get free tests. It's a great it is a good site. Well, that's it is promising. And you know, I think what I understand from the White House is we're now producing about twice as much as we're using every week. So if there are regional areas where you're having difficulty getting it, it should be ironed out pretty quickly, because we have a lot of supply. Now, is it your concern or view that at some point, patients or populations will develop immunity to some of these therapies and that we will need a bigger arsenal, like we do with antibiotics?
Albert Bourla 
I want to turn to your book, you document a remarkable journey of a small group of people really across two companies, Pfizer and BioNTech. As well as interactions with world leaders were across the time in this book. You were scientist you were executive you are world diplomat, quite an exciting couple of years. But what's interesting is you became CEO of Pfizer, in 2019, the year before the pandemic, you had no way of knowing what was about to happen. But I want to give people a sense of the person who inherited this mantle at this very specific time. I'm wondering if you could just start by telling the story as you did in your book of your parents and grandparents. And I'd love to hear that story, that background and how that reflects on the kind of person you had to become, the kind of decisions you had to make over the course of this time period.
Albert Bourla 
It's not very likely, but it is a possibility. But I don't think it's a possibility to be happening in the next one or two here. So usually requires more time, the Paxlovid was developed with that in mind, one, to be very agnostic as much as it can. So as the virus changes, we don't need to change the treatment. And the second that will be difficult for any variant to develop resistance. That's why we chosen to attack protease inhibitor of proteins, which is essential for the life of the virus. So it's very difficult for the virus to create the variant without the proteins inside, doesn't easy to replicate. So it's very difficult to create the resistance and exist in all variants. All the variants are having differences in the spike. This one has nothing to do with this spike is part of the virus. But nevertheless, it is a possibility and the you know, so much at stake that you cannot just not be prepared. So we are working already ourselves in second generation. And so our companies are working already in new medicines that the potential could be available to be able to address these type of issues.
Albert Bourla
Thank you. Look, I never met my grandparents because they were Holocaust victims. They died all of them Auschwitz. My parents were among the very few Jews that survived the Holocaust in a city that was having a very strong Jewish community, in Greece, from the 50,000 plus people that were living, only the 2000 survive. So if you do the math is 96% extermination 4% survive. And both of them, they had very dramatic stories in how they were able to survive in hiding, basically, most dramatic was the story of my mom, that she was arrested while I'm in hiding. Towards the end of the world, just few months before the Nazis, occupational forces leave Greece. And she was put in jail because they were not sending that time anymore. Trains to the Auschwitz camps, and their brother-in-law, who was Christian, the husband of her sister, had paid bribes to work criminal, which is his name was Max Merton. He was the head of the occupational forces there, he paid him, basically everything that they had in Golden pounds, they were converted of golden British pounds. And they gave it to him, under the promise that he will not be executed. But I think his intention was to keep his promise, but he didn't pay that much attention. So eventually, my mom was taken from the prison to go to the execution place, and spent the night there. And her sister saw it, because he was always outside the prison, it was known that every noon, the prisoners that will be executed, the next dawn, will be loaded in a truck and will be moved to the execution place. So her sister would be every day at noon there to see who is going into the truck. And once she saw her sister going, they knew that that's the end, they rushed back to her husband, the husband called Merton, Merton had no idea he said, let me see what I can do. They spent terrible evening, my mom, in a small room together with everybody that we're about to be executed in the next morning and her sister and her husband crying thinking that that's the end. But as my mum was put in front of a firing squad, next day, BMW motorbike came with two German soldiers. They gave some papers to the commander of the firing squad, and then he removed my mother and another person from the line. And as they were taking them back to the prison, they could hear the machine guns killing everybody else. So my mum was a teenager at that time. So that gave her a very strong personality in life. And the strong belief that nothing is impossible. Don't give up because at the end, something can happen and can make the impossible possible. And I think she transferred that to me.
Andy Slavitt 
So that was one obvious, strong experience and lesson and if I'm not mistaken, having read the book, both of your parents, essentially were separated from their parents without really having a chance to say goodbye. And of course, your mother witnessed the cruelty and the randomness of the people she was with a dying and that that just could have been her. And so I'm just wondering what sense this gave you as I go through the book, Albert, there were times when you were describing decisions you had to make, for example, how to think about making sure that the vaccine if it was produced was affordable in poor countries and how to think about decisions that were quite risky at the time. You know, in retrospect, everything seems logical, but at the time, you know, you document a series of decisions, partnering with a small company, risking a lot of investment. How do you think that your story and your parents story made you the person for the moment?
Albert Bourla  30:24
I don't know, if I was the person for the moment, I think I found myself in a place. But I had to do what I did. And I think that if someone else was in my place, not everyone, but most of them would have done the same thing. But the thing is that we need to place everything in the context of what were the days you were living. And the days you were living was not neither business as usual. Nor life as usual. So there was so much at stake, that losing $2 billion was nothing compared to what could happen if we were failing, it was the world that will lose the vaccine. And then life wouldn't be very different than how it is right now. If we didn't have it.
Andy Slavitt
You were led to be clear, the reputation going into 2019, of a CEO of a big pharma company was one that was not somebody who was focused on much other than the bottom line wrapping fairly or unfairly, you know, the man who preceded you who I know, was it was a Scottish CPA, who had a reputation for being you know, quite combative, particularly about the pricing of drugs. And then you had a statement, which is, if we miss our budget for a year, no one will remember. But if we miss the opportunity to help the world, we will remember forever, talk about how you decided to price the vaccine. And subsequently, you know, Paxlovid it as well, for lower income countries and what that decision was like?
Albert Bourla  32:10
It was driven by the basic principle of equity that when you need to give equity, equity doesn't mean that you give everyone the same. Equity means that you give those that they need more, you give them all. So it was clear that there are two conditions that we had to meet, so that those countries will get access to vaccine equitable access to vaccine. And that was wrong, because there was a third one that either I underestimated, I will talk to it about it in a moment. So the first was that they should get it in the price that everybody can afford. And this is why we priced it, how we priced it. Even in the high-income countries, the price was exceptionally on the low end of that there are no vaccines, that they are priced at that price, with a high technology. But for the middle-income countries was half of that, and for the low-income countries was at cost.
Andy Slavitt 
You talked about the price of a meal. We're used to seeing benchmarks around how many days you know how many lives are saved, or how many days are saved in the hospital are people talking about that. But you talk about it in much simpler terms, even for well off countries, something that was the price of a meal. And then, as you said lower still for other countries was that met with skepticism, controversy argument, you got a board of directors, you got a lot of people in the company. How was that received?
Albert Bourla
I don't think that the board goes into these decisions. But they were very pleased. They were very pleased because they understood the rationale. And the rationale was that if we have a vaccine that saves the world, we better remove the cost is an obstacle and gain not only it was going to be given the success, eventually profitable, but the reputation. We knew that everybody will try to find reasons to say why we did that. And I think that was much bigger than making one time, let's say higher profits in a year. But on the low-income countries, even the cost was not affordable for some that's why we did the monumental agreement with the US government that we gave them 1 billion doses, of course. So we didn't make any money off that but we didn't lose any money. And then the government, the US government takes this and gives it for free to people around the world. Not to all to those that they are the poorest countries but you're speaking about the 92 poorest countries of the world. So it is better sickly, a very, very big part of the population. So cost was not an issue at all, when it comes to low-income countries, then the second thing was, we need to have enough quantities for all. And the truth is that in the beginning we didn't have, because let's not forget that the annual capacity of Pfizer in producing vaccines were 200 million doses per year, 200 million doses per year for all vaccines across all our manufacturing sites in the world. So, for COVID, we made $3 billion doses or one only vaccine. And that was actually a vaccine that was never manufactured before, a technology that was never used before. So that was the second miracle. And with that, we were able, at the end of the first year to have enough quantities for all. So those two conditions were met. Now, let me go to the third one that I told you that I miscalculated. The third one was that I thought that if we have enough vaccines, no cost considerations, those countries will get vaccinated. They weren't. Right now, in Africa, for example, the vaccination rates are very, very small, although as I said, for them completely free vaccines available. And this is because the infrastructure in these countries is very bad. They have very high degree of misinformation. And there is a lot of questions from these countries. They are lacking vaccination centers, they're like, basically, like series', people have to walk for hours to go to a vaccination center. This is what I regret, I didn't emphasize. And you know, I was going a lot on TV during this first part of 2021, I should speak way more loudly about the need all to help, build, infrastructure, because doses are coming for those countries. And the first thing we didn't do much about it, neither us nor WHO, nor anybody else.
Andy Slavitt
Let me go through just a couple of key moments in the development process that are in the book. Again, I want to try to lose the hindsight benefit, knowing that you accomplish what you accomplished. So just paint the picture of you and your team sitting there with decisions to make. And I'd say the odds were quite long, that not everybody believed the mRNA platform was the right platform, you expressed that you had some skepticism that it was ready for primetime, you had to strike this partnership. And what if you could just maybe take us to those moments when you had to make those decisions, to partner with an outside company to make the decision to go with an mRNA platform, you made the decision to not participate in operation warp speed. Talk a little bit about how you made those decisions.
Albert Bourla  38:27
Clearly, all these decisions were counterintuitive, we're not the first thing that comes to mind. For the reasons that you mentioned, mRNA was had never deliver medicine or vaccine before, doing it would require partnership because there was a lot of intellectual property that was tied with BioNTech that had done a lot of work, and all of that, it was going to be difficult to store with low temperatures. So all of that were reasons against and when they suggested to me that we do it without, I challenge the wisdom of this session in which I to discuss and I was convinced of the opposite. And the reasons why I was convinced were two, mainly, we were working with BioNTech already two years to develop an mRNA flu vaccine. So we knew both, BioNTech, and we knew also where the technology at what stage that technology is currently. So they told me and they are very conservative people, those vaccinologists, that they believe it's ready is mature and will deliver a product. So that was one. The second was that I and by the way, and BioNTech is a great partner. The second one was that I thought about the characteristics of a mRNA vaccine. And I realized that there are two things that could be pivotal for success in the years to come. If we are successful. The first one was that mRNA vaccine can be boosted way more easier than other technologies to use two or three doses of adenovirus vaccine is a tolerance. Because sometimes your body creates antibodies not only gets Coronavirus, but also against the carrier, which is the adenovirus. But with mRNA, you can do it without limitations, basically. So that in case variants were coming, I knew that that will be very, very effective. The second was that you can change the variant inside the vaccine very easily, because it's almost like a platform that you can do a cut and paste, you change the sequence within the vaccine. And you have a completely new vaccine for a completely new variant without changing basically almost anything else in your manufacturing process. So that was a very major advantage, again, in terms of variants. So all of that made me to understand that is going to be a better vaccine. Now, I didn't expect that to be 96% effective when I saw it. But I'm happy that we made this decision.
Andy Slavitt 
Sure. Now, it's interesting to me as a side note, I found a couple things fascinating that I didn't know. One is I didn't realize that there was actually no written contract between you and BioNTech at the time that you said to the team that leads BioNTech, it's gonna take a long time for all this stuff to get documented. We don't have the time to waste, do you trust that we can get moving on this. And I will add, as a side note that this was a deal struck between a Muslim and a Jewish man. So I just think that a fascinating bit of color that sight unseen, you basically shook hands and said, we'll move and we trust each other.
Albert Bourla  42:13
Yes, in fact, was struck between not only mastery mandatories, but also a Greek and the Turks to add to this controversy, and one that emigrated in Germany and the other emigrated in the United States, we started with anything, and then we signed a letter of intent. And this letter of intent was signed, let's say two or three weeks later, that was very high level, and contracts. The collaboration agreement reserved was signed after a couple of months, the commercial agreement that dictates how much all the money are distributed to the rights of the countries and was signed in January of 2021. We had already started selling before we this disagreement, and clearly a letter of intent doesn't provide legal cover. It's not the lawyers were nuts. I never doubted that […] will look up his work. And he never doubted that I will give mine.
Andy Slavitt
incredible moment. We're going to talk about a couple of moments where you interacted with world leaders, because in some respects, you found yourself for us to, I think probably at times that uncomfortable position of having to make decisions at the time where there was some scarcity. And there were tough decisions, because of course, your frame of mind when you wanted to say yes to everybody. And, you know, at the end of the day, and I will say this from my own experience, Pfizer delivered more and more quickly than the commitments that you made. But you were I think, being careful not to over commit to something you weren't sure you could deliver. And at the end of the day, I think you ended up being able to meet more commitments at the time. But while you were going through this, you of course, didn't know for sure how things were gonna scale. So you had a conversation you talked about with Moncef Slaoui, who was the head of the operation warp speed where the European Union had had already advanced purchased 200 million vaccine doses and you were trying to persuade Slaoui that the US should do the same thing. Can you talk a little bit about that?
Albert Bourla  44:38
Yes, I did. Emphasize that the production will not be enough for all and we with the contract says they're committing our contracts that they are committing so we can just take from others. So if US wants to be on the safe side, they should make a higher contract exactly like the EU was doing. But the answer was, no, we think this is the right way to go.
Andy Slavitt 
And why do you think that was the case? Do you think that they thought they could always come back? And re-trade the deal as Jared Kushner tried to do later? Or do you think they were placing bets elsewhere? What would you think was behind it? Was it because you weren't part of the operation warp speed?
Albert Bourla 
We were part of the operation or speed, but we weren't considered a full part. Because we didn't take the money, I thought that would be a good thing actually turned to be a little bit negative, because they everybody over there created greater emotional connection with other vaccines that they were funding. And as a result, they were part of the development, the discussions and all of that. So I think they place the order just because we had, let's say, good chances of success, but they wanted to spread to everybody else. So I think they wanted to give the same to six, seven different manufacturers rather than more to someone that looked to be ahead, EU, I think they did that by putting in their minds, who has greater probability of success, the size of the company, the credibility, etc, etc. Then, when time came, of course, they wandered back to what they didn't know that they wanted to place an order for additional doses, but they were not available in the timeframe that they wanted. And that created this tough times when Jared had to intervene. By the way, he was very positive in resolving a lot of issues, Jared, because even the second 100 million of doses operation warp speed was a pain in the neck to be able to sign they wanted to have completely different contracts, rather than add to the first contract another 100 million doses, which was almost nonsense, but one direct intervene, he understood and he corrected all of that, but he insisted I want it now. And I told him, I can't give you now because it's committed to others. So I don't care about others. I am America first. And that was the debate.
Albert Bourla 
Right, and then you had a conversation later, I can't recall if it was in person, or virtually, with Boris Johnson. When the UK, this was I think in January of 2021. The UK was ahead in terms of their distribution of the vaccines. And they had the ability to use more. And at that point in time, the US was off to a slow started vaccine distribution. And you had to make a decision about whether or not you could move doses over to what the from essentially that he'd been committed to the US over to the UK that you were able to do, because the US it was going more slowly.
Albert Bourla 
Yeah. And not only because of a technicality, US was not allowing us to export anything that was produced in the US outside the US. Basically, for the entirety of the contract. This is what they had said. So until I get all my 200 million doses, you can't send anything to anybody else. So that was illegal. And they made it very clear, they sent back a letter personal to me saying, remind me of my legal obligations that not only civil, they're criminal, if we send outside the US doses, then with Boris Johnson. We had promised him because we thought that we have Europe to send him and the sudden realized that we didn't, it was a mistake in double counting. And then I call him to tell him I misspoke when I told you we can send it says okay, do your best because I made it publicly known.
Andy Slavitt 
Tough conversation to have with a world leader who's publicly committed, that must have been a tough call.
Albert Bourla 
No, of course. But he was a gentleman. I understand. You put me in a very difficult position. But what can I say, try to do your best. And then we realize that in the US, we had moved through the launch, 3 million doses that were manufactured in Europe, we have moved them to the US actually three and a half to the US so that we can enhance the large quantities in the US so that we can have more robust distribution at the beginning. So we had in addition to what we were producing Kalamazoo, we had three and a half million doses that were produced in, in Europe, Europe 3-4 weeks later to approve the product. Remember that happened all in December. So but the US Started vaccinations and it was not doing that well. So the first period, there were a lot of stocks sitting in our Kalamazoo facilities, because the US government was not ordering enough because they weren't, the whole distribution was not doing very well that I've spoken about January. Right. So really, they were sitting on themselves, the problem was that it was not allowed to send it, it was criminally against. But then this is when we realized that we have […] that were not manufactured in the US, because we couldn't send things that were manufactured in the US. So we use that opportunity. And we repatriated, basically back the 3 million dose to Europe and from Europe, we send them to UK. And this is how that was the result.
Andy Slavitt  50:48
I don't want to make too big of a symmetry with your life story. And I know you spent a lot of effort in your book to take the focus of visibility off of you and to the people that were doing a lot of the work. But it just struck me getting to these parts of the book, that all of these tough decisions you made, and reflecting on how narrowly your parents escaped. And how, how much you then I've been picturing you working things out with world leaders the way that some of the most fragile and important negotiations of modern history. So it's quite a reflection, quite a story. And of course, we know that and you talk about that when the results finally came from all of the work and the accelerated work and all the decisions you made. It all came down to the take, in many respects, like the Oscars the opening of a single envelope to say, did it work? Did it not work? And how well did it work? And that's it. We all know, at this point that history's said, which is that this is a highly effective vaccine, certainly against the wild type of the of the virus, and must have been an amazing moment.
Albert Bourla  52:05
And it was exactly as you said, it was an Oscar instead of the Oscar goes, it is the farm goes.
Andy Slavitt 
Right. So now you're a famous author. And so you're gonna write many, many books. Let's, say you write a book. This is my final question. Let's say you write a book in two years, in three years. What do you expect it to be about? And what of course I'm asking is, what are going to be the monumental events that you perceive since the close of the First Book to where we'll be next.
Albert Bourla 
Look, at my job, the purpose of Pfizer is to bring to the world breakers that saves patients' lives. The challenge is that nobody was expecting that they will bring something that will change so much the lives of so many. So the bar is really high. So I hope that the next one that will be wharfing mentioned, it will be something of similar impact to the world and humanity. I don't know if that will be in cancer. I don't know if that will be in cardiovascular diseases. I don't know if that will be in arthritis, but needs to be something that will have the same impact on patients' lives.
Andy Slavitt 
Well, thank you for coming out IN THE BUBBLE. Again, really, really appreciated the conversation. And thank you and your team for the continued dedication and work to all of our health.
Albert Bourla 
Thank you very much.
Andy Slavitt 
All right, thank you for sticking with us. And thank you, Albert Bourla, for all of the time you gave us. And I hope that this information is keeping you ahead of the curve. So coming up on Wednesday, very interesting show on what we've learned about the health care system in America during the pandemic and what needs to change. It's a very smart person, Ellen Lafon, who's an executive vice president at CVS Health, that a very smart clinician, with very good perspectives on this. But the other reason to listen to that show is we also have a conversation with someone who's just returned from the border of Poland and Ukraine, and we're gonna listen to some of the interactions he's had with some of the refugees there. Then the following week, we have Sir David Pryor, who is the recently retired chairman of the National Health System in the UK. And that's going to be an exciting show, as well. Look forward to those episodes, and I hope you have a great Tuesday. We'll talk to you Wednesday.
CREDITS
Thanks for listening to IN THE BUBBLE. Hope you rate us highly. We're a production of Lemonada Media. Kryssy Pease and Alex McOwen produced the show. Our mix is by Ivan Kuraev and Veronica Rodriguez. Jessica Cordova Kramer and Stephanie Wittels Wachs are the executive producers of the show, we love them dearly. Our theme was composed by Dan Molad and Oliver Hill, and additional music by Ivan Kuraev. You can find out more about our show on social media at @LemonadaMedia. And you can find me at @ASlavitt on Twitter or at @AndySlavitt on Instagram. If you like what you heard today, please tell your friends and please stay safe, share some joy and we will definitely get through this together.