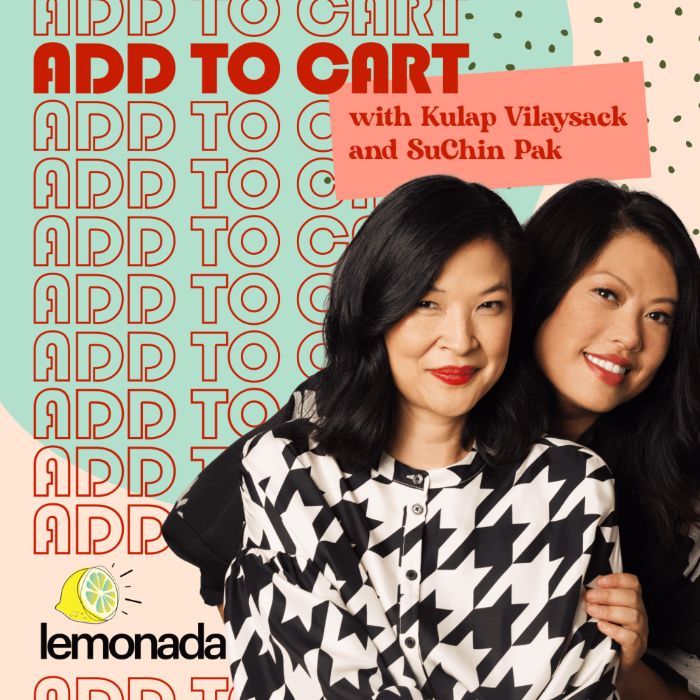 Parted Lips: Bouche Rouge, Bridgerton & Brightland
Subscribe to Lemonada Premium for Bonus Content
Description
READ FIRST: There are spoilers in this episode. But also, if you haven't watched Season 2 of Bridgerton by now…that's a little bit on you. Ku, Su, and Claire give their hot and bothered takes on the show. We also have gift ideas, gender-neutral clothing, and bra upgrades – normal eppy stuff, but honestly we really just wanted to talk about Kanthony the whole time. Plus, our first Sidebar with SuChin of 2022 with Brightland Founder, Aishwarya Iyer.
Please note, Add To Cart contains mature themes and may not be appropriate for all listeners.
To see all products mentioned in this episode, head to @addtocartpod on Instagram. To purchase any of the products, see below.
Stay up to date with us on Twitter, Facebook, and Instagram at @LemonadaMedia.
Joining Lemonada Premium is a great way to support our show and get bonus content. Subscribe today at bit.ly/lemonadapremium.
Click this link for a list of current sponsors and discount codes for this show and all Lemonada shows: lemonadamedia.com/sponsors
Transcript
SPEAKERS
Aishwarya Iyer, Kulap Vilaysack, SuChin Pak, Claire Jones
SuChin Pak  00:10
Hey everyone. Welcome to another just exciting titillating episode of ADD TO CART. This is a show about the things we buy and buy into what it says about who we are, how we're feeling. I'm SuChin Pak.
Kulap Vilaysack 
And I'm Kulap Vilaysack, and guys, right now we are on a zoom as we mostly always are. And our cameras are off because we're going to reveal to each other. We have applied a special project SuChin, what have we put on?
SuChin Pak
Yes, well, you know, the good folks at paint lab which is his company sent us some eye stickers, they're stickers that you know, you put on your eyes like eyeliner so you don't have to do the work. They're already done for you.
Kulap Vilaysack
And just a reminder, you know who's going to wear these, people who go to Coachella. I would say younger people. Who are not afraid of a crop top. Okay, here we go, in 3, 2, 1, okay, we're gonna have to get closer. We're each gonna have to go closer. I can already tell yours looks so much better than mine. Mine, I tried so hard, because, mine is coming out. It's coming off of my face. I cannot apply it. And I was like, you know why, Kulap. Why did you think you could do this when you can't do eyelashes? Why was this going to be different? It's like, I've forgotten my body and my face through the pandemic. Go ahead, I can take it. And then just real quick, like the listeners understand, then I was like, well, I'll use my Kostas blue eyeshadow to just kind of make something happen.
SuChin Pak  02:11
You looks more like you've got eyeshadow on. So you're blending the eyeliner sticker?
Kulap Vilaysack 
Blended, you know, I'm just camouflage in a situation that's not working out. And I didn't guess what didn't do the shadow right. So it just looks so janky I'll send you guys a photo. Actually, let me take it real quick.
SuChin Pak
Can we do a screenshot?
Kulap Vilaysack
Do you see how it's coming off my eye?
SuChin Pak 
Okay, so basically, these are stickers for those of us that want to try it like a crazy eyeliner situation. But, you know, aren't makeup artists. We're not at the set of euphoria.
Kulap Vilaysack 
I don't think that's right. I actually think it's not it's because it's not made to look like that. I think it's for people who want to put stickers on their faces. I'm not being funny.
SuChin Pak 
That's not a category of people.
Kulap Vilaysack 
My niece Dana is works in digital marketing. And one of our clients is Starface and they're pimple patches. And they do you like collabs with like, Hello Kitty. And you just leave it on all day and you walk outside. If you got a pin right middle of your forehead. This is a new thing. So this is a new thing.
SuChin Pak 
Paint lab eye stickers. I got mine. I'm wearing the so pink. And you know, I mean, I wouldn't wear these. But you know, there's a person out there these will work for, like they did a good job.
Kulap Vilaysack 
Oh, let me be clear. You know, we have to always circle back that it's not paint lab's fault. The things that I do, okay. Like, let me be clear. I'm grateful. And I'll be giving it away to younger people I know. Auntie will be giving it away to younger people who understand and get pull it off.
SuChin Pak  04:12
This reminded me of did you not go through a phase when you were in high school where you put scotch tape on your eyelids?
Kulap Vilaysack 
Why would one do that?
SuChin Pak
Oh, okay. It's because you have a double fold. So for Asians. Everybody knows what we're talking about, for the non-Asians, Claire just curious. Do you know what I'm talking about, the fold?
Claire Jones 
I know that you did this because you talked about it in a previous episode.
SuChin Pak
It's literally a millimeter of skin and the Asian folk are obsessed about it. We stitch it up. We cut it we go to plastic surgery. We put tape on our eyelids so a very like common, you know, middle school high school thing is, is that you put scotch tape like this to create the fold and then you paint over it with your eyeliner in black. This is maybe why I know how to do the eyelids, I'm like my eyelids are so juicy and heavy. These poor tapes are working overtime if you're the type of person who also loves to put on false eyelashes and like is really good at it.
Kulap Vilaysack 
It'll be fun. Well, this was a new way to open the show. And I think we'll be doing things like this. I think again, based on your guys' listeners reactions, I'm sure we'll do this again.
Claire Jones 
I love the reveals. I'm here for the reveal.
Kulap Vilaysack 
Claire likes the reveals. All right, we got one vote there. We are going to have a great show today I demanded of us all. We have other add to carts plus a new sidebar with SuChin, I believe for sidebar of 2022 and she is speaking with the founder of Bright land and you guys might remember the delicious olive oil company that we were first introduced to through our dear friend Jackie Johnson.
SuChin Pak  06:11
So let's get into it. Let's get into all of our add to carts this week.
Kulap Vilaysack
Su, I think I have something that you will like, I think it's something that you would love as a gift but you wouldn't buy for yourself what is that category. What do we call that?
SuChin Pak 
Luxury, it's expensive. It's beautiful. It has a quality to it, a regal a regalness.
Kulap Vilaysack 
Okay, so Matt McConkey boldly gave me a lipstick don't you think that's bold.
SuChin Pak 
That's bold, but there's Oh my god. That's so touching
Kulap Vilaysack 
He not only is it's touching, it's beautiful. It's gorgeous. He nailed the color. And he got it from a place called […]
SuChin Pak
Now what do you think made him do this just I know you guys know each other so well.
Kulap Vilaysack
This was he gave it to his girlfriends who organized and put together his bachelor party. So this was a lovely thank you gift, but hit […]
SuChin Pak 
Okay, I'm here.
Kulap Vilaysack 
It's the first French environmentally responsible makeup brand to propose clean formulas in refillable recyclable cases free from plastic. So number one, right away, it's French, Su loves it. It's clean. Su loves it. So what we got is a reusable case. So if you hit the Next link, you're gonna see the lipstick case that Matt picked up.
SuChin Pak 
Oh, it's leather. It's leather
Kulap Vilaysack 
And Matthew got me one that has my initials in it
SuChin Pak 
if this isn't a Mother's Day gift.
Kulap Vilaysack  08:05
Your mother-in-law. This is perfect for your mother-in-law.
SuChin Pak 
So perfect for my mother-in-law. I know that you started with my mother and then realize.. My mother-in-law, with okay, so you get the lipstick case it's stitched leather. And as you can put your initials on it.
Kulap Vilaysack 
You know it's 80 bucks for the lipstick case. I think this will last forever. So you pick the lipstick case, which comes in, you know, a dozen colors, you can add your initials for an additional $10. And then then you select your lipstick. You're refilling what you can refill at any time and he picked for me this gorgeous nude red.
SuChin Pak 
Wait, nude red. That's what it's called.
Kulap Vilaysack 
It's like my new signature girl color. Seriously.
SuChin Pak
And then it comes in a plastic free tube. And then you put it in the case.
Kulap Vilaysack 
What a good gifts for girlfriends for like he, truly bullseye. Matt McConkey. Truly bullseye. But I was like, Su's gonna like go crazy.
SuChin Pak 
This is amazing. And you know, for those out there who are maybe weary of choosing a lipstick color for somebody else. I have to tell you, I'm looking at this palette, and any of these will do. They're classic plums, nudes, reds. And then they have one I see on here it says choose your own color. So then you can kind of mix a color that feels right for you. Oh, I'm sorry. Are we doing a show?
Kulap Vilaysack 
I love that you're lost in this. This is exactly what I hoped and wanted because you know there are girlfriend's, mother in law's who, you know, it's a higher price point but you know, you know the gal in your life who will love this.
SuChin Pak  10:09
It's just an endless cart. You know, the universe is just so endless. And just when you think you've seen it, you get this from Matt McConkey.
Kulap Vilaysack 
You get this one prize. You get a game changer.
SuChin Pak 
What a classy dude and you put your initials on it. Oh, you guys must have been so excited to receive this gift. So sweet.
Kulap Vilaysack 
Su, what have you added to cart this week?
SuChin Pak 
Well, this week I've added to cart gender neutral dressing. Just some fashion items. You know, I like to keep a button to the top. The older I get the baggy or my clothes get the older I get the more gender neutral my clothing options. I get annoyed when I go on to a men's site and I love everything there and they don't have sizing that fits all women. So I'm going to give you two things that I have bought over the past few months that I highly recommend. So the first thing is this go ahead and click on number two the  Kidōriman pants
Kulap Vilaysack 
I love these.
SuChin Pak
Yes, I know you would. It's a Japanese streetwear brand. And they have a collection of pants. And they are in the harem style. A lot of them but they're basically Japanese inspired elevated sweatpants, which is in my mind right now everything. And so they're sizing because it's Japanese is going to be smaller. So all their men's stuff is basically I think women's sizes, you know, and I say women's and quote, You know what I mean? What traditionally you would have so if you whatever size you take is the size you should take on this like you don't size up.
Kulap Vilaysack  12:22
Let's hold on really quick because what I've just realized is that Su's making a transition between, she's moving away from her Amazon boys youth sweatpants and yeah, the transition is pretty smooth because as you guys recall SuChin being a tall drink of water in an any youth boys pant was often having sort of a job per like silhouette. Because they're too short for her and so she would pull her […]
SuChin Pak 
Headlines, get your papers, get your papers, five pens.
Kulap Vilaysack 
You guys saw that movie. And now we are, cool Japanese street wear. I didn't see this coming. I didn't see this corner. Here we are.
SuChin Pak 
Here we are. Now listen. Those Amazon sweatpants have now moved into another category. Those are my pajama pants now. Just fine, now what I love about these harem pants you guys that are listening couldn't go on to the site. It's hard to describe but the bottom of a lot of his harem pants are the ones I bought. Say for example, the gay loo harem pant. Yeah. Which was my favorite being how do you describe that […]
Kulap Vilaysack 
And how it would relate to SuChin, is that it would be impossible for any air or any sort of wind to go up into your leg. That's what how I would describe it for a SuChin Pak.
SuChin Pak  14:10
It's a tight ankle you guys it's basically the top of a hiking sock sewn on to the bottom of a sweatpant.
Kulap Vilaysack 
The way she is describing it is for Su but, I will, guys to the side, me and the listeners these do look really cool. Even though she's found a way to describe them in such an uncool way. They are very cool.
SuChin Pak 
I mean imagine my delight when I got these and I could put my hiking sock over the hiking sock portion of the pants.
Kulap Vilaysack 
Truly seal any draft.
SuChin Pak 
It's a bottom seal and a top seal. Zip on both sides.
Kulap Vilaysack 
I mean who wow it is a that is a controlled environment. How many have you purchased?
SuChin Pak
Oh, I purchased so many of these. So I'm going to give you the top two if you're just gonna dip into it. If this is your style, it would be the gay loo heron pant. Very nice, thin, beautiful cotton fabric. And then I got the pacu pants if you roll down in green, which is sort of like a skater pant. So that's the pant and you're right there, there have been shiftings happening in my wardrobe. And we're not going to get into it in this particular episode. But perhaps I am no longer wearing sock bras. I'm just saying. There's a there's a shift happening. It's spring time, spring time.
Kulap Vilaysack
Wow.
SuChin Pak
So there just have been a few shifts in my life major, major tectonic shifts that I am slowly sharing with you. And these pants are one of them.
Kulap Vilaysack  16:09
Just don't mind me, I just have to kind of process what's happening. But continue I'll catch up.
SuChin Pak
Now that I've replaced my sock bras with let me just say with my third love bras, we got codes and I'm realizing. What I'm realizing a few things. Fabric technology has changed, you know, the types of fabric that is now readily available to people in the lingerie category. I didn't know. I didn't know we were moving forward that quickly. You know, I was still thinking that socks and bras, you know, you get one giant elastic piece of fabric and then you cut some socks from it. And then you cut some bras from it. And I'm realizing that those fabric. Those two fabrics can be different. And they probably should be different.
Kulap Vilaysack 
Yes. That's interesting. That last part, you said that they probably should be different.
SuChin Pak
It's a different experience wearing a fabric that isn't a sock. It's a revelation.
Kulap Vilaysack
And just curious. Just, you know, just somebody who is you know, My browser Clydesdales. They're workhorses. They're rode hard and put away wet at the end of every day. And so I just want them you know, there's certain care for a bra that is not made of socks.
SuChin Pak 
Oh, really? Oh, shoot. Okay, I need to know this.
Kulap Vilaysack
We'll here's a couple things, you know, you should wash them. If you wash them, not hand wash, you put them in those little so that they don't twist. You don't want them twist. You get a little bra cage from really simple, super cheap. And then you have to air dry them. You don't dry them. Okay. And then, you know, and this other thing, maybe more so for my Clydesdales. You know, you let them rest in between wear, you don't wear him two days in a row. You let them come back to themselves after being expanded. Right? You know, you don't make the horses work two shifts in a row.
SuChin Pak  18:48
Oh, my groundhogs squirrels. They are just tiny little guys. Just folded into each other.
Kulap Vilaysack 
[…] make some sort of Brady Bunch type..
SuChin Pak 
Claire is back on screen.
Kulap Vilaysack 
She's talking about the left and the right you know, yeah, it's one and groundhog one. Most people, their breasts are different sizes.
SuChin Pak 
Listen, my right is a squirrel if you've ever seen one, just has a mind of her own. You know what I mean? Always very skittish. very skittish, but curious. Left one asleep. hibernating groundhog nothing, weeks are up. Nothing bothers her, deep sleep.
Kulap Vilaysack 
Gosh, you know what? Talking about undergarments and bras I think is just a great transition into what I need to talk about, what the three of us need to come together. For which is the Season 2 of Bridgerton.
SuChin Pak 
I'm gonna let, I'm gonna like Claire and Ku really take the lead on this, I did see it but I..
Kulap Vilaysack  20:04
I didn't see what you saw. She's got a different reaction. Okay, Claire. I watched I inhaled it in one sitting. The weekend it came out Claire.
SuChin Pak 
Slipped it like in like an Udon noodle.
Kulap Vilaysack 
That's right top to finish and sometimes I almost felt like I was gonna slide off my chair.
SuChin Pak 
You didn't even talked about it, you can't intro it that way.
Kulap Vilaysack
That's how I want to set this table. Oh, the dogs are upset.
SuChin Pak
They're like she's, mom is still slipping and sliding.
Claire Jones 
I haven't slept in 10 days
SuChin Pak
Because you're watching it or thinking about it.
Claire Jones 
I watched all of it on Saturday per Kulap's instructions for preparation for this because I didn't want any spoilers to happen. And initially, I was like, I'm gonna take my time. I'm gonna watch one episode every couple days really relish in this and then I was like, well, shit. I have to watch all of this before Tuesday, so I watched all of it Saturday night didn't go to bed until two and then I didn't even fell asleep until four because I was just panting, I was panting.
SuChin Pak 
Were you pawing at yourself?
Claire Jones
No. I was sharing the bed with my sister, I'm at home for my brother's fiancé's bridal shower. So, we're all in my parents' house and I was sharing the bed with my older sister and I was like, what am I supposed to do with myself right now?
Kulap Vilaysack
Claire, the next day, I watched the parts that I wanted to watch again. Two days later forced my sister to do a speed through of the parts that I needed her to see which started around episode I think four which is the […] and then basically and this is my you know, full review is I only want Kathani, get rid of everything else. I don't want anything but them there was not enough of them. That's what I wanted. And I want more of them. Yeah, frankly, I want more of them. There is you know Lady Whistledown can go away, the Featheringtons can go away. You know get them out. They spent way too much time. Too much time with those neighbors that I don't care about. I wanted the main couple and I wanted more of them. I want them to have more sex. I liked the slow burn love the slow burn. There is another there isn't another show. That is the most like I think a bodice ripper romance novel. And I find those two actors so gorgeous. And so fine. Like they're like Jonathan Bailey. The man is gay. And man is he a good actor? Oh, man. What I like to just curl up on John Bailey, Jonathan, Jonny, I don't know. I feel a bit with him.
Claire Jones
I could call him all kinds of names.
Kulap Vilaysack
All kinds of names. And she, Simone Ashley is exquisitely beautiful. My goodness. And her, just her skin tone and like how strong she is. Is there a lot to be desired? Absolutely. It is Bridgerton, I was reminded of like, oh right, season one was so stupid. I had forgotten that season one spoiler alert was about gist, and there was a whole thing about our lead actress not knowing about gist and nobody told her about gist, so this I liked because they were the leads were too, they were same level. You know what I mean? The power dynamic wasn't so of course he's the Viscount, okay, but like they went toe to toe which was like hate people who hate each other. A lover so I love that. What are your thoughts, Claire?
Claire Jones  24:23
Oh, I have so many thoughts. One thing I will say is that I did like Lady Featherington's r I'm a mother speech. That's all I'll say about that.
Kulap Vilaysack 
Oh, did we tell you guys that this was a spoiler zone. I don't know if we really spoiled much.
Claire Jones 
It's very hot. Yes. I think that's well known.
Kulap Vilaysack 
there's a lot of panting sign and breaking off. Faces come close..
SuChin Pak
So many heaving bosoms. I mean, just the heaving and the panting and the corsets. You know?
Claire Jones
A lot of I imagine like, someone like hot breath on your own on your mouth, you know where I'm like, I understand that moment, that's probably not that pleasant, but watching it very pleasant. Very pleasant. One of my strong opinions is that, Kulap, you sent your run of show list, and it was this link to a moment that is revered by all at this point, you're the bane of my existence, and the object of all my desire.
Claire Jones
And that led me to another sleepless night of just searching the Bridgerton hashtag on Twitter, and also rewatching all of my favorite moments.
Kulap Vilaysack  26:00
Claire, I feel like I've made friends there. You know, that's where I'm going. I'm going #Bridgerton, #bridgertonseason2, all the meme. It's a positive space positive.
Claire Jones 
It's a whole new community out there.
Kulap Vilaysack 
It really is clear. I'm with you.
Claire Jones 
I'm now going deep into spoilers here of some of my favorite moments of when he asked her to deny, like deny her feelings and she can't do it. Love that. The other thing I'll say is Edwina this, somebody else made this point that I'll just repeat. I can't claim this as my own thoughts. But someone made the point that Edwina's transition from this like very innocent, sort of naive person to being this extremely strong character who is just like, what the fuck everyone? Brilliant, brilliant acting. I thought her character was so good. And I think that I just really loved those two sisters so much, the charmer, amazing. Strong women in the lead and just, love. I just loved that they were lead characters.
Kulap Vilaysack 
I mean, do I say hashtag Khantini, do I wish Kate had a little bit more of like an inner life and not you know, we got to see a little bit more. And that's what I'm asking for season three Bridgerton writers.
SuChin Pak
Is it a different siblings?
Kulap Vilaysack 
Benedict but like again, there was a lot of real estate given to the Featheringtons, #fuck the Featheringtons, know what your people want.
SuChin Pak 
Kulap's eyeliner stickers flapping in the wind. it is just fully on for the ride.
Kulap Vilaysack 
Let's hear not enough sex for you.
SuChin Pak 
I mean, thank you. You said them. I mean, listen, I can appreciate like, a bit of foreplay.  Who doesn't love a little, you know, a tweak and a pole. You know what I mean?
Kulap Vilaysack 
We weren't getting that though. vibe. Don't want the people haven't seen it. You re-unite you're getting a tweak or a pole?
SuChin Pak  28:12
And so for me, I was confused. If you're watching season one of Bridgerton you're like, Okay, this is mild, mild turn of the century porn, you know, and that's fine. And so I kind of was a little confused. So, but I get it, I understand the slow burn. I think though, the fun of season one was just the over-the-top ridiculousness. I took nothing seriously. You know, all those sex scenes were just like, over the top and like you said bodice ripping. And so there was something like kind of fun in that and this one just felt more like oh, I have to actually take the writing seriously. And you know what I mean? That's not where my son..
Kulap Vilaysack 
Is that where you want it, and like this time and of course I like it because it's oldest sibling duty porn plus trauma. Plus, you know, what I would say Su and I feel you and I understand that like I enjoyed the burn between the lead couple but like why people around them could be having this bodice ripper sex, which was happening in season one, like, we could have you know, like..
SuChin Pak 
It really swung the other way. But like you said, the female characters are so much more interesting the die I mean, in terms of actual show and the content it's so it holds together so much better. You know, it's more of like a Jane Eyre type of novel series, versus what the first season was was sort of a caricature of everything. So I think in some ways, had I kind of known that going in I wouldn't have been so confused. I'm like, so there's no sex in this. I'm like, huh? Okay, and I kept.
Kulap Vilaysack  30:06
But maybe like this was that like, what was so smart of it? It's like really, so next episode will be the sex? Next episodes?
SuChin Pak
Maybe the focus was so much on the sex the first time. I just wonder if like, in general they were like no we, in season one we're like no we did what we set out to do which was like make a huge hit, but maybe all people are talking about is the sex scenes and that is something that maybe they learned from and went a little bit to the other side of it. That being said, it's a very sexy series. You're still gonna get, you're gonna get all the feelings like it's there.
Kulap Vilaysack
Speaking of delights of the mouth. We will get to our sidebar with SuChin.
SuChin Pak
So excited to do another sidebar. This is SuChin pock and my guest today is the founder of Brightland, Aishwarya Iyer. Now Kulap. And I first heard about her beautiful olive oils and vinegars from Jackie Johnson from […] podcast who bought this on her Add to Cart and just talked about how gorgeous these products were. You know, she talked about these olive oils as if they were a fine wine. And I was so curious, because I had no idea that someone could be that passionate about olive oil. Well, since then, we have not looked back, right? And one of the reasons why I wanted to do this sidebar is because there are things about olive oil that I am sure most of you are going to be shocked by, I was when learning about this. So let's get into it. Let's welcome Aishwarya Iyer to the show, Aishwarya, welcome.
Aishwarya Iyer  32:13
I'm so jazzed to be here.
SuChin Pak 
You know, I want to make sure when I do these types of interviews, that it's we're talking about a little bit of education first, and then the product. So I know that there's so much information out there and it's hard to distill it into, you know, just a few minutes. But I wanted to get into what does it mean, when you say an olive oil is fresh or it's not fresh? And then why it's so murky, you know this industry and what you wanted to personally tackle with Brightland. I know that's a lot you can kind of take it, we can take it step by step. And just tackle the whole freshness part of it, because I think that that's fascinating.
Aishwarya Iyer
Yeah, it was fascinating for me, too. When I started digging into this industry and this ecosystem, olive oil and wine are very similar in that terroir and region and provenance matters. The types of olives matter, just the way the types of grapes matter in terms of how the olive oil or wine will end up tasting all of those things. It's very nuanced at the end of the day, so there's a lot of beauty. I think the biggest difference between wine and olive oil is that wine everyone talks about oh my god, it gets better with age. And with olive oil. Freshness is key, freshness means that it has the highest amount of polyphenols which is sort of the calculation used to determine how heart healthy, how antioxidants like all of the like health benefits. It all comes back to freshness. And so the way to determine that or the way to like, you know, kind of make sure that our olive oil is fresh is determined around how it was made when the olives were picked, how long the olives that were picked, were waiting to then get milled and made into olive oil, how they were stored temperature so the biggest enemies for all of our light air and heat and thyme. And so how have they been stored? How are they then bottled when it's time to bottle so all of those considerations end up affecting this overall concept of freshness. And then at the end of the day, once you open a bottle of olive oil, it is in your best interest to use it pretty quickly. And I'm not just saying that because I have a company that sells olive oil but truly for it to maintain its freshness.
SuChin Pak  34:40
So let's talk about bright Linde. Let's talk about the whys of the olive oils where it comes from the process of it. I mean, once you hear about how this olive oil is so lovingly put in this jar, it is really hard to go back. It's kind of like once you take that pill, you're like, oh, I know too much. I can't not buy, you know, really, really good. Like you said high quality olive oil, which I use probably in every meal that I eat, you know. So let's talk about Brightland.
Aishwarya Iyer
Yes. 100%. So we make really incredible olive oil that comes from California, we partner with small family organic, incredible farms that are in the Central Coast. So Paso Robles, Atascadero, Templeton, California, in the Central Valley, you know, and we work really, really closely with these farmers, I'm really excited about what we're doing. Because not only are we putting really amazing products out there into the world, and we're also shining a spotlight on these small California producers that candidly have been suffering quite a bit, they don't get the large scale of sub subsidies that large agricultural companies do. And so I think it's been a pretty tough the last decade or two has been a bit tough for the industry, I'm really excited that we get to support and champion these, like, wonderful, you know, these are like husband and wife, mom and pop, you know, farmers and farm families that we get to support. And then beyond that, what has been this is just a happy coincidence, honestly, that this is happening, but because of our growth, and because customers love the product so much. We have now our farmers have planted over 30,000 new olive trees in California. And the importance of this beyond, you know, oh, they're planting trees, that's great. Olive trees are actually extremely drought resistant, and really healthy for a sort of a drought infused climate like California, they're really good for the land. And so it's been really amazing that indirectly, the more people that you know, are excited about Brightland and buying Brightland products, you're then kind of championing and supporting and being land stewards for our beautiful state of California and for our for our country. So that's been a really lovely byproduct of all of this.
SuChin Pak 
you know, you're doing something that you're meant to do when pieces just fall into place that you had no idea that, you know, when you started out, like I had no idea that that was going to happen. And, you know, you kind of, you know, listed all the ways that you know how this olive oil is made and how it impacts the world around us. But I mean, to say that your olive oil, the olives are picked, and then within 50 to 90 minutes, you know, it moves on into the process. I mean, that is so key, right? When you're talking about taste and all the foodies out there. And like you said, olive oil is such a staple. But not only that, you know? Yes, they're in beautiful bottles, but those bottles also serve a really important function to how fresh the olive oil is. Right? So talk about that.
Aishwarya Iyer  38:01
Yes, absolutely. So yeah, I think people are like, Oh, the bottles are so beautiful. And I call it the Trojan horse, because at the end of the day, yes, they're beautiful. But they are coated with an organic coating to protect the oil inside. Because as we talked about earlier, one of olive oils biggest enemies is light. So you know, when I see bottles of olive oil at restaurants or even there are some brands that sell them in clear bottles. I'm always floored because you are that oil is going rancid within a week or two if it's exposed to light in that way. And so we really go above and beyond to make sure that the oil is protected from start to finish.
SuChin Pak 
I just to me, I would you know, I'm not like a huge foodie. And so tasting a different olive oil. I just thought that wasn't something that I needed to get into, you know, like, I'm not a wine drinker. And when Jackie who does this podcast called […] came on and she just was going on and on about this. I was like I have to taste this. And the taste is so completely different. I never knew olive oil had a taste. Yes, but once you taste these products, it's really hard to turn away from them. So I'm so excited to, to share the story and, and to really kind of educate people on what they're consuming. You know, like, that's really important. You know, and I love doing that.
Aishwarya Iyer
It is, at the end of the day, it's all about being a bit more mindful and then enjoying what you're eating. So I'm so delighted. I'm so happy to have to have been here and yeah, I always say you know, there are bright moments ahead.
SuChin Pak 
Awesome. Thank you so much. And thank you so much for being such a great supporter of the show. And we just love your products. We love the philosophy so it's Like an Add To Cart all the way around. It feels so fantastic. Where can everyone find you?
Aishwarya Iyer  40:06
The website is BrightLand.co, our Instagram is at @WeAreBrightland. And my Instagram is at @HelloAishwarya. And yeah, we'll see you on the metaverse.
SuChin Pak
Thanks Aishwarya, thank you so much for sitting with us.
Aishwarya Iyer
Awesome, thank you so much.
Kulap Vilaysack
All right, that's it for this show call us and let us know which scene of Khantini was your favorite? Was it when he said that if he was to […] Edwina that he would you know, basically think every day about her until his gentlemanly decorum fell apart and then you know, was it that, I don't know you tell me 833-453-6662.
SuChin Pak 
Follow us at @AddToCartPod for all things we added to cart and to find Brightland on Instagram as well.
Kulap Vilaysack
We'll be back next week.
CREDITS
ADD TO CART is a production of Lemonada Media. Our producer is Claire Jones and our mix is by Ivan Kuraev and Veronica Rodriguez. The music is by Wasahhbii and produced by La Made It and Oh So Familiar with additional music by APM music. Executive producers are Kulap Vilaysack, SuChin Pak, Jessica Cordova Kramer and Stephanie Wittels Wachs. Be sure to check out all the items we mentioned today on our Instagram at @AddToCartPod. Also, please take a moment to rate, review, and subscribe to the show wherever you get your podcast.