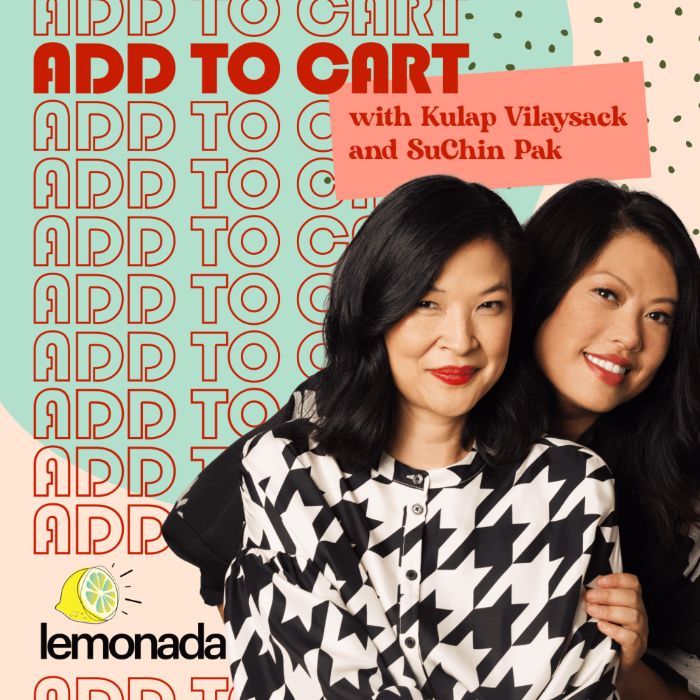 Practical Holiday Gifting with Santa Paul Scheer
Subscribe to Lemonada Premium for Bonus Content
Description
It's November 2nd. All of Ku's Christmas trees are up, and it's time to start rolling out holiday shopping guides because we shall not be beaten by the DISRUPTED SUPPLY CHAIN. We're starting off with listener and host favorite, the Renaissance man, Paul Scheer. This year, his list is extra thoughtful and leans a little more practical, but who doesn't love a gift they'll actually use?! Maybe get a keyboard out this time…Paul's list is long! No time for pencils!
Please note, Add To Cart contains mature themes and may not be appropriate for all listeners.
To see all products mentioned in this episode, head to @addtocartpod on Instagram. To purchase any of the products, see below.
Stay up to date with us on Twitter, Facebook, and Instagram at @LemonadaMedia.
Joining Lemonada Premium is a great way to support our show and get bonus content. Subscribe today at bit.ly/lemonadapremium.
Click this link for a list of current sponsors and discount codes for this show and all Lemonada shows: lemonadamedia.com/sponsors
Transcript
SPEAKERS
Paul Scheer, Kulap Vilaysack, SuChin Pak
Kulap Vilaysack  00:11
Hi. Do you hear that, jingle, jingle. It's another episode of ADD TO CART, a show about the things we buy and buy into and what that says about who we are. I'm Kulap Vilaysack.
SuChin Pak 
and she's trying to keep her chill guys. I hear the stress notes. I hear it in your breathy, your breathy undertones. I'm SuChin Pak. Guys, this marks the beginning of our official holiday programming. Now we've talked about it before but this is it. This is the official cuz, because guys blockchain okay, I don't know what it means I just know the stuff is not getting.
Kulap Vilaysack 
The supply chain guys, you've been reading the articles you've been hearing and seeing the news, you guys. My trees are up. My trees are up right now my decor is up. Right now it is November 2nd. And you friends are too late. Too late. Okay? I don't see enough of you guys panicking.
SuChin Pak
Just move to Valentine's, you've already missed it. You know, this isn't happening for you this holiday season isn't happening. Cut out hearts, start cutting out hearts. No suit.
Kulap Vilaysack
That's not what I mean. What I'm trying to say, folks, is that I need a little more hustle from all y'all could and I'm doing this out of love. Because come dec one, you're gonna be in trouble. Okay, so luckily, we're bringing on a very special return guest to give you some practical and thoughtful holiday ideas.
SuChin Pak 
And boy, does he have a list and I dare I say that it's not his brand. But it was a bit deranged and chaotic. And it was delicious. Every moment of it.
Kulap Vilaysack  02:10
And we'll give you a teaser guys. It's Paul Scheer. And he is a little deranged and chaotic in the best way.
SuChin Pak 
Oh my god. I just I love that man so much. All right, we also have another update on our Anniversary Giveaway. It's so fun guys. Because I'm staring at the giant box filled with our favorite things. Just, it's so hard not to paw through this stuff, you know? If you get some stuff and the corners are a little bent. And maybe it's opening up a little too easily. It's cuz I've been peeking at it, I've been handling it, it's got some of my juice on it. But it's okay, cuz you don't mind that. So you know that we're doing an anniversary giveaway. But what you don't know, is the other little fun twist we got on this, because so much of our show is about friendship. We want to know who is the Ku to your Su or the Su to your Ku, who is your BFF? And why? So get excited because this giveaway is not only for you, but it's also for your BFF, there's two, two boxes going out to the winner, will give you details on how to enter to win the giveaway for you and your BFF very soon. And the only thing you need to do is to follow us on Instagram at @AddToCartPod for the full details. Oh, this is exciting. We're going to be releasing all the details and how you can enter and it's going to be simple. You know? We're not going to make it complicated. You've seen our journey with reels.
Kulap Vilaysack 
Add to carters, Su and I know what to buy the ladies in our lives. We certainly know what to buy ourselves, right Su?
SuChin Pak  04:05
Oh yeah, I've been doing that a lot.
Kulap Vilaysack 
A little trickier to buy for our husbands, for the fellows in our lives. Luckily we are welcoming back a holiday shopping guru and gentlemen to the show. He's an actor, comedian, writer, producer, director and dear dear friend, he has the knowledge to fill the underside of any Christmas tree with a male perspective. Get out your pens and papers. And please welcome back Santa Paul Scheer.
Paul Scheer 
What is going on? So excited to be here.
Kulap Vilaysack 
I mean, it's so good to have you back.
SuChin Pak 
It's full circle, isn't it? We're approaching our one-year mark. I mean, we just wouldn't have it any other way.
Paul Scheer 
Well I am so happy to be here and I will tell you the pressure I felt about this appearance. The first time I could speak from the heart now the second time I feel like I need to like put up or shut up and I you know; I hope I can bring some good ideas to you.
SuChin Pak 
Oh, is it because of we won so many awards?
Kulap Vilaysack 
Paul, I'm going to quickly put on my seatbelt because I took a brief look at your list. And I know that I need to be taking notes. Even though this is being recorded.
Paul Scheer 
First of all, one thing I didn't put on the list, but I'm sure has been talked about in the show a lot. And this is a big-ticket item. So I don't know where we all are in finances. It's probably not an item that I would buy. But I know that you probably have a lot of people that you know have the big bucks because you got this nom nom audience and we've talked about electric bikes on the show. I mean, I didn't want to be you know, redundant. But I will just say that is probably a primo, great gift for someone in your life. I don't think you can go wrong. I think you can maybe go right, more than others. But I think that an electric bike is a great like big, big-ticket item.
Kulap Vilaysack  06:22
We have the same bike in a different color story. And that is vintage electric bikes. And I love I love a super 73 bike; I have both bikes.
Paul Scheer 
The Super 73 is a very cool bike because it can do a lot more minimizing it right like off roading stuff. It's got a bigger fatter tire, where like the other bike, the vintage bike is a little bit more of a city bike.
Kulap Vilaysack 
The major difference is that you can throttle, you don't have to pedal assist, you can truly not exercise at all.
Paul Scheer 
And you see I like the pedal assist. I like feeling like I'm doing some work when I bought my electric bike during quarantine. And where Kulap and I had our thought that maybe form a bike gang, which was about a year ago, the guy said to me, you will feel like Superman because your simple pushes will make you fly forward. And I liked that feeling that I'm in some sort of control. Even though it's unrealistic. I'm going too fast for my legs.
Paul Scheer 
So let me go down my list here a couple things. I want to go to one very niche world. If you have a bald man in your life, a bald man. I am a bald man, if you have a bald man in your life, a great stocking stuffer for your bald men is from this company Mantl. Mantl is a company that is for bald men created by Karamo from Queer Eye For the Straight Guy.
SuChin Pak 
What an enterprising young man.
Paul Scheer 
And it's what I'll say about this is it has certain things that he didn't know that I need and now that I have them I'm like oh right. This makes sense. Like I need some bald man products that have some care, some scent, but not overwhelming. It's good and one of the things I will recommend very much is I love these. They're like oil wipes. A lot of times you can get shiny, this sick little wipe I know women have these all the time, is up dab a little dab on your head and all of a sudden you're not shiny anymore. You're going out you're doing a little thing. You're going on a Zoom meeting, dab yourself down real quick. You look great. You're not shiny anymore. So Mantl that is where I'm saying for the bald man that's a stocking stuffer for a bald man they have yearlong subscriptions they have a lot of different stuff but I think that would be a nice like, oh, you thinking about me? It's not like a big gift but it's a nice little gift.
Paul Scheer  08:51
Alright, stocking stuffer number three is anything by the company Anker. So Anker is I love them. They are the way to charge your phone on the go. But more importantly I just got this thing that has come in so handy. It charges your computer. On the go. You can plug your computer right into like an anchor, little device. They have all they have everything, everything you could possibly ever want for charging or on the go. They're small, they're compact, they can do it all, they can charge an iPad, they can charge an iPhone, they are lightweight, they're super great. And when I meet a person who has Anker stuff, get Anker, we know, we got it. But I will tell you that plug is clutch it's so clutch if you don't if you get into those situations where you don't have a plug or you can't get to a plug and you know you're going to be out I don't use it all the time. But there are certain moments where I'm like, oh, I'm going to be kind of hosed here. I'm going to be in my car for a bit. I can't get my computer charged up whatever I need. That has been great, airplane. I can't trust that thing that's gonna work in between the seats all the time. It's sharing power through the whole airplane. Give me one of this guy.
SuChin Pak  10:11
Okay, there's so many products on here. What are your sort of […]
Paul Scheer 
You can't go wrong with an anchor. I guess it's all about what you need what you want, right? It's like, I don't know what your lifestyle is. But I'm going to tell you, they got like, wherever you're going from small little chargers to hubs and docks, they got it all. But even their power station is incredibly small. It's like, they got these big ones like for the house, don't worry about that. But I just say like, just kind of like, I would look under portable power. If you go to the website. And it is a great like, I keep one of my backpack at all times ready to go fully charged. Anker, again, small gift. This is just a whatever.
Kulap Vilaysack 
Small thoughtful gift.
Paul Scheer 
This is a thing that I have come to love. So I met this man, who was a? Well, I mean, I don't know Kulap, I think we talked about him a little bit like I think, I think he's a healer. He's a body worker, he's a something. And he went over my body. He used some electrical charges. I get into this in another time, but he was able to articulate and find places in my body that were that basically, I didn't even no need to be loosened up. And it made a difference in the way that I walk and the way that I feel. And one of the things that he gave me was this mobility ball. And so I'll talk about this mobility ball. It's again, stocking stuffer, small gift, again, to the bigger stuff. This is like a little, it looks like a tennis ball with a base.
SuChin Pak 
Already adding to cart, don't even know what it is, already adding to cart.
Paul Scheer 
what you do is you put it on the ground. And then you find that part on your body that you need like a pressure point in. So it's got that like lacrosse ball or tennis ball, like feeling. But you can get in so deep to like a part of your body that is not good. And I've used all the things that get in the way. Yes. And this, this because it's not moving because the bottom kind of is flat. It just kind of sticks to the ground like that. And you can get, you could just get in there, you get in there and it's for your neck, through your arms for your legs. But if you're getting on your feet, it really feels good. I mean, I'm also all up in this toe spacer, but I'm not going to get into that.
SuChin Pak  12:34
Wait, wait, wait, wait, wait. I have had toe spacers in my cart. Okay for so many years, and so long and I have gone in deep in and then I get scared and I come right back out. Do you have a toe spacer recommendation Or do you recommend toe spacer?
Paul Scheer 
I have toe spacer, toe spacer? I see a lot of generic toe spacers out there. So I'm going for the like the actual the toe spacer. Like I'm not fully, like ready to give you the full recommendation is it's still early days. And I was nervous about it. And I was like no, wow, this actually is pretty interesting, I think is actually really good when you're doing some sort of muscle work. Like if you're doing like, squats or you know, if you're using it to complement your exercise I think actually is really good because it helps you bounce out noise out. So I Paul, but let me tell you the first time I put it on first, the first time I put it on, I put it on while I was sitting in bed with my kids, making them go to sleep. Okay, and I was like this is nothing and then after 15 minutes is like oh wow, this is something.
SuChin Pak 
Yeah, by the way. They tell you lots of times that it's used for exercise, let's say leggings, sports bras, have all you know, I have all that stuff. Okay, don't need to do with it. No need to do that toe spacer. Okay, I'm gonna try this out. I'm really interested in this, my feet.
Paul Scheer  14:00
It's cheap enough to try because it the toe spacers like I think like 19 bucks. Like that's it. That's all you need. Just try it out.
SuChin Pak 
I love when we just kind of go a little sideways on this list because there's a lot in life.
Paul Scheer 
Alright, well, we talked about the bald man gift. Now I'm not like a big. I'm not rolling joints. I'm not like that's not my thing. I'm not like a hardcore weed smoker. But yeah, I can appreciate weed smoking technology and this thing. Yes. I have now given this to a handful of people and they've all been like, yeah, you're in you have to find it on Amazon. It's called a spice grinder because I can't say it's a weed grinder. Right. So it's called the electric smart urban spice grinder. It's auto by banana brothers. And here's the thing. You put your weed in the top, you hit a button. it crumbles it all up and then literally filled A roll joint. Like you put that. So you put your pre rolled joint in there without anything in it and it sticks in. And then you that […] it just fills up. So it's like you just put the weed in the top you hit a button. It's like a pepper grinder, and it just fills up your joint.
Kulap Vilaysack 
That's genius. That's genius.
Paul Scheer 
Everyone I've talked to has been like, wow, I've never known I don't know how to roll a joint. I don't know how to do this. I can never do it. I want to this just takes it's this is like an electric wine opener. But it just literally is built to fill a joint you put the roll there. It's great.
Kulap Vilaysack 
I mean, it really does look like a kitchen appliance.
Paul Scheer 
It doesn't look it doesn't feel aggressively, like we're gonna weedy or anything like that. Yeah, it's really simple. Easy. There it is. I'm all over the board. But here's a gift I will give to people that you don't know super well. Or like I think it's a good parent gift. I think it's a good like even grandparent gift, uncle gift. And this is a year membership to the criterion channel streaming service. I love the criterion channel. Like they are basically a smaller streaming service that has all the criterion films but they do beautiful mashups like they have, you know movie nights. So they have two movies back-to-back, they'll have like, you know, Martin Scorsese will kind of introduce a film that you'll be watching. Like, it's a very curated, cool, like a movie club. But it's a streaming service, it's not that expensive to get a year subscription. And you can find like, you know, right now I'm looking here, it's like, here are three films that are scored by Curtis Mayfield, here are three documentaries about resistance. And every month they do different things. So like right now, they will be kind of focus, whatever the holiday is, they kind of cater it towards certain things like that.
Kulap Vilaysack  17:07
This is for the film lover, the film aficionado.
Paul Scheer 
And the truth of the matter is it's like it's they have a lot of stuff that you can't get anywhere else that you can't find anywhere else, it will always give you something to watch, because it's all from all around the world. And they have stuff like from, you know, the original like Wolf Man, to Jennifer's Body.
SuChin Pak 
And this is also for someone who has everything, you know that person in your life where they just don't want more stuff. You don't I mean, they're good. They want to pick out their own stuff, or they just have everything. So there are a few people on my list that every year I'm like, what am I? How creative am I getting here? Yes, and this is something that, that type of person would love.
Paul Scheer 
you run the risk of it being one of these gifts, it's not going to present great. But you have to kind of just say, I don't know if you if you'd maybe put it in a card and kind of explain what it's going to be because it's going to present light, but it's going to be one of those gifts. And I've given this gift where people like a month or two later will call me like I am in love with this.
Kulap Vilaysack  18:09
Here's an idea for a better presentation. You do make some sort of printout, like you're saying onto a card. Yeah. And then you put it with like a popcorn maker or a bag of nice popcorn or spice grinder.
Paul Scheer 
There you go. And if we're talking about Movie Night, we got to talk about some of the popcorn poppers I didn't even on my list, but I mean, like, I'm all about trying to find the perfect way to pop popcorn. Alright, so look, what you need to do, is you need to get flavor coal, this is the real shit. It's gonna be that popcorn, butter and salt that you crave so much, it's not going to be healthy. So the method is this, three tablespoons of coconut oil, 1/3 cup of kernels, a half teaspoon of this flavor coal which you can get on Amazon. And then you can get this you know the butter that is not really butter, but it's like a little happy guy on the front. It's called like Colonel season's movie theater, popcorn butter and it's just like yellow in a small little thing. And you put that together and it's like you're at the movies. It's one of the best experiences.
SuChin Pak 
So what's the one that you use?
Paul Scheer 
I use the West Bend stir crazy electric hot oil popcorn machine. Alright, so the West Bend 825-05 Stir Crazy electric hot oil popcorn popper machine, which is basically the same thing as really pop that's automated and you don't have to do it on the stove. You put it on the counter. And then when it's done you just flip it over and then your popcorn is already in the bowl. And you can put butter on the top and it melts into the popcorn as its pop.
Kulap Vilaysack 
Hell yeah, Paul Scheer. Hell yeah.
Paul Scheer 
Oh, wait, I go. Now it's only it's like oh less than $40.
SuChin Pak
Oh, it's 30 bucks, $26.99 on sale at Macy's right now guys. And how many times just out of curiosity a week are you popping popcorn?
Paul Scheer  20:01
You know, we got into a thing with popcorn in this family where the kids like movie nights so we'll do a movie night. So I would say maybe once a week we're doing popcorn. You build a little tradition around it. We're making popcorn. We're eating the popcorn. You know, it's like..
Kulap Vilaysack 
It's very sensory.
Paul Scheer 
You're sitting back. You're having a good time. All right. I think we've been in a year where we have done a lot of self-care? We've bought the things that we want. So I'm going this year in these bigger ideas. And one of the bigger ideas is I am a fan of Las Jaras Wines. Eric Wareheim, is the co-founder of this wine company. And they do a very simple, like wine of the month club or wine of the month season. Four bottles, you're not getting like 12 bottles, you're not getting inundated in the wine. And it is really good. Eric also has a really nice cookbook that just came out called Food […] that the recipes are fantastic. And all their wines are very unique. And basically, Eric is a big food snob and a wine snob. So this is coming from someone who's curating their own kind of wine. They're really delicious. They like a strawberry wine. That's amazing. And it's a little bit different than your normal wine. And if you have someone in your family who is a fan of Tim and Eric, it's even a better yeah, you know, a better thing and that all the labels are designed by this amazing artist.
SuChin Pak 
I don't even drink wine. They're so gorgeous, you guys. I've never seen wine labels that look like our art pieces.
Paul Scheer 
And here's what I'll say. This could be one of the things that you bring for a holiday party because people will remember it. You get a couple of these right now. Get your strawberry wine, get your glow, glow, you know, and they'd sell these big, big ones too. They have like these big party bottles as well, like magnums? Yeah, like magnums. Yeah, That's great. Again, I'm not a huge wine drinker. But I like for every quarter. My wife doesn't drink wine, so I can't open up or she doesn't drink red wine. She drinks something called butter. The label is literally called butter. That is the name of the wine, butter. If you do like a nice cookbook, and I think a cookbook every now and then is a nice gift as well, depending on the person is I just gave. I have a friend who makes pizzas. He loves making them he's an expert at it. And I gave him this book this Pizza by Emily which is like one of my favorite places in New York City. And he made their pizzas and wrote me as eating. They're like they were amazing. And the like so that's like, again, if you like I was gonna recommend a stone pizza thing that I pulled back from that. I was like, I don't know. I don't know it. But that's a very specific thing. Food […] is a weird cookbook that I think people like and I also recommend Courtney McBroom, who is a great chef. And she has a book out called Divine Your Dinner and Divine Your Dinner is this amazing book that she created as a tarot card sensibility to it which is really interesting, it's so it's a cookbook using Tarot as your guide to magical meals.
Kulap Vilaysack 
This is very good.
Paul Scheer 
We're going out we're going on, you know, on the sides, we're going on the sides here. I right down the middle. Easy. One is this marvel big book. If you have a fan if you have a guy in your life who is really into the Marvel MCU as I am, this is a giant, giant ass book. It reminds me of like those classic Star Wars J.W. Rinzler books that are just beautiful to look at. They have all this access and they get every one of their stars to talk and it's all these behind-the-scenes stories that you've never heard about it. It's like the definitive story of how the Marvel Universe came. It's very candid. You get to hear all these stories about how they sabotage Spider Man three with Andrew Garfield to make sure that he could come into the MCU and how you know Kevin fight he couldn't use ghostwriter and all the like machinations it's all out in the world at this point. And it's a beautiful like it's a giant ass coffee table book.
Kulap Vilaysack  24:30
Scott has already read it. He texted me some of the salacious tidbits that I would be interested in. Paul, have you gotten into it yet?
Paul Scheer 
I haven't gotten into it, into it yet.
Kulap Vilaysack 
Yeah, one just surprising. Scott says it's just riddled with typos.
Paul Scheer 
Wow. Now that's interesting because I feel like they were rushing this out for a Christmas release and I feel like that they were just like, You know what, we got to get this going like we did our best. We did our best. We live in a culture where people are reading shit online. So let's get it out. And if you like that comic book kind of stuff. I'm a big fan and Kulap I believe you are as well. We both like at Ed Brubaker, right? Yeah. And Ed Brubaker has written this comic book series that I've really fallen in love with in the last year. It's called Reckless and Reckless is essentially, like a great detective story. It's like Columbo or Magnum PI, or, I mean, it's a lot edgier and harder than that. It is just a fun, easy read. For someone who likes that kind of stuff. It's like every book is like a hard boiled, like Noar this guy, he's basically a young attractive guy. Think of like a really muscular. Not Paul Newman, but uh, oh, wait, I'm forgetting his name. I'm forgetting everybody's name. Who's the guy started Sundance?
SuChin Pak  26:03
Robert Redford.
Paul Scheer
Yeah, a muscular Robert Redford, who lives in an abandoned movie theater who takes on cases, each one of them is like a mystery of the week. Like you can't put them down books. And there's three of them there. And again, it's a fun little book that people may not know. And because it's not coming out as a comic, it is just coming out as a hardback. They look beautiful. The books are absolutely stunning, they're gorgeous, and takes place in the 80s in Los Angeles. And it's really, really fun.
Kulap Vilaysack 
This is in the category of true graphic novels. Where you are getting it is high art in both words and art.
Paul Scheer
The other thing I want to talk about and this is, you know, I'm a big fan of this. And I'm a big fan of this company called Cooks. They basically do these cast iron pans. And I've been into cast iron pans for cooking. And, again, this is not like a sexy gift. And I know I talked last time, like get the PlayStation, get the thing. This is my agenda this year, which is like we've had a lot of time I know you like to cook, here's a really nice grill pan. I'm a big fan of Lodge, Lodge is an amazing cookware company, they have these amazing, really wonderful cast iron pans, grill pans, regular things that you could use on the stovetop, it's gonna be better than a that nonstick bullshit that everyone's getting sick about. And you got to clean it, yes, but the flavor stays in if you're a meat eater, and people say that, like they can make your food better. Because if you cook bacon in there, then all of a sudden you're cooking a steak, the steak is gonna have some of that bacon in there, you're making a burger, everything's kind of coming. Yes. And I like a grill pan. Because, you know, sometimes I'm not gonna get out to my grill and I want to make a fish. And I want to grill it on there.
Paul Scheer 
And get those marks on there, you want to get this sears, you don't want it to be all on the surface all the time. But it's very easy to maintain, you're not going to basically as long as you keep a nice coating of oil on it, you're going to be in good shape. So those are a handful of things. But I'm going to end with two of my favorite things. One is the Thera gun, that one that you can hold in your palm is actually incredibly effective. I, look, I have tension in my neck and shoulders. I hold myself in a weird way. So I want to get in there and want to work this thing. I was out walking my dog last night at some extra neighbor literally walking his dog with the Thera gun on his leg. Like he's just like, massaging his leg and walking his dog. It's a very portable thing. You know, but it's a great way to also say to your partner, I don't want to give you a massage, but I can give you this or I'll use this on you, where does it hurt and then it'll have to be there like crank and crank and crank and crank and I don't know what it is. Maybe I'm wrong. I'm married now for a handful of years. I love my wife; I love everything about her. But sometimes like if I if I don't ask her for massage, and when she asked me for massage I can sometimes really get in bed okay, I'm clicking over into it. But sometimes I'm like, I'm tired too, like the last thing I want to do now is like get into this mode like we're watching TV. I put on this Thera gun And it's like I'm doing both things and it's helping me it's helping her I'm doing it, you're like you know there's some times we just got to do it sometimes he's got to we got to just, we got to we got to support our partners.
SuChin Pak  29:28
And you got to tow spacer on, it just, it's a gift circle you know they mean I give; you give.
Paul Scheer 
Finally the thing I'm going to say that I love and Kulap I think you know about this already but I figured I'd bring it up work quickly people because it may be sold out.
Kulap Vilaysack 
It might be sold out guys, the supply chain I don't know how many times we got to talk about it.
Paul Scheer
We don't know, the supply chain may be taking us down. But LEGO is releasing an amazing Home Alone playset, it is the McAllister house from home alone. We're talking about five mini figures we're talking about a car; we're talking about all the traps. It is a beautifully designed LEGO set. That could be fun for the whole family or just fun for the guy or gal in your life who wants to live the McAllister lifestyle there. It is so good looking.
Kulap Vilaysack  30:30
It really is Paul, Paul's one who got me into LEGO sets. All the categories that we've brought up, which is food preparation, technology, exercise, but like this is these are your specialties. Paul, are somebody like Scott who has both depth and breadth? Is that right to say?
Paul Scheer 
Look, I'm honored to even hear about it. Like, that's lovely. I'll take it. You know, I think it's good. It's like, you know, these are the things that are important sometimes or fun or whatever, but this you know, so I try to give you a round robin of things.
Kulap Vilaysack 
And I gotta say very what I like about this, Paul, they're very practical. They're very thoughtful. You know, these are tried and true things high touch items by Paul Scheer that he endorses.
Paul Scheer 
I'll tell you this much. You want the gift that in three months, someone comes back to you and says this is amazing. Like I think like that's the best gift that I've ever given.
Kulap Vilaysack 
Yeah, Paul. Yeah, I get it. I get it. I get it. Thank you so much for coming on again. I mean, Paul Scheer is everywhere
Paul Scheer 
Trying to get my endorsement deals from LEGO just trying to get all those things going on.
Kulap Vilaysack 
I mean, Paul, you've got a show on Twitch with our friend Rob Huebel.
Paul Scheer 
Yes. Every Thursday night on Twitch. And don't be afraid of Twitch, Twitch is just simply a YouTube, you just go to twitch tv.com/friendzone And there we are. It's like you don't have to sign up and do anything. It's as simple as that.
Kulap Vilaysack  32:01
Speaking of YouTube don't you have a YouTube channel though.
Paul Scheer 
Oh, of course. Imean, look, I got it all I'm trying to get in all these different spots, but I'm not live streaming at YouTube. Friendzone I'm doing a lot more live streaming stuff. And yeah, I've got podcast Unspooled where we're talking about a bunch of different great movies and how it get made bad movies and yeah, you know that's it.
Kulap Vilaysack 
I mean you're constantly on TV I perk up when I see you on my large and small screen
Paul Scheer 
if you've not seen like Monday catch up get people Showtime subscription watch all three seasons back-to-back to back lower decks Paramount plus get on it, the holiday.
Kulap Vilaysack 
Oh, by the way, lower decks I love it, seen every episode.
Paul Scheer 
That's all I got. I'm not you know, I'm not here to plug myself I'm here to plug some great gifts. I hope that they work for everybody out there.
SuChin Pak 
And you know nothing is more validating than in three months you DM Paul Scheer, you comment and you let him know how much you loved the gift that you got.
Paul Scheer 
That's all I want. I'm only looking for that. I love talking to you all and this is great. Congratulations on the year.
Kulap Vilaysack 
Thank you Paul. You're the best!
Paul Scheer 
Alright, I'll see y'all later.
Kulap Vilaysack 
Bye.
Kulap Vilaysack 
Su, oh my gosh, I'm exhausted.
SuChin Pak
I need some of your squeezy deodorant.
Kulap Vilaysack 
Oh, you're talking about my Kosis science deodorants?
SuChin Pak 
Yes. The sides deodorant All right, be sure to find everything Paul suggested on @AddToCartPod, listen, Ku works very hard on these beautiful photos of all these beautiful things so go there and enjoy it all along with all the other engaging and hilarious and random and funny real content photos all of that from us.
Kulap Vilaysack
I'm laughing because we truly are aunties and it's just like here, have this, have this eat but also like appreciate what I do.
SuChin Pak  34:01
Yeah, they need to know this is Ku on a Wednesday just like on Canva and then I receive it and I try to post that you know I try to post it in a timely manners all she asks. Really she doesn't ask for much just, SuChin, post the goddamn thing in a timely manner. And I've got the memo I think I've been better at it.
Kulap Vilaysack
No, no, it's Su, I'm really proud of you. I really am. I really oh, you went oh, we're doing now try okay. If you, you, not SuChin, our listeners, our dear your listeners would like to purchase any of the gifts get on it. Head over to our show notes to find all of the links.
SuChin Pak 
I'd love to hear from you. We'd love to hear from you. We want to hear what you're doing for the holidays. Is there a panic, Have you bought things? Are you? Are you considering things? Do you need help? Okay, we got you. The number here is 833-453-6662. This is the holiday hotline. Pass it around to your friends, your older relatives, maybe even they don't need to listen to this podcast, just say this is the holiday helpline. Call that number leave your request and we'll get back to them.
Kulap Vilaysack 
I invite everybody who listens to just randomly text that number to your entire contact list. And we'll just see what happens.
SuChin Pak 
833-453-6662, rolls right off your tongue.
Kulap Vilaysack 
TTYL, Claire what does that stands for. Do you know what that stands for?
SuChin Pak  35:46
No.
CREDITS
ADD TO CART is a production of Lemonada Media. Our producer is Claire Jones and our editor is Ivan Kuraev. The music is by Wasahhbii and produced by La Made It and Oh So Familiar with additional music by APM music. Executive producers are Kulap Vilaysack, SuChin Pak, Jessica Cordova Kramer and Stephanie Wittels Wachs. Be sure to check out all the items we mentioned today on our Instagram at @AddToCartPod. Also, please take a moment to rate, review, and subscribe to the show wherever you get your podcast.