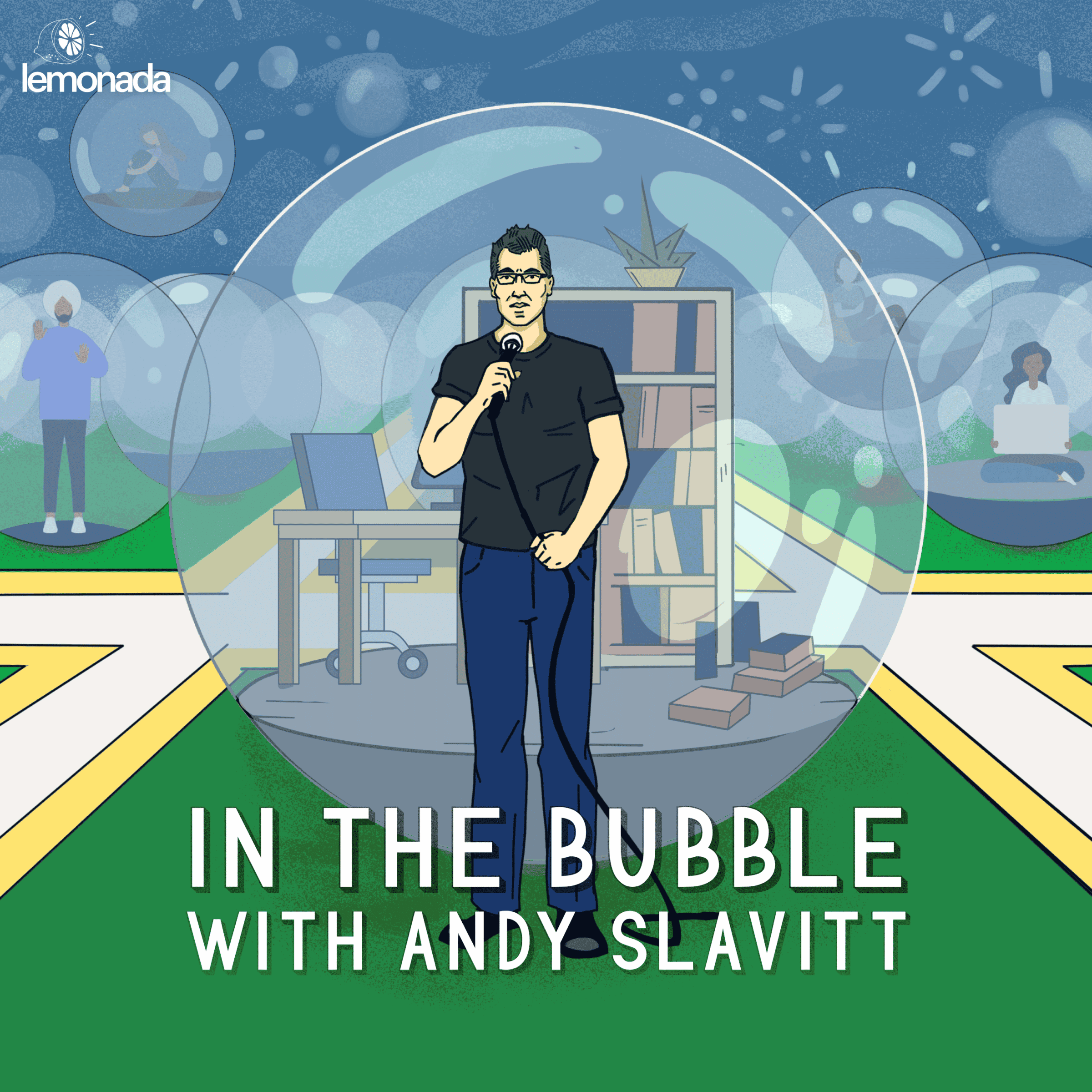 Preparing for the Omicron Wave (with Trevor Bedford)
Subscribe to Lemonada Premium for Bonus Content
Description
Andy begins with his guide to navigating the holidays now that Omicron is in our lives. Then he explores the cutting-edge science of this new variant with computational biologist and MacArthur "Genius Grant" winner Trevor Bedford. Andy and Trevor cover Omicron's possible origins, the latest on how our current vaccines are holding up to it, and when he expects an Omicron wave to hit the United States. We're learning more about Omicron every single day, and no one's better at explaining what we know and what it means than Trevor.
Keep up with Andy on Twitter @ASlavitt and Instagram @andyslavitt.
Follow Trevor @trvrb on Twitter.
Joining Lemonada Premium is a great way to support our show and get bonus content. Subscribe today at bit.ly/lemonadapremium.
Support the show by checking out our sponsors!
Click this link for a list of current sponsors and discount codes for this show and all Lemonada shows: http://lemonadamedia.com/sponsors/
Throughout the pandemic, CVS Health has been there, bringing quality, affordable health care closer to home—so it's never out of reach for anyone. 

Learn more at cvshealth.com.
Check out these resources from today's episode: 
Stay up to date with us on Twitter, Facebook, and Instagram at @LemonadaMedia.
For additional resources, information, and a transcript of the episode, visit lemonadamedia.com/show/inthebubble.
Transcript
SPEAKERS
Trevor Bedford, Andy Slavitt
Andy Slavitt  00:18
Welcome to IN THE BUBBLE. This is Andy Slavitt, your host, if you tuned in to listen to Trevor Bedford today, guess what? He's on the show. And some of us are pretty damn excited about this. I, you know, when you get the feeling that you're talking about the smartest person you've ever talked to, that's a feeling you get when you talk to Trevor. Wonderful, wonderful, wonderful conversation. I learned so much. I just listened to the recording of my interview with him. And I realized there are a couple of times when he said stuff that I pretended to understand that I did listen to a couple times, so don't be afraid to do either one or two things. So A, I'm gonna play that again and B, that Slavitt  kind of a dummy. Because I kind of understood it. He explains it really well. But it was like, whoa. And then it turns out when he told me Omicron had a sister, I was like, good night. Good night. Have I got a sister for you? It's like, no, I don't want your sister. I don't want to meet your sister. This is terrible. Terrible. Okay, I want to talk about the holidays. Holidays, that's right, because it's now you're running out of time. If you're gonna change your plans, we're gonna make plans. And if you're the kind of person who's like, wait, I want to wait to decide what I'm going to do about the holidays before I understand about Omicron kind of got to decide soon. So this is Andy's guide to the holidays. First of all, don't travel to a known hotspot. Okay? Number two, get your damn booster shot. Number three, if you have a 16- to 17-year-old in your life, they're now eligible for boosters. So do that. Get your 16- and 17-year-old a booster.
Andy Slavitt  02:17
Number, whatever number I'm on, I think it's four. If you care to hug an epidemiologist, a virologist, an evolutionary biologist. First of all, I now think we all understand the difference between those three things, which is great, well don't hug them. They are all not in hugging frame of mind, you can give them an air hug. But they need a hug, but just a virtual one. Okay. Now, what do I do if I'm going to travel somewhere for holidays? I tell you; I think we're gonna have a bad winter wave. Okay? It seems like pretty clear at this point. We know bad winter wave. It's gonna be a Delta plus Omicron wave. I'll come back to define bad, but there's gonna be a lot of cases at least. And you know cases some people get sick, spreads that are not good. I don't really worry that you're going to be in a situation where you are in the eye of the storm over Christmas. I think most of the wave is going to come in January, February. But I do worry that a lot of spread. It's going to happen over Christmas and New Year's, a lot of Yuletide merriment. A lot of guard getting let down. I think there's some evidence that we had an effect from Thanksgiving this year, seeing more cases. So look, I think be careful about traveling, traveling somewhere and being part of a dinner where you're part of the spread. And if that means that there are certain people you don't see over the holidays, or whatever, you got to make that call.
Andy Slavitt 
But I do think there's gonna be a lot of spreading that's going to come from the holidays. But, because it's January and February, if there's things you can do safely and people you can see safely now might be a good time to do it. But just please, please, please try not to be part of the spread. Next point, if you can't afford it, and you can find them, get rapid at home tests, those rabid at home test Lana refers to them as day passes, right? Because you take it and that day, you pretty clear you're not infectious. And if you were coming over spring for a box, maybe return some of that Christmas money and buy some rapid stay home test or maybe Santa will put them in your stockings. They actually kind of fit into those jumbo stockings that people have. Your kids will thank you. But take those tests. And then you can be assured and have an enjoyable holiday. I would rather have a take home test that I spent a little bit of money on and then have a really enjoyable holiday where I'm not really worried about it. And not worried about spreading the word about getting it that I would like taking the risk being part of some spread partisan super spreader event. And then what happens if someone's coming to your home and like, I don't really want to take a test. So let me tell you a quick anecdote.
Andy Slavitt
Lana and I have very dear friend in Minnesota, we're not going to name the person's name. Their child came home for Thanksgiving, which was already a few weeks ago, that child unknowingly had I think, had some sniffles may be but didn't know that they had anything more severe. And Mom got COVID because she didn't use a rapid at home test. Mom is still in the hospital. Mom has been on assisted Oxygen, has been on there for like three weeks. And this is a this is obviously not something the son wanted to happen. So that's something the mom obviously foresaw happening. But I'm sure the thinking is like, you know, it feels a little awkward to give my child a test. Look, it's all about awkward, be awkward. How many awkward things you've done with your kids in your life. How many awkward things you ask them to do overturn their pockets, watch a football game with you, whatever. I mean, you do nothing but awkward stuff with your kids. So do another awkward thing, say hey, take this test. They'll say well, but Dad, you don't trust me. Like, no, you're not smart, you do not smart things with other not smart people. Of course, I trust you. Of course I love you. But take a test. And don't feel awkward about it. Just do it.
Andy Slavitt  06:47
We should just try to get through the holidays in an enjoyable, but smart way in a some enjoyable way. That's I think the way we ought to be thinking. Happy holidays. This isn't our last show of the year by any means. We've got some great shows coming up. But we have to bring on the genius now. And he's literally won a MacArthur Genius Grant to share for his work tracking and forecasting the spread of viral pathogens such as those that cause influenza, Ebola and COVID. Now, you'll see I'm going to ask Trevor, who is also computational biologist at Hutch Center, you're going to hear I asked him about his background. And you're going to notice afterwards that I don't offer my background afterwards. And I just don't want him to feel bad about all my credentials. So help you understand that then really just spring with the usual modesty. Great, great conversation. Great person. Learned a ton. You're gonna love it. I'll stop blabbering. Here comes Trevor.
Andy Slavitt 
So I'm here to tell everyone that Twitter people are real. The real Trevor Bedford is real. He looks like an actual three-dimensional human being good to have you on in the bubble, Trevor.
Trevor Bedford  08:08
Nice to be here. Thank you, Andy.
Andy Slavitt 
So I've been following you on Twitter for a long time. And look that's taking anything away from the million other experts on Twitter, because they're all experts. But you actually have some fundamental expertise. You just lay out. As we get into this, I want people to really understand what your background is, and which areas of this pandemic and virology and epidemiology are your particular strength.
Trevor Bedford 
Yeah. Thanks, Andy. So I have a PhD kind of background in evolutionary biology and population genetics and kind of that, yeah, that foundation evolution moved to working on viruses after PhD, with a lot of focus on influenza where we're trying to understand new strains that are appearing, how they're spreading, and eventually make an impact to how the strain selection process for it goes into the vaccine. And so that kind of side on evolution has continued throughout the, my stint as a professor at the Fred Hutchinson Cancer Research Center. And then on the other side had been kind of building up expertise on the more epi side where we can use genome sequence data. In addition to kind of looking at these functional impacts, each mutation that occurs and one of these viruses Ebola, Zika, SARS-CoV-2, is kind of a marker where you can see how that lineage or how that clade has spread around the world and learn about these kinds of epidemiological things that are kind of difficult to see just from say, case count data. And so with flu, it was mainly evolutionary with like Zika and Ebola was mainly on the epi side. And the SARS-CoV-2 pandemic has kind of really made both kind of both arms of that research program. I'm really, really necessary.
Andy Slavitt 
So you kind of built for the moment.
Trevor Bedford 
Yes, as it happened.
Andy Slavitt 
So you got to skills, you got skills. That's quite an interesting, unique background to assess kind of where we are at the current moment when we think about how a new variant emerges. And I'm wondering if you can just give us a refresher on how the viruses tend to mutate, and how this particular variant, the Omicron variant mutated so uniquely, and I know that you've read about this, but it's a really interesting place to start.
Trevor Bedford  10:31
Yeah, yeah, totally. SARS-CoV-2 as an RNA virus mutates a lot. If you just follow a transmission chain of one person infecting another person, infecting another person, you'll see along that transmission chain, about one mutation on the entire genome every 15 days, every two weeks.
Andy Slavitt 
Two weeks. So that's about a generation. It's like five days long. That means it could mutate once every three people.
Trevor Bedford 
Exactly.
Andy Slavitt 
I'm good at math to you, so you know, Trevor.
Trevor Bedford
So that makes it not quite fast enough in high enough resolution stay, yeah, yes, definitely, this person infected this person, this person infected this person from the genomes, there's kind of, but you can generally tell like it got to this state and then got to this state or got to the city and got to this city. And so like the exact person, a person is often difficult, but you can tell these, yeah, slightly larger timescales with that. And something what's important is that once every two weeks is the entire genome, really, what's matters for the variances are some sites in the spike protein. And so there we're dealing with kind of a smaller target of evolution. And what really matters is not just the rate of evolution, but like how flexible, how adaptable is the spike protein, is it able to change its shape enough, while still maintaining its function, to escape antibodies or to kind of change the shape well enough to bind to ace to better while not kind of breaking other things that needs to do. So it's much more about kind of the protein than about the actual rate of mutation. So what we'd seen in basically all of the previous variances concern is continued mutation in spike protein, but elsewhere in the genome to become more transmissible. So Delta is perhaps two times maybe 2.2 times more transmissible compared to non-variant viruses compared to the viruses that were circulating in 2020.
Trevor Bedford  12:23
On that, that occurred in just over a year and a half, which is remarkable in terms of these evolutionary terms. We didn't see this with Ebola, we didn't see this with Zika we didn't see this with 2009 Swine flu. And that kind of evolution for transmissibility was Yeah, was by itself even that was super surprising. And then Omicron kind of completely comes out of left field with if you look at its genome, the closest viruses that it connects to are back from summer 2020. And we haven't seen anything along that transmission chain since summer, since mid-2020. And it's kind of wildly different than anything we've seen. Most of the genome looks like it's kind of kicked along and developed mutations that you'd expect since summer 2020. But if you look in spike protein, there's 30 Odd mutations compared to the 8 or 10 that exist in Delta, Gamma, Mu, etc. And so, yeah, we get this appearance of this thing that has this wildly divergent spike protein, but immediately seems to be spreading incredibly rapidly.
Andy Slavitt 
Do we know yet what the spread is relative to Delta?
Trevor Bedford
Yeah, so this is complex, and that you can actually, like look and see on the ground, how many people do you think one person is infecting, one infected person is spreading too. And if you look at Omicron, that is perhaps three times faster than Delta. That is what's coming up in South Africa. Maybe more than that in the UK, but it's early data where they've been kind of doing targeted case finding. So it's a little hard to tell, but planning to go with three times that of Delta. That doesn't mean it's three times this transmissible as delta. What I think is mostly going on is that Delta had a decreasing fraction of people that it was able to infect where it was kind of people who were not vaccinated, who are not infected, or people who have had enough waning immunity, that it they're now available again to the virus, whereas Omicron by having such a different spike protein has less whole like susceptible pool of people available to it. So it can it can infect three times as many people each infection can infect three times many people even if it's not three times this kind of intrinsically transmissible, it's mostly about this immune escape difference that it has.
Andy Slavitt  14:44
So this is where we get into R-naught versus Rt, right? Which is to say that if you  introduced in two different places, delta and Omicron and in both places, nobody was infected prior they were both novel viruses, they might be spreading at the same rate, or one slightly, more one slightly less. But that because you're Delta spreading in an environment where there's a lot of prior infection and vaccinations, it appears to be spreading lower, that's the RT, whereas are not might have been close to the same. Meanwhile, you've got Omicron, which is prior infection, at the very least, we know and is not very protective. And I think we know as of at least, the most recent studies that the vaccines are less effective, still effective, but less effective than they were prior. And therefore, when you it say spreads three times as rapidly, you're suggesting that that's what's accounting for a lot of it.
Trevor Bedford 
Yeah, that R-naught for Delta is probably about six, R-naught for the original Wuhan virus was about three. Omicron, I suspect is in the like, four to six range, something like that. And that if you would have started delta and Omicron. As you're just saying, in naive populations, I'd actually expect Delta to be outpacing things, but delta is now facing all this immunity. And so if you look at Rt, Delta is about one right now, different levels slightly above slightly below, whereas Omicron is around three in South Africa, and maybe a bit more in the UK.
Andy Slavitt  16:26
Got it. So because it came from a different lineage, it wasn't didn't come from Delta, but came separately that in some ways, is it right to give it like it's almost an entirely different parallel virus?
Trevor Bedford 
Yeah. You know, what you call these things, this is always contentious. I think we started calling these things we as like society started calling these things variants back in late 2020. In the efforts because strain felt like it was too scary of a word. But now variant is the scary word. Omicron is this different kind of antigenically, immunologically, as it seems to be, I would be comfortable calling it Omicron a different strain of SARS-CoV-2 than the original Wuhan, Delta, Alpha sort of strain. But we don't really have a scientific terminology surrounding this yet at this point.
Andy Slavitt
But the practical implication, whatever we call it, is that we could be living in a world where we have these two things that coexist, theoretically, where you could have immunity to Delta, or pretty good immunity to Delta not perfect. And not immunity to Omicron. And you could be in a point where, you know, at some point in the future, you have immunity to Omicron, but not to Delta. Or you could be at a point where, you know, you've got immunity to both, yes. But that the implication of that is that in different communities, you could have different ones of these variants. Is that true?
Trevor Bedford 
Yeah, this is now hypothetical. And like speculative on what will play out on one extreme you could have, this actually happened with the flu V viruses where there's a Victoria lineage, they call them lineages in flu, and the Yamagata lineage. And those split kind of speciated basically in 1980. And that's why the flu shot it has both Victoria and Yamagata virus because they can co-circulate. And it's possible, but not definite that's what we'd see with Omicron versus delta like viruses, that it won't be that Omicron displaces Delta, it will be that in two years' time, they'll both be kind of continuing to coexist, because they're different enough. It also could be that there, that's not quite different enough and that we still see, like a wave and then Delta eventually displaces Omicron or Omicron displaces Delta. We don't know yet. But those are the three scenarios, either only Delta, only Omicron, or both coexisting. And in two years' time.
Andy Slavitt  18:55
Who are you rooting for?
Trevor Bedford 
I don't know, we don't know about like actual severity, that's being really hard. If Omicron had actually less, less of an R-naught than Delta, it might be a good thing if it managed to displace, but you wouldn't think it would displace if it actually has the pestle or R-naught, like after immunity plays out, you'd expect the higher R-naught virus to be the winner.
Andy Slavitt
So, you would think that the higher R-naught ones, which would be Delta, from what I recall, you saying after some period of time is the one that would survive but that feels like that we play that there's a fairly reasonably lengthy period of time where you're dealing with both and if you're in Alabama or Florida, and I don't mean to pick on those dates, but a place where you get low vaccination levels, high prior immunity levels feels like a spot where Omicron is more likely to be successful. And if you're in a place like I don't know, called San Francisco, where you've got high amount of vaccination boosters, which I think there's an assumption that I'm making here that the boosters are going to provide at higher levels of protection, that it might be that it's a different kind of battle in a place like that, because you got a fair amount of protection to both. And so it's just maybe just like living in the pockets, I suppose.
Trevor Bedford  20:42
So the first neutralization data started coming out in the last two days, maybe even last day, where if you look at just two doses of Pfizer, there's a really big drop of this 40-fold drop into something that looks like it is perhaps not protective.
Andy Slavitt 
And by the way, a 40-fold drop, isn't entirely what it appears, necessarily. And can you explain it to people?
Trevor Bedford
Yeah, yeah, sorry. Let's definitely be clear. So this is an assay that looks at if you grow virus in the lab in culture, and you add antibodies to add someone's blood. How much blood do you have to add? How much antibodies do you have to add to kill the virus, to neutralize the virus? And so what that assay shows that if you take Sera, you take blood from someone who's just after two doses of Pfizer, you need 40 times as much Sera, 40 times as much blood to neutralize Omicron compared to Delta, that doesn't equate directly to a 40-foot drop in vaccine effectiveness for infection, it definitely doesn't correspond to a drop in vaccine effectiveness towards severe disease towards hospitalization.
Andy Slavitt
The reason is, because there's a threshold level that seems to matter. And because as I think you're probably about to point out, there are other forms of immunity, we could develop through ourselves. And, that form of immunity doesn't necessarily protect us from getting sick. But it prevents us from getting very sick.
Trevor Bedford  22:24
Yes, that so T-cell versus B-cells first antibodies when the T-cells that those won't, like Omicron will not have impacted them. And, but they take a little while to ramp up. And so they basically, T-cell based immunity will do very little to prevent you from getting infected. But it will help to clear an infection more rapidly. And that's what keeps kind of helps the T-cell based immunity to keep people from getting very sick.
Andy Slavitt
There was another finding in that study, which was that people who had been double vaccinated and had prior infection and immunity from prior infection Delta did better than people who had just had vaccination. And by the way, the vaccination level did even better than people who were just prior infection. But that wasn't tested there. But that's, I think, something that they've observed. So what I read at least was that they were using prior infection as sort of a proxy for what happens if someone has two doses and a booster. Since in South Africa, nobody has been boosted yet. So what does that tell us just from a practical standpoint, those out here who haven't been boosted yet? Is it still worth doing? Should you wait? Should you not get boosted, what's the reality?
Trevor Bedford
So my suspicion is that two doses, especially with waning, like if you got your two doses back in April of 2021, the second dose on April 2021, that there'll be very little protection against infection from Omicron. And that's why we're seeing it spread rapidly in South Africa, why we're seeing it spread directly in the UK. Based upon these results from South Africa, as well as Pfizer's results this morning, and they're like we'll see a bunch of use in the next couple days. It looks like two doses plus infection, or especially three doses brought it lifts immunity and brought into it. So I can imagine still retaining protection against infection with three doses even if you've basically lost protection against infection with ketosis. So very important, very important to get a booster. I'm imagining that in six months' time, we'll have an Omicron specific vaccine that will, like, help further but the best thing that you can do at the moment is to get boosted.
Andy Slavitt  24:46
Yeah. Look, I had Scott Gottlieb was on the podcast last week. And he was making the case now he doesn't have any inside knowledge, he happens to be on the Pfizer board which is afford to point out, but he was making the case that he thought it would have to be a dramatically improved variant specific booster to actually release another vaccine versus just going with our current third booster. He also said that he thinks that eventually, possibly even as soon as next fall, you know we end up with likely do with the flu kind of a multi Vaillant kind of shot that may be given annually. So that's his perspective. Curious on your reaction.
Trevor Bedford
Yeah, that sounds about right, unless they didn't require I mean, it just kind of full phase three trials for the variant specific booster, we're not going to get that before the Omicron wave, it will happen regardless, however, we can expect another, like unless new variants appear, no matter what we can expect a new wave kind of fall, winter wave and 2022-2023. And kind of with waning immunity and how everything plays out where I where I suspect things end up is we get a flu like scenario where before COVID season, everyone gets their booster, and the stuff that goes into that booster, the mRNA that goes in that booster is based upon what's circulating. And so in September 2022, that might be a mix of Delta and whatever Delta has evolved into, and a mix of Omicron. If like one has displaced another thoroughly, then maybe it's just one or the other. And that booster in September 2022 would depend on what was circulating at the time.
Andy Slavitt  26:30
And then likewise, September 23, 24, 25, that's kind of how you see us. And so is this painting kind of a clear picture of a likely new normal state?
Trevor Bedford
Yes and no like that, so that everyone gets a booster for everyone who wants a booster, at the beginning of each winter season was my expectation two weeks ago, before Omicron where it would have been like it's flu like scenario where Delta evolves, and there's like some new mutations Delta that makes something slightly more fit. And you get that continual kind of turn over what happened with Omicron, where something kind of that wildly different can appear. And then if it's different enough, perhaps co-exist rather than the displace, is going to make those that strain selection more complicated and the whole scenario more complicated so that with flu, we get this pretty consistent displacement of like new strain appears, it kills off, it displaces what existed and so forth. So we just have to kind of keep the vaccine updated as flu evolves along. But even though there are four types of flu, and I mentioned the Victoria Yamagata, that's only happened once in 1980, it generally doesn't happen. And so we only have to keep the four […] in the flu vaccine. If you have a scenario where this can happen with COVID, it might get more complicated. If you keep having to add kind of add more things to your..
Andy Slavitt  28:00
You got to reduce each dose, right, in order to not over vaccinate people. Trevor, like the thing that I found myself, recalling is that after Delta, you know, and asking people, will there be another variant people's general response was, boy, it would be awfully hard to have a variant of concern that spreads faster than delta. And they were thinking about the R-naught. And so it seems like boy, you know, we're sort of approaching some limits here about how rambley these things can spread. And then, of course, what took us by surprise, was, as you said, that this virus Omicron comes from a different lineage. And that effect did have to innately spread faster, just actually spread faster. How was the prize were you how much were you thinking about that as a potential circumstance? And then maybe go into how that happens? Where something like this could mutate away from the public eye?
Trevor Bedford
Yeah. So I was expecting that Delta had hit its transmissibility intrinsic transmits limit. And so I was expecting evolutionary pressure to shift towards making Delta escape from immunity and kind of getting that slow accumulation mutations that escaped from immunity like we see with flu, obviously, not what we saw with Omicron. There are multiple hypotheses for its emergence. My favorite hypothesis, which I have, say low competence, then is that it has been incubating in a chronic infection for perhaps a year and a half since mid-2020. And then, during that time, if you have someone who's immune compromised, perhaps with say, untreated HIV, that they that their immune system still exists, it's just not good enough to clear the infection. And so you create this kind of cat and mouse game, where the immune systems chasing the virus the viruses evolve immune system and that kind of puts the right amount of pressure to have this real kind of fulcrum for evolution. And that's why you'd get all of this changes in the spike protein. And elsewhere in the genome, it explains that really, really readily. We see this with, we have case studies of immunocompromised, chronic infections that you can watch over the course of six months and see not quite this rate of evolution, but similar rates of evolution, where it's very focused and spike can you get the same 44 or 501, 144 deletion, you get the same changes that you actually observe in Omicron.
Trevor Bedford  30:33
And the other piece of evidence that is just coming out here, which is also wild, is there's a sister lineage to Omicron. I don't know if this is circulated outside of the like, very technical circles at this point, where there's a few examples of a virus that has the same receptor binding domain, but a very different near criminal domain and spike and a bunch of other mutations that are different. So these are like fairly different viruses. But it splits from Omicron in perhaps I don't know, something like August, July 2021. And it seems to be a different lineage, but it's definitely evolutionary related. And the best explanation I have there is you can imagine that chronic infection within that person, the virus is generating diversity, there's a number of lineages within that person, they cause a secondary infection in July with one lineage that is kind of this sister lineage that doesn't go as far and then another infection, that's the more fit what we're calling Omicron now, in October, that then really takes off and that's the my best guess at how you can have these two sister lineages in this fashion.
Andy Slavitt 
So those things came together. And they're one thing though now or are there two lineages?
Trevor Bedford 
There are two lineages? The second one is only a handful? I think it's maybe we have like 1000 Omicron genomes in the database at this point, and maybe 10 of them? Are the sister lineage, this offshoot lineage.
Andy Slavitt  32:06
Okay. Well, so what does that tell us about future variants of concerned as it telling us that evolution from an evolutionary standpoint, we are going to see either both of Delta and Omicron. Trying to continue to evade vaccines, number one, number two, just trying to sum up here, some of the points I'm hearing from you that immunocompromised individuals, as long as we have large unvaccinated populations and immunocompromised individuals circulating pretty freely, that there will be happy hosts for this to occur. And that, you know, we're going to be in a continued updating process of the vaccines. And probably, like we are with flu, some seasonality, community by community, which is going to require us to add interventions or had some of the tools we have to keep ourselves safe.
Trevor Bedford
Yeah, I think that's fair. So the fact that, that we saw this now, this once with Omicron, we think that alpha was also an incubated in a chronic infection, it just was kind of a shorter time interval going on there. So that we think this is a route of emergence for very enough concerned viruses. And yeah, so we think that's going to continue to happen, they will continue to emerge, will continue to need to update vaccines to compensate. It does, however, suggests that we could be doing more to get to kind of get at the source of the problem. So yeah, vaccinating the world kind of a Marshall Plan to vaccinate the world, we can have better access to SARS-CoV-2 antivirals to clear chronic infections, and we can have better access to HIV antivirals to keep people from being as immunocompromised.
Andy Slavitt  34:03
That's a great point. Do you have any concerns about the mRNA platform being able to keep up with a world in which we have multiple variants of concern and whether it's from multiple lineages or even if that's not the problem?
Trevor Bedford
Yeah, this is interesting and tricky, where my understanding like the mRNA platform would be really like you can make that swap really readily. You need manufacturing to kind of have enough manufacturing base, but, like, if we had a streamlined regulatory process, I could imagine being in front of the Omicron wave. But because of the process that we currently need to update the exact mRNA sequence in the vaccine, we're going to be behind that wave. So, I don't know. And in flu, we don't go through phase three trials every year. They know that it's a safe and effective platform for vaccination, they can swap the strain that's used in terms of the DHA sequence, instead of a spike sequence. That's then grown in chicken eggs and like, the way that, that flu vaccine is used, they test it for antigenicity. And they do some kind of immune immunogenetic sort of tests. But it doesn't go through the full phase three process every update, and that really makes it so you can have a better, more agile updating process.
Andy Slavitt
So let's account for that. Let's say we can we can do that and make those regulatory changes. Is there anything about the science of the mRNA platform or our body's reaction to it that would give you concerns, for example, if you have too many variants, and too many lineages, do you have to just thin out the dosages to the point where it's problematic. Do you worry that the body somehow stops reacting as well to an mRNA vaccine that it's got multiple times? Do you worry that just even the process of adapting these vaccines creates selective pressure in some way on the virus?
Trevor Bedford  36:36
Yeah, yeah, really, really good questions. The thing that I think I'd be most acutely concerned about is, is that if you let's say you have two […] in the mRNA vaccine, you put half your molecules are Delta half or Omicron. And you take your 50 micrograms in good 25/25. It's the way that your immune system works, you can have these immunodominance effects were like this, the immune system really likes this epitope more than this epitope. So even if you did a 50/50 mix of your dose, you might end up with a 90/10 immune response of one thing to the other. And so, you could yeah, if you're in this this scenario, where you have multiple […] you want to include, you might not get a good response to do all of them simultaneously.
Andy Slavitt 
And does that could argue that you're better off just with boosting with the same thing over and over again, right, versus adopting to each variant or no?
Trevor Bedford
No, I think so there's so what, there's a lot of research in this direction that surrounds universal flu vaccines. And basically, one of the main reasons we don't have a universal flu vaccine is that like, people get flu vaccine every year, people get infected by flu every five years. And that will generally what happens is there are particular epitopes that your immune system really likes to bind to and likes to attack, that are not the conserved epitopes that you want the immune system to work against. So there's been an interesting thread of research where you, what you do is you do a prime with one kind of strain of flu, one subtype of flu, and then do a boost with something that's quite different. And then that makes it so the things that are different between the two are so different, that immune system doesn't really like to like to bind to that. But it will find the things that are more conserved and make good antibodies to these more conserved regions. So that thread of research from influenza does suggest that you can get a broader, better immune response if you're trying to cover more of this evolutionary ground by having subsequent vaccination with subsequent kind of fairly different antigens fairly different viruses.
Andy Slavitt  38:59
Do you ever think you'd be considered to have like the coolest job in the world?
Trevor Bedford 
Yeah, this is not been fun.
Andy Slavitt
It hasn't been fun. But I used to never say that's fun. But when you thought like before SARS-CoV-2 where it's like you thought about, like, if someone had described something to you with these characteristics and said it does this, it does this, it mutates this way. This is R-naught, this is the infection, this is the severity. Yeah. What would you have thought, like, just intellectually would you been like, that sounds like a doozy or would you sound like how would you?
Trevor Bedford 
Yeah, that's a good question. This is like nightmare scenario. It's kind of quite obvious like I would not I would not have expected all of these things simultaneously, where you have so much pre-symptomatic transmission, you can get to an R-naught of six, which is really high in just a year and a half of evolution. We have abundant ability to have antigenic, evolution antigenic drift like We have a pretty significant waning of immunity. Like these things. Yeah, they're stacked up on top of each other in ways that seem to not be in our favor.
Andy Slavitt  40:11
So that's a bad list. That's a bad list, let's go through it again, just to wallow in it, the pre symptomatic spread number one. Number two, you mentioned the antigen that […] number three, but what else?
Trevor Bedford 
The other two were waning immunity and intrinsic transmissibility and R-naught at 6.
Andy Slavitt 
Okay. So if somebody described those things to you to been like, that's not gonna be good.
Trevor Bedford 
Yeah. And I think the like, the thing that has made it so difficult for the world to deal with, in some ways, like societally is the fact that severity in many ways is low. Like this IFR of original Wuhan virus of one and infection fatality rate of 1 in 200. And so if it had been 10 times less than that, we could just probably have not worried about this at all. If there's 10 times more than that, like we would have done, like everyone, but no one would be leaving their house and it would have stopped spreading. So the fact that it is in this circumstance where like, on an individual basis, it is actually not so terrible, but on a kind of societal level by having this ability to spread widely and really kind of result in an absolute number of deaths and health system issues and so forth. It makes it very complicated.
Andy Slavitt 
That's why some people call it the reverse Goldilocks virus, it's both too hot and too cold. But it has to be a positive that the severity is low. And the fact that we can develop pharmaceuticals, therapeutics, the fact that it can be you could develop rapid tests that could become cheaper, cheaper, I mean, the tools we can build around this, besides just the very simple nonscientific ones, like putting on a mask and avoiding large crowds. Was there a possible world in which even those wouldn't have been true. Like I mean, HIV. HIV is an example where, obviously, not been able to create a vaccine.
Trevor Bedford  42:18
That's really good point. Yeah. So where we are, we are very fortunate that antibodies nicely neutralize the virus, even if antibodies, even the virus is pretty good at evolving antibodies do wane the fact that antibodies, well neutralize the virus and you can have protective immunity is excellent. And then kind of the first part of the question with what we've been testing in Seattle, where we keep testing, like nasal samples for 26 different viruses. And basically, we saw at the beginning of pandemic with mitigation, everything crashes, there had been a bunch of things circulating all winter of human metapneumovirus, and seasonal coronaviruses, and adenovirus, and so on. But crazily, what we saw over the next 18 months, is that Rhino virus just continued to circulate even despite all of the significant mitigation that was going on. Because it's mainly surfaces sort of fomites and, and so on. And so, yeah, the level of mitigation were doing that was dropping everything else and dropping Influenza by 100-fold was really not having a large impact and rhinovirus. So you could imagine that you could have imagined something, a pandemic of something like that that would have been harder to contain by non-pharmaceutical interventions.
Andy Slavitt 
Are we making ourselves feel better yet?
Trevor Bedford
I don't know. Perhaps.
Andy Slavitt 
There is a hope that some people have and I think at this point, I don't know, if you just characterize it as a hope, or something more than that, that Omicron could be less severe could provide less severe illness. Now get maybe you could pick that apart for us, because I would imagine there's a lot of confounding factors in there, including being a T-cell and memory B-cell immunity to be built up, including the fact that South Africa where the first major outbreak has been has a lot of young people. And then there's also interesting data and kind of anecdotal reports, which say, yes, people are being hospitalized, but maybe if you ever need assisted oxygen, and those are pretty small numbers, yet ICUs are beginning to fill up from what I read most recently. So tell us what you think.
Trevor Bedford
Yeah, this is really, really important. And if we recall back to February, January, February 2020. Severity was the thing that we argued about longer than other things like it became rapid spread became quite clear, recent spread became quite clear, but like dialing in what is the actual infections how the ratio took longer, and we had like the Santa Clara seroprevalence thing and so forth that like there's a lot of arguing around. So I think that it's going to be less it's still going to be it's not gonna be immediately obvious what severity is for Omicron. My hypothesis here is that because of this large antigenic difference, this immune escape phenotype, it means that unlike Delta, unlike everything else, a large, the majority of people who are getting this have had prior immunity. And so it makes us that on a per case ratio of per case basis, that most cases that you observe, have some prior immunity. And so they're less severe because there's prior immunity. So it's nothing intrinsic that Omicron is somehow a less severe virus. It's just that yeah, most infections, most cases half our immunity, so they are less severe because there's prior immunity, and this is just an outgrowth of the immune escape phenotype.
Andy Slavitt 
Got it. So similar to what you said about the contagiousness that it's not necessarily innately more contagious, you're also suggesting that necessarily less severe, but that it's impacted by being introduced into a world where there's a lot of prior immunity, and that makes it look both, oddly enough, both more infectious and less severe than it would have otherwise. Yeah, yeah, exactly that. But is this in an odd way? Not in the way we expected. But an odd way, is this evidence that we're moving towards of use the expression herd immunity, but toward some level of protection, which will move this Coronavirus on a path towards something more like the common cold? Or is that too hopeful of a way of looking at it.
Trevor Bedford  46:31
So my estimates, pre-Omicron were that just based upon these things we just talked about of intrinsic transmissibility of R-naught waning immunity antigenic drift, that we'd see perhaps 20% or 30% of the world get COVID every year. And that's just going to be what it is. That's similar to influenza. But because of herd immunity, you end up with the number of deaths, number of severe cases being much, much lower. So that's my kind of flu like thinking, flu like basis, that's still giving you 50,000 or 100,000 deaths in the US every year, even though it's been attenuated by immunity. And it's endemic, just because the kind of raw severity is high enough that even though immunity wants it significantly, it doesn't eliminate it. If you have 100 million infections every year, then even having a small fraction of them be fatal results in some significant morbidity.
Andy Slavitt 
Big number. So that was your estimation before Omicron. How was that changed?
Trevor Bedford
Not immediately different. It's this question that we talked about before. That is scary of like, if things like Omicron keep appearing. And if they're different enough that they can coexist, you can just kind of continually inflate that number of yearly infections that you expect to exist. And so we could get higher than 20% if we had multiple things are circulating.
Andy Slavitt  48:01
And is that 20%? Is that like your sense of the foreseeable future? Or is there a point where 100,000 deaths in the US in perpetuity?
Trevor Bedford 
That, yes, so we can like so that's kind of again, this flu like scenario, we have mRNA vaccines are much better, we could be having an update that happens in July, and that a large fraction the population gets a booster, better therapeutics, we can improve ventilation, we can do a lot of things to reduce that. But that is my kind of scenario if we muddle through a scenario.
Andy Slavitt 
So I don't know how old you are. I don't know how old your parents are. I don't know if your parents are […] those questions. But I'm going to ask in a generic way. But you could answer in a personal way if it's relevant. Like would you ever put your parents in a nursing home? Given what you now know?
Trevor Bedford
That's, that's rough. I think of these 100,000 deaths that conceivably happen every year, the majority of the impact of disease will be of the over 65 over 75. And like, continue enrichment for age just as we've seen, and so yeah, that will continue to be where risk is highest.
Andy Slavitt
Yep. I'm glad you didn't say over 55 just because I just turned 55. I'm sure you're surprised by that. Because my beards not showing any gray whatsoever, just like yours. So do you want to leave us with a note of caution, pessimism, optimism? Where should we leave this?
Trevor Bedford 
This is so tricky, where I absolutely think there will be a large Omicron wave.
Andy Slavitt 
Do you see that? January, February?
Trevor Bedford
Yeah, probably kicking in in January. We'll be able to dial that in in the next week or two pretty well, but right now it's like we know kind of in this like three times rate of Delta. But it's not been quite clear how much of a foothold it has in the US right now to be able to kind of do that extrapolation in a week or so will become, that will become more obvious. But yeah, let's say January-ish that will occur. But, again, if a large fraction of people have prior immunity, and hopefully more than half now will have boosters, that you can imagine that not actually being crippling in terms of health care and so on the severity question. So like I think the large wave is baked in, but it might not be as bad as it perhaps could be, depending on how protective against for outcomes community is.
Andy Slavitt  50:29
It's one of our saving graces, is the south could fare better over the winter months, theoretically, and the South is where we have a lot of potential unvaccinated people with prior Delta infection who are at risk. So if you're to get lucky, perhaps the South would do okay, for until such time as you get what I was gonna say until such time as you get a better, more targeted shot. But the truth is that, you know, people have been vaccinated so far, I'm not going to bet on them getting vaccinated in the future, although, you know, I'm wondering if the presence of Omicron shouldn't cause us to take a lot of the lessons we learned and give it another try and talk in a very different way than we did about vaccines the last time around when we said in effect, and I count myself among them, this is the solution. Instead say, look, this is a tool that will reduce your risk, among other things, but it's not foolproof. But there's many other things that I think that sort of level setting dialogue about the vaccines, may, in fact, be a better way to talk to people who have been skeptical will reach everybody, but maybe it will help.
Trevor Bedford 
Yeah, I think that's great. And it's along those lines, what's been tricky is the like, yes, two doses is good. And it gives you consistent immunity to severe outcomes, and so forth. But waning was a real thing. And with Omicron, I'm suspecting that two doses will not do necessarily a lot to prevent someone from getting infected. And so being kind of being clear that like this is a three dose for Omicron. This is a three-dose serious and two, help you against different come.
Andy Slavitt  52:14
There's a chance we might have to say four at some point. I mean, this is kind of like, where people like lose faith is it's like it's just this is too, no, this is three, this definitely three, no, it's definitely and then well, maybe a fourth would really help. Yeah, that by that time, hopefully, maybe the fourth is the annual booster but yeah, it is easy to understand why people are frustrated or don't feel like they're listening to something definitive. And we don't say often enough, what I think you've been careful to say, which is this is what the current science tells us, but we don't have the state of the science isn't definitive yet in a number of things. Trevor, it's been delightful.
Trevor Bedford 
It's really great talking, Andy.
Andy Slavitt 
It's been fun having you IN THE BUBBLE. Did you feel safe IN THE BUBBLE?
Trevor Bedford 
Yes, definitely.
Andy Slavitt 
Excellent. Well, I wish you well, and I thank you for all the extraordinary work you do. And when people say that there's a lot of people on Twitter, who act like they know a lot of stuff. I'm also reminded that there are people on Twitter who actually do know a lot of stuff. I want you to give your Twitter handle just because if there are people who are listening that don't follow you.
Trevor Bedford 
It's TrvrB without any vowels.
Andy Slavitt 
That's like a Sunday crossword puzzle test. Trevor Bedford, thanks so much for coming IN THE BUBBLE.
Trevor Bedford 
Thank you, Andy. Thank you for having me.
Andy Slavitt
Okay, I hope that you felt that was as good as advertised. Maybe even better. One of our better episodes, maybe one of our better episodes. Okay. We have a couple more episodes coming up the next one. What is 6%? And has the President in jeopardy? If you guessed inflation. You're right. We're going to have an episode explaining inflation. Sure, we think we understand that we just haven't experienced that for a long time. Jason Furman was head of the National Economic Council for President Obama and a fantastic explainer, a great economist, a good show. It's not about the pandemic, or is it? It's very related to the pandemic. You choose to decide, but you should listen. Then we're gonna wrap up with a special end of the year episode. I'm gonna sing we're gonna dance. It's gonna be really spectacular. Alright, talk to you Wednesday.
CREDITS
Thanks for listening to IN THE BUBBLE. Hope you rate us highly. We're a production of Lemonada Media. Kryssy Pease and Alex McOwen produced the show. Our mix is by Ivan Kuraev and Veronica Rodriguez. Jessica Cordova Kramer and Stephanie Wittels Wachs are the executive producers of the show, we love them dearly. Our theme was composed by Dan Molad and Oliver Hill, and additional music by Ivan Kuraev. You can find out more about our show on social media at @LemonadaMedia. And you can find me at @ASlavitt on Twitter or at @AndySlavitt on Instagram. If you like what you heard today, please tell your friends and please stay safe, share some joy and we will definitely get through this together.