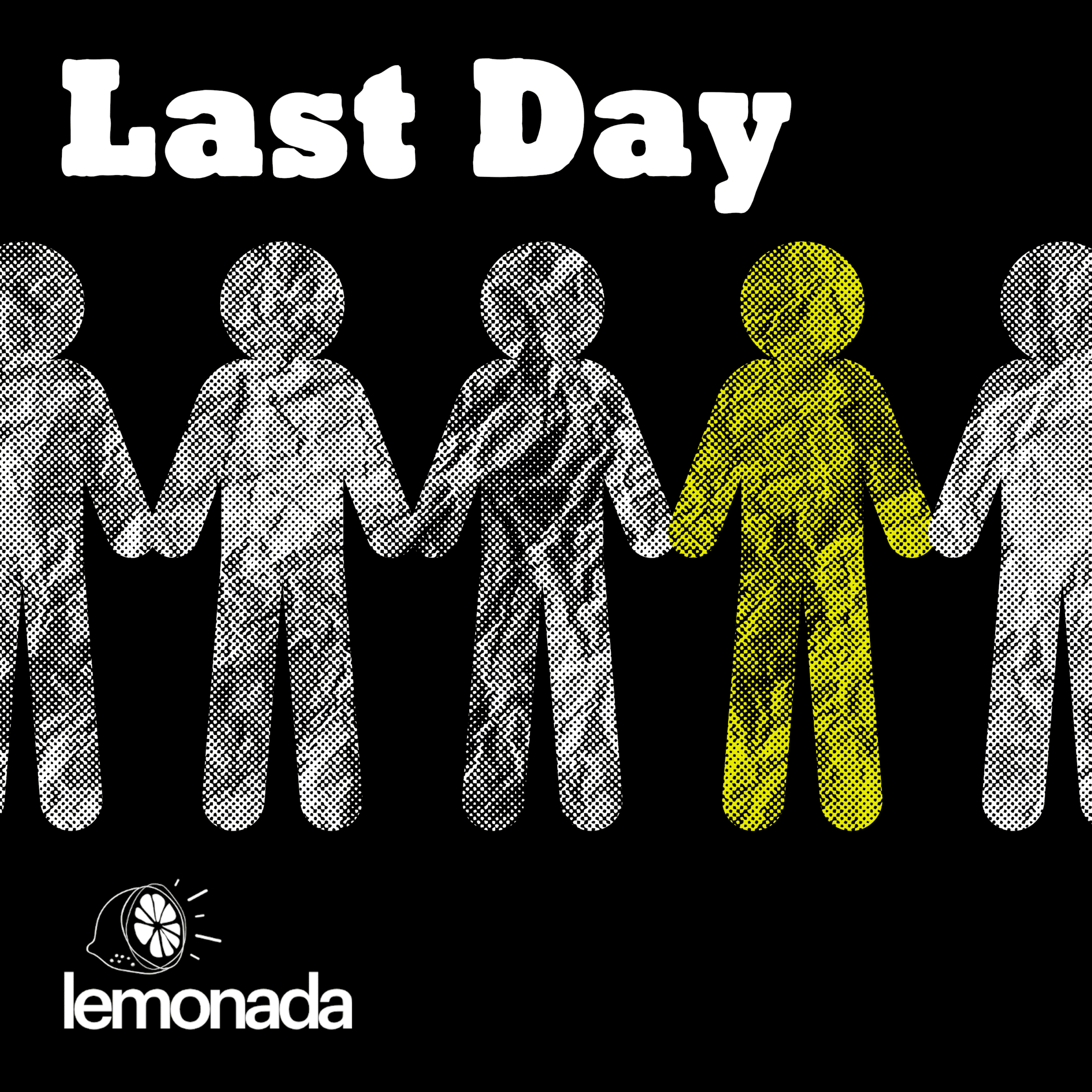 Psychological Autopsy
Subscribe to Lemonada Premium for Bonus Content
Description
After losing a loved one to suicide, "why" is often the first question that comes to mind. But what if you had a meticulous case file that filled in the blanks? This week, we talk to Sharon Kritzer, her older sister Noa, and their mom, Batia, about their sister Tali, her chronic depression, and the documentation she left behind that outlined all of it. We also call up Janis Whitlock from Jed, who talks to us about the potential downsides of being your own lead investigator.
Season 2 of Last Day is created in partnership with The Jed Foundation. The Jed Foundation (JED) empowers teens and young adults with the skills and support to grow into healthy, thriving adults. You can find tips, tools and resources for taking care of your emotional health available at: www.jedcares.org/lastday
Resources from the episode:
If you or someone you know is struggling emotionally or feeling hopeless, it's important to talk to someone about it now. Contact one of the resources below for a free, confidential conversation with a trained counselor anytime.
National Suicide Prevention Lifeline: 1-800-273-8255
Crisis Text line: Text "Connect" to 741-741
The Trevor Project: 1-866-488-7386
To follow along with a transcript and/or take notes for friends and family, go to http://lemonadamedia.com/show/last-day shortly after the air date.
Stay up to date with us on Twitter, Facebook, and Instagram at @LemonadaMedia.
Transcript
SPEAKERS
Noah Kritzer, Speaker 1, Stephanie Wittels Wachs, Janice, Sharon Kritzer, Bhatia Kritzer
Stephanie Wittels Wachs  00:00
If you are just tuning in, I encourage you to go back and start listening from Episode One, it'll make more sense. As for what you'll hear today, we have worked hard to ensure that our storytelling around suicide is as safe as possible. But we can't address this issue by tiptoeing around it. Instead of warning, who should and shouldn't listen before each episode. We want to encourage you to press pause, if and when you need to. We'll be here when you're ready to press play.
Sharon Kritzer 
What was she like? I don't. Sorry, I wrote some stuff down. Everybody told me not to overthink this, but I just knew that my mind would blank. So I wrote stuff down just in case.
Stephanie Wittels Wachs  
This is Sharon Kritzer. Talking about her sister, Tali.
Sharon Kritzer  
I feel lately I've been more frustrated with her. Like, in the beginning, I was kind of I was reading all the books. I got every book I could. And I was like, very. I felt like I was very understanding of her like I get it. And then lately, I've been getting more frustrated with her just with how she handled stuff.
Stephanie Wittels Wachs 
Yeah, talk about that, how she handled what exactly?
Sharon Kritzer  
So that's what I want to talk about Tali in good ways. But I'm also in the mindset like her two-year memorial day is tomorrow. So I don't lately I've been kind of like, it's hard for me to remember the good things even though I'm trying, you know?
Stephanie Wittels Wachs  
When someone you love dies unexpectedly, the two-year mark can be an unpredictable time. You're past the initial shock through those intense phases of early grief, where you cling desperately to your fondest memories together. And you've now arrived at an uncomfortable holding area, a kind of purgatory of all the unresolved feelings that were way too inappropriate to deal with at first, but are all you can think about now. This is especially true when the person you lost wasn't always easy to be around, which is sometimes the case with someone who is chronically depressed. Like Sharon's sister, Tali.
Sharon Kritzer  02:09
I definitely had that investigative detective phase. At the very beginning, I went through like all her phone history, her computer, everything. But when we found the depression history, I read it out loud to my mom, my sister and my sister's husband. We were at, it was the first time we I think we were at her house after she died. And I read it aloud, which I'm shocked.
Stephanie Wittels Wachs 
Now that I was able to do that because it's very difficult stuff to hear. Sharon sent us a copy of this depression history. That's literally what the PDF is called Depression History. It's 10 pages, I can confirm that parts of it are very difficult to read, even for someone outside the family. I mean, it details everything Tali was feeling when the feeling started and what she tried to do about it over the years. There's also screenshots of a live journal account they didn't know she had and intimate pages from her diary. It's a comprehensive case file, compiled by the person at the center of the case. Someone who has spent a lot of time asking every version of how could this happen? Why did this happen? The idea of being left with a full report was fascinating and extremely unusual. Most of the time the WHY is the hardest question of all.
Stephanie Wittels Wachs  
I'm Stephanie Wittels Wachs, and this is LAST DAY.
Stephanie Wittels Wachs  
In suicide research, there's this thing called a Psychological Autopsy. And it's pretty much exactly what it sounds like. A snapshot of someone's mental state leading up to their death. A lead investigator collects personal and biographical information and conducts formal interviews with family members, friends and any doctors who may have treated them. It is a lot of information. But the one voice that's rarely in the mix, the person who died. So this week we are doing our own pseudo psychological autopsy and reviewing Tali's story from five different perspectives. Tali through her personal documentation, Janice, a developmental psychologist, Sharon who we just heard from their middle sister Noah, and Bhatia, their mom.
Bhatia Kritzer  04:48
They were so nervous and I didn't understand why now I am too. That's all they told me all the time. It will be heard by a lot of people and I don't care. I'm talking about my daughter. I feel comfortable.
Stephanie Wittels Wachs  
In advance of our conversation Noah and Sharon assured me that I'd love Bhatia and I assure you; they were not wrong. She is great. Bhatia was eager to tell me all about Tali. She was her oldest daughter, and such an incredible blessing.
Bhatia Kritzer  
I couldn't have children for like four years, the fifth year, I got pregnant and had Tali and it was the happiest day of my life. She had a wicked sense of humor. I mean, she was funny, sarcastically funny, but she wasn't happy. In right, just after everything happened, I realized the she wasn't happy most of her life.
Stephanie Wittels Wachs 
And putting the season together, we heard a lot of stories were a key plot point was, we had no idea they were even struggling. This is not one of those stories.
Bhatia Kritzer  
You know, I remember as a child, like four or five, my friends would ask, does she ever smile? And at five I took her to psychology, that wasn't a good experience. I knew that  her life will not be easy, because she went you know, bump heads with everything. I know it's not the best. But you know, there were good moments. There are excellent moments. But yeah, she was not a happy person.
Stephanie Wittels Wachs  06:38
While talking to Bhatia, she kept reiterating that Tali was unhappy. She knew her daughter was depressed, but still, as a mom, she never saw this coming.
Bhatia Kritzer 
You don't ever think about someone killing themselves. So that was definitely unexpected, and tragedy I must say.
Stephanie Wittels Wachs 
To tell the story of this tragedy, let's start around the time Tali was five. The family had moved from Israel to Pennsylvania, and they eventually settled in Michigan. There were some culture shock, language barriers, and Tali really struggled to make friends. In the depression doc, Tali tells this story about kicking her kindergarten teacher after not getting her way. Bhatia definitely remembers this moment, she had to go to the school and beg the principal to give Tali another chance.
Bhatia Kritzer  
After a while the teacher's sister who is from Israel, came to class and she sat with Tali. It was amazing because she talked to her in English. And Tali answered in Hebrew and they realized that she knows everything. I hundred percent am sure that she was a genius. She was.
Stephanie Wittels Wachs  08:10
Interestingly, Tali doesn't mention this part of the story. In the depression history. She says, quote, my mom tells me a story of how I kicked my kindergarten teacher because she wouldn't give me the scissors, which tells you that I wasn't an easy child right from the start. There's no mention of the Hebrew speaking teacher sister, or her inability to communicate. She says she doesn't remember specifics. But no, she had no friends and didn't get along with other kids. She mentions not getting invited to birthday parties or sleep overs or after school activities.
Bhatia Kritzer 
She had a problem. She would make friends, but she couldn't keep them, that was her. That was her character. I think as a younger child, I noticed that when she had a friend, it was like it's hers. You can't be friends with others, you know, I own you. And I guess it didn't work. I don't know. I don't know how it worked is more as an adult. But even as an adult she couldn't. She didn't keep friends for a long time. Her best friends are his sisters. That adored her daughter.
Stephanie Wittels Wachs  09:37
Tali and Noah we're only two years apart. Sharon got there a decade later. So early on. It was just the two of them. Here's Noah.
Noah Kritzer 
Well, we moved around a lot when we were young. And so we were each other's constants. We were best friends, but also worst enemies. We were just a couple of years apart, and we terrorized each other and also had incredible imaginative play together. And we shared a bedroom. And that's what I remember most is just her being my playmate, my best friend.
Stephanie Wittels Wachs  10:19
I like you saying she was my constant. I think that's the thing that's hard about losing a sibling. It's your first peer, right? 
Noah Kritzer  
Yes. 
Stephanie Wittels Wachs  
When it got to the worst enemy. What was that like? What did that what did worst enemy look like in your in your house?
Noah Kritzer  
Just kind of the subtle sibling abuse that wasn't ever didn't ever feel abnormal in any way. But also, like I said, the opposite side of that was this intense friendship. But it was just. And I mean, it evolved as we grow older and became hormonal teenagers. And it became different and intense in different ways. And then as we grew older, it evolved as well. So it evolved over time, and continued to be those two extremes, but in very different ways.
Stephanie Wittels Wachs  
Those extremes made it hard for Tali to make friends. And she noticed that it wasn't like that for Noah. And her depression history. She literally says, I look at pictures that were taken of me and Noah when we were young. And then most of them I'm not smiling. Whereas Noah has a big happy smile.
Noah Kritzer 
I think I was playing a bit of a role of being kind of cheerfully oblivious while I'm intelligent and aware enough to realize that it's happening. I was a social person; I think moving for me was allowed me to flex that muscle in different ways. And for her it was kind of the opposite.
Stephanie Wittels Wachs 
Yeah, I mean, in very simplistic terms, the way that she characterized you is always happy. And her as always sad.
Noah Kritzer  12:06
And that is true. And that is what it was. She was a reflection of me. And I was a reflection of her. We built our personalities around each other in a lot of ways. And my outlook on all of those things was through those lenses.
Stephanie Wittels Wachs 
Was that how the family also characterized the two of you?
Noah Kritzer  
I would think so, definitely.
Stephanie Wittels Wachs  
As kids, the family treated the girls like they were two sides of the same coin, connected, but opposite. what they saw as Tali's character traits, she started to internalize as character flaws.
Noah Kritzer 
She had that internal dialogue of who she was. And in her mind, she didn't have the social skills. She didn't feel like that came naturally to her, which to me, made no sense because she was super funny. She was super smart. She was well educated. She had a great job. She was gorgeous. She was tall and curve and just stunning. And it didn't make any sense to me to think that she wasn't the ultimately charismatic person that anybody would be attracted to. And people want to be friends with and be interested in. But she didn't see herself that way.
Stephanie Wittels Wachs 
Noah thought her sister was fucking awesome. That's a direct quote. By the way, she emailed me last week to reiterate that her sister was fucking awesome. The thing that kills me is that Tali didn't feel fucking awesome. Because she didn't see herself through Noah's eyes. She was way more focused on unrequited love.
Noah Kritzer  
She's like, obsessing over other people that don't care about her as much and she wants those relationships that she doesn't feel like want her. But with the people who care about her and love her, she just sees the worst of herself in them.
Stephanie Wittels Wachs 
Tali talks about this very thing in her life journal, she wrote, "It hurts so much that the person I care about and think about all the time doesn't care about me. It hurts even more that the people that do care about me are never in my thoughts, in fact that they are people I try to avoid. I see my flaws in them magnified." reading this had a surprising effect on Noah.
Noah Kritzer  14:23
It made me feel good because it wasn't that she didn't like things about me. It wasn't that it was that she didn't like things about herself and she saw those things in me.
Stephanie Wittels Wachs 
This is the tricky part about building your personality as a reflection to someone else. The more Noah played her role as the cheerful one, the more it validated Tali's fear that she was the bad one. It was the same thing when Noah and Sharon started dating and bringing home boyfriends. They had what she wanted. And sometimes the easiest way to deal with that was to avoid them all together.
Noah Kritzer 
The times where we knew that there was that she was at her worst was when she would lock herself in her room and just not interact with anybody. And she would just sleep. She had always been someone who could sleep a lot. That was like the most obvious form of that depression was just completely disconnecting. And your automatic response might be to comfort and chase that and at a certain point, you realize that that's not productive, and it's hurtful to you more than it's helpful to her.
Stephanie Wittels Wachs 
Noah spent years figuring out how to set boundaries and resist the urge to chase her sister. Sharon, not so much.
Sharon Kritzer  
I felt like because I was the youngest, so I was kind of sheltered from that for a while. And then no one moved away and I was here.
Stephanie Wittels Wachs 
Which meant she had a front row seat. When we come back, we see it from Sharon's perspective.
Stephanie Wittels Wachs  16:09
We're back. Before the break, we followed Tali depression history from age five to young adulthood. By this point, it's about 2015. Noah has moved to Las Vegas. And now Sharon has stepped into the role of emotional support sister.
Sharon Kritzer  
When I would text her like, do you want to hang out? She would say I'm not feeling well. And if I pressed her on it, she would say like, because I cry all the time. And because I, you know, I'm unhappy and life sucks. But she wouldn't want me to ask any more questions. I'd be like, Can I come over? Can I bring you something? And she'd just be like, no, and she would probably go to sleep.
Stephanie Wittels Wachs 
Sharon didn't realize at the time that her sister was dealing with severe depression. But she knew it was something and her way of dealing with it was to just never say no.
Sharon Kritzer 
I would kind of do whatever she asked, like, if she would ask me to come over, or like bring her something when she was depressed. I can't make her not depressed, but I can bring her chocolate. That's something I can do. It's like whatever is in my power to do to help her I will try to do even though it doesn't, it's it is kind of like a band aid. It doesn't get rid of the depression. But I can't do that either. So just want her to know that I'm there.
Stephanie Wittels Wachs  
Do you think that she didn't know that you were there?
Sharon Kritzer 
It's hard to say because I think that she did know that I was there. I think they didn't matter though. It mattered in a small way, but not in the big way. It's like, it matters. It's nice that you're there. But it doesn't change how she feels.
Stephanie Wittels Wachs 
Sharon was so ready and willing to help her sister. But that didn't make her immune to some of the more confusing aspects of Tali's depression.
Sharon Kritzer  18:07
The part where she's texting me like, I don't feel good, I get it. But the part where she's fighting with me, I didn't get that. That was really hard to, to put in your head like she's angry with me because she's depressed because the stuff that she would be angry about didn't make any sense. It was like just the thing where it was always a test of your love for her. Like, if you did something wrong. It's like See, this is an example of like, I care for you more than you care for me.
Stephanie Wittels Wachs 
Over time, Noah had learned how to support Tolly from a safe distance. She cared about her sister so deeply, but also reached this point where boundaries were pretty critical. Sharon, on the other hand, was on a mission to make her sister happy. So when Tali said jump, Sharon said how high.
Sharon Kritzer 
She was like, I want to spend more time with you. Which I was like great. She was like, but I don't want to just sit around my house. I want to do activities. So I like found a bunch of activities for us to do I got we did a Krav Maga class. We did a Tai Chi Class, I think. And I liked it and she was like, my knee hurts. So we can't do that. Tai Chi. She said the same thing. But then I was like, do you want to go get breakfast? She's like, no, don't ask me to do stuff that has to do with eating. Because I just like she was always like, careful about what she ate and she didn't want to eat. So it was like really hard to make her happy.
Stephanie Wittels Wachs  
Noah had moved out of state, but she was still looking for her little opening to make her sister happy.
Noah Kritzer 
There were I mean; I feel like there were maybe one time that I can think of and barely that I could reach through that and get to her. And even then it was like a little window not like the door opening, you know?
Stephanie Wittels Wachs  20:12
While her sisters were trying to get through to her any way they could, Tali was approaching her own depression from every angle. Here's the interesting thing. I went into this thinking Sharon was the manic investigator at the family. But actually, I think it was Tali. She meticulously documents all the research she did on depression, medication, treatment options. on page eight, she has an entire section on an ex-boyfriend. She talks about spending weekends together and literally staring into each other's eyes for what felt like hours. She says quote, "It was perfect. It was the happiest I've ever been in my entire life." That is not an exaggeration. Bhatia confirms this.
Bhatia Kritzer 
She fell crazy in love with him. I think that's when she stopped taking her medication because she was so high in love. And she is you know, everything is extreme.
Stephanie Wittels Wachs  
Also extreme. Her reaction when he ended things in the doc she says she's never been more heartbroken in her life. She describes contemplating evaluating, interpreting and considering every possible reason this could have happened. She literally uses these words, and says that even seven months later, she still thinks about it constantly, several times a day. She lists all of the possible reasons for the breakup, everything from her having too much love to give to not regularly dusting her house. We should also mention, Tali was a city planner. She had a master's degree in GIS, which I had to Google and learned it means Geographic Information Systems, which I had to Google and learn that that means using spatial analysis to tackle real world problems.
Stephanie Wittels Wachs  22:08
In other words, collecting data to try to make people's lives better. But she did not leave that analyst brain at work. Oh, no. This is how you end up with two pages of possible reasons that your boyfriend broke up with you. In the doc, she says, I am an analyst by nature and my profession, I look at patterns and evidence and feedback and extrapolate based on historical and ongoing evaluations. To Tali, her own historical evidence was damning. She could not sustain meaningful relationships. And she really wanted to crack the code on human connection.
Noah Kritzer 
She became very interested in several things in the last few years or even before that, self-improvement, how to win friends and influence people just very like trying to figure out the way to be in interpersonal relationships just in a very logical way. Like how do I break this down so I can make it work.
Stephanie Wittels Wachs
And a March 2015 entry from her life journal, she says, here's my plan to reduce my flaws, my biggest one being my reactions. Number one, only respond with positives look hard for the happiness in situations. Number two, React slowly, thoughtfully and calmly. Always. Number three, smile. Number four, no more than two drinks on a date. But for all her self-awareness, nothing really changed. 
Stephanie Wittels Wachs 
This is like a taboo kind of a question.  When my brother was shooting heroin in his arm over and over and over, and then he kept relapsing. And I was like, What the fuck is wrong with you? Like, why can't you just blank? And there was such a frustration of like just do this thing like, stop making everybody miserable. Did you find that like, did that start to characterize how your family functioned? And was it frustrating?
Noah Kritzer  24:28
No and yes, I mean, she separated herself from people when she knew that she wasn't going to be a productive member of this group, which was sad, and it affected us negatively. And yet, in a way it was protective. And so we didn't have to focus on that. And I don't think that that's necessarily taboo to think that our family might have been affected by it, but it wasn't all encompassing and I think you know, she tried so many things she really did. And she was it wasn't that feeling that you're talking about of, why don't you just blank she blank, she blinked and then she blinked. And then she blanked. She blanked so much. And she, it was at a point where it was like, we were having this conversation, like, what do I do now I can't figure out a solution to this problem. 
Noah Kritzer 
And I'm like, just keep trying, you know, like, keep trying and trying and trying and then it's like, in my mind, I'm thinking. And if it doesn't work, keep trying. And then if it doesn't work, again, keep trying. And she's thinking the same thing. There's a logical part to this, you know, there's a logical component to the thought process that she was having. And you see it in her writings. And you see it in her process of, you know, the years and days leading up to her death.
Stephanie Wittels Wachs 
Based on her case file, it really does seem like she tried almost every blinking thing you can think of. There's literally a whole section called things I'm trying or have tried. That includes everything from an assortment of antidepressants to things like yoga and aerial classes. To dig into the section we called in our resident expert, Janice.
Janice  26:19
She did do a lot and the fact that she was such a good student of herself, in a way. She was asking the right questions like, what's wrong? And not just Am I bad person, but like, what might actually be going on here? And what can I do to make a difference, and  she's studying it. That's pretty amazing.
Stephanie Wittels Wachs  
You met Janice in Episode Three, with permission. We shared Tali's depression history with her because her research tries to connect the dots between behavior and the brain.
Janice 
As you know, sort of as an applied developmental psychologist, that's, that's what you're doing. You're trying to understand what happens to people on the outside interacts with what's going on inside. So there's this always this dance between the inside and the outside? That's domains I work in.
Stephanie Wittels Wachs 
Tali's story does share many plot points with other people who die by suicide. Janice confirmed that the documentation was unique.
Janice  
It's rarely as detailed and well thought through as this especially since it shows very meticulous record keeping over time.
Stephanie Wittels Wachs  
This almost compulsive level of detail gives real insight into what Tali was feeling at various stages of her life. And there are some recurring themes that are also real markers for depression, inability to be loved,  inability to feel happy, loneliness and isolation, frustration with herself, overwhelming feelings of guilt and self-blame. And some of these may sound familiar or relatable. So we asked Janice, when it crosses over into clinical depression.
Janice 
It's when we start to see it being chronic. And the big criteria is how much interference it has in life. So when depression makes it difficult to function when it's interfering with relationships, when you can't get out of bed for long periods of time when you know when you have to have lots of time alone in order to be okay, when you can't work full time. Those are the kinds of things when you start to see life interference for significant periods of time, weeks, or more than that would be identified as clinically depressive and there are gradations You know, there's like really major depression and then there's sort of on down from there.
Stephanie Wittels Wachs  28:39
Depression, like any disease can manifest as mild, moderate or severe. And even then, it looks different in every person in our document Tali made a bullet pointed list of the various specific ways that her depression manifests. Number one rumination over embarrassing situations that happened in the past. Number two, regret over things that I've done or said in the past. Number three, regret over places I should be and who I should be with in the present. Number four unending speculation about why people don't like me or what they think about me. Number five, ceaseless acceptance of a lonely future. Her symptoms are clear paths to treatment, not so much.
Janice  
We don't have a perfect treatment for depression. Some mental illnesses are more treatable than others. Depression can be really tricky one.
Stephanie Wittels Wachs  
It is a tricky one, because there are just so many variables. It's hard to pinpoint what's biological, or psychological or sociological. So we asked Janice to sum it up in a pie chart.
Janice  
For anyone person who I don't know, I mean, depression is about what 40%-50% heritable. The rest is a really complex alchemy of things that go on in life and it's an important in my mind to separate out the triggers for depression from the drivers of depression, we tend to focus on the triggers every but everybody will have a trigger. Because that's the thing that can push somebody over the edge into sort of a depressive state. So often those are relationships or performance related things like that drivers, though, are usually we're looking for the antecedents we're looking for what are the things that make you susceptible? Not what are the things that are that you know, what's the button that gets pushed? But what are the things that made the button there in the first place? And that's just really notoriously difficult to know.
Stephanie Wittels Wachs  30:41
We do know that childhood trauma, abuse and chronic stress can lead to a heightened risk for depression, anxiety and other mental health conditions. But what's interesting when looking at Tali, is that she starts her depression manifesto, literally paragraph one, with an awareness that she had it pretty good quote, "I had a reasonably opportunistic childhood. I have never experienced any trauma such as sexual, physical or emotional abuse." Okay, if you listened to season one, specifically, Episode 17 with Dr. Gabor Maté. First of all, thank you for listenership. But you know what he says about trauma, that it's not what happens to us, it's what happens inside us. And it's clear that a lot happened inside of Tali, every time she was socially excluded or felt like the bad sister. But as she describes it, there wasn't any sort of big monumental event that sparked her depression.
Janice 
In her case, I would expect that a good chunk of this is heritable. Because she doesn't have the standard trauma history. That's one of the major things you would look for. Plus it starts really early, which is also another telltale sign that there's this she sort of came in with vulnerability. So that's kind of what I would expect here. And it's really chronic, like she really did, she's clearly trying to do a lot of different things to make it better and without a lot of success. So she would be one of the more complex cases, given the depth and the longevity.
Stephanie Wittels Wachs  32:23
Her symptoms, or lifelong, but they got way more intense towards the end.
Noah Kritzer  
We went on a trip together and we stayed in a hotel room together within the year before she passed. And it was very clear to me at that point. It was just everyday every night. And I think that the medications she ended up taking, they work for a minute and then didn't. And so it just created the cycle of hopelessness.
Stephanie Wittels Wachs  
No one knew the cycle of hopelessness would have to eventually end one way or another.
Noah Kritzer  
There was a part of me that thought there was a chance, a pretty decent one that, that would happen. But there was always your mind will find reasons for that not to be true. She was so adamant about sunscreen use. She was so adamant about like, you know, skincare. And for some reason that stuck in my mind as this like, well, she's planning on growing old, so she doesn't want to get wrinkles.
Stephanie Wittels Wachs 
But at the end of the day, these little glimmers of hope didn't change the fact that Tali was stuck.
Noah Kritzer  
I remember a specific conversation; I was on my way to work when I was in Vegas. So within the year and a half before she passed, and she was talking to me and saying like, I've tried this, I've tried this, I've tried this, what should I do? I don't know what to do. I don't know what to do. And I was just like, just keep trying, I guess. And I literally said to her. I'm not going to give you permission to stop trying, you know, that's not you're not going to get that from me. I remember that conversation so vividly. And so right after that moment, there was I mean, that instant I was like, Okay, well now there's always a chance, there's always this chance that's going to happen. There's a very good chance that there's going to be a day where that happens.
Stephanie Wittels Wachs  34:34
Do you think she was looking for permission from you?
Noah Kritzer  
I think that yeah, definitely. I don't think I would have said that if I didn't feel that way. I don't think she explicitly said it because how you know she was so considerate. She didn't want anybody to feel bad. She didn't want anybody to have any hardships from this loss, which is bananas, because how? So in that I don't think she I think she would have been very conscious of the fact that asking me and say and me saying, Yeah, okay, go ahead, and then I would have felt guilty. She would never have asked me if it was okay to do that. But she was also like, I can't keep going. And so the conversation logically continued into. Okay, well then, and then what?
Stephanie Wittels Wachs  
That conversation did eventually end on October 20, 2018. The day that Tali took her life.
Noah Kritzer 
It was a week after her birthday. Everybody I had, I don't I still don't remember the last time I talked to her, which is crazy to say out loud. But I remember calling her the night before. So Friday night, I called her and she didn't answer. And then Saturday morning, I got the call.
Bhatia Kritzer  36:01
That was the worst thing that telling her sisters when they know they love her so much. We are sharing to come home because she lives close. And we told her, and then my husband talked to Noah.
Stephanie Wittels Wachs  36:23
Do you remember what your dad said?
Noah Kritzer  36:29
I do. It's just it's hard to say it because it's like putting me back in that place. It's just yeah, I'll never forget. It was very simple and he just said Tali is dead. And I mean, he was crying, which is bizarre. In that in that way that you remember flashes in your life. I remember moments where my dad cried. It's very rare.
Stephanie Wittels Wachs 
Tali didn't leave an official note. Instead, she left a detailed spreadsheet with all our account info, usernames and passwords, instructions for taking care of her dog. wanting more, Sharon dug around on her computer and found the depression doc. It laid it all out there. A lot of their questions were answered, Tali left behind this story of a woman who tried everything. So that's the story the family held on to. But did she?
Janice  
She did try a lot of different approaches. Did she exhaust everything? It doesn't look like it to me.
Stephanie Wittels Wachs  
More on that. After the break.
Sharon Kritzer  38:00
I think that she tried most things that she thought of. And then there's some things that I think I wish she would have tried more like therapy. I think that therapy was the thing that she went into therapy thinking. She told me that they don't know. She knows everything they're gonna say to her. So there's no point. But that's not how therapy works. And you can't go in there thinking that you have to be open to talking about things and working through your issues. And I think that could have helped her a lot. But that was her mindset that she had researched everything. It's like a chemical imbalance. So therapy can help.
Stephanie Wittels Wachs 
The last section of Tali's depression doc is called "Why therapy hasn't worked." It's the shortest one. And she says that therapy hasn't worked because she knows the what's and the whys of her depression. She says, "I know the cause I know the manifestations. I know other people go through the same thing. I know what my problems are and why they are there. What I need is to fix them." The fascinating or rather ironic part of all of this is that there are several forms of therapy that do just this. breakdown persistent thought patterns and behaviors and offer solutions, not unlike what she's trying to achieve for herself by herself. But for therapy to work. You have to build a relationship with your therapist, which is a really difficult hurdle when your primary concern is an inability to connect. And I'm not the only one who zoomed in on this part of the story. After talking to Janice, she got pulled into this manic investigator mode and kind of cracked the case. The day after we talked to her she followed up with an early morning voice memo.
Janice  40:01
One of the things that's very interesting about her case is that she's clearly very analytical. And as she said, She's a self-researcher. And I think this may have buffered her in some pretty important ways. Because it's one of the places she was receiving a lot of, you know, sort of positive self-concept. But it can also be a real impediment to effective therapy, because of the reluctance to allow another person to assess and direct treatment. She likes doing that. I mean, this entire document is a testimony to sort of her own self-analysis, and I imagine she wouldn't have wanted someone else to do that for her. So my take in short, is that she clearly valued her intellect and found herself to be quite smart, which was a much-needed source of self-esteem here. But this also suggested to me that allowing someone else to quote you know, analyze her would have likely been both threatening and something she resisted, because A. you know, how could they know more about me than I already know, I've got it all figured out. 
Janice  
B. if someone else figured something else out that I don't already know, then what does that mean about my own native intelligence here, it's the one thing I have that feels good to me, so I need to protect it. And C. she's wanting to be vulnerable, she seems to desire being vulnerable in the romantic relationship department. But I didn't see much evidence to suggest that she was okay with being vulnerable anywhere else, a therapist would likely have been low on the I am willing to be vulnerable with you list because of the last two things I just talked about. So maybe that's why she didn't go too deep into the therapy arena, although she may very well have benefited from it.
Stephanie Wittels Wachs 
That is quite a summary. If Tali were hearing this, she'd probably be horrified. Because it is really fucking intense to have someone dig through all your bullshit and identify what your problem is. That's the head trippiest thing about therapy. It's totally helpful over time, but completely vulnerable and often very miserable in the moment. And it takes tons of personal investment to make it work. I know we hammer home the importance of therapy as if it were a presenting sponsor of this show. But it is not just because we are fans of being emo. I mean, we totally are. But that is not the big why. It turns out that 90% of people who die by suicide, had shown symptoms of a mental health condition prior to their death. But not all of them were diagnosed or properly treated when they were alive. Tali describes sporadically seeing psychiatrist over the years and going on and off meds, but it's unclear if she ever got a full evaluation from a clinical psychologist. 
42:55
And FYI, this is not the same thing as the super long intake form you get if you've ever seen a psychiatrist, a full evaluation looks at a patient from 360 degrees and can connect the dots so that pretty consequential things don't fall through the cracks. For example, Sharon saying she couldn't suggest any activities that involved eating could relate to a potential eating disorder. Something like a lifelong inability to pick up social cues could lead to an autism spectrum diagnosis. We don't know what the specifics are in Tali's case, and we are not diagnosing her. But it is important to know that if you relate to any part of Tali story, antidepressants alone didn't and won't fix the problem. And going on and off of them by yourself can be kind of dangerous. But the other big thing to keep in mind is that while beneficial psychiatric medications don't work in a vacuum. 
43:57
In most cases, they need therapeutic support in order to be effective. This came up a lot last season when we talked about Medication Assisted Treatment, or MAT. MAT alone will help ward off cravings but it won't address the root cause that fuels the addiction. And like Janice said earlier, it's not just about triggers, you have to also look at the drivers. Based on her own writing. Tali spent a lifetime building up the story that she fundamentally lacked the social skills to make friends and be loved. And once she took that on as an integral part of her identity, any negative experience she had just reinforced this idea.
Janice  44:42
Her self-criticism increased really steadily over time as she perceived that she accumulated failure. And because a lot of the place that she struggled was in the relationship realm, she sounds like she ended up feeling at least pretty isolated. And you know not having meaningful connections with other people is a risk factor for suicide in and of itself.
Stephanie Wittels Wachs 
This is the problem with being your own lead investigator. You're not always looking at the evidence objectively. And the difficult thing is that totally search for an answer didn't offer much comfort. Similar for her family and this document. While it's true that they're not asking why, it's still really complicated,
Sharon Kritzer  
I know she's gone in my head. But I'm waiting for, like an anticipatory thing for like, when is it really gonna kick in? That she's actually gone?
Stephanie Wittels Wachs  
So you don't think it's kicked in yet for you?
Sharon Kritzer  
No, but I think that a lot of people I've talked to say, many years out that it hasn't kicked in yet. So I don't know. Because I never got to say goodbye. I never I still have dreams all the time where it's a prank. I had a lot in the beginning. Right after she died, where as a prank, and she would come back and be like, haha, got you like, and so I still have dreams like that. Where she comes back to life or something. And then she's, it's they're never good dreams, but they're actually very frustrating dreams. But yeah, I don't think it's, it's hit me up.
Noah Kritzer  46:34
I don't feel like I have gotten from three to two. I see her in my dreams so much. There's this weird sense of not her being gone in my mind, and there's flashes of intense reality and realization, oftentimes when listening to music, oftentimes in the car, but in my mind, I've had dreams. In my subconscious. I have had these dreams where she's just there. And it's like normal. And I wake up feeling Yeah, that was normal. So there's this part of me that it's just like, I wouldn't say that. It's not that I don't have closure. Logically, I understand that she's gone. But I've never felt like we've gone from three to two, there's still three of us. But I mean, our dynamic is very different, because there was a heaviness that is now gone. So that in a way is very different. There were moments that were very tense, and it was part of the relationship that we would have with her. And so that there's a lightness when the heaviness is gone, which is sad. And I wish I had that heaviness back, I want it so bad, but it's not there anymore.
Stephanie Wittels Wachs  48:00
It sounds almost illogical to miss something that you've experienced as so incredibly difficult. But that's what it means to love someone, especially what it means to love someone with a chronic mental illness. One doesn't cancel out the other. When the Kritzer's emailed us. The pitch was we had all this documentation and all our questions were answered. And it is true that they are not left asking why.
Noah Kritzer  
It does make it a little bit easier, because we don't have to guess she told us and she left it for us. I don't have to try to remember what she said. And think, am I remembering right? I have it in writing. She wrote that. So there is like a unique piece to having all of those documentations I mean, of course it's not. There's nothing easy about it.
Stephanie Wittels Wachs  
Yes, that is the point. Once we really dug in with them, you remember, oh, they lost a member of their family to suicide. There is no easy version of that story.
Noah Kritzer 
Like if I could tell someone anyone who was thinking about doing something like this, something I would say like this is the worst thing that's going to happen to the people that you love. This is the absolute worst thing that happened to me in my entire life.
Stephanie Wittels Wachs 
Tali really believed that leaving all of this behind would make it an open and shut case that it would fill in all the blanks. But it didn't.
Noah Kritzer  
I mean, part of me was like but I like where's my know, you know, because I was the important one like, but everybody feels that way I'm sure. But it was like I wanted something for me.
Sharon Kritzer 
I don't know you want you want something that for you. Like be like Sharon, you know, it's like a note just for me. The spreadsheet is not it was not personal at all, there was nothing like, you know, emotional about it No, no like goodbye anything like that.
Stephanie Wittels Wachs  50:19
And for Bhatia having pages and pages detailing how much her daughter wanted to die doesn't exactly feel good. If anything, it just generates new questions.
Bhatia Kritzer 
You look at pictures now and say, Wait, is this a real smile? Or? You know, was she really happy or no? And later in her writing, she said, Oh, I'll wait until Sharon will finish college. And I'll wait until she was writing about it. But we discovered it later. So it was planned. It was very planned. Of course, first you feel guilty, and you always feel guilty. I mean, a group, a support group in for the same thing. And everybody said, Everybody feels guilty it feel guilty, but I'm thinking, why couldn't they be with her at that night maybe change her life? Or, you know, her thinking or, oh, there's guilt, there will always be.
Stephanie Wittels Wachs 
I'm curious about this, because my mom's relationship with God now is very, it's changed a lot since my brother died. And I'm wondering if you feel that way?
Bhatia Kritzer  
Hundred percent. Well, I am a daughter of a Holocaust survivor. So their relationship was on shaky terms to start with. I mean, I keep I'm more of a traditional I keep the holidays and everything. But after Tali, nothing, nothing is left.
Stephanie Wittels Wachs  52:07
Her connection with God has been severed. But she still feels spiritually connected to something much deeper.
Bhatia Kritzer  
You know, we had the funeral. And people came home. And I went out for a second my husband said Come, come, come look here. And we saw three deer. And I've decided that this is my parents coming with Tali. I decided you can stop me. And then we're talking and I said if you ever have children, you should call them after my father. Which his name was (unclear). Which if you know little Hebrew (unclear) is a deer. I didn't realize what I'm saying. And Noah said, What? Oh my god. So and then we went to Tali's house because those two I don't understand how they did it. They went through everything. After the third day after the shiver, is I just sat there I didn't do anything. But they told me that Noah's teaching like art class and Tali came and made one picture. I don't know. Can you see behind me? This is a picture of a deer at night in a forest.
Stephanie Wittels Wachs 
Oh my god.
Bhatia Kritzer 
Okay. Okay. Thank you. And then of course, every time that you know I and her husband came to visit and we were sitting and I said please, I wish Danny will come you know nothing. The last day we having lunch before they left and Noah looks and she said the deer is here. It was standing there looking at her. So you can say whatever you want. I believe in it.
Stephanie Wittels Wachs  54:23
Listen, I get it. In a year or so after Harris died, I would see this possum crossing back and forth across my fence. And I was convinced for a variety of reasons that it was him. We need to hold on to our people. And in a way doing this episode is a chance to hold on to Tali, by sharing our story. I cannot tell you how grateful we were that Sharon, Noah and Bhatia not only agreed to talk to us, but that they shared so much of Tali's personal writing with our team. It helps illuminate a story that other ways can feel Totally frightening and mysterious. And it revealed some possible solutions that can help the next Tali. That is the difficult thing about telling LAST DAY stories. Every time I learned something new about addiction treatment, I have this pang of guilt that I hadn't known it in time to save my brother. But it doesn't work like that. We know more now than we did before. Largely because people like these women are brave enough to share their stories.
Stephanie Wittels Wachs 
Next week we are taking a little break for Thanksgiving. So we are going to go back to where it all started with Season One, Episode One.
Speaker 1 
One of the really special things about Harris not only that he's so original and so funny, it's his fucking audacity and his nerve.
CREDITS
LAST DAY is a production of Lemonada Media. Our supervising producer is Jackie Danziger, associate producer is Giulia Hjort with additional production assistance by Claire Jones. Technical Director is Kegan Zema, music is by Hannis Brown. Executive producers are Jessica Cordova Kramer and me Stephanie Wittels Wachs. We are thrilled to partner with the JED foundation this season and grateful for all their wisdom and support. You can find them online at @JEDfoundation. And you can find more mental health resources at jedcares.org/lastday. If you want to hear more last day we have a whole first season. Listen to it wherever you get your podcasts and while you are there. I beg of you to take a moment to rate, review and subscribe if you haven't done so already. You can find us online at @lemonadamedia, and you can find me at @wittelstephanie. I'm Stephanie Wittels Wachs. See you next week.