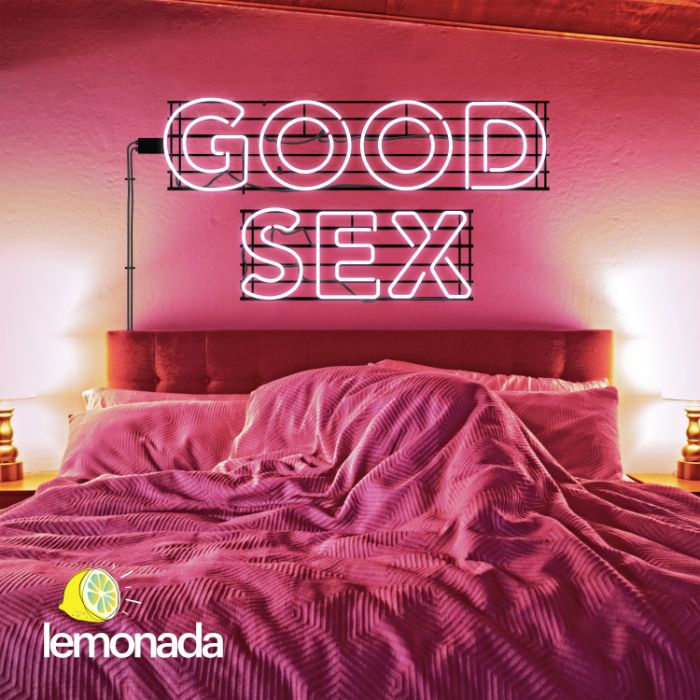 Saga & Maria: When The Pandemic Ruined (and Then Saved) Your Sex Lives
Subscribe to Lemonada Premium for Bonus Content
Description
Married mom Maria isn't shy to admit that she's a "lifetime hoe." But not even her unwavering desire for her husband Saga could stand up to the drastic changes brought on by COVID.
"I almost needed sex so that I could escape some of our life that was happening during the day." – Maria
If you're interested in being a part of Good Sex Season 3, please fill out this form: bit.ly/goodsexform
As expected, Good Sex contains mature themes and may not be appropriate for all listeners.
Stay up to date with us on Twitter, Facebook, and Instagram at @LemonadaMedia.
Click this link for a list of current sponsors and discount codes for this show and all Lemonada shows go to lemonadamedia.com/sponsors.Joining Lemonada Premium is a great way to support our show and get bonus content. Subscribe today at bit.ly/lemonadapremium.
Transcript
SPEAKERS
Saga & Maria
Maria  00:00
It was just coming off what I call my revirginity tour. I was like now putting myself back out in the world, in my own version of wild purity to kind of look at partnership in a different way. And just like meet somebody who was emotionally available, they had to be really tall. They couldn't be an artist, they had to have like, a steady regular job like a 9 to 5
Saga
Sucks that she ended up with me.
Maria 
Saga clearly did not meet the height requirement, clearly was an artist practicing a folklore but he just had it was the spark. We had some nonverbal exchanges. It was basically based around dance. And I was kind of like, his swag is a little different, but it's also cute. And he has a nice smile. He has like, really good. A few weeks later, I'm back in my neighborhood. Having a girls night for a friend's birthday, I go to this nightclub and in walks in Saga. Yo, this is it. And literally, we've been inseparable for 15 years now. That's my version of the story.
Saga 
You know, it is true, what you say. But there's one thing she caught me on the clock. I was like, okay, okay, what's going on here? She's trying to see if it was the right thing for her. I was like, huh, girl, you're in trouble now.
Saga 
Hi, I'm Saga.
Maria 
And I'm Maria.
Saga
We've been together for over 16 years.
Maria
We have two kids, ages 9 and 4. And this is GOOD SEX.
Saga  02:02
She literally kept me for three days on her apartment. Every time I get up, I was like, Okay, I need to go. And she's like, you can stay one more night. Tomorrow's a holiday. Oh, that sounds good. To the point that people start calling me hey, are you okay? We haven't heard for you or seen you for three days. Four days. I was like, oh, don't worry. I'm having right now with Maria. She's having fun. Enjoy each other's company getting to know each other. […]
Maria 
Oh my god. I am a lifetime hoe.
Saga 
You fast to kiss me. I know where you go by fast is touched me.
Maria 
Okay, so you're a good kisser and you like kissing and I think it's like a very cultural thing. Like, if it was up to you, we could like make out literally for three hours without touching anything. I tend to like to go into your neck and your ear area because it's an erogenous zone for you. And you get so
Saga 
defensive and tickle Yes. But
Maria 
It's like, there's something there that like unlocks the rest of your vibe. And you know, I like kissing your neck and I like kissing your chest and then probably if it was touching again, on my non-slut shaming host self, I will go straight for the D because we are friends.
Saga 
As long as is my D, it's okay.
Maria 
But yeah, you know, I want to touch you. I like to touch your thighs because you know how much I love your legs. And your whole erogenous zone down there in my hand or starting to stroke you or you know getting closer to oral sex I think is usually something important to our warm up. That's where I think I'd go. What do you think is an area that feels more intimate than it does sexy?
Saga  04:27
What do you mean like in the body like?
Maria 
Yes like in the body.
Saga
I mean, I don't know, you know, for you. It's definitely the neck kisses get you really wet to the kiss of the whole body like you know, you know how I like I like to go from top down and when I enter the area, I can be there for hours and hours just enjoying myself and it's like, I'm having that down. That just gives you the pleasure to relax and get a good oh guys man that's Leeds do eyes woman I've been very for the intercourse and have some more in different positions but it is you know for you I think is the neck and you know touchy whole body I love it every minute Do you only want to have sex with when both of us are in the mood?
Maria 
I feel like usually we do some pre-negotiations of like, okay, so if it's not the like, it's tonight it's going down tonight. And we're both like on that wave. Like throughout the day, because that can happen sometimes too where the vibes are just good. Yeah, like, Yo, tonight, everybody's hitting bedtime at the right time. And we are getting this in. Like, oh, kids get melatonin at bedtime and good night. Here's what I'll say like if you're ready, if I'm laying down next to you in bed, and I feel something hard and stiff on my leg. I'm like, oh, I'm not losing out on this situation. Look, I mean, I know it's crazy. I'm a mom. And I've been married for a long time. But I love dick and your dick. So it makes it really easy for me to be like, he's ready I need I want this too.
Saga  06:32
What was be your least favorite part of COVID sex.
Maria 
COVID, 2020 was just hard all around, I think the weight of unknown not knowing what was happening with work, having the preschool clothes and the girls at home, and trying to get a second grader to be online. And you know, all of a sudden, being deeply immersed in the household stuff like the way that the world collided in the house. I think making time for sex felt weird. All I could do was just like the list of shit, we had to get done. I didn't not want to have sex, like I almost needed sex so that I could escape some of our life that was happening. But it still also felt like this doesn't feel like an escape.
Saga 
It's the nosing not to know what COVID was a fuzz and coming home and having a life change the whole routine made COVID sex not so exciting.
Maria 
There was also things about the way I like my body to be for sex with you. I love personally getting waxed. And so that was a long period of trying new things with body hair. But I just felt like uncute and then I was like, well, maybe he doesn't find me attractive right now. And that's why sometimes we had some moments where we didn't finish what we started.
Saga  08:19
Yeah, some of those times, like definitely, as we connecting the sex appears in and we go all the way and then at some point, it's like shit tomorrow is gonna be hard. And just drained out of the moment that we were having in that sea of frustration of not having all guys smells like shit. Not connecting anymore. And they're getting into my head. So it's like, I can't really connect anymore.
Maria 
I know that I can be rude when it comes to like, not having an orgasm. For some reason..
Saga 
Is that your way or the highway? It's a joke. I think he you know; it was not frustrated. And then we got so used to have like, the waxy part of it and she doesn't feel comfortable and, you know, try and find the music like okay, it becomes frustrating at some point. Because you don't connect at the end of the day. You're like, oh, there's something wrong. You don't know what it is a could be the hat could be so many different things.
Maria 
Oh, what's funny is I don't know if in the moment we were as focused in on like, What hair is or isn't doing. I do remember though, like six months into the pandemic, things opened up for like a quick second in our state. And one of the first things I went and did was got waxed. And that night it was like after we had five months of just stressful sex. You know, just like stopping starting bringing in new toys trying new things. Being okay with like not finishing. I got waxed. I didn't say anything. 10 o'clock at night, finally everybody was asleep. I took a shower and I was like, oh shit. I'm like, all cleaned up. And so then we had sex and it was like mind blowing.
Saga  10:16
Oh, yes. Oh, yes, definitely remember that. night I don't know, like more. There's a chemistry, right that when we in the moments like is different.
Maria 
Yeah, that was a turning point, though, that night because I think having to deal with like, not finishing, not staying hard. We introduced lots of things to get us to the end. Or to like, get you hard again. That night was like, all the way through. I felt like it was a turning point one because we had tried so many new things that we're not going to leave our vocabulary of intimacy, like toys are still a part of our lives. Intimacy making out oral set, doing things in different ways still exist because of the sex we had during COVID. But also just like the joy of like, routines and things that felt like quote, normal. I don't know that did something for us. I was like, Okay, maybe you don't have a problem. Maybe we don't have a problem. Do you think having sex leads to more intimacy?
Saga 
Yes, but the same time. No, because I think we connect so well. You know, I know that something that holds us strong. When we have really good, like, getting into the mood and connect is like, okay, okay, the interest in me is like, it just pops up more and more. You know, we get into the kissing getting to like the cuddling. It's like, okay, let's continue. Like she's here for a whole hour. I love intimate kissing, touching, and love that, you know, it can be all night.
Maria  12:14
You're a good kisser.
Saga 
Oh, thank you. Because we don't have boundaries, right? We know each other. So well. It just leads to more and more.
Maria 
I love that. I definitely think sex can lead to more intimacy, because as much as I loved 23-year-old you, like when we first met. But like you're a better lover now. And I think that having sex with you for all of these years, in different places and different phases of our life. We just have a deeper intimacy with each other. And like a willingness to try new things. You know, like, I don't know, if 10 years ago, you would have been into sex toys. Or like me getting pleasure from a sex toy that like, maybe I didn't get in the moment with you for whatever reason. And like, maybe some of those things would have been more personal. Like she doesn't want me she wants a vibrator.
Saga 
And I'm glad you got your sex toys, you know, and love it. I was like, okay, let's bring the sex toys to and just have fun with it.
Maria 
I'm curious, I liked this question. What would you tell your newly married self, your 23-year-old 2006 self, about sex and intimacy based on what you know today?
Saga 
You know, it's not just the act of intercourse in other means. It's getting to know each other; it's getting to that log in a different way. Take your time and patience and, you know, enjoy every moment. Which is not bad because we know we can still enjoy. Like, let me go on the maritime sites and just let me have a really long, no enjoyable moment together. Relax, don't try to give everything to her and like she love you in the first in a moment. Just enjoy. It's a process. It's something that you discover every single day, a new thing that will get each other to sparkle to open up to feel comfortable.
Maria  14:35
I like sparkle. I used to say that a lot. I used to be like orgasms or like glitter, you feel like you're just like glitter shiny.
Saga 
That sounds about right. You know it is a different dimension that we go like I think that's what everyone goes for. You know, when they have good sex. They're like, Oh, man, this is you know, it's different. You discovered the good sex, you discover intimacy.
Maria
Yeah, it might go down like early in the day for us today. Yeah, just thinking about all of this. Thank you for listening to GOOD SEX.
CREDITS
GOOD SEX is a Lemonada Media original. This show is produced by Claire Jones and Matthew Simonsson. Our supervising producer is Xorje Olivares, with Jackie Danziger as our story editor. Executive producers are Stephanie Wittels Wachs and Jessica Cordova Kramer. Music is by Dan Molad with additional music from APM music. Sound design is by Matthew Simonsson and Elle Rinaldi. If you like GOOD SEX, the show not, you know? Why don't you rate and review us listen and follow for new episodes each week, wherever you're listening right now. And if you want more GOOD SEX, subscribe to Lemonada Premium only on Apple podcasts.