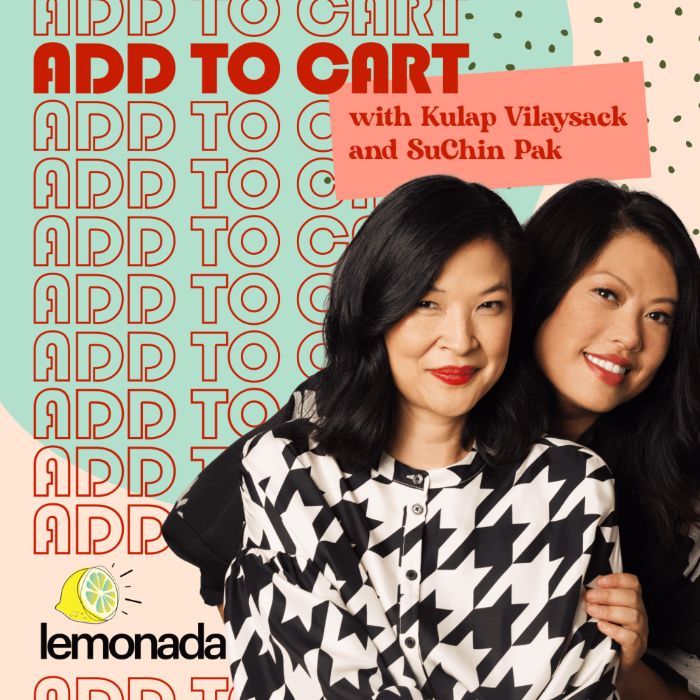 SuChin Wants You To Stop Calling It Chinese Chicken Salad
Subscribe to Lemonada Premium for Bonus Content
Description
Last week, Kulap was sinking her mind into multiple books in paradise while SuChin was sinking her teeth into her new favorite snack. However, both have now returned to the real world. For Kulap, that means getting back on track for her health. For SuChin, that means….taking on a campaign to rename her favorite deli salad? Sign the petition.
Please note, Add To Cart contains mature themes and may not be appropriate for all listeners.
To see all products mentioned in this episode, head to @addtocartpod on Instagram. To purchase any of the products, see below.
Stay up to date with us on Twitter, Facebook, and Instagram at @LemonadaMedia.
Joining Lemonada Premium is a great way to support our show and get bonus content. Subscribe today at bit.ly/lemonadapremium.
Click this link for a list of current sponsors and discount codes for this show and all Lemonada shows: lemonadamedia.com/sponsors
Transcript
SPEAKERS
Kulap Vilaysack, SuChin Pak
SuChin Pak  00:10
Hey everyone, welcome to another fantastic brand-new episode of ADD TO CART. This is a show about things we bought, things we buy into. I am SuChin Pak.
Kulap Vilaysack
And I'm Kulap Vilaysack, SuChin, how was your week?
SuChin Pak
Well, my week was really fun. As I mentioned to you on a call, my daughter is in a summer camp called Bizzy Girls and cuz it's a small business camp. So today is her big day. She's been working all week on Zoey's tie dyes, and they're doing a pop-up shop today, I just went to CVS and begged the lady for $21 bills so she could make change for all her customers. And by all her customers, I mean, you know, me, my husband and the grandparents because it's Delta. It's COVID it's not open to the public.
Kulap Vilaysack
It's the other camp members and their families.
SuChin Pak 
Yes, we will be coming home with lots of handmade soaps. I told her she's been trembling, physically trembling all week with excitement at the Bizzy Girls pop up shop so that that was my week. It's been really fun and also tiring because when Zoey goes to busy girl camp so does mom.
Kulap Vilaysack
Yeah. Su is also busy.
SuChin Pak
I've been tie dyeing. I've been tagging. I've been to so Michael so many times. To get the right sizes, colors.
Kulap Vilaysack
Luckily she's gonna make up all that time and effort and money up with her sales today right SuChin? Like, obviously, that's what's gonna happen.
SuChin Pak
And isn't that funny? It's a business camp when we talk about profit and loss. I hope the emphasis there is on loss you know, right from the gate. I'm paying for her to sell these things and buying all the material so it's just you know, it's what we do is we pretend that the world is beautiful for our children, and perfect and that there's profit wherever her heart desires.
Kulap Vilaysack 
There's profit of knowledge. There's profit of, right now I'm profiting from my dogs losing their mind at the door.
SuChin Pak 
Okay, tell me about your week.
Kulap Vilaysack 
I was in Hawaii. Hawaii, Hawaii. It was glorious. Perfect weather. I brought so many bathing suits.
SuChin Pak
So you brought lots of bathing suits. Did you bring any leggings?
Kulap Vilaysack
No, I did not. It's just not in my practice, SuChin?
SuChin Pak 
Oh, my goodness. You must have been freezing.
Kulap Vilaysack 
It was very hot outside. There's a virus out there. You got to keep it warm. Being cold is not a virus.
SuChin Pak
Well. I mean, don't tell my mother that
Kulap Vilaysack 
Any update with your mom? Are we still gonna kind of hang out in San Francisco? There's nope. Okay. That's it. That's the update.
SuChin Pak
I just started to watch the White Lotus. Is that what it's called? You didn't watch that on your vacation? I hope it didn't ruin it.
Kulap Vilaysack
No, no. I watched the first two. And then I went Hawaii. Yeah. Then I went to White Lotus and I was fine.
SuChin Pak  04:13
I love that you had such a luxurious vacation. It's nothing like home. You know, Hawaii is home to us Asian Americans. That is the motherland. I mean, I feel like it is because when I go to Korea, I feel very much like a foreigner. I feel very much like an American. My language skills aren't that great. I mean, right from my first you know, poofy, baggy jeans step on to that country. They were like she ain't from here. Look at that. And so for me, Hawaii and I, you know, I have family in Hawaii. We spent a lot of time in Hawaii but Hawaii is Asian-America, because it's still here. But it's filled with Asians. So the first time I ever really went back as an adult, I was like, I've never felt warmer.
Kulap Vilaysack 
God, you're right, SuChin.
SuChin Pak 
Yes, they have all the Asian foods, but then it's also a mashup of American foods within the Asian foods that you'll never find here. They have food there that is Asian and American that is very distinctly sold in Hawaii, but it is the Asian American palate. Like I just think everything there is very catered to who we are.
Kulap Vilaysack 
I haven't thought about it that way. Wow. Wow. And look, do I look native and I would never pretend to be of course, I would not be asked to do.
SuChin Pak 
Do the Native Hawaiians treat us just a little nicer than the other tourists, absolutely. Do we have any right to that?
Kulap Vilaysack
None. Zero.
SuChin Pak
Are we going to take full advantage of it? 100%.
Kulap Vilaysack
Yes, yes.
SuChin Pak 
Oh, I love it. I love that you went to Hawaii.
Kulap Vilaysack  06:01
I mean, is there perhaps too many tourists there right now when right now the island you know is lacking certain resources and that in Maui, they have been rationing water to help to give them to the tourists. Not great. Not great. I was in the Big Island. I know guys. It's horrible. But I wasn't not going to go I heard about that. As I was on the way It's not great guys. White Lotus.
Kulap Vilaysack
So add to cart reading books by the pool, by the sea while sipping on spicy margaritas in Hawaii. SuChin Pak, what a luxury to read, to be able to just do almost nothing..
SuChin Pak 
No, you're not getting scuba certified. You're not parasailing, you're not climbing the volcanic ash trails.
Kulap Vilaysack 
I am in my hotel bed. 9:30,, I see the stars, I get my time with them and then snuggle, snuggle, you know, there are no rental cars in the island because during the pandemic they sold a lot of the vehicles to the mainland to get by. And so it is it's such a premium to get a rental car that people were renting you halls to get to and from off the island like bopping around to the beaches in a u-haul. Which is a problem for those who need to move. If there are no u hauls. But for me and Scott, there was no question of a rental. We just need a ride to the resort. And then we arrived back, pick up drop off not going anywhere else just like the only schedule I had was like to get a deep tissue massage. Like that's where I know where to be. And even with like dinner reservations, like hope we make it, you know, and the other the other thing that was like timed was like the sunset. 6:30 gotta see that sunset. But beyond that, I'm by the pool. And I'm reading. And I read a book that you recommended, which is Crying in H Mart by Michelle's honor,
SuChin Pak  08:35
That's a bold read by a pool in Hawaii.
Kulap Vilaysack 
Oh, yeah. Because I was crying.
SuChin Pak 
Say is like, open weeping. Broad daylight on a paradise vacation. You know, people are walking by and being like, That lady. Ladies having a hard time
Kulap Vilaysack 
The first half was like I was by the ocean. No one's really paying attention. And then now I'm deep into it as I mosey along by the pool. Besides Scott and Scott is looking at me he's like what's.. Openly weeping. This book is so beautiful. So well written, so lyrical, which makes sense because Michelle's Zauner is Japanese breakfast. A great band who I was aware of prior to reading it and what will really in terms of crying by a pool, what will heighten it is if you put your headphones in and play Japanese breakfast while reading.
SuChin Pak 
Yeah, because she wrote those albums to deal with her grief as well. Of course, you went there.
Kulap Vilaysack
Another book SuChin, I wonder if you've read yet is Interior Chinatown by Charles Yu
SuChin Pak  10:01
I haven't but of course I know of the book.
Kulap Vilaysack
It's a novel. It's written, like it's almost like a screenplay. It's so much about the Asian American experience. Let me read a little bit of the cover. Willis Wu doesn't perceive himself as a protagonist. Even in his own life. He's merely generic Asian man. Sometimes he gets to be background oriental, making a weird face or even disgraced son, but he's always relegated to a prop. Yet everyday he leaves his tiny room in a Chinatown SRO and enters the Golden Palace restaurant were black and white, a procedural cop show is in perpetual production. He's a bit player here too. But he dreams of being kung fu guy, the most respected role that anyone who looks like him can attain. At least that's what he's been told time and time again, except by one person, his mother who says, be more. And it's such a send up of Hollywood tropes, Asian stereotypes as a roles, the roles that we play as Asian Americans. It's such an interesting device and way to look at it. It's a quick read, I highly, highly recommend it to everyone, Asians and non-Asians alike.
SuChin Pak 
I mean, it's won every single award. And Charles Yu is a very well-respected screenwriter himself. So expertly, I'm sure, expertly handled.
Kulap Vilaysack
And the other books that I read, were, as you know, SuChin and I think you adore this about me, I read a lot of graphic novels. you adore it, you think it's you relate to it so much. You accept it. You acknowledge that is fact. Am I getting closer to the truth?
SuChin Pak
Sure. Sure. I enjoy the art of graphic novels. I appreciate it. Yes.
Kulap Vilaysack  12:04
So there's a book called Fables. I'm rereading because of my comic book club with my husband and Jason Mantzoukas set us weekly. And so the world of Fables is imagine that, you know, Snow White, the Big Bad wolf, Prince Charming, we're real and magical. And they lived in this like fabled homeworld that an adversary starts a great war. And then certain fables become refugees. They take over a section of New York basically, it's actually a lot about war. It's a lot about refugees. So it's really interesting but it is dark, it is darker than one expects. And it's vast and gorgeous, the art the writings amazing. The artists so gorgeous.
SuChin Pak 
Wow, no. And this has stood the test of time, like you said, it's probably one of the most beloved and well-read graphic novel series.
Kulap Vilaysack 
So I got to read. That's mainly what I did aside from like, eating and drinking was laying about and reading and I feel so replenished and grateful. And it was wonderful, SuChin. I feel very lucky that I got to do it.
SuChin Pak
So my Add To Cart. I know this sounds trivial is a snack. But you know how sometimes you have a snack and it changes things. And you crave it all those things. It's a snap called Chingu, Chingu in Korean means friend. And it comes in two flavors. Regular and spicy […], which is red pepper paste. Let me just tell you what's in this thing. I mean, they're, they're all handmade. There's something like a […] cracker in here. There's something like a cereal puff. There's rice puffs. There are bits of ramen noodles. They're so delicious. I got home after eating the bags. And then I went online to order more so you can go to the you can go to the Instagram. And you can order these and they'll ship them anywhere. I was a little skeptical of the […] because I don't really love a spice you know what I mean a spicy snack. That's not me. But it's so delicious. This is the original, sort of it's a spicy powder, but there's, there's a saltiness to it. It's so good.
Kulap Vilaysack  14:44
As you guys know, I've become very good at Canva. I'm envisioning and creating some sort of SuChin is a spokesperson for Chingu. Give us give us something right now.
SuChin Pak 
Oh, Chingu, it's salty. It's Sweet. It has that umami flavor. And everyone's a chingu when they're having a chingu snack because you don't want me off of snacks. Oh, that wasn't right. Something like that sentence etc.
Kulap Vilaysack 
We started it was great. And then..
SuChin Pak 
I get nervous I get nervous when people put me on the spot, the performance anxiety takes over, but I am not the spokesperson for Chingu.
Kulap Vilaysack 
It got threatening towards the end. We kind of sift out that that one line you everybody's a Chingu.
SuChin Pak 
And then, because you don't want, that's where you just that's Chingu.
Kulap Vilaysack 
Let's take a break. And when we come back, we'll get into some removed from carts.
SuChin Pak 
All right, so we got some removes. Let's start with you. What are you removing from cart this week?
Kulap Vilaysack  16:04
Well, my dear friend, my excessive carbs and alcohol. We got to get back on the healthy train for me, you know what I what's good for me to eat and drink. As listeners know, we had a real come to Jesus moment, or whomever your spirit is. Your universal spirit. And I was pre diabetic, we put a patch on and we were perfect for a while. Let's start not the end and then yet we were perfect. I stuck to the plan. I was with the dietician. My birthday came and now I am a creature of celebration and I have not stopped celebrating since then. Which you know, was a probably a week or two ahead of my birthday. So let's just say May. Now, in the midst of it all, like three weeks ago, like around when my family was here, which I was doing a lot of damage then guys, you heard it. I took an alcohol tobacco throat. I found out I am no longer pre-diabetic. Those numbers are great. My liver has improved. And then the one thing though is I am now on the Staton and I'm taking the Staton and my doctors thought I would fight it you guys listening you're Kulap. Come on. You should fight it. But here's me. I can't do what I was doing for those two solid months. That I can't live that way guys, I can't live that way.
SuChin Pak 
To lower your cholesterol, like what do you have to cut out?
Kulap Vilaysack 
That whole diet thing that you know, we're just like no carbs.
SuChin Pak 
Yeah, just give me the pill. Listen, we're in our 40s now, give the pill, You're in your 20s you're in your 30s get up, you lazy goof. Do the exercises, do the diet 40's. Give me the pill, the injections
Kulap Vilaysack  18:05
And SuChin, I've been exercising. Now I exercise once in Hawaii, which I think is pretty interesting and pretty good for me. I still know that I need to chill the fuck out with my drinking, even though my bloods better, which is a bad habit where I'm like, I'm good. So I can just go crazy. It's like No, you did stuff to make it. So you were good and not pre diabetic anymore. You need to continue. And that is what I need to do. Also, I know it's gonna be really bad when we go on that road trip. Very bad. So let's have some time in between now and then to just clean it up a little bit. Clean it up a little bit. Keep working out keep you know that because it actually SuChin helps the moods does. I feel great during and after every time.
SuChin Pak
And listen, the more you exercise, the more Chingu you can have. You know what I mean? And I know it doesn't work that way. But I'm just saying
Kulap Vilaysack 
I'm not looking to be 100 I'm looking to be what I was gonna say 75. That's what I'm looking for. 75 was like being dishonest to you. And that's not what we're about here.
SuChin Pak 
I'm at 60 all the time. That's a straight solid D minus, if I met a D minus. And I'm talking about marriage, parenting. I'm talking about social activism. I'm talking about a week. I'm doing very, very good for me. And I'm okay with that. Consistent and 60. That's a full turnover. You know, just barely making the upgrade. I'm okay with that. A friend group is the strongest when there are a lot of different personalities and different strengths and when you show up at your weakest moment it allows others to relax into their weakest moments, you know what I mean? Like, nothing makes me happier when someone forgets a meeting that I'm in, because then I'm like, well, honey, honey, baby boo. I'm gonna forget a meeting down the road. I'm not mad. In fact, I'm excited I get a credit.
Kulap Vilaysack  20:33
SuChin, you have a removed from cart?
SuChin Pak 
I don't know, again, if this will make it. This is one of those. It may just be me.
Kulap Vilaysack
And I got to tell you every time it's there, they're usually gold standard. So let's hear.
SuChin Pak 
I really love an Asian chicken salad. When I'm in a deli and every deli across the nation has an Asian chicken salad.
Kulap Vilaysack
You may know it as Chinese chicken salad.
SuChin Pak 
Chinese chicken salad in some places. It's still Oriental, you know, chicken salad. It can be a sesame chicken salad. I've actually never seen that. So this is my pitch is that we should rename it the sesame chicken salad because it's always with sesame dressing. Now, I'm not talking about the same place, I'm talking. It doesn't matter. I was at my kids camp, which had like little snack bar. And sure enough, they had Asian chicken salad. And I live in Santa Barbara, where there aren't a lot of Asians here. Or really people of color. And I have been ordering Asian chicken salads. And I have to tell you, I have such anxiety, I get up to the menu. And I pretend I have this whole routine that I go through. I pretend as the only Asian person it for a three-mile radius. I go up, and I look at the menu at this deli that I often go to and I go wow. And she's like, you know, do you know your order? I was like, Yeah, I do. But I kind of wanted to see. And I know I'm going to order the Asian chicken salad. But I have to pretend that I'm like, should I consider. Yeah, the kale. What's the special sandwich today? Is that okay, let's have the turkey. Oh, yeah. I don't really like cranberry. Yeah, and they do that. And I'm like, you know, what, do you have that salad with the cabbage and the sesame dressing?
SuChin Pak 
But SuChin, you're like a regular now like, can we just confidently order?
SuChin Pak 
And they all know. They know here is the Asian woman coming in and she's going to order the Asian chicken salad. I can't put this flag down.
Kulap Vilaysack 
No, first of all, they're calling you Asian chicken salad. Oh, who's here? It's Asian chicken salad. That's what's happening. I call you that.
SuChin Pak
Put up your Dukes. I'm not going down. And have I considered I'd say get something else. But I don't want anything else. I want the crunchy. Crunchy wontons, I want the shredded chicken and I want that sesame dressing. That's what I want.
Kulap Vilaysack 
So let's just be confident but your point is let's call it sesame chicken salad.
SuChin Pak 
Let's call it sesame chicken salad. I feel very self-conscious. being the only Asian person ordering an Asian chicken salad, like I don't want I feel like I'm letting you all down and it's what I want and I can't help it and I feel I feel like I'm letting all the Asian people down like I feel like everyone behind me all my answers is like God please please don't order the Asian chicken salad don't do it this time. And then, and then I'm up there. I want the crunchy wonton. I want to Sesame dressing and I want to shredded chicken breast. I've been struggling with that. I've been trying to remove that from cart all week.
Kulap Vilaysack  24:03
Well, what if you do this? You go in. You're like, I'll have the chef salad. Except can make some substitutions? Instead of the ranch, I'd like it to be sesame. I don't want it slice the chicken if you kind of like shredded it a little bit. Like oh, you like the Chinese chicken salad? No, no, no, no, no, no, no, no, no, no, no. No, not like that. Yeah, but I don't want croutons, can I have wontons?
SuChin Pak
I've done so many. When you see me, I am not an actress as you know. But man, you would hire me for one of your improv classes. I go up there, I've been up there and I like pretend I'm flustered. So I'm in a hurry. And I'm like, you know, that salad with the cabbage and the thing? And they're like, Oh, yeah, the Asian Chicken Salad. Damn it. And then I'll come up there the next time and I'll be a slow […] Mom, you know, just like wow, there's so much up here. That kale sounds good. Do you make that dressing here all that's interesting? You know what? I think I'll have the number four.
Kulap Vilaysack
You have made yourself open for it to be hired for improv classes. I can't wait to hire you for an improv class.
SuChin Pak
Well, it's improv for me because I have to go up there with the fucking routine. Because I'm so embarrassed to order Asian chicken salad. It shouldn't be called that. Nowhere in Asia do they serve this by the way. Oh, if anybody's listening this. This is the chowmein they don't have this kind of stuff in Asia. Like, should I write them?
Kulap Vilaysack
Who's them? You talked about how you go to every deli?
SuChin Pak
And I mean all of them.
Kulap Vilaysack 
Well, okay, this is interesting. You have a ready to go letter.
SuChin Pak  26:03
And you know what they're like, they're like, Asian chicken salad just slipped us a letter. By the way, they'll change it to Sesame chicken, but they'll still be calling me Asian chicken.
Kulap Vilaysack 
But also, I feel like this is our campaign. This is our platform.
SuChin Pak 
I'm moving on from […]. I will make this a sesame chicken salad platform. I want all the delis out there. deli owners. If you're listening.
Kulap Vilaysack 
I'm going to come up to Santa Barbara. We're going to get some hot content. We're going to get some photos. You know, we've you know, I think we've exhausted all of the […] swag photos for our social media. So I gotta get some fresh, fresh photos for this platform.
SuChin Pak
Should we start with like a flyer campaign like should be flyer Santa Barbara? They're like, saw those two Asian ladies on Hollister again, putting up those Asian chicken salad flyers.
Kulap Vilaysack 
I think it's a same lady who was at the Riviera towel company asking if it's okay to dig a hole and pee in it. She's become a real menace that Asian chicken salad menace. You are going to become infamous in SB.
SuChin Pak
I'm on my way. And I don't want it. I shoulder the mantle of, of this Asian chicken salad lady heavily.
Kulap Vilaysack 
It's tough because you love it. You love it.
SuChin Pak 
I don't want any other salad. It's exactly the salad I want.
Kulap Vilaysack
So I have one more thing to mention. Before we end this episode, I want to give a shout out to Olympic gold silver brands winning gymnast. Sunisa Lee.
SuChin Pak
I've been wanting to just; you must be so excited.
Kulap Vilaysack  28:02
She's from Minnesota. I'm from Minnesota. She specifically from St. Paul. She's 18 years old. She's the first Mong-American Olympian. Both of our families are from Laos. It's so exciting to see this hometown girl just like take the world by storm, right? I mean, she's a star.
SuChin Pak 
I have chills already on my arm thinking about how many times I've watched her family's reaction to her winning. And I mean tears, tears of joy,
Kulap Vilaysack
Asian joy, Asian excellence. Congrats to all of our Olympians. You know, persevering under just really trying times. It's just It's so cool to see them at their height. That's not a good way of putting it. You know what I'm saying? Like, yeah,
SuChin Pak 
it's amazing to see also, you know, when you're watching these Olympians, how young they are. And you forget that because they're on the world stage. And they're so poised. And like you said, they're just experts at what they do, they're machines. I mean, they're so incredible. And you know, they're 18 they're 19 and it just takes a certain level of wisdom, poise, all of that to really hold that and she's just as has been perfect in the spotlight.
Kulap Vilaysack
She has been. And interesting enough I read an article about how particularly to note in the gymnastics program and competitive circles, that the champions are getting older, because back in the day, it was like 14-13 but now there are people who stay healthier longer. And look at Simone Biles. It's like she be able to do certain maneuvers and tricks you need a lot of strength and experience to get behind, so that's also kind of cool and exciting. You know, there were gold medal winners who were like 23, which is like kind of for that world. For that world, of course. I mean. We know old, of course, but I'm talking about in gymnastics
SuChin Pak  30:18
I think people got that.
Kulap Vilaysack 
You think?
SuChin Pak
I mean, that was pretty clear that we know old.
Kulap Vilaysack
Well, when I say that I'm dead at 9:30. When I'm on vacation.
SuChin Pak
Listen, the highlight of my week was snacking.
Kulap Vilaysack
And there you go. Guys. That's it.
SuChin Pak
Find out everything we mentioned here. Plus additional content @AddToCartPod on Instagram. We also have all the product links in our show notes. So Happy Shopping, happy researching. Happy everything.
Kulap Vilaysack
Give your aunties a review and a rating please.
SuChin Pak
And remember, we've got a voicemail 833-453-6662 tell us about your favorite summer reading spot. Tell us about your favorite summer reading list. Tell us about your favorite snacks. Tell us if you'll order a sesame chicken salad next time and join our movement. Tell us anything.
Kulap Vilaysack
Bye
CREDITS
ADD TO CART is a production of Lemonada Media. Our producer is Claire Jones and our editor is Ivan Kuraev. The music is by Wasahhbii and produced by La Made It and Oh So Familiar with additional music by APM music. Executive producers are Kulap Vilaysack, SuChin Pak, Jessica Cordova Kramer and Stephanie Wittels Wachs. Be sure to check out all the items we mentioned today on our Instagram at @AddToCartPod. Also, please take a moment to rate, review, and subscribe to the show wherever you get your podcast.