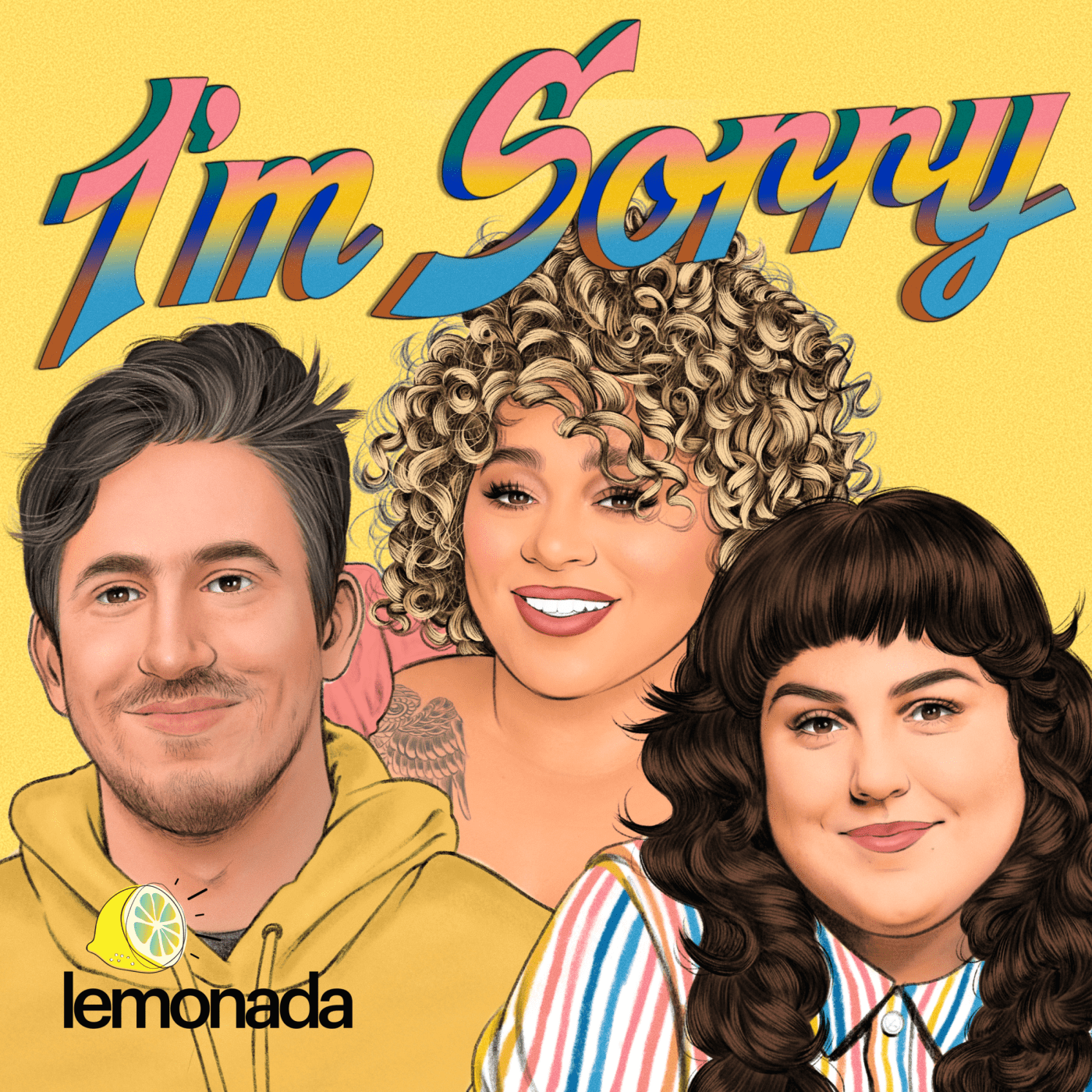 The Bad Guys Do Win: Rudy Giuliani, Woody Allen & More (with Vinny Thomas)
Subscribe to Lemonada Premium for Bonus Content
Description
Rudy Giuliani "attacked" at a Staten Island supermarket. Woody Allen and Alec Baldwin go live on Instagram. Nancy Pelosi reads a poem and guest-stars on RuPaul's Drag Race. WHAT is going on in the world?!? Hoja, Kiki, and Mohanad unpack it all with writer and comedian Vinny Thomas. Then, Vinny goes on a bad first date, Hoja says sorry to her mom, and Mohanad makes his life more miserable on this week's Sorry Not Sorry. Plus, the crew reacts to an explosive listener apology you won't want to miss!
Please note, I'm Sorry contains mature themes and may not be appropriate for all listeners.
Follow Vinny on Twitter, TikTok, and Instagram @vinn_ayy.
Subscribe to I'm Sorry Premium on Spotify: https://anchor.fm/imsorrypremium/subscribe.
Do you have someone you need to apologize to? Does someone owe you an apology? We want to hear about it! Send us an email at imsorry@lemonadamedia.com or DM us on Instagram @imsorry_podcast.
You can find out more about our show @lemonadamedia on all social platforms.
Joining Lemonada Premium is a great way to support our show and get bonus content. Subscribe today at bit.ly/lemonadapremium.
Click this link for a list of current sponsors and discount codes for this show and all Lemonada shows: http://lemonadamedia.com/sponsors/
For additional resources, information, and a transcript of the episode, visit lemonadamedia.com.
Transcript
SPEAKERS
Hoja Lopez, Vinny Thomas, Alonso, Mohanad Elshieky, Kiki Monique
Kiki Monique  00:00
Hi I'm Kiki Monique. And this is I'M SORRY, your weekly dose of pop culture, celebrity missteps and public apologies. And this week, I flew for the first time in two years, and it's absolute garbage.
Mohanad Elshieky 
And I'm Mohanad Elshieky. And this week, I started taking walks every morning and guess what? That did not fix my life.
Hoja Lopez 
Yeah. Wow. And I'm Oh, hello Lopez. And this week, I am so excited because we have a dear friend on the podcast Vinny Thomas. He is a writer and a comedian. And pretty much like one of the funniest people I know, but I am just very happy that he's here. So hello, Vinny.
Vinny Thomas 
Hi, Hoja. Hi, everyone. This is very exciting.
Hoja Lopez 
First of all, I noticed, I don't know podcasts just can't see it. But you have an aquarium behind you. Is this right?
Vinny Thomas 
That is a, it's a terrarium.
Hoja Lopez
It's a tough area.
Vinny Thomas
And it's where I keep my snake. Mrs. Gutierrez. She lives there in that glass box.
Hoja Lopez 
Wow, snakes. I think snakes have notoriously been scary, but I seem to really enjoy them and find them to be quite cuddly
Vinny Thomas 
Yeah, honestly, I think they're a perfect pet. Because they thrive on neglect. Right, right. You only need to feed them like once every week or so. And then during the winter, they don't eat or drink at all, basically. So they just sit there for six months. So you can travel and you don't have to worry about it dying or anything. They'll let you hold them or not like that, they don't love it. You know what I mean? So you don't have to worry about affection. Yeah, and that, you know, it's pretty much it. They're almost rocks, and I think they're great.
Kiki Monique 
That's pretty much what I want in my next relationship, I think.
Vinny Thomas  02:00
That's what I want. I want a boyfriend who just needs one large meal every week and then doesn't talk to me.
Kiki Monique 
And it's gonna be a lasagna. Let's be real. It's a one pan option there.
Hoja Lopez 
Yeah, I recently heard a story about myself as a kid where my mom, I guess let me out in some person's backyard. And then when she came back to find me, I had like a snake. This is me at like 6 years old, a snake that I found in this man's backyard and it was wrapped around my arms and my neck and I seem to be having a great time. So, I don't know maybe I have like a long standing relationship with snakes or maybe they're like, I identify with them in some way.
Vinny Thomas
You know what, I'm fascinated with this idea of baby Hoja running in from the outdoors on a hot day like Britney Spears, and just having a wild garter snake or something draped around her.
Hoja Lopez 
I'd love to do that when like You're like a kid you're like, I'm this kind of person now. And maybe at that point, I was just like, You know what, I'm a snake girl. And I'm into snakes but yeah, I love I do remember being a teenager and changing my whole identity around one small very specific thing that I was super into that week.
Vinny Thomas 
For me, in high schools giant black coats.
Kiki Monique 
You guys are not why would be hanging out with in high school but you know, you sound interesting.
Hoja Lopez 
Wait, giant black coats. Why Vinny? What was your vibe? What was the aesthetic?
Vinny Thomas 
Well, let me tell you, I didn't I didn't know what clothes should look like. I didn't know how they should fit. My brother's much bigger than me and I'd worn his hand me downs for like my whole life. And so I was used to like oversized clothing. I went to Burlington Coat Factory. And I was like, I'm gonna get like a cool black kind of trench coat like a nice wool coat. You know, my tiny little five six frame. I'm gonna wear like a black trench coat to school in Colorado.  I buy this coat. It's like two sizes too big. And I'm just shuffling around school basically in a cloak. I look suspicious as fuck. I would have liked me up.
Kiki Monique  04:11
Yeah, you sound suspicious.
Vinny Thomas 
I mean, I was very affable, very friendly. And I thought I was the shit. Like, I thought I looked like a badass fucking like detective. But I didn't. I looked like a cool, and no one said anything.
Hoja Lopez 
So rude. Well, one quick thing before we fully get into today's episode, we are so excited to announce that starting this week, we will be doing weekly bonus episodes through Spotify subscriptions. So for $1.99 a month you're gonna get a new episode each Tuesday in addition to Friday's main episode, and for our first Spotify series, we're counting down the top 10 Worst YouTube apologies of all time. And if you'd like to sign up, all you have to do is go to I'm sorry, Show page on Spotify, where you'll find the link to subscribe in the show's description and then just enter your details and tap subscribe and then to start listening either tap Activate on Spotify, or copy that private RSS link, and then you paste it into any podcast app of your choice. And the first episode is out now. It was the top 10 Worst YouTube apologies. And I just thought to myself, there's so many more than just 10. YouTube is sort of a bit of a, like now that we have full YouTube celebrities, and we have like this entire culture around YouTube. Do you guys remember when you first started listening, or like tuning into YouTube,
Kiki Monique 
I mostly just look at links. I'm not like a huge, like, subscriber of certain people on YouTube. I know them because I like they get reported on other things. And I read about them there.
Vinny Thomas 
It's so funny. It's never a specific moment. It's just something that like bleeds into your life, right? Like you watch one video, and then you watch it. And then you might see the same person pop up over and over. And all of a sudden, you're like, you're a fan. You're in the audience.
Hoja Lopez 
I remember I think maybe the way I kind of mainly got into YouTube and then would go on the crazy algorithm was like a clip from Ellen. And it's like Ellen said this to Dakota Fanning and I was like, Oh my God, what did Kendall Jenner say on Ellen? And I would just watch Ellen on YouTube until of course, she became 30% of their traffic. And then she started her own Ellen tube thing. Which by the way, does Ellen have like an app empire? Sorry, that was a real shit
Vinny Thomas  06:26
I didn't even know about Ellen tube. That's fascinating.
Hoja Lopez 
Yes. It's all just like she has kind of her own spin off of like little hosts little videos, and she just sort of.
Mohanad Elshieky 
Oh, I have no idea. Yeah, I didn't even watch the Ellen show itself. So I wasn't really tuned in to all of the small Ellen programs.
Vinny Thomas 
You know what I did watch. I watched the compilations of when she scared people.
Mohanad Elshieky 
Oh my god, I did watch that. If I was a guest on her show, and someone like this would jump and scare me. Like first of all, how do you expect like what if someone had like a wild reaction? Like what if you like I punched the person who came out of the box, now what? And just for some reason Kim Kardashian doing it and I just like I punch Kim Kardashian in the face. And now what's gonna happen?
Vinny Thomas 
Oh, what's gonna happen if you punch Kim Kardashian in the face? Absolutely nothing. Your hand is gonna bounce right off.
Hoja Lopez 
Oh my god. Yeah, this compilations. You guys, that is the best comedy out there though. That is what TikTok is trying to get the closest to which is just cat videos of random things that happen to children and people falling. That is the best comedy it is. In our lizard brains. It will always be better nothing ever written.
Mohanad Elshieky
Yeah, like, someone likes flipping looking at like when a banana peel will net like is the funny thing ever. And I can sit here and try to write sophisticated comedy as much as I want. It's not going to be the same. It's not going to be the same.
Hoja Lopez 
to replicate that to replicate that as the dream
Mohanad Elshieky  08:00
Well, since we're talking about comedy and comedy geniuses, I don't know if any of you watch the Instagram Live today between Alec Baldwin and Woody Allen. Oh god so first of all, I had to create like a different Instagram account just so I can log in because I didn't want anyone to think I am watching it for […] I'm into these guys from my account.
Kiki Monique 
Wait, you haven't had a burner account this whole time you had to know and just for this? That's crazy first of all.
Mohanad Elshieky
Yeah, just scrolling through people pictures would I might just like an old picture by mistake and have to live with that.
Hoja Lopez 
I don't have a burner account. What is that?
Kiki Monique 
Vinny, you have a burner account, right?
Vinny Thomas 
Yes. Because if you want to, for that same reason, if you want to go back and look through someone's content, and you know you're gonna accidentally double tap. You don't want them to be able to see that it was you, I don't want anybody to see that I was lurking. I'm so glad Mohanad is the kind of person who's upfront and like, above board with everything. Not me.
Vinny Thomas 
I learned so many new things about my co-hosts every day and I don't, it makes me trust them less, almost I know that feels I should be the least trustful one because I'm the one with the burner, but I trust you last for some reason. But anyway.
Mohanad Elshieky 
I'm just honest. I'm just out there. But no, I did. I did watch it. And it was insane. It was insane. Okay, one of the things that Woody Allen said that was so funny to me, he said, so, Alec Baldwin asked him if he was going to make any more movies and he was like, I don't know, man after the pandemic, a lot of like the movies like you make something and then it's in the movie theater for like two weeks and it just moves to streaming. Terrestrial of moviemaking is gone. And that's why I stopped making movies. Oh, is that why?
Vinny Thomas 
First of all, the thrill of moviemaking. I'm just like, can we not romanticize this process anymore? It's not like jumping out of a plane are like running a marathon. It's like tedious, irritating work that you have to do over and over and over. Is that weird to me to say? It's just not the process. The movie itself is fun. The process is not fun.
Mohanad Elshieky  10:12
It's like saying, oh my god, I love writing so much. It's so no, I hate writing so much. I love it when it's done, when I look at the finished project, but the process itself of just putting my thoughts on paper, it's the worst.
Kiki Monique 
But I feel like for people like Woody Allen and James Cameron, and those Yeah, I think there is a thrill because they have so many people underneath them, they're actually doing the work, they get to just sort of sprinkle themselves on top of it and get the thrill.
Vinny Thomas 
I wonder if the thrill compares to marrying your own stepdaughter?
Kiki Monique 
Good question.
Hoja Lopez 
I don't know if that there's any thrill that compares to that or any peak or valley emotionally that whatever is that the most dramatic thing that exists maybe like outside of maybe like murder, or like, to me that is the single most sob like soap opera dramatic they could possibly happen in the entire universe.
Vinny Thomas 
Like the kind of thing that when you walk into a room, people immediately stop talking and like looking at your direction.
Kiki Monique 
You know, what's wild is that like, you know, we've been watching obviously, like, had watched the Johnny Depp, Amber Heard trial. And I think, you know, in our lifetime, it felt like one of the most dramatic sort of court things to play out ever. But when I was looking back at the Woody Allen, Mia Farrow, divorce and the way the New York Times reported on it, actually, we've been dramatic this whole time, we just buried it in newspapers. So it wasn't like, as is accessible. But when you read I mean, we should link this on our page, because when you read through, like the ruling that this judge had, and the way she really just like, took Woody like, to task in this ruling, basically saying, you're useless. And essentially, is what it came out too, you're just a terrible, terrible man who doesn't even know their kids, teachers. And also, just because they said that you didn't molest your daughter. I don't know that's inconclusive to me is essentially what the judge said.
Vinny Thomas  12:18
I think we're in a period where we don't experience shame anymore. Like there are celebrities I like, I would never do an Instagram Live with them, because it would be embarrassing. You know what I mean?
Mohanad Elshieky 
Yeah, yeah. And it's not like Alec Baldwin has done anything recently that was bad, that he maybe should avoid, you know, making it worse for himself. But no, he was like, I'm gonna triple down on everything. And I love that and his Instagram caption like when he announced that he was entering Woody Allen, he was like, I don't care about what people think? First of all, we already know that. We've established that a long time ago. But also that he was like, just because someone made an HBO documentary about him. That is not trial. I'm like, bro, what are you even saying? Just have the bad interview? No one's asking you for excuses. You just, you know. But it was just so funny watching it because there was like, Woody Allen kept having a connection like issues. They're so bad. Both of them are the internet. And you can see Alec Baldwin just facial feature just changing because you know he's about to lose it.
Hoja Lopez 
Oh, he's being emotional online.
Mohanad Elshieky 
Yeah. And he started yelling at his housekeeper in Spanish. It was amazing.
Kiki Monique  13:35
Well, that was the weirdest part when he literally got up out of his chair, walked off camera, to then scream to his housekeeper in Spanish. I don't know. I don't speak Spanish. Hoja, I wish you had been watching because you could have translated I would love to know what the housekeeper was going to do for Woody Allen's bad internet connection. wherever he's reporting.
Vinny Thomas 
Wow. So, I guess there are at least two native Spanish speakers in that house, huh?
Mohanad Elshieky  14:04
Exactly. And it's so funny, because like, so Woody Allen was talking about, like countries he likes to go to, to film because he's so tired of filming in the US right now. So, he goes to other places to film because he has more friends there, never explained why or what led to that. It's just that he just has more friends outside of the US. And every time he mentioned something about European countries, Alec Baldwin will jump in and be like, Oh, Spain as well. I love Spain. I love Barcelona. Yes, I love that place. I'm like, bro, we get it.
Hoja Lopez 
This is like, I'm just so honestly, it's like morbidly curious about what the housekeeper said.
Mohanad Elshieky
You can find it. It's on.
Hoja Lopez  14:51
And I was just looking at it and he basically is telling his housekeeper in Spanish that she needs to go fix the WiFi connection. So, that's essentially he's like, excuse me, whoever's in front of me. I know this is not your job. But can you please go get this fixed? So he's instruction, you know, he's giving her some instruction.
Mohanad Elshieky 
Here's the thing. They're both not at the same place. and his WiFi is fine. Is Woody Allen's WiFi.
Hoja Lopez 
Alec Baldwin asked his housekeeper to fix Woody Allen's WiFi.
Kiki Monique 
It's like, I hate to be that person. But I'm sorry, the boomer Enos that I was experiencing. Because first of all, I don't know if you caught this. But before the Woody Allen jumped on. Alec jumped on; I think by accident. So he went live for about two minutes. And he was talking on his phone to somebody and then realize he was trying to then mute the screen. And so that's the whole thing happened. So then he finally like, into that live. And then when he came back, there was all you know, like the technical issues that were happening on Woody's in that one point prop the door open because they said maybe that'll let more WiFi in.
Mohanad Elshieky 
They did do that. They did do that. It was amazing.
Vinny Thomas 
Did you hate it when you were playing outside on a hot summer day, you left the door and your parents would be like, close the door you letting all the good WiFi out.
Hoja Lopez 
Did you guys watch the Rudy Giuliani violent attack at the Staten Island supermarket? Where the first 24 to 48 hours of this. I was like, wow, Rudy Allen got beat up at a supermarket in Staten Island. I was like, good. Like that's kind of how I felt.
Vinny Thomas 
You call him Rudy Allen?
Hoja Lopez 
Did I call him Rudy Allen? Oh, sorry about that. But it feel Woody and Rudy seems similar enough that I can just interchange these elderly white men that are doing bad, but then when I actually watched the video, and I realized it was just a man congratulating another man on like, his wedding or something like I thought that's just how immense and hello, was just sort of a tap on the back.
Vinny Thomas 
Oh my god. Did you guys see that interview with Rudy Giuliani speaking of terrible Boomer interview? He's on like Newsmax, there's a lawn mower or a generator or something going off outside of a trailer. Nobody knows what is going on. He could be anywhere. And he said he didn't know where he is. And yeah, they're asking him like, it didn't seem that bad. And he was like, oh, no, the lady afterwards. She was just, she was consoling me. He said that the guy hit him so hard, that the reverberations almost knocked everyone else. Which is so funny.
Hoja Lopez  18:04
That is so silly.
Kiki Monique
And like the woman, when the woman who said she was shoulder to shoulder with him, that when she yeah, he got hit so hard that she almost fell out. They were interviewing her. I mean, I'm sorry, typical Staten Island. The only part I hated was she was wearing a Guns and Roses t shirt. And I was like, You know what? You don't deserve that Guns and Roses t-shirt, ma'am. Because what kind of rocker are you? Literally like, you weren't even shoulder to shoulder with him.
Vinny Thomas 
Yeah, I'm gonna be so sad when Rudy Giuliani dies. I think it's gonna be I think he's such a clown. […] when he was eating soup. He was like shaving above a bowl of soup in an airport. I still think about that. I think the visage of really Rudy Giuliani is such a beautiful depiction of like, the collapse of the American dream. Like coalesced into this melting old man who likes shaves over chowder in an airport. I think it's so funny. And he is he's just wild person. I hope he lives forever and just continues to look
Kiki Monique 
worse because it's frail as it seems he is, he not gonna live very
Mohanad Elshieky  19:16
it just so funny and I love that there is a video of the like, attack that assault on him. Like I watched it and I was like, I saw the guy like slap and we're like on his back and I was just like, Okay, I'm like still watching waiting for the for the attack. And I was like, Oh, it was that, a guy touched his back. And that was enough for him to be like I might never recover from this.
Vinny Thomas 
I was hoping so badly that there was going to be sound because I wanted to hear him say like, ah, he tried to kill me. Or like just something completely out of pocket and ridiculous. God, I wish there was sound.
Hoja Lopez 
God it really felt like that one of those soccer moments where the guy rarely gets tapped and the other man just sort of slowly falls to the ground. Did you guys know because this is something that I just read today but like Andrew Giuliani is in the New York primaries. Currently, like I guess, running for some level of is it the mayor is that what he's running for?
Mohanad Elshieky  20:20
He was running for mayor before and did not, you know, did not win or get like through? I don't know what he's running for now.
Vinny Thomas 
There are three people named Andrew running for mayor of New York.
Mohanad Elshieky 
Yes. It was Andrew Yang, Andrew Giuliani. And then there was another Andrew. The governor was Andrew Cuomo, just like I think we had enough of Andrews like, yeah, like, please stop. I don't know what he's running for now. But he's dad. That's why he was in Staten Island. He was campaigning for him.
Hoja Lopez 
Got it. That's so wild. And
Mohanad Elshieky 
it's just so funny. Can you imagine Rudy Giuliani campaigning for you? The guy who was just on the massacre?
Kiki Monique 
No, but that's the thing. Like, I mean, can you imagine just being Giuliani period like, this is the man that we hailed as a hero during 911, a hero.
Hoja Lopez 
Not we, I was a child. I didn't know what was going on.
Hoja Lopez 
And I'm on a different country. Don't be in that bucket, baby.
Kiki Monique 
But I'm just like looking at like, I mean, how the mighty have fallen.
Vinny Thomas
Oh, let's not forget that. What was it, Borat 2? When he was unzipping his pants?
Mohanad Elshieky 
Oh, yeah. It's truly insane. Yeah, like, it's just like, It's so insane to me when people like this, like, you know, had their moment and they could have just like, left at the top. But they just decide to rock to the bottom instead. Because like if Rudy Giuliani, like, ended his mayoral like term and then was just remembered as the person who was the mayor of New York during 911. He would have been fine.
Vinny Thomas  22:02
Yeah. It would have retreated into like, that's it. You know what I mean? I will never understand you achieve a little success. That should be it, right? You buy a beautiful ranch in Santa Fe. And then you never hear from me again. Do you know what I mean?
Hoja Lopez 
Absolutely. That is absolutely. Mohanad has specifically many times on this podcast said that he just needs a little bit of money and we will never see him again.
Kiki Monique
But it's not about money for these guys. It's about power. Literally power is all that they thirst for.
Mohanad Elshieky 
Yeah, even the power is in the worst ways possible. Like there's so many ways for them to get power. Like go on like I don't know, like, like find a common like big pharma company or something and work for them or just like be the spokesperson and just you know, or some shit but no, they pick the worst people ever to associate with and then it just, it never works. Like if you had to be on the masked singer. I think that's just rock bottom.
Vinny Thomas 
I would be so embarrassed if I like Seal was on the masked singer and he should not have been, he had no business being at the mercy of I was Seal's manager I would have said absolutely not. We can still make this work. After Rudy Giuliani was on it. I was just like, you know, of course I don't watch it. But I was like, I'm not watching.
Hoja Lopez 
How dare you.
Vinny Thomas 
I watched the first season of The Masked Singer and then it was like, I get it. You know, I had to stop after Seal because Seal came on and he started singing. I'm like, oh, that seal. But it's character was wearing a dress. And so all these judges were like, Billy Porter, gay, Black sounding Billy Porter.
Mohanad Elshieky
I just love that the guesses on that show are like the worst. Like they like they'll watch someone with like a high pitch just like wearing like in a big suit or something. And then one of the judges will be like, Michelle Obama, and I'm just like, what are you even talking about?
Hoja Lopez  24:02
She is not here.
Vinny Thomas 
She's not in this costume. And it's never explicitly racist, but it's a little racist. Oh, absolutely. Jenny McCarthy will be like; it sounds like someone really hip hoppy or something like that. In what way, Jennifer?
Hoja Lopez 
I really like Ken Jeong. And I wonder what it would take us I know that when Rudy Giuliani came out he apparently like walked off sad or maybe like left the production altogether. And I do like the idea that you're at work and something happens and you're like, absolutely not. I'm leaving. This is the absolute end of my, I'm not doing this anymore. I want that power at all times. I want to be able to do that.
Mohanad Elshieky 
I think he probably was like after the Sarah Palin one. He was like, I swear to God, if you do anything similar like this before, I will leave and they just took him upon his word and brought Rudy Giuliani on. Yeah, look, I'm excited to see him one more shows like if Rudy Giuliani appears on the circle, they'll be great.
Kiki Monique 
No, the only show I want to see him on is January 6, or the closed circuit television of the Federal Court.
Vinny Thomas 
I would love to see Rudy Giuliani in more shows where he has to wear a suit that is so heavy and so hot, he might die. Like they take his mask off and it's just like liquid.
Hoja Lopez 
Oh, God, Rudy, or Woody if I'm confused anyway. God damn these guys. And this is the thing is like, like politics is so meshed into celebrity at this point. And he's such at the like, crux of that for me in so many ways, like, he genuinely feels like at the very nexus of celebrity and politics. And I think that's why my distaste for him is maybe so big. And also I'm just as enthralled with him as I would be, say with a Kardashian. Like he feels like a reality show just in and of himself in his own body every time he speaks. Yeah, it's fucking TMZ all over his face, you know?
Mohanad Elshieky  26:16
Yeah, but does everyone know like every celeb can be politician. Every politician is a celeb now. And it's very hard to like, you know, find that line because that's what they want. You know, like, I feel like people really get into politics now. Just to be celebs. That's it. You know? Like, I think like, I think Nancy Pelosi really wanted to, like be a poet. And it did not work for her. So she ran as that like Speaker of the House.
Vinny Thomas 
Can you imagine like Nancy Pelosi talking in like a slam poetry voice.
Hoja Lopez 
She would come out and like a Shiki like she did for.. And she would say something like, You got to believe in who you are and what difference you can make as a woman in America. And then she would walk off in her little bright red pantsuit and all the ladies..
Mohanad Elshieky 
I'd give $15 for that. Absolutely.
Vinny Thomas
She'd a great busker. She'd make a great like old lady in New York who like the locals know, I mean, they know her name.
Hoja Lopez 
Like a Christine Baranski. Oh, my God, I was reading to an article about like, how we don't want to give people who are like 70 or 80 year olds, like real jobs in the American workforce, but that's like everybody who's in the government. And I just really thought to myself, like how complicated it must be to be that age. Like my grandmother is 80. And she doesn't want to do anything, you guys she just wants to hang out, drink her Sangria on a porch and just look at like, watch leaves grow and flowers bloom that's literally all she wants to do. So genuinely surprises me that Nancy Pelosi just as so just out there, you know?
Mohanad Elshieky  28:19
I know. Like everything I do now, everything I do in my life is to never have to go back to work in an office ever. Like I don't know how is that a dream, like even like running for president, that's an office job for me. I don't want that. Like just give me money and I'll just do stuff outside. Why would I have to like you know, think about legislations and just like laws and like shit like that. Like it's not it doesn't seem like it's your thing. And if you want to be a celeb, just get into that, you know, like, but like to go through politics to get to what you actually want is so weird to be like you're clearly not accomplishing anything. I'm just talking about like Nancy Pelosi, just like everyone else, you know, just so weird.
Hoja Lopez 
It's like politics is movies for ugly people, essentially, for people who are just not hot for movies.
Kiki Monique 
Well, they say those who can't do teach so maybe those who can't be famous politic.
Hoja Lopez 
Let's put that on a shirt.
Mohanad Elshieky 
But that doesn't explain why Andrew Giuliani is running for governor because he is so fucking hot.
Vinny Thomas
Yeah, I do. I agree with Mohanad, when he smiles and you can see your reflection in his teeth. I think that is so romantic and beautiful.
Mohanad Elshieky 
So, we have a listener apology that we can look into and talk about that was sent by someone who listens to the show. So we're gonna get into that, it's from a Alonso. So let's hear what he has to say.
Alonso  30:09
Hey y'all. My name is Alonzo I love the show. Something that I need to apologize for is what took place back when I was a child maybe like 9 years old, and I was in karate class. Now this karate class was cheap. So it was in the, you know, rough part of town. And that's important to the story. So that's why I said it. And every time we would finish the class, we'd all sit around crisscross applesauce on the floor and a circle. And, you know, I don't know what they would do. I think they would do like fights or something. It's taekwondo. I don't know. So, one time, I was rocking back and forth. And I hadn't had a milkshake before coming to class. And I farted, like, so loud, that it sounded like a machine gun. So, everyone run away screaming because again, this is the tough part of town. So they thought we were being shot up. So they ran away screaming and the one kid next to me did not run away screaming. And I blamed him for farting. I said, you guys, everyone, he farted crazy. And to that child, I'm sorry to that child. Because I don't remember your name. But I'm sorry that I farted and pretended it was you that did it. Anyway, I never went back to class. Thank you for listening. Bye.
Kiki Monique 
Isn't that a dead giveaway. You just never went back to class.
Hoja Lopez 
Well, first of all, I just want to start also by saying that you know, fart shaming doesn't do anything except humiliate those people, who have interesting unique special kind of farts you know what I mean? Just to start off with that, Alonso, you're saying this is a safe space. Thank you for telling us. Maybe I should start off with that, just because I have a history of revealing profoundly embarrassing things on this podcast. And so I've really have to start off by saying thank you. Thank you for sharing that must have been very hard. And it's normal and he who dealt it aggressions need to stop.
Vinny Thomas  32:23
No, I'm sorry. If you're in a sports setting, if you're in a setting where people are already sweaty and funky and like trying to focus, for you to rip at is an act of terrorism. But more than that, it's an bioterrorism.
Hoja Lopez 
Alonso was a war criminal. Things are developing here. I like.
Vinny Thomas 
And I'm glad he's sorry.
Hoja Lopez 
The blaming part, how do we feel about shifting the blame and not being accountable for what you've done and making another person take it?
Kiki Monique 
Look, he just said the quiet part out loud because look, crop dusters had been doing this for years. Trying to pretend it wasn't you, you know and keep it moving. So it's the same thing and I despise crop dusters.
Hoja Lopez 
Okay. I'm glad we all feel very strongly about this particular thing.
Vinny Thomas 
That way, I want to take out the fart that's just I despise crop dusters and use it as like, Kiki hates the Farmers of America, despises agricultural communities.
Mohanad Elshieky 
I hope that other kid, I hope that other kid that didn't grow up to just internalize that forever, like maybe that became his nickname. I don't know maybe, that kid is a Supreme Court justice.
Hoja Lopez
Oh my god, that's his origin story.
Mohanad Elshieky 
I also love that Alonso. That's how, you know he managed to get on the podcast. This reminds me of that, like, Oh my god. So there was this, during the last Oscars. There was this guy who was nominated for a documentary, and the documentary was about him, interviewing the people he bullied. Can you imagine being bullied at school? And then your bully grows up, makes a movie about it. And now he's nominated for an Oscar.
Vinny Thomas  34:22
No, that's amazing.
Kiki Monique 
Especially this proof that yeah, like you know what, the bad guys do win.
Vinny Thomas 
Because let me tell you, I'm tired of hearing from the people who are bullied. I'm tired of hearing about, I want to hear the bullies themselves. I'm tired of it. It's done.
Hoja Lopez 
Oh my god. Well, thank you so much, Alonso for sending in your apology. Please keep sending us your apologies. If you owe someone want or if someone needs to apologize to you. You can send us a voice memo at imsorry@lemonadamedia.com. Or you can DM us on Instagram at @imsorry_podcast. I can't wait to hear from you. Okay, and now it is time for our own apologies.
Mohanad Elshieky 
Yes, it's time for my favorite segment. Sorry, not sorry, where we either apologize to someone, or we demand an apology. And as like every week we usually start with Hoja, who always has to apologize to someone.
Hoja Lopez
I am a little bit of a fuckup right now, too. So my mom is in town. And God, you guys, my mother is a goddamn Angel. So first of all, she comes to my house and the first thing she says, Hey, this vacation is about you. It's not about me. And I'm like, what does that mean? And she's like, we're going to do all of your laundry, we're going to clean your house, we're going to organize all your closets. We're gonna do everything. And we have spent the last like, three, three days, just like cleaning my house. And this morning, I was like, I woke up and I was just grumpy. Like, I just woke up on the, I just was, my patience would thin, you know, and my mom wakes me up so sweetly, and she's like, hey, do you want to go? Like, maybe like, do a little stretch and meditate? And I was like, mom, like, I just blew up on her. And I was just like, you don't get to come into my house and like, dictate, like what I'm gonna do in the morning. I want to sleep. Oh, my God. And as soon she was like, Oh, God, and close the door and went back into her room. And I just stood in. Honestly, a wrong bad feeling. For a moment there. I felt no gratitude. I felt nothing good. I only felt like a bitchy bratty 16-year old and I had to really come out of that you guys. And I had to knock on my mom's door and say, hey, mom, I'm so sorry. Thank you for coming to see me. Of course, I would love to meditate and do stretches with you. Thank you for cooking breakfast. God what a mega bitch. I was this morning, you guys. Oh, whoa, that was a real apology.
Kiki Monique  36:59
like you know, I will say that. I'm glad as adults we can instantaneously apologize to our mothers because yeah, 14 year old in us with just let our mother just live with that for the rest of her life.
Hoja Lopez 
Oh, yeah. I would make it worse. I will double down by like escaping for three days and not calling her to tell her where I am. Yeah, I was kind of a hardcore teenager. pretty hardcore. Yeah, like snakes escape. So I was doing all kinds of fucked up dangerous stuff, you guys. But now, you know, no, I can admit when I've been a little bit of a big bitch.
Kiki Monique 
I see you next Tuesday.
Vinny Thomas
A little bit of a charisma, uniqueness nerve.
Hoja Lopez 
We weren't gonna let this go. But who but which, by the way, Nancy Pelosi was on drag race. So just you know, I'm sorry, mom.
Vinny Thomas 
And she wasn't even in drag. I wish Nancy Pelosi was on drag race. And she showed up and I was like, who is that? I don't even. You know what I mean? Like, yeah, in full drag. But instead it was just oh..
Hoja Lopez  38:01
Okay, well, what about you, Kiki? What's your apology? Or apology requests?
Kiki Monique 
You know, truthfully, I mean, besides White people, it's going to be, I think every single person in the world who, or at least America who said in 2016, you're overreacting, every single person who acted like, the crying and all of the marching and just, you know, everything that we did, we weren't just being whiny brats. We legitimately knew that where our country was headed. So don't tell me I was overreacting because clearly I wasn't, I need to react some more clearly. So pave the way for that, because I'm going to be overly reacting for the next I don't even know for the foreseeable future. So all those people owe me an apology. I won't get it. Because those people are stubborn, and hard headed. But they owe it to me and everyone else.
Mohanad Elshieky 
I don't know what you're saying keep guessing this is a perfect country and nothing bad has ever happened.
Kiki Monique 
Well, you know, you spent 1000s of dollars to be here and you're still spending money.
Mohanad Elshieky 
You know what's funny, because like, you know, like when you spend so much money on something and then you get it and it is not as good as you expected it to be. And then you try to justify how good it is to other people. How me with moving to the States, you know, now I'm just like, well, you know, at least there's the subways. I'm trying to find the bright side in it just to justify how much money I'm paying. I'm also like waiting on my green card. So if anyone from immigration is listening to this, I think this place is perfect. Anything that happens I'm just like, this is great. I mean, good. Oh, yeah, I don't know. Vinny, do you have anyone who you want to apologize to or maybe ask for an apology from?
Vinny Thomas  40:08
I would like first of all to apologize to Blick Art supplies. What did you do? Because I went to Blick Art supplies and I purchased while I picked up a graphite pencil, and while was in the line, I dropped it on the ground and it shattered, and I got really sweaty, and I picked it up and I just threw it in the closest little receptacle and no one saw me. And I got up there and I was like I said, just these please. And I didn't get the graphic pencil and no one knew about it. And I feel bad. I broke some of the merchandise at Blick. I would also like to apologize to someone I just went on a date with, it was only one date, but it was kind of weird. It was very awkward. And at the end, he was like, I had a really good time. I want to see you again. And I was like, I said it was okay. And just that nothing more. It was very, it's maybe the rudest thing I've ever said to a person in my life. Wow. And so that I'd like to apologize for as well.
Mohanad Elshieky 
Do you think this is maybe because of just we spent so much time on social media that this is sounds like something you would reply to someone? But then it just blended into real life?
Vinny Thomas 
It must have, the minute I said I like I was like, oh, no, no, it is oh, I'm sorry. You know what I mean?
Mohanad Elshieky
No, I see. I honestly is like; I can see that. Because like sometimes like I would. I mean, I would do it on Twitter, especially because you know people are they're extremely annoying. But someone will say something dumb because they don't know how to talk to people. And then you reply to them in the worst way possible. And then you're like, oh my god, you just looked like you're like a grandma and I just roasted you so hard.
Vinny Thomas 
When I tell you I've had to be so careful about that online. Because most of the stuff that irritates me most is never the mean stuff. It's just the stuff that's a little off. Like it doesn't add up, like, like, what do you say? Or if it's not clear, it's just weird, amorphous words. Like that is bothersome to me. And you have to like it is the instinct is there that algorithm knows it's like you really want to fuck this person up don't you? You really want to tear this bitch apart. And like I don't actually don't know the person that someone's great aunt. You know what I mean? Like, it's none of my business.
Mohanad Elshieky  42:32
I know. I could like sometimes like you would post about something and like somebody just like fucked up. And then someone earnestly will reply, like, I cannot believe that this is the country we live in. And they like say, with so much passion, and they'll actually like think it that way. But you've heard that so many times that you think it's simple. And you want to like any usually unpacked, it's so quick in your mind, and anyone apply to them. And unit Oh, you believe they should conditionally live in, wake up. And then you're like, why am I doing this? This person just seems so nice. And I'm just dunking on them so hard right now.
Vinny Thomas 
And for us, it's like, I don't know. It's like social media is like a part of our careers, you know what I mean? But for them, it's just like, it's a little blip on their day. You know what I mean? Like, just a little something.
Kiki Monique
This is like a new phenomenon because like, you know, I had went back to hinge I quickly came back off of it after this event, but like I said something to this guy. And he shot back at to me and he's like, oh, like, this sounds like something that would be a reply on social media. You trying to be edgy. And I was like, what, what, Hold up a second. And like started like literally started like, yelling at me about my reply to him. And I was like, sir, you're gonna need to calm down. Like if you want to get into these pads, but clearly that's over now. Yeah. And so I just like, but like, it's a thing, like people think, Oh, the funniest part was when he said, I work in social media. So I get those things. That was the funniest part. I said, oh, do you now, great. Oh, I don't know anything about social media. But fuck off.
Vinny Thomas  44:03
I love that. Kiki said you're either gonna have to calm down if you want to get into these pants or get way more aggressive.
Mohanad Elshieky 
I work in social media, even men are just like, oh yeah, I run this Twitter account for this yogurt company. So I get what you're saying. And just like, bro, shut up. Like yeah, yeah, it does not matter. Okay, I'll move on to my thing which is it's very stupid. It's literally very basic. But as I said earlier in the podcast, I've been taking a lot of walks every morning. And I found this one coffee shop that I just started to start going to every day and I you know, I go in. I ordered the same thing at like 8AM or something. And it's like literally a vanilla latte with oat milk. Very basic. And I went there yesterday and I got in and the person behind the counter is very nice lady. She, before I asked for my order, she said a vanilla latte with oat milk. And I replied, no, I want a cappuccino. I don't drink cappuccino, I hate cappuccinos. I just do not like to be known. This is nice woman just like doing her job. Just remembered my order just wanted to make my life easier. And instead, I was just like, no, no, no, no, you do not get to tell me I am predictable. I am literally hanging by a thread. This is why I'm going on these walks. And absolutely not. And she was surprised she was taken. She was like, okay, I'll make you a cappuccino, but like I said it way too aggressively. Just like, No. Shut the fuck up. Do you think you know me?
Kiki Monique 
As a former barista, I would be very annoyed with you.
Mohanad Elshieky
And I didn't even plan that in my head. I was just like my first reaction. I was just like, because I'm going on these walks to get my life together. And I'm just like, I will not add that to the list of stuff that I hate about myself now, which is being predictable. So I drank that cappuccino it fucking suck. I didn't even finish it. Because I don't like it. I mean, they did a great job, I'm sorry for that woman who by the way, I've never gone back to that cafe again, even though I love it. Because I know they remember me now. So I gotta find a new spot because my ego is gonna make me walk more to find a better coffee shop. So great job.
Kiki Monique  46:31
The way that you make your life more miserable on your own.
Mohanad Elshieky
I literally do. Like, I would like stop ordering from like, like if I get food delivered from a place that I like. But then I get a notification there is like, You're a loyal customer. You've ordered 10 times from this place. I will immediately stop ordering from that place. I'm just like, absolutely not. Do not tell me that I do the same thing over and over again. Even though I like it. I enjoy that place. It makes me feel comfortable. But no, I will make my life miserable. And order something I like.
Hoja Lopez 
You really remind me of this, this is I love my grandpa, Mo, but you really remind me of my grandpa this case because he always felt like everybody was being presumptuous. Like he wanted to not be known either. And he felt like any level of like being known, was like, unmerited intimacy. he's like, no, thank you.
Mohanad Elshieky 
Oh, absolutely. Absolutely.
Hoja Lopez 
This has given me Jose Luis Sanchez vibe.
Mohanad Elshieky 
I don't even wear T-shirts on stage. And that's like, nah.
Vinny Thomas 
I'm sorry. Did you say you don't wear T-shirts on stage?
Mohanad Elshieky 
Yeah, I would wear a jacket or like a sweater. I don't go shirtless. Yes. That would be weird. I'll be like, yeah, yeah, but Kiki knows that. She was at a show I was doing last week and it was hot. And I was still wearing that jacket.
Kiki Monique  48:04
It was hot. And there were some hot boys too. I'm gonna hit you up later to ask you. If any of them are single.
Mohanad Elshieky 
Absolutely. I'm sure they are. But if you want to get a comedian that's on you. I'm not gonna stop you. But I'm not gonna encourage it.
Kiki Monique 
You knew the first day we met that I was a chuckle fucker.
Hoja Lopez 
Wow. fetishizing comedians.
Mohanad Elshieky 
This seems like the worst name for a comedy club. Just like the Chuckle fuckers or the Chuckle hot or whatever.
Vinny Thomas
Oh, no. chuckle fucker just sounds like something a boomer would call someone they mildly disagreed with. Like get out of town you chuckle fucker. What? I said I preferred mustard on my hot dog.
Hoja Lopez 
Well, thank you so much for being on Vinny. You're just so great. I hope Mrs. Gutierrez has an amazing day today. And if you see her again in six months, and that's, you know, then good for her. She knows when she knows when to emerge when she's ready. Where can people find you? What do you want people to check out? Would love to hear?
Vinny Thomas 
Yeah. Well, first of all, you can follow me on social media at @vinn_ayy. I've got some stuff coming up that I can't legally talk about yet. But that you'll know about there.
Mohanad Elshieky
We're gonna put your ad in the show notes so people can click on it. Hoja, you're not doing a good job on this.
Hoja Lopez 
I'm going to step off. Social media is not my forte. Thank you Vinny.
Vinny Thomas 
Thank you guys and I'm sorry
CREDITS
I'M SORRY is a Lemonada Media Original. The show is produced by Alex McOwen, supervising producer is Kryssy Pease. Our executive producers are Stephanie Wittels Wachs and Jessica Cordova Kramer. Our mix is by Kat Yore and theme music was composed by Xander Singh. If you like this show, please rate and review. And please don't cancel us. You can find out more about our show at @LemonadaMedia on all social platforms, or follow us on Instagram at @imsorry_podcast. We'll be back next week and until then be nice, play fair and always say I'm sorry. Thanks for listening!