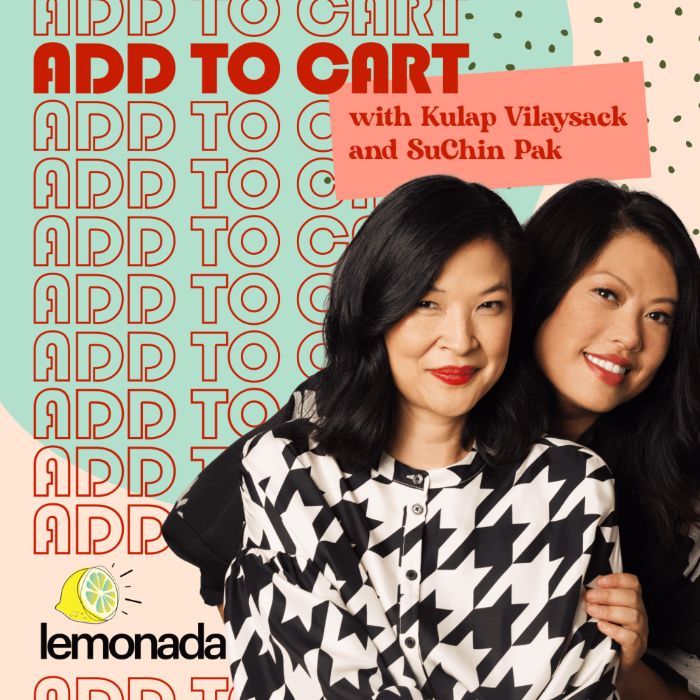 The Easy Eco-Conscious Eppy
Subscribe to Lemonada Premium for Bonus Content
Description
Will we stop climate change with reusable snack bags with sharks on them? Probably not. But does that mean we should stop buying them in place of plastic baggies? Of course not! Plus, they're fun and cute AF! This week SuChin and Kulap go through their favorite products and resources that help them help Mama Earth. No one is stopping any California wildfires here. We're all just doing the best we can to think about our impact where we can, as much as we can.
Please note, Add To Cart contains mature themes and may not be appropriate for all listeners.
To see all products mentioned in this episode, head to @addtocartpod on Instagram. To purchase any of the products, see below.
Stay up to date with us on Twitter, Facebook, and Instagram at @LemonadaMedia.
Joining Lemonada Premium is a great way to support our show and get bonus content. Subscribe today at bit.ly/lemonadapremium.
Click this link for a list of current sponsors and discount codes for this show and all Lemonada shows: lemonadamedia.com/sponsors
Transcript
SPEAKERS
Kulap Vilaysack, SuChin Pak
Kulap Vilaysack  00:10
Hello, and welcome to another episode of ADD TO CART. A show about the things we buy and buy into and what they say about who we are. I'm Kulap Vilaysack.
SuChin Pak
And I'm Susan Pak. So, a couple of weeks ago, we had a listener. Her name was Molly, and she phoned in on our voicemail line. Asking us about all the reusable products that we love. We answered a bit in that episode, but then it just sort of inspired us to devote an entire episode to some of our favorite products that are eco-friendly. We've got tips in here; we've got lots of really fun stuff. So let's get to it.
Kulap Vilaysack 
Yes, please. And let's you know, let's give it up to Molly and all of our listeners who've been calling and we are so highly influenced. We influenced you, you influenced us What a beautiful sort of symbiotic relationship.
SuChin Pak 
Yes.
Kulap Vilaysack 
In the episode with Molly's question, I talked about a moving boxes company, the name of the company is Leafy Moving Boxes, and you can find them at LeafyMovingBoxes.com. These are moving boxes and supplies that are delivered to your door. So their commercial grade reusable boxes. And the goal is to replace the cardboard in your move in may help make moving a lot less stressful. It's different when you want to keep certain things in boxes for storage. This isn't it. This is like he got moving from kitchen to kitchen one to one. And so I ordered when I was moving 75 boxes, I think I in the end, I probably should have ordered more. I set the start date and the end date. And they dropped the boxes off. You know, we move as usual. And then in my new house, they came and picked it up. They also depending on how many boxes they'll have like a coordinating number of dollies as well. So they pick up the boxes in the dollies really easy. really durable, certainly more durable than cardboard boxes.
SuChin Pak  02:12
This is fantastic.
Kulap Vilaysack
And I know that there are a bunch of different companies that do this, but this just happened to be the one that I used. So just to give people some pricing ideas how much it cost me 75 moving boxes I let's see it was September 17. They picked it up October 1. And that was $269. To me, it was worth it.
SuChin Pak
As you know we're big. We're big dental hygiene fans over here. That's right. And you know, I've tried lots of losses. Flosses is very important I floss a lot. You know, as I've gotten older I've realized that I need to floss more than ever. Because the bone density in my mouth has decreased and now food gets stuck where food never got stuck before. And I started to think I was like where does all this floss go? Like I don't think this is bio degradable floss. And so I went down the rabbit hole. Sure enough, very few flosses. Even the ones that are from fancy companies are biodegradable. The packaging is biodegradable, but the floss itself isn't. I kind of was like you know I floss a lot. But I'm also not willing to give up on really good floss.
Kulap Vilaysack
That makes sense. You floss like you snack.
SuChin Pak
That's right. You do not want to meet me unflossed in the streets. So this one is from a company called Tree Bird. It's called Pure Silk Eco Floss. It comes in a little glass file that you can then yeah, put the refillable floss and when you're done. It's naturally waxed. And it's 100% compostable. It's natural soak spool. Eco Friendly Zero Waste oral care. This is amazing floss. I have tried other flosses. We have tried other flosses. I like a floss that's thin and very strong so that it gets really deep into all the gum area. A lot of floss is I feel like fancy flosses are sort of thick and people like that. That may be your thing. Me, personally, I like a very thin strong floss. I'm obsessed with this floss. And now this is the only floss that I use. So anyway, I just throw it out there. It's a small thing, you know, but it's a thing that I'm personally for me that I do a few times a day and more than anything because is this going to stop the wildfires in Northern California? Is this going to stop climate change? Probably not. But what it does is that it makes you pause and think where else in your life can you be a little bit more thoughtful about the environment? Not everything, you know, can always be this easy. But I think it's kind of nice to just be like, it's much more I think of a behavioral belief system that we talk about when we're talking about eco-friendly things.
Kulap Vilaysack 
I do think small steps add up. You know, I think it does make such a difference.
SuChin Pak 
Well, the small steps lead to other small steps, and then before you know it, you've got a footprint that is smaller than it was the year before, you know, so that's all we're trying to do here.
Kulap Vilaysack 
My turn? Okay., I like the Stasher reusable silicone bags. The ones that I have are the sandwich size bags. Are you familiar with this? One? I'm sure you've seen this before.
SuChin Pak 
Yes, I've seen these. Yeah.
Kulap Vilaysack 
They are designed to eliminate single use plastic bags, but they come in all different sizes. I generally use them for food, but I know that they're for travel, which that totally makes sense as well. But they come in from colors, you can put them in the dishwasher. They're very, very durable. And I actually think um, our good friend Mike Wachs was talking about he got these for his dad, as well. And it was like a game changer for him.
SuChin Pak  06:23
Yeah, well, what's really nice. I love the stand-up ones because you can put liquid in it. And then you can either freeze it or refrigerate it. I have because I me looked at less expensive kind of Stasher bags as a lot of people make silicone. reusable storage bags now.
Kulap Vilaysack
Yeah.
SuChin Pak
I do have to say these are a much better quality. And the thing that is the biggest difference is the seal. The Stasher seal is really, really good. It's easy to use. And I mean, I've tried ones where you have to have like a plastic almost stick to seal it. Which is such a pain in the butt. If you want to do things that are very easy, you know, otherwise, it's you're not gonna do it.
Kulap Vilaysack 
And that's most things in life.
SuChin Pak 
Yeah. Yeah, like we're lazy fucks, sorry, we're lazy people. The Stasher bags are I think I've tried less expensive and hey, we're open to if you guys have tried a brand that is good. But I come back to Stasher I think that they're just a better quality.
Kulap Vilaysack 
And speaking of sandwich bags, like if someone's over an ID give them something. I'm not giving them my stasher bag. Like you said they're not cheap. So what I have and what I've been using is the lunch skins. Now again, you're like you don't have children. But why do you get ones that have sharks? Why? Cuz they're fun, SuChin, get off my back.
SuChin Pak  08:01
I like being on your back.
Kulap Vilaysack
That's true. You are very light. You're my monkey.
SuChin Pak 
Climb up my Kuku tree. Go ahead. Oh, recyclable and sealable?
Kulap Vilaysack
Non-wax paper sandwich bag.
SuChin Pak 
Dude, I've never seen this.
Kulap Vilaysack 
They're fun. And they're great.
SuChin Pak 
Because sandwich bags traditionally, you know when they're paper. They don't seal these are amazing. This is it. This is all I'm gonna use for my kids lunches. You have changed my game.
Kulap Vilaysack 
Oh, that's exciting to me. Yeah. So it's a 50-count box. It's 599. Not only do they have sharks, they have apples. You know, they're designed perfectly to fit in your kitchen drawer and they do. So removable self-adhesive closure strips to seal in the freshness. So they're durable, naturally grease, resistant, recyclable and saleable. And they come in different sizes, too. So you can do I'm going to do the bundle packs where I get big ones. Oh, this is so man, it is so hard to be eco-conscious.
SuChin Pak 
Or at least it's more difficult when you have kids because everything just has to be moving and fast. You know what I mean? Like you're not always, you have the time to do this. So this is such an easy solve that everyone who packs a lunch or snacks for their kid. This is amazing. I love this. I can't believe I didn't know about this before.
Kulap Vilaysack
And if it means anything to anybody, they're the winner of the 2017 Green Award. So it's something you can feel good about.
SuChin Pak
We need to put them on our list. ATC friends list you know, this is a potential game changer.
Kulap Vilaysack 
I love it. I love it. I love bringing something to you that you haven't heard of before. I'm a little high.
SuChin Pak 
Oh god. Such dorks. Were just getting high on compostable paper non-waxed snack bags just getting high. Look at these two addicts. Two addicts roaming the streets getting high. Oh, I'm so high. I can't even sit straight.
Kulap Vilaysack  10:36
You've talked about this next thing before early on in the show. But please get into how you should eat everything in your fridge.
SuChin Pak 
Oh, my turn. Yes. Eat everything in your fridge. Guys, guys, guys. Okay, globally, we, as Americans waste a third of all food produced for human consumption. A third. So food waste is a number one material in American landfills. It accounts for 24% of what is sitting in our landfills. And when I tell you food is in our landfills, it's not decomposing. our landfills are so packed. It's just food, rotten food just stuck forever. So the thing to be mindful of, and this isn't a product, this is just a habit is to eat everything in your fridge. So be a little mindful when you shop. And then when it's time. You know, I've talked about this before and listen, I'll share my taco recipe. Do you know what goes in my tacos in my house? Whatever's in the fridge. Bok choy, zucchini. Okay, broccoli stems that goes into a taco. You […]you put a lot of taco powder on it but some sour cream and cheese. No one will know.
Kulap Vilaysack 
No, your brother said he do.
SuChin Pak
Alright, so my brothers, my brother's a little bit of an Epicurean. But, this is what we call a stir fry. Okay, we talked about this with our dear friend Lauren. Okay? So eat everything. And then when I mean everything, there are certain things that people throw away that you need not throw away a broccoli stock, and a cauliflower stock, those things are edible. I don't know, when we stopped eating those things. All you have to do is you I what I do is I peel like I use a little vegetable peeler and I peel off the skin of a broccoli stock and then you chop it up, and you put it in whatever. It's delicious. It's sweet. It's the cauliflower stem tastes exactly like the cauliflower, radish tops, beet tops, celery leaves, eat all of that. And then a really easy thing to do that I do a lot is as I chop up the vegetables and if I don't want to eat, let's say you know a Carrot Top, I'll put it in a Ziploc bag and I'll put it in the freezer. So at the end of the week, I have a Ziploc or two weeks, you know, you can do it once a month, you have a Ziploc full of you know, discarded vegetable remnants. And then you put that in an instant pot with water and then you have vegetable broth. And so you can use that for anything you can use that to, you know, make pasta, make soup, sauces, etc. So eat everything in your fridge.
Kulap Vilaysack 
Also, if you're, you know an omnivore and you can do the same thing with like bones and throw bones and the veggies you can make a delicious broth that way as well. Same idea though, I liked that idea. Put it in the freezer.
SuChin Pak 
Yeah, and you always have a veggie stock is just you always need it. And it makes everything taste here. I mean, you can even cook rice and veggie stock just to give it more flavor if you want. So I think veggie stock is an easy one.
Kulap Vilaysack
I love that, I love it. Great point, SuChin. When I was going to the grocery store by myself and not afraid of COVID I would use these reusable produce bags. There are washable mesh bags for fruits and veggies, you get a set of five, I got these from Flip and Tumble but I know there's a lot of places a lot of different brands for this. But this is to like avoid getting those you know flimsy plastic produce bags are in a roll at the grocery store.
SuChin Pak  14:16
That you're just going to throw away the second you get home.
Kulap Vilaysack 
You can wash it, it's polyester.
SuChin Pak
No I love it. I mean the thing about this, which is everybody should have a set of these somewhere. And listen, if you don't you know these are beautiful and they're so fun to use, you know if you have just any kind of cloth bag that you can reuse again and again. Getting those single use plastic bags at a grocery store so that your apples don't touch your pears is just dumb. It's dumb, and you shouldn't do it. And so either I am that annoying person where because sometimes I forget and you know it's not always easy. Oh you you're stopping by the grocery store and you forgot your bags or you didn't wash them that I am the annoying person. And that just has all the produce and their vegetables not in bags. And it's fine Farmers Market sell guys. Yeah, it's fine. Like all the vegetables and fruits, they get along really well in the bag. You know, there's no complaints there and it's fine. I have a really fun one, okay, I want you to go this site is called the Carbon Knots and carbon knots you spell it sort of like astronaut meets carbon. And, a friend of mine who actually worked with me on G word. That's where I met him. He's an eco-champion. You know, he started a website many years ago called Tree Hugger, and has dedicated his life to try to figure out how we live with less. And so what do you want it to do was, you know, we talk about making our carbon footprint smaller. But what does that mean, as a normal average person you have no idea what that means? You don't know how to do it? Like, what do you do? Like we gave you some tips here? But what else right? And then how do you measure your carbon footprint, it's also esoteric, and it feels very big.
SuChin Pak  16:07
So what he wanted to do was break it down and really personalize it. So he has these online classes to slash your carbon footprint. And it's really easy. You know, there's one here where you can do one hour, and it's 999. And you get to meet with an expert. And they will tell you specifically how you in your life can slash your carbon footprint. So maybe you should spend less time worrying about you know, the type of toilet you have and think about maybe switching out your reusable bags. And it's all personalized. So you know, you bring your gas electric and other energy bills to it, you tell them what kind of car you drive, you know how much you travel in a plane, all of that stuff. So it's a very personalized way to understand what your carbon footprint is. But they have lots of classes, they have classes for, you know, if you have a small company, and you guys are, you know, this is something kind of fun, and you all want to do it, there are five-hour classes.
SuChin Pak
There's a family edition where a family can take a class together. And they're going to give you very personalized information about how to decrease your carbon footprint in a way that makes it easy for you. That's what he wants to do. So anyway, I want to give a big shout out to this company. I think it's so fantastic. It's such a labor of love for him. I think it's just a practical way. And I just I love that he, his name is Gram Hill. And he is always thinking about how do we make a difference that people can implement. That doesn't feel like you have to be a climate change expert to engage in this. Like, how does the average person who knows very little about this, but cares and wants to try to make a difference, but where do they start? So he's made it really easy. It's called Carbon Knots.
Kulap Vilaysack 
That's very cool. Yep. I love that. I love that. Okay, the last few things I'll just mention really quickly, is I use stainless steel drinking straws. Some people you know, they're like I'm a grown up, why am I still using straws like Scott's on a straw guy. I'm a strong girl. I like it. And there's a there's an element of vanity as well because it's like, for my teeth. I don't, you know, I don't want to put like iced coffee. Go straight down to the back of my throat instead of swishing with my pearly whites. You know?
SuChin Pak  18:43
That's how you keep it fresh.
Kulap Vilaysack
That's how I keep it fresh. And I particularly enjoy the feeling of a steel straw. I don't know what that says about me. Maybe there's some therapists who could write in and let me know what that's about. But, guys, it's not dick related. It's not even the same shape. Come on. Get your minds out of the gutters.
SuChin Pak 
It's like you read my mind. It was weird.
Kulap Vilaysack 
Come on, SuChin. But I like a stainless steel. I don't want to fuss with like a flimsy like paper straw or whatever.
SuChin Pak 
And do you carry them in your bag so that when you go and watch something at a restaurant?
Kulap Vilaysack
I need to, I need to.
SuChin Pak 
It's a lot. I get it. You know what we're just trying to get to a D minus, you know, like, yeah, 60% to 65%. If we can just do that.
Kulap Vilaysack
I need to do what Jenny does. And I just need to have a little culinary sort of set that has my chopsticks, my knife and fork my spoon and my straw. Right. That's what I need to know in the cute little case that's always in my purse.
SuChin Pak
And you know, if you want to throw in a glass vial of compostable floss.
Kulap Vilaysack  20:04
Kind of you know what? Yeah. Are we making this? Is this our new product? Is this our new kit or purse kit? It's either this or toilet bowl brush because nobody can get those anymore.
SuChin Pak
Feels very, that is an eco-product, but I can't talk about my most amazing eco product, the Lumi, because you can't buy it anymore. The ATC effect? I think so. I don't know, I think we cleared them out.
Kulap Vilaysack 
The last thing I want to say something that I'm testing out SuChin I tried to use as a little white paper towels as possible. I you know, I keep so many rags, I have so many different types of dish towels. I'm trying from our friends at Blue Land, whom you introduced me to this company, the cloud cloth that I added to cart it is on its way Haven't I can't report back yet on how it works. But I'm letting everybody know, I certainly will, you know, give you my results after my scientific research. But it's an ultra-absorbent cloth, the perfect combo of a sponge in a dish cloth. So one cloth can absorb 15 times its weight and water and can replace they say as many as 1500 paper towels.
SuChin Pak 
Those guys, they're scientists over there, they know better than us. Let's just trust that they know better than us.
Kulap Vilaysack
And also follow Blue Land on Instagram, they give great tips. Not even just about like their products. But just really good things. Just think about.
SuChin Pak 
My final thing isn't a product, but is inspired again by Gram Hill, who is my friend who started Carbon Knots. Now this is something that he has been talking about for I don't know, 10 years plus. And it's this concept of weekday vegetarian. So we talked a little bit about this, environmentally meat causes more emissions than all of transportation combined. That's cars, trains, planes, buses, boats, all of it. Meat produces more. And beef production uses 100 times more water than vegetables do. And we as a society today eat twice as much meat as we did in the 50s. Right? So, whereas before, it used to be kind of like a special thing or like a weekend thing. Now we're eating it on a much regular basis.
Kulap Vilaysack  22:38
Yeah, like robber barons.
SuChin Pak
Yes, exactly. Just meat. And I'm guilty of it as well. I'm a big carnivore. But I think what was interesting about this is that Gram, again, in this sort of effort of trying to create a dialogue around how do we make a difference and an impact in this world, but not sacrifice everything right? It doesn't have to be difficult. And it doesn't have to be just for the climate activists, you know, it can be for everyday citizens. So he was like, why does it have to be binary, right? Like you're either vegetarian or not. And so moving away from that he came up with this concept of weekday vegetarian. So during Monday through Friday, you're a vegetarian, and then on the weekends, you can have your meat. And that seemed like a very reasonable way to approach this. And whether you're Monday through Friday, Monday through Thursday, you know, whatever it is, I think, what I love about this, and these kinds of tips, is that it doesn't have to be binary. It doesn't have to be extreme. And I think people get overwhelmed by that. I think people get very discouraged by that.
SuChin Pak 
But I think that there are ways that you can incorporate all the things that we're talking about, in a very easy and effortless way. That sounds good, SuChin. That's it. Yeah, that's it for a little Mother Earth. You know, like I look around and the flowers and the trees and the butterflies. It makes me sad to think about, you know, the ways that we're taking advantage of and overusing things. So I'm really glad thank you, Molly, our listener for dropping a voicemail to inspire this episode. I think we had a lot of fun with it.
Kulap Vilaysack  24:24
As you guys know, we are literally experts on nothing. We're just sharing things that we like and have worked for us and that we're trying, we're trying because you guys hear everything that we do and some of the stuff are decidedly not eco-friendly. And that we know too. So, you know, we're all trying our best is what I'm trying to say like my dear friend Harris Wittels would say find everything mentioned here plus all of the best additional content on @AddToCardPod on Instagram. And we will always have links to products in our show notes as well.
SuChin Pak 
So if you haven't already, please rate and review us. Now why is that important? It really helps other people find the show. Who knew. It's just technology. It's algorithms. I don't even know what I'm talking about. But that really helps us and so thank you for all of you guys who have rated and reviewed our show. Continue to do that.
Kulap Vilaysack 
Call us, call us at 833-453-6662 tell us your favorite reasonable product or recipe incorporating leftover veggies. What did Lauren call that dish she make Lauren Lapkus it was only junk.
SuChin Pak
Yeah, it's called junk. And we were like, I think it's a stir fry. You know what I mean? just fry it up, guys. Alright, we'll see you next week. Bye.
CREDITS
ADD TO CART is a production of Lemonada Media. Our producer is Claire Jones and our editor is Ivan Kuraev. The music is by Wasahhbii and produced by La Made It and Oh So Familiar with additional music by APM music. Executive producers are Kulap Vilaysack, SuChin Pak, Jessica Cordova Kramer and Stephanie Wittels Wachs. Be sure to check out all the items we mentioned today on our Instagram at @AddToCartPod. Also, please take a moment to rate, review, and subscribe to the show wherever you get your podcast.