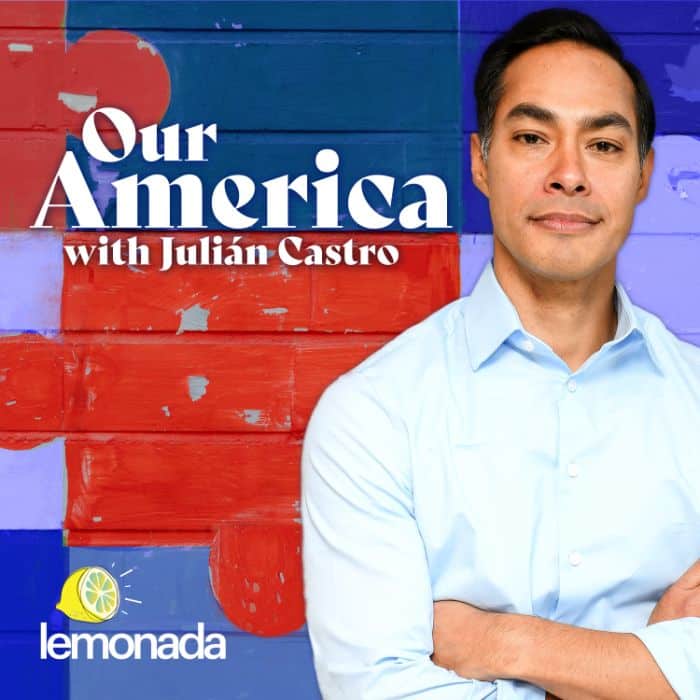 The Luxury of Paid Sick Leave
Subscribe to Lemonada Premium for Bonus Content
Description
Martin Macias and his wife, Tomasita, crossed the border from Mexico into the United States back in the '80s with the dream of starting a family. They had their son Jose, and together they became community leaders in the fight for immigrant rights and workers' benefits. But their journey is marked with unimaginable loss – of a job, their home, and the family's matriarch. This week, we're talking about the life and death consequences of what happens when workers are denied basic benefits like paid time off. The father-son activist duo talk about Tomasita's lasting impact, and what it's going to take to make economic progress for undocumented immigrant families in our country.
Keep up with Julián on twitter @JulianCastro and Instagram @JulianCastroTX. 
Resources from this episode:
Keep up with the Fight For $15 here.
Check out Informed Immigrants' comprehensive list of immigrant rights resources and the National Employment Law Project's fact sheet on immigrant workers' rights and COVID-19.
Support the show by checking out our sponsors
You can digitally purchase life insurance from Haven Life Insurance Agency at havenlife.com/ouramerica. Haven Term is a Term Life Insurance Policy (ICC17DTC) issued by Massachusetts Mutual Life Insurance Company (MassMutual), Springfield, MA 01111 and offered exclusively through Haven Life Insurance Agency, LLC. Policy and rider form numbers and features may vary by state and not be available in all states. Our Agency license number in California is 0K71922 and in Arkansas, 100139527.
The Marguerite Casey Foundation, creating greater freedom for changemakers to create a truly representative economy. Learn more at caseygrants.org, and connect with the Foundation on Twitter and Facebook.
To follow along with a transcript and/or take notes for friends and family, go to http://lemonadamedia.com/show/our-america shortly after the air date.
Stay up to date with us on Twitter, Facebook, and Instagram at @LemonadaMedia.
Transcription
SPEAKERS
Martin Macias, Speaker 4, Julian Castro, Jose Macias, Reporter on TV
Julian Castro  00:01
As the cost of living in America has continued to rise, the amount of money people are making has largely stayed the same. It's been this way for 40 years, and it affects every single American in countless ways, especially hard-working people like Jose Macias and his father, Martin.
Julian Castro
Last March, I had the pleasure of sitting down with both of them, and other members of the Nevada Chapter of The Immigrant and Workers Rights Group, Make the Road, to hear about their most recent advocacy on affordable housing, paid sick leave, and immigration reform. This week, I reconnect with Jose and Martin, who shared some of the more personal moments of finding their way in the United States and becoming the outspoken fight for 15 activists they are today.
Julian Castro 
This is OUR AMERICA. I'm your host, Julian Castro.
Julian Castro
Like so many activists, Jose's involvement started with seen tragedy and injustice. He still remembers the events that were happening around the time he joined Make the Road.
Reporter on TV 
More than 500 people wounded. In a horrific shooting on the Las Vegas Strip. It's the deadliest mass shooting in modern United States history.
Jose Macias 
We heard a lot of stories from undocumented workers. They were the ones setting up the state clean the restroom working in the food stands. They went to seek help the next day, and they were denied how because of their status. Make the Road and other organization activists came together to fight for them to get a U-Visa. After that, is when Hurricane Maria happens as well in Puerto Rico.
Reporter on TV
right now a powerful category for storm Maria is hitting with 155 mile an hour winds, torrential rain, the strongest storm this island has faced in nearly a century.
Jose Macias  02:10
Puerto Ricans came to Make the Road and said we can get our driver's licenses; they don't want to transfer them. So that's when we started fighting for Puerto Rico justice. Same time when Make the Road started. 2017 was when DACA was taken away.
Reporter on TV 
Kept by President Trump is a dream lost for thousands of undocumented immigrants brought to the United States as children.
Reporter on TV 
Supporters of the program. Note that many of the roughly 800,000 people covered hold full time jobs are enrolled in college or serve in the military.
Jose Macias 
So we definitely joined that fight to make sure that we gave that voltage to that community. It's been a lot of years as an activist, given my community, my passion, my heart, from when it came to immigrant rights to workers' rights. My office is exactly located right behind the neighborhood I grew up and live for over 14 years since I moved to Las Vegas. So I am definitely blessed to be an organizer in my community, from workers' rights to housing justice, to immigrant rights to climate justice, to giving power to the youth.
Julian Castro 
And when was the first time that you got involved in activism?
Jose Macias 
So it's a funny story. I remember in fourth grade, when I came to the school, it was only English. There was a kid in my class that he didn't speak at all. And coming from a bilingual school, I was the only one to say the only bilingual student they went to the school now. So they made a machine where it had a button they had a picture of a pretzel, like a soda can. So every time he pressed the button that has a pretzel, it'll say I'm hungry (inaudible). So the way that they got the voices, is they asked me if I could record my voice into the machine. So every time he pressed the button, it was my voice. They came out in English and Spanish. And I remember a year later I saw him and he was able to say words things to the machine and things to me given the voice and into the machine for it.
04:23
So that was like the first time I remember realizing that my voice can mean a voice for a lot of people that don't have one. As I grew up, I realized that there was a lot of issues concerning in my community, especially in immigration coming from immigrant parents, meeting a lot of my friends, they were coming out as undocumented. So then that's where I knew I had to be a voice for them. And I remember in 2009-'10 there was a big movement for the DREAM Act. And that's where I'd like to get more involved into the movement. So I started doing my own actions and walks and, and started going into schools talking to the youth about the DREAM Act and how getting involved is important.
Julian Castro  05:12
The DREAM Act hasn't passed. But it stood to accomplish one of the things that has said believes is vital to a better America, temporary, and eventually permanent residency status for undocumented immigrants who came to the US as children. And that belief comes from his family's personal experience. When I met Jose on the campaign trail, he told me about his tight knit family of activists who were inspired to fight for immigrant rights by the matriarch of the Macias family, Tomasita.
Jose Macias
My mother has always inspired us all the words of advice she given us to always look up for each other, and our community with something that we always got from her. She was always there for us like she was always given us the best advice. She had the best cooking. Everybody loved her cooking. I remember even when we were volunteering at some campaign, she'll bring food. Everybody knew her because her food and her love was definitely unconditional are all families definitely really close and she is the one that definitely brought us closer.
Julian Castro  06:21
After the break, I talked to Martin Macias about his journey from Mexico City to Los Angeles with his wife, Tomasita. And what being an immigrant has meant for their family?
Julian Castro
I just want to start by asking you, Mr. Macias, to talk about your journey to the United States and what your immigrant experience has been in the country.
Martin Macias 
(speaking Spanish)
Julian Castro 
What Martin and Tomasita wanted more than anything was to start a family together. But doctors in Mexico told the young couple that Tomasita couldn't have children.
Julian Castro 
Her sister already lived in the US and thought they would have better luck with fertility there. So the two packed up their belongings with the promise of a better future ahead.
Martin Macias 
(speaking Spanish)
Julian Castro
Martin and Tomasita, decided to chase the American Dream over 30 years ago, when they cross the border together from Mexico. Nothing could stop them, not even a knee injury Tomasita sustained on the way.
Martin Macias  08:15
(speaking Spanish)
Julian Castro 
And after just two years, the Macias family welcomed their first son, Jose. He was born premature. So Tomasita stayed at the hospital to care for him for an entire month. Even when the doctors told her she could go home. Her fighting spirit kept her close to her son. In addition to his family, Martin takes pride in his work.
Martin Macias 
(speaking Spanish)
Julian Castro 
Martin's very first job in the United States was at a Panasonic factory outside of Los Angeles. He started earning $6 an hour, which quickly increased to 10. At a time when the federal minimum wage was $3 and 35 cents an hour.
Martin Macias 
(speaking Spanish)
Julian Castro 
Martin's hard work and beginner English gave him the ability to move around to other jobs outside of LA. Eventually he was earning $14 an hour plus frequent bonuses to support what was now a family of five. But in 2007, Martin lost his job during the financial crisis. A couple of years later, the family was hit with another severe blow.
Jose Macias  10:05
Our family went through an eviction, the management of the mobile home park where we lived was racist and she definitely discriminated against a lot of families there. We fought really hard to make sure that didn't end like that. Unfortunately, where we were living where everybody was going bankrupt, housing was bad. So it was easier for her to just come and say, Okay, you haven't paid me, there's more home, I want it back. And then that time, nobody was working. My dad had just loved his construction job. My mom worked for an agency that it was only a little bit of hours a week. So it was hard for us to move in five days when housing wasn't something available for a lot of families.
Julian Castro
Eviction was in no way part of their American dream. But the family turned their misfortune into action. Together, they started volunteering with local political campaigns and unionizing efforts to raise the minimum wage to $15 an hour, and provide better benefits to workers in Nevada. But things changed in 2014.
Jose Macias
So my mom have been feeling sick for a while now I think months prior. And my dad used to take her to work every day. And just right before she got off the truck to go into work. She just looked at my dad and she was like; I don't feel good today. I really don't.
Julian Castro 
Tomasita had been working as a housekeeper at the same Las Vegas hotel and casino for over a decade. But even still, her pay remained at $8 and 25 cents an hour without paid sick leave, or paid time off. So she continued to work throughout her sickness. She couldn't afford not to.
Jose Macias  12:04
Then she even asked her supervisor, she wasn't feeling good. So then they have her sat at the medic room they had in the casino. Unfortunately, no one knew my mom was having a stroke. We were in the hospital, I remember for about a month, every day where they're just praying for a miracle that she will wake up from the coma, then she'll be back to normal. As days and weeks come by it got to the point that the doctor just said our family down and told us that we had to come to a decision, a decision to just disconnect her to take her out of life support. It was probably the hardest decision in the family. We took her out of life support. And she was still breathing for a whole week. We're there day and night. A lot of family friends, community members came together and was supporting us every day. And then a week passed by and I was there in the room when the machines are starting to be. And Yep, and just literally seeing her, her soul leaving her body and it's like, hard for us as a family to see the glue of the family just not be with us no more. And unfortunately, it happens to a lot of poor families, a lot of undocumented immigrant families where you go to work to provide the best for your family. A lot of times we know no kinds of benefits, where no pay sick days.
Julian Castro 
Because of her status, Tomasita had no health insurance, which led to many fights between her family and her doctors during the month that she was hospitalized.
Jose Macias  14:07
There's a lot of luxuries that you don't have when you can't even get a job there's going to pay you a living wage. When we lost her it was something that definitely marked all of us like I think that's an experience that I don't wish upon anyone is very hard for us. But that she has always inspired me to continue the fight when it comes to immigration because I want to make sure that other parents, other moms don't go through what my mom went through.
14:45
After losing my mom and knew the importance of people making a living wage, and having benefits just as being able to go to the doctor when they feel sick and not being scared to miss work because they're not going to be able to pay rent, or the light bill or the Wi Fi for the kids to continue school. And they know if more people have those benefits, no matter your status or anything more people will be able to contribute into the economy more people will be able to not be separated from the families of Lego. I always say that this system is not broken. It works exactly how they want it to work. We have to change that, we can't leave people behind anymore and expect this country to be strong because we need the strength of everyone, every community.
Martin Macias
(speaking Spanish)
Julian Castro 
Tomasita was Martin's the source of strength, constantly assuring him that there was nothing to worry about, that they had to keep going for themselves, their kids and their America when they were fighting for a higher minimum wage, or advocating for dreamers in their community, Tomasita was right there on the front lines. Now, Martin, has picked up where she left off. He's a leader in the fight for 15 movement in Nevada, and a founding member of the states Make the Road chapter.
Julian Castro  16:26
Mr. Macias as an essential worker, as a fast-food worker you've been getting up and going to work every day during this pandemic. What do you hope for, for workers like you and others who have stepped up? Who are doing a real service for everybody during this pandemic?
Martin Macias 
(speaking Spanish)
Julian Castro 
Throughout the coronavirus pandemic, Martin has been an essential worker at a local McDonald's, or he started working maintenance after Tomasita's death. He credits the many people in health care and agriculture for keeping Nevada and our entire nation afloat during this time.
Julian Castro
A report released last month by the Government Accountability Office found that millions of McDonald's employees are paid wages so low, they're forced to rely on food stamps to make ends meet. But in 2019, the company's top CEO's raked in a profit of almost 2000 times the yearly salary of an average employee, which means Jose & Martin have a lot to continue fighting for.
Jose Macias  18:10
My dad is an essential worker, I seen him going to work every day during the pandemic and putting his life in risk with no benefits because where he works at, they don't offer him health insurance. So seeing his experience as an immigrant essential worker. Health care is definitely something that our community really needs. We really need to make sure that when we're talking about health care, including immigrants, the voices of immigrants, is making sure that is provided for all community. We have to make sure we have livable wages, they shouldn't be worrying about if they're going to have enough for the rent, or if they do lose their job. Now even have a savings. A lot of communities we saw apply for unemployment, or even up, be able to qualify for the stimulus check because of their status. A lot of people were left out in this pandemic, our country cannot do that anymore. We have to make sure that we are here for everyone.
Julian Castro 
Absolutely. We've just gone through four years of a lot of demonization of immigrants, especially undocumented immigrants and people seeking asylum. What do you hope to see over the next few years?
Martin Macias 
(speaking Spanish)
Julian Castro  20:00
Martin believes in the future of a country led by the Democratic Party. And he believes in the youth and the women who exercise their right to vote to make this change possible in the name of equality.
Jose Macias
I hope that in the next four years to come, we're fighting and pushing things, they're going to make a country go forward. And to make it possible that we win $15 for everyone that we get healthcare, they include as many people, we want to make sure that we are finding affordable housing for everyone. For all we want to see we see justice for all families. And I think that these next four years can be crucial. And I just hope that the fight continues, but to be a fight that's going to move our country forward.
Julian Castro 
Your mother got to see the roots of your activism and trying to help other people. And what do you think that she would think? If she really were able to see now? How involved you become in trying to make other people's lives better?
Jose Macias 
Yeah, definitely I know, she will be proud. She always encouraged me to, to continue being a voice for others. I remember starting my activism when it came to the DREAM Act, and immigrant rights, I'll be like, holding this line outside of senators offered for like 12 hours, or knocking on doors for weeks, doing them for free, to make sure that whoever I believe in got elected, or doing a protest for everything, like I know, she was alive today, she will be definitely proud. And she would have been fighting with me next to me she was here. The ones that are affected should be in the table. The ones that have the stories have to be in the spaces, and nobody's going to take that away from you. And I am grateful for you to give me a space to share my story.
Julian Castro
And I hope that you continue to carry that same spirit of hers and a fighting for what's right, and of seeking justice, and that all of us find more justice in these next few years that are different from the ones that we just went through.
Jose Macias  22:10
Yeah, definitely. It is gonna be a whole community effort. That's what's going to make sure that we continue to seek justice for all of us. So thank you so much. Really appreciate the time and hopefully we all meet again,
Julian Castro 
Yes, thanks a lot.
Martin Macias 
Muchas gracias.
Julian Castro 
After my conversation with Jose and Martin, I couldn't help but think about how they deserve so much more. We owe it to them to be able to earn a livable wage that people don't have to supplement with government assistance, or a second or third job. A wage that ensures they can live the dignified lives they deserve. People like Tomasita, who help our country thrive, often get left behind by the system set up in favor of the wealthiest Americans. Tomasita deserved to be guaranteed whatever medical care she needed, simply because she needed it. It's an America we must keep fighting to make reality to ensure that what happened that DOMA Sita doesn't happen to other families. Next week, we take a look at another system this time, one that is failing many of our nation's children.
Speaker 4
You know if we have the largest percentage of foster kids coming out of South Central, you think they'll start dumping a lot more money into South Central, but that's not the case. They dump a lot more money for law enforcement. The funding can't keep going to law enforcement. It has to go into providers.
CREDITS
OUR AMERICA is a Lemonada Original. This episode was produced by Matthew Simonson. Jackie Danziger is our supervising producer. Our associate producer is Giulia Hjort. Kegan Zema is our technical director. Music is by Hannis Brown. Executive producers are Stephanie Wittels Wachs, Jessica Cordova Kramer and Julian Castro. Help others find our show by leaving us a rating and writing a review. Follow us at @LemonadaMedia across all social platforms. Or find me on Twitter at @juliancastro   or on Instagram at @juliancastrot