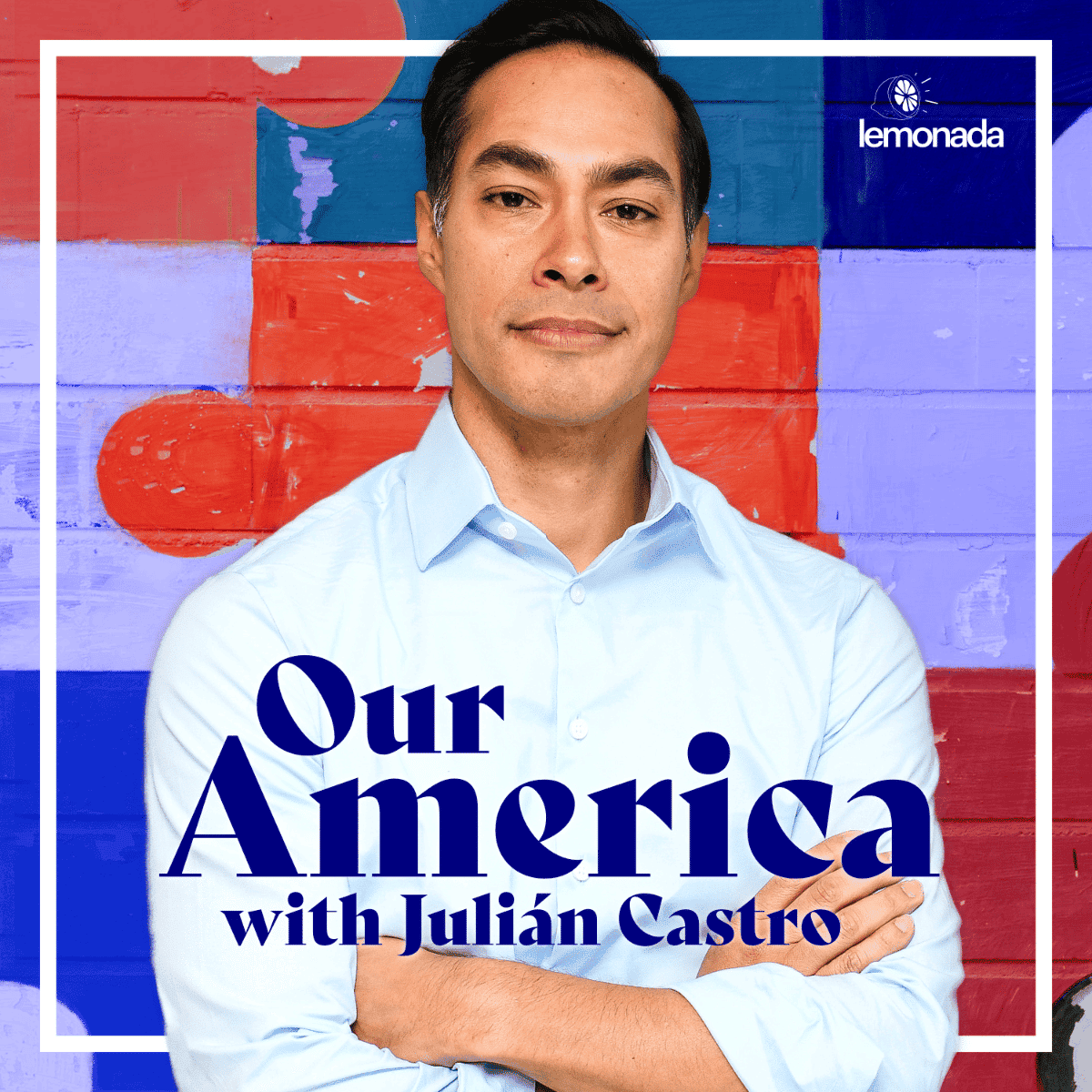 The United States of Hunger
Subscribe to Lemonada Premium for Bonus Content
Back in April, a viral image captured the toll of the coronavirus pandemic on Americans trying to put food on the table. In this episode, we get the story behind that photo from Eric Cooper, president and CEO of the San Antonio Food Bank. He tells us what it's like running a food bank in the midst of a national crisis, and what's changed for essential workers on the frontlines of food distribution.
Next, we talk to renowned chef and food advocate, José Andrés. In 2010, José and his wife, Patricia, started World Central Kitchen to aid in relief efforts after Haiti's 2010 earthquake. We talk to José about the immigrant farm workers who have sustained us during the pandemic, and the importance of emergency food distribution, from the Navajo Nation to Kentucky polling places.  
Keep up with Julián on twitter @JulianCastro and Instagram @JulianCastroTX
Resources from this episode
Transcript
[00:40] Julián Castro: In mid-April, as the novel coronavirus pandemic gripped the country and millions of Americans found themselves out of work, an image of our new reality went viral. Taken from overhead, the photo showed a sea of cars. Hundreds of cars, bumper to bumper, as though in standstill traffic. Except they weren't waiting in traffic. They were waiting in line in a parking lot in my hometown of San Antonio, there to receive food from the local food bank.
[01:14] News reporter: 10,000 San Antonio families came to Traders Village today. Thousands of people showed up to a food drive that was way more than they expected. 
[01:22] Julián Castro: The line stretched for four miles. It's easy sometimes to think of hunger or food insecurity as something happening to someone else, somewhere else, sometime else in a developing nation thousands of miles away, or a bread line in 1930s America at the height of the Great Depression. But food insecurity reaches deep in our country today. Why? What does it look like and what can we do about it? This is Our America. I'm your host, Julián Castro. 
[02:05] Eric Cooper: I've worked in this space for 27 years, and I've never seen that type of need at that scale. There's too much demand for our supply and that environment of having people come and get food in a parking lot, it's overwhelming.
[02:23] Julián Castro: That's Eric Cooper, president and CEO of the San Antonio Food Bank since 2001. Eric's the guy who had to figure out what to do about that line of hungry people waiting in their cars. I sat down with him to talk about the chaos of running a food bank in the midst of a national crisis. 
[02:42] Julián Castro: Thank you for agreeing to join us. And thank you even more for all of the fantastic work that the food bank has been doing for so many years. How did you get into this? And where does your passion come from?
[02:56] Eric Cooper: I think I've always had a servant heart. At a young age, I had an old spirit and just, you know, super blessed. But as I left home to make my way in the world, my parents got divorced and my dad ended up just kind of disappearing and left my mom in a situation where she had my younger brother and sister at home and she was trying to make ends meet. And, you know, I helped where I could, but I started to see how poverty was impacting her and her inability to have enough income. And I was estranged from my dad until I started to look for him, and I ended up finding him homeless on the streets of Portland, Oregon. And it was finding him homeless that I think changed my life. It made me pivot from the for-profit business space that I was working in to the nonprofit space. Because he was nourished. He had gotten food from a woman that had a catering business and would, you know, drive the streets and sell her food. And whatever food she didn't sell, she would stay out on the streets and feed the homeless. And so my dad would always say he felt the generosity or he was the beneficiary of other people's kindness. It changed me. I could no longer see someone in need as a stranger. I saw him as my dad. 
[04:34] Julián Castro: Yeah. A lot of people, they may not know how a food bank actually works. Can you talk to me about how a food bank actually works?
[04:45] Eric Cooper: You know, the San Antonio food bank is actually one of 200 food banks across the United States that make up Feeding America. Every major community across the United States has a food bank. Most food bank territories are several counties for us in San Antonio, we have 16 counties we serve down close to the border, a pretty good sized section of southwest Texas. And it is a privilege to be there to meet those basic needs of a family. But we can't do it without great partners, and so we rely heavily on the food industry, from farmers and growers to food manufacturers, producers, restaurants, hotels and caterers, places that prepare food to be eaten and it's not, we rescue those leftovers. And it's really all of that food, that prevention of food waste, that allows us to have the inventory that then we feed tens of thousands of people. San Antonio is this, you know, amazing, rich, cultural, hard working, humble, but a working-poor river economy. It's just, you know, a community that doesn't necessarily ask for much, just tries to work to make it happen and feel blessed that they have what they have. But, you know, what they don't have is oftentimes access to good nutrition, a meal. And just this last year, San Antonio knocked off Detroit as the largest metropolitan city with the highest rate of poverty. And so, you know, we have a lot of families living on the edge. But then with this COVID-19 crisis, it was like all of those families living on the edge just got pushed over the edge. 
[06:41] Julián Castro: Before February, the San Antonio food bank was already feeding about 60,000 people on a weekly basis. So when COVID-19 hit, Eric didn't hesitate. 
[06:52] Eric Cooper: Even before things started a downward spiral, we thought, let's let's think this thing through. How would that impact our work? Who would be most vulnerable? Who would struggle to get access to food? And so thinking that through, we really started to bolster our senior programs, our senior food boxes and our home deliveries, all of that, we just started to actually give families more food and just kind of prevention and preparedness. 
[07:22] Julián Castro: Eric had a plan in place, but nobody could have expected what lay ahead. 
[07:27] Eric Cooper: We never could have imagined that it would unravel so quickly. By the time that second week in March hit and schools extended their spring breaks here locally because they were not ready for kids to come back or were worried about the spread of the virus. And then you could see the economy starting to crater. Employers saying, all right, everybody work at home. Hey, no customers, no revenue, no job. And the paychecks stopped. 
[08:01] News reporter: At least 22 million Americans have filed for unemployment since the pandemic started. Now families across the country are just trying to figure out how to put dinner on the table since February. 
[08:12] Julián Castro: San Antonio's unemployment rate increased almost five percent. That's over 56,000 more unemployed San Antonians since the beginning of the pandemic, not counting undocumented workers. At the onset of the pandemic in south Texas, the demand for food doubled from 60,000 families to 120,000 families per week. 
[08:34] Eric Cooper: Our phone system was crashing, our website was getting overwhelmed, and we had a distribution plan out on the South Side at Traders Village. The parking lot was available. We had initially planned on about 6,000 families, but ultimately 10,000 families showed up. I didn't fully realize what was happening. I had gotten there early and was making sure the trucks were getting offloaded and the volunteers were getting situated. And we had another group of volunteers that were going to deliver some homebound food boxes. So I thought, well, I'll leave the distribution and go help deliver those boxes and then come back to make sure things are going smooth. Then I got out on 410, you know, the interstate, and I just drove and drove and for miles, the cars were backed up trying to exit, to get off, to go to the distribution. That's when I panicked. I mean, it was, you know, this thought like we're going to run out of food. 
[09:39] News reporter: Anxious. That's the feeling at the San Antonio Food Bank this week. They are scrambling to find a way and to find money to feed 100,000 people in our area. The food bank is facing its biggest shortage ever. Cars bumper to bumper. People desperate to feed their families. 
[09:57] Eric Cooper: So I called back to the warehouse and I said, hey, listen, we've got to send more trucks. We've got to get more inventory. And then, you know, you taught me this, I called the mayor. I called Mayor Ron Nirenberg and said, we're gonna need more help. And they sent the amazing Parks and Rec staff that were able to come. And I got back to the distribution about the time those volunteers were coming. And we had several thousand families that still needed food. It was late in the afternoon and it was incredibly hot. And, you know, I just stayed through the end. And to be honest, I started just to go to the cars and just, you know, in my mind, I was wanting to say sorry it took so long, but everyone greeted me with a smile and they were just so happy that we were there and so grateful that they're like, you know, don't worry about it. We're just so grateful that you're here and that we're able to get food. 
[11:05] Woman: Thank you for the San Antonio Food Bank and for all the essential workers doing their jobs, because without them, where would we all be?
[13:35] Julián Castro: Talk to me a little bit about the kinds of folks that y'all are serving. I imagine in the line of cars that day that were taking food from the food bank, you had people that were essential workers themselves. You had folks who were professionals who now were relying on the food bank, small business owners. Talk to me about these different communities that you serve. 
[14:01] Eric Cooper: Yeah. So, I mean, it's children. It's adults. It's seniors. It's black. It's white. It's brown. Former military. Active military. We targeted people with disabilities and homebound seniors. And just trying to make sure that, you know, anyone in this crisis had access to nutrition. And individuals that never thought that they'd ever have to ask for help ended up in our lines. 
[14:37] News reporter: Matthew Serna among the 2,000 people who came to this food distribution site was laid off from his job soon after the shutdown began. 
[14:45] Matthew Serna: Nobody likes it when your kids ask what's for dinner and you're not sure what to tell them. It's not easy to ask for help. And we try to provide for our own family. 
[14:58] Eric Cooper: People that had been self-sufficient and self-reliant, small business owners that said, you know, I used to have 25 employees, now I have none. And I'm in your line. 
[15:11] Julián Castro: So half of the people basically who y'all have been serving during this COVID-19 time period, they had not been to a food bank to ask for help before?
[15:23] Eric Cooper: That's correct. That's correct. And that's a pretty common statistic around the country, that about half of who are providing food for today, those families are new. And it's heartbreaking. I mean, it's like how many families I've met just walking the lines, because that's typically when I get to those distributions now, I try to just make sure the staff are good, the volunteers are good, and then, you know, try to connect with families. And, you know, lots of times people will put their hand on the glass and just give me a high five through their windshield or a little fist bump. You know, I've had a woman that wanted to wave me off. She is like, don't don't come near my car. And then she started pointing at her chest and she started making up a positive sign that she was positive for COVID, but was there to get food. 
[16:21] Julián Castro: As the need for food relief rose, the pressure on the food system as a whole mounted. Donations to the food bank, which they relied on heavily, started dwindling. 
[16:33] Eric Cooper: Our donations really started to shrink while this wave of need was rising on us. The whole food system was getting stressed, though. I mean, retail couldn't keep up. You know, food service was going behind. So we had, you know, images in the media of of farmers disking under their crops or, you know, dairies dumping out their milk. 
[16:58] News reporter: The milk supply chain has soured. That's thanks to the coronavirus. The problem is, half of the industry's revenues come from food service and restaurants, and that milk market evaporated. But you can't tell the cows that, they still got to get milked. So last week on your average day in America, four million gallons of milk was dumped.
[17:18] Eric Cooper: You know, it's like, wait a minute. Like I have this unprecedented demand. You know, there's a home for that. And so, man, it's surreal, when you think about, you know, the need and the urgency and then the virus and trying to keep volunteers safe and keep people safe.
[17:39] Julián Castro: Now, I mean, you see this huge surge in need and demand for the food that you're giving out. At the same time, you need to amass a whole group of volunteers right in the middle of this pandemic where everyone is worried about being too close to one another. Strangers don't want to often deal with each other. How did you maintain safety? 
[18:05] Eric Cooper: We had safety protocols in place for physical distancing, we were, you know, requiring masks. We're doing temperature checks. We could spread out. The volunteers, you know, really started to rally, and I think we saw some of the resiliency. To me, that was what was just humbling, the people choosing to serve on the front lines, putting themselves at risk to make sure a neighbor got food. I have staff members with aging parents. I had staff members that, you know, had a recent newborn child, and they're choosing, you know, not to hold their newborn baby because they were worried that they would, you know, bring the virus home. And, you know, spouses that lived in separate homes because they were worried. And so all of that sacrifice that people were making to help someone else just gave us the fuel to just continue and and fight back. 
[19:07] Julián Castro: What do you see in the community today?
[19:10] Eric Cooper: Yeah, I mean, the hunger in America, I don't know that it's gotten any better. I mentioned I've been at this work for 27 years, and when I started in the early '90s, we had a very high rate of unemployment. And it seemed like most of the people you'd meet in your lines just needed a job. And so you'd get them food and help them get work. And then the last couple of decades, to be honest, everybody's working that's in your line, they're just not making enough. And it feels like the food banks may be just a part of the benefits package of a low-wage employer. You know, food pricing is high right now. You know, there's been a lot of increased food costs around retail groceries. There's more Americans now on SNAP, which is a critical safety net. And for us at the food bank, that's part of our strategy when we're working with a family to get them food for today through our pantries or our pop-ups, but we really work to get them food for tomorrow by helping them apply for SNAP. I know that we're not going to solve hunger with a canned good. It's really by, I think, a community of conscience, a community that understands. If you think about what we're doing today to feed people and statistically, typically, for all food banks, for every one sack of groceries that the charitable food system nonprofits give to a family, the federal government, through all of its programs, provides 18 sacks of groceries. And so when you think about the debate to potentially cut one of those federal programs, even by a smidgen, it would cause me to have to double or triple the volume of food, and it's just not sustainable.
[21:33] Eric Cooper: I think that the future, past-COVID, is can we think of a destiny where everyone has opportunity to thrive, no matter what your race is, no matter what occupation you're in. But that there's just some minimums that have to be met. And so I think the conversation around the living wage with access to healthcare and, you know, just PTO. There should be enough PTO, a reasonable amount, to make sure that people can get well when they're sick, and not worry about losing their home, you know, or not be able to put food on their table. You were a big part of the building of Haven for Hope. Those that struggle with housing in our city have a place to find shelter. And it was at Haven for Hope when I sat next to a homeless man enjoying a meal and he got to his dessert, and when he started to eat his dessert, he closed his eyes. And I could see that he almost was being transcended. And I just said, well, what are you thinking about? And he said, I'm thinking about when I was a kid, and I'm sitting at the dinner table. My mom's, you know, in the kitchen. And she used to make the same recipe. And it was a time when I felt safe and I felt loved. And, you know, it just took him back to a different time and a different place. And, you know, food is culture. It's ethnicity. It's tradition. It's the holidays. It's date night. It's transformative. 
[23:29] Julián Castro: I mean, it means so much not just as a basic necessity, but as something that goes so far beyond that. And I think about growing up, one of my favorite dishes growing up here on the west side of San Antonio was cheese enchiladas that in the public schools, they pretty much serve every Wednesday still, I think. And for years and years before I got a little bit more health conscious, I would eat all the time, and it would take me back to those days when I was in school. What's one of your favorite dishes that does that for you? 
[24:08] Eric Cooper: Man. Tacos, buddy, I think people should think about giving up Mexican food before they consider building a wall. To me, the best food anyone could ever have is is wrapped in a tortilla. 
[24:30] Julián Castro: That's right. I just wanted to say huge thank you to you, Eric, for spending some time with me. And the community is definitely better off because you and your team are doing fantastic work. 
[24:47] Julián Castro: Thank you, my brother. Thank you for the opportunity to have some voice in this conversation. 
[26:06] Julián Castro: Our next guest is one of the most recognizable stars in the food world, José Andrés came to America from his native Spain in 1991. Today, he runs more than 30 restaurants across the United States. He's earned Michelin stars, James Beard Awards, and he's twice been named one of Time magazine's most influential people. But in addition to feeding some of the most privileged, Chef Andrés is serving meals to those who are most in need. 
[26:35] News reporter: Chef and restaurateur José Andrés says there with his nonprofit organization, World Central Kitchen, which feeds those in need after disasters.
[26:47] Julián Castro: In 2010, José Andrés formed World Central Kitchen, a nonprofit that uses the power of food to heal communities and strengthen economies in times of crisis and beyond. 
[26:58] News reporter: Out of chaos, comfort. It's a recipe for recovery, cooked up by José Andrés who created the world's central kitchen in the wake of the 2010 Haiti earthquake. 
[27:09] News reporter: It has been a horrifying week here in Port au Prince, a week where people had to fend for themselves.
[27:14] News reporter: He and his group served meals in Puerto Rico after Hurricane Maria. 
[27:19] Julián Castro: Today, they are on the frontlines of the pandemic, providing food and relief to essential workers, the elderly and those who are suddenly unemployed. 
[27:28] News reporter: José Andrés has been central to helping out during the coronavirus outbreak.
[27:32] José Andrés: I believe that we are on our way to reach two million meals across America. 
[27:40] Julián Castro: José Andrés is a tireless advocate, and he doesn't shy away from the politics of food. 
[27:45] José Andrés: Every single person working in the slaughterhouse, the people working in the supermarkets, we need to make sure that we take care of them. Actually, I'm expecting more from the White House and Congress to take care of those people that are putting their lives at risk to keep America fed. 
[28:04] Julián Castro: You have a shirt on that is blue and in white lettering, it says "immigrants feed America," and they absolutely do. Talk to me about these most vulnerable human beings and workers in our country, our farm workers and those who help ensure that food that we eat gets to the table, whether they're out in the fields or they're meat-packing plant workers or others. 
[28:30] José Andrés: Well, number one, thank you very much for having me on your podcast. Really, really an honor to be here with you. So by a guy like me wearing this, I'm only saying I'm sure we are all helping feed America, but we have a big percentage of our food production workers that are not only immigrants, which I'm very proud, I'm one of them. But we have people that are immigrants and also are undocumented. We need to understand that this system looks to the other side when the farms need to be filled up with employees, because it's not people in America ready to do those jobs. Actually were able to be feeding our families. And even worse, our senators and congressmen are eating vegetables and fruit and chicken and beef, where undocumented are part of putting that food in their table.
[29:39] Julián Castro: Well, then then they may go in and scapegoat the same immigrants and make will oftentimes either ignore them or big laws that make life worse. There's quite a hypocrisy. 
[29:47] José Andrés: It is hypocrisy, and that's what we need to give those 11 million, probably more, undocumented immigrants the opportunity to belong. Because actually I believe you don't belong because a passport you belong because you are a member of your community. And many of us, we know undocumenteds, that we at times we call friends. But at the same time, we need to come to realize that the immigration system in America has been broken in the sense that if we need million farm jobs, but we only give 100,000 visas, how do people think food will get to the table? Let's make sure we don't take that food production for granted.
[30:35] Julián Castro: COVID-19, has revealed the disconnect that exists between the way we think about the food we eat and how we think about the people who pick it. Or that too often we don't think about them at all. 
[30:47] News reporter: We're talking about farm workers, those essential workers who remain in the fields picking our fruits and vegetables. The vast majority of the nation's farm workers lack health insurance or sick paid leave.
[30:58] Julián Castro: About half of the farm workers who sustain us as a nation are undocumented. While migrant workers have been providing us with fresh veggies during the pandemic, they've also taken a major hit to their health. 
[31:09] News reporter: Now, when this pandemic, there's no such thing as working from home for the nation's farm workers, doing essential work with little or no protective gear, their lives and the nation's food supply are at risk.
[31:21] Julián Castro: At least 3,600 farm workers have tested positive for COVID-19. 
[31:26] News reporter: Hundreds of workers at food processing plants in five states have been infected, forcing several to shut down. The ripple effects are being felt from farms to supermarkets. 
[31:38] Julián Castro: Their America means putting the basic needs of others before their own. But while we all enjoy the literal fruits of their labor, very little is being done to support these workers. And that problem is not new to the pandemic. 
[31:52] José Andrés: Let's face it, our government doesn't create the framework for his small businesses to hire legally. Let's level down the playing field. Let's do things the right way. Let's make sure we understand the real needs of immigrants in America. Let's cover all of the positions we have. Let's make sure we bring unemployment down and then we'll see that we need two three million immigrants every year. Let's create the visa system to bring those immigrants every year to America legally, done right, without taking advantage of anybody. This is something Republicans and Democrats should be supporting. I have a feeling sometimes there are other forces that some people actually benefit from having undocumented around. That's something we need to be changing once and for all. 
[32:43] Julián Castro: World Central Kitchen was early to act in response to the global pandemic. They set up makeshift kitchens at ports in Japan and California to feed quarantined cruise ship passengers and crew members.
[32:53] José Andrés: Many of them on the cruise ship were Americans, but many of them were from other nationalities. Obviously that was when we realized this was going to be here in America. This was going to be hitting home. And that's when we began getting ready here and began responding to Oakland. Since then, we didn't stop feeding and taking care of people across the United States and other countries.
[33:21] Julián Castro: Now you launched Restaurants for the People during this COVID-19 time period with the idea of supporting local restaurants. And I want to ask you about that initiative, particularly as it regards the Navajo Nation, which has one of the highest rates of COVID-19 in the country. 
[33:41] José Andrés: Well, I think the president of the Navajo Nation at the end did a very good job controlling the pandemic. And I've been there through this pandemic only once, I went to New Mexico and Arizona to be providing some food relief in the form of hot meals and or food boxes so we could bring to their families that some of them were in quarantine, people that needed food because some supermarkets were shut down because food deserts. We talk about immigrants, we talk about pilgrims to talk about all the nationalities that came to America through the last centuries, but if anything, we need to be respectful to the people that were here before us. But I think in this DNA in the 21st century, the new American dream should be to provide for others the same you are aiming to provide for your own. Navajos, they must get our respect. They must be supported like any other tribe. And we should be making sure that we don't leave, especially the early inhabitants of America behind. 
[34:52] Julián Castro: World Central Kitchen's work with the Navajo Nation is just the most recent example of their domestic relief efforts/ Even though their initial goal was to fight hunger around the world, they increasingly find themselves needed at home. 
[35:07] José Andrés: I came back from Louisiana. I was there a few days in Lake Charles, where we deployed to feed people after Laura. We need to keep asking ourselves, what's the meaning of government? What's the meaning of democracy? And I think, unfortunately, this is a good moment to ask ourselves these questions and try to find the answers, because democracy, it's an old thing that actually is not so old. We are all in America, all countries around the world, are still trying to find how to live together, where everybody has an opinion, where everybody can be contributing, and where do you learn to live with people that think different than you and where you'll respect each other. In moments like this is where often you see the best of humanity. Where people are next to each other — and obviously, when we see images on TV and it seems that everything is mayhem. But what TV, what the press sometimes doesn't show that you may be showing up in the heart of Iowa, to help people after a huge tornado decimated big parts of of Cedar Rapids or other places. You may show up in Lake Charles in the middle of Louisiana, where a hurricane has devastated a city where many people are living in trailers. You don't see people that may be Democrat or Republican. You see people taking care of people. Empathy flourishing. So what I've seen, I've seen that there's a lot of good people and that we must have leaders that brings the best of people forward and that brings people together. 
[37:22] Julián Castro: Absolutely. We have an election coming up and there are a lot of people who are worried about how smoothly the election is going to run. But you're actually doing something to focus on people at the polls, to provide them with food and water. Tell me about, you know, why did you have this idea, what's the purpose of this initiative? 
[37:47] José Andrés: Why this is important, to be feeding people on Election Day, well, we've seen what has happened already. This pandemic has complicated everything enormously. The basic, most important sacred right you have as a new citizen is through your power of a vote. And the right to say loud what you think I think is something that should be defended in America, should be defended anywhere around the world. And we've seen it happening. 
[38:22] Julián Castro: It's such a great idea and it's unfortunate that it's necessary. As you know, we've both seen images from election days where you have people waiting five, six, seven hours and mostly in these lower-income black and brown communities. It shouldn't be like that. But, you know, we can't bank on everything's going to magically be a lot better in this November election. So if we are going to see that, then your idea of actually providing people some food and some water so that they're able to actually stay, I mean, you must have people that are in the line that are diabetic, people that have low blood sugar, every number of different health challenges and getting them to actually be able to wait there five or six or seven hours, what y'all are providing makes a lot of sense. And I'm glad that you're doing it.
[39:12] José Andrés: It's the least we can do. We're going to have elderly waiting in line under the sun, not knowing when they're going to be able to cast their votes. Sometimes in areas, in remote areas, that there is not food or water available. So the idea was, let's see where those places may be, especially in low-income areas, especially in forgotten, poorer areas. We will show up there in as many places as we can and create a system where we will feed every American that wants to exercise the right to vote under that American, beautiful flag. We are not in the voting business, we are in the feeding business. We hope that by feeding some folks that may be for hours on line, we will create a system that we hope we will be able to go quickly to those places that we think will be the most complicated places for people. And I hope with that we will allow democracy to flourish.
[40:14] Julián Castro: Voting isn't the only right that José Andrés currently sees under threat. On June 1st, he was in Lafayette Square handing out sandwiches just hours before peaceful protesters were tear-gassed to clear the way for a presidential photo-op. 
[40:29] José Andrés: I was two hours before. I was actually giving sandwiches to people. And people were super peaceful, many families with children. 
[40:37] News reporter: A peaceful protest outside the White House is dispersed forcibly. They fired tear gas on the crowd while inside the grounds of the White House, the president claiming to be an ally of peaceful protesters. We had mounted federal police clearing people out of the street. 
[40:56] José Andrés: He cleared the entire square to do that walk to the church and show his Bible and show what a man of faith he was. 
[41:09] News reporter: A few minutes later, the reason becomes clear. In a display of pure political theater, the president and former reality star walks out of the White House, he arrives at the St. John's Episcopal Church. Holding a Bible, the president tells reporters, "we have a great country."
[41:26] José Andrés: I think people are going to have to ask themselves, especially people of faith, is this what your faith represents? Putting kids into cages and separating families, is the right, Christian thing to do? This is an election about the soul of our country. This is about we, the people.
[41:56] Julián Castro: It's amazing to think that in 21st century America, in the wealthiest nation on earth, that you still have so many people who are food insecure and people who are going hungry. And you've not only been a doer actually going out there with World Central Kitchen providing millions of meals, you've also been thinking deeply about systems and how we change them. What would you do in the United States and around the world to make sure that people don't go hungry? 
[42:29] José Andrés: It's about time we consider that food should be a national security issue. Why do we have deserts? If we have no more food deserts, one neighborhood at a time, can this be the beginning of an America that has better access to good foods? That makes America healthier? Not sicker. They think we need to keep pushing. So food really becomes an agent of change. And we stop throwing money at the problem and they start investing in the solutions, one plate of food at a time. So I realize in my profession I cook for the few, I cook for the many. We have the know-how. I can activate a response to not only bring water and food to people who need it after a disaster, but in the process we create such goodwill that we give hope one plate of food at a time. And because we show up every day, we learn what other needs there are. And sometimes we bring medicine. Sometimes we bring generators. Sometimes we do medical evacuations. At the end of the day, we do food, but we do more than food. We bring hope. And we tell them we're going to be with you along the way until you are in a better place. It is what America has done for me and my family, I feel very lucky with everything I've got, but some people sometimes they have not been as lucky. So for me to show up in those moments fills me because I received so much from them, these people that they lost everything, like I saw now in Louisiana, in Lake Charles, trailer homes that they were totally destroyed. Hundreds, thousands of them. And you will see people with a smile on their face and thankful that you show up there, to say hi and bring them a plate of food. And they tell you, don't worry, everything will be OK tomorrow. Well, if those people are so strong, the least we can do is to be next to them, to support them. 
[44:32] Julián Castro: And we're so happy that you do. These days, you know, it's easy, I think, for all of us to be a little bit down and, you know, sometimes to look at the darker side of things. But your work, your example, what you and so many others that are part of World Central Kitchen are doing and the voice that you've raised, they help give hope. And, you know, I want to thank you for all of that and for joining us today. Buena suerte. 
[45:00] José Andrés: Muchas gracias. 
[45:12] Julián Castro: I want to draw back the curtain on our podcast production for a minute to share that we didn't set out with the intention of starting two back-to-back episodes with scenes of Americans waiting in line to receive aid for basic human needs. But the coincidence is striking when you consider these images side by side. From Flint to San Antonio, the makeup of these lions is getting broader and broader as more Americans are surprised to find themselves suddenly in need. If the last year has taught us anything, it's that we're all vulnerable. Over the last couple of episodes, we've been talking to folks who act in the aftermath of a crisis. Next week we're talking to someone who's got a plan for the future.
[45:58] Elizabeth Warren: I look at this as child care is infrastructure. If we want people to be able to go to work, if we want people to be able to finish their educations, then we need to help make that possible.
[46:19] Julián Castro: Our America is a Lemonada Original. The show is produced by Jackie Danziger. Our Associate Producer is Giulia Hjort. Kegan Zema is our editor. Music is by Hannis Brown. Executive Producers are Stephanie Wittels Wachs, Jessica Cordova Kramer and Julián Castro. Help others find our show by leaving us a rating and writing a review. Follow us @lemonadamedia across all social platforms or find me on Twitter @JulianCastro or on Instagram @JulianCastroTX