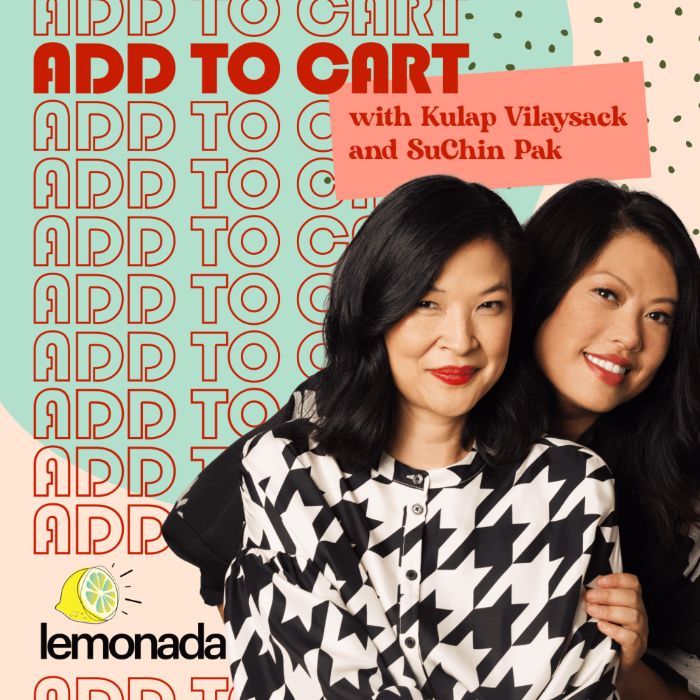 We Want to Be Held (by Laura Iz)
Subscribe to Lemonada Premium for Bonus Content
Description
Photographer, author, and dream mom Laura Iz joins Ku and Su to share her curated Add to Cart list. Honestly, this woman named her kids after an iconic 90's hip hop duo so it doesn't feel like there is much more to include to get you to listen to this episode. We just….love her. Plus, Ku and Su both learn something new about each another, which feels surprising considering how personal things get each week.
Find Laura Iz on social media at @lauraiz and check out her website http://lauraiz.com/.
Please note, Add To Cart contains mature themes and may not be appropriate for all listeners.
For a list and links to all products mentioned in this episode, head to @addtocartpod on Instagram.
Stay up to date with us on Twitter, Facebook, and Instagram at @LemonadaMedia.
Click this link for a list of current sponsors and discount codes for this show and all Lemonada shows: Sponsor Links
Transcript
SPEAKERS
Laura Izumikawa, Kulap Vilaysack & SuChin Pak
SuChin Pak  00:10
Hey everybody, welcome to another fine episode of ADD TO CART. I'm SuChin Pak.
Kulap Vilaysack 
And I'm Kulap Vilaysack.
SuChin Pak 
And listen, all month long. It's Asian peoples month.
Kulap Vilaysack 
That's right.
SuChin Pak 
We're celebrating.
Kulap Vilaysack 
Asian American Pacific Islander Heritage Month.
SuChin Pak 
Yes.
Kulap Vilaysack 
This is week two of our celebration.
SuChin Pak 
All month long we're going to be talking about Asian owned businesses. We're gonna have Asian American guests, you know, we're gonna do kind of what we normally do. It's not that different I have to say. You know, listen, Kulap and I we were just talking about there's a lot of stuff happening in our community. Not so great stuff. You know, the violence continues the hate crimes, just a heartache, but we really want to try to focus this week in this month on #AsianJoy, you know, and so we're gonna try to do that. And we've got a fantastic guest for you today. And she'll be on later on in the show.
Kulap Vilaysack 
She's a dear friend of yours.
SuChin Pak 
Yes, she's a friend. Laura Izumikawa is going to be on, so excited Mother of Joey and Casey naptime with Joey so many people love and adore her.
Kulap Vilaysack
So let's get into our Add To Cart, SuChin. This week I want to add to cart Season One of the adult animated superhero series on Amazon INVINCIBLE. It stars Steven Yeun as the titular character, Sandra Oh, JK Simmons, it's a real murderer's row of talent. One of my dear friends, Jason Mantzoukas does a voice of course he does most voices in the animated world. But the show are you familiar?
SuChin Pak 
No, I'm not familiar with this.
Kulap Vilaysack  02:12
It is based on Robert Kirkman's graphic novel series, which is fantastic. And speaking of Jason Mantzoukas, we have a Weekly Comic Book Club and we as me, Jason Mantzoukas and my husband Scott. meet weekly for an hour and a half. And in comic book club, first hour is usually hot gas, our fears about COVID when we cried that week, we do a little shit talking and then the last 30 minutes we talk about the book we read that week. Oh my god. And we've been doing this for almost the entire demi.
SuChin Pak
Look at you adorable little nerds.
Kulap Vilaysack
And so we read the entire Invincible series. And so these are multiple books, SuChin and the show revolves around 17-year-old Mark Grayson voiced by Steven Yeun, who's just like every other guy his age, except his father, played by JK Simmons is the most powerful superhero on the planet. Omni-man, thanks, Superman. But as Mark starts develop his own powers, he discovers his father's legacy may not be as heroic as it seems. So this is not for children. Like I really this is not something you watch with your kids. This is it is based on a graphic novel and it has very graphic violence. That said, excellent.
SuChin Pak 
I mean, Jason Mantzoukas is sold sold sold sold. I have an add to cart. And this add to cart is More Than Our Bellies. So Philip Lim fashion designer started this marketplace. And he has very, very curated products in there. And all with the intention of how do we buy with intention, but also who makes these products? Right? So for example, you know, he just launched a few products and by the way, these sell out right away, so if you like something get it. He puts them up not you know, very often and then when something comes on, they have limited, they're all handmade. You know, there's these beautiful collection of handmade Maple chopping boards that are handcrafted in Brooklyn by people who have lost their jobs due to the pandemic.
SuChin Pak  04:49
But it's this pottery from this South Korean artists that they designed with to create these just incredible pieces of pottery that I bought every single one. So that's More Than Our Bellies, which is also the name of his cookbook where you can't buy anywhere. It's already sold out. And I don't know when it's ever gonna come back again. Yeah, Philip Lim, for me has been pandemic discovery and saviour, I started watching him on Instagram and being so soothed when in the beginning, we just wanted to be soothed. And he was cooking on his Instagram. He does these videos where he talks about his plants, and he names all his plants. So I started to name my plants. And so now so Zoey, it's my absolute delight. When she asks me, did you water Helen today?
Kulap Vilaysack
This guy right here is Matilda.
SuChin Pak
And so Philip Lim, for me, I've just been watching him and kind of, I mean, I knew him as a fashion designer, but I had no idea that he, you know, had this other side to him. And then just recently, I mean, he has become such a voice and an advocate for the AAPI community, raising awareness around hate crimes. And plus, he sells and curates these products on the sight More Than Our Bellies, you guys. It's a feast for the senses, the eyes, touch everything. And I'm just so excited to see this new crop of products come up, and 15% of all proceeds this month, go to give India and we all know what is happening in India with COVID.
Kulap Vilaysack  06:31
I want to put it out to our listeners to dm sort of leave us a voicemail of other things that we can do. In addition to donations. It's just so horrible. The other item I want to add to cart and ask you guys to add to cart is our past guests. One of my best friends Casey Wilson has an amazing book out now. It's called the Wreckage Of My Presence. It's a collection of essays, which are they're so funny. They're so intimate. They're also like, gutting and they have so much heart. And she, it's Casey,  it's Casey from title to every single war word. I'm so proud of her. She's putting herself out there and this just truly inspiring way. I'm so in awe of her talent. Yeah, it is funny. It is funny, but Casey lost her mother and it's such a tribute to her and a real exploration of grief. So, you know, obviously, I'm biased. But I really think wherever you get your fine books, get yourself the wreckage of my presence by Casey Wilson.
SuChin Pak 
I just started it last night. And I already like her story about how she's a bed person. And how her and her husband do everything in bed like eat in bed like full on meals, they have a salt and pepper shaker and a bottle of ketchup in their nightstand, you guys. And once again, I have never been so seen. I would say the first argument that Mike and I ever had as a couple was when he would watch me eat in bed, my crunchy toast because I like my toast real crunchy just on the other side of burnt with someone who actually cares about the stuff in their house. Watching me eat crunchy toast in his bed. Yeah, I remember that. That argument. And when I read that first chapter, I was like, I'm gonna read this out loud to him one day, tuck them in and say let me read you a bedtime story about a gal named Casey and what she does in the bed. So I can't wait to get to the rest of it. But it's such a great read already.
Kulap Vilaysack  09:01
It's been such a joy to watch Casey navigate put this together craft to really go there and be so vulnerable about things that maybe most people don't bring to light things that most people don't speak of things that she didn't speak of. For the longest time to offer that to us to be so detailed and heartfelt and honest and raw. It's such a gift. It's such a gift.
SuChin Pak
I can't wait to listen to the audiobook of it with her voice that's what I was thinking that's coming right or is it already out there?
Kulap Vilaysack
I think it's out. Guys, these are Audible credits. Get this.
SuChin Pak
I'm gonna quickly finish off with my last Add To Cart. It's a quick one. It's this podcast. It's called TELL THEM I AM. Have you listened to this podcast yet, Kulap?
Kulap Vilaysack 
No, I haven't.
SuChin Pak  10:00
You're gonna love it. Love it. Love it. It's a podcast about the small moments that define who we are and who we are not. It's about the voices of Muslims. It tells and talks about the Muslim identity in a way that I've never heard. So, to hear these stories, and the diversity and the wide range of identities and what it means to be Muslim in this country. Each episode is one guest and their story about what it means to be Muslim. Every episode, I learned something new every five seconds on the podcast. So it's just one of those ways of you're learning about a culture that a giant swath of this planet identifies as Muslim, I think I read somewhere that 65% of Muslims identify as Asian. So it just is a part of our identity that for me that I don't know a lot about its quality storytelling. It's like good radio, you know, editing and production. So it's such a great listen.
Kulap Vilaysack
And the host is Misha Euceph?
SuChin Pak 
And she's great. You know, it's like, she breaks it down. There's no taboo that she doesn't. She kind of leans into all of that, you know, this is what you thought it was. And then this is what it really means. And I think it's, I always find it fascinating that the topic of religion and spirituality, how we as young people, as modern people, as not our parents, sort of version of spirituality or religion, like what does it mean and how do we define it for ourselves? I'm always interested in that topic. Maybe because I grew up in such a born-again Baptist home that was so strict, so I think it's really really great to hear it from
Kulap Vilaysack  12:25
Wait, I don't think I knew that. My sponsor family is Baptist. But I didn't know that your family's is Baptist.
SuChin Pak 
Oh, yeah. My born-again Baptist. I spoke in tongues by the time I was probably nine. I spent every summer at VBS Bible school. I was a Sunday school teacher. First year of college.
Kulap Vilaysack
Claire, what episode is this?
SuChin Pak 
You're part of a comic book club. And I'm learning this now in this episode.
Kulap Vilaysack 
Things are being revealed.
SuChin Pak 
Don't you love the pieces that comes together? And when we're talking about more risqué topics.
Kulap Vilaysack
I think that's what it is. It's like, so much of what we're talking about is so much a part of us that it's like not novel, and then when it'll come up to get the other person's reaction and the other person's take about just like a piece of us is like the best.
SuChin Pak 
Yeah, so I'm always fascinated with how people deal with religion, because I don't know yet for myself. I'm like, especially with now with kids when my daughter is like, so where is heaven? I'm like, well, as a Sunday school teacher, I would say, you know, Heaven is where the good people who accept Jesus Christ as their personal Savior. But I don't know what heaven is as me right now. You know, so I don't know. I'm always fascinated by that. So this is a great great, really fun, interesting podcast to listen to.
Kulap Vilaysack  14:01
Wow, I love it. I love it so much and I love learning more things about you of course we will swing back to this this is just the beginning. I am inspired to do some excavating to you, to me, that's maybe that's I don't know who I am you know post-demi. I know I'm different but maybe what will be different is that I'm gonna be real archaeologists when it comes to me and you. And I know that frightens you. Well, let's take a quick break and we'll be right back.
SuChin Pak 
So Kulap, I'm pretty sure if I could just sleep a full undisturbed eight hours. I mean, even five hours I could wake up, refreshed. Make my own hummus. I don't know start speaking French or something, you know, I'm just saying that I could accomplish so much more.
Kulap Vilaysack 
Yeah me too. That's why today we want to talk about Birch Mattresses. They are organic, non-toxic mattresses shipped for free straight to you with no contact delivery and free returns.
SuChin Pak
They are made in America with just three materials, organic latex, New Zealand wool and American steel springs. That's it.
Kulap Vilaysack 
I ordered a Birch Queen and I've slept like an actual rock this week.
SuChin Pak 
I as well have the Birch Queen and it was so good. I bought two twins for my kids. So we are a birch family.
Kulap Vilaysack 
Well I share a king with Scott but the Queen is just for me in a different room.
SuChin Pak 
That's why you look so refreshed. What I love about this, they're comfortable. And it's so good to know that while you're sleeping you are sleeping on organic cotton. It doesn't get overheated. The entire bed is the cool side of a pillow.
Kulap Vilaysack  16:00
Yes, and you can check out this bedding at birchliving.com/addtocart. They have a 25-year warranty and you get to try it out for 100 nights risk free. They'll pick it up free if you don't love it but we know you will.
SuChin Pak 
And Birch giving $200 off all mattresses and two free eco-rest pillows at birch living.com/addtocart, so that's $200 off all mattresses and two free equal rest pillows.
SuChin Pak 
Alright guys, so excited to have our next guest. This powerhouse is a photographer, author of Naptime with Joey. Yes, yes, the iconic internet breaking Joey, digital content creator, wife, mother. She's a writer, by the way, beautiful writer. I know that she may be embarrassed that I'm calling that out. And now a butterfly grower I know that's not the official title what one does when you when you grow magical butterflies.
Kulap Vilaysack 
But if you do it, it needs to be said.
SuChin Pak 
I know. Please welcome Laura Izumikawa.
Kulap Vilaysack 
Welcome to the show.
Laura Izumikawa 
Oh, my gosh.
SuChin Pak 
Thank you so much for being on the show. When I texted you were like, really? Listen, I want to get to your things. I want to get to them right away. But I just want to say we have been trapped in our houses for a long time, Laura. You've been trapped in your house with two very young, beautiful, but highly energetic gals. Your daughters, your husband and I don't even know if you have extended family. How has being trapped in your house with cats? Butterflies? How's it been?
Laura Izumikawa 
How's it been? That's a loaded question. Right? Oh, my gosh. I mean, I think in the beginning, I did see it as like I'm trapped in the house. But then I realized, I actually love being home. Like, am I antisocial? Like I didn't know that about myself until like, I was forced to stay home for a long time and it wasn't so bad. Yeah, it was lots of projects, lots of fixing things around the house that kind of got us occupied for a while, but it was good.
SuChin Pak  18:31
That's awesome. You know, Kulap, watching her. She documents her life with such humor and such. I just it's such a specialness but it's not like a precious specialness, you know what I mean, she's okay. Like, you know, getting a little messy around the edges with the kids and all of that. It's not like this perfectly curated things. She likes to take us behind the scenes and all of that and over the pandemic Laura, I've watched you, it's like, I'm watching  my neighbor's family and I've got like a webcam in their living room. I feel a little stalkery but I can't help it. I'm like, well, what's Joey eating today? What is she saying?
Kulap Vilaysack 
So you have two daughters. Their names are Casey and Jojo. I have to ask, are you a fan of the R&B singers? Casey and Jojo, or was that just pure happenstance?
Laura Izumikawa 
It was like the song of the 90s for me for a long time. It was like my ringtone. I like set up my pager to like make that sound like I was obsessed with I played it on the piano anytime I saw a piano like anywhere. I like had to play the first like 10 second of it.
SuChin Pak  20:06
That's a generation anthem.
Laura Izumikawa 
It kind of is our anthem. So yeah, it to be done. I mean, I wasn't thinking like, starting with baby one, like, I'm gonna have a second one and call her Casey. So we make it work. But it just ended up being like a joke that Allen and I talked about. And then, when the baby was actually coming, we were like, no, seriously, like, what is the name? And we're like, we're just why don't we just do it? And like, see if it works, and ended up working out.
Kulap Vilaysack 
Laurie, you're literally my hero for this. I love R&B so much in that era is such a special time for me and that you did this, it makes me so happy.
SuChin Pak 
It's like commitment on another level, right?
Laura Izumikawa 
It is. But then it's a lot of explanation, too. But you know, I'm happy to explain my love for R&B from the 90s.
Kulap Vilaysack 
I hoped this was the answer, I hoped. And you fulfilled a wish.
SuChin Pak 
All right. So well, one of the big reasons besides the fact that I adore you and your family, Laura, I wanted to have you on is you're always have the weirdest, most fantastical things that you're talking about on your feed. And I was like, you have to come on and talk about some of this stuff. So let's talk about some of your add to carts.
Laura Izumikawa 
Oh my gosh, first of all, I'm so honored. Like when you texted me. I was like, wait, what me? Did I like hear this? Read this, right? Because I listened to you guys all the time. And I'm like, yes. Like I need to add that to cart. Okay, I'll tell you what kind of shopper I am. I add tons of things to my cart. But I just let it sit there for like days and weeks. I let it like, pass the test of time. Do I want it a week from now?
SuChin Pak
I'm familiar, this sounds this sounds very comfortable for me.
Laura Izumikawa  22:01
Yes. I have multiple carts open, okay, at the same time. And if it happens to expire, then so be it.
SuChin Pak 
That's the universe.
Laura Izumikawa 
Yeah. And then if I get bothered by that, and I have to go and add it to cart again. That means I really want it.
Kulap Vilaysack
So if you love it, let it go. And if it comes back to you.
Laura Izumikawa
Yes. If it's calling my name literally, then I like I have to reconsider this choice to purchase the item. But yeah, you know, I get a lot of stuff we say no to a lot of gifts. But in the end, we still have a lot of things to try out for kids and stuff. And you know, while we donate all that stuff, I'm trying to minimize clutter. I'm trying to minimize purchasing things. We just don't have the space. And so yeah, it takes me a while to actually commit to purchasing something. So I have a list for you guys. It was hard for me to narrow it down. But I hope it will be something you guys will consider.
Kulap Vilaysack 
Now I understand like it's a curated list. It's a carefully select. This isn't willy nilly. This isn't just random. This is like thoughtful, mindful things that bring you joy.
Laura Izumikawa 
These are things that I have gifted to others multiple times because I love it. But I have like a whole slew of stuff like in my list, but I have narrowed it down to three, four.
Kulap Vilaysack 
Thank you.
SuChin Pak 
Let's do it. I'm excited.
Kulap Vilaysack 
The first one I see is the TOMARION2 Portable Infrared Heating Pad. Wow.
SuChin Pak 
All right, so tell us about this. Laura, I have to say we have texted about this. Because I saw it and I immediately texted and I said do I need this so I'm so excited to get the full, you know, review and recommendation. So go ahead. Okay,
Laura Izumikawa 
Okay, so TOMARION2 is a portable infrared heating pad as Kulap mentioned, it is changed my life. It has become like a romantic item in my marriage. So what it is it's a it's a heating pad. Here it is. It is a natural gem. It's a natural gem called
Kulap Vilaysack  24:19
Tourmaline.
Laura Izumikawa 
Tourmaline yes, there you go.
Kulap Vilaysack 
Gem crystals. Yes,
SuChin Pak
Yes. All of that, right? This is amazing because it's a natural electric radiating gem. And so all you do is charge it for like six minutes. And it stays heated for up to like three four hours. And it's amazing because I used to have the worst back pain where I was paralyzed. I couldn't get out of bed. Menstrual cramps like the worst, you know, carpal tunnel type of stuff like you know a lot of joint pain, but having this on me, like on my way sleeping it with it on at night has relieved all of it, it's so weird and I've tried like everything else I've tried electric blankets I've tried, you know massage guns like I've done medication to relieve it but it doesn't do half the work that the TOMARION2 does. And I've gifted it to my mother-in-law, my mother they love it. And the reason why I say it's a like a romantic thing now is because my husband Allen always heats it up for me and puts it in our bed every night before. It's so love because he knows how much I love it.
SuChin Pak
Oh my god, first of all, so adorable. Okay, I have questions. Mama has questions, so listeners can't see it. It looks like kind of a clutch.
Kulap Vilaysack
Yeah, it does. Like a velvet clutch.
SuChin Pak  26:01
So I get a lot of neck pain. Because it's like that round shape. Can you put the heat up top? Or is it mainly best for sort of like abdominal and back heat?
SuChin Pak
That's a good question because I do have a lot of neck pain as well. I'm not an expert this good because I don't work for them. But what I have found is that what it heats up your body, it kind of activates your core temperature and blood circulation. And actually, the first time I used it, I got nauseous and that is actually normal. And it's a good sign. Because you know, when you're sitting in the sauna for a long time, you start dealing a little bit nauseous is because of the blood circulation. Because all that blood is going around your neck, your hands, your feet, your body everywhere. And that's good. You know, and it reduces inflammation over time. I don't know what else to say except it does what it's supposed to do.
Kulap Vilaysack 
The three of us are Asian, but if you're out there and not Asian, stagnant blood is maybe the number one problem for all that ails.
SuChin Pak 
Kulap said it, okay, stagnant blood, you don't want your blood to be stagnant.
Kulap Vilaysack
Flow, like the mighty Mississippi.
SuChin Pak 
You know, what's interesting, too, is we talk about another product on the show a lot is the Lanshin hot stone massage thing. And that's also made of Tourmaline. There's no electrical component to the hot stone massage. But I wonder and I think I would surmise that it's something also about the Tourmaline it creates a kind of heat that is very different than other types of heat, because like you, Laura, I have tried everything. So it's very interesting to me that this then is kind of like a whole-body thing. You don't necessarily have to put it exactly on the spot. But it can, it feels like it's releasing and creating circulation for your entire body no matter really where you exactly apply the stone.
Kulap Vilaysack  28:18
They say it is an all-natural source of negative ions and far infrared rays, also known as FIR, emitted into the body to penetrate deeper into the skin muscles and joints for what Laura is describing a soothing, relaxing and romantic effect.
SuChin Pak 
And romantic, don't forget the romantic. I love this and I've been wanting to talk to you about it since I saw it on your feed. So thank you. Okay, awesome.
Kulap Vilaysack 
Let's take a quick break and we'll be right back. Up next, we have the Opal Nugget Icemaker.
SuChin Pak 
What is this?
SuChin Pak 
It's so random guys. Okay,
SuChin Pak
I know what is this?
SuChin Pak 
I don't buy like designer handbags. Like I don't spend a lot of money on stuff that I think a lot of women enjoy. I spend money on icemakers you know, I spend money on like, gems, you know like that, you know will help my back pain. Like for me, it's got to be an investment.
SuChin Pak 
She heats up and then she cools off with these icemakers. Okay. Oh my god.
Kulap Vilaysack 
She don't do diamonds. Okay, but that the gems and the ice.
SuChin Pak
That she's referring to is literally ice. Okay, good. I love it. I love that you are an icemaker gal. Go on.
Laura Izumikawa
Okay, so this isn't just ice. Okay. Think of your favorite kind of ice. Like, for me. It's like that crunchy ice that I got at the local roller-skating like place back when I was like 10 years old and I just kept asking for refills of ice. Because it had this like, granular like texture, you bite it, it like crunches. It's so satisfying. And it keeps your beverage perfect temperature. I don't know what it is. I'm such a picky ice person. This makes that ice.
Kulap Vilaysack  30:30
Okay, I've never thought about this. You've sold me. I've never wanted for a second like, where are my ice? But you took me to a place you sold me you were like. I was like in Mad Men. You were drapering me.
SuChin Pak 
She took you back to a memory. She took you back to a sensor. I mean, yeah, this is cool. This is how you get Kulap on board. Give her all the senses.
Laura Izumikawa 
This is a totally nostalgic product. It's amazing. So I used to get cravings for chewing ice especially when I was pregnant. And I would get a 10-pound bag for two bucks at the local Sonic drive in but because their ice is amazing. But it's like 20 miles away. It's a huge tip. If you want that crunchy ice and you don't have this Opal Nugget Icemaker. Go to Sonic drive in. Get the 10-pound bag for two bucks. It's amazing.
Kulap Vilaysack 
I didn't know that was available to us. I didn't know that was even an option. That's like the ins and outs secret menu.
Laura Izumikawa 
Oh, yeah, the secret menu.
SuChin Pak 
And this is why Laura is here. This is what I'm talking about. Listen up guys.
SuChin Pak 
I get the download on the ice guys. It's like, amazing. So you know, if you're an entertainer, you're making cocktails for someone or if you're just like, wanting something to cool down real quick, or the kids want to chew on something like if babies are teething. Like we have used this for like every single occasion. I feel like it's so worth it for our family to invest in this. It's a little pricier but I think it's like my happiness joy maker. So it's worth it for me.
SuChin Pak  32:17
You know, what it reminds me when I look at this ice by the way my mouth is watering. As I'm looking at the picture of this ice because I know the texture is when you are recovering from labor or surgery of any kind. If you go to the hospital. They give you these large plastic cups filled with this ice. That to me has always been like how do I get back to that ice? Like that ice is a beautiful ice. So this is that ice I think right? It's that like it's that kind of textured. You know crunchy, very soft ice like it's not a hard crunch, right?
SuChin Pak 
It won't break your glass teeth. That's for sure.
Kulap Vilaysack 
Shout out to Dr. Tung's. Shout out to Caissie St.Onge
SuChin Pak 
And by the way, cool up. It's really pretty. It fits with your aesthetic. Auntie Ku is, this is on the way to her house. Check, check, check.
Kulap Vilaysack 
Oh, Bluetooth connectivity. Yes, please.
SuChin Pak 
This is, Laura. I know you're our people. I know that you know how important these kinds of purchases are. You are an ice person. I'm a seltzer bubble size person. I mean, this is it. This is your tribe. You know, these things matter.
Kulap Vilaysack 
I love the specificity like this is my favorite part of this show is to hear SuChin talk about how bubble correlations to butthole tension. And to hear Laura talk about ice in such a like epic way in such a like visceral way like this is the best part of the show. Best part.
SuChin Pak  34:10
Yeah, she's an ice dealer. No, that's how she talks about it. She's like 20 pounds, Sonic. But you can come to my house and I'll get it for you.
Kulap Vilaysack 
Next up we have Rice Paper Water Container and Bowl.
Laura Izumikawa 
Can you guess what this is?
SuChin Pak 
I have not heard of any of this. What is this?
Kulap Vilaysack 
To make spring rolls.
SuChin Pak
Wait, what?
Kulap Vilaysack 
To make summer rolls?
Laura Izumikawa
Yes.
SuChin Pak 
Okay, tell me about this.
SuChin Pak
So if you're like me, I love vietnamese spring rolls. But our space on our dining table is so limited because we have like a million Cups for some reason because we have two kids. And plates galore. So having another plate where you have to fill it with warm water every like minute to soak your rice paper in to make it soft enough to make the spring roll is just another thing that I don't want to deal with, you know, it's like the tipping point of the scale where I can go crazy. So someone thought of people like me and came up with this amazing container that is like vertical, and you store your rice paper in there. So it's safe from water. And then next to it is a container where you could put your water in there, you dip it and you spin, can you visualize this, you spin the disk around until it gets wet. And then there you go, then you can start wrapping away. And it's amazing.
Kulap Vilaysack 
And what a great like you have people over. Imagine that guys, we're so close to having dinner parties, much like a hot pot. It's a very interactive, like you put the ingredients that are going to be the rolls in the middle of your table. Everybody has their own one of these dishes. And then while you're talking you guys are just like wrapping your rolls, eating them as you go. You know, it's a totally interactive meal.
Laura Izumikawa  36:15
It is you can get kids involved.
SuChin Pak 
I don't think I've ever made spring rolls at home. Like I always look at a spring roll in a restaurant. And I'm like, too complicated, but it's not complicated?
SuChin Pak 
It's not you just need water and the paper and the container.
SuChin Pak 
And then just some vegetables?
Kulap Vilaysack 
Vegetables, if you'd like a protein, have at it. And then as dipping sauce and you're good to go. It's a perfect summer meal.
Laura Izumikawa 
It's so good guys.
SuChin Pak
That is so good. And then I love that also. Yes, someone thought of this. Most likely of Asian descent. Let's be honest, 99.99%. We're like how do I solve this global crisis? Laura have the kids also partake in the making of their own spring rolls? Because I would imagine what this little gadget it's so easy and fun.
SuChin Pak 
Yeah, Joey my five-year-old is like a mess. It's fun because it's interactive. I find that when my kids are making their own food, they actually eat it even though it looks like it fell on the floor. They have pride and joy in what they've created. So yeah, this totally, totally works.
Kulap Vilaysack
So great. And speaking of children, we have our last add to cart with Laura, which is the Five Love Languages of Children.
Laura Izumikawa
Yes, it is a book.
Kulap Vilaysack 
I love a book.
Laura Izumikawa
I love this book. I read it recently, within a day. And Dr. Gary Chapman who is one of the authors of this particular book, he wrote the original one, which is for adults, The Five Love Languages. Oh yeah. And that changed the way I worked in the office the way I saw my co-workers my boss, the way I dated and saw people around me, my parents, the relationships I have with them. It opened my eyes about how people operate within like love. Because everyone has different Love Languages apparently and this Dr. Gary Chapman has laid them out in five different languages. The first one is physical touch. Second is gifts, there it is words of affirmation. Fourth is quality time.
Laura Izumikawa  38:41
And fifth is acts of service. So, yeah, apparently we all have this as you know, this is how we sort of express love and receive love. And with children. It's the same. You know, the authors suggest that we, you know, express love in all five languages to our kids, you know, and around age five, six is when they start to have a primary love language. For instance, Joey, she is five. She loves all five languages, but she loves physical touch and quality time. And so recently for her birthday, we went on a trip without daddy and baby sister to Yosemite and we just, you know, phones are off. We spent a lot of quality time a lot of snuggling and cuddling.
Kulap Vilaysack 
I wish you were my mom
SuChin Pak 
Kulap is being mothered by you let's give a moment here.
Kulap Vilaysack 
Because I of course follow you and it the trip looks so fun. I don't think I realized that your husband and your other daughter wasn't there.
SuChin Pak 
I know and I didn't realize it was because of this now, it all makes sense.
SuChin Pak  40:04
I mean, it's opened my eyes to see my kids differently. And, you know, when you're trying to communicate, it's easier when you're speaking their love language when you've given them. You know, they're what he calls it is the love tank that is continually needing to be filled. Everyone has his love tank. And if you're depleted and if you're running on empty, you're not going to be able to communicate back to the person that's engaging with you, especially children. You're trying to teach them or discipline them with about something. If their love tank is on empty, then they can't respond. So this is a book that I highly, highly recommend this one, there's one for teens, there's one for singles. There's one for adults love it.
SuChin Pak 
I just added both to cart because that sold me I love it. This is amazing. I love that you've taken care of us from the temperature and the texture of our ice to how we connect to our children.
Kulap Vilaysack 
This is so lovely. Thank you, Laura.
SuChin Pak 
Oh my goodness, Laura. Literally crying.
Kulap Vilaysack 
For those who don't know where you are on Instagram. Where can they find you?
Laura Izumikawa
My handle is @LauraIZ. Yeah, I'm just on there. Take a look. I'm there. Gonna say hi. I have a book. Oh, I should plug that. I have a book Naptime with Joey. That is my five-year-old daughter.
SuChin Pak 
If you haven't seen naptime with Joey, immediately Add To Cart. It's, again, it's all of what we just went through with Laura. It's hilarious. It's touching, you're gonna cry, you're gonna be healed and held. And I always say like, Laura, I think you're writing when you write these, like really beautiful, thoughtful posts and letters. I read them and I just sit with silent tears. Just, you know, because I just know they're just so from the heart and everything you do is from the heart. I think everyone can tell. So thank you for your time, Laura. And I'm so glad you were able to make it on ADD TO CART.
Laura Izumikawa 
Thanks so much for having me. I just yeah, I'm gonna get off this call and go scream because like, I'm such a big fan of you guys. I love you guys. I'm so honored. Thank you so much.
Kulap Vilaysack  42:37
Thank you.
SuChin Pak 
Thank you, Laura.
SuChin Pak 
That is it for show. I mean, thank you guys so much. And of course, thank you to Laura. She brought us such fantastic products. She revealed so much of her soul to us. She's such a generous person.
Kulap Vilaysack
She's so warm and I adore her and I want her to adopt me and I made that clear. I think that's clear to everyone.
SuChin Pak 
I think we all need to be remothered by Laura and we'll talk to her about that private sessions. But you can find her amazing pics on @AddToCartPod
Kulap Vilaysack 
Call us of course Tell us about your love language. We promise one day we will use the voicemails we keep begging you to leave. We're such cheese's the number is 833-453-6662 See you next time.
SuChin Pak 
No, we're gonna do an entire episode, we promise, of voicemails right? Let's do it. Okay. All right. See you next time.
CREDITS
ADD TO CART is a production of Lemonada Media. Our producer is Claire Jones and our editor is Ivan Kuraev. The music is by Wasahhbii and produced by La Made It and Oh So Familiar with additional music by APM music. Executive producers are Kulap Vilaysack, SuChin Pak, Jessica Cordova Kramer and Stephanie Wittels Wachs. Be sure to check out all the items we mentioned today on our Instagram at @AddToCartPod. Also, please take a moment to rate, review, and subscribe to the show wherever you get your podcast.